Early in 2017 our family embarked on a year-long experiment of not buying any non-consumable goods. We have loved focusing on what we already have, being creative, and finding freedom and contentment with less. Find our more about our More Than Enough Stuff Challenge here. 
I've been thinking a lot about space. Not the heavens with the stars and the planets, thought I am a fan of the night sky. I have been thinking about the space that surrounds us in our homes and lives; the space that we fill up, empty out, organize, and reorganize.
I've been thinking that empty space is an incredibly underrated asset. We tend to value the stuff that goes into the spaces more than the space itself, which is why we find ourselves with bulging closets and cupboards. More clothes than hangers and books than shelves. And garages packed with storage of more stuff than we can practically use in our regular lives, but luckily we have space to store it.
Except once the space is full, it isn't really space anymore. Once we fill the space we remove all of the benefits of having a little breathing room. The possibilities. The rest for our eyes, arms, washing machines, and wallets.
Last month we packed everything we own onto a moving truck headed east, signed a lease on a house with less than half of the square footage of our home in Texas, and then have stayed between our family's homes, cabins, second homes, and even on the houseboat during our summer vacation. It has been a really interesting study in space. I'm taking mental notes of what we love, what we use, and how we live in each different place to help inform decisions about what we might be looking for in our next house.
One place that we love spending the night is in my parent's second home in Southern Utah. Not only is the home thoughtfully and beautifully designed, but it is intentionally minimal. Of course, as a second home it naturally doesn't have all of the years of storage, books, boxes, clothes, furniture and stuff that collects in any normal home. The empty space in the closets and corners is such a breath of fresh air.
When we're there, I remember how much I like space. I think "We could live like this. We could have more space even in less square feet. We could create an escape in our own home."
When we're there, I think I could make our lives feel slower and more simple as easily as paring down and getting rid of so many of the things that we have to manage simply because we own them. Toys that have to be organized and cleaned up, clothes that have to be washed and folded and put away (the putting away is the part I could do without), the piles and piles and piles of fabric that might one day be made into something amazing and is in my closet still simply because once I liked it and I bought it so now I must care for it forever. Right? I'm not so sure.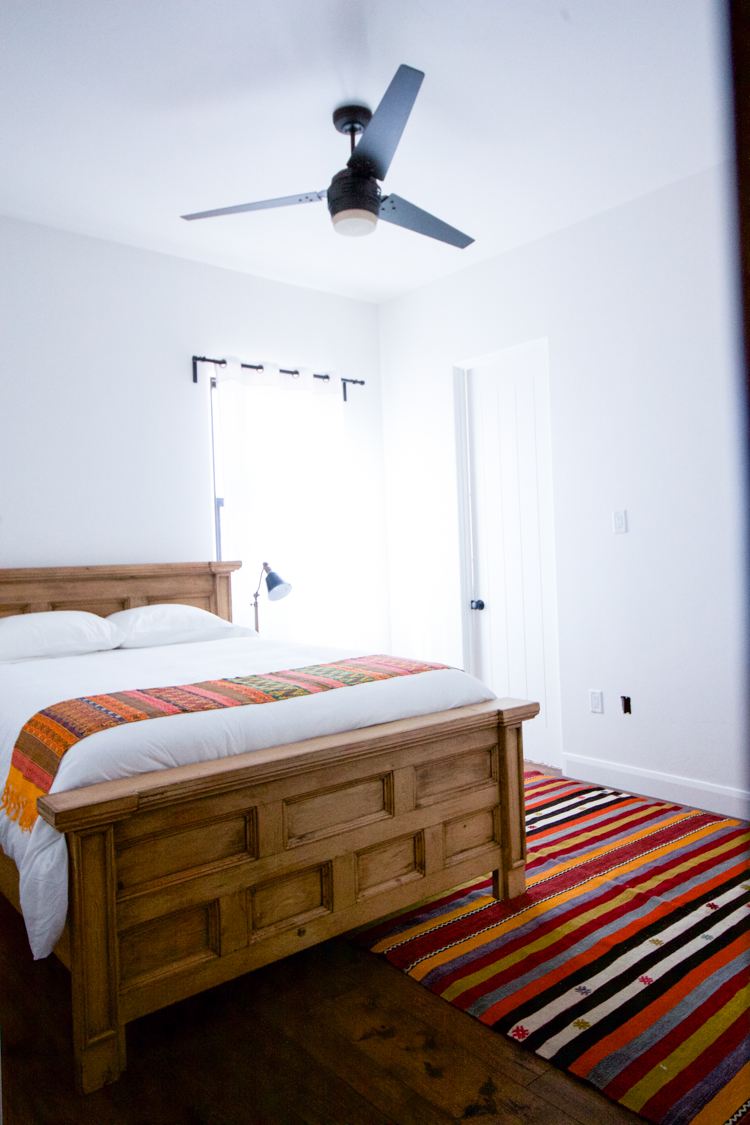 When we arrived in town a couple weeks ago, my mother-in-law was excited to show us the garage of their home. The space had formerly been the catch-all for leftover furniture, goods, boxes, storage, and the stuff. It was piled high from their last move, and she had the whole place emptied and organized for Father's Day so her husband could park his car in the garage. (Great gift idea, by the way.)
As she was telling me about how the furniture had been sold online, the boxes gone through and mostly donated, and how she didn't miss anything they had removed, she also said exactly what I had been thinking and feeling, "I think we forget how valuable it is to have empty space. The space is worth more than the stuff."
So why do most of us have more stuff and less space? Why do we imagine that by filling up our homes we'll feel all filled up? I think anyone who has ever organized a cabinet or de-junket a closet can remember that sigh of relief when there was once again some space. But then we turn around and pile it in and on again and again. Human nature, maybe, to always be looking for more. What about having more room to rest, more time to play, and more ease in cleaning and organizing because everything has a place with some room in between?
After 7 months of focusing on loving what we have, eliminating things we don't love, and intentionally not buying anything consumable to add to our closets or shelves, I am convinced that freedom and contentment are positive byproducts of simplifying and minimizing.
I'm also really excited to move into our tiny rental house next month and start figuring out how in the world to create more space within the space.
Now, I am not a crazy, minimalist die-hard who can happily live with one suitcase traveling the world for the rest of my life. We have a family with little kids, a dog, a handful of hobbies that require accoutrements, and an affinity for pretty things. We are doing this minimalist-thing with a dose of reality and making it work for us in a practical, sustainable way. It will be fun and challenging to discover how to leave room to honor the value of space within our home.
Leave some space to grow. Leave some space to rest. Leave some space to breathe. Leave some space to live.