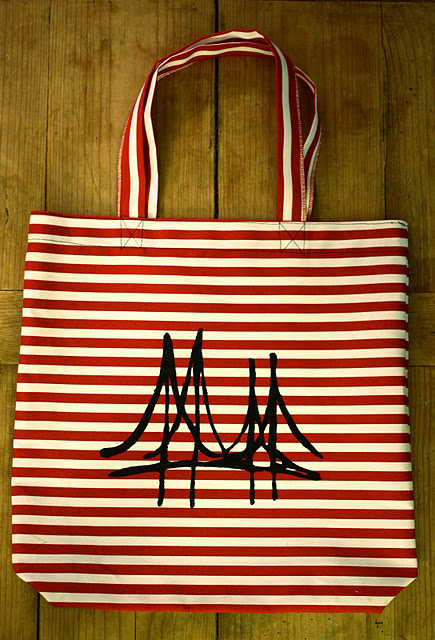 (odd coloring due to late night photography in a halogen-lit living room)
I began with awesome, handmade, full-size tote bags and decided they would better serve as favor bags a little smaller. You know, so they would be full with just a few simple and sweet items.
To make them smaller, I first turned each one inside out.
Next, I folded both sides into the center, about to where the straps come out.
Then I folded the bottom up to the top, shortening the bag by half.
Finally, I turned the whole thing back right side out, being careful to hold onto the folds so they would stay tucked together.
Voila! A full size tote bag transformed into a half size favor bag.
The favors now fit perfectly! Let's take a closer look at those…
Thirty is Crafty
Thirty is Gourmet
Who can resist Jelly Bellies? They are a colorful, fun addition to the favor bag. I am a sucker for color coordination, so each of these mono-hued treats was worth every minute of the divide-the-Costo-pack-of-beans-into-colors.
Thirty is Prepared
I thought it would be fun to include a "city" favor. So, everyone starts the trip with quarters for the meters. Mints are always a nice thing to have around, too.
Thirty is a Perfect Balance
True for life and kettle corn! We're packing a picnic on Saturday for 'UP' in the park. Now we've all got a movie snack to tote along.
Tie those tote handles up like a bow and there you've got a perfect
"Welcome to: Thirty in the City"
One for everyone!
Now our agenda is filled to the brim with eats and boutiques. We're ready to party!