We knew when we downsized that at least two of the kids would share a room. But when we ended up leasing a 2-bedroom house for our family of 5, the scenario quickly change to all three kids in one bedroom. Luckily, they get along well and we are used to spending time together as a family, so the transition to a small, shared bedroom has been pretty simple. It has taken some creativity and a lot of organizing and purging to get this room to where all three kids, plus all of their clothes, toys, and books all live happily in this small space.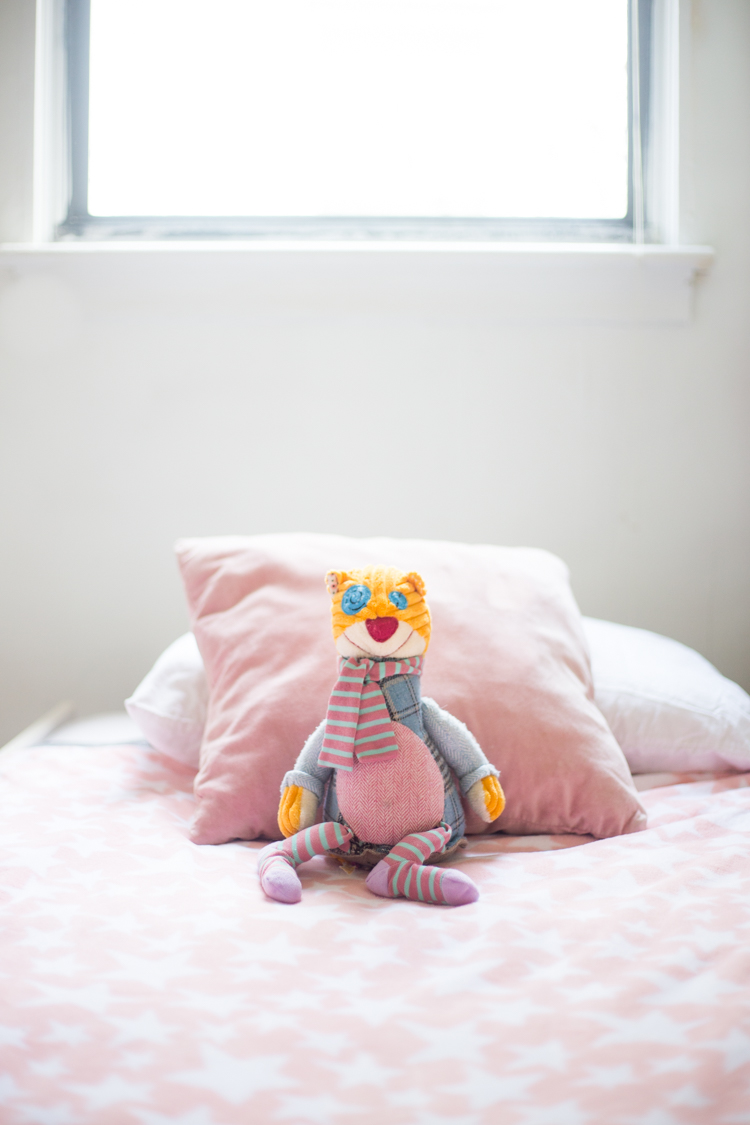 The first challenge to tackle with putting three kids in one bedroom was a BED! We had a bunk bed for the boys in their previous room, but needed a solution that would accommodate all three kids with some space left over in the room to play, as it doubles as the play room.
I looked a dozens of options, including two twins and a toddler bed, three adjustable toddler beds in a row, a triple bunk bed, and several different arrangements of bunk and twin or bunk and toddler beds. Finally I stumbled on the idea of a bunk bed with a trundle bed as the third level. The bunk frame is the same size as a standard bunk, and the trundle adds a third twin sized mattress that can easily be rolled away during the daytime!
This sleek, white version from Walker Edison is the bed I ended up choosing for a number of reasons. First, I love the simple lines and clean style. Second, it had the matching trundle as an option. Third, the bunk bed also comes apart and functions as two separate, matching twin beds! I love the idea of being able to use it in our next house, and not just as a temporary option for this one year. The trundle can be used for storage as well as a bed, so we have so many options for the future!
The bed ships in two large boxes, and Dave and I were able to assemble it easily in a couple hours. We were able to reuse all three of the kids mattresses from our previous house, and have them set up for sleeping comfortably in no time. This Walker Edison Mission Style Bunk Bed has definitely been the MVP of the shared bedroom, and we are excited to continue using the stylish twins in the future.
Each evening as part of the bedtime routine, I easily roll the trundle out and add a pillow from the bottom bunk. Then, in the morning as we're getting ready for school I roll the trundle back beneath the bunk and toss the pillow back onto the lower bed. I wondered if I would get annoyed with the daily chore of pulling and pushing the trundle, and it has been so easy I don't even think about it!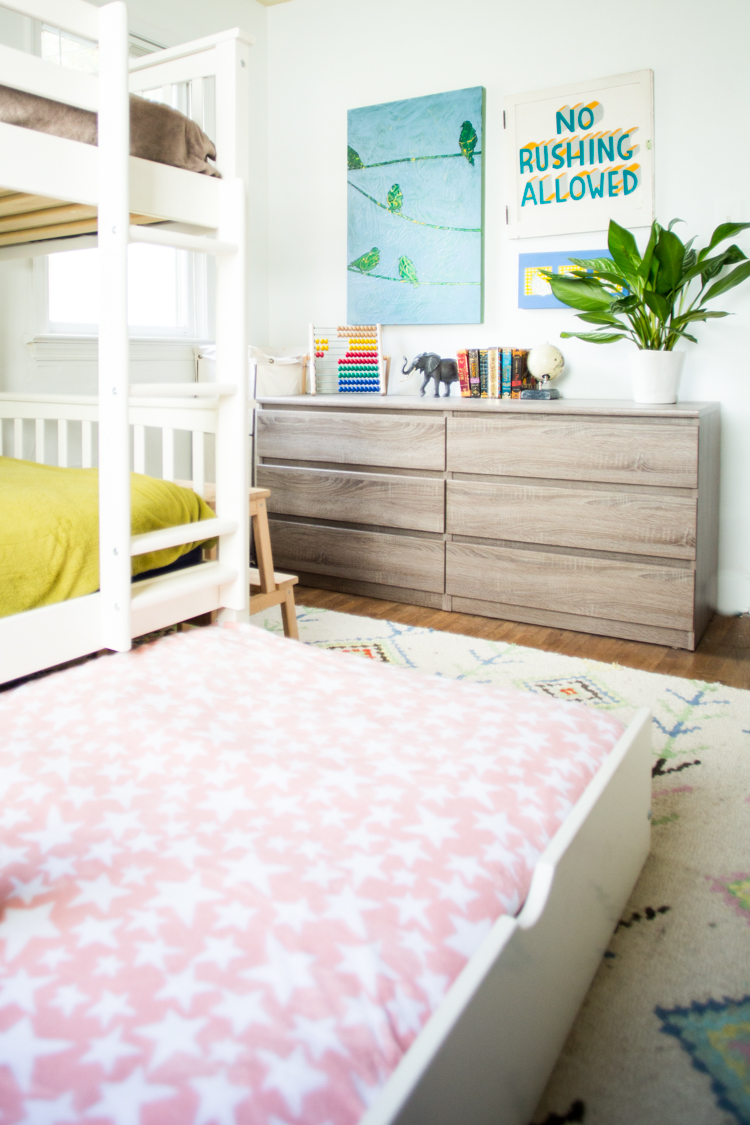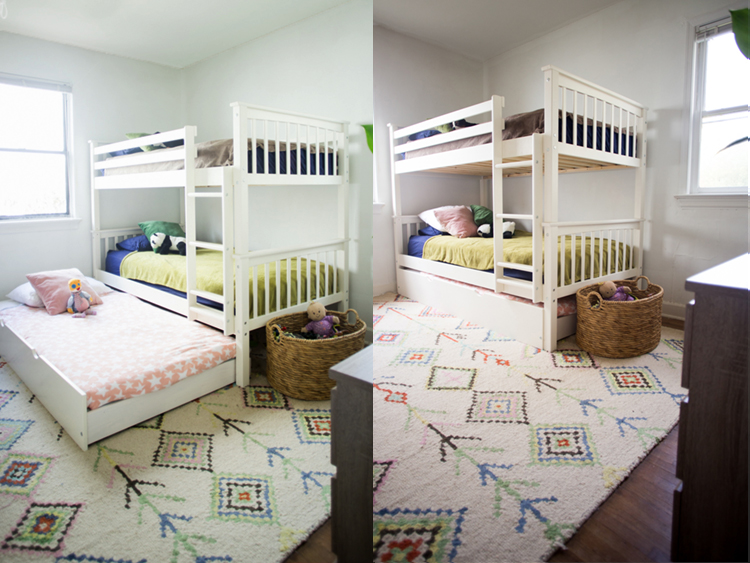 The next challenge was to tackle organizing all the clothes for three kids into the same room with only a small hanging bar in the closet (which I also share). We are using the dressers from both of the kids old rooms in different places in the house, so I did a little thinking and planning and found this great Six-Drawer Dresser to use.
Each kiddo has two drawers for all of their clothes, except for dresses and suits which are hung in the closet. The three things that are lifesavers with this minimal clothing storage are our capsule wardrobes, organizer bins inside the drawers, and the KonMari folding method.
My kids each have capsule wardrobes, so they each have enough but not excessive amounts of clothing. We are able to keep them all organized neatly using these awesome drawer organizers so each different type of clothing has a specific place within the drawer (undies, socks, swim suits, pajamas on one side and tops, bottoms, and sweatshirts on the other). I have taught them to put their clothes away using the KonMari folding method where each item is visible from the top of the drawer. So basically, you stack things as if they are vertical on a shelf, then tuck them flat into the drawer using the front of the drawer as what would be the shelf bottom. That might be confusing, so I've shown a peek inside the drawers to give a better idea of how it all works!
Above the dresser I hung some of our favorite art. Two bird paintings, each bought during one of my pregnancies with the boys. Then this "No Rushing Allowed" painting that Dave and I found on our recent trip to Kauai. It captures the feeling of the island, and the mantra we want to communicate to our littles to slow down, enjoy the journey, and make time to imagine, play, and live.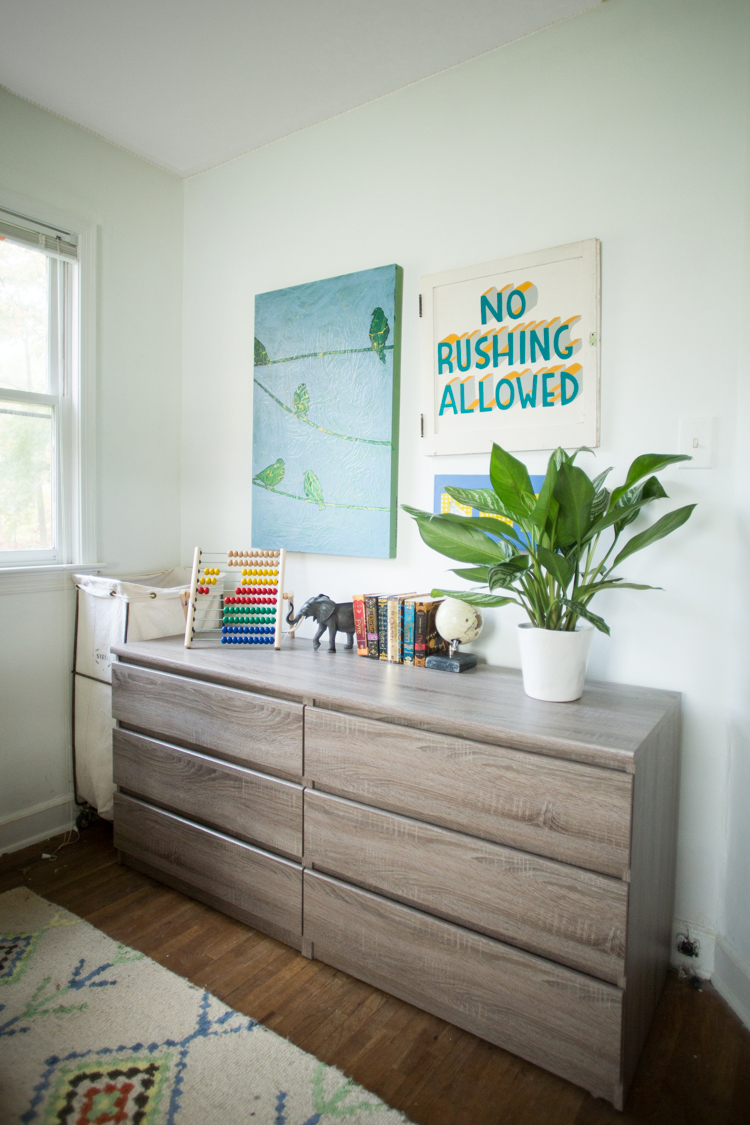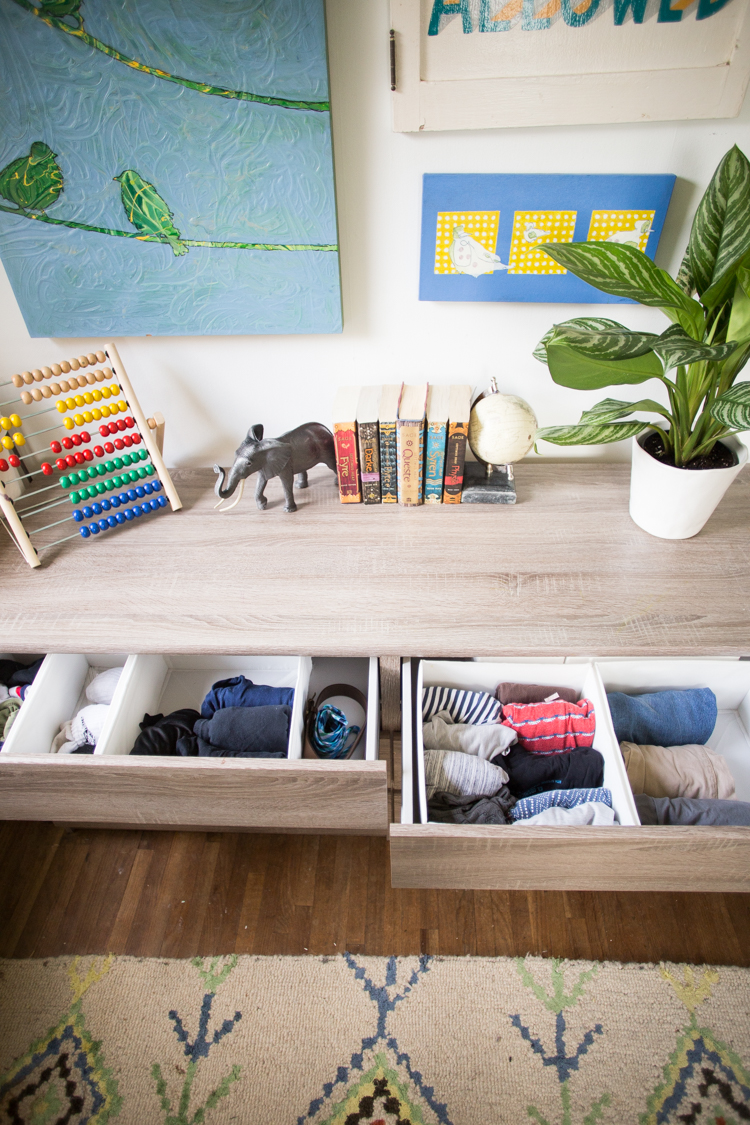 Books and toys are also corralled into this shared bedroom, and with a little planning they all look as pretty as they are fun.
We began with a very thorough and thoughtful purging of the toys that weren't being used or weren't in good condition. That left us with a couple boxes of legos, and a bunch of fun, smaller, toy animals and dinosaurs. Plus Plum's baby dolls and her small Kid Kitchen. I love the kitchen as part of the room decor as well as a great imaginary play tool. We got rid of most of the mismatched food and kept the cute little pots and pan sets that she fills with imaginary food. Usually mac and cheese.
The legos stay in small plastic bins, and we've found the boys have more than enough to build, rebuild, and rebuild new things all the time. Small cars, action figures, and animals live in the toy basket at the end of the bed, along with the baby dolls, and the few small toys around the rest of the room work as functional styling decor.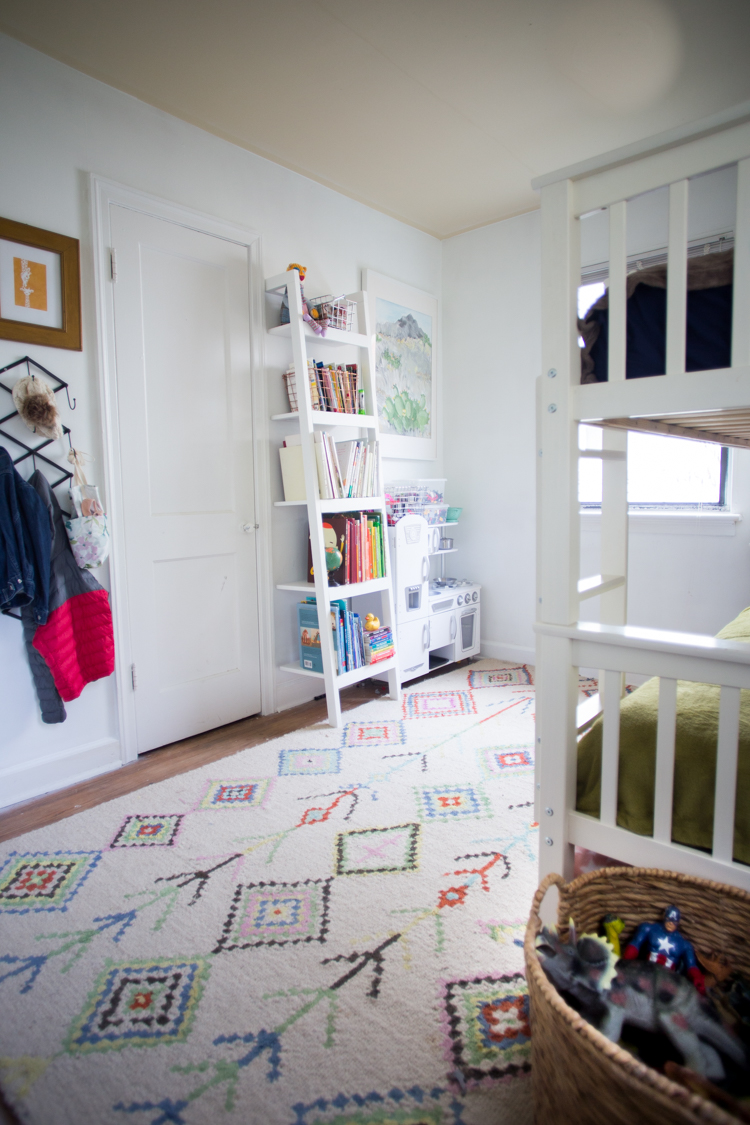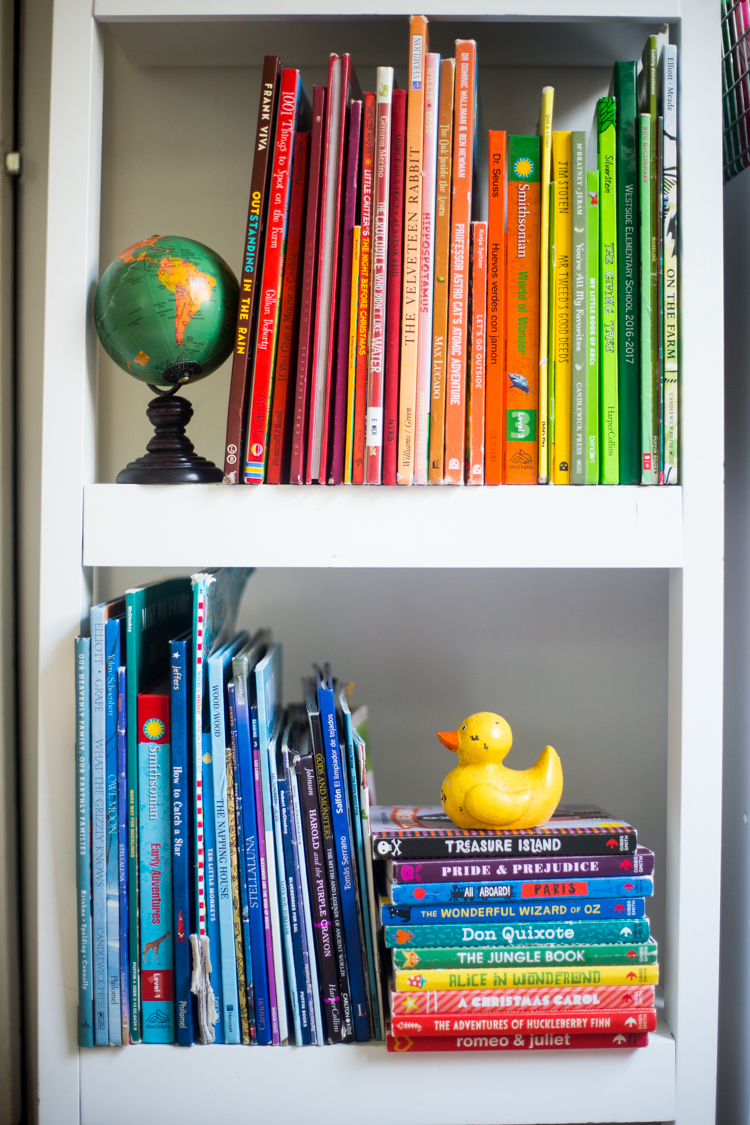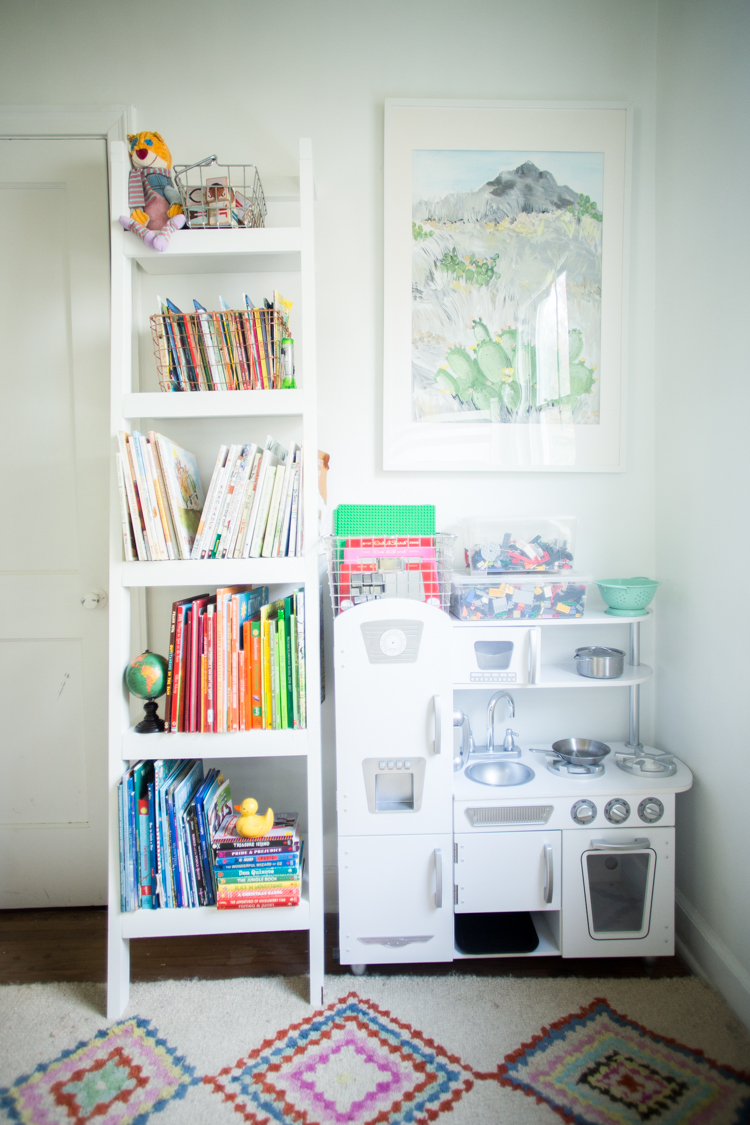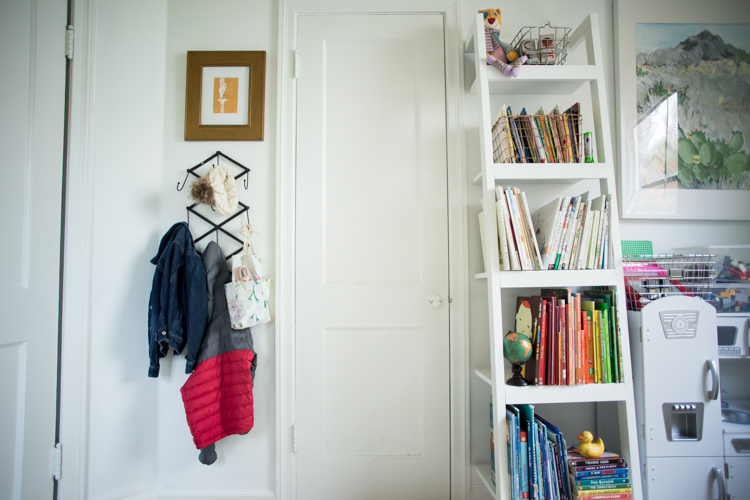 Our collection of books is organized by color on my favorite White Leaning Bookcase, to bring some order to the otherwise well-loved selections. The kids have learned to know the colors of their favorites, and organizing this way also really helps them clean up easily. Putting them away in the right section feels like a matching game! Smaller, chapter books go in a basket on the bookcase, and we also have small stacks of books to read throughout the house so there is always one nearby.
Finally, I added some wall hooks behind the door for easy hanging of coats, bags, and hats. It's an attempt to teach them to keep things off the floor, and works some of the time.  The colorful rug came from the patio room of the old house, and I love the bright colors and fun design in here to add some character. The kids each have a basic fitted sheet and pillowcase, then a soft blanket to throw on top, which is much easier and more realistic for us than trying to make elaborately dressed beds every day.
We have all been pleasantly surprised by how simple having our three kids in one bedroom has been. They play well, sleep well, and have adjusted just fine to the smaller living space.
I appreciate that we have been able to keep it looking intentional and well designed, without being overworked or fussy. Especially for the one year that we will be living here.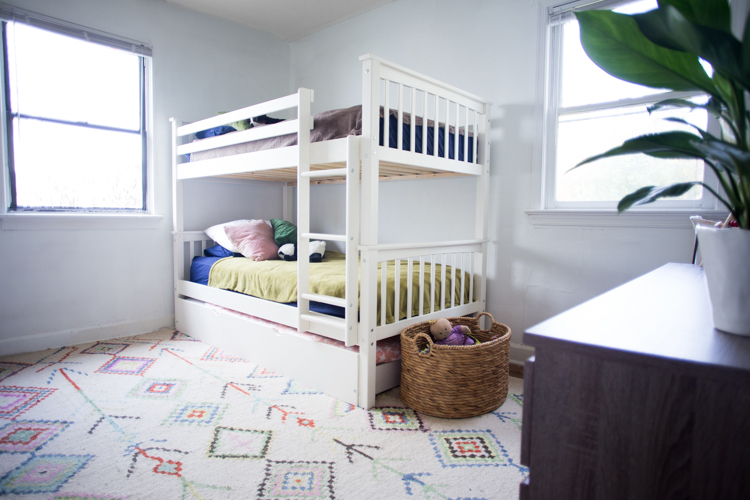 Sources:
White Bunk Beds c/o Walker Edison Design
Bohemian Rug c/o Rugs Usa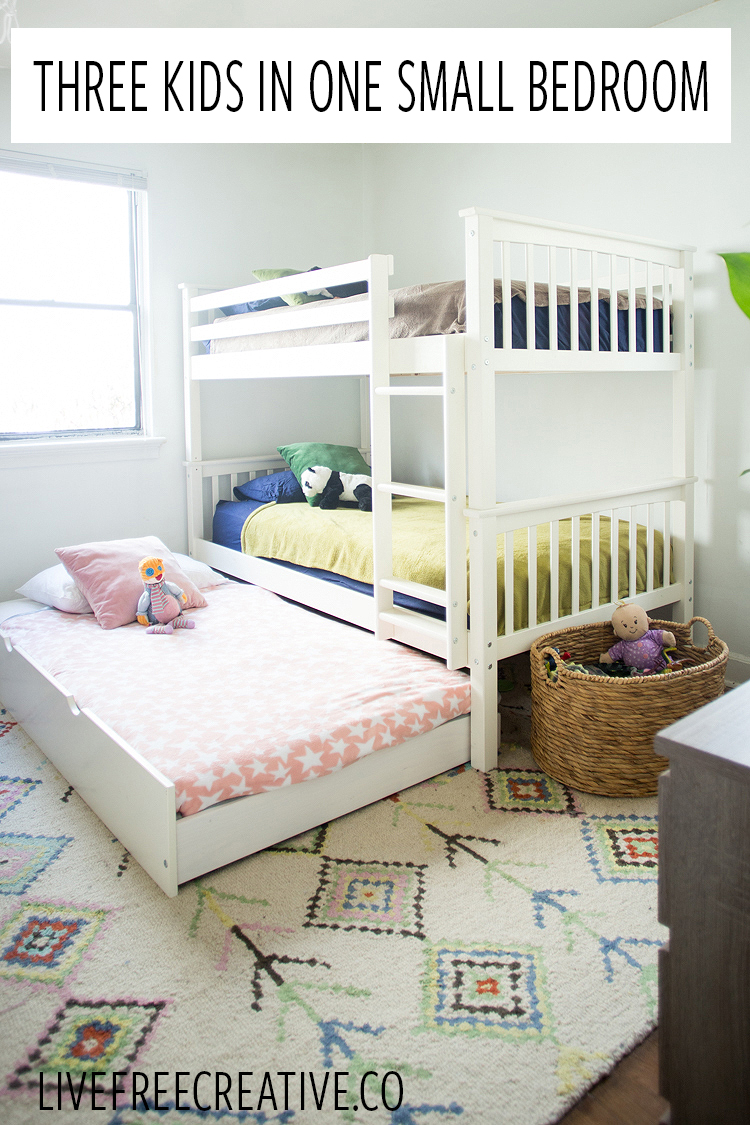 SaveSave
SaveSave
SaveSave