I don't remember exactly how it happened. Just that back in November, after finishing my second ever half-marathon, I chatted with Dave's cousin about signing up for a short spring race to keep my motivation through the winter. She had just had a baby, too. (At the time, Eliot was 4 months and Ivy 3 weeks) and somehow we laughed about wearing unitards in the race. American Flag unitards to be exact.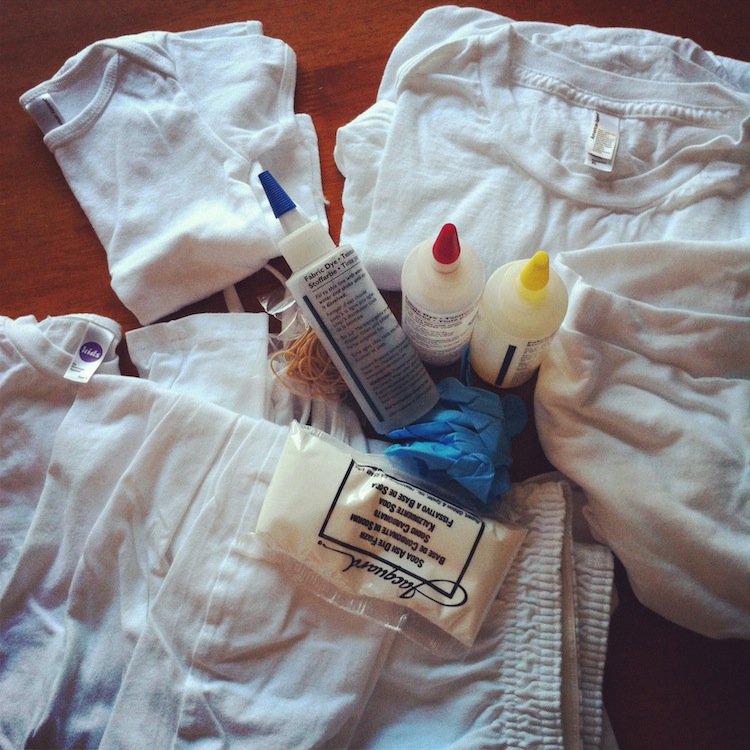 Fast forward to last week. I had finally signed both Dave and myself up for the race, although our training was sort of spotty (or non-existant, in Dave's case). I was excited about running with Dave. And also excited to begin my first tie dye project. You see, I don't joke around about unitards, and the American Flag variety are pricey! Dave's Aunt Missy gifted me a tie dye kit for my birthday, so I was set to make my own!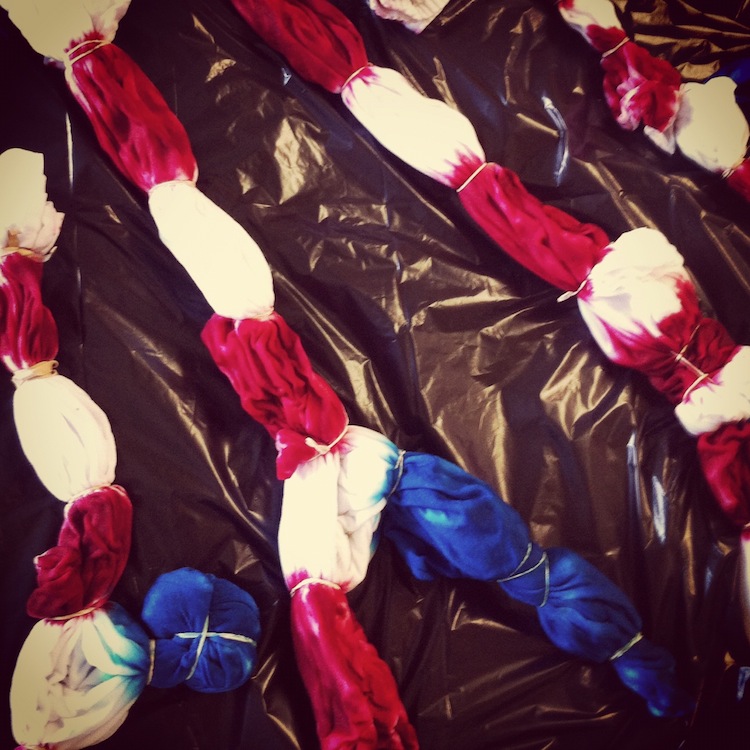 The "tie" part I just made up. (It ended up working out so well I'm planning a little tutorial for Independence Day!) Then I squirted the red and blue dye onto the American Apparel tees and unitard I had ordered. Wait 24 hours, rinse, wash, dry, and…try on.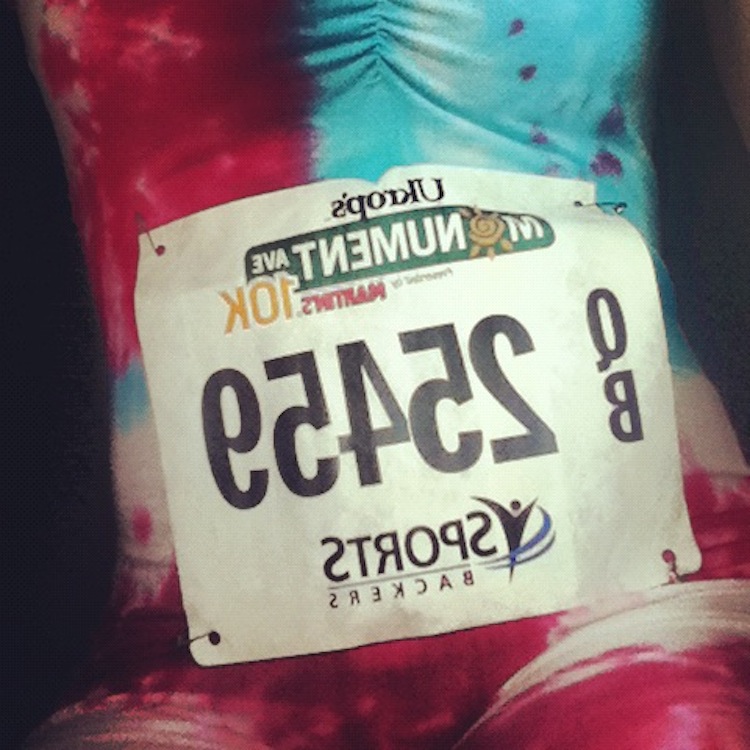 Ready to run!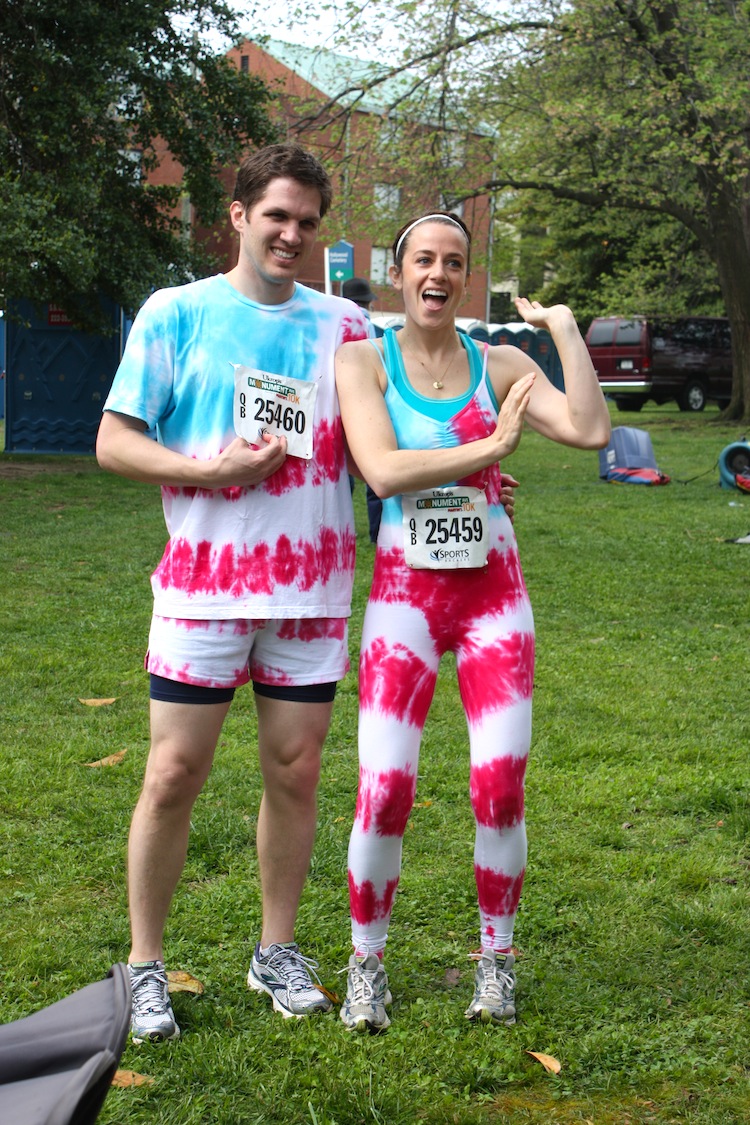 The race went awesome! We finished in 60 minutes, which is right on pace for me. I was super impressed for Dave to bust that out after sitting at his desk for the last few months:) The best part of dressing up was that we got such personal cheering! People along the sidelines would yell "Hey, yeah tie dye!!" and "Go tie dye! We love your outfits!!" I had one cute girl tell me I looked good "…not in a creepy way, I have a husband!" and I'm sure there were more than a few people thinking "What are they thinking?!"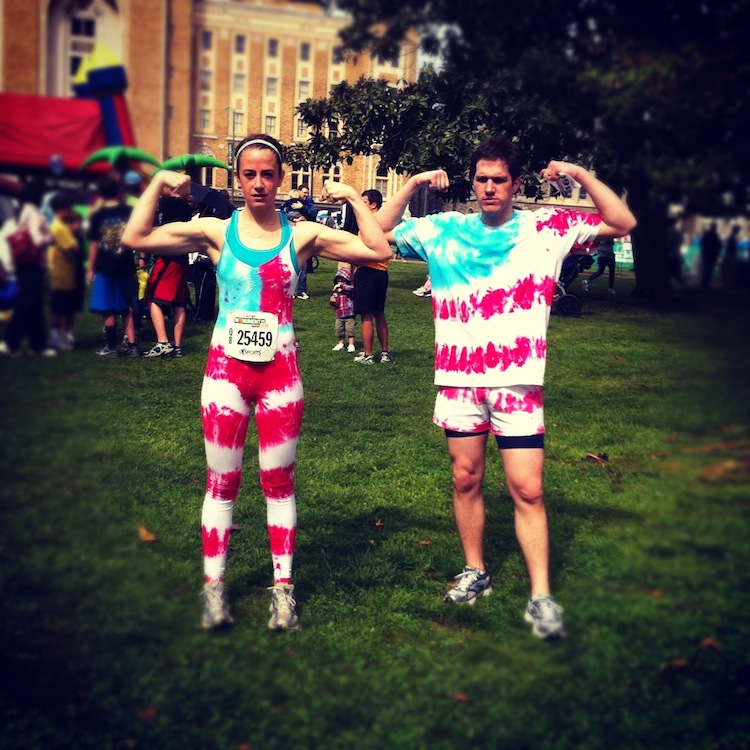 We had such a great time racing together. We did well as a team, telling each to keep up the good work, or slow down a bit to keep our pace. At the end, when we were both pretty spent, we started yelling "GO AMERICA!!" at the top of our lungs, to keep things fun and funny. It worked for us…who knows about the folks around us!!  It was so fun we've decided to sign up for another. This one will be a sprint triathlon in June. I can't wait…I won't be the only one in a unitard!!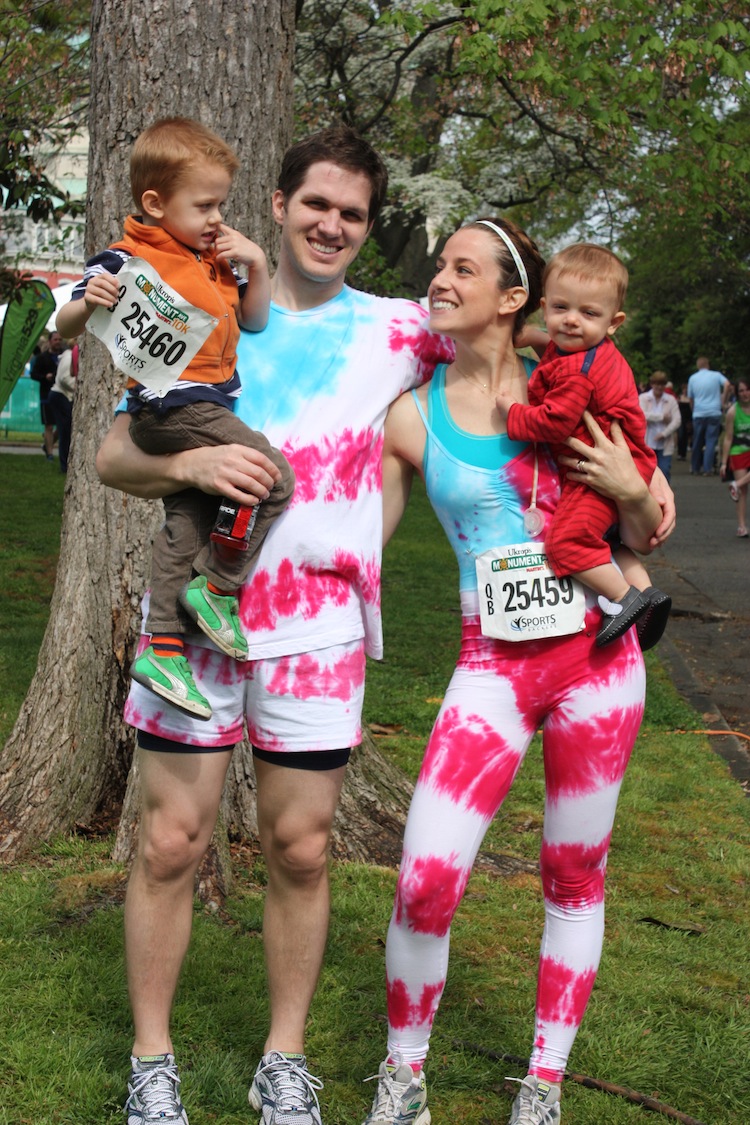 After running, sweating, and cheering ourselves on, the best part of the race was the end, when we got to grab our little boys and snuggle them. (Thanks again, Sheryl, for watching them while we ran!) It was a fantastic morning. As good as they come, I'd say!