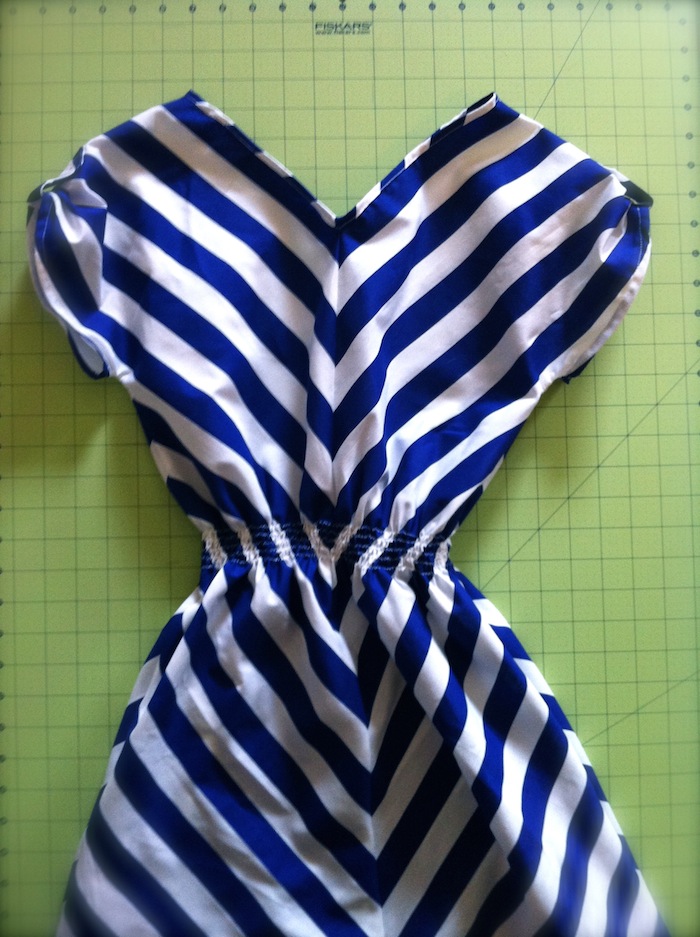 Wahoo everyone! I made it into the Top 5 of the Sewvivor competition! I'll be honest, I think these voting days are giving me an ulcer. I get really nervous, and have been so happy with the support that everyone has shown for me and my little sewing projects. So, thank you thank you.
I have been working on the Summer Chevron Dress tutorial that I promised (Update, it's HERE). I didn't take photos while I made it (because it was late at night and the lighting was bad) so I've made a whole new dress to give you a clear step-by-step. I made it out of a woven cotton stripe that I had on hand, and so I'll be able to give instructions for woven or knit fabric. (little secret, they're pretty much the same…but now I know that:)
I wanted to post the tutorial this week, but the computer's a little glitchy and can't handle more photos until I clean some off. I guess 35 million is its limit. Along with that, I have had a really crazy busy week. Both good and bad, but mainly busy. So, I am taking a vacation from my virtual life this weekend to focus on my REAL LIFE (in which the laundry has been severely neglected, and my nephew's Flat Stanley needs to visit the National Mall with us:) I've got a lot upcoming: sewing orders, birthdays, baby showers, printing projects, triathalon training, and family visiting, to list a few. I want to make sure I've got my wits about me to enjoy ever little minute!
I'm unplugging…in 3, 2, 1.