Here is is after long last, my Torchy's Taco Queso Copycat Recipe!
If you've been to Torchy's Tacos, you know the green chile queso is out of this world. I fell hard and fast for this delicious, creamy, spicy queso when we lived in Austin, Texas, home of the original Torchy's Taco restaurant.
In the years since we moved away I have had friends ship queso to me in bottles to supplement my annual visits back to Texas (or Denver, where there are also a couple Torchy's Tacos locations!) I've finally decided I needed to make a copycat version that would satisfy my quesoholism between visits.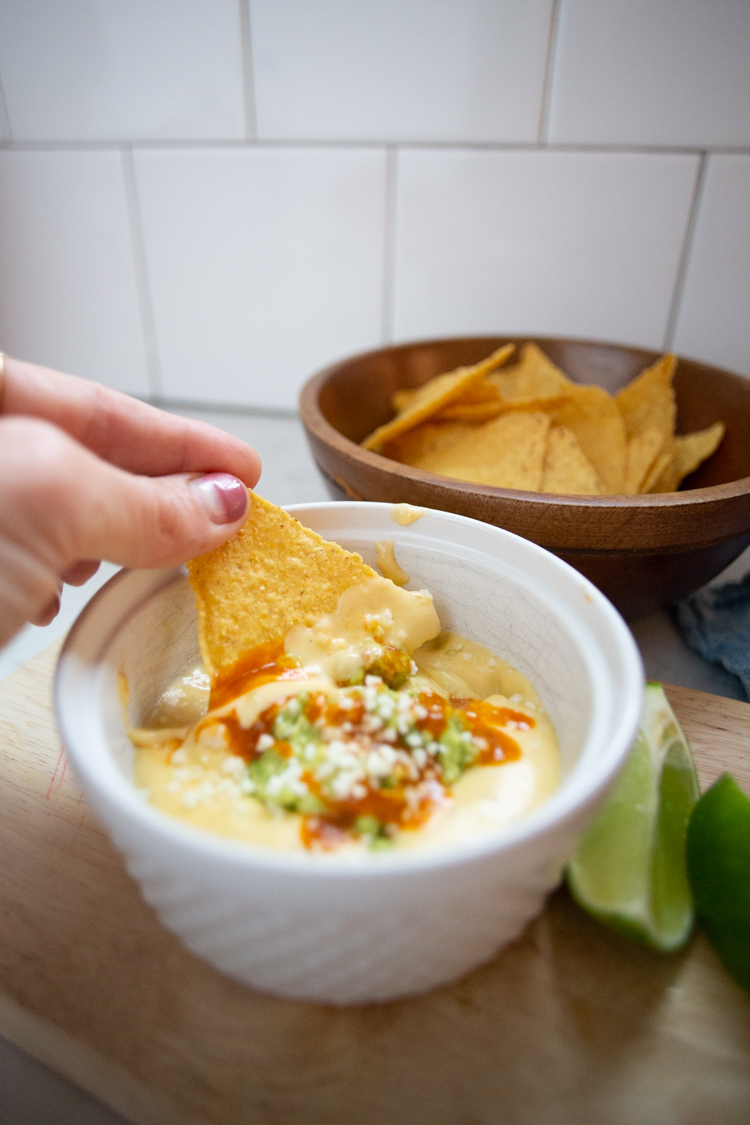 Torchy's Queso Copycat
Now, I have to be real: I am under no pretense that this queso recipe tastes close enough to the original to really be called a copycat recipe. I have tried all of the other online versions that make that claim, only to be disappointed. So, while this recipe is NOT going to taste exactly like Torchy's Magical Queso, it IS delicious, creamy, spicy, and super satisfying.
It's the closest I've come to the original, and since I do not have easy access to Torchy's in my daily life, this has been a wonderful addition to my late-night Schitt's Creek marathons.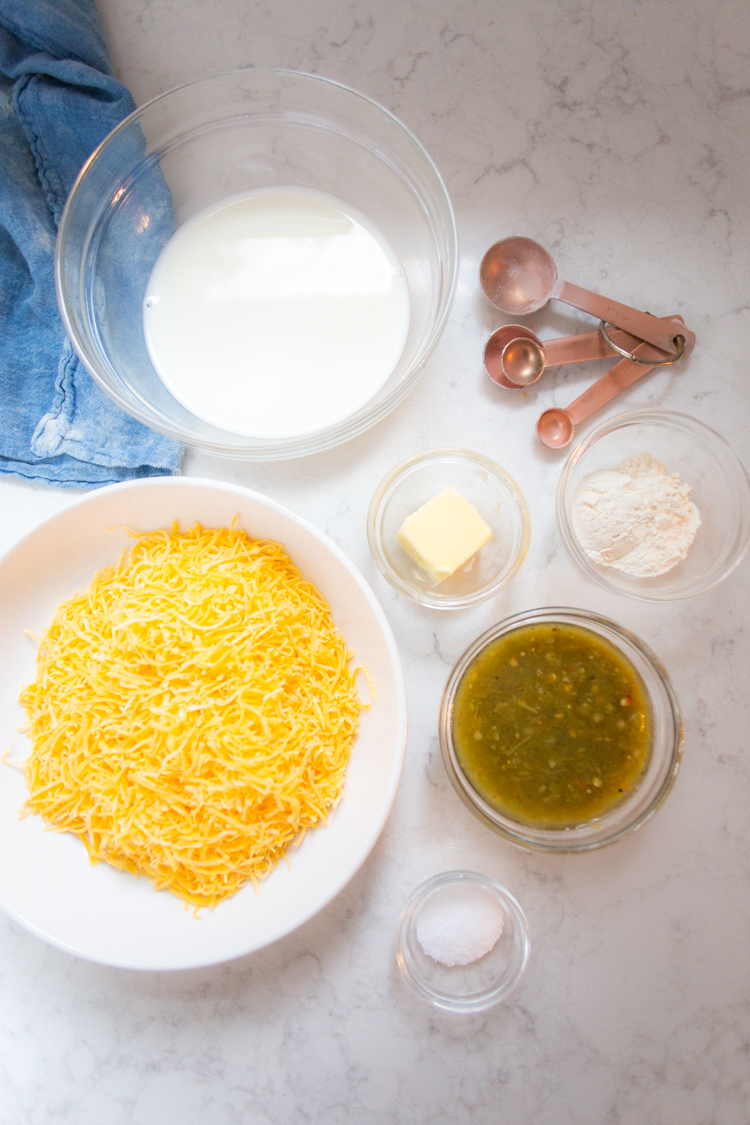 Ingredients
Something that I appreciate about this particular recipe is how easy it is. All of the ingredients are readily available in most grocery stores. While I use Trader Joe's Hatch Green Chile tomatillo salsa, other green chile salsas would also sub in quite nicely.
Beyond salsa you'll simply need:
Butter
Flour (sub corn starch for a gluten-free version)
Salt
Milk
Cream
Sharp Cheddar Cheese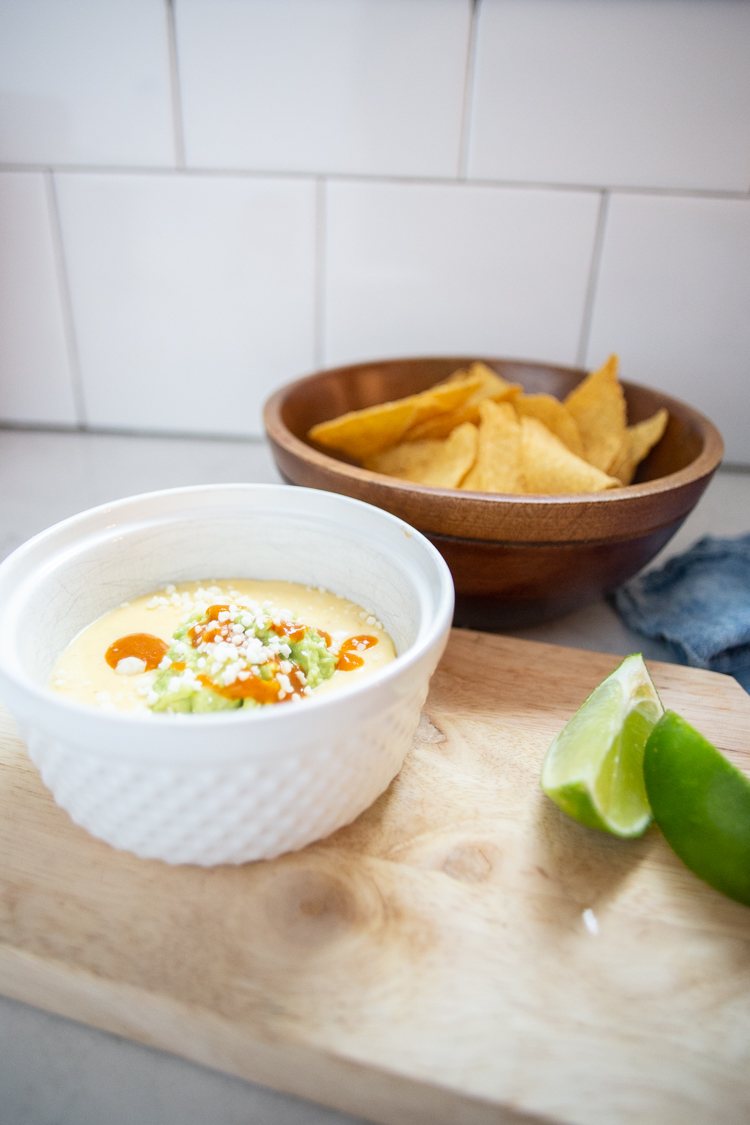 Toppings
The toppings at Torchy's include:
fresh guacamole
chopped cilantro
diablo hot sauce
and cojita cheese
I make mine similarly when I'm going all out at home, but I also love the queso on it's own!
Heating and Reheating
When it's fresh and hot, the queso is lighter and more liquid. It gets thicker as it cools. I like to eat a small bowl while hot, but this recipe makes enough for about a pint, so you can store the extra in a jar in the fridge!
To bring back the thinner quality you can simply spoon some into a bowl and microwave it. If you prefer it even thinner, add a little milk and stir completely.

Simple Torchy's Queso Copycat Recipe
Ingredients
2 Tbsp Butter
2 Tbsp Flour
1 tsp Salt
1 1/2 cups milk
1/2 cup heavy cream
2 cups shredded sharp cheddar cheese
1/2 cup green chile tomatillo salsa
Takes , serves 4-6
Instructions
Melt butter over medium heat. Add flour and salt and mix until bubbly.
Whisk in milk and cream. Whisk constantly until mixture thickens into a roux.
Add cheese and mix until melted and mixed in completely.
Remove from heat and add in salsa. Mix completely. Top with desired toppings and enjoy!