Valentine's Day Book Dinner
Happy Valentine's Day Season!
Isn't that funny, how holidays tend to spread themselves out through the weeks and sometimes months leading up to the actual holiday? Luckily, Valentine's Day is one of my very favorites, in part due to this old holiday tradition that I grew up with and have passed on to my own lovely family: Valentine's Day Book Dinner.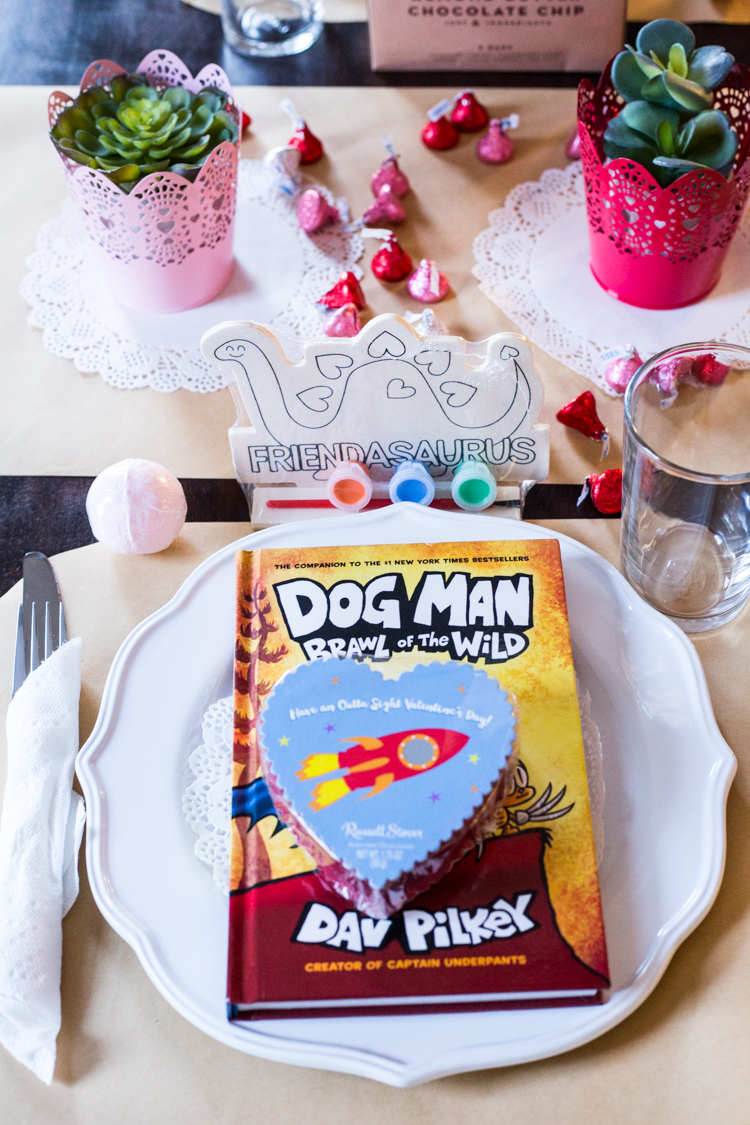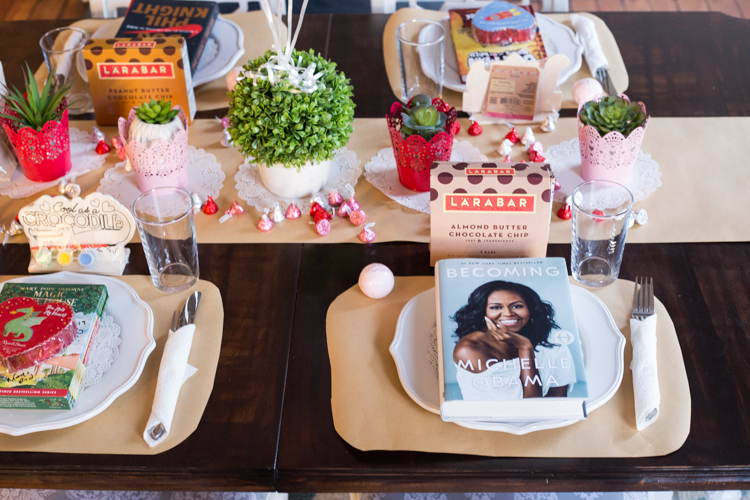 Making Valentine's Day A Family Holiday
When I was young, I thought Valentine's Day was all about love. Not just romantic love, but also family love. My dad bought my sisters and me flowers, we woke up to chocolate chip pancakes for breakfast, and we always, always finished the day with a Valentine's Day Book Dinner.
Even as I grew up and realized all of the romantic traditions and connotations to this February holiday, I loved coming home at night to a festive, family dinner. It has been one of my favorite holidays to host with my own kids, making them feel as special and loved as my parents made me feel.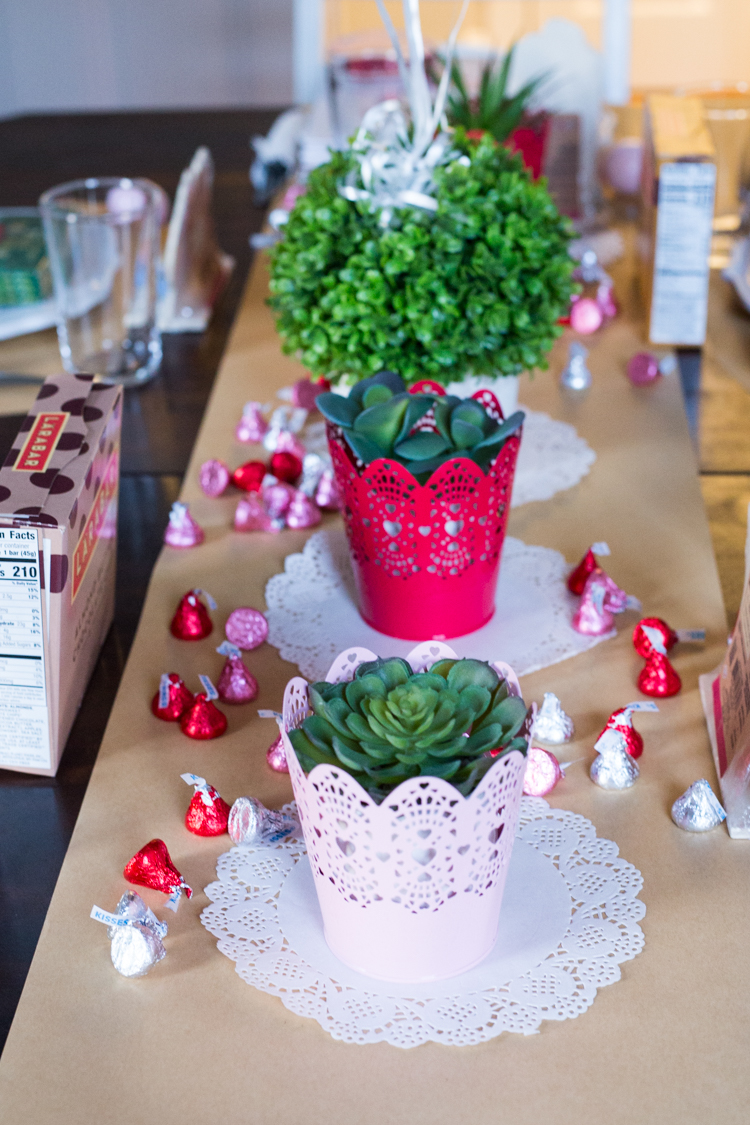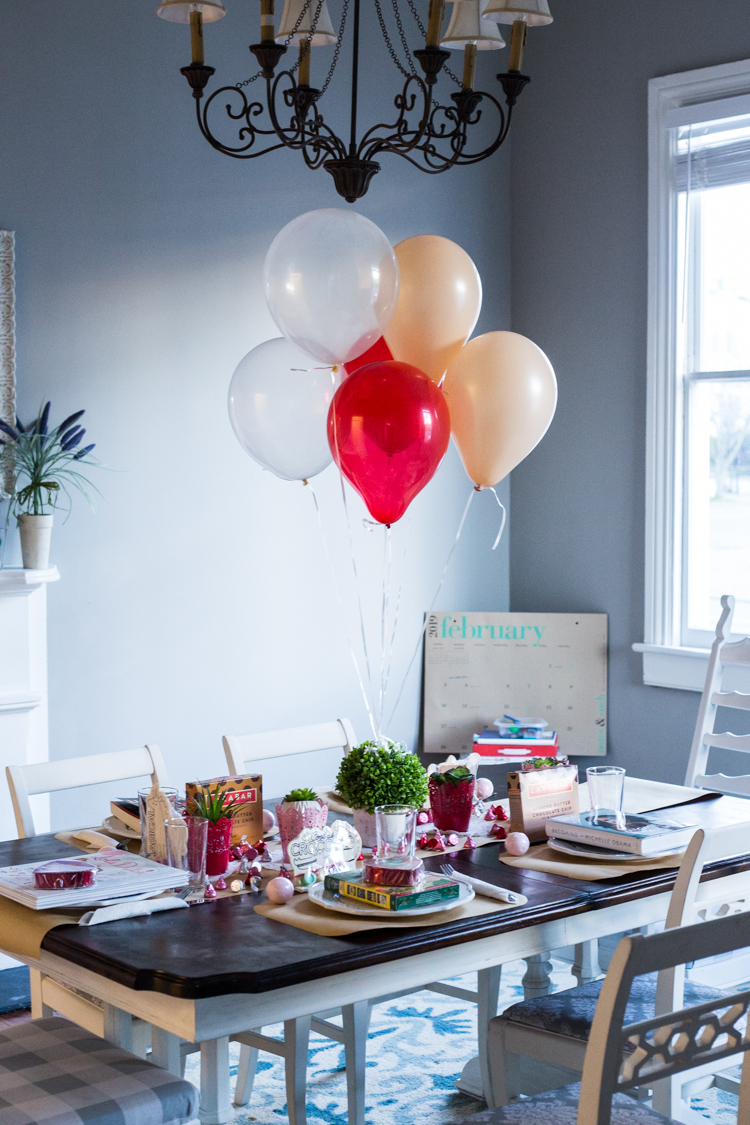 Valentine's Day Book Dinner Details
The idea behind the family book dinner is simple: each person receives a book, chosen especially for their current interests and abilities. Other than that, each year is a little different.
Decor
Some years I go all out with fully decorated rooms and other special surprises. Some years I have less energy, or time, and default to the books and maybe some chocolate to share.
This year was somewhere in the middle: I found simple, inexpensive decor at Target that included a roll of kraft paper to use as a runner and cut into placemats, paper doilies, cute little metal pails to hold the faux succulents on the table, and Hershey's kisses for sweet, shiny confetti.
Treats/Gifts
In addition to the books (which I ordered on Amazon the week before our dinner) I bought each of the kids a small, heart-shaped box of chocolates. When I was a kid, those tiny, individual chocolate boxes always made me feel super special.
I also found some little craft kits that I knew the kids would have fun working on after our dinner. These types of crafts are easy for a small project, and no one feels especially sentimental about them when they're finished, so we can throw them away.
For Dave and myself, I subbed chocolate for Larabar fruit and nut bars. We have been cutting down our processed sugar intake and feeling really great, so this was a fun way to encourage our healthy lifestyle.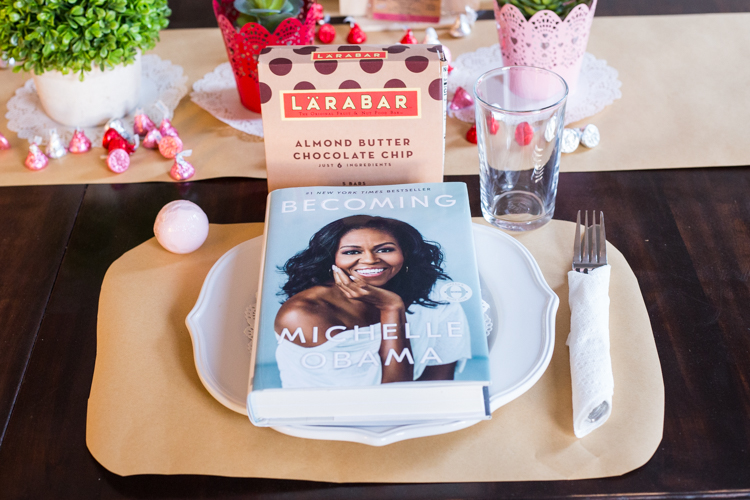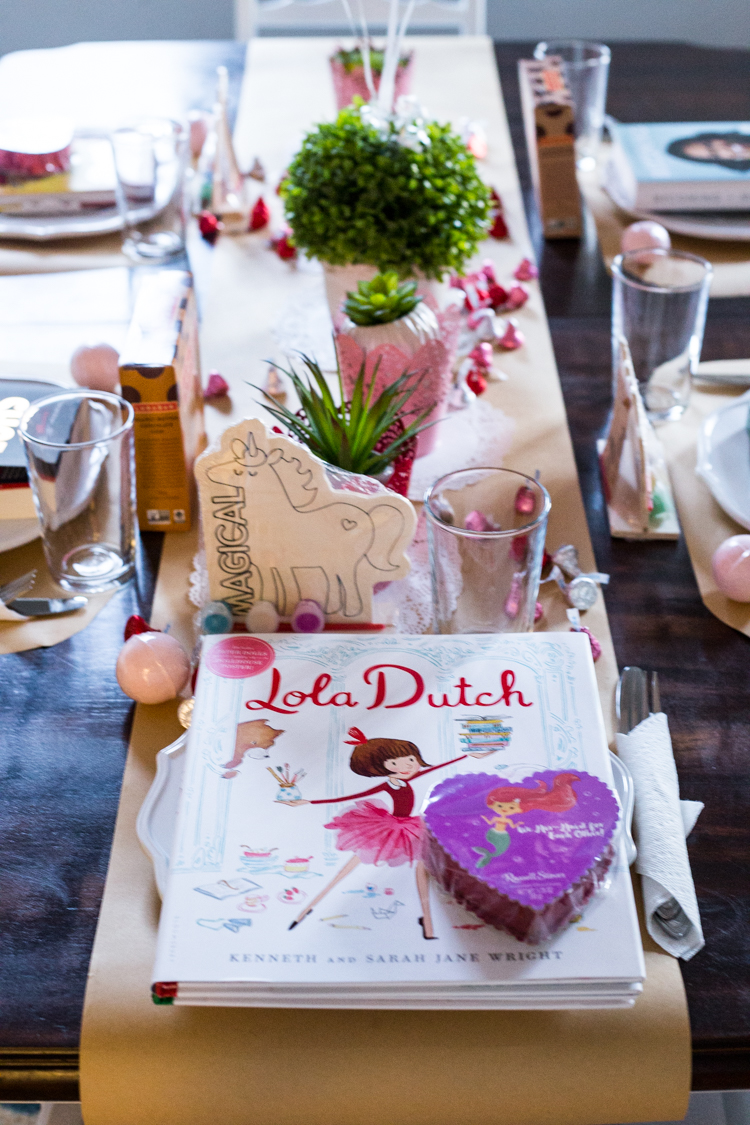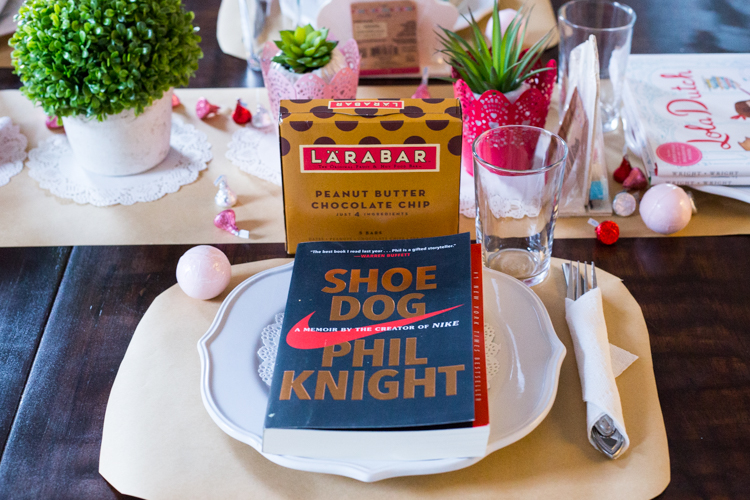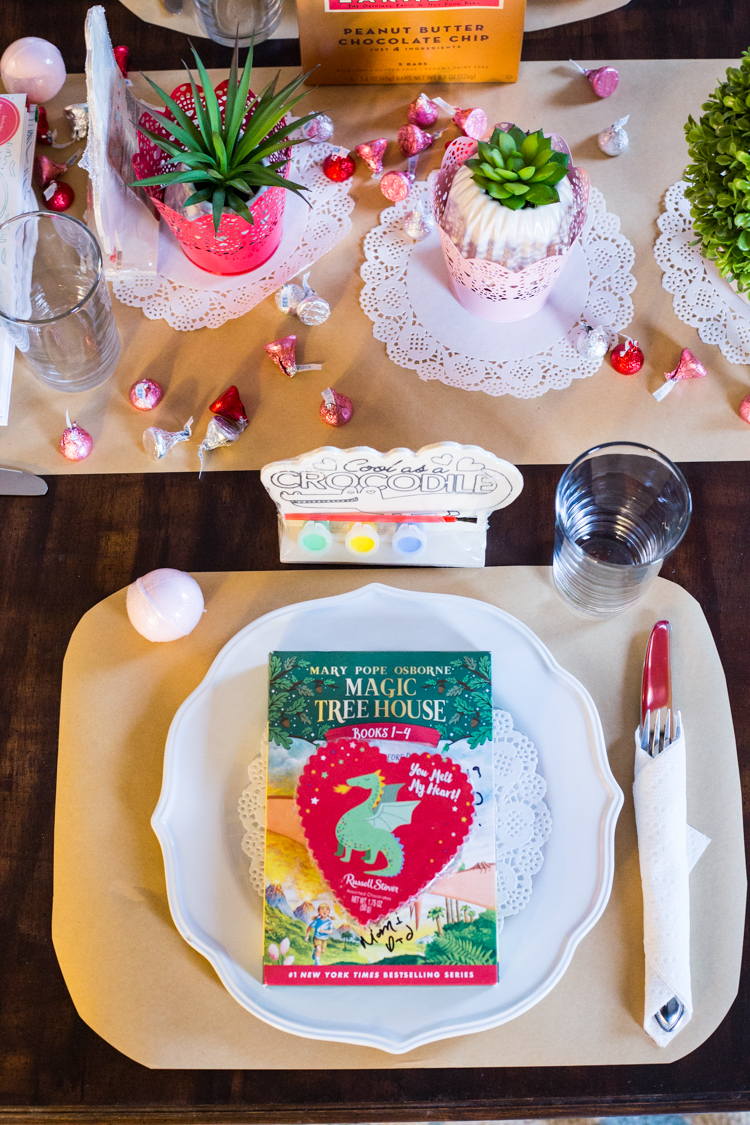 Our Books This Year
I love to read and do what I can to encourage my kids love it as well, including celebrating with books as gifts.
It is really fun to choose special books for each child, and Dave, and myself. Here are my picks for 2019:
Plum: Lola Dutch and Lola Dutch When I Grow Up
These books are adorable. Well-written, imaginative, and created with such care. The illustrations are incredible, and support the easy way you fall in love with Lola Dutch. I think everyone should have them.
Eliot: Dog Man: Brawl Of The Wild
Although I am not a huge fan of graphic novels, my boys adore them. If they want to sit and read for hours at a time, that means I can get on board. This series, especially, has even fun for them and we were happy to see a new sequel.
Milo: Magic Treehouse 1-4
A few years ago my mom sent me a box of old chapter books, including a scattered few from the Magic Treehouse series. Milo and I started reading one aloud and he was hooked! I thought it would be fun to go back to the beginning and start working through them.
Me: Becoming
This book had been on my list since it was released and I was so happy to have a great excuse to buy it. I just spent the weekend reading it and loved every story.
Dave: Shoe Dog
I had heard over and over about this candid biography of Phil Knight, the owner of Nike. I figured Dave would love learning more about his story (and I'm excited to read it when he finishes!)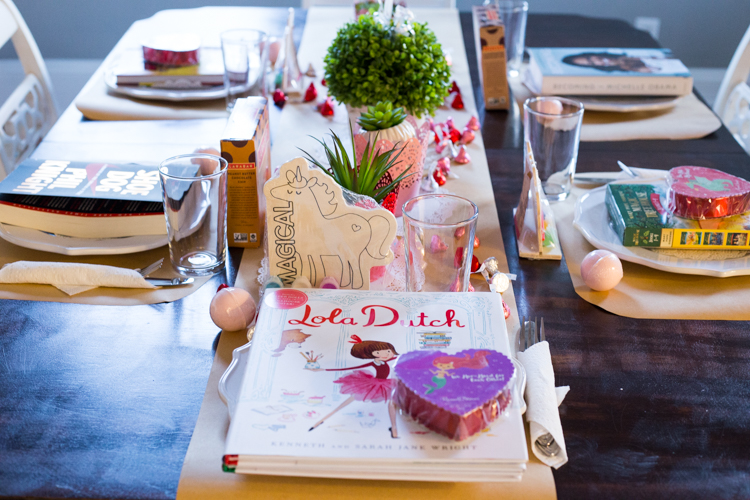 After years and years of creating this fun, family tradition, I am happy to finally share about it here. I hope you have a wonderful Valentine's Day, however you choose to celebrate! We don't need too much encouragement to celebrate our love for each other!