True Vintage Fabrics
Over the summer, my mother-in-law gave me a box of vintage fabrics and sewing supplies that had been stored in an attic by her step-mother. I was floored by the beautiful colors, patterns, and inspiring designs of the fabric! Some felt very timeless while others (like the orange and brown floral) felt right out of the sixties, from where they had come!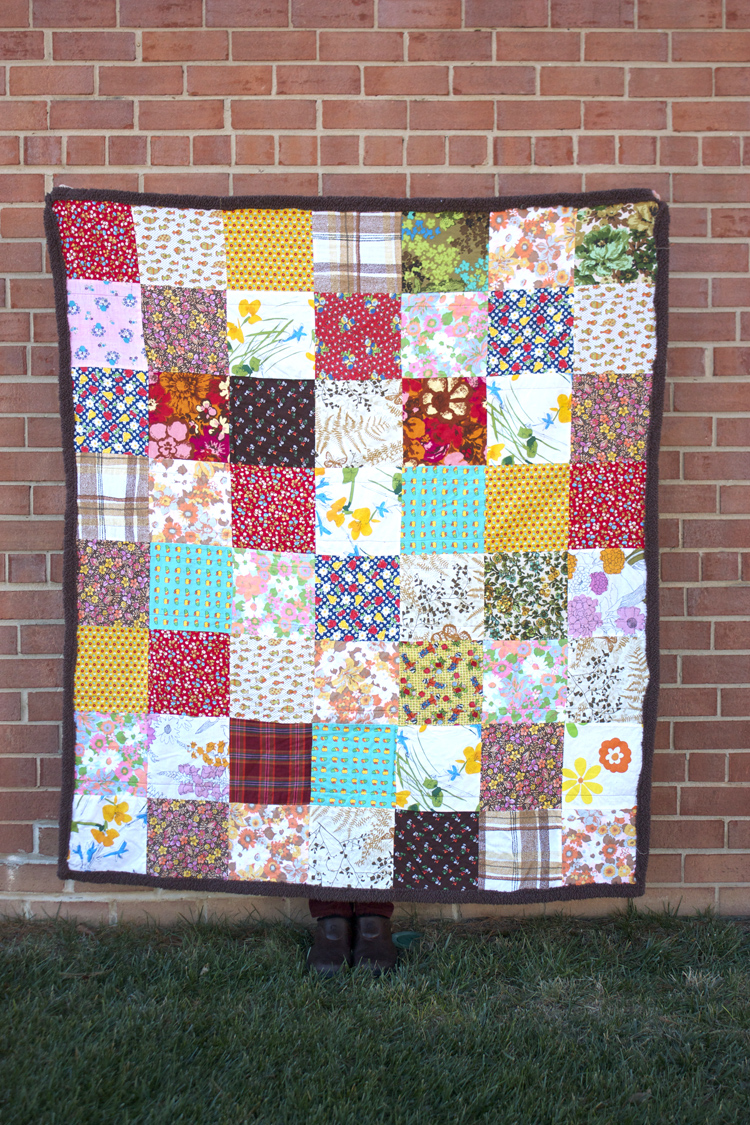 For Christmas, I decided to turn a pile of these amazing, vintage fabrics into a patchwork quilt for my mother and father-in-law, as a dedication to their family heritage! This quilt now decorates the ranch property where the box of fabrics was stored!
I am not much of a quilter, so I stayed with a super simple patchwork design and backed the quilt with fluffy fleece. I didn't even include a batting because the fleece was soft and squishy enough! Three cheers for simple, meaningful projects!
Backing and Binding In One
I ended up sewing the backing on sort of like a large pillowcase. Here's how I did it:
Cut the backing 2″ wider than the fabric around the four edges.
Place right sides together, and pin the corners into place.
Sew along the four edges, leaving a 6″ hole for turning.
Turn the backing and front right-side-out, and then adjust the fabric so that the extra fabric ends up folding onto the front as a binding.
Stitch down the folded fabric, to bind and back in one!
Simple and Meaningful
I love the way this simple, beautiful, meaningful quilt turned out. There was something exceptionally satisfying about sewing a blanket (instead of the clothing I usually make) because it feels like it will really last for a long time and be used often.
We are all excited to cuddle up with this quilt in my in-law's cabin and remember those who have gone before.