I'm so excited to be participating today in this year's Vintage May hosted by Kristin from Skirt as Top and Jess from Craftiness is not Optional . I watched the series last year, loving the vintage-inspired creations made by some talented women. The projects this year are equally inspiring, and most come with patterns and instructions, too! So, read on for my vintage-inspired project, and check out the whole series.


I've been lucky to sew a lot with vintage in the last few months, including using some amazing vintage fabric from Dave's grandmother for this velvet skirt, and more for a quilt that I'll share later this month. When I thought about this opportunity to create a vintage-inspired project, I thought immediately of a little gingham apron that was a gift from my Grandpa Joe. I thought it had been made by my Grandmother Helen, his wife, but when I wore it in this post about my first apple pie, my aunt commented to tell me that the apron was actually made by my Great-Grandmother Alice, Grandpa Joe's mother who was born in 1893 and passed away in 1975. Pretty amazing.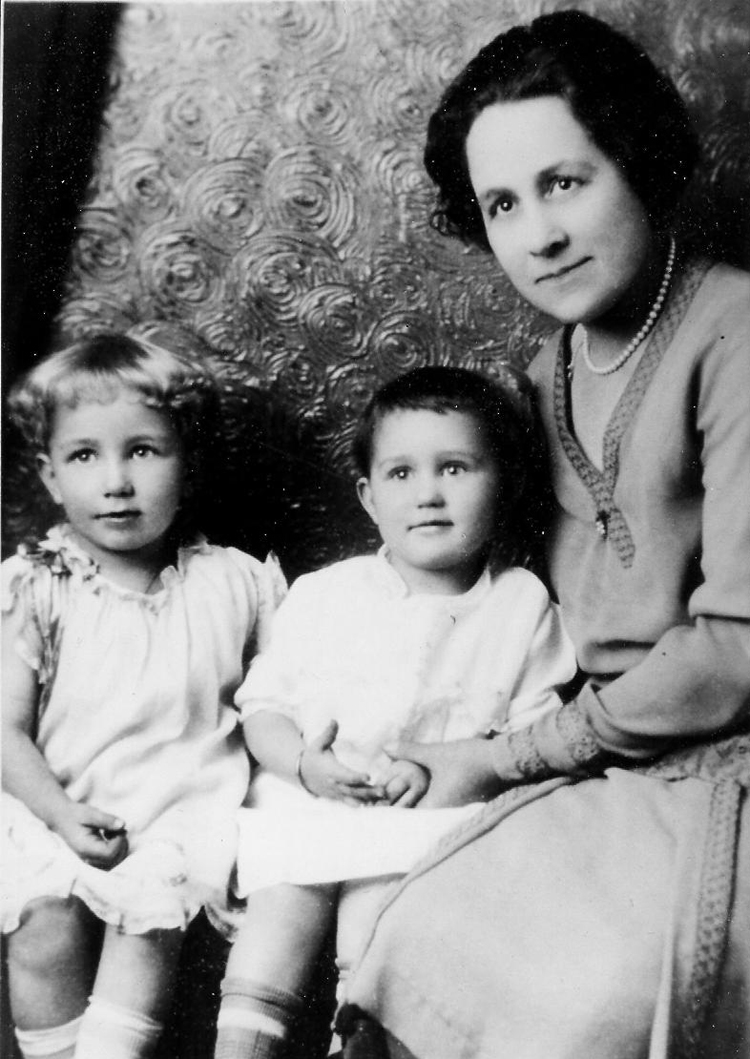 This photo shows Alice on the right, with her two daughters Margaret and Gladys.  actually know very little about her. However, I remember my dad telling stories about how Grandma Alice had suffered a stroke early in life, and spent many years without the use of one arm. According to him, the ailment didn't get her down, and she continued cooking, and apparently sewing away, in spite of the disability.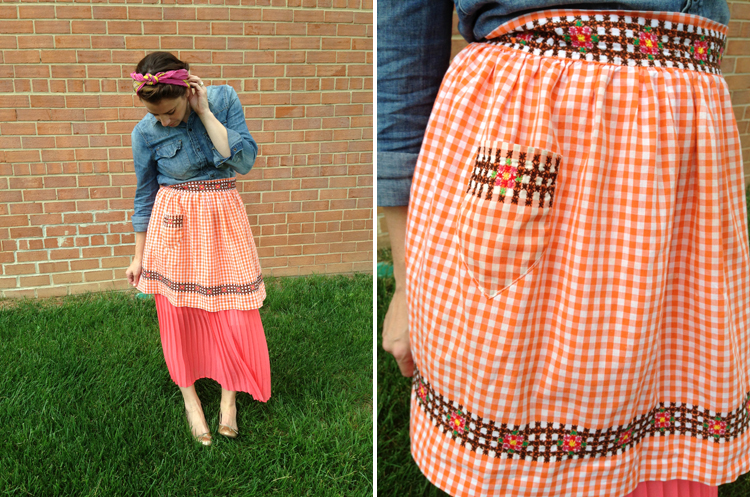 This is the apron Alice made. Isn't it incredible? The entire thing was made by hand…as in without the use of a machine! Teeny-tiny, perfect hand stitches create the hems, and add the pocket onto the front. My aunt told me that Alice made the same type of apron for each of the girls in the family one year. What a huge amount of work! I have always been blown away by the detailed embroidery, but it wasn't until I began replicating the pattern for my own apron that I came to appreciate the time involved.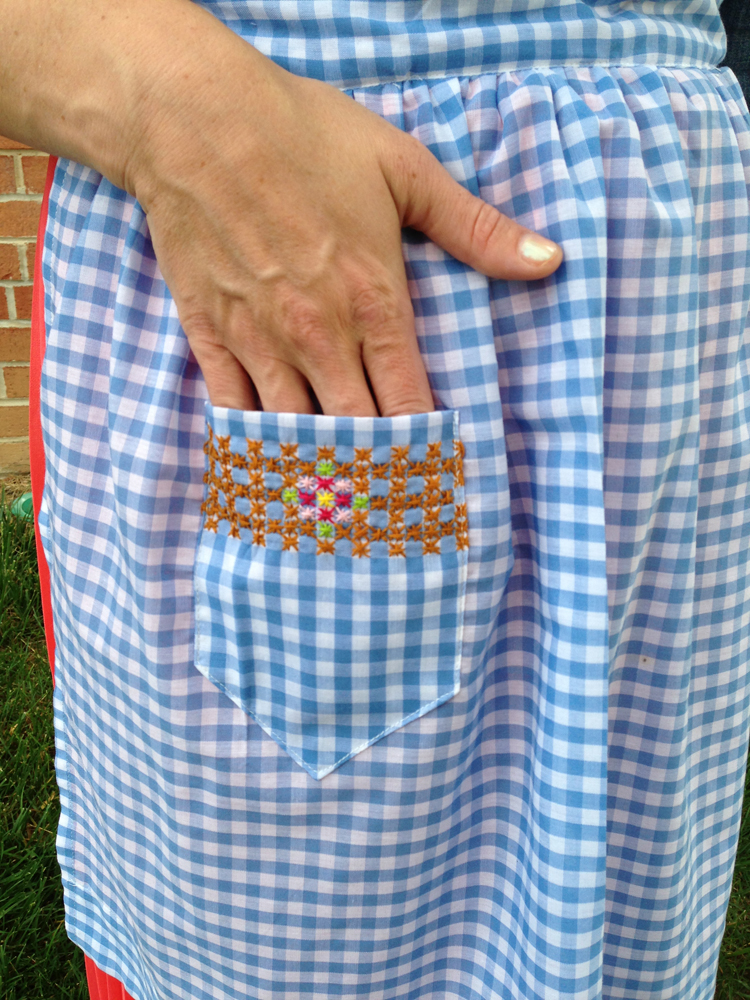 I intended to re-create the entire apron–four times! I thought they'd make perfect, meaningful gifts for each of my three sisters and mom. Then I got pregnant, and got real, and thought I'd start with just one apron, and work my way up to the others…
Then I actually began embroidering the pattern and after two hours I had completed exactly four inches of embroidery. So, I cut myself some pregnancy slack and decided to use my embroidery on the pocket. When I feel a little better (less nauseous/tired) in a month or two, I will continue embroidering along the waistband and hemline, but for now, I'm happy with the really beautiful pocket.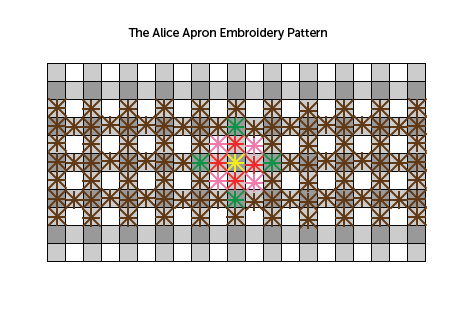 The actual stitch on the pattern is simple. It's a traditional Chicken Scratch stitch, made by making a cross-stitch, then an upright cross-stitch in the same square. The pattern above shows the pocket embroidery. To create a chain of this pattern, only make two upright solid brown rows before beginning the flower pattern again.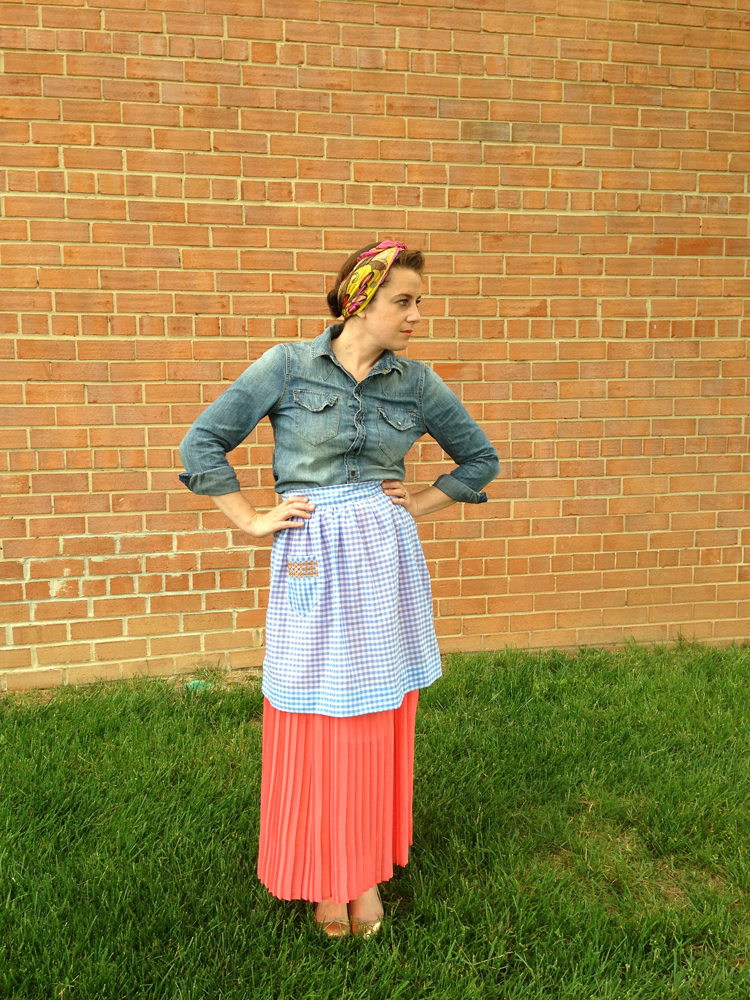 I really love this style of simple, short, half-apron. It's flattering and feminine.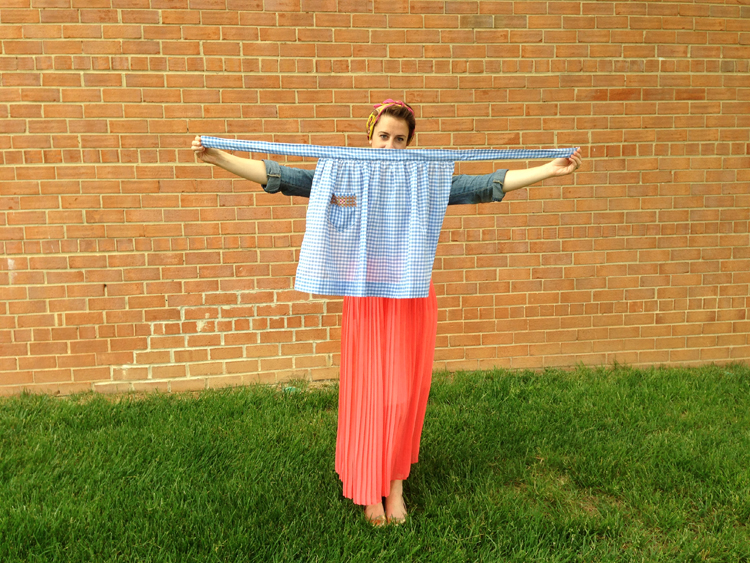 I created a one-page pattern and instructions for my Great-Grandma Alice's apron, which I'm lovingly naming the Alice Apron. The printable PDF includes sewing instructions for the apron, as well as a pattern piece for the cool angular pocket, and the embroidery pattern. CLICK HERE to download the one-page free pattern.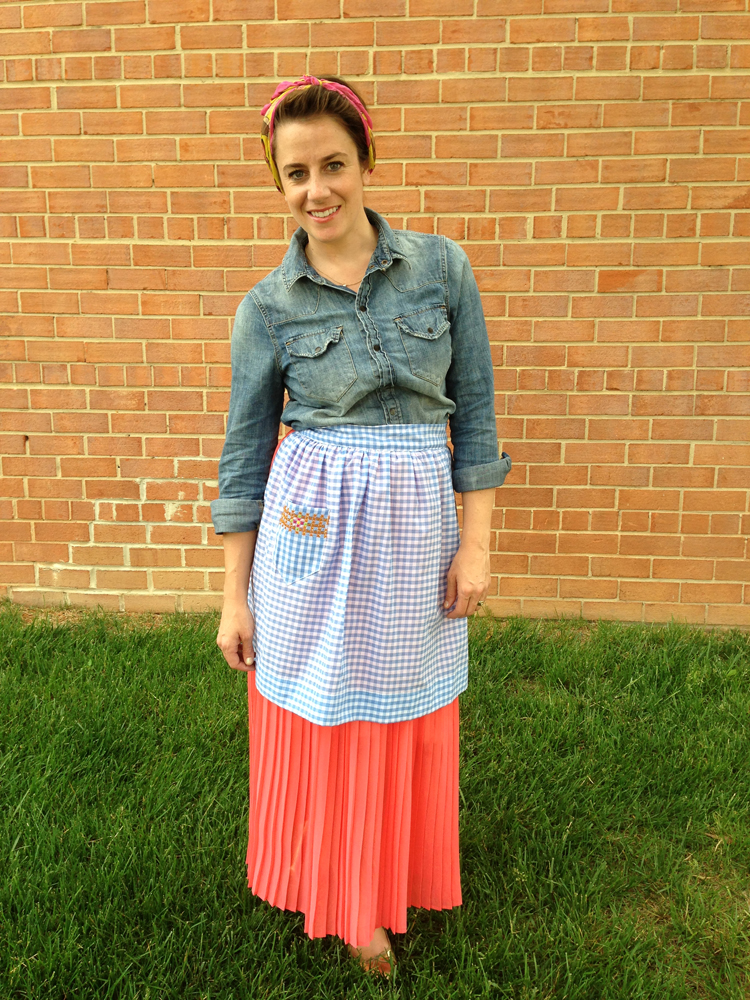 It was so fun to learn a little bit about my personal family history while working on this project, and I can't help but feel a real closeness with sweet Alice. I admire the gift of time and talent that she shared with her daughters and grand-daughters making them these amazing aprons that I am so lucky to own. I also feel so blessed to share the love of sewing with this amazing woman who taught my grandfather to be a great dad to my own father, who is wonderful. What a fun opportunity to combine family and sewing, two of my favorite things!
Also today, check out Jen's fun vintage project at iCandy Handmade.