Winnie The Pooh Costume DIY
Happy Halloween from the Hundred Acre Wood! This year we went back and forth about what our family theme costume would be. A couple weeks ago, as I was reading the book Christopher Robin: The Novelization aloud to Milo before bed, it hit me that we could be Pooh and friends! Winnie the Pooh costumes would be fun and easy to make, cozy to wear, and classics. It was decided.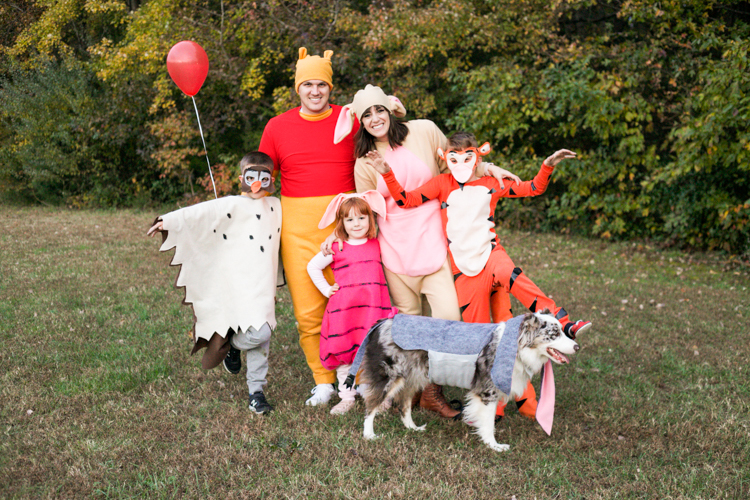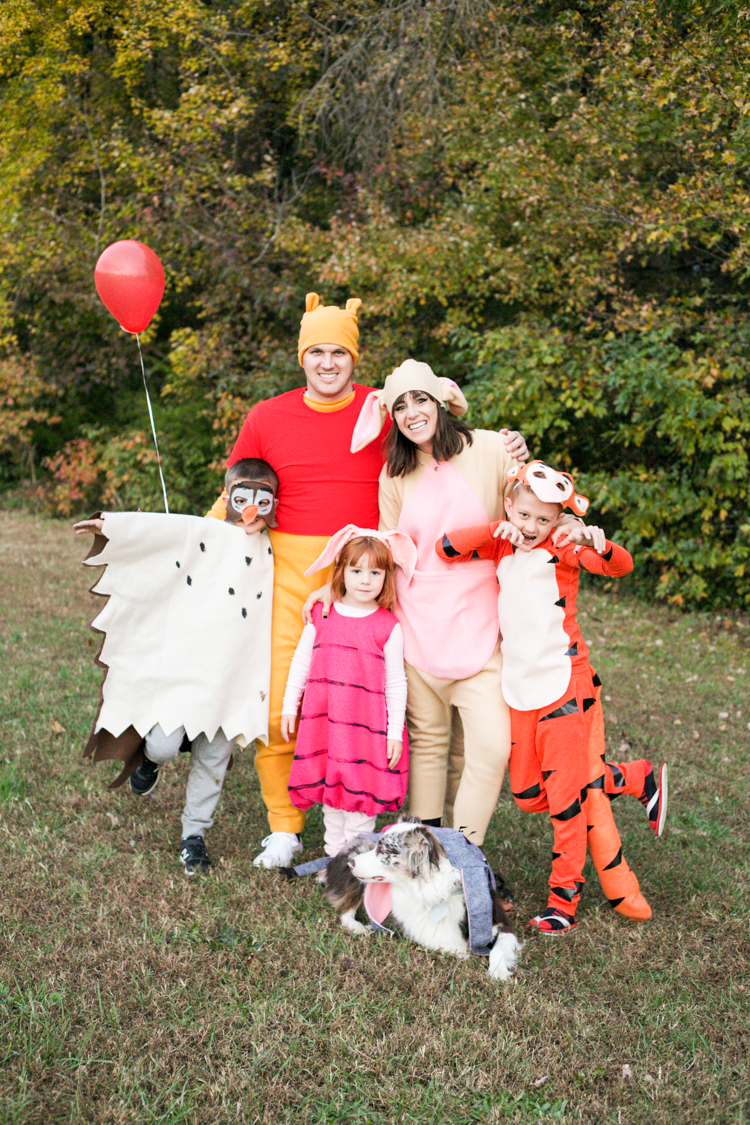 Winnie The Pooh Characters
Once we had decided on Winnie The Pooh as our family theme, we just needed to decide who would be who. Milo requested Tigger, and his energetic personality matched perfectly. Eliot asked to be Owl, pointing out that he loves to read and Owls do too. Plum wanted to be Piglet, because of the pink costume, mostly. I decided on Kanga, the mother of the group. Quincy the dog could be Eeyore, with her bobbed tail fitting the bill. We decided Dave would be Christopher Robin.
I was all set to buy fabric and get going on making costumes. Then the more I thought about the group, the more it felt obvious that Winnie the Pooh should be included, not Christopher Robin. So, we made a last-minute switch and decided Dave would be Pooh Bear.
Handmade Halloween Costumes
Making costumes is one of my favorite things, and I was excited to dust off my neglected sewing machine and get to work. Last week I ordered pj's for the kids from primary.com. They have a huge variety of bold, solid colors and high quality pieces that would make the perfect base costumes for the kids.
On Monday, I went to JoAnn to get fabric for the add-ons to the pajamas. I needed a tail, belly piece, and mask for Tigger, wings for Owl, a dog body costume for Eeyore, and a striped body for Piglet. I decided to make Pooh and Kanga full-body suits from stretch fleece, that would be easy to make and cozy to wear.
I estimated the quantities I would need for felt and fleece, checking the google image search for the Winnie The Pooh characters as I went. A half yard of this, three yards of that. I hoped I would have enough, but am always quite sure I'll figure it out.
Winnie The Pooh Adult Costume
To make Winnie The Pooh's DIY costume, I laid a well-fitting pair of Dave's pants and a sweatshirt out on the fleece, and cut around them both as a body suit! I did cut around the shoulder seams and do sleeves separately for better movement. The fleece is stretchy, so with the added ease of the clothing already in the tracing, I was set.
I sewed shoulder seams, added sleeves, then did the side seams in one long stretch. Finally, the inseam. I cut a slice in the back to be able to put it on, and added a simple velcro closure.
The red tee is just a cut-off tee shirt, and I used left over fleece for the easy 2-piece beanie with ears.
And my mini helium tank came in really handy for that last-minute red balloon.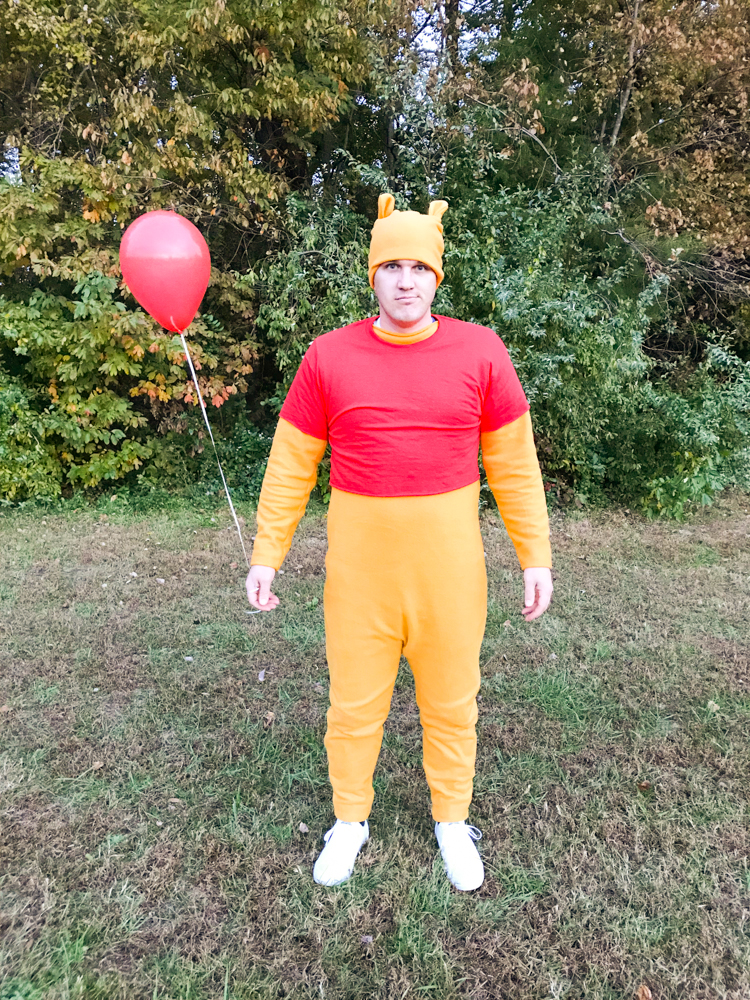 Tigger Costume
For Tigger I started with a base of orange pj's. I added the tummy felt oval using a basting stitch so I can remove it after the costume and he can wear the pajamas to bed. Milo sewed the felt Tigger tail himself, with a little help, then we painted some black stripes using fabric paint.
The mask was several layers of felt all modeled after the cartoon drawing of Tigger. I sort of made it up as I went and stuffed some batting into the ear bits so they would stick out.
All of the other stripes are black duct tape that we added and can easily remove. Easy peasy. Also, I have no idea what is happening with the sock and shoe situation here. Haha.

Owl Costume
After looking at the Winnie The Pooh Owl character for a while, I thought the easiest way to create him was with a double-sided wing poncho. He is off white on the front with brown wings. I had Eliot lay down on the felt and traced the line from his wrist to his other wrist for the wing span. I cut the poncho to come down to his ankles in the back for a tail, and knees in the front for easy walking.
The two pieces are sewn together at the shoulder seams, then along the jagged feather edges. I cut the off white front just outside the seam line, leaving a little brown to show on the front. We added black dots with fabric paint, and I made another layered mask with felt.
Piglet Costume
Plum's piglet costume was super simple as well! We used the pajamas as the arms and legs, so all I needed to make was the striped piglet body and some ears!
I had Plum lay on the folded fleece of the dress, and marked her neck and shoulders so I could make simple cuts. The dress was an A-line shape that we painted, and then added elastic to the bottom hem for it to bubble in towards her knees and give that distinct piglet shape.
I made the ears using the same technique that I use for this  no-sew bunny ear headband. I simply made them a bit larger to look more like the cartoon.

Eeyore Dog Costume
I had never made a dog costume before, so I was totally winging this one. I ended up building a two-part panel. The head piece that had the long droopy ears, and the bodice that had the classic tail with a bow. Each panel secured around Quincy's body with some velcro. I made a hole for the leash to come through at the neckline, which also helped keep the whole costume on straight.
Next time I will need to re-think how to keep the head part up further on her head, but overall it was a good first try and she looked the part!
Kanga Costume
I'll have to add a solo photo later of my costume up close. I followed the same method I used for Dave's Winnie The Pooh costume of laying my own clothes down, tracing, and cutting. Once I had the basic body pattern cut, I added the oval pouch piece as a pocket and appliqué to the front before sewing the side seams and inseam on the body suit. I also had a great padded tail that you can't see in any of these photos, but was pretty awesome.
The Kanga pouch came in really handy while we were trick or treating! It is like one giant pocket, and made me realize again how much I love a fanny pack.
I made my ear hat basically the same way I made Dave's, just made the ears quite a bit bigger, lined in pink, and hanging lower to each side. They could also double as Dobby ears, should we ever do a Harry Potter Theme.
Winnie The Pooh Family Costume
This was one of my favorite family costumes, yet. My kids are good sports to let me make them costumes and dress them up in a theme, when they would be just as happy (or more happy!) with costumes from Target or the Halloween Superstore.
I realized this year that making costumes is part of what makes the holiday fun for me, and I chose to embrace that! I worked on these for about 5 hours total, over two days. It wasn't a crazy project, even though I did it all very last minute. It felt good to break out the sewing machines, and create something fun.