Yowza! It's Friday again! I'm so excited. Not that the weekend really causes much of a change in my daily routine, but somehow I feel like the weekend gives me a chance to re-set my schedule and get prepared for another week. I really need to stay organized for the next few weeks, because I have a wonderful pile of custom sewing orders that all have deadlines before June 30th. After that, I'm taking a little break from orders so I can spend some time lounging by the pool and enjoying some vacation time with family. Running a small sewing business is more time consuming than I thought, and I am excited to step back and figure out how to better manage everything.
I've hired a friend to watch the boys for a few hours a couple times a week so I can sew in the daylight. It has been really great. I still feel a little guilty dropping them off, but I know very well that I am a much better mother when I have some time to be creative. And, I am a much better mom when I have slept more than 3 hours (due to sewing all night long). My goal is to strike a balance…and maintain my priorities. It seems like that's my never-ending quest: balance.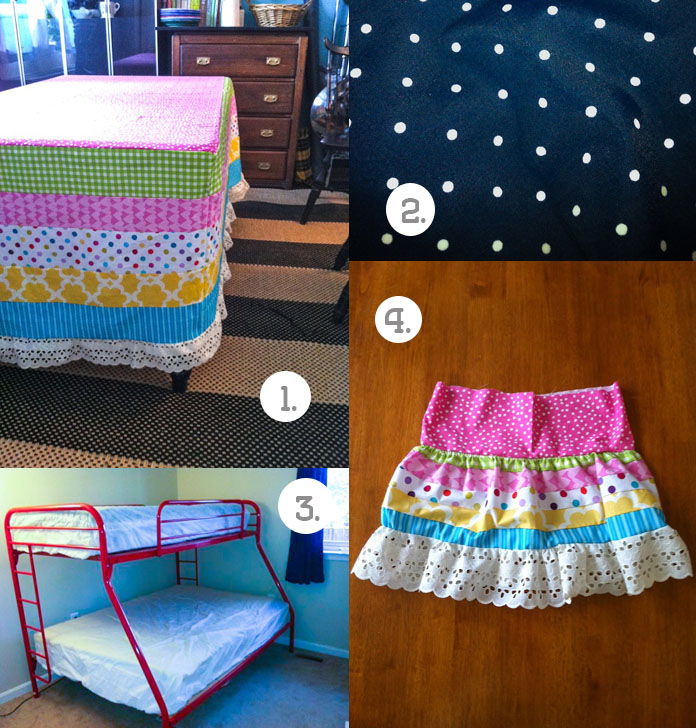 What am I working on now?
1. An adorable tablecloth for a "Princess and the Pea" themed birthday party. It is basically a 3D strip quilt, and I'm 90% finished. I need to topstitch the bedskirt ruffle and add the "Pea" to the end. So cute.
2. I've decided to sew myself a bathing suit. The navy and white polka dot fabric arrived and I am working on a design. I am thinking I'll do something really similar to this, but as a tankini and with straps. Wish me luck!
3. I found this red bunk bed for Milo today and am picking it up in the morning. Total whim? Yes. And a new bed=need for new bedding+need for rearranging. Big project. Perfect. I love his hand built toddler bed, but the kid's not super little anymore. And he has a really hard time going to sleep lately. So, we'll see if this helps. If not, at least I'll have more space to lay down next to him to help him drift off.
4. I am making a little outfit for the "Princess and the Pea" birthday girl to match the tablecloth (which matches the invitaion…) I had planned on a little soft knit nightgown with some ruffles and a tie at the waistband of the tablecloth fabrics. Somehow as I was working on that, I ended up with this! I was thinking I'd use these strips for the ruffles, but then I sewed them all together, and then added the eyelet trim, and now I've got an adorable skirt that matches the tablecloth exactly. I think it would be adorable with an elastic waist band and an appliquéd tee for the party, but I'm going to see what the customer thinks about that idea. I've got the original knit nightie made to about 50%, too. So, either or. Funny what happens when I get creative.
What are you working on this weekend?
*Today is the last day of  The Button Up Refashion Swap reveals. Check out the top Mim made for Megan, and the top Sunni made for Jen. Both so cute!
*I announced the winner of the Raspberry Creek Fabric Giveaway this morning. Is it you? If not, don't worry, you can get any of the great prints at Raspberry Creek Fabric. Also, I have another fun giveaway coming up next week!
*Want to try some healthy new burgers this weekend? Here are three meatless burgers that have passed our taste test and are now family favorites!
Have a fun weekend and a wonderful Memorial Day!