Happy Weekend Peeps!
Have you got big plans?
We do.
Home improvement. Closet crib construction. Sewing projects. Oh, and Milo's 2nd Birthday on Sunday!!
I wanted to share a little something I've learned recently: Yellow shoes make you happy!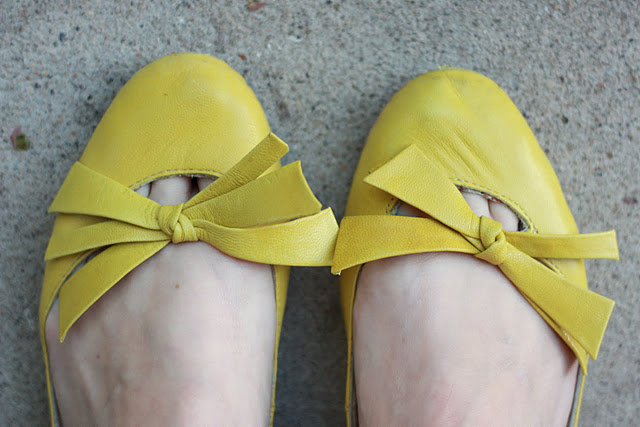 My endlessly and effortlessly stylish
little sis
passed on to me a few pairs of flats the last time I was in town. One of them was this darling schmarling, perfect yellow, perfectly simple, leather ballet flat that she found in Italy.
The problem? The thin leather insoles had begun to pull away from the shoe edges, leaving a bunchy pile of leather and sticky adhesive at the toes. Hmm. I first ripped the insole all the way out, thinking that would solve the issue, but alas the adhesive remained…now all around the edges. I confess, I wore them twice with sticky edges before deciding they either needed to be repaired or tossed.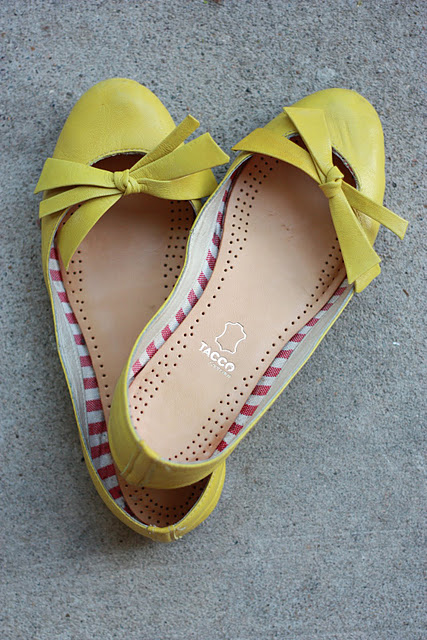 Luckily, I chose to repair them. For $15.00, these dolls got brand new, wonderfully soft, leather insoles. When I told her I had fixed them, and they were now good as new, she confessed, "Oh good, because I think they were expensive. Hmm. I bought them for 80 Euros…what is that in dollars? $150.00??" WHAT! I was this close to throwing them away!! Rule of thumb? If you give someone expensive shoes, tell them they were expensive…they might live longer that way! Other rule of thumb? Repairing shoes is way more fun than tossing them.
Anyway. If you're on the hunt for a perfect yellow shoe (if you're not, you should be), I've compiled a little
Yellow Shoe Pinboard
for you (yep, just joined
Pinterest
and am figuring it out…)
Happy Yellow Flat Friday!