Episode 48: Getting Clear On Focus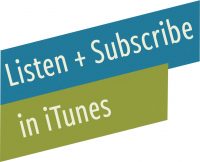 Introduction
Good morning, good afternoon, good evening whenever you happen to be listening to this episode. I'm so happy that you're here. Thank you for joining Episode 48 of Live Free Creative. I'm your host Miranda Anderson. Excited to jump into today's topic, which is Getting Clear On Focus.
I normally plan my episode several months in advance and the one that I did have planned for this week, I booted. I didn't kick it out completely, but I've backed it up because a new way of thinking about focus emerged for me in the last couple of weeks and I want to share it with you. Because it's been so helpful already for me in my life and I think that it may be something that will benefit you as well. So I'm excited to share all about this new perspective on focus.
First, I'm going to share a quick magical adventure moment
Segment: Magical Adventure Moment
This magical adventure moment happened a couple of weeks ago when my children and I were on a long road trip. We drove from Virginia to Texas to Utah and back to Virginia. It was about 7,500 miles total over three weeks. I love road trips and so it was fantastic, but there was this moment that I just really loved and it's not like a lot of the other adventure moments that I talk about, so I want to share this when this is me.
Imagine: I'm sitting in the driver's seat or somewhere between Atlanta and Austin on the open road just driving. We have like six hours left in the day. The sun is shining, the kids have a movie playing, but they're not really paying attention to it because they are all focused on Mario Kart. We got a Nintendo Switch for the first time at the very beginning of this summer and we have all sorts of guidelines and things surrounding it and screen time and you know, that's a whole other thing.
But in this particular moment I was driving, Dave is still at home. He didn't drive with us. He flew and met us for the book launch parties. So he was at home. It was just me and the kids and the dog in the minivan.
The movie music is just kind of in the background and I'm sort of lost in thought and all of the sudden all of my kids are just cracking up. They're all laughing so hard and I glanced in the rear view mirror and I see Plum sitting in her car seat with her controller, just giggling like crazy. Milo is sitting in the captain's seat next to her holding. He has the screen of the switch balance between his knees so he can play on his controller. And then Eliot is sitting in the middle of the back row so he can see through to the front row in between the captain seats and they're all playing Mario Kart together. And they are all just laughing just like this hilarious, joyous, loud laughter.
They were caught up in the game and they were just, I don't know if someone was throwing a turtle shell at someone else or the balloons were floating away. If any of you have played Mario Kart, it is a fun game. I will admit of all of the very limited experience that I had growing up with video games, Mario Kart was one of my favorites. It was so fun to just feel like, first of all this was like a true road trip moment. The road trips that I grew up with where me and my many siblings piled into the back of the van, my parents up talking in the front and us just hanging out in the back and sometimes we were bickering and sometimes we were getting along and sometimes there were these moments of just hilarious memory making and this is what it felt like for me.
The sun beating down through the window, the background music playing on the video and my kids, all three of them just all focused on playing together and just laughing hysterically with each other. As many of you probably are experiencing right now in the middle of summer, those of you who have children, not all of the days feel like magical play time. Sometimes there's a bickering and sometimes there is "I'm bored" and sometimes there is, "What else are we going to do today?"
And this moment on the open road felt like magic. It felt like childhood. It felt like the kind of experiences that I want my kids to have. Normal, exciting, silly video game, road trip experiences and more than anything in that moment looking in the rear view mirror, I just felt grateful. I felt grateful for my kids. I felt grateful for the opportunity to be out driving. I felt grateful for a moment of teamwork and laughter and the kind of shared experience that I hope that my kids remember and cultivate as siblings. It was an unexpected moment of magic on our long road trip. It reminded me to keep looking for the beautiful, magical adventure moments in the simplicity of what sometimes feels like just normal life. Because more often than not, we find exactly what we're looking for.
A New Understanding Of FOCUS
On this same road trip, I had a moment with Plum, my daughter, that shifted my perspective in the way that I understand the idea of focus. We were in the car altogether and there were blissful moments of my kids all playing together happily. And there were moments, of course you can imagine where they weren't.
The Lightbulb Moment
There was a moment where my daughter wanted to watch a movie and the boys were playing Nintendo in the back seat and I was talking to my mom. So this is the drive from Utah to Virginia where my mom decided to join us to make sure we got home safely. So she was copiloting and we were having a conversation and the boys were playing on the Nintendo in the back and Plum got to choose a movie and watch a movie on the DVD player all on her own.
But she was having a hard time hearing. And even though I turned it up really loud, she said, "Mom, I can't hear the movie. You need to stop talking and the boys need to stop playing!" I told her "Plum, the movie is turned up really loud. All you need to do is focus on it. If you focus on the movie and focus on listening to just the movie, then you'll be able to hear and understand it."
She said, "No, I can't focus on the movie because you're talking and the boys are playing." I once again reiterated that focus is when you pay attention to just one thing, even when other things are going on around you. Focus isn't eliminating everything else that's happening. Focus is you paying attention to one thing despite everything else happening. And that my friends was a lightbulb moment for me.
Focus Is Paying Attention Despite Chaos
Although I think that this idea had maybe resonated on some level with me somewhere, I instantly realized that for myself in my life, I often wait to focus until everything else has paused. I, like Plum, think that in order for me to focus, that means all of my distractions need to have been eliminated. That is simply not true.
Focus is not the elimination of distraction. Focus is paying attention to one thing despite constant and continual distraction from other sources.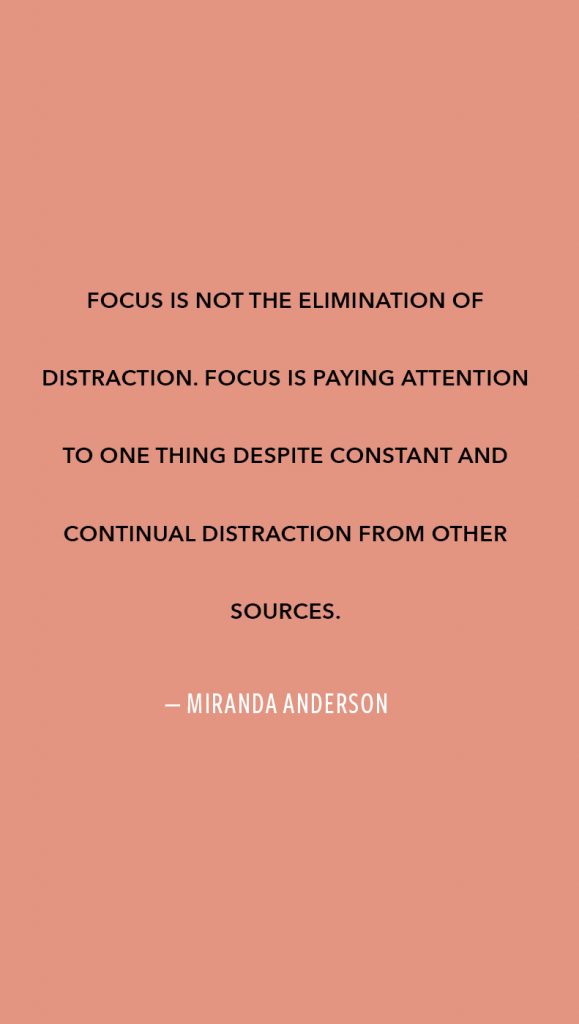 I can think of so many times that I have said to Dave, "I have so much work to do or this project that I want to give my attention to, but first I need to do all the dishes that are in the sink and I've got to vacuum the floors and I need to put the clothes away because I can't focus until those things are done."
That is the elimination of distraction. That is not focus. When I eliminate all of the distractions, I no longer need to focus because what I'm doing is only leaving the thing that is left to do as the thing that I'm going to do.
That can be a great system for eliminating distractions and I think that there's absolute value in finding systems that work to eliminate the distractions and make our ability to pay attention to the things that matter easier. That's an incredible process, but what about the things that we can't control? What about the distractions that are present in our life like it or not? The things that are there all the time that we can't just eliminate or we can't just avoid. How do we focus despite those distractions? That is the key. That right there is where the magic happens with the idea of focus.
Understanding Focus Through Photography
As I've been pondering on this idea, it's just been kind of bouncing around in my head for the last couple of weeks. I realized that one of the areas that I have a clear understanding of focus is within the world of photography. I grew up with a dad who loves photography. In fact, from a young age, probably my early teens, I was taught to shoot on manual with a DSLR camera.
Back in those days, I'm ancient, so of course I didn't have a digital camera originally. I learned to shoot on a film camera. I had a Canon Rebel and my dad taught me about light and about aperture and about shutter speeds. And he taught me about focus. And when you're shooting on manual with a camera, digital or otherwise automatic focus is when the camera will focus on whatever is closest to it. So it will pick up whatever's closest and that becomes what it tightens in on. Everything else gets a little blurry and that's where the focus is.
Automatic is when the camera focuses on whatever is closest to it.
When you shoot on manual, you determine where you want the clarity.
So imagine that you are shooting a picture of a bunch of people around a dinner table. And for this particular picture you cooked the turkey, this is now thanksgiving or Christmas. The turkey is in the middle of the table and you want the focus of your picture to be that beautiful turkey that you cooked. All of the people around it are just there, you know, enjoying and candid, but you want them to be blurry. You want the turkey to be in focus. And so if you try to shoot that picture from the end of the table in automatic mode, the people closest to you or if there is a plate or something close to you, that is what is going to come into focus.
Whatever is nearest to you. And if you want to get that turkey that's in the very middle of the table with people all around it into focus, you switch to manual and then you adjust the lens until just the turkey is sharp in focus and everything else kind of fades away.
You haven't asked everyone to leave the picture. You didn't say, "I'm going to take a beautiful picture of my turkey on the table, so you all need to go." That would have been one option, but maybe that is a lot to ask because people are eating maybe their guests. Maybe you want them to just be able to enjoy their lives and you want to do your thing which is focused on that turkey. You twist the lens until just the turkey is clear and everything else fades away. It hasn't disappeared. It has simply been quieted and blurred out by your focus.
Let's Talk Digital Focus
Now maybe if you don't have a lot of experience taking pictures, especially with manual, you know cameras with lenses that wouldn't make a lot of sense to you possibly and so I think it's even more poignant.
How interesting that with digital cameras and specifically with smartphones when they are focusing, how do you get a smart phone when you're taking a picture of a group of people with you know maybe buildings or something in the background or the foreground. How do you get the smartphone to know where you want that? What part of the picture you want to be clear, you point at it, you actually touched the screen, you touch the screen so that it focuses on your face. You touch the screen so that it focuses on that flower instead of the other flowers. You touch the screen exactly on the object that you want to focus on.
How do you get your phone to focus? You point at and touch where you want it to be clear. You choose.
I think that this is so interesting that we manually touch and point directly at the thing we want to focus on and our smartphone cameras will adjust to focus on that thing. But if we don't choose that particular focus, sometimes the thing that we want to be in focus ends up out of focus because it isn't the closest thing to the camera.
Whatever you focus on is what is clear.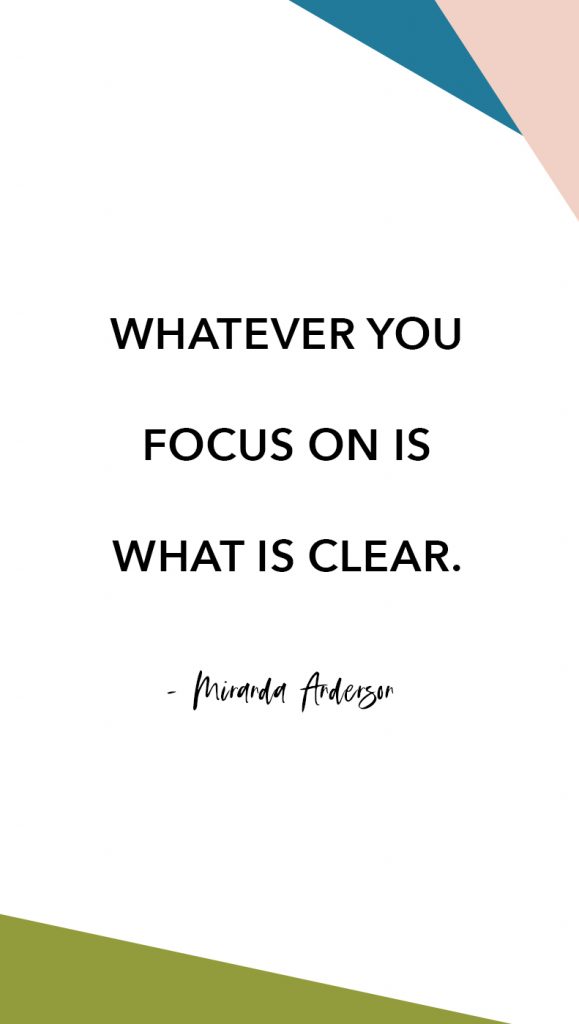 I have a really hilarious picture from a few years ago. This was pretty soon after our family moved back to Virginia from Texas and we had previously lived in the DC area, Northern Virginia. And we decided to take a day trip and just wander around the monuments and visit the Smithsonian museums and see all of our favorite places. And at one point we were walking along the National Mall and the Capitol building, the gorgeous Capitol building is behind us. And we asked a stranger if he wouldn't mind taking a picture of our family.
Now I made the mistake of asking him to use my DSLR camera instead of my, because I wanted it to be a really beautiful picture. And you know, DSLR cameras take great pictures. And so what I did that was a mistake was I didn't explain to him how to focus on us. And so the picture is this gorgeous bright picture with vibrant colors and the capital is in perfect clear picture and our family of five is just complete blur and it is so funny. So then he walked away and you know, we thanked him and I looked at the picture and it was like, oh well that was great, but you can't see us at all.
And so then I asked my husband to take a picture of me and the kids and the capital just blurred out beautifully behind us. And Dave was able to focus on us because he was clear on how to use the camera.
What is your goal?
The first picture would have been amazing if our goal would've been to have the Capitol the focus. But what we were hoping for was a picture of our family. And so what we needed was to have the focus be on our family and have everything else gently blur into the distance.
Relating this kind of focus to your life.
Now how does any of this relate to anyone and matter at all? Hopefully you can already see how adjusting your expectation of what it means to focus will be really helpful that in order to pay attention to something, an important thing, a thing that you would like to focus on, that doesn't mean that you have to wait until everything else disappears.
You do not have to check all of the other boxes in order to focus on the one that you'd like to pay attention to. You don't have to clean your whole house before you sit down and answer emails. You don't have to answer all of your emails before you take time to go to the park with your kids.
The thing that you want to focus on can very well exist among hundreds of distractions and you still get to choose to pay attention to it despite everything else that's going on in your life.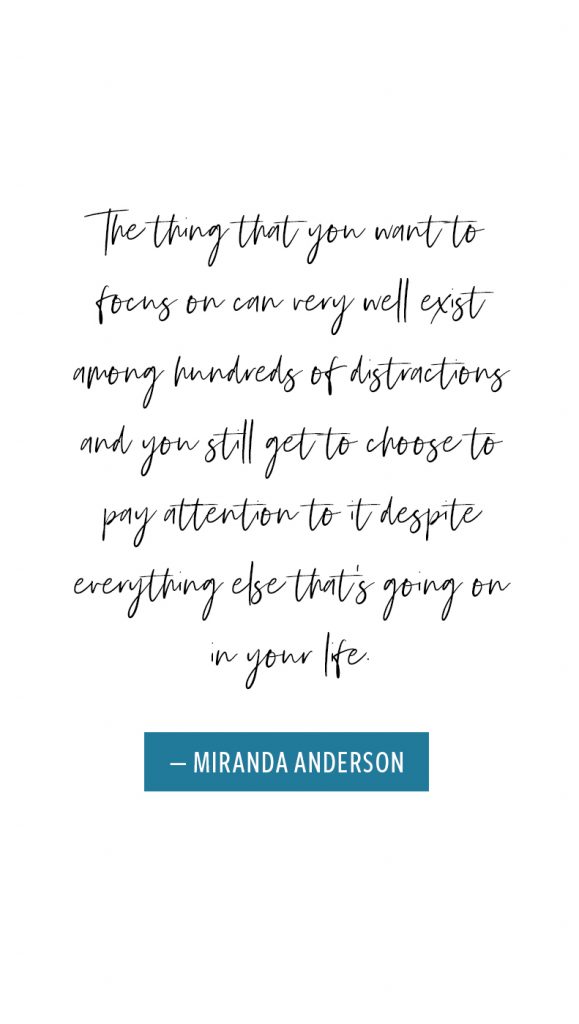 My word for it this year, 2019 was "focus" and the reason that I chose the word focus was because I knew that in the past I had wanted to complete some specific projects and hadn't gotten around to them because I was so busy doing all of the other things that I normally do. A couple episodes ago I shared about my process for writing my book and if you listen to that episode, you probably caught onto the idea that I realized that I needed to say no to a lot of things that previously made up my lifestyle.
Most of the projects that I had previously been working on as part of my job as a blogger, I declined so that I could focus on the book. As I approached 2019 I decided I'm going to have three goals this year and I'm going to put them in priority order and if I only get to one of them, then that will have been successful. But as soon as I finished the first one, it'd be nice to have something, you know, the next one to move on to. But if I only do one of these things, then I will feel like I have accomplished everything that I needed to accomplish this year. And of course this was a business situation I wasn't talking about, you know, not doing anything with my kids or not having a relationship with my husband or all of those things are more important to me than work and I am able to find place for them.
But as far as work was concerned, I had often gone into a year with like a revenue goal or with lots of different ideas of people I wanted to work with and things I wanted to do. And more often than not, what ended up happening was that my focus automatically fell to the very closest thing. My focus automatically tuned into the opportunity in my inbox today or to the relationships that I had already built and that were easy and immediate. I was able to continue doing a lot of the things that I had done before. And that's not to say that it wasn't worthwhile to build relationships and to create things that I was creating, but I was doing it at the expense of the thing I really wanted to do for the last couple of years, which was write a book.
So as I headed into 2019 I decided I am going to focus and for me that means despite having all of my normal distractions, I'm going to write this book. I'm going to focus and choose. So if it's my iPhone, I'm going to just point right in the middle of my life to that book. That's the thing that I'm going to do. That's what I want clear. And everything else can kind of fade away. It won't disappear. It will still be present, but I just won't pay it any attention.
Life has been chaotic, but still I was able to focus.
If you have followed along with our family's experiences over the last six to nine months, you will know that our life has not been free from distraction. Over the last nine months, we have lived in four different locations. We've had over 80% of our home damaged and need to be rebuilt. We have traveled extensively and I've even undergone some unexpected health complications. Going back to physical therapy, it needing to stop running and trying to solve some of my lingering pregnancy injuries. You can listen to all of those things over the last several episodes and especially mothering the mothers if that's something that you are interested in hearing about.
My point is that looking back I realized that choosing to focus and have focusing be my focus enabled me to be clear on the one thing that I wanted to work on despite the chaos, despite the noise and in the face of all of the other opportunities that were presented to me. All of the things that I continually said no to in order to make space for this one thing to be clear and what happened when I focused amazingly, when I focused and I spent my energy and my time and my attention on the one thing that I really wanted to accomplish, it happened!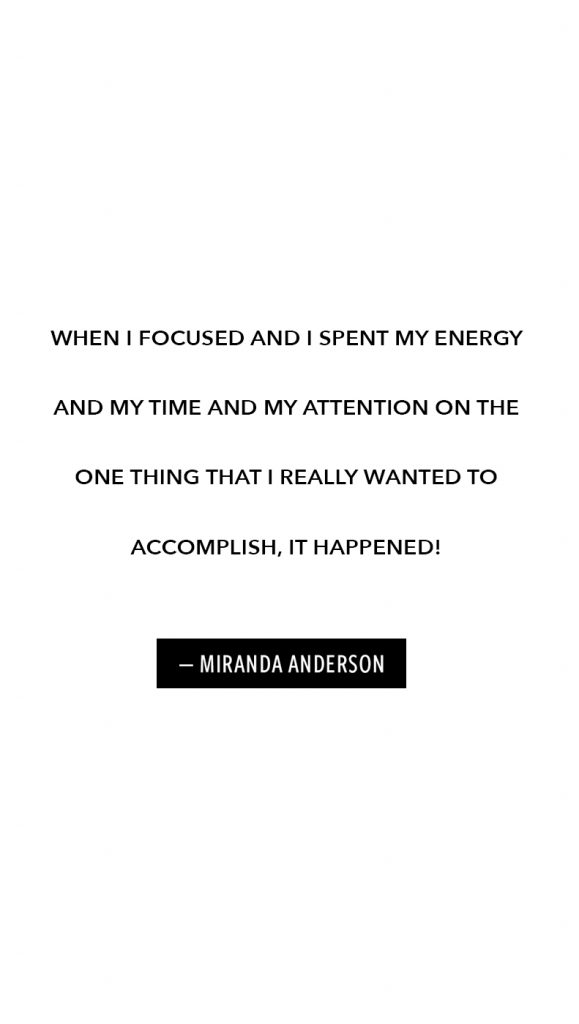 I wonder how often we want to do things and we tell ourselves that we want to do them and then we don't get around to it because we're just doing our regular life? That's okay if you really don't want to do it that much, but what about those things that you really want to do? What do you want to focus on? If you don't focus, if you don't choose what you want to be clear in your life and what you want to make a priority and give your attention to life will choose for you. If you try to take a picture of something with your iPhone and you don't touch on the screen, whatever happens to be closest to the screen is going to be clear. That's what's going to be in focus.
Are you living your life right now on automatic focus? Are you paying the most attention to the thing that's right in front of you rather than the thing that you really want to be giving your attention to? And that begs the question, what do you want to be giving your attention to? What do you want to be clear in your life while everything else gently fades into the distance, not the complete elimination of all other things, but what do you want to simply ignore, allow to become blurry while you focus on the thing that you want to give attention to?
Our focus comes in seasons and changes as needed.
Of course, of course our focus and attention will go in seasons on different things. There are some things at some times that need our focus and there are some things at other times that need it even more. I think that we choose one single focus for our whole life and that's the only thing we ever think about or do. Although you'd probably become very successful at that one thing if you did it, but we of course have to balance being in relationships, having work, having hobbies.
There is some room for lots of things to exist in our life and maybe what you need to focus on is just actually focusing on that thing that's right in front of you that isn't your phone or that isn't Netflix. Maybe where you want to place your attention and priority is on the people and experiences, right happening in your life right now and just bringing a certain level of mindfulness and presence to your everyday life. To actually pointing your finger and pressing on that thing and making sure that it comes into focus, that you're not living your whole life with everything sort of blurry.
That you're choosing to give your attention to something instead of having it just taken by the things that are vying for it and my goodness, how many things are vying for our attention right now? Every single place that you look is hoping to capture your attention and suck you in to the black hole of whatever it is that they're selling and whatever messaging it is that they're sharing, you can either choose to give your attention and give your focus away or it can be simply taken by the things that surround you and the and the places that you put yourself. I want you to think for yourself right now, for for today, for this season, for this week. What would you like to focus on?
What would you like to focus on?
What would you like to bring into clarity in your everyday life while you acknowledge that you are letting some of the other things in your life simply fade into the background. They won't disappear. Even the ones that you wish would disappear, they probably won't. You're still going to have to do some of those things sometimes, but what do you want to press on to point at and to choose? What would you like to twist that lens a little bit to focus with more clarity on in your life right now in this season?
I think it's a powerful practice to choose just one thing, one thing for one day, one thing for a week or maybe if you have a really nagging, big exciting something that you really want to do and you just haven't quite given it the time and attention and investment that it needs to make it happen.
Maybe for a whole year you say, "This is the thing that I'm going to focus on until it happens." I am going to give it my attention day after day after day until it is complete or until it comes to pass or until I bring it out into the world and then move on to the next one rather than putting it aside until everything else is done and then getting to it.
Why don't you get to it knowing that everything else is going to be there when you're finished. Here's another question.
What do you need to say no to more often in order to give your focus to that one thing you really want? What are the things in your life right now that are claiming your attention without your permission when you're living on autofocus? What are the things that are most often in the front of the camera?
My phone is something I am working to ignore.
I can tell you for me, my phone is definitely one of them and I'm actively working on that. Some of the things that I'm doing are setting up within my phone. I have an iPhone and I have a timer system set up for all of my social media apps, so when I have used at my time for the day, it turns them off and if I go to click on Instagram, my phone will tell me, you've used up your time for the day. Do you want to add 15 minutes or do you want to disregard this notice for the day?
And simply bringing that to my attention is helpful because I can say, you know what? What else do I want to be doing? I've obviously spent my time on social media for the day. I should have hopefully accomplished with intention the things that I wanted to accomplish on social media for today. So now what can I do? What else do I want to do in my life?
I know there are other things I want to do. I want to read my book that's sitting on my nightstand. I want to lay in the hammock in the backyard. I have this incredible hammock that I love. I want to spend some time there. I don't just want to have a hammock. I want to use my hammock. I want to swing with my kids. I want to take my dog on a walk. Even better if I take her on a walk to the park with my kids and then hanging out with the kids while they play.
I have been practicing saying no to amazing opportunities. That sounds backwards, doesn't it? It sounds ungrateful, but I am finding that as I say no to amazing opportunities that aren't what I want to be doing with my life, that what happens is that I have space and time and attention and energy to put forward into the things that I do want to be doing with my life.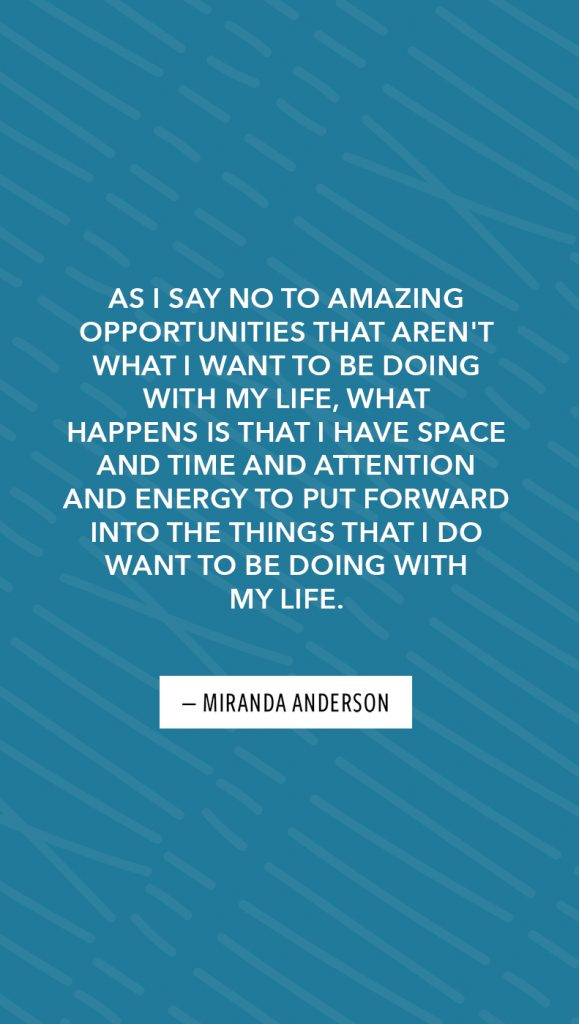 I'm in limbo, and it's a process.
And I'll be honest, it feels a little bit like limbo. I feel a little bit like I'm hovering right now between the life that I used to know, which was doing my job the way that I've done it for the last five years. Taking lots of amazing sponsored blog posts and going to lots of conferences and building up my page views and focusing on this one thing and now pivoting and feeling like all of those opportunities are available to me, but that isn't really what I want to be doing right now.
What I want to be doing is focusing on speaking and teaching and maybe hosting workshops and maybe doing some coaching and definitely continuing with the podcast and writing another book, but all of those things require space and time and energy. And attention and if I give all of my space and time and energy and attention to great opportunities that are coming into my inbox that aren't what I want to be doing, then I won't have any left for the things that I do want to be doing.
What do you need to say no to right now in your life in order to have room to say yes to the thing that you really want?
I like to do an exercise that I remember from years ago where you just close your eyes but don't close your eyes if you're driving or running or washing knives in your kitchen sink.
And think about the last time that you were really incredibly happy and what you were doing and where you were and who you were with and just like blissful happiness and then kind of to dissect a little bit about what was happening in that situation. Who were you with? What were you doing? Why did you love it so much? And then ask yourself, are those all things that you create space for on a regular basis? The things that you really love or the life that you envisioned for yourself? Are you allowing space for those things to happen?
Do you love taking your kids on hikes, but you only actually take the time to go on a hike with your kids once every six months? Is that something, those things that you really love? Is there a way that you can focus on them so that they grow and flourish and become even more a part of your life?
Are you driving the boat?
Probably seven or eight years ago. I was sitting in the hot tub with at my parents' house with Caitlin Connolly (@caitlin_connolly_), who's an incredible artist. If you're not familiar with her work, you need to look her up. I will post her website and her Instagram in the show notes.
Caitlin Connolly. She's just a beautiful, beautiful, incredible artist and she's also a friend of mine and the sister-in-law of my sister in law actually, so we're practically family. We were talking about art and about her business and about blogging. She was at the time doing some guitar teaching and she was singing with her husband Robbie, who now plays for The Killers on some of his tracks and she was doing her art and she was starting a blog and because I had been blogging for so long and also my friend Miriam Tribe (@miriamtribe) was there who is an incredible artist as well, Miriam Tribe. I will put her information in the show notes. I'm surrounded by incredibly talented artists in my life.
Miriam and Caitlin and I were all sitting there chatting and Caitlin was kind of asking us, Miriam and I, who had both been blogging for a long time about blogging and about kind of getting started and where to focus and those types of things. And I remember, and she probably doesn't even remember this, but I remember her saying something like, "I just want to make sure that I'm always driving the boat." Because it becomes really easy to be the person like outback on the waterski or on the tube and to let the life drive the boat. To let opportunities drive the boat to let whatever happens to come knocking pilot your life and that you sort of end up getting dragged around.
And I just remember that was just such a poignant visual for me, this idea of I want to be the person driving the boat. I don't want to be the person out being dragged behind on the tube or the water ski that just goes wherever the boat happens to be heading.  Fast forward, Caitlin just focused. She decided to go all in on her art. And now, I mean just a few short years later is just an incredibly talented, which she has always been, but she's also an incredibly renowned artist who is really focused and developed in a particular style and a particular field. And she does go on kind of creative endeavors and she's done some sculpting and she's done some sun prints and things like that. But in general, she dove deep with her art and she didn't wait for the blog to take off and she stopped teaching guitar lessons and she, she asked herself the question, I imagine, "What do I need to say no to in order to say yes to this big thing that I want to do, which is be an incredible painter and be a well known successful artist." And she said no to everything else. And I imagine there was a long time, a series of years where it felt like limbo where it felt like,"Ah, should I go back and do some of these other things because they'll kind of help bridge the gap."
When you give attention and focus to the thing that you want to do, oftentimes it flourishes. That is what grows.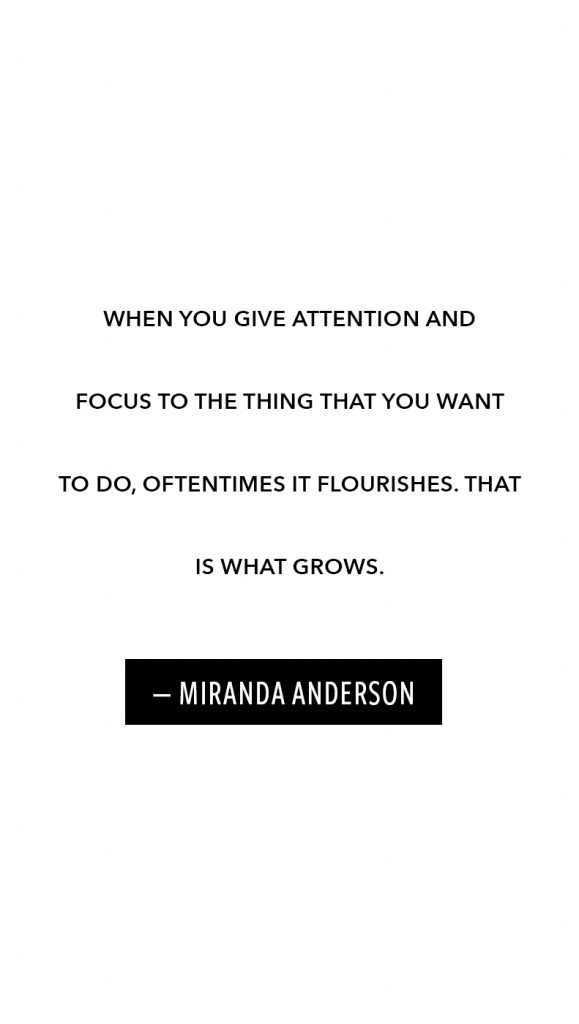 I've just never forgotten that visual. I want to be the person driving the boat.
It reminds me a of a quote I just read in my golden coil planner a couple of weeks ago at the bottom of each of my pages. It has just a little inspirational quote. I must have checked that box for inspirational quotes for the year and I love them. They're really fun. And this one I had never heard before, but I love it. It's from Lao Tzu. I'm sure he's some sort of a philosopher.
This quote says, "If you do not change direction, you may end up where you are heading."
Gosh, that is like so simple but so profound, right? If you don't change direction, you're going to get where you're going. You're going to head that direction that you're going to arrive where you are facing.
And that sort of makes me think of this idea of automatic focus. If you don't choose. And point directly on the screen. Touch your fingertips to the thing that you want to focus on. Whatever happens to be in front is what's going to be clear. That's what you're going to get a good picture of.
Are we choosing what we want to do with our lives? Are we focused on something?
It doesn't even have to be profound. I mean you may decide that tonight what you need to focus on is getting through a mountain of laundry, but can you do that and allow everything else to sort of feed aside and really be present. Make it clear that that's what you want to do and not apologize for it and not feel bad about it and not feel like you should be doing a bunch of other things, but that you can actually be there, that you can be there doing the thing that you want to do until it's done.
You may decide that something you need to say no to is extra work hours. That even though that might bring in some more money and it might help you climb the ladder a little bit sooner, that you need to say no to those extra work hours so that you have space to say yes to something that feels more important. Maybe it's deepening a relationship with a child or with a spouse or with a partner or with a friend.
Maybe there are people in your life that have become blurry just because of lack of focus, and that's okay if you don't mind that they're on the fringes. But what if you really want to have a focused relationship? What if you want your spouse of 10 years or 15 years to be your best friend and for whatever reason he's sort of faded into the periphery as can happen?
What if you have that big dream or a small dream that isn't happening? Not because you don't feel like you want it, but because you aren't focused it, you aren't paying attention to it in spite of the distraction in the middle of the chaos. Can you choose that? You want to give your attention to the thing.
What do you want?
This has been eyeopening to me just the last couple of weeks. I hope that it's helpful for you to think of your life in terms of focusing in spite of distraction rather than being able to focus once the distraction has cleared. I know it has been easy for me to use the excuse that my house is still chaotic and we haven't quite finished up the remodel and we lived in an airbnb and we lived in a friend's basement for a few days and we lived in a hotel for a month and there's been lots of reasons why I might not have done all of the things that I wanted to do or that I might not have felt like my life went exactly the way that I wanted to go over the last year.
And the truth is because I had chosen focus, I was still able to do that one thing.
Working from Starbucks, working from my office, working from my bedroom when there was plywood on the floor and framing next to me and no light that was working on focus in spite of chaos, in spite of noise and in spite of distraction. But I didn't understand that then and I'm so happy now that I've been able to put words and sort of a visual to that. When Plum says, "Mom, I can't focus because you're talking and because the boys are playing"…and I realize that's what focus is.
Focus is paying attention to one thing, despite the chaos.
I believe I have successfully driven that point home. I'm going to need to do a word count, check in my show notes of how many times I explain that concept, but seriously, I hope that it has been so helpful for you and maybe a little tiny fraction of a light bulb moment like I had or maybe just some of the hypothetical questions.
It's always good for us to take a moment to reflect. We get so busy being pulled behind the boat. Sometimes it's helpful to check, are we in the driver's seat? Are we doing the things that we really want to do or are we just doing the things that happen to pop up in our life?
Because if I don't believe anything else, I believe this: We get to choose.
We get to decide what we want in our lives and other things will come for sure that we don't choose and we don't want. But as far as the things that we have agency over there a lot, we get to choose so many things and above and beyond all of that, we get to choose how we feel about it.
I hope that there has been one small thing that you can take from this episode to focus on over the next week and to ponder on and to give some attention to and to spend a little time thinking about how to apply it to your life because ideas and understanding and knowledge is all fantastic, but it only really matters when you start aligning your actions with the things that you've learned in order to cultivate real change in your life.
That's where the real results happen.
Conclusion
I'm going to just tell you thank you so, so much for spending some time with me.
I do not under estimate that you give some of your attention here every week and that you come back and listen and learn and enjoy this podcast ride along with me. I tell you every time. This is one of my very favorite things that I do and I'm so happy to have a community of people who are learning right along with me. Thank you so much for being here.
If you love this show, you might love my book. If you haven't yet checked out More Than Enough, I will link it in the show notes. It's available on Amazon and if you're international, it's available through my shop, shop.livefreecreative.co we ship anywhere in the world for $10 flat rate shipping and I hope that you're able to get a copy and love it.
Leave a review on Amazon!
And if you have a copy of the book, please go head over to Amazon and leave me a review.
Those reviews on Amazon for my book mean the world to me, but more than that, they help other people know whether or not the book is going to be right for them. And it's the same thing with the podcast. If you love this show, one of the very most important ways that you can show your support is by heading to iTunes and leaving a written review.
Leave a review on iTunes!
If you haven't done either of those things, I'm going to invite you to do a twofer. Go to iTunes, leave a review, go to Amazon lever of you for the book and just get it all wrapped up all in one day. That would be incredible. I have some exciting things on the horizon for the podcast and for life, and I'm excited to share more about those in the coming weeks and months. I want to invite you to keep tuning in. If you haven't subscribed, hit subscribe in whatever podcast app you love to listen in so you make sure you don't miss an episode. I'll be back here again next Thursday. As always, talk to you then. See you later.