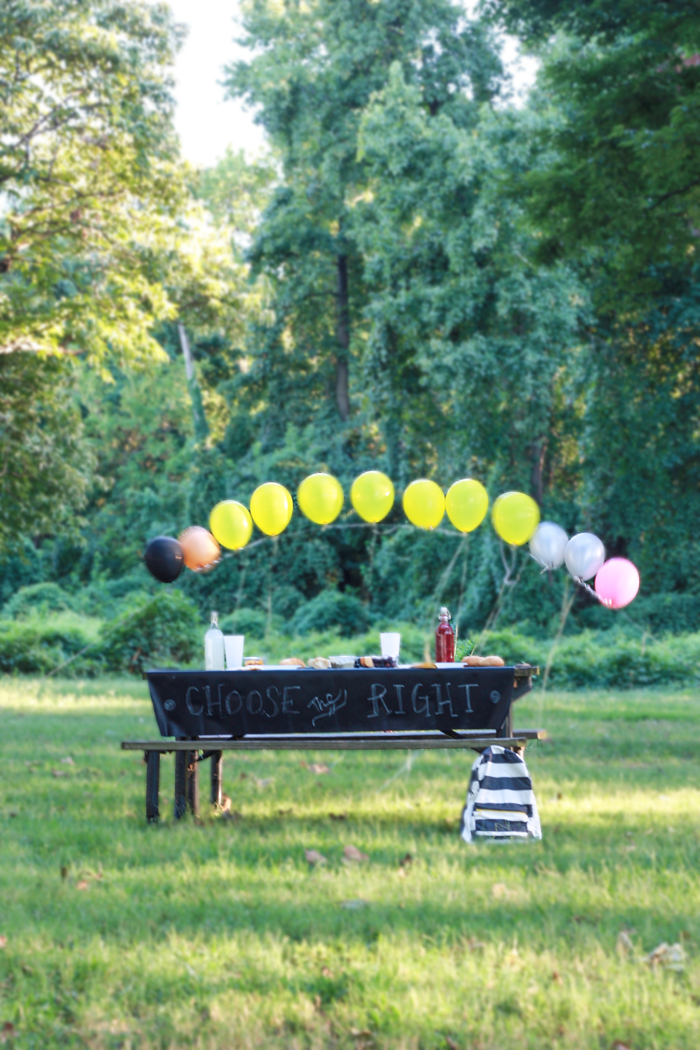 Have you seen Nie Nie's Back to School Feasts? I have loved watching her family celebrate with whimsy (as only Nie Nie does) at the beginning of the school year. Last weekend, as Dave and I were planning this week, I realized that we could pull together something fun for our own little brood to celebrate Milo starting school on Tuesday. Inspired by these cool pop-up dinner parties, I decided to plan a picnic in the park for Monday evening.
The ballons make a pencil. Can you see that? It was
way
over the head of the party-store employee, but I think it's festive. I brought our
chalkboard tablecloth
and wrote the theme we decided for this school year "Choose the Right" on the side. We figured preschool is a time filled with learning about choices, so we'd focus on trying to make good ones! The food was basically a schmorgasbord of freshness from our local Trader Joe's. I packed it all into our
snapware
, and just removed the lids for serving. The cheeses went on my
cheese slate
(A+ Christmas gift from Dave), and the juices were powdered mixes made in
these
awesome cheap bottles. We bought the clear plastic plates, cups, and cutlery years ago at Ikea for picnics, and have used them a ton. Unfortunately, Ikea doesn't sell them anymore, but
this
huge selection of melamine dishes is pretty tempting. The weather was beautiful. Maybe even slightly chilly–a sure sign of the school season! We all had a really fun time. Milo especially loved popping the balloons with his fork at the end of the meal, then chasing Dave as he rolled up the banner remains to throw away.
It's funny. This last year was the first since we began preschool ourselves that neither Dave nor I were in school. We had one single year off, and now it begins with our own kids…crazy. Well, we've got one week of school down, now it's time for the very first weekend of the school year! Wahoo! I'm looking forward to it.