It seems like early spring is always baby season, and this year has been no exception. When friends and I started putting together a baby shower for my friend having her third little boy, we thought a children's book themed baby shower would be perfect!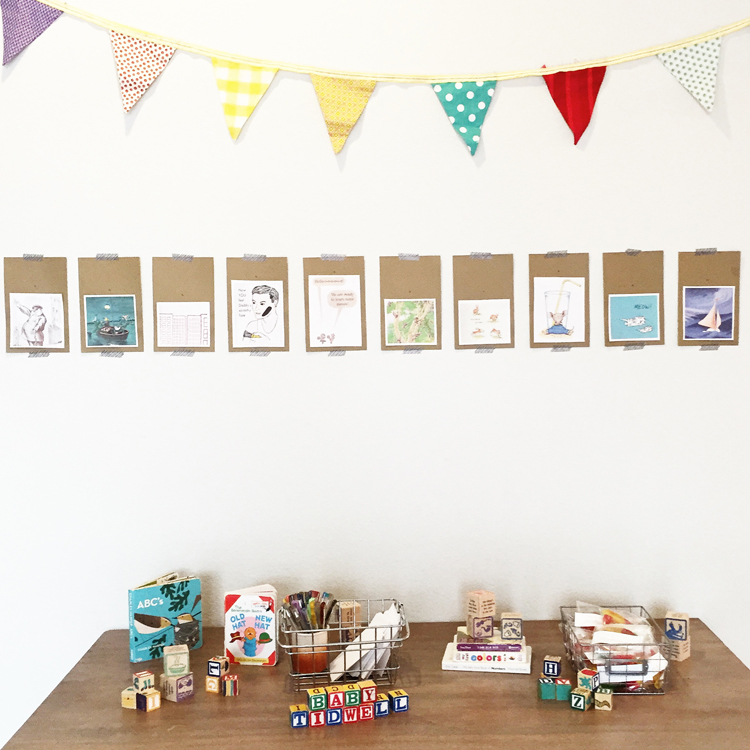 There are a lot of adorable book themed shower ideas online, and I specifically used this one thrown by my online buddy Jess as the blueprint for our shower. I remember when she posted about it on instagram I told her "I can not wait to recreate this shower in it's entirety!" and we sort of did! It's so nice to have most of the creative work done for you! I used her menu, decor, and favor ideas, personalized and printed her book plate, and then added this fun game of "Guess the Children's Book" by scanning pages from our own favorites.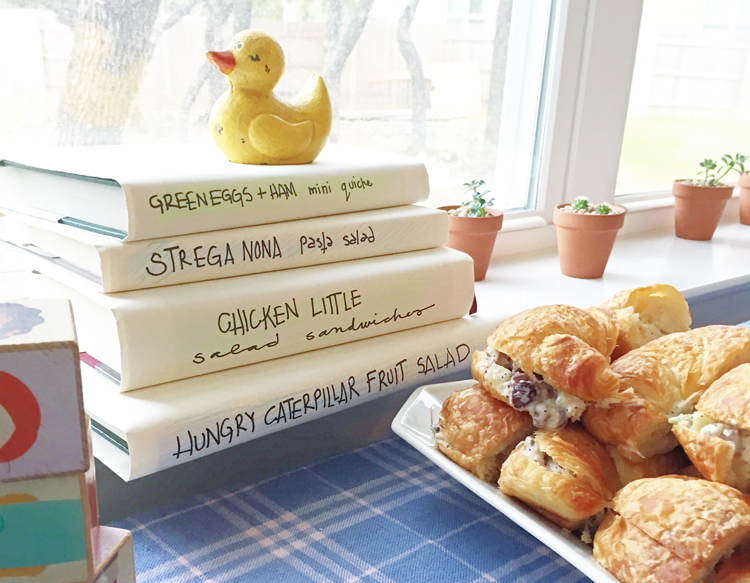 Read on to see some more fun details and download free printables for the guessing game and the bookworms shower favors!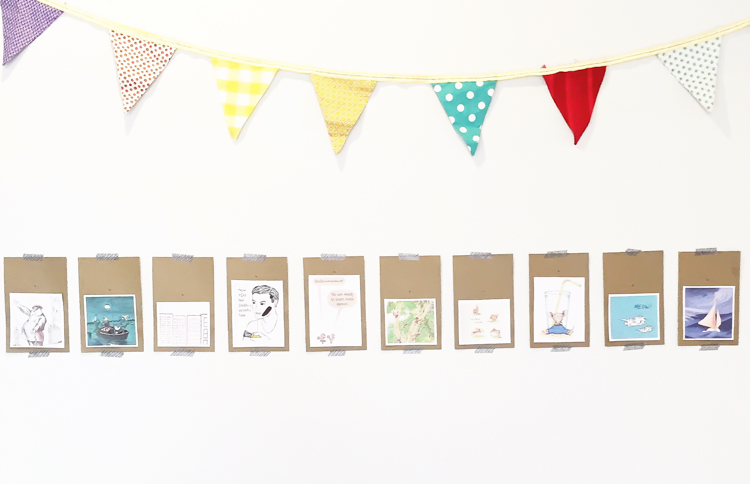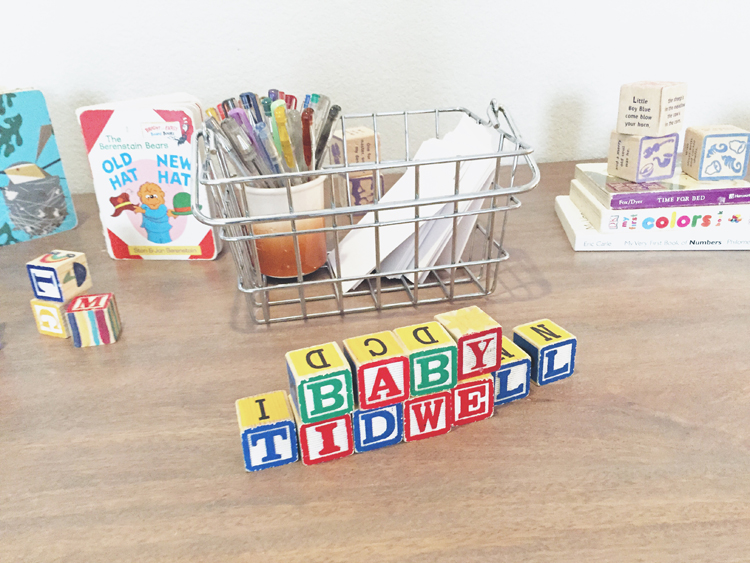 I like showers to have an easy, relaxed format, so I usually try to create some sort of game that people can do at their own pace. Guessing games work well, and I've used lots of iterations of this same idea. To make this simple game, I scanned pages of some of our favorite children's books, then resized them for easy printing. I made them the just-right size to glue onto a half-sheet of card stock. You can download to print these formatted scans HERE if you'd like to! The book title and author is included in case some of them are new to you. (If they are, I highly recommend them!) Here's the list of the books I included in the game:
The Runaway Bunny

Pat the Bunny

Moo Baa La La La

Make Way for Ducklings

Harold and the Purple Crayon

Quick as a Cricket

If You Give a Mouse a Cookie

Guess How Much I Love You

Elephants Cannot Dance!

Go, Dog Go
I just put out pens and blank note cards for the guessing.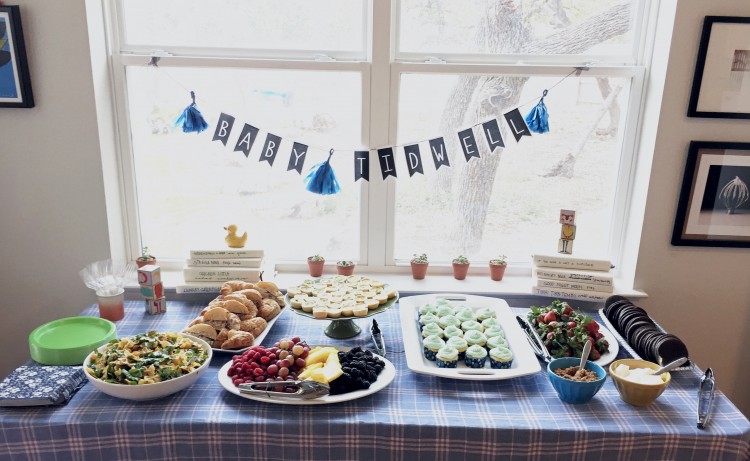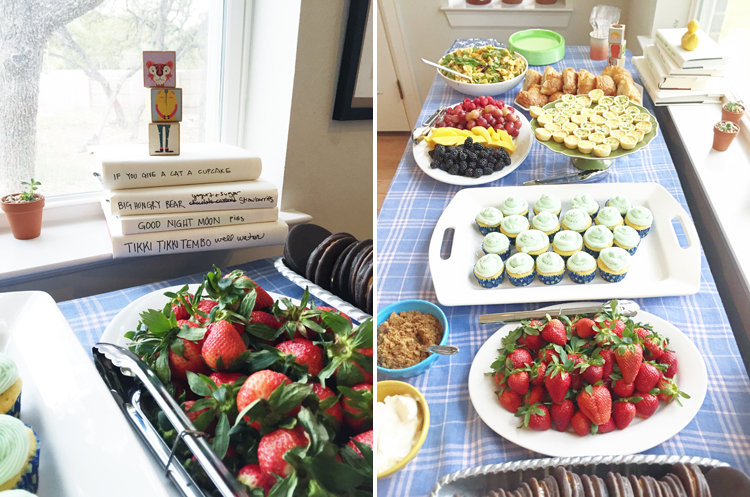 The food turned out so delicious. I had so much help from friends I didn't even make a thing! We just followed Jess' menu, and even simplified it a bit more.
We had:
Chicken Little
 Salad Sandwiches (chicken salad and croissants from Costco)
Green Eggs and Ham
Mini Quiche (frozen from Costco)
Strega Nona
Pasta Salad
The Very Hungry Caterpillar
Fruit Salad
If You Give a Cat a
Cupcake
Big Hungry Bear
Strawberries with greek yogurt and brown sugar
Goodnight Moon
Pies (packaged)
and Tikki Tikki Tembo
Well Water (with lime)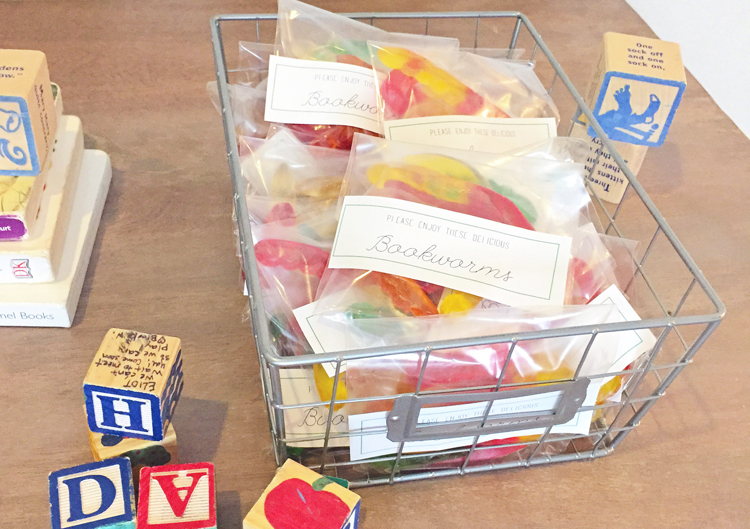 Favors were little bags of gummy worm Bookworms! Click here to download and print this super simple bookworms label. It says "Please enjoy these delicious Bookworms."  I printed it on label paper and just used it as the sticker to close the cellophane bags. Easy peasy.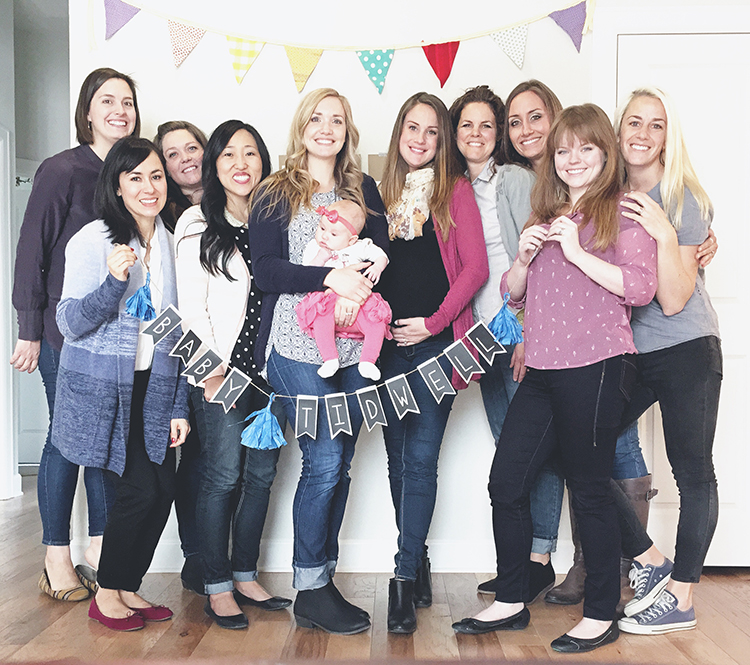 I love celebrating new babies! Even with a third (fourth, fifth, etc.) child I think mama's should have a shower as a show of love and support from her friends and family. There were some really great books given as gifts that I had never heard of and now need to add to my collection! The Three Ninja Pigs
, Draw!, 
, This Is Not My Hat
, Hippospotamus
, and This Moose Belongs to Me
 are now on my wish list!