This series is sponsored by Baby Lock.  For over 40 years, Baby Lock has been dedicated to the love of sewing by creating machines for sewing, embroidery, quilting and serging – all with ease-of-use, high quality and a touch of elegance.

Last week Miriam and I overloaded you with information and resources to help you learn to sew with knit fabric. This week, we are so excited to have a group of guest bloggers adding some additional tutorials to give you even more ideas of the possibilites with knits! Every day this week, we will share a theme and feature two of the bloggers we invited to join Stretch Yourself. They have each prepared a full tutorial for you, and posted it on their blogs. Enjoy the blog hop!
The Stretch Yourself Guest Blogger Theme for today is: Color Blocking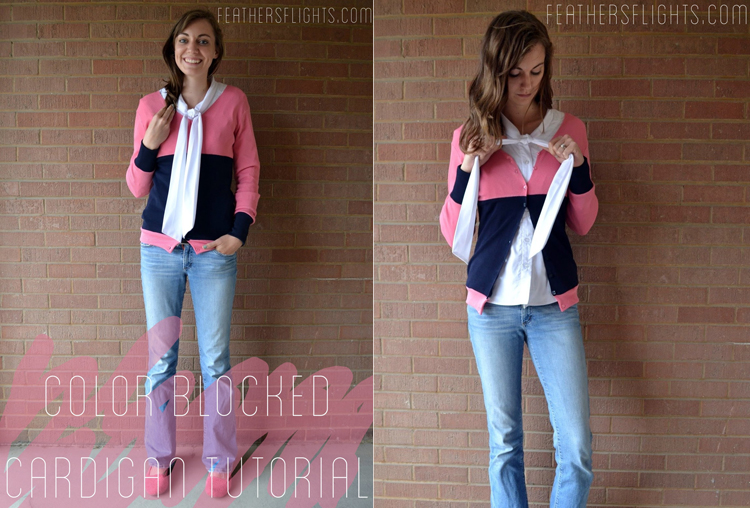 Check out this awesome color blocked cardigan made by Heather at Feather's Flights. I am a total cardigan girl (in lieu of a blazer girl) and I just love the color combination of pink and navy! Head over to Feather's Flights today to learn how to make one for yourself!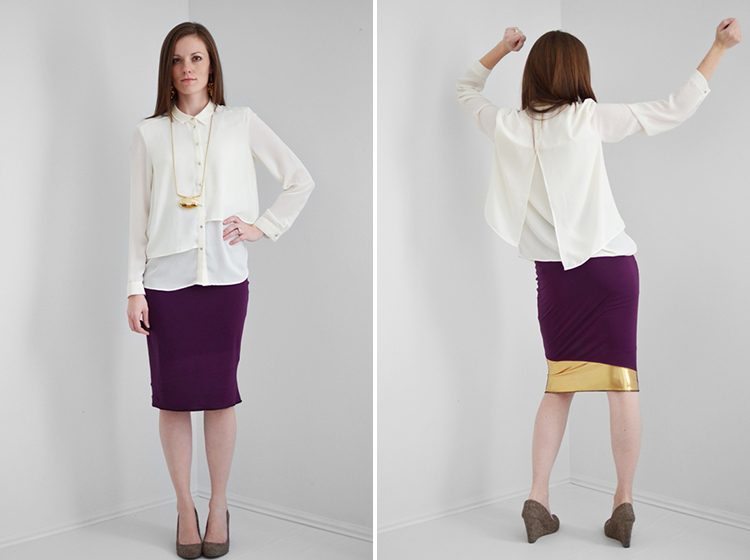 Melissa from I Still Love You picked up on the gold-tipped trend of the season and used it as inspiration for her super rad gold-tipped wiggle skirt. She laughed a little when she told me the skirt is "business in the front, and party in the back!" I can't wait to see her tutorial today on her blog.
And in case you missed some of the posts last week, here they are:
Stretch Yourself Week 1:
Knit Fabrics and Selection at OLM // Cutting Knit Fabric at MM
Making a Pattern from a Tee Shirt at OLM // Drafting a Tee Pattern from Measurements at MM
Basic Tee Shirt Construction at OLM // Finishing Details for Knit Fabric at MM
Tee Shirt Dress Variation at OLM // Peplum Tee Variation at MM
Drafting and Sewing Leggings at OLM // Drafting and Sewing a Maxi Skirt at MM
Serger and Coverstitch Techniques at OLM // Baby Lock Diana Threading and Converting to Coverstitch at MM