I spent a truly inspiring weekend at the Sewing Summit in Salt Lake City. The days and nights were filled with learning, connecting, and planning. I'll share a full recap next week when I return home.
 While I was at the conference, sweet Rebecca got married in the gown I designed and made for her. Today I want to share some photos of her beautiful finished cowl neck wedding dress. This dress is different, in a special way, from anything I have seen before. It fits her just right, both figure and personality. The dress is made of four-ply silk crepe, with pleats on the bodice, waistband, and sleeve hems, a draping cowl neckline, and a fitted straight skirt ending in a mini chapel train.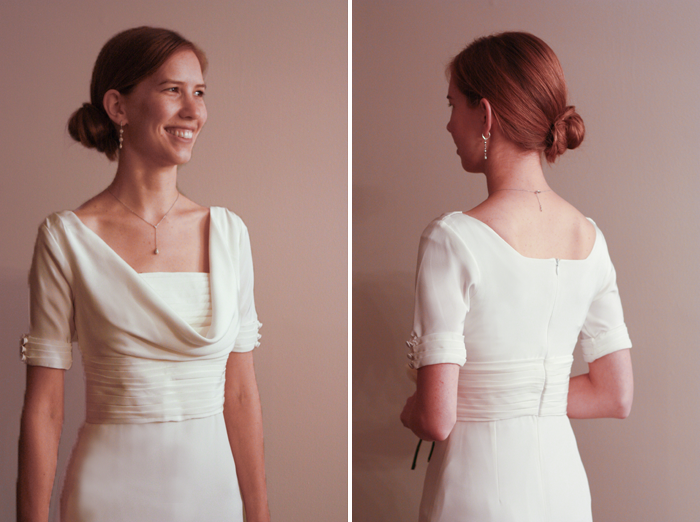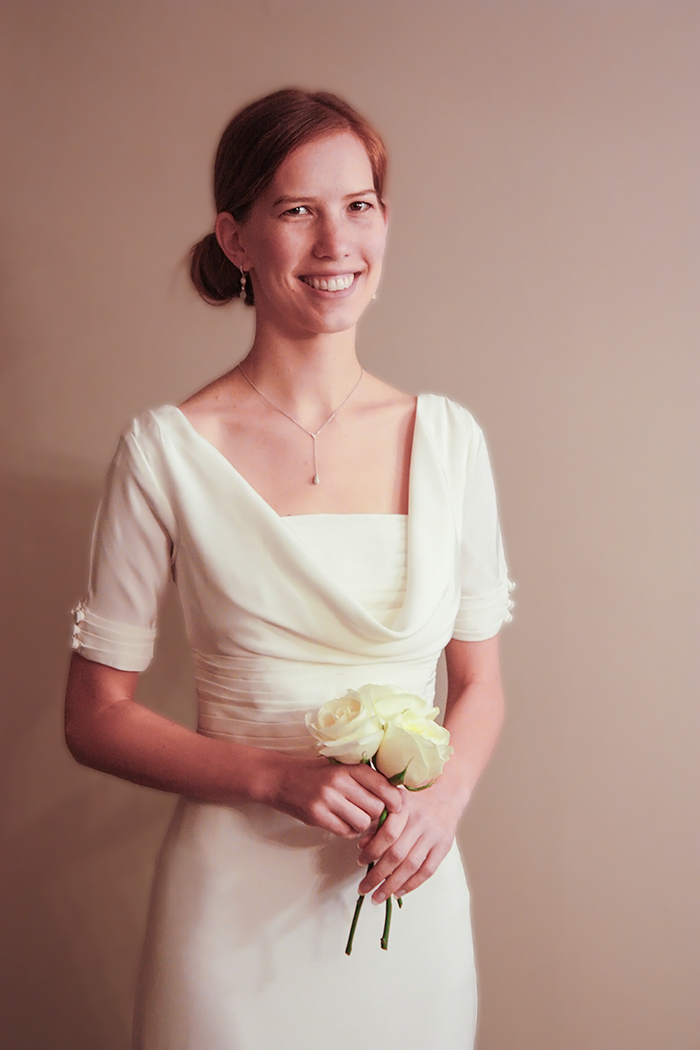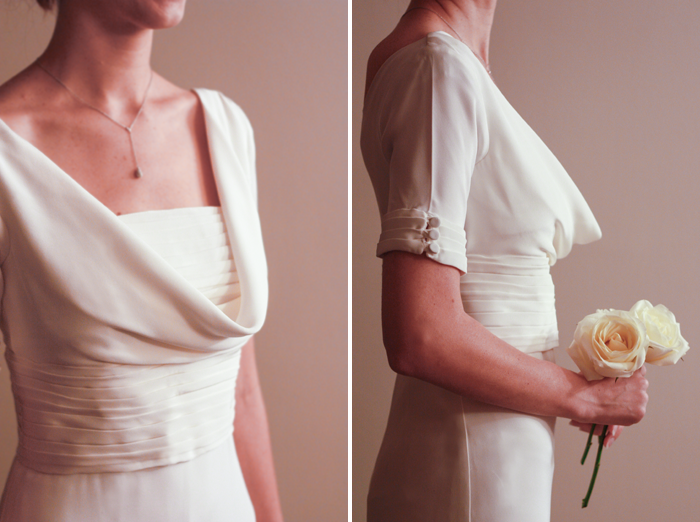 I loved the idea of this dress from the first meeting I had with the bride, Rebecca. We met at a bridal shop for her to try on several styles while we talked about optional lines, fits, and details. She mentioned not being sure of what she wanted, but as she tried on the different gowns she was able to pick out things she liked, and things she definitely did not. Her aesthetic is simple, classic, elegant, and somewhat formal. And, she is absolutely tiny! I loved the idea of a soft, tailored gown for her, rather than a more structured fit. It took a little discussing, but she agreed that she didn't need all of the boning and corseting, and that her dress could be more comfortable without it.
The cowl neck came into the conversation naturally, as she told me about her favorite shirts, which are wide neck knit tees with cowl necks. Then, when one of the waistbands that we tried on was several rows of pleats, I thought that could be the perfect balance for the draped silk neckline.  After a few minutes more we had the elbow-length sleeves and chapel train worked into the idea. I went home and sketched for a little while, and the design was born.
 It's truly incredible to turn an idea into reality. The process of making this dress, start to finish, took a couple months. That's a long project for this nap-time seamstress! There were stressful moments interspersed with periods of really fun creative work. The time and stress all paid off when I zipped that zipper, and the dress was exactly as we had imagined.
I'll have a follow up post sometime soon to share some of the behind the scenes of the making of this dress, for those of you interested.
You might also like