For some reason, our master bedroom seems to always be the last priority when we move into a new home. It probably has to do with the fact that guests and visitors don't ever see it, and we tend to give decorating priority to more public areas. As soon as we moved into this house, I started brewing up ideas to create a cozy master bedroom, and three years later I've finally pulled it together. I love how it turned out! I keep walking in the room and telling Dave how happy it makes me! I can't wait to share some of my design process with you, and lots of fun photos and sources.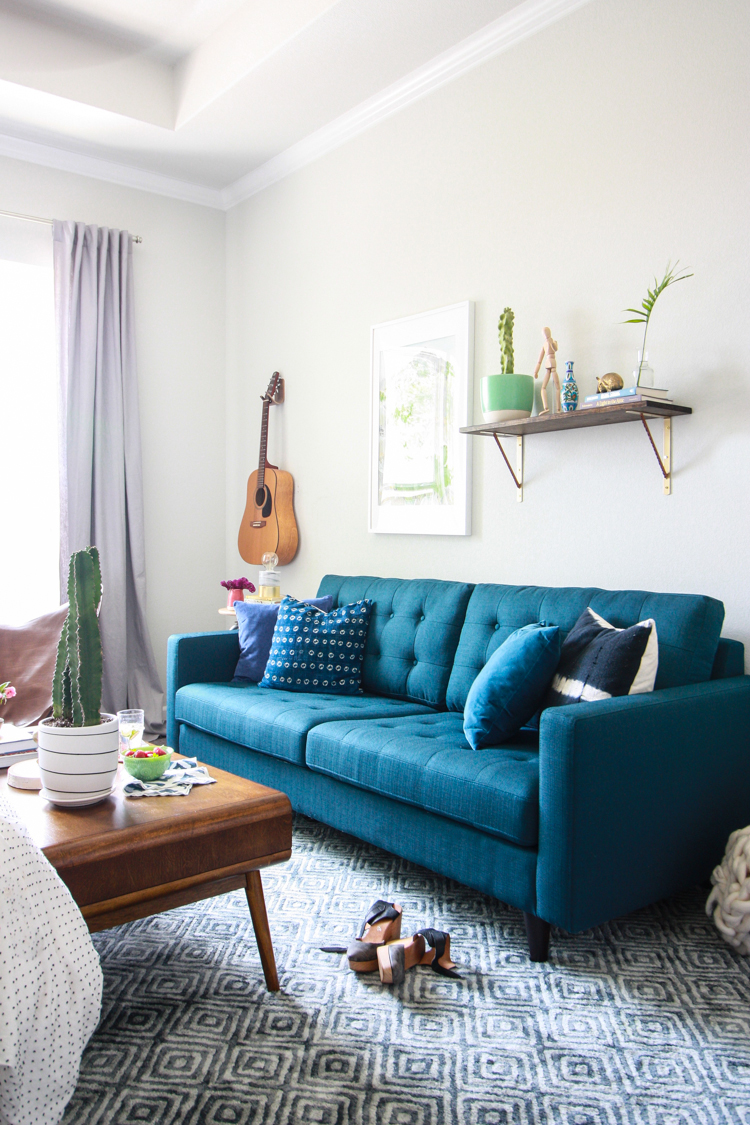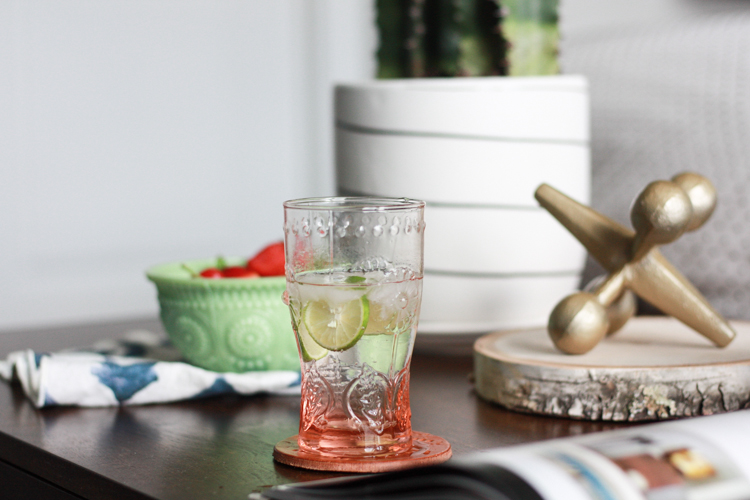 The room has evolved bit by bit– we started with a mattress on a metal frame and went from there. Over the last few months, about half of the room had been feeling pretty nice. But there were a few feet of empty space at the end of our bed that needed attention. We kept filling it up with random junk: packages that hadn't been opened and sorted, piles of framed art still unhung, and often clothes and toys from around the house tossed behind the closed door just before company arrived!
In the empty space I wanted to create an intentional, cozy conversation area. We needed a place to sit together, unwind, and talk over the day. It was time to give our master bedroom the attention it deserved, and I partnered with hayneedle.com to bring it all together.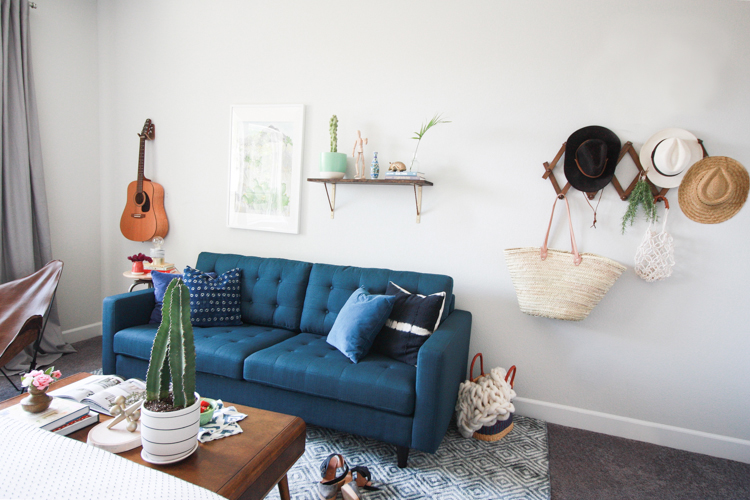 I started by choosing out the perfect, modern-but-still-comfortable couch as the focal point of the wall. This blue couldn't be prettier. I am often drawn to blues lately, and I don't think you can go wrong with a blue couch. It's a great, calming neutral that can be decorated with any style.
Next, I choose this beautiful grey geometric rug that looks nice over our neutral grey carpet. I love the little bit of pattern on the floor, and keeping it simple and modern feeling. It would be ideal to have our hickory flooring run into the master as well as the rest of the main house, we went with carpet too keep it cozy underfoot. Funny thing though, after throwing this rug down Dave told me that with a great rug like this, he'd be okay with hardwood in the master, so I'm adding it to the someday list!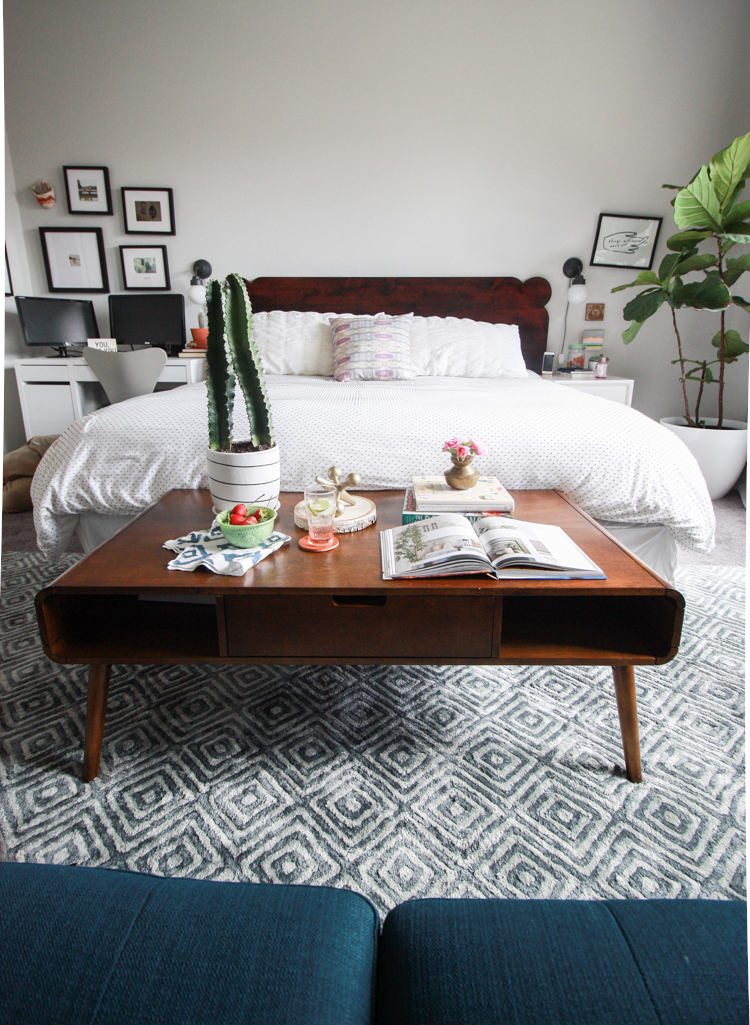 The next major player in this cozy master bedroom is the mid-century inspired coffee table at the end of the bed. The rounded edges and simple lines make it perfect for the bedroom, where I walk past it several times a day to get over to my side of the bed. There are drawers and open shelves for storage, and the warm stain is inviting. I love it here, and kind of want another one for the living room, too.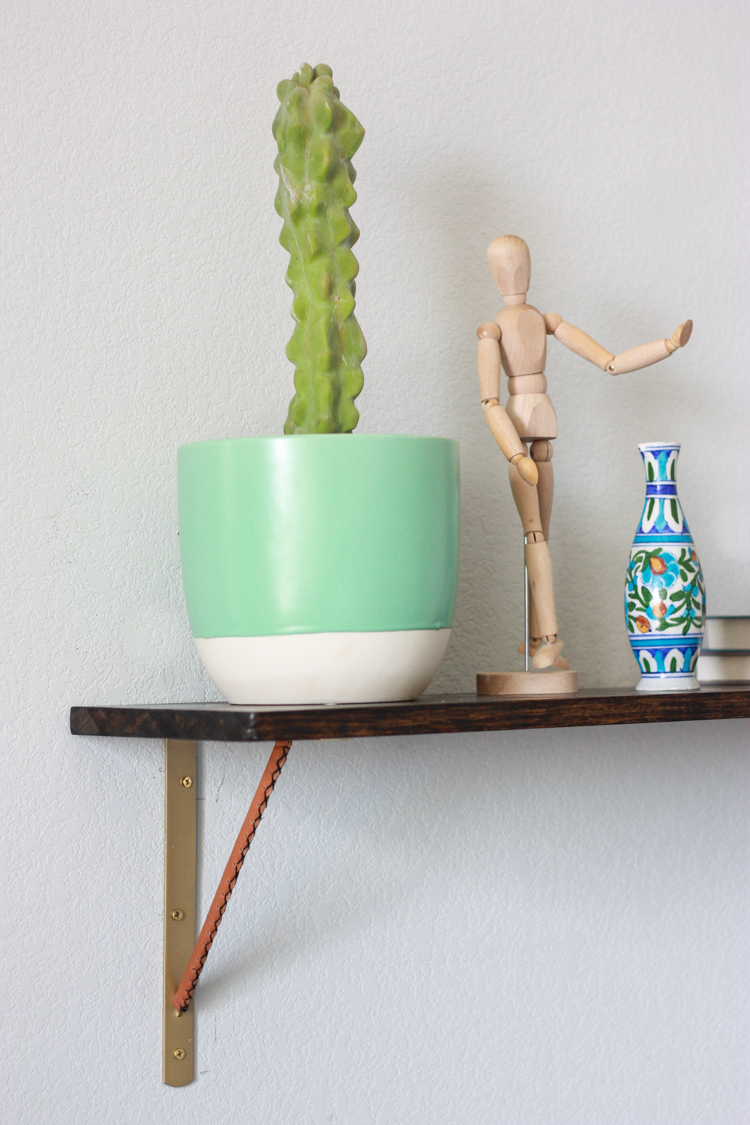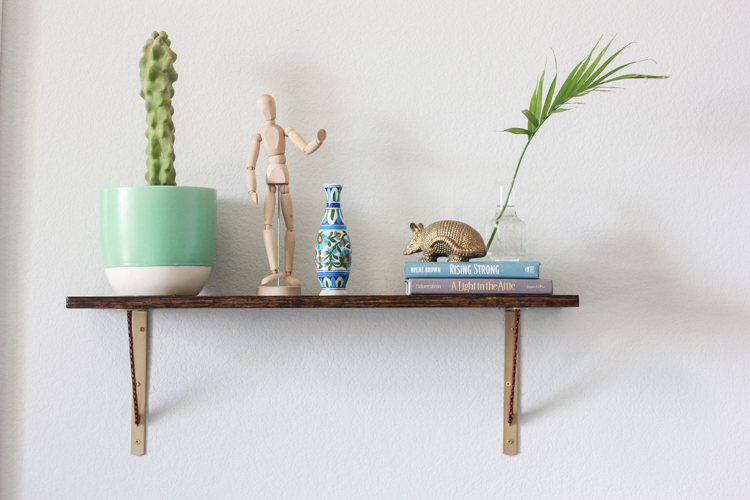 After I had the furniture in place, including my newly re-covered leather butterfly chair, I was able to add design details. I DIY-ed these fun leather-wrapped brackets to hang a shelf above the couch (tutorial forthcoming), and styled it with tidbits of our family history and story. The cactus from East Austin Succulents is one of the prettiest I've seen and I couldn't leave it in the nursery. The Indian vase was my grandmother's, bought while she and my grandfather lived in Bombay, and one of the beautiful things I inherited from her. The brass armadillo is part of my growing collection. I think it's fun to add one to just about every room I've designed at home. I gave Dave the human model for Christmas one year, and Dave and I take turns arranging his limbs into different positions. It's always fun to see what he's up to.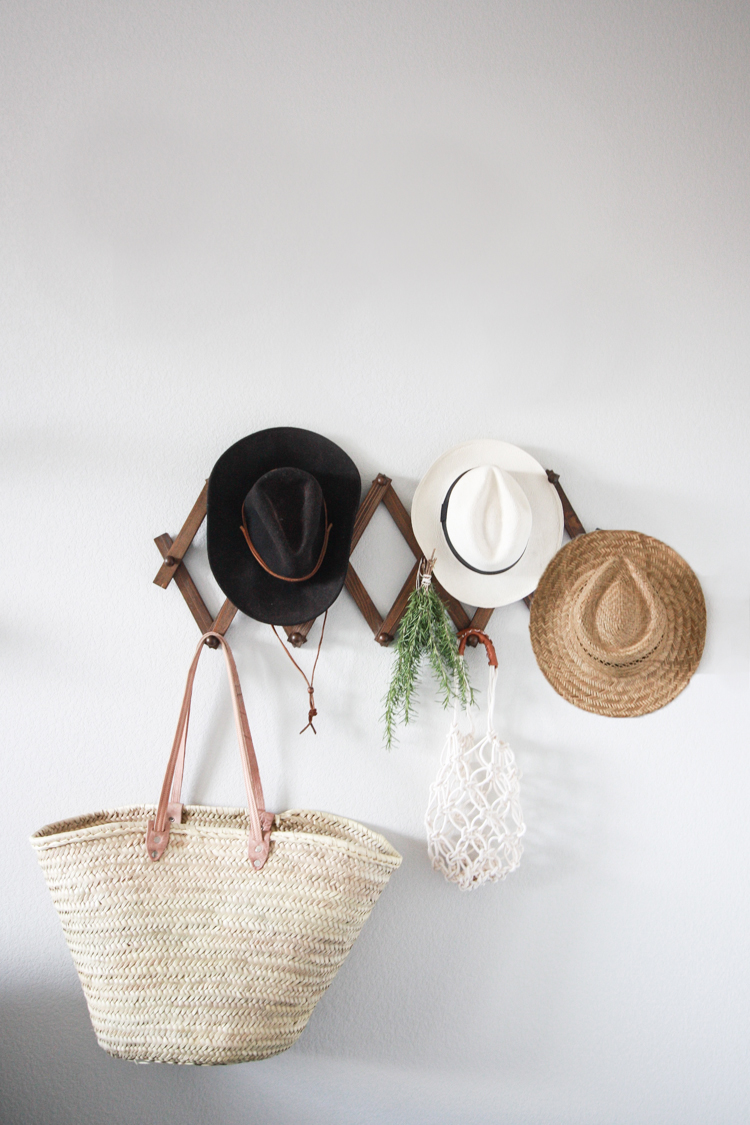 My hats have hung in different places on every wall in our bedroom, moving as I've designed and redesigned the space. I'm happy to give them a more permanent home on this wooden accordion wall storage along side my favorite summer tote from maewoven, and the macrame market bag I made while teaching a local macrame workshop last week. (Another forthcoming DIY.)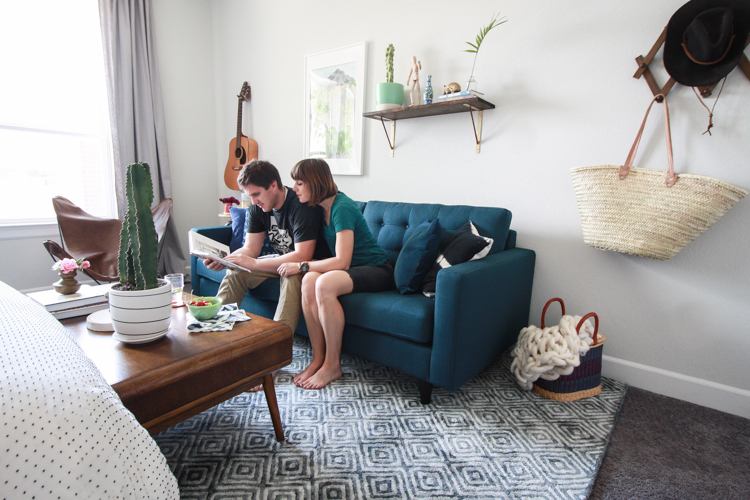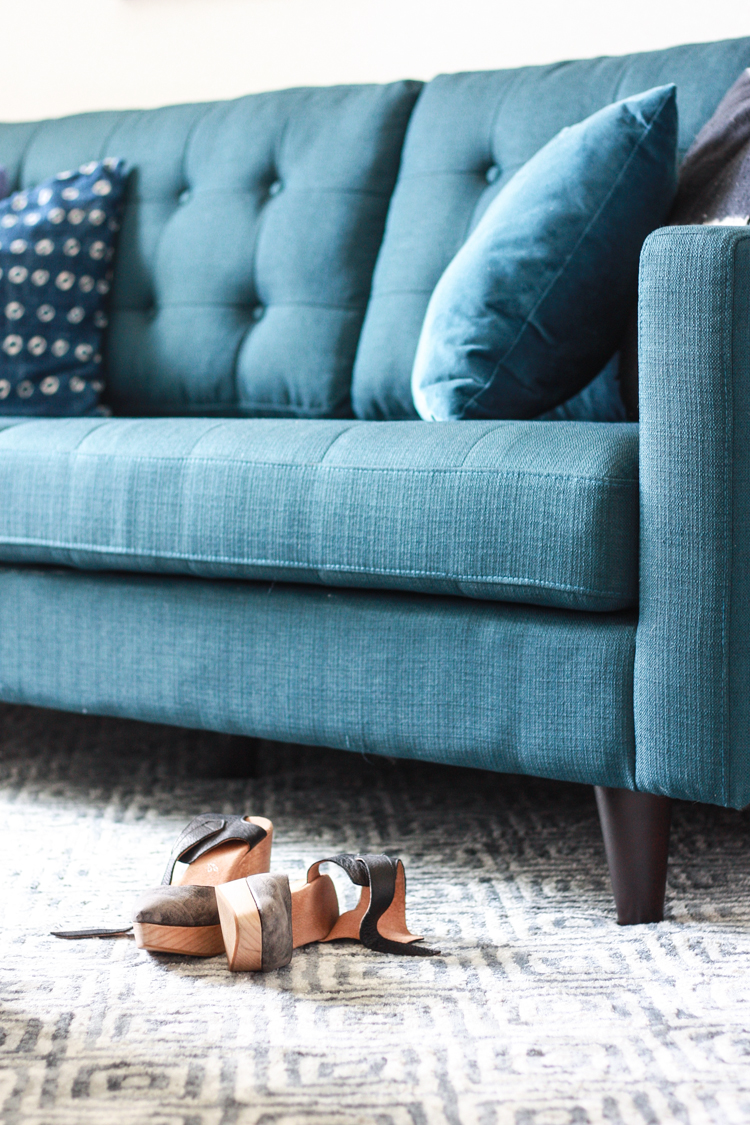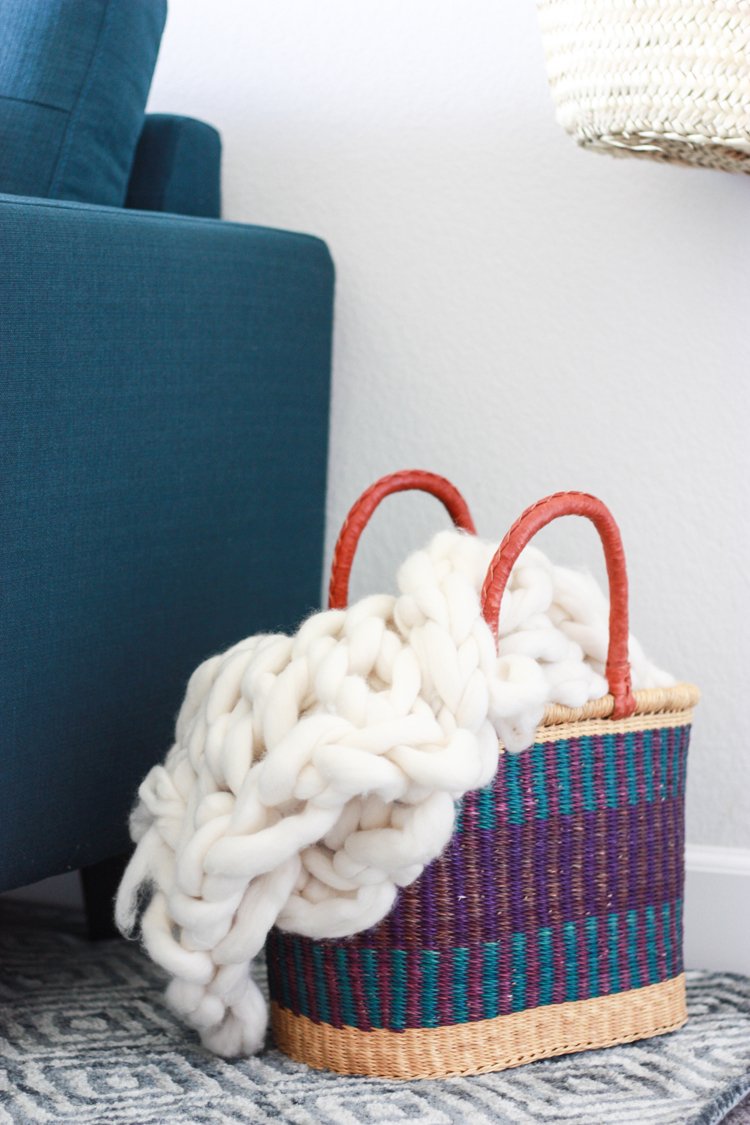 It's always a good idea to have a cozy throw near a couch, and this arm knit blanket is not only comfortable, but gorgeous. I made it using the kit from The Crafter's Box a few months ago. That wool roving is so soft and beautiful, and I love it tucked into this handmade African basket, which was a birthday gift from my in-laws.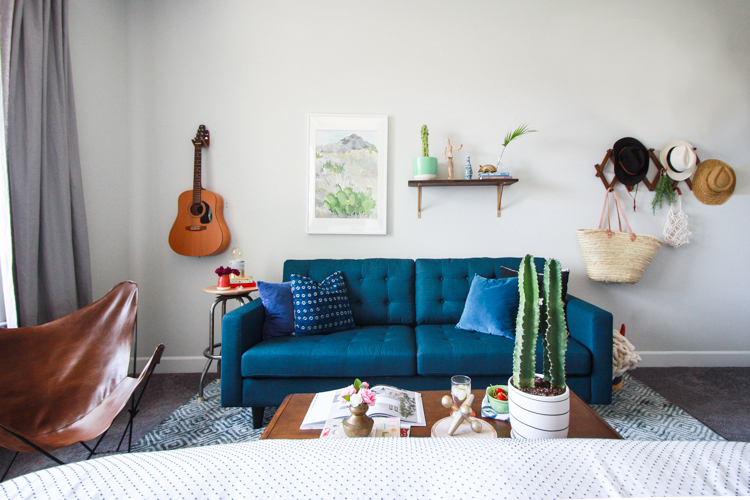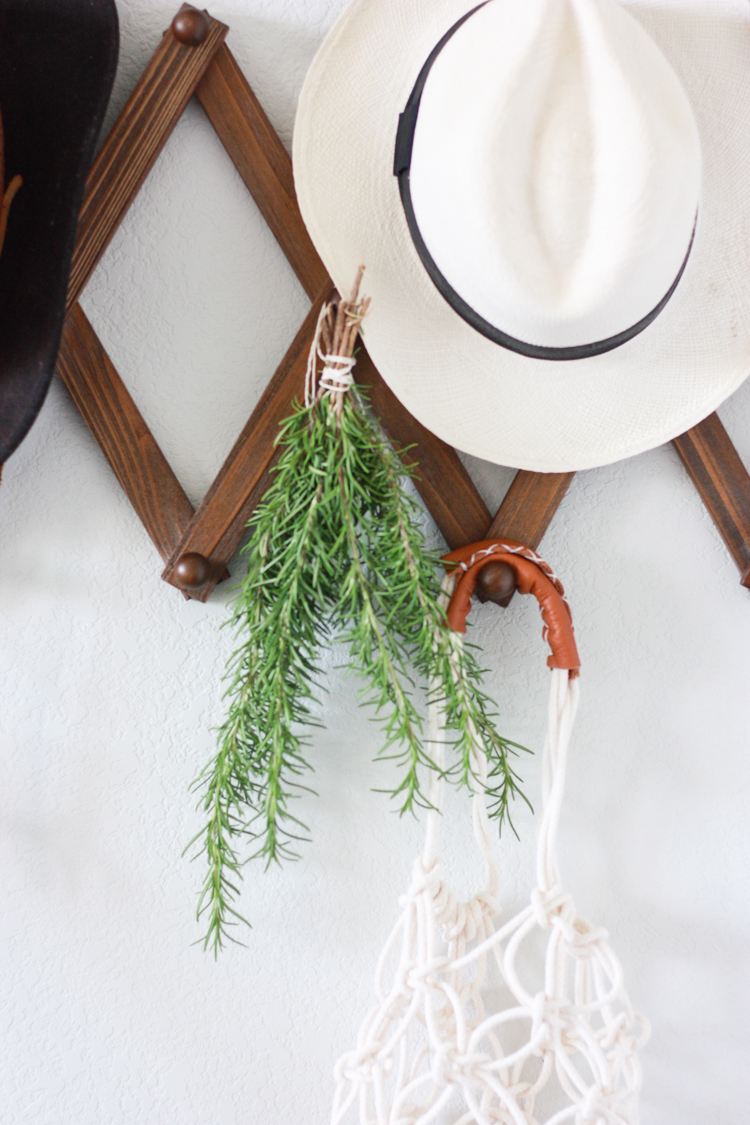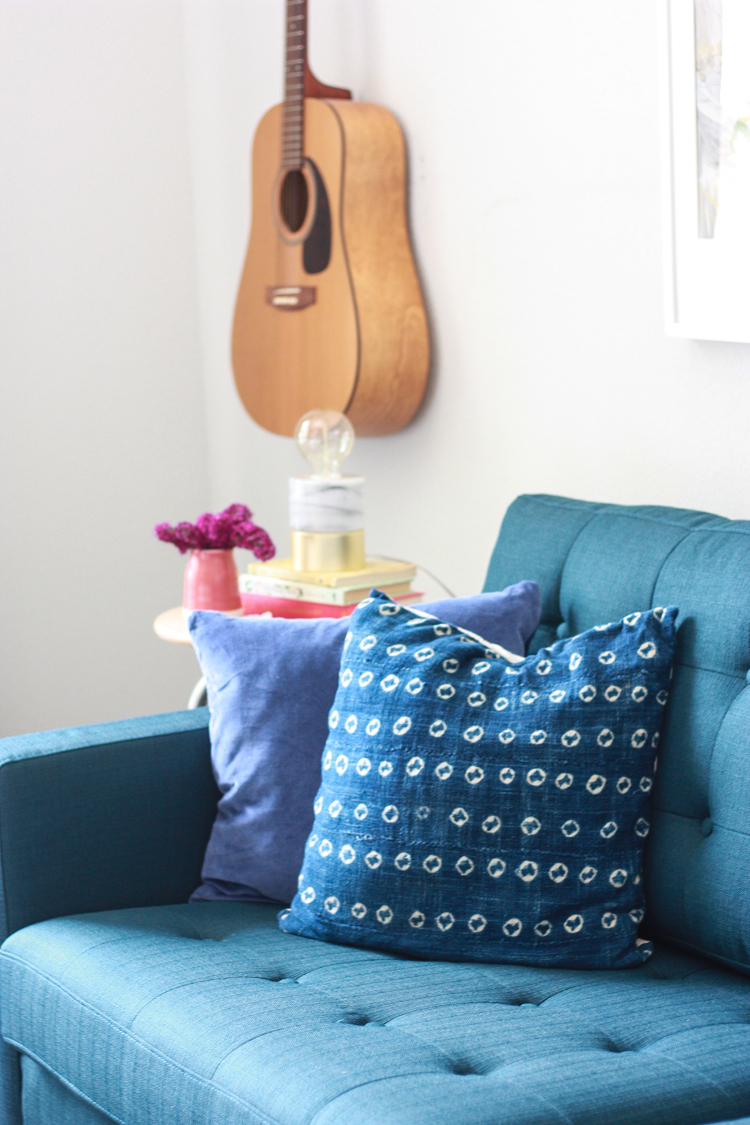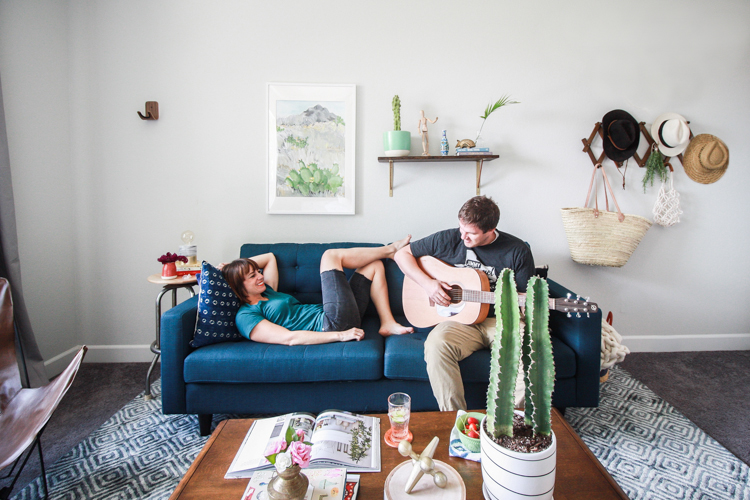 My dad bought me this old guitar at a pawn shop when I was in high school, and I still can play the same two songs I learned back then. I keep setting a goal of learning and practicing, and now that it's hanging on the wall (with this gorgeous plywood guitar hook I bought last year) I might actually get around to it. Dave plays about as much as I do, and I'm loving being serenaded before bed with his favorite few songs.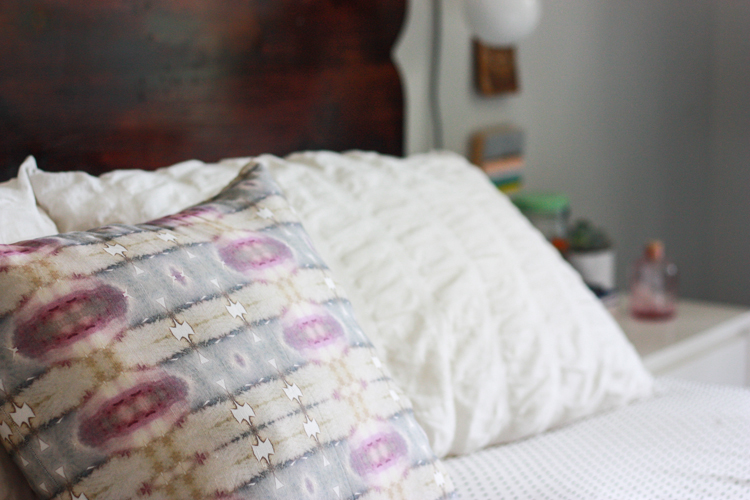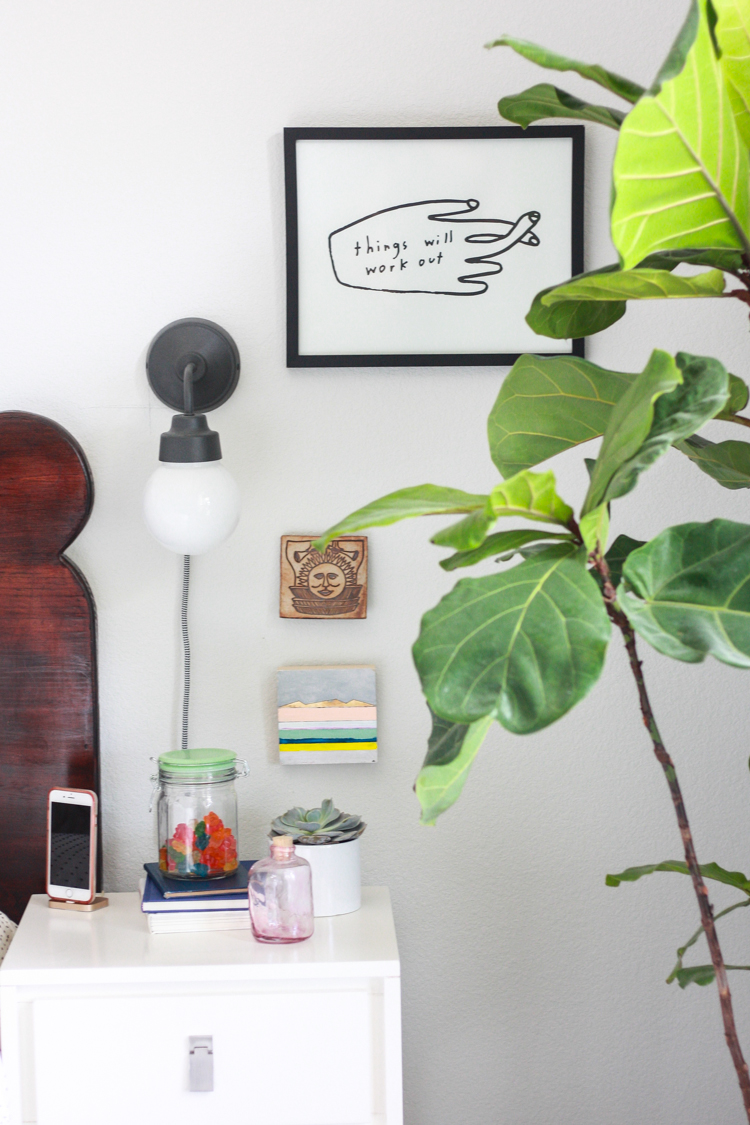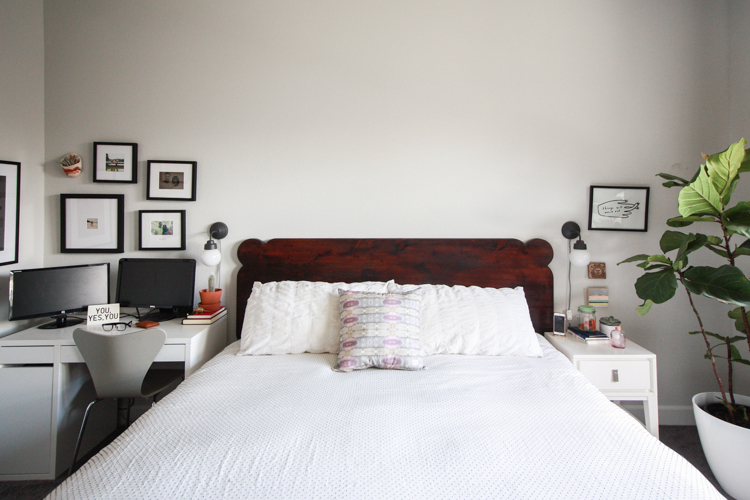 The other side of the room is still set up as before, with our repurposed  dining table headboard, DIY sconce lights, and Dave's small office area. My side table has only the essentials: mountain art, gummy bears in a cute clamp jar, pink blown glass, and a token succulent. I did grab that new watercolor pillow at the Bunglo sample sale this week and gosh I'm so in love. Watercolor fabric is my jam. Oh, and the Things Will Work Out print that I picked up at local shop Byron + Blue couldn't be a better daily reminder.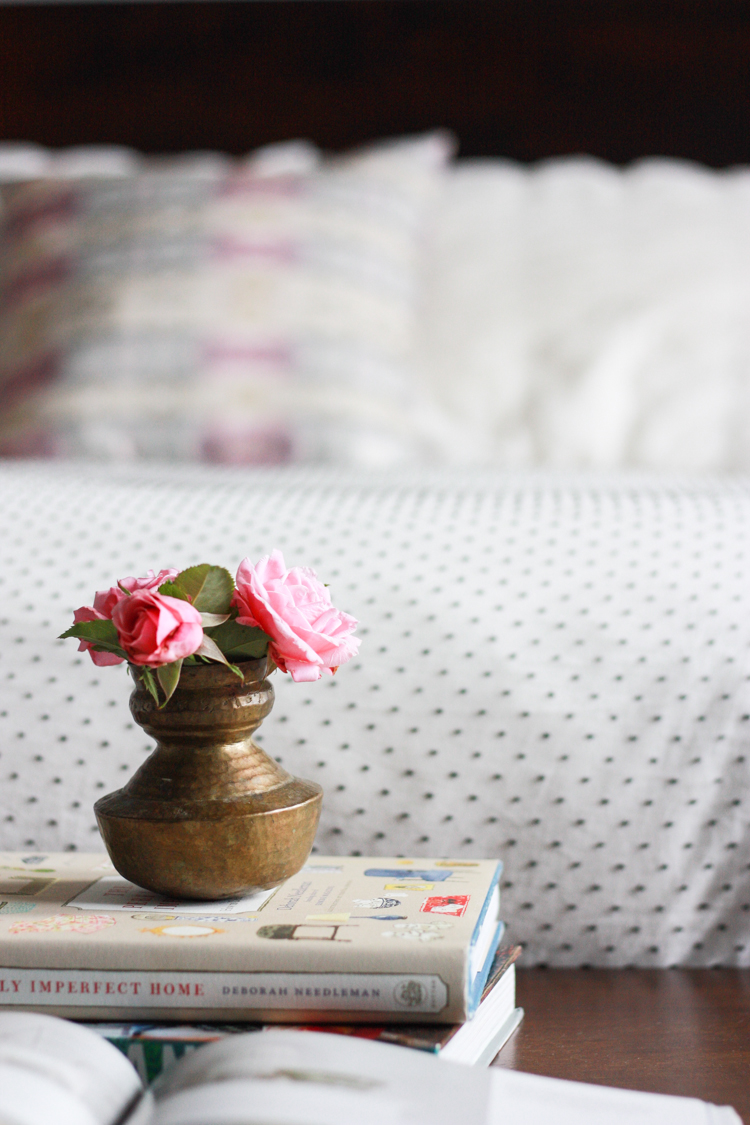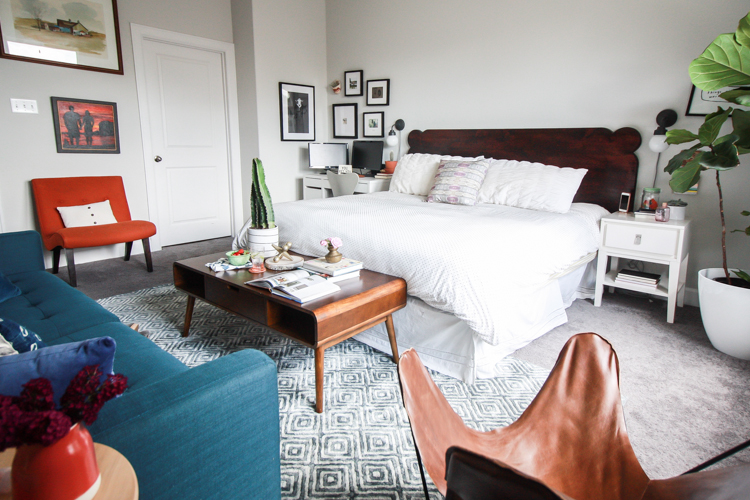 Having the couch face the bed sends all of the focus and energy back into the room and creates a great dynamic. I can get ready for bed and climb under the covers while Dave is finishing up some reading on the couch, and we can face each other and talk. The other chairs in the room also face towards the center, so no matter where we sit our back is always to the wall. The leather butterfly chair was from craigslist and I made it a new leather cover. The orange chair is originally from Room and Board, but I also found it on craigslist. I'b basically a craigslist queen.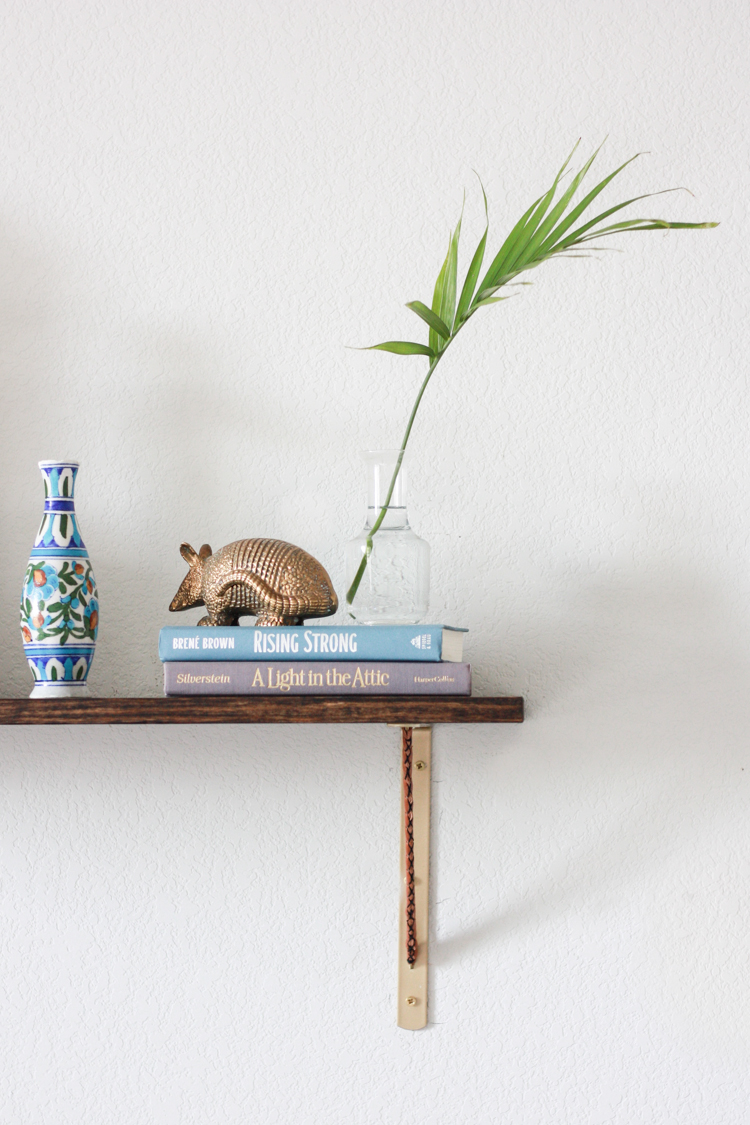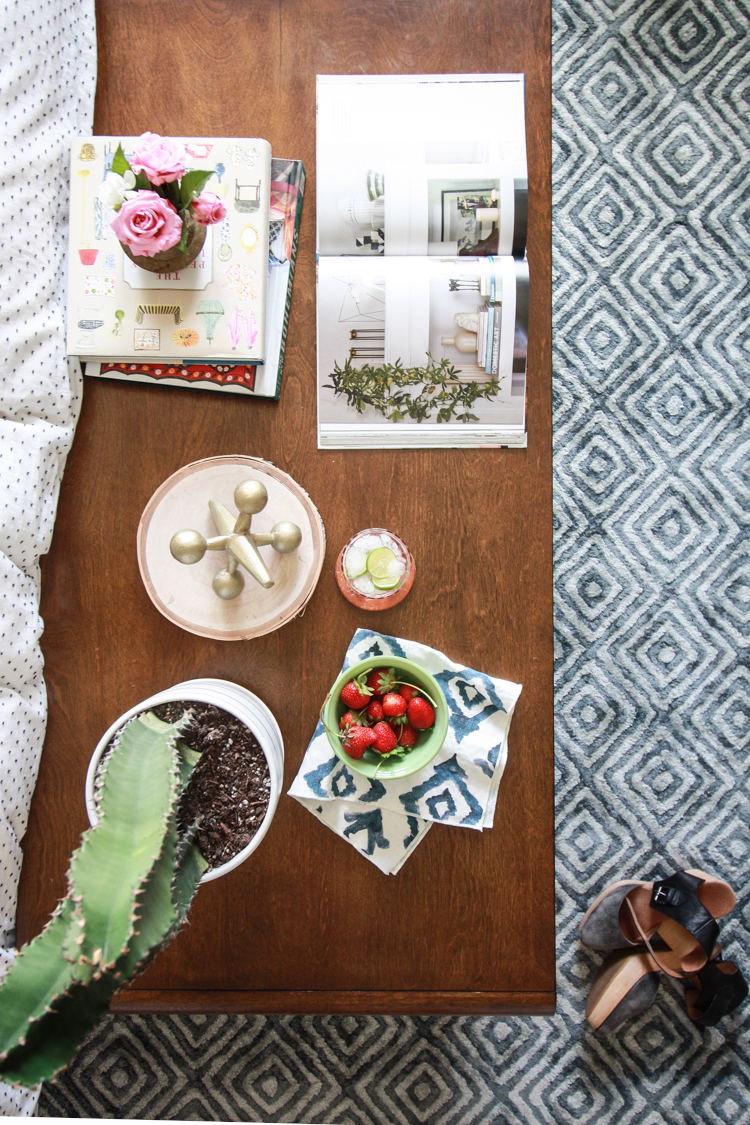 The coffee table is nice and wide, allowing room for some great decorating books, and other pretty things. More cactus, because it's my favorite. I'm also lucky to get fresh flowers, berries, and herbs often from my neighbor who has a much greener thumb than I. The iron jack came as one of my gifts over Christmas from that crazy Facebook gifting scheme. I actually ended up getting a whole pile of random $10 gifts! I painted it gold to better fit my aesthetic, and actually really like it here. I only have one of the pretty rose glasses but need a few more, and these indigo napkins go with everything.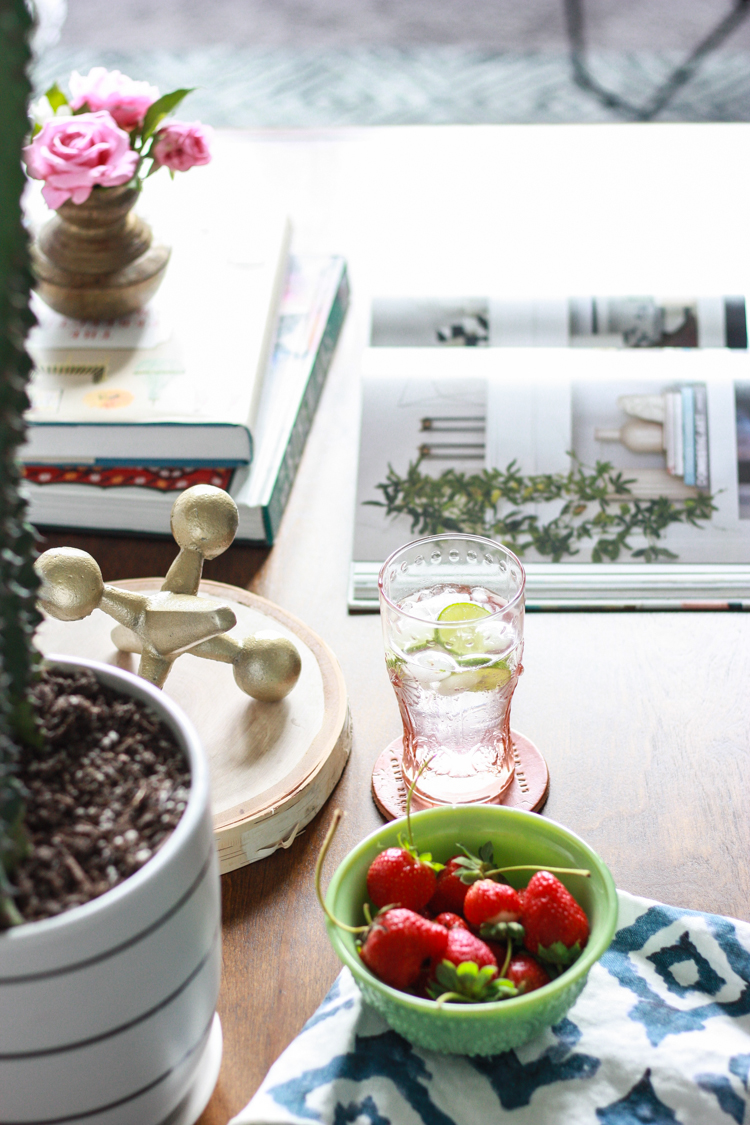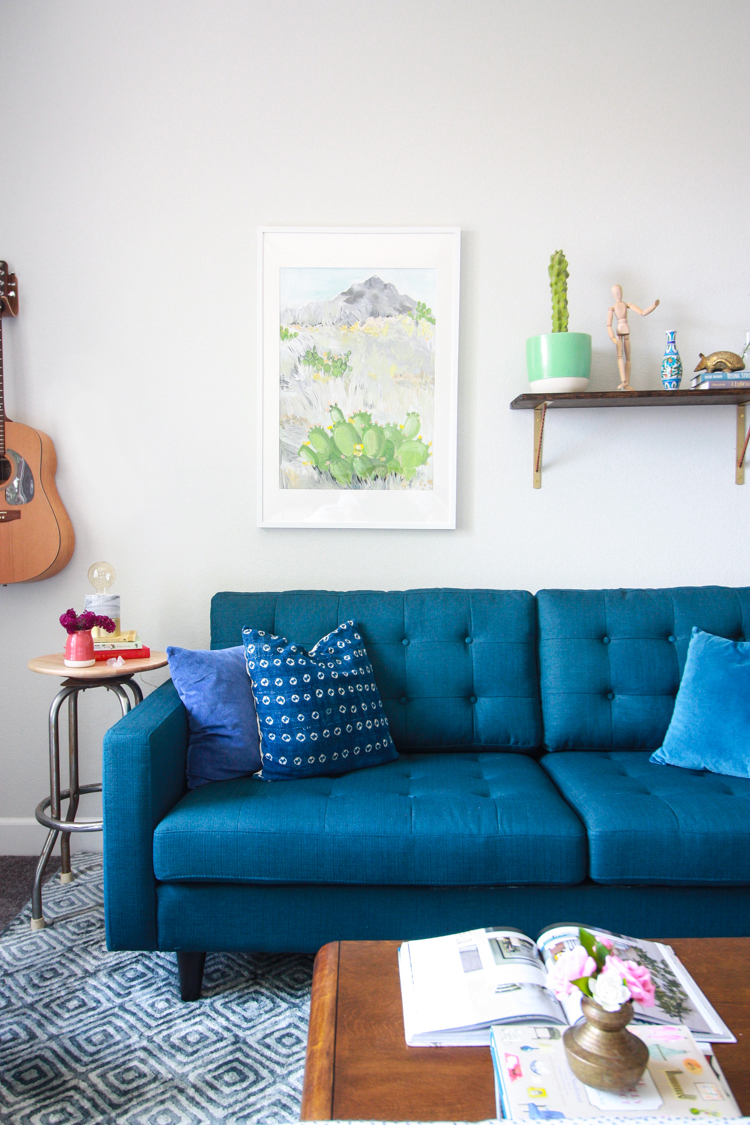 I confess that I'm not much of a pillow person. At least I wasn't until my sister began selling some really cool mudcloth and vintage indigo pillows last year, and then I sort of got hooked. I felt like the blue on blue was the right direction for this couch, and added a couple velvet throw pillows in with the pretty indigos.
When my mom was visiting a couple weeks ago I mentioned that I needed one large piece of art for this wall, and she sat down and painted one for me! It's a lovely desert scene from a photo I took at Big Bend National Park when we were there as a family, and is just what I wanted. It comes in hand to have a very artistic mother.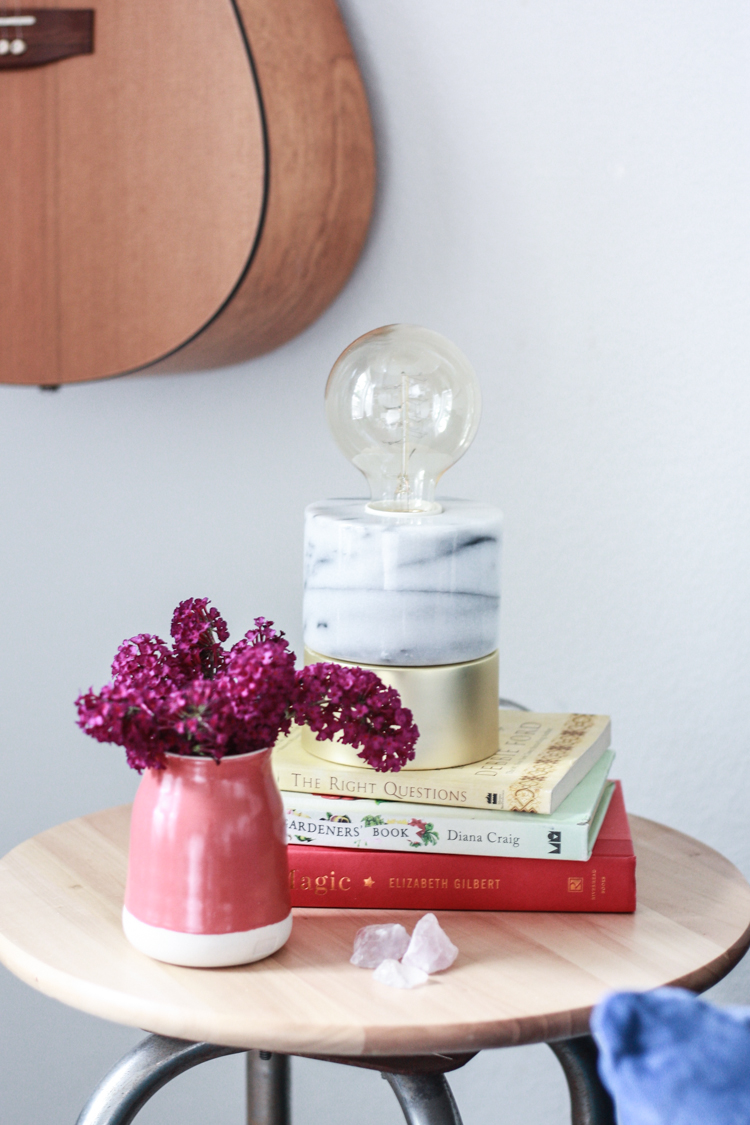 The side table is a nice, tall height, probably because it started out as a stool. I found this old barstool on the sidewalk downtown last year and changed out the torn-apart seat for a sleek wooden top (which is actually an ikea lazy susan). I didn't want to block the guitar with a large lamp, and this marble and gold desk lamp turned out to be the right fit. I added some books that I read often– this was one of my all time favorites that I read in one sitting in a parking lot! The dipped ceramic vase is from Robert Siegel. I picked it up at an art festival years ago and am so glad I did. I have three more in different colors and adore them all. Finally, Milo brought home the pink quartz rocks from a field trip and I love them hanging out in here.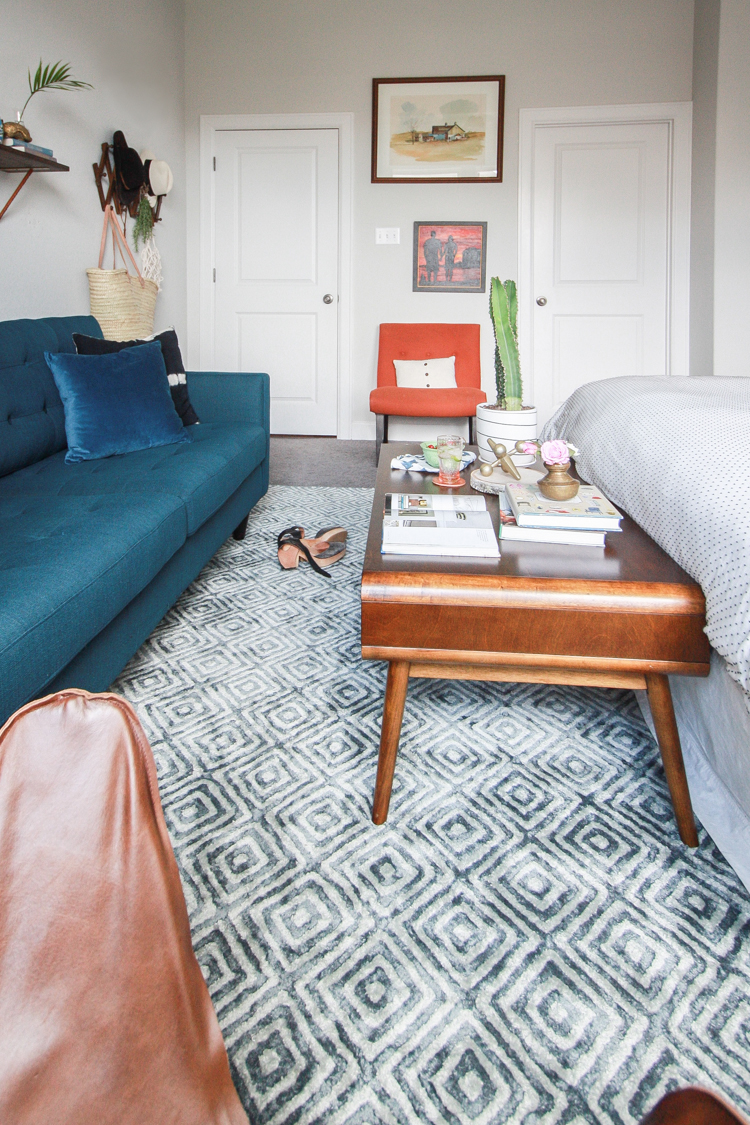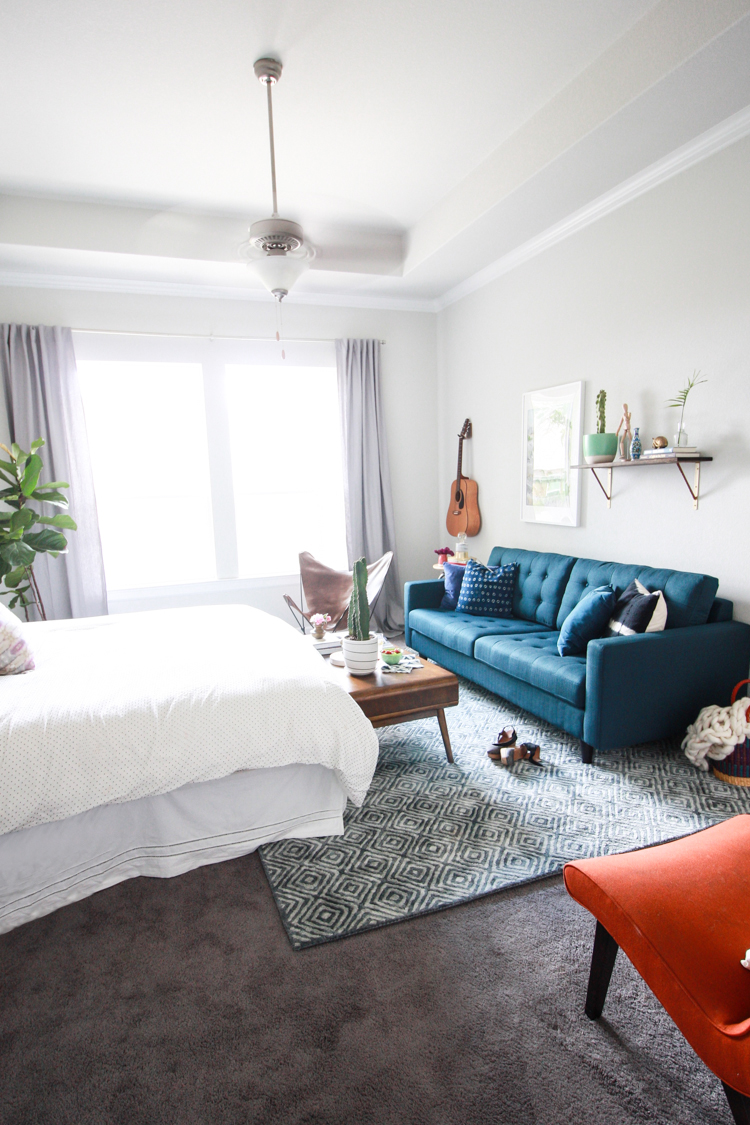 It feels so good to put some time and energy into the master bedroom. I wrote years ago about how decorating the master bedroom was like caring for my marriage, and that sentiment definitely carries into this new house and new room. I loved dedicating myself to bettering this space for Dave and me. We need to care for ourselves, and create space, both literally and emotionally, to continue bettering our life together. This cozy master bedroom is a great step in that direction.

Have you seen the rest of our house? It's ever-evolving, but here are links to our home tour, guest bathroom (with the best jackalope wall paper), the boys' outdoors inspired bedroom, the playroom, and our newly redesigned patio.