Last Thursday I was invited to create a big photo installation for a party that I was planning to attend on Saturday, just two days later. After some quick brainstorming, a supermarket-sweep style trip to Hobby Lobby just before close on Thursday night (so fun!), two very late nights cutting and glueing, and then a morning wiring and styling, this DIY giant paper flower arch came to life even better than I had imagined it.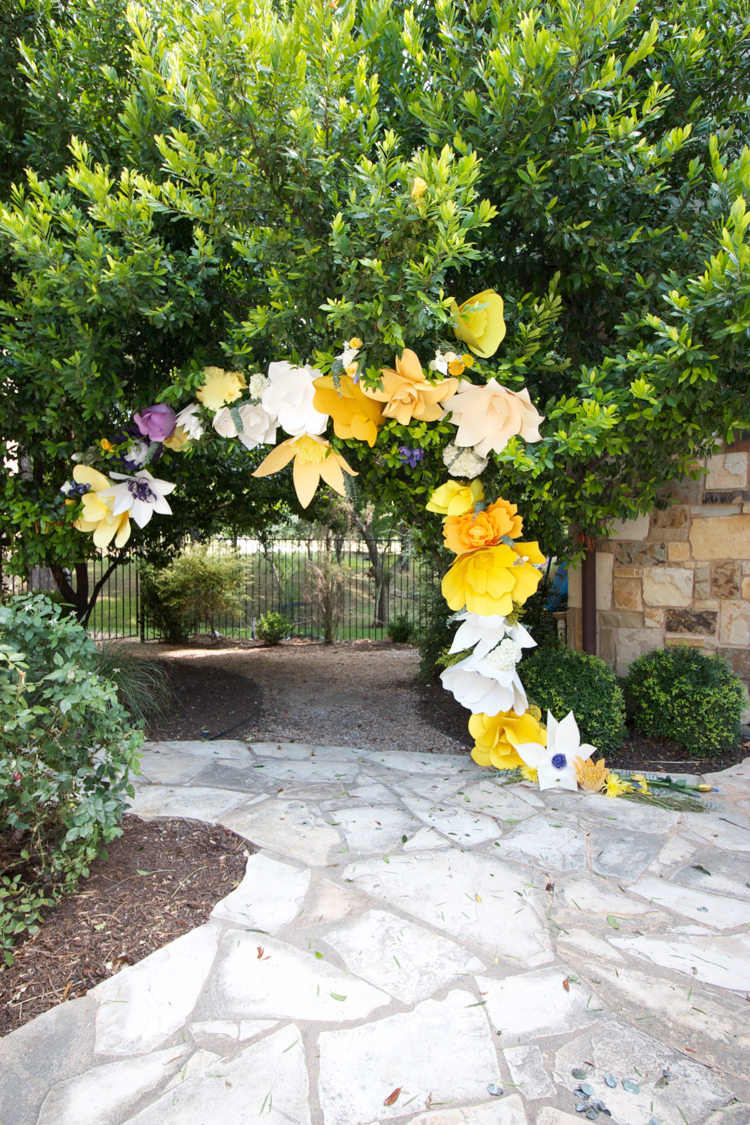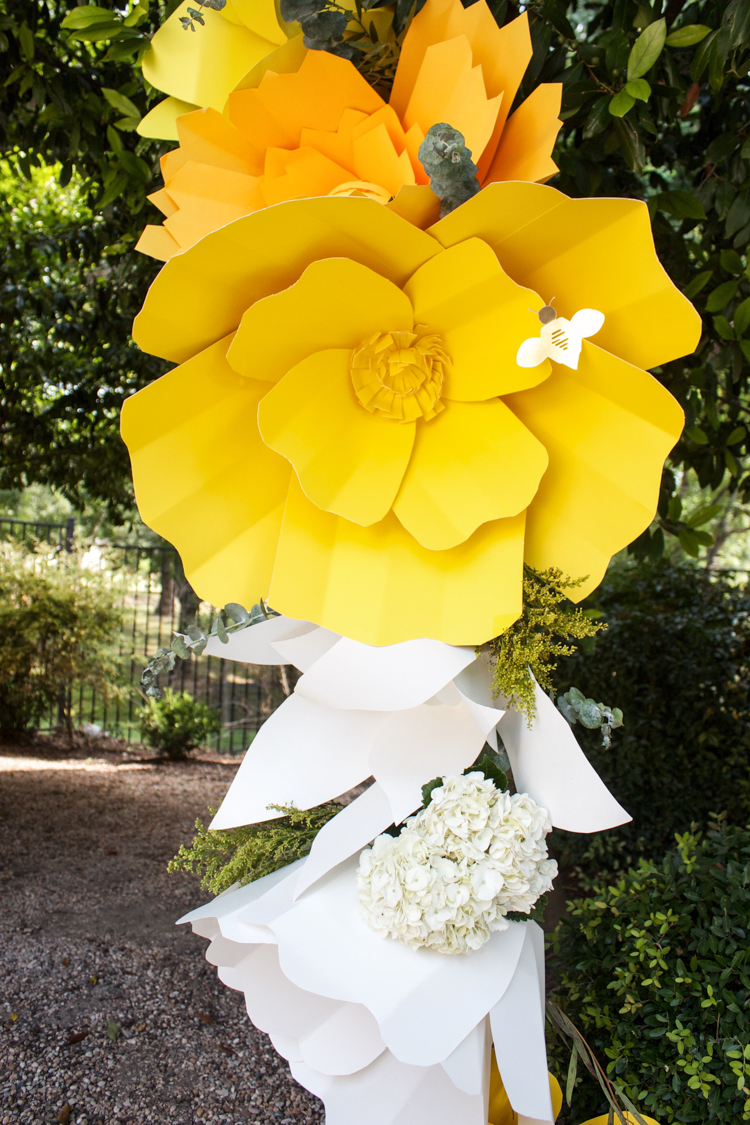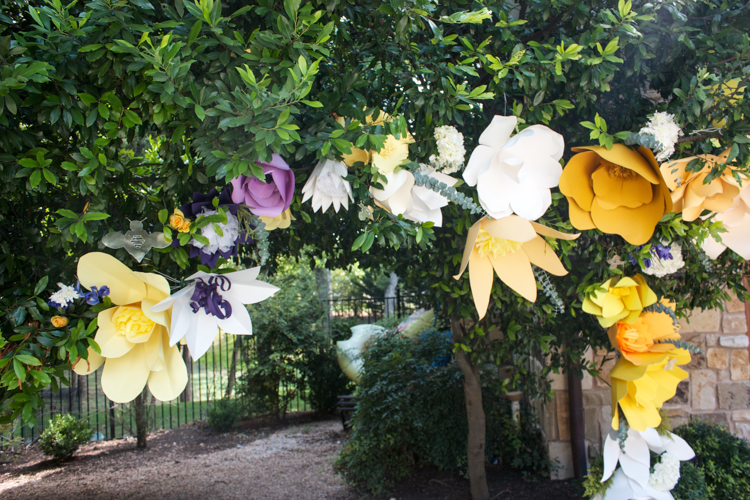 It comes at no surprise that I love to make things. Almost anything, actually, and especially interesting, beautiful, and inspiring things. When my very dear and old friend Danielle, who is the marketing and events manager at the new Bumble App asked me if I would be interested in creating a photo area installation for their summer lake party here in Austin, I was thrilled and of course took the job. She had been toying with some inspiration images of yellow tissue pom poms, and then turned the project over to me with the direction that it should be "elegant, classy, and fun." The idea was to create a beautiful and photogenic setting, like the balloon and floral basket chair I designed and created for Alt Summit in June.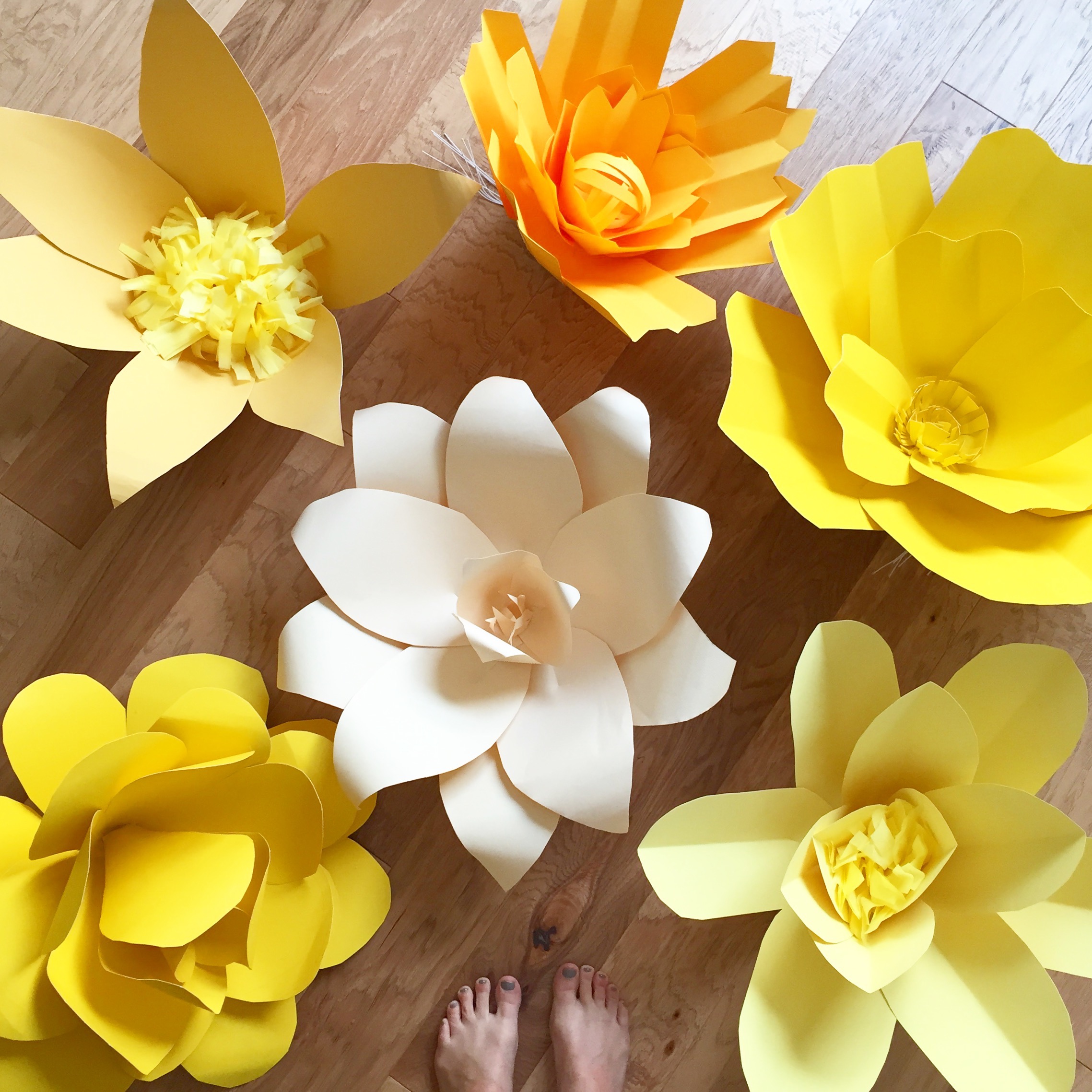 Rather than create tissue pom poms, I thought actual huge flowers, each intricate and unique, would bring more interest and impact. I was also selfishly excited about a creative challenge, and wanted to make something new. I first fell in love with giant paper flowers while following along with House that Lars Built paper flower making escapades for the last few years. This was the first time I had settled in to really make some of scale to create this DIY giant paper flower arch.
The process of cutting and glueing each of the flowers was time consuming, but really therapeutic, and when we put all of my hours of bloom-building together into this installation, adding fresh florals and greens to take the whole thing up a notch, the result was magical.
To get started making your own flowers, I made a full tutorial her. Follow the steps there and experiment with your own petal shapes and flower centers for fun and unique paper flowers. I did use this incredible photo as inspiration as I was looking for variety.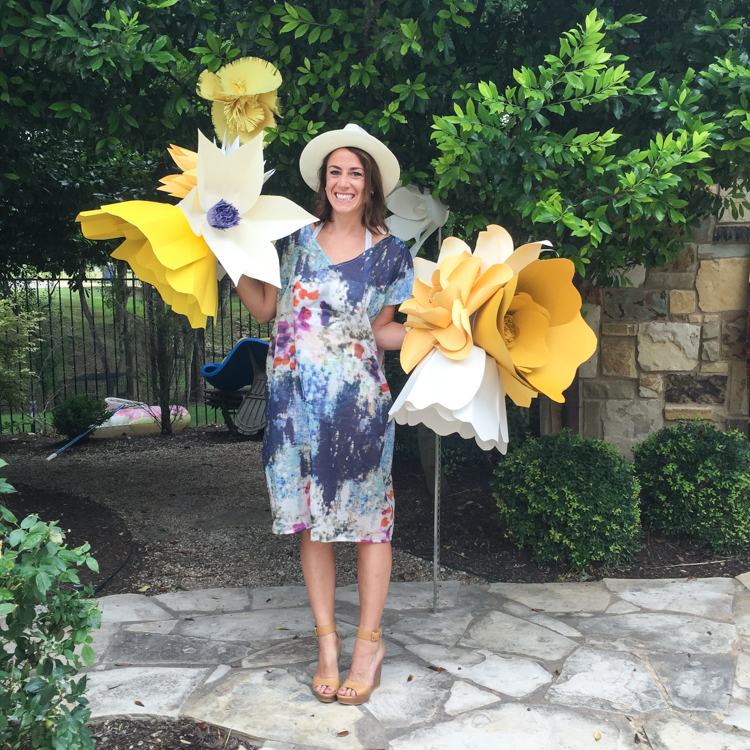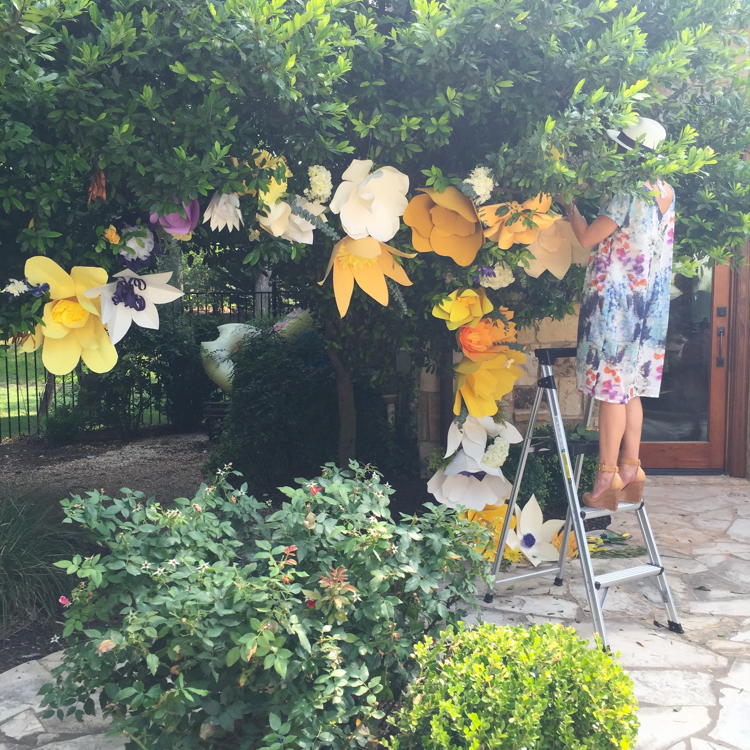 I created about thirty flowers in varying sizes, the larges being two feet in diameter. I stuck with shades of white and yellow for Bumble, with some pops of purple to tie in Priv App, who was co-hosting the bash. I began using poster-size paper for the blooms, but was cutting them down so much for each petal, I decided it was easier and looked better to use 12 x 12 scrapbooking cardstock, which also comes in a hundred hues.
I used floral wire for the backing, so they were pretty easy to twist into place once we decided on exactly how to put them together. My friend and neighbor Cara helped make some flowers (well into the wee early hours of the morning) with me, and also chose all of the fresh florals to add to the arch. I also invited another good friend Candice of Oh! Fox Creative to join me at the party and help me with the install. She has impeccable taste, works as a stylist, and jumped right in to the project which turned out better for her involvement.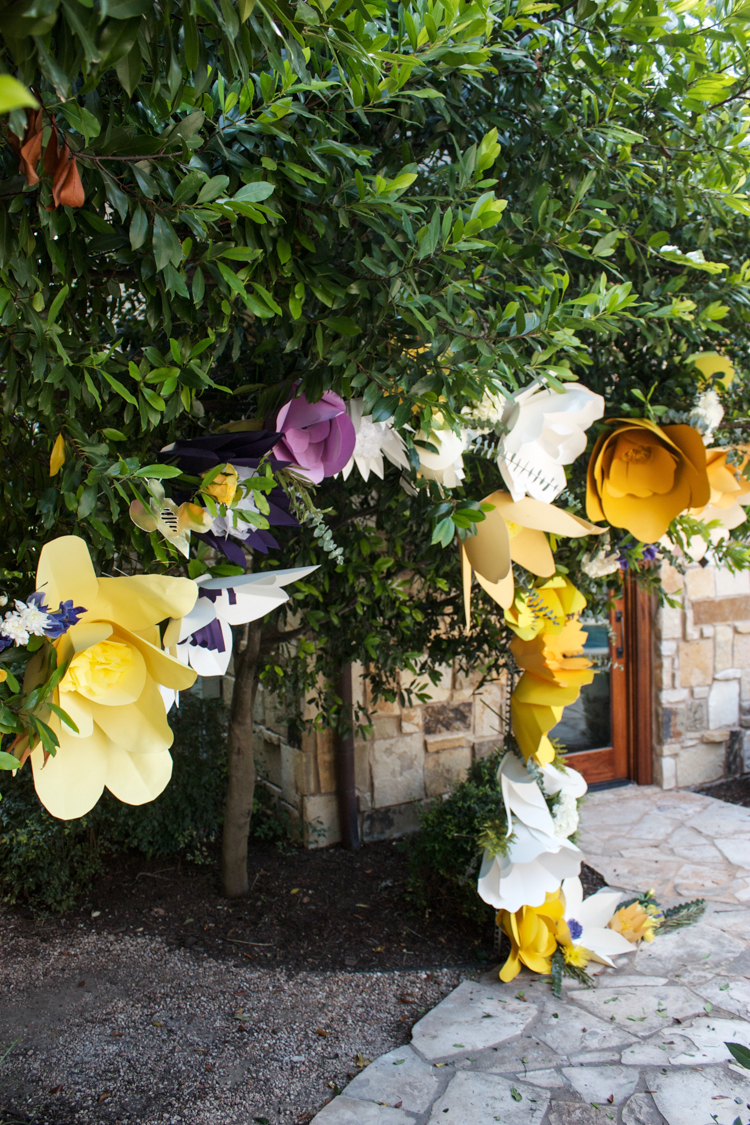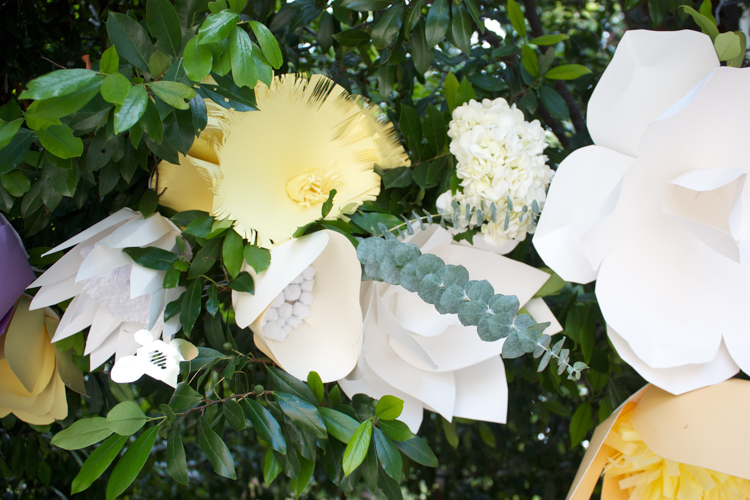 I love the organic feel of these flowers. Each petal was hand cut, so they're not exactly perfect, which adds so much beauty and character to the overall look. Hanging them into this existing tree was such a wonderful choice, because not only were they surrounded by natural greens, they were also shaded all day and added a perfect backdrop to the party.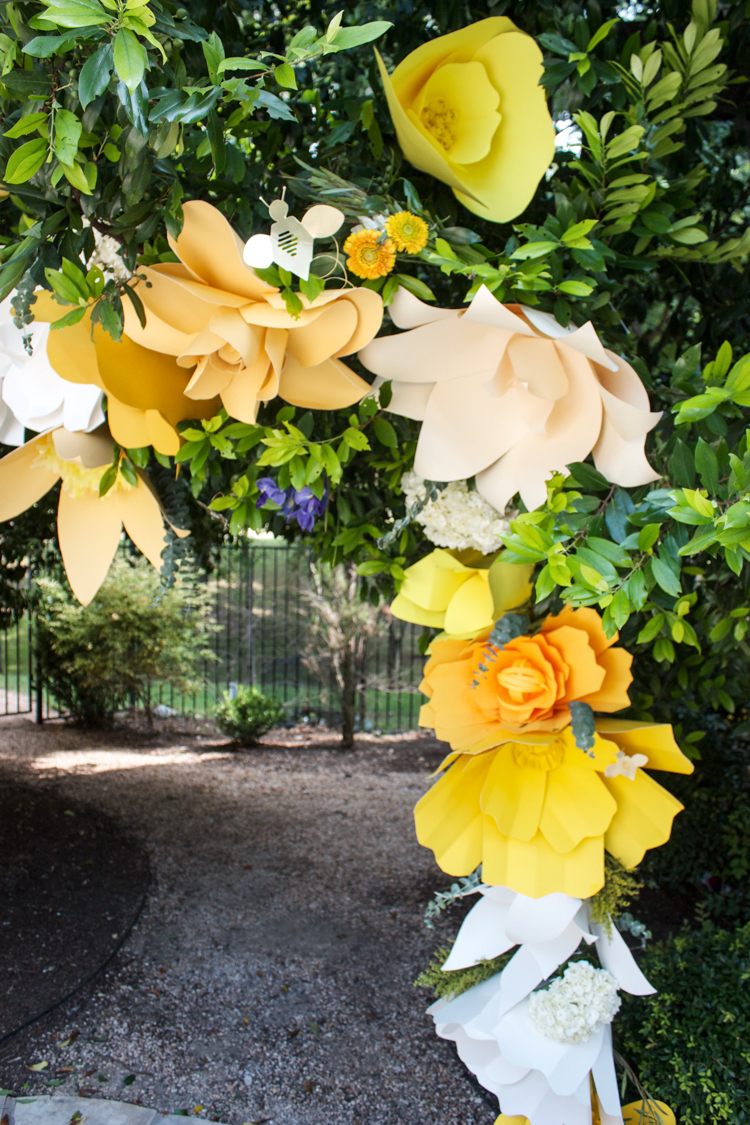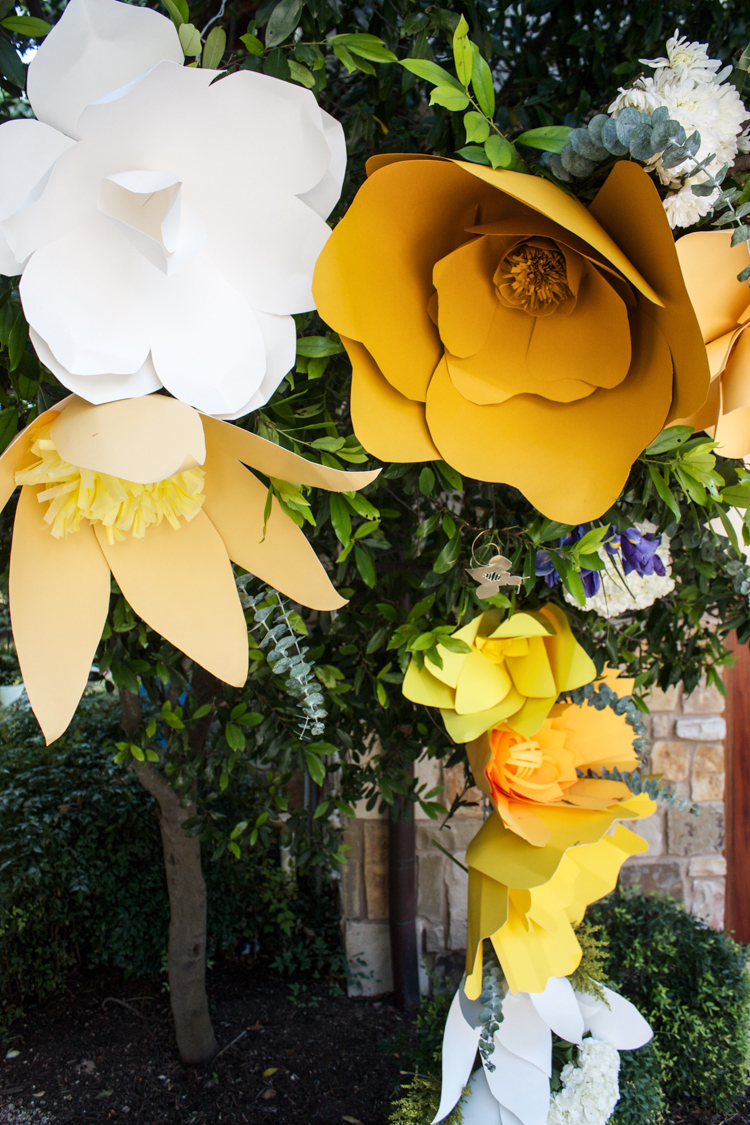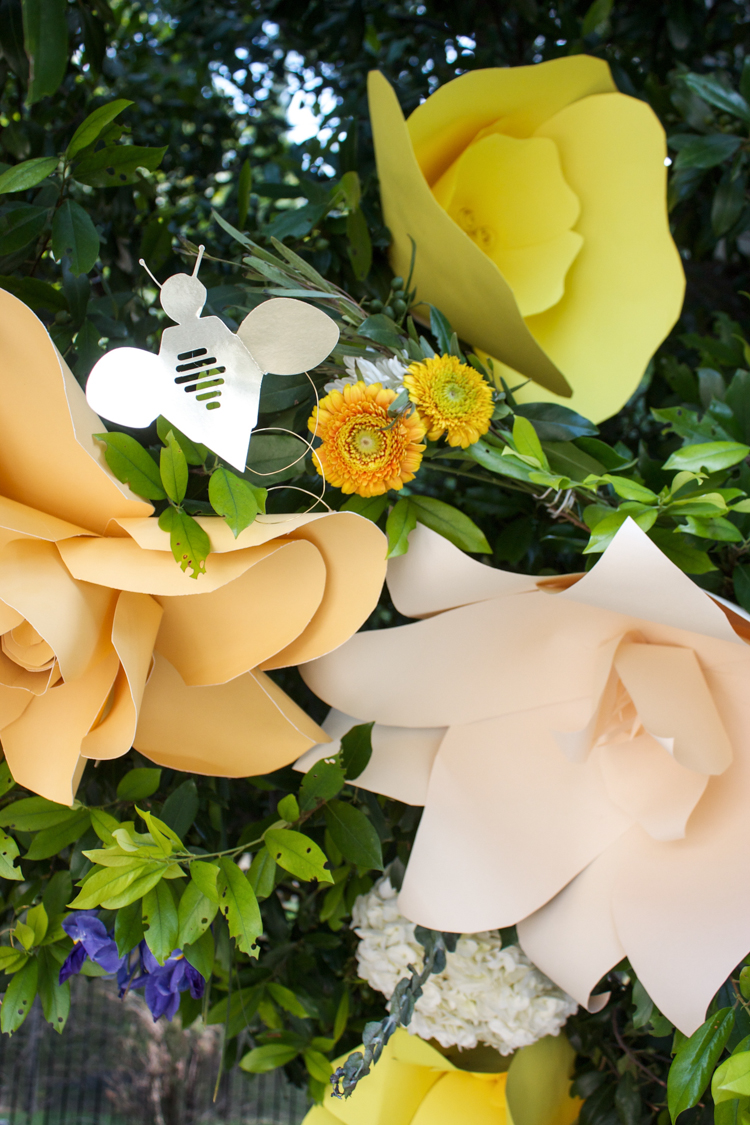 I did some subtle brand boosting for the host company by adding some metallic gold bees (with the Bumble logo) in a few places on the flowers. We glued them on with gold wire, so they were suspended in the most darling way.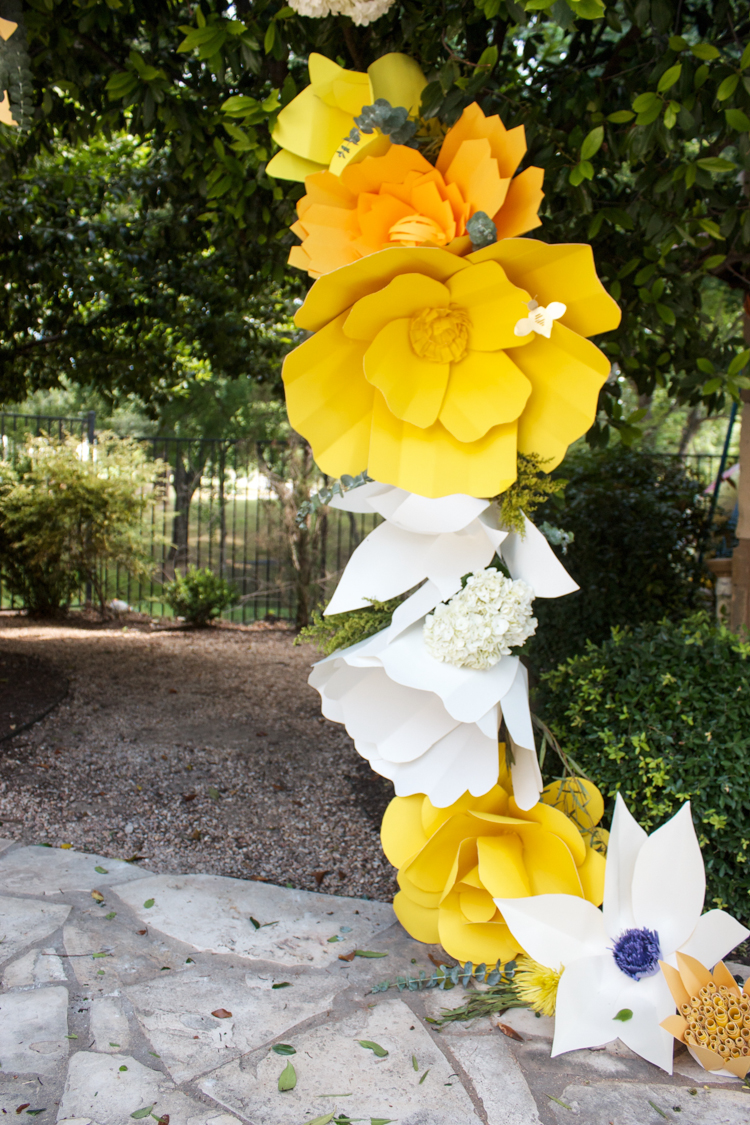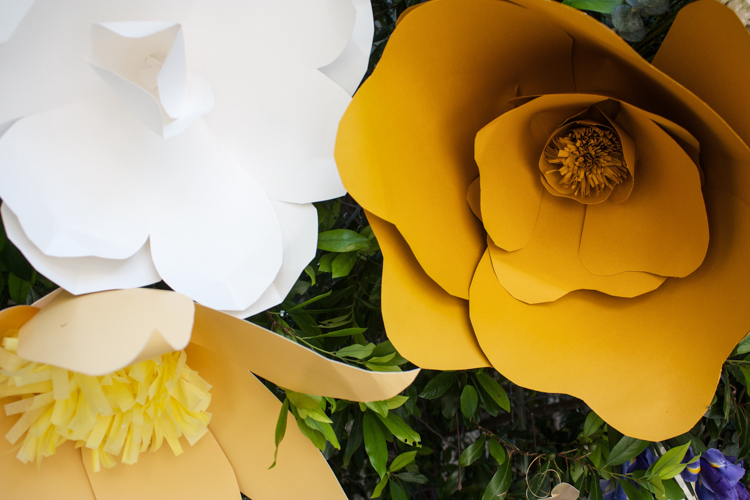 This giant mustard colored bloom was my favorite. I think it was the color, followed by the simple lines and texture that got me. Next favorite was the pale cream rose on the right below. It turned out so delicate, almost real looking. The fun thing about having so many, and so different, is that this could be looked at and enjoyed for hours.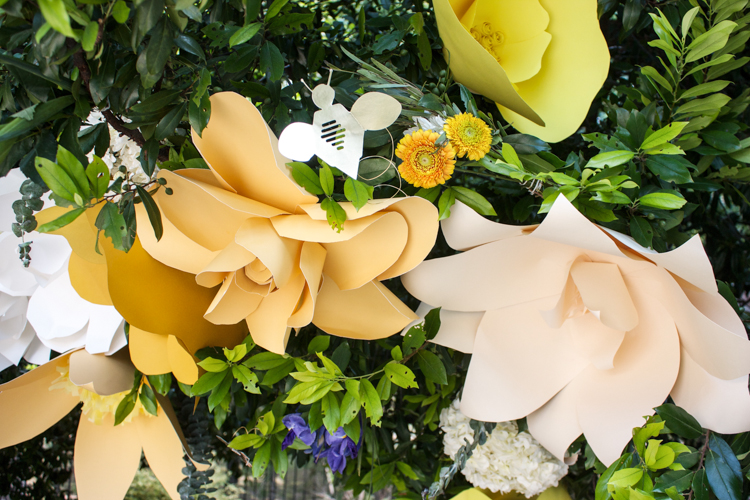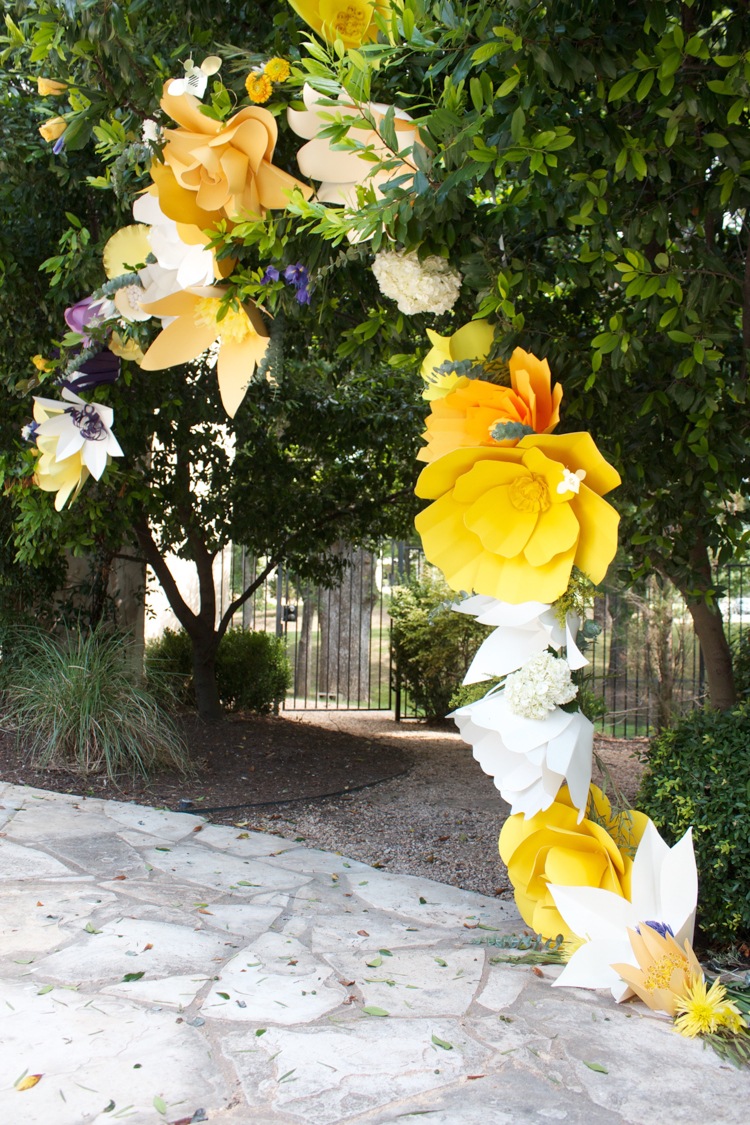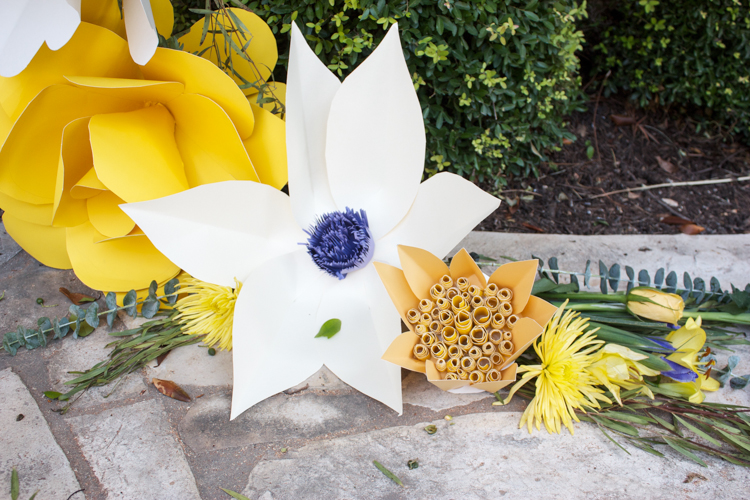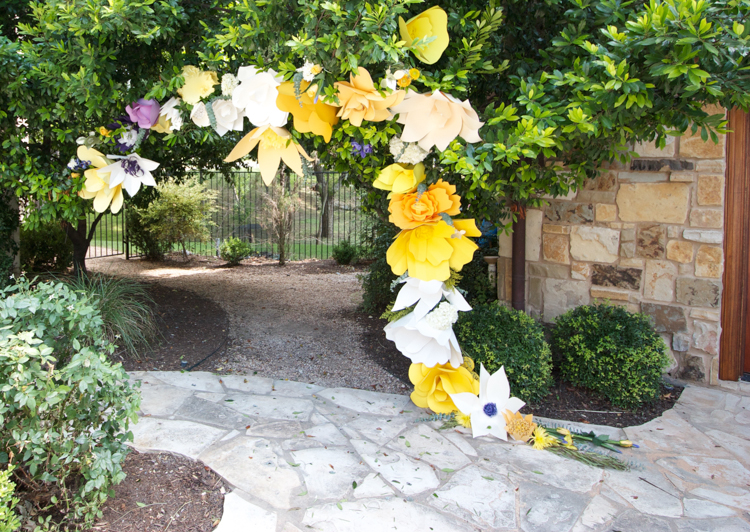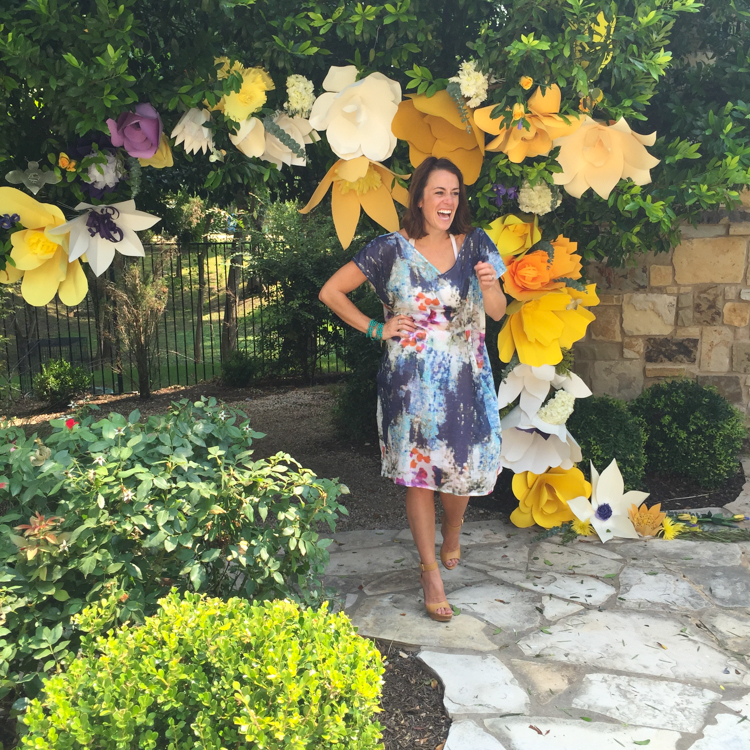 After going to bed at 3 am, and only getting four hours of sleep (because I popped out of bed at 7 am with this caftan in my head and I HAD to make it real quick to wear to the party. I know I'm insane.) I was nearly delirious as we finished up. The installation turned out beautifully, and was a huge success at the event.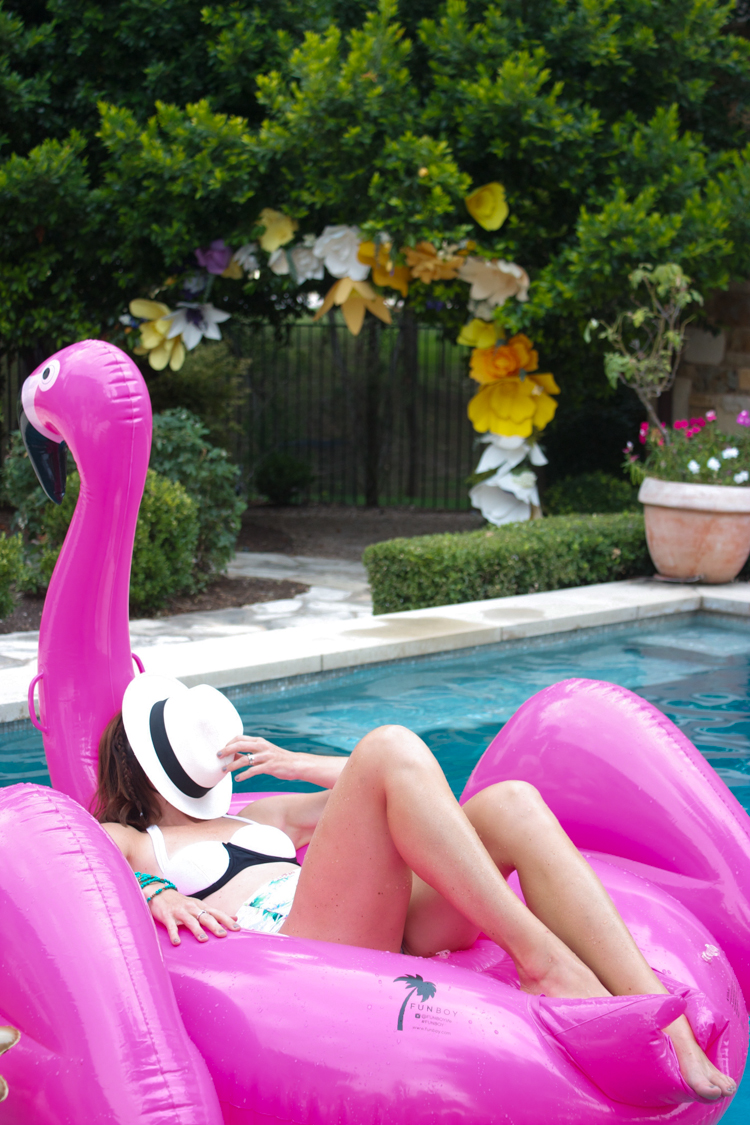 The party itself was wonderful, with low key socializing, incredible food and drinks, a picturesque setting on the lake, and even a little relaxing pool time for this mama.
Bonus Project: DIY Fabric Tassel Garland
I initially made this garland to possibly include wrapped in and around the flowers, but once they were in place it would have been too fussy. I'm so happy I had it, though, because it made a perfect impact hung around the corner of the yard on the pathway to the lake! It was about eight feet across, and ended up being the exact-right length for the walkway.
I used 2 yards of each of the five colors, cut them into strips, and simply looped them onto a cotton rope. Easy and super impactful!