I've been tiptoeing into the Christmas decorating, taking things corner by corner rather than breaking it all out at once. I also was up the other night trying to figure out if there was a common Christmas phrase that had exactly 25 letters in it that I could use for this simple and really fun DIY Window Lightbox Advent Calendar.
I hit on it!
"Peace on Earth, Goodwill to Man" has 25 letters, one for each day of December leading up into Christmas day. See the details of this minimal holiday corner and the DIY in today's At Home Inspiration post!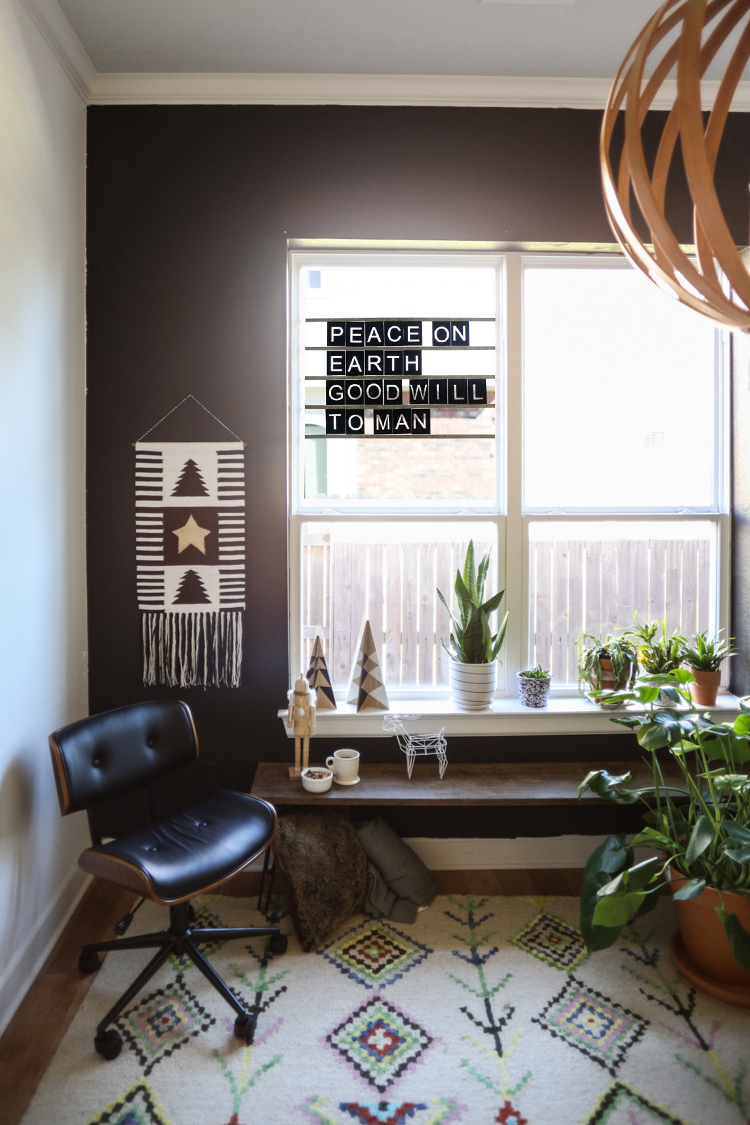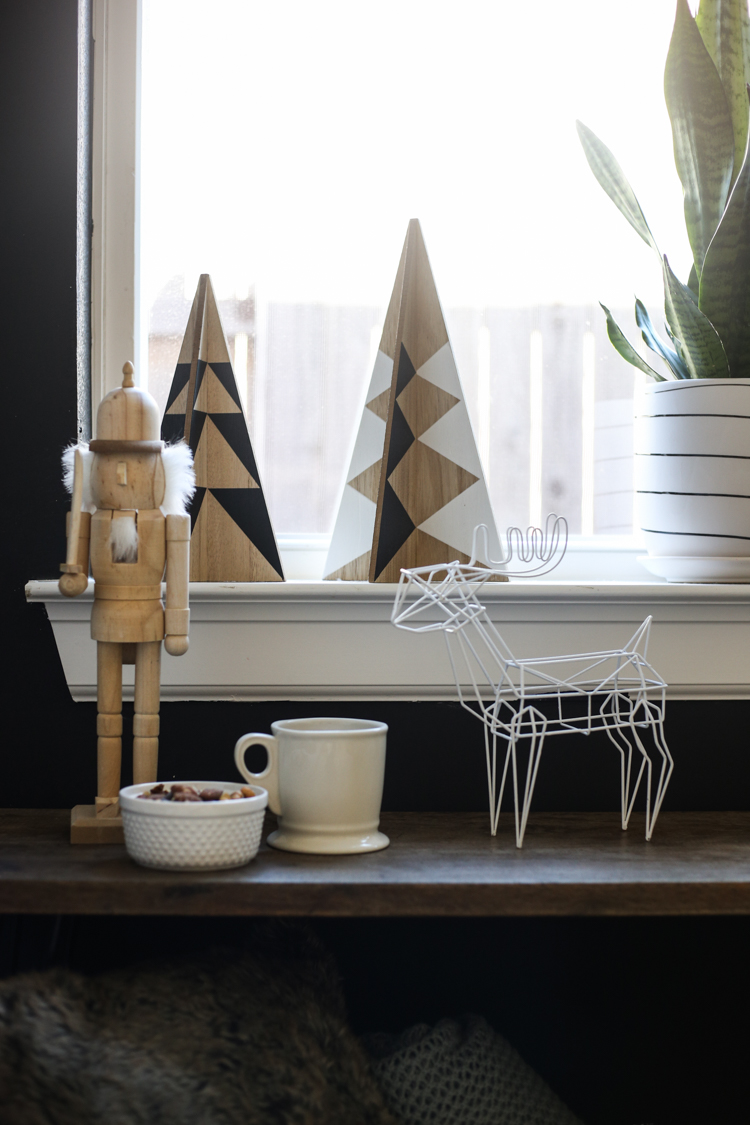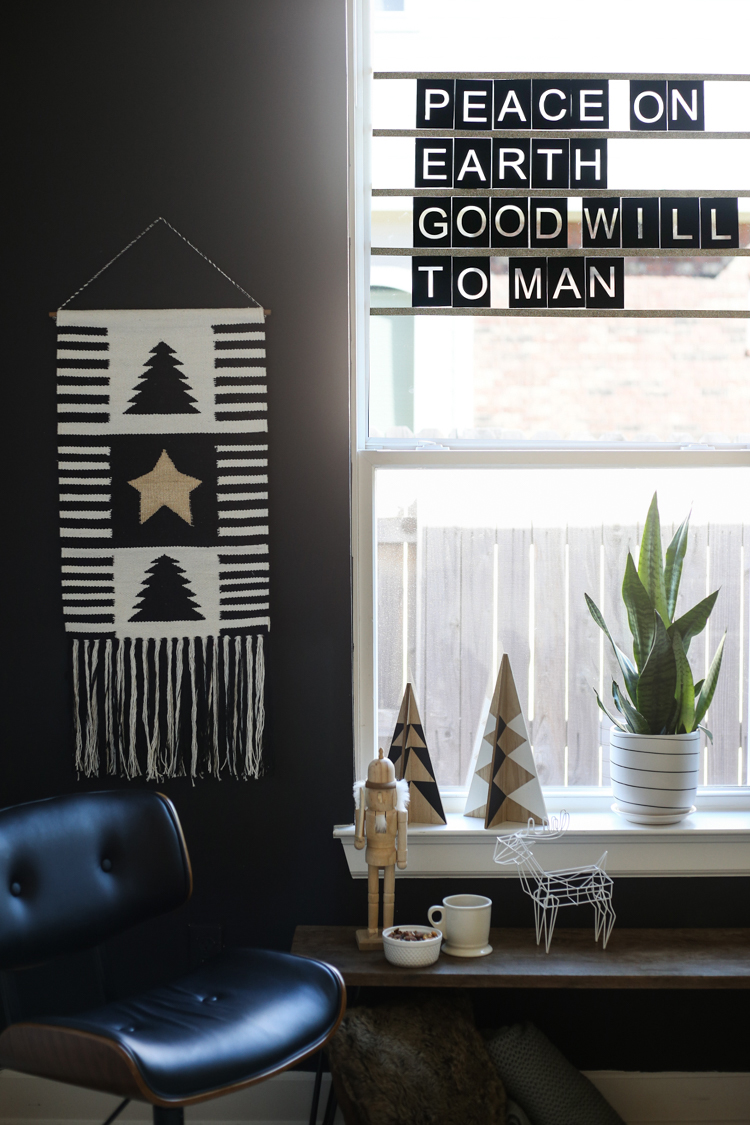 If you know me at all, you know I'm a little bit of a minimalist, when it comes to design and decor. I get easily overwhelmed and overstimulated by too much stuff or too many decisions, so I have tried to hone my style and stay true to what I know I love. Things on that list include natural wooden decor, modern and graphic designs, textured textiles, and neutral or earthy colors.
It was so fun to go on a hunt in At Home for some Christmas decor that was right up my alley. Luckily, they have something for just about everyone. Seriously, every color, style, look, and price point of ornaments, trees, statues, dishes, furniture….have you visited At Home lately? It's a superstore. I quickly picked up this natural wooden nutcracker. He makes me so happy (and Eliot told me I should paint him! Ha!) The wire reindeer and modern trees add compliment him well. And this woven wall hanging? How cool is this?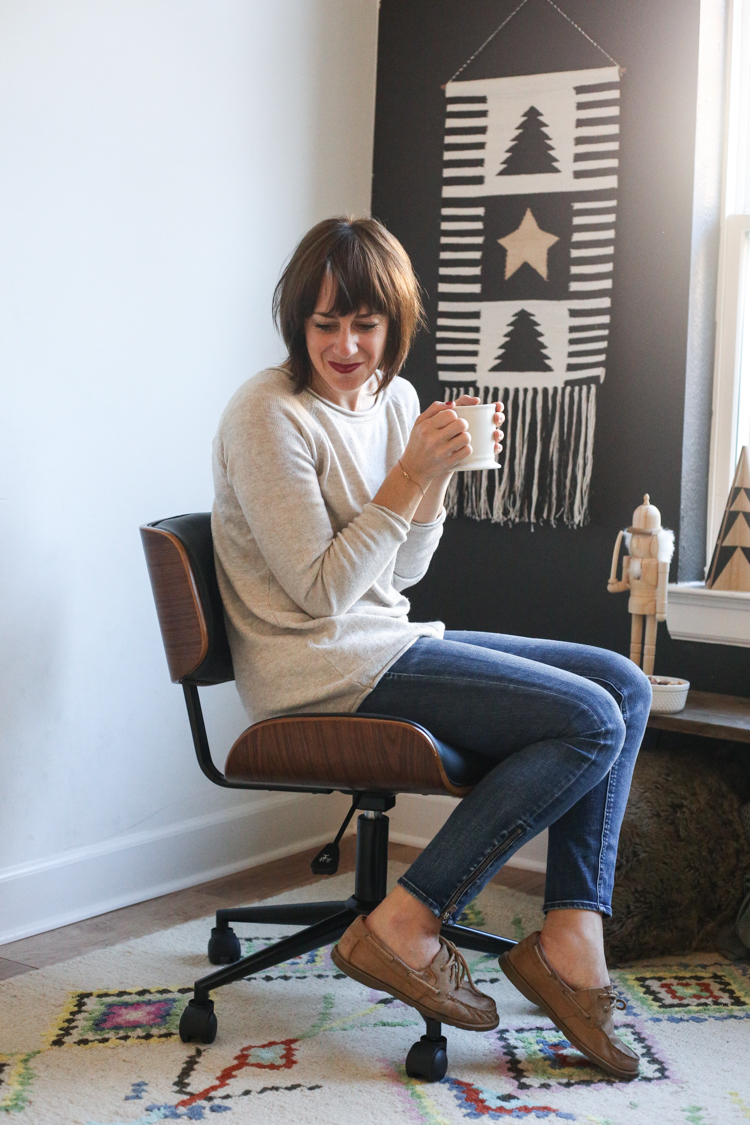 Aaaaand I also found a spinning office chair for my studio that I want to sit in all day. I know, that's not Christmas decor at all. But it was sort of like a Christmas gift to myself. Right? The Eames-inspired design had me sold on sight. Plus, it's super comfortable and now I can swivel back and forth between my sewing machines and cutting table without the scooting and twisting I was doing before.
The black wall of my indoor patio room felt like the perfect place to add these modern Christmas touches. I also thought the window lightbox would pop here with the dark wall as an anchor. And, it looks amazing! Although, now that I put all of the letters up at once, to determine the spacing for the washi tape lines, I think I'll keep it all up rather than using the letters as an advent calendar.
I know, all of that time spent thinking of the perfect phrase! I think this was the right one to remember to keep perspective in this crazy post-election whirlwind. Peace on Earth, Goodwill to Man.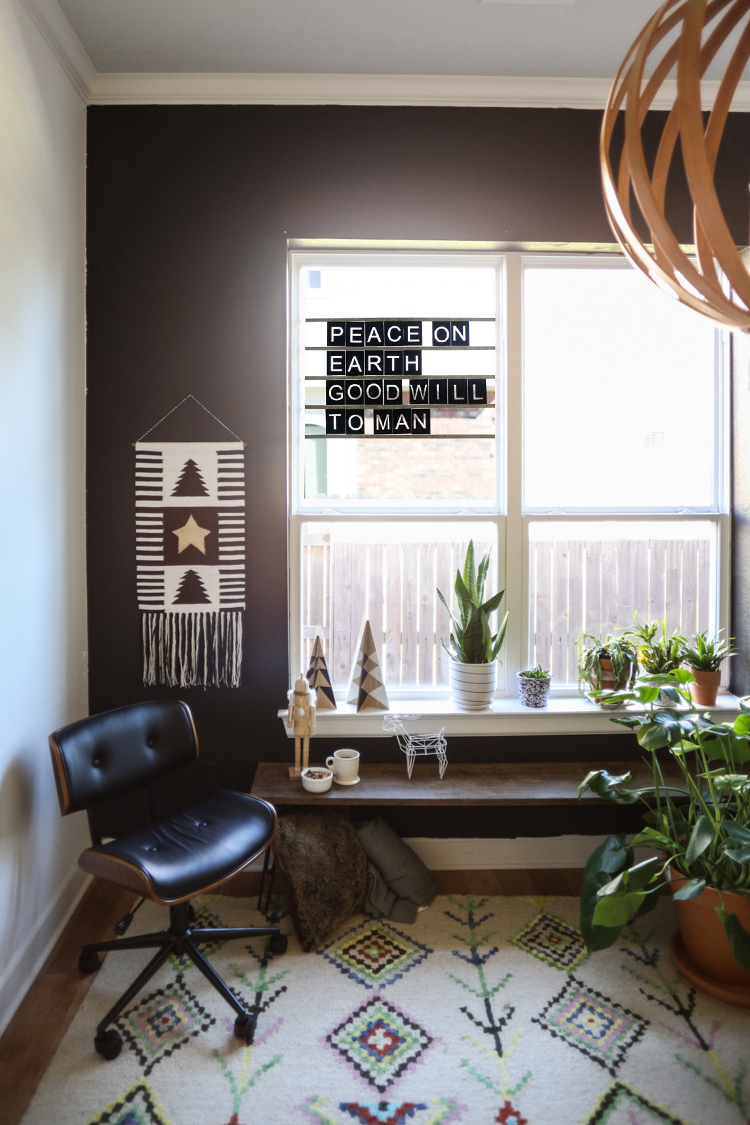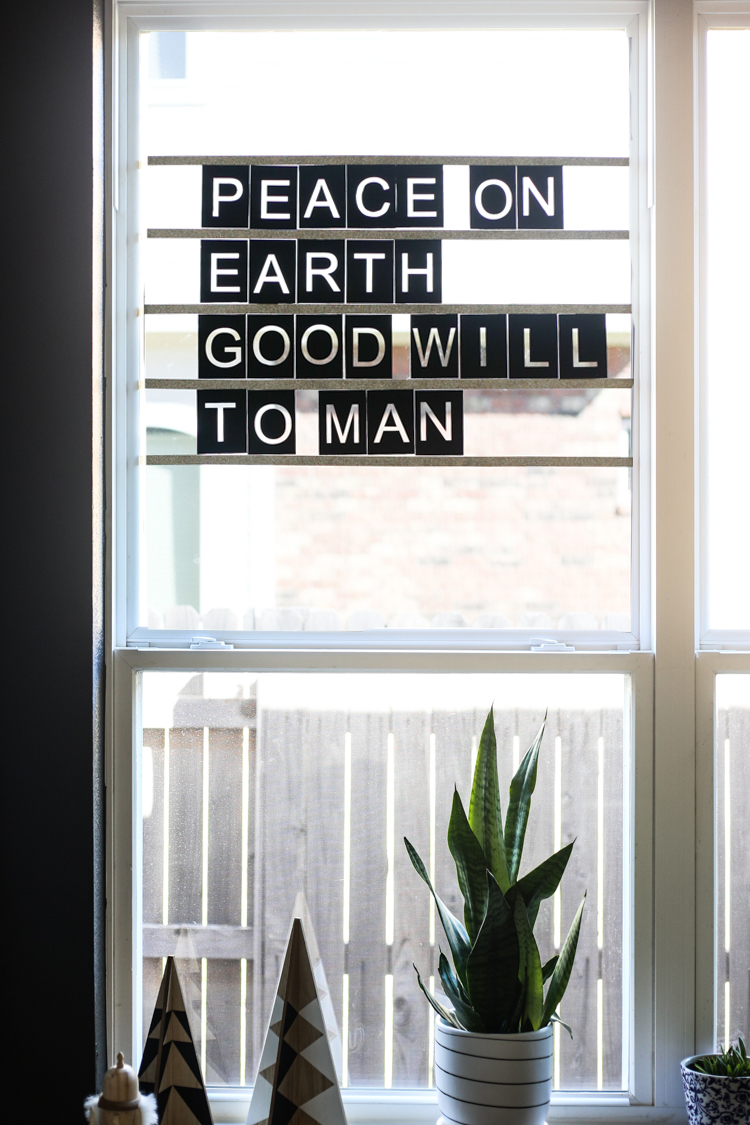 I made the letters using black cardstock mounted onto clear acrylic, then cut into separate pieces. The idea is that the window becomes the lightbox and the letters glow with the light of the sun.
Let's make one! Here's what you need:
black cardstock
a cutting mat
an exacto knife
a cutting machine like a Silhouette (optional)
a few sheets of clear acrylic
double sided tape
a straight edge or ruler
washi tape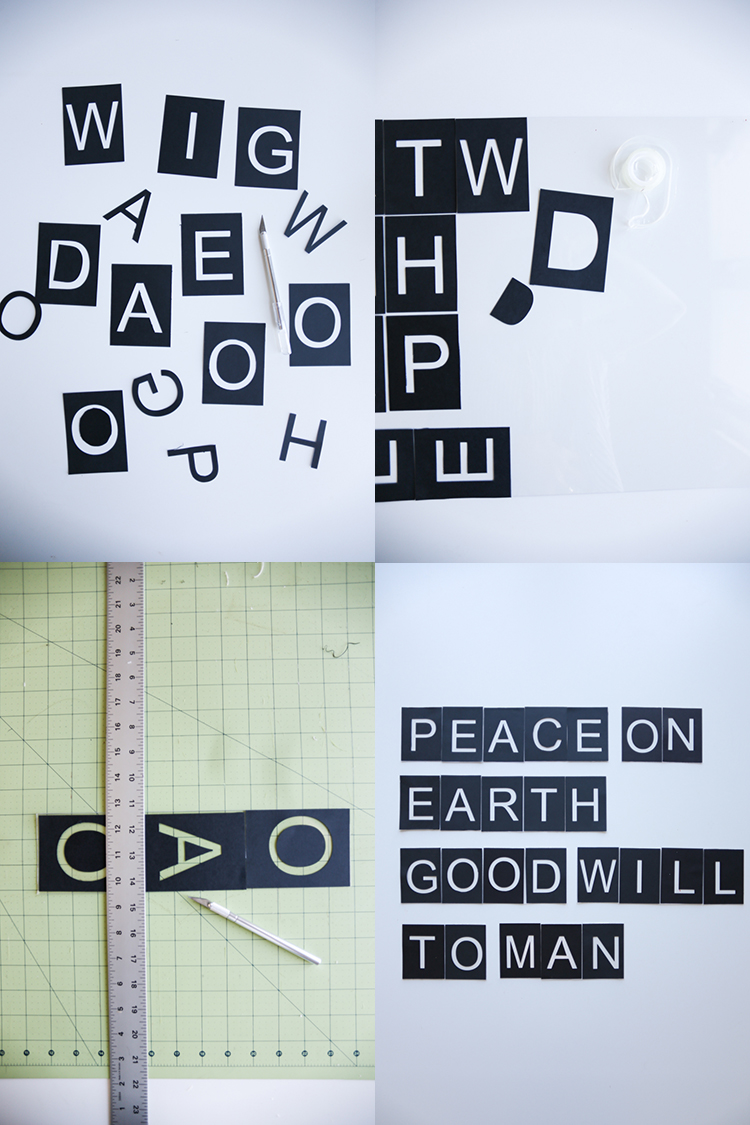 Divide your sheets of paper into 3×4 inch rectangles and trace a letter in each box. (I used my Silhouette machine to design and cut the letters, but an exacto knife would do the trick!)
Cut each of the letters and boxes out.
Using double sided tape, stick each letter box and it's accompanying center pieces–like the inside of the 'O' onto the acrylic sheets.
Use a straight edge and the cutting mat to cut the acrylic into squares, the same size as the letters.
Place one line of washi tape across your window, near the top.
Line up the first row of letters, adhering them to the window with double sided tape.
Add a second row of washi tape beneath the letters.
Continue adding letters and tape until the whole phrase is up on the window.
Finish the lightbox with a last line of tape beneath the lowest row of letters.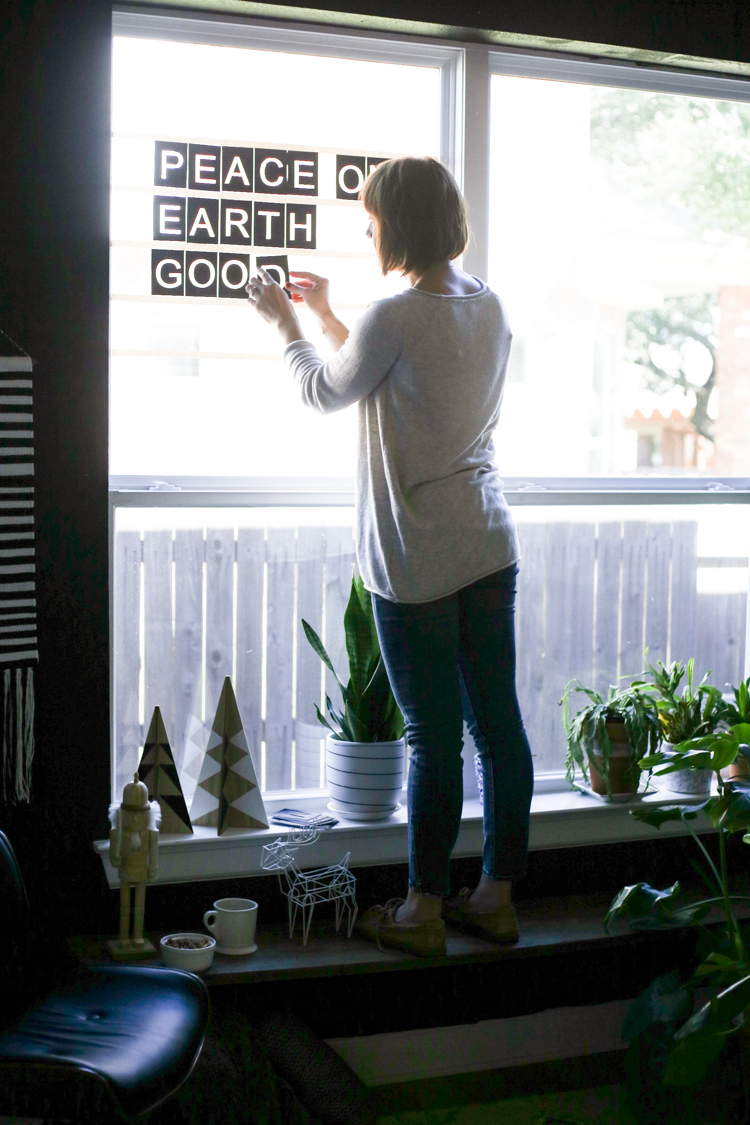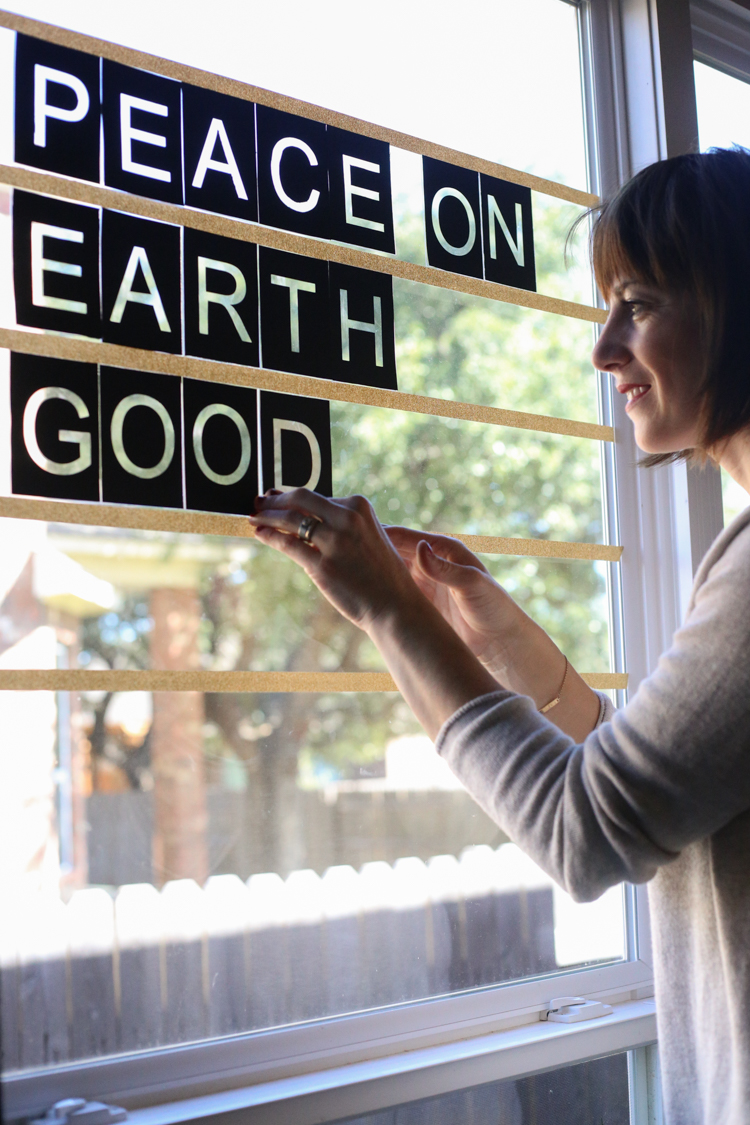 Pretty cool, right? You can use the window lighbox for the holidays, then switch up the phrase, mixing and matching the letters as you please!
If you need an advent activity, this will do, as it has the correct number of letters. Or, put it up and enjoy all season (then print off this simple advent activity list instead!)
And speaking of lightboxes, my friend Melanie just launched a shop filled with them! Perfect for the anywhere in the home.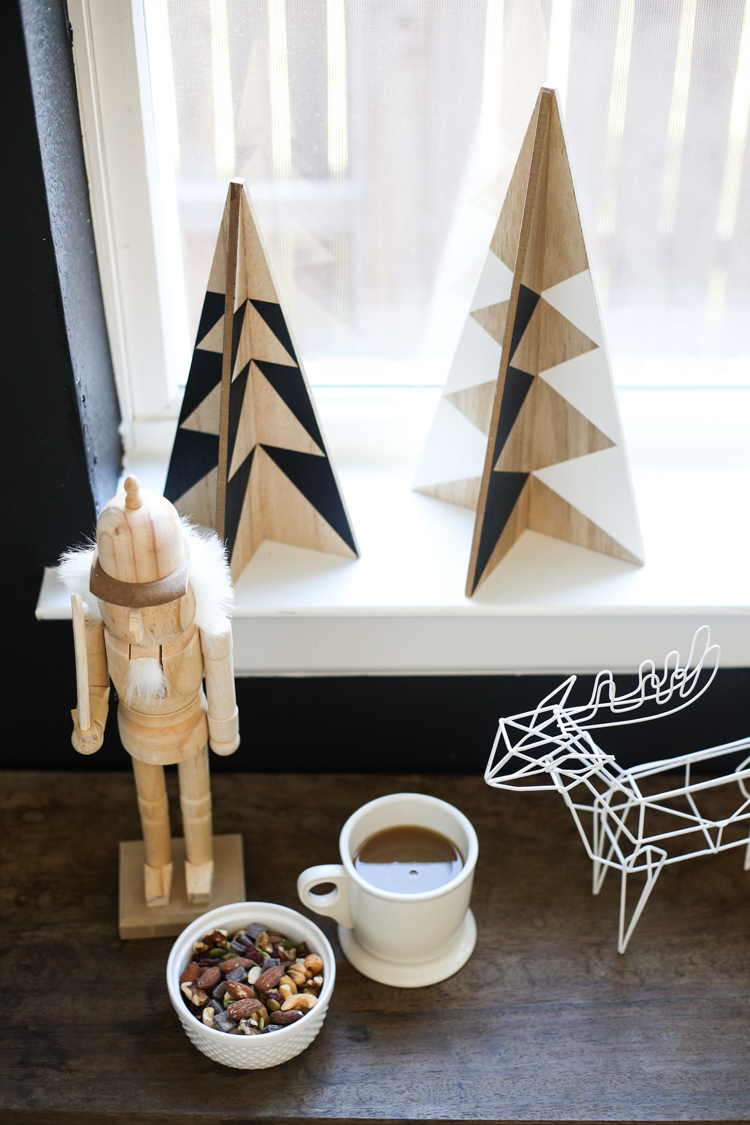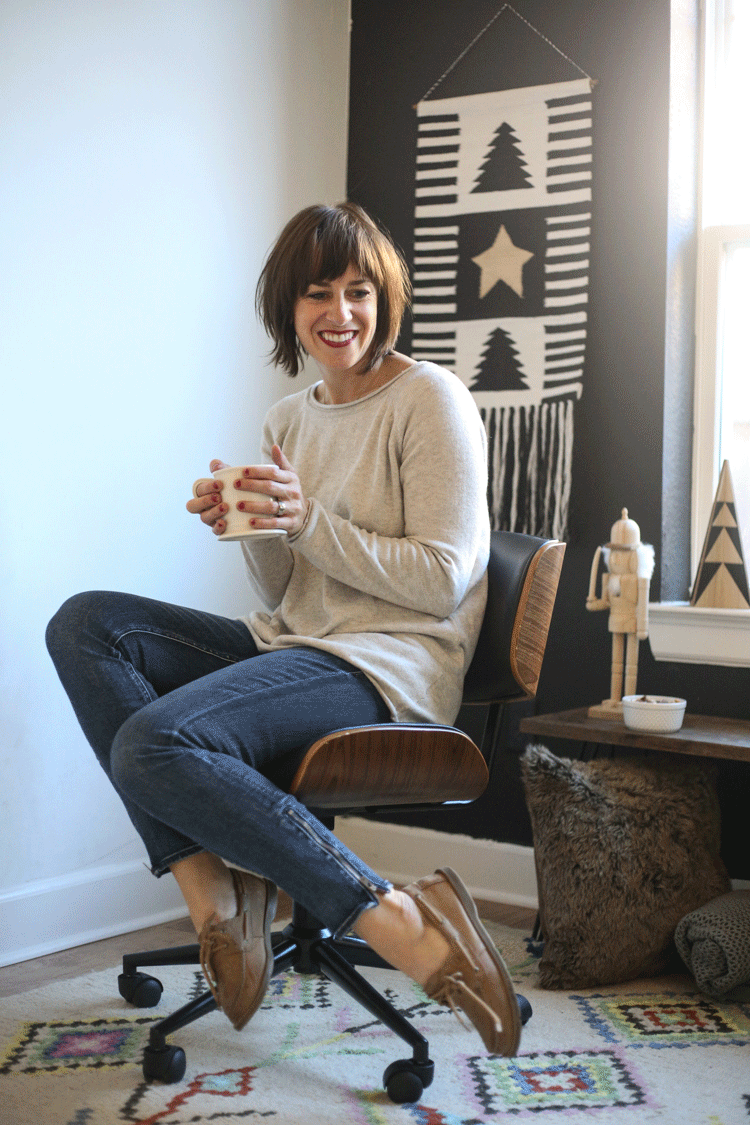 Getting this little corner put together makes me so happy. Now onto the rest of the house!
Created in partnership with At Home Stores.