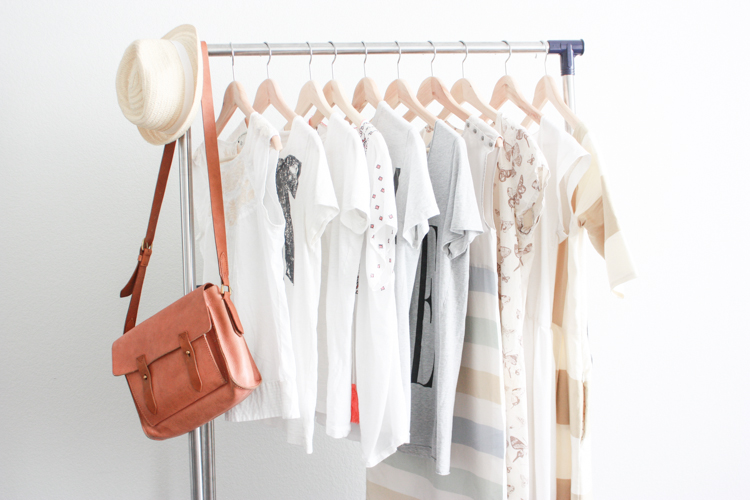 When we were first married, Dave and I frequented home stores to gather necessities for our first little place. We needed pillows, curtains, a bathmat, and a bunch of other little odds and ends for simple daily life. We would wander into a home superstore, and I would immediately be so distracted by the huge selection of every type of home good available that I couldn't focus, much less make a decision. And I'm a decisive person. On the way to the towels, I'd get stuck looking at toothbrush holders. Heading towards vacuum bags I'd see a whole display of perfect spatulas. The whole experience provided me with just too much stimuli and my mind would sort of bounce about thinking of all of the possibilities for all of these things that I didn't even know about, much less need.
What I didn't  realize then, was that all of those unnecessary decisions were wearing me out inside. In fact, there have been studies finding that our brains can only handle a certain number of decisions per day before we start to lose self-control and will-power. I have felt that as truth in my life, and it fits hand in hand with the energy management that I am focusing on for a healthier and happier life. One way to conserve energy for the things that matter the very  most is to not spend any on decisions that don't matter very much. I've chosen a couple areas in my life to set a routine standard and eliminate unnecessary variety so that I reserve my energy for making decisions about other, more important areas.
Automating life tasks as I wrote about here is a great place to start. Rather than deciding over and over again when you're going to get the laundry or dishes done, just scheduling it in and sticking to it will relive that background energy drain. But what about other unnecessary decisions? What else do you spend a lot of energy on that isn't actually very important to you?
For me a big one was clothes. I love designing and making them, I love putting on an outfit that fits my lifestyle and makes me feel confident and comfortable. But I actually don't love having a lot of them, or varying what I wear. When I first discovered the idea of a capsule wardrobe back in September, it immediately struck me as something I would be interested in.  I felt drained from time to time when I stood in the closet and tried to figure out what to wear of all of the too many clothes that I had (some that I loved, some I liked, some that were just there.) When I pared down to the 40 or so items that I actually loved, wore often, and felt comfortable in, I felt more myself in my clothes than I had for years. It made me realize how much more happy I am when my closet has a very limited, deliberate, selection of high quality clothes that I love. Where I used to spend unnecessary time and energy trying to put new and innovative outfits together every day, or make sure I  didn't wear the same thing too often, I've now simple embraced that I love to wear the same few things that make me happy and not think about it any more.
Not only has simplifying the decisions in my closet minimized the energy I spend dressing, but also shopping. Considering thoughtfully which items of clothing I had that I wanted to wear often made my personal style pretty clear, and helped me see which brands of clothing I love that last. After a week or two wearing the same things over and over I had a couple clear ideas of what pieces were missing that I kept wishing I had to put on. One was a simple white tee shirt. So, I went to the store with a one-item shopping list and found what I needed. While I was at there, I tried on a bunch of things, just to see how they felt and if there were any real keepers. And there weren't! Even though everything was on sale! I liked a few items, but when viewed through the lens of "Do I see myself wearing this every week?" the only one that made sense for me was the simple white tee.
Of course I have a few special occasion items tucked in the back of my closet, and there are also a couple sentimental pieces that I will keep around even with little wear. But for my everyday wardrobe, for me less is way way more.
Another area that I have chosen to eliminate unnecessary decisions is in my grocery shopping. I discovered years ago that I love Trader Joe's. The food is high quality, low-priced, and already the selection is pared down to a minimum. If I need ketchup, there is one type on the shelf and I don't waste any time or energy comparing ten brands and price points. Same thing goes for all of my pantry staples. I can be in and out of Trader Joe's in about thirty minutes, even with the kids, even buying a whole week's worth of groceries, because I know exactly what I want, where it is, and about how much it's all going to cost. I know it works for me, so I don't even try to do my weekly shopping excepting the few things I buy in bulk weekly at Costco. I mentioned here that I am planning on doing a standard weekly meal plan to narrow the decision making even further, and I've just finished it! I'm going to give it a couple weeks of trial before sharing the details here.
I toss catalogs before pouring over the pages, and delete solicitous emails before filling my hypothetical shopping cart. My everyday life has begun to inform me of the actual needs I have (like right now a step-stool for the kitchen so I can stop climbing onto the counters to reach the highest shelves) and I can for now leave everything else in the stores without even having to consider if I might want them.
The funny thing I found about consciously narrowing my options is that rather than feeling restricted, I feel so much more free! My mind has space to think creatively and openly about how to approach tricky situations with the kids, or what fun sewing project I'd like to work on. I am still dressed in clothing I love, and eating food that makes me happy, but without the weight of unnecessary decisions bogging down my energy or self-control. One of my favorite quotes from a talk I heard a few years ago is " There is no end to what the world has to offer. So it is critical that we learn to recognize when we have enough."
Maybe clothing IS your thing, and it boosts you up to consider all of the possibilities and choose amazing outfits daily. That's wonderful! What is something else you could simplify for happiness? Maybe it's what you eat for breakfast, or what you gift for birthdays, or which shampoo you use. Think about what the unnecessary decisions are in your life that you could simplify for sanity and happiness.
More choices are not always better, and continually making these decisions can begin to deplete your energy rather than conserve and boost it. Some choices can be made into routine so that, like the automated life tasks, they become background music for the beautiful, more important journey of our life.