Four years ago today, Dave asked me to be his wife. This is how it went: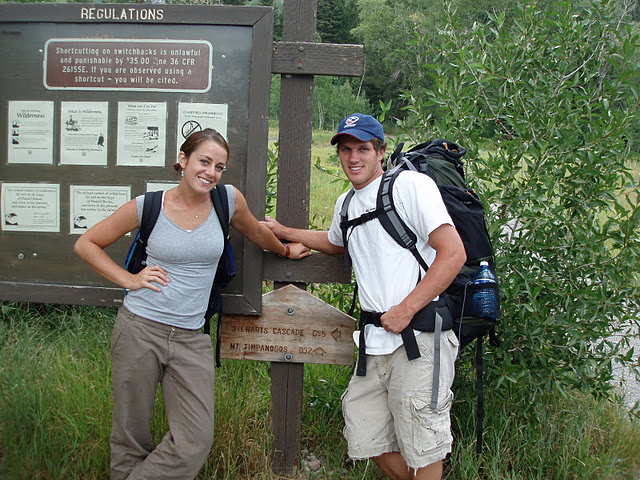 We had planned to hike Mt. Timpanogos all summer, and had even attempted twice, but both times had ended up at Stewart Falls instead! This time, we were really set on heading to emerald lake, sleeping under the stars, and then reaching the peak for the sunrise. We had stopped at the Dan's on Foothill drive for hiking food and dinner. I think we got one of those huge deli sandwiches to split at camp. Dave carried, well, pretty much everything, and I carried the food.
The hike is fantastic. Winding through woods and valleys. The area is beautiful, especially once you get a couple miles up and are hiking with the cascades in view. Though I don't remember much of what we talked about as we climbed the mountain, I do remember that we were twitter pated lovebirds and conversation came easily. I also remember that every time I got a little winded I would just take a second to "look at the view" and secretly rest…though I'm sure Dave knew what I was up to!
Just as dusk fell, we reached the lake, chose a spot and began pulling out dinner as well as sleeping supplies. Packing had been my job. Of course, I was planning to snuggle, and the August heat in the valley had deceived me into believing we would be fine with just one sleeping bag to lay on, and a fleece blanket to cover us. Boy was I wrong! Once the sun set, it was freezing up there at 10,380 feet elevation!! We both tried to squeeze into the one (how embarrassing!) sleeping bag, with the fleece tucked around, us even to eat! Needless to say, we didn't do much sleeping, and the snuggling was more out of survival than romance!
Around 3 am we figured we might as well get on the trail–at least the movement would warm us up. We packed up our stuff and I suggested we just stash the packs in some brush near the lake since we'd be headed down this same trail in just a couple hours. Dave said he was happy carrying the big pack to the top. Something about good exercise, blah blah. So, I pulled my little, now empty pack on as well, and we joined the long line of headlamp-clad hikers making their way to the summit for the sunset. Turns out hiking Timp at sunrise isn't a super novel idea!
As the sky lightened, we realized that we might not make it all the way to the top before the sun reached over the surrounding peaks. Rather than watch the sunrise from the trail, sandwiched between boy scout troops and BYU coeds, we stepped down a few yards onto a gravel slide, took off our packs and wrapped up in the blanket.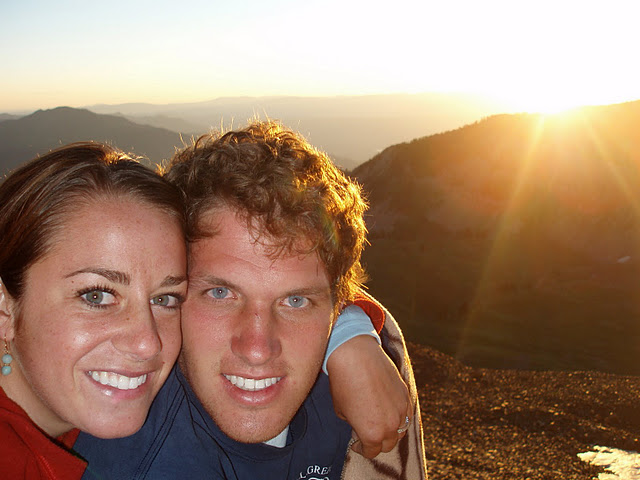 Now we snuggled a little, talked about how amazing the view was and so on…sort of waiting for the sun. Just as it was about to come up, Dave got up and mumbled something about needing to take off his fleece vest and put it in his pack. "Right this second?" I thought. He wandered over to the pack, and I stared at the mountain ahead, a little confused that after a day of hiking and a night of freezing, he would choose that exact minute to rummage around in the backpack instead of enjoy the moment with me. And then Louie Armstrong began to softly coo in the background.
I wheeled around and saw Dave making his way back over to me, sheepish grin on his face and little box in his hand. He sat down and told me that he loved me. That he wanted to spend every sunrise with me by his side. As his wife. Would I marry him?
As I said "yes" and kissed him, the warm rays of sun peeled over the mountainside and bounced orange light around the hills. Turns out he didn't miss the sunrise after all.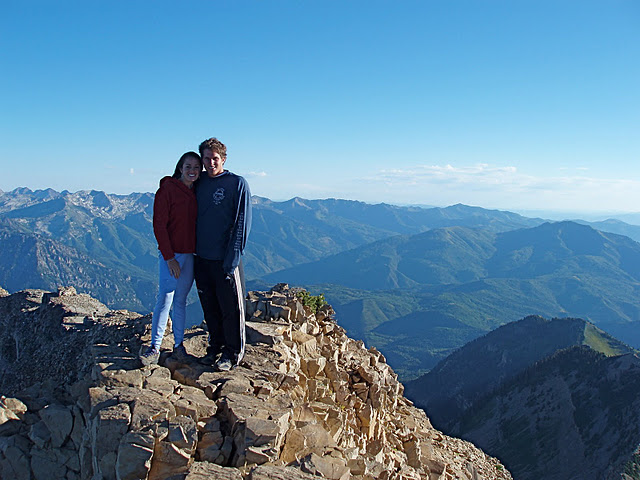 And then we were the future Mr. and Mrs. David Anderson. He had carried a CD player (yeah, it was 2006…ipods didn't yet have speakers!) in that backpack for five miles, and of course wasn't about to leave it at the lake! "Good exercise" my eye…more like a sweet and surprising love song to accompany his well-planned proposal:)
We decided to leave the packs there at the saddle, and finished the last mile or so to the summit, new rings feeling excitingly foreign on my finger.
And it's been all down hill from there.
Okay, not totally. But beginning our wonderful life together at 11,749 feet didn't hurt;)
Proof that his proposal was a surprise: I'm wearing lilac thermal underwear. Awesome.