Episode 10: Making Space For Your Marriage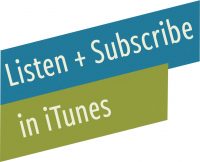 Introduction
Today is episode 10.
It feels like a milestone here on the podcast. So I've invited my husband, David Anderson to join me on the show today. We're celebrating our twelfth anniversary, which is a lot of years. That's a dozen years of marriage. We have had three children, one dog, 10 moves, lived in four states and one territory because we did a short stint in Puerto Rico and we've been through a lot…and we're getting chickens this weekend. So that's another thing. It's another exciting adventure that we're headed in on.
I thought that this would be a fun show to do today. To talk about marriage, specifically creating space for marriage, for your marriage in your life, to be exceptional, to be wonderful and to be great.
Dave and I have chosen to make our relationship a focal point of our life and our development and we've done that through years of kind of ups and downs too. We think that a marriage not only requires work, but also a lot of focused intention, which are different things.
We want to share some specific ways that we found to create space for your marriage in your life and even we've got an exceptional bonus in this episode: A very specific list of ways to find a babysitter. Which is an important part of maintaining your marriage. So we're going to get started today with a little segment. You know it, it's called life lately, but today is going to be Dave's life lately.
Segment: Life Lately
Dave: Well, the main thing that I do is show up periodically on Miranda's instagram. That's kind of my big job. My Day job is as a patent attorney. I worked for a petroleum additives company that happens to be based in Richmond. In my previous life I was. I played a lot of rugby and I'm trying to keep that in my life by coaching.
I'm an assistant coach for the University of Richmond rugby team. We started the season a few months ago. We haven't won any games yet. Hopefully will make an impact longterm.
Also, we've joined a climbing gym. I'm hooked to. I love it. It's really fun. That's been a real big hobby of mine lately. Bouldering specifically.
I do have an online presence. When we got to Richmond, one of our goals was to find all of the good restaurants because that's what you do when you arrive in a new city. And so I thought I'd document that online and I chose instagram.. I have experience with instagram, and so I've put all of the restaurants that I'm interested in on instagram feed under @RichmondGastronomics, so if you are interested you can go check it out.
Our Relationship History
Our Love Story
Dave and I met in the fall of 2005 and we had some mutual friends. We went to the same church. I was immediately struck by Cupid's Arrow. I thought, "Okay, this guy is super sexy. He seems really interesting, very nice." And he was a little mysterious because he was in and out of town all the time and I didn't know why until a few weeks later when we actually had a conversation and I realized that he was traveling for rugby. So we started texting a little bit here and there, hung out.
We had a lot of conversations on myspace. This is before facebook was really a thing. Our first date he had just been in Hong Kong. I delivered a little camera for him to take pictures of his trip. A disposable camera. I mean if you can believe it, digital photography wasn't a big thing yet, so I gave him that disposable camera. He went to Hong Kong, I think he took six pictures.
We went and got the camera developed. Then went to a Chinese restaurant and he paid for my meal and I remember thinking, "Oh, this is a date." I think from that point on, really we were together almost every day.
I think it was in April that we first talked about our life together. We went to Mexico together for a friend's wedding and talked about like our life, like seeing ourselves together. We didn't say the word "marriage" because it seems like really soon for that, but it was really easy to like talk about raising our kids, which was kind of odd.We just kind of had this instant connection. He was 26. I was 23.
We had dated a lot and I felt like I knew kind of what I was looking for in some ways and I met him and felt like, well here it is, like how can I want anything more? And then I remember specifically thinking, "The more I learn about this guy, the more I like him and that's like a really good sign. Every time I spend more time with them I find out something else or I like learn something new about him that makes me even like him more, which is awesome."
We get married in October of 2006. The rest is history. I guess it's been 12 years together. We are 17 hours into our 13th year of marriage, so we know all the things will tell you everything you need to know.
Our Marriage Fortune
You might enjoy this little story. We were at a Chinese restaurant on our first date and we got fortune cookies. Dave's fortune said "You and your spouse will be happy in your life together." I was like, "That's a good one!" And in my head I was thinking "That's me! I'm his spouse."
I mean you guys might think I'm crazy. This is our very first date and I'm thinking this is a good omen for our marriage, but I felt it enough that I kept the fortune. I slid his little fortune away on the table and tucked it into my journal and kept it. A couple of years ago I had it framed together with a picture that we took on that date. So we have this framed picture and fortune from our first date that said that we will be happy in our life together and it has been true. Like all fortunes are.
Making Space For Your Marriage
So let's talk a little bit about marriage, making space for your marriage in your life.
In the beginning it is really easy to do that, right? Marriage was our life.
I was in school. Dave was just out of school trying to figure out what he wanted to do with this and things were fairly easy. I remember someone giving us the advice to have a date night every week and I thought, "Well every night is date night!" Our whole relationship is one big date.
And then the life changed. Things started getting busy. We moved so Dave could go to law school. I got a job, we got pregnant. I had the first baby. We realized that it isn't like marriage isn't automatically the forefront of your whole life, always that it kind of serves as the foundation, but as life gets busy it all kind of happens around it.
The first years of our marriage were helpful in getting to know each other, understanding how much we liked hanging out with each other and having fun together, so when things got busier, we could look back to that time and realize that we need to make sure we continue that feeling.
Giving Your All In Marriage
We spend a lot of time trying to organize outings with our friends, impress our boss and make a lot of effort for those relationships outside of our marriage. And sometimes we think that it's our spouse's responsibility to put effort into our marriage relationship.
Also in just culture and society, there's a lot of this idea that like your spouse or your partner completes you and so you come to the marriage thinking that it's like a 50 /50 type of thing. I'm going to give my 50 percent and that person better give their 50 percent.
I remember sitting at a class in college actually talking about relationships and how it is both party's responsibility to give 100 percent. Your 100 percent during a hard time for you might only look like 10 percent. If your spouse is giving their 100 percent, they'll make up that difference. Maybe their 100 percent is the other 90 percent for a while.
Sometimes you're doing great and so you're 100 percent is the whole hundred and the other person really needs that. And so if you only get to 50 and the other person for whatever reason is unable to give their 50, then there's that lack in their relationship. But if you're both giving a 100, there's no space to make up because even if the other person is giving zero for awhile, your hundred percent makes up for the difference.
"In an exceptional relationship, nothing is 50/50. Instead, both parties give 100%, and that way when one person can't give their all for some reason, the other makes up the difference."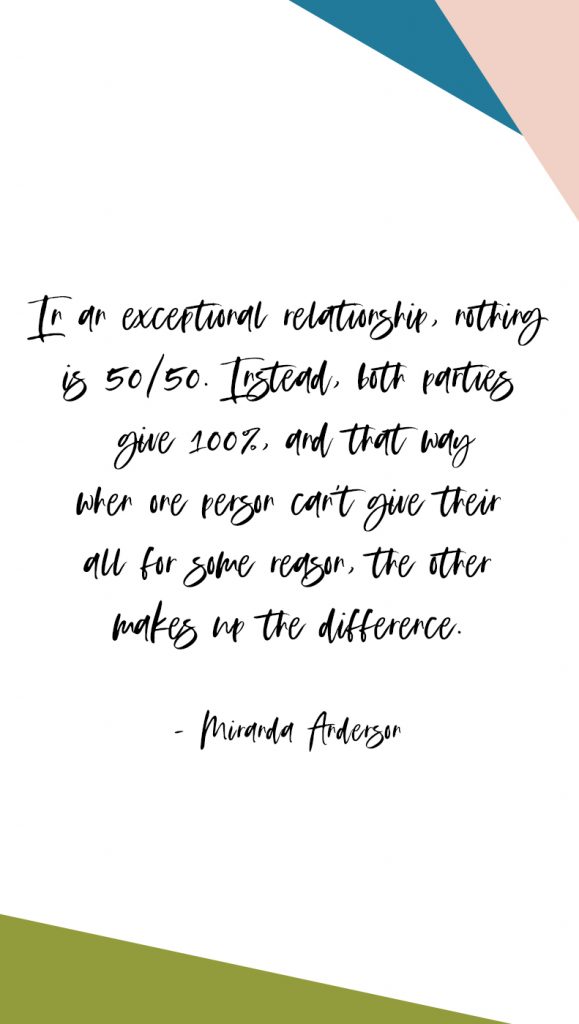 And I thought that was a really interesting and kind of a cool way to think about how you approach a marriage relationship that you're. It's not just about doing your part and expecting the other person to do their part, but that it's like you're on a team and that you are meant to do this thing together.
An Exceptional Marriage Requires Intention
It can be really easy to neglect a marriage thinking that it's just always going to be there. We got married. We are married, and so then that's it. That's just going to be the way that it is.
"Marriage needs nurturing. It needs space and it needs time and it needs to grow and have room to develop as you grow and change as individuals."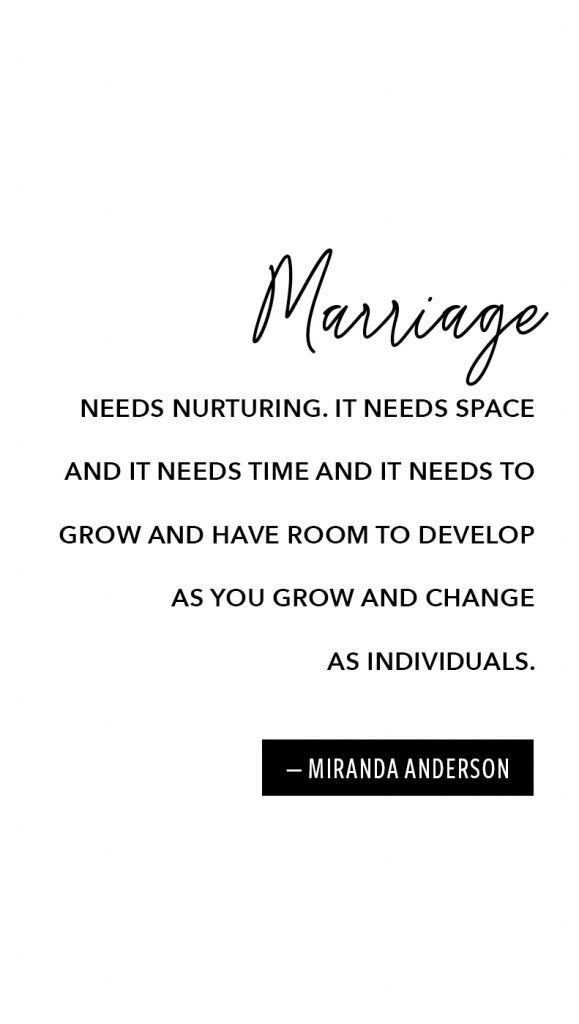 If it's not growing and changing with you as a person, as your life moves on and is your family changes, then you may get to a point where you realize that you don't recognize it.
Four Ways To Make Space For Marriage
1. Choose Your Spouse
When you choose your spouse completely, you show complete trust. No matter what you do, no matter what happens, no matter where we end up, I'm with you. We don't have to be afraid of the person finding out who we really are, the person finding out what things you really liked or things we don't like and how that may affect our relationship. I can just be me. You can be you and we can approach life together.
"We have a lot of choices. Choices for how we spend our time, how we spend our resources, where we put our energy. Recognize that choosing your spouse is one of those choices. Choosing to spend time with your spouse, choosing to devote energy in the relationship, choosing to opt out of something else that could be detrimental to your relationship because you want to choose that person."
2. Always being on the same team with your spouse
If there's a problem that needs to be solved than both of us are trying to solve it. Even if there's a discordance within the relationship that you're having a problem with something that your spouse or partner is doing or the way or not doing, it is powerful to shift that perspective to put yourselves on the same side.
The way I like to think about it is that there are three parts in two sides. There's you, there's me and there's a problem. The situation can either be me +problem versus you, or me +you versus the problem.
"Your whole mentality shifts when you think of yourself as a team."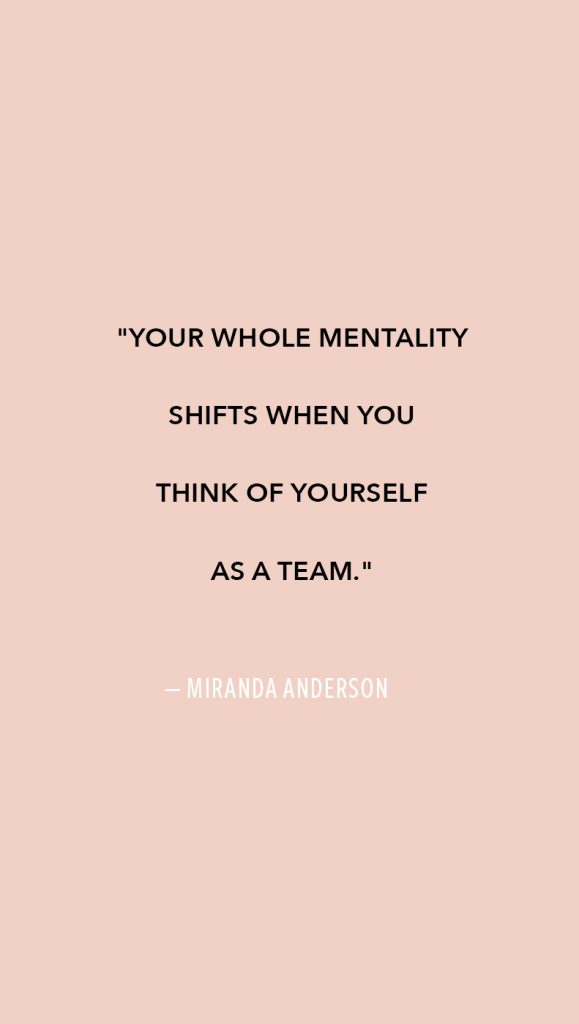 Even if I'm the problem when I am on the same team with you to figure it out, then all of a sudden it becomes energized with the idea that we can fix it together.
3. Get to know each other as you change individually throughout the relationship
Life happens to us and it changes us. We need to be free to to change who we are and we also need to make sure that we understand how the other person is changing. We are going to change whether we recognize it or not.
There's this idea that a relationship stop working is because one of the people changed. There would be a lot wrong if you are not changing and developing and growing and becoming better and becoming different and kind of refining yourself. The expectation that the other person is going to be the same all the time is is totally incorrect. The expectation that you are going to be the same all the time is incorrect.
The important thing here is that you change and grow together, that you don't change a grow apart.
You need to learn to love your spouse and then love him or her and then learn to love them again and then love them that way and then learn to love them again. Your spouse is ever changing and if you learn to love him or her and you continue to love them that way you may miss the boat later because the same time that you're loving them in one way. They may be changing and needing love at different way. You need to continue to evolve and love the person who you're with, who you've chosen in the way that they need it as they change, and they will do the same for you.
4. Commit To A Weekly Date Night
When you have a regular date night, no matter what happens throughout the entire week, you know that you have that time set apart to be with your spouse.
We have had all different types and methods to create date nights for a few years. In the beginning, our date night wasn't weekly. It was maybe every other week. Then about five years ago, we committed to having a weekly date night every single week.
Date Night Obstacles And Solutions
Four main obstacles to regular date nights are: expense, time, what to do, finding a babysitter.
1. Expense
You don't have to spend any money to go on a date. Dates can be free. So that one is easy, don't pay anything and you will be fine. A date can be anything that you do with intention together to build your relationship and get to know each other. That is what a date is.
"A date can be anything that you do with intention together to build your relationship and get to know each other."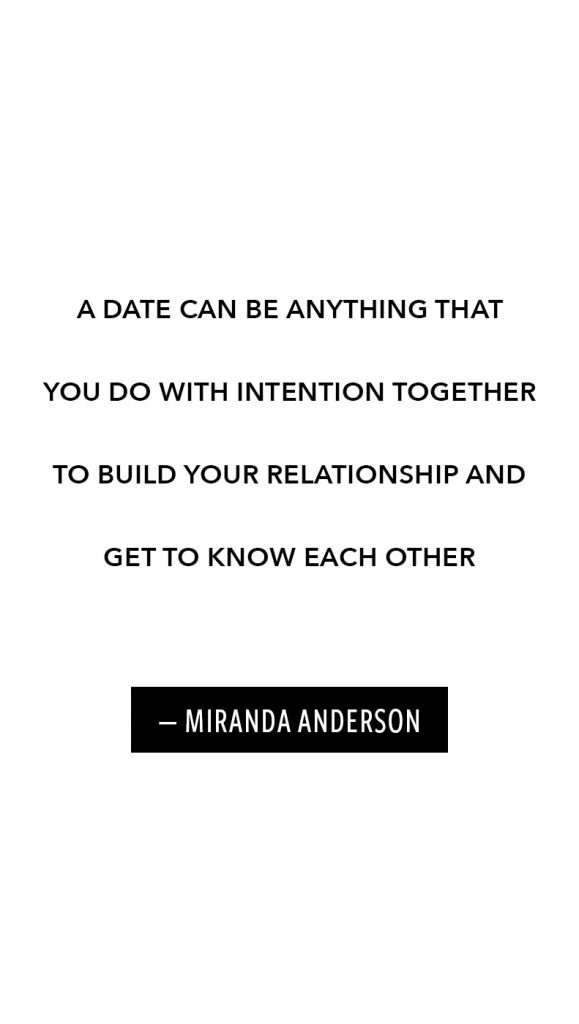 For a long time we had a $10 budget for date night and those dates looked like getting ice cream and going to a free museum in town. Or going to Barnes and Noble and sitting in those cozy chairs and reading magazines together and showing each other things that were interesting or inspiring to us. I would always grab like a home decor magazine or people and Dave would grab Science Today. So, there's a little peak into our relationship.
You can walk around the city center wherever your city is. Date night is a great time to get to know your spouse and your partner as your out exploring in your area. You can see a dollar movie. You can ride bikes, you can go down to the river, you can go on a walk.
I think the key here is don't not go on a date because you don't have money. It's too important.
2. Time
We all have the same amount of time. It's just a matter of making date night a priority in scheduling it in.
You get to choose what you do with your time and your energy and your resources. Maybe step back if you feel like you don't have time for a date night. Step back and look at your whole calendar and look at it and consider if there things that you are doing that don't contribute to your relationship or that don't contribute to your overall fulfillment. Slide a date night into one of those spots.
"Date night" is kind of a misnomer. It doesn't have to be a whole night. It doesn't even have to be at night. She has to be a time set apart for you to get to know each other. It can be a date lunch. It can be a date hour. It can be between 10:00 PM and midnight after the kids are in bed and you're going to decide instead of turning on Netflix and scrolling through your phone, sitting in bed next to each other, that you're going to use that time for some intentional relationship building and enjoying time together.
You're going to talk, you're going to play a game, you're going to plan an activity together, you're going to go through old pictures and memories and I mean something that is intentional and building your relationship.
It just is something that you have to commit to and then do it.
3. Activity
Your dates don't have to look like anyone else's data. What do you like to do? What do you like to do together, but think back to when you were dating, what types of fun dates did you do when you were dating? What types of hobbies would you like to pursue?
Some research has shown, that you develop stronger and deeper relationships when you're learning new things together or experiencing new things together. I would challenge you to once in a while, maybe once a quarter, maybe once a year, depending on your comfort level, do something together for your date night that is something you've never done before.
4. Babysitter
This is one that I hear all the time. You would love to go on a date night with you husband, but you don't have the babysitter or can't afford a babysitter or can't find a babysitter. So, we are going to give you some very specific ideas for finding a babysitter for your date night.
The first one is to do a baby sitter swap. So this is an idea where you find a family who has similarly kids or not and ask them to swap every other week or once a month for a date night. So your kids go over to their house and they take care of them with their family while you go on a date. And then a couple of weeks later, their kids come over to your house, you watch their kids while you go on a date. It's a super easy way to have a babysitter that you don't have to pay for because you're returning the favor and to build a relationship with another family as well. So you can think back to episode three when I talk about making friends. Exchanging favors is a great way to build relationships with other families as well.
Find another family that will also wants to go on a date at the same time. Hire a babysitter to watch all the kids at one person's house and then you can split the cost of the babysitter. The way people charge for babysitting is different all around the country. I've never like done the cost of the babysitter per child and so maybe that doesn't work as well if you do that, but it seems like if you shared a babysitter for a couple of kids that the cost of the babysitter should be less.
Ask Friends and Neighbors For Referrals
Ask your friends and neighbors and family members who they use. Even if you have all the money in the world can still be really difficult to find someone to babysit for you. Like the worst, most difficult thing ever. So when you find referrals for babysitters, then keep a bank of babysitters on your phone. I think that it's really, really important.
Someone around you is using a babysitter, maybe you could use that same person or maybe that. Some of my favorite babysitters have come from referrals from referrals, so my babysitter, who I've been referred to can't help me, but I asked the babysitter if she has any friends that also like to babysit.
There are some professional options set up. The one I hear about most often is care.com. I've never used it myself, but I have friends that really love using babysitter through care.com. I think for the most part the babysitters in the system are vetted. They have background checks. A lot of them were like professional nannies and have certifications and all types of things like that.
These babysitters tend to be a little more expensive because of that, but that's a great option if you really just need to go on a date and you don't have any of these other options panning out that you find a babysitter through care.com.
If you're lucky enough, you can live and you live by family. It can be a great option. Unfortunately, it's not an option for us on a regular date night, but we do get a lot of help from our family. If we go on vacation, if we want to do an extended date night like we're doing this weekend, that can be an option as well.
If you live by family, please, please use them. Also be willing to offer to babysit your nieces and nephews as well as ask for help from your sisters and brothers. Even though we don't have or we don't live next to our family, when we do go on vacation and we visit our family, I think it's important to schedule a date night when you're in town and use your family.
When we go to Utah and we know we're going to be with our family, Dave and I will set up a date night, so ask one of our parents or siblings if they can watch the kids for one of the nights are a couple of the nights so that we can go on a date. While we're there so we take advantage of the opportunity to have a family babysitter where the kids can hang out with their grandparents or cousins while we go on a date. That becomes a really intentional time on the vacation, which is really nice.
Set Up A Regular, Weekly Date Night Babysitter
This is something I started doing about four years ago that I will never go back from. I love it so much. We budget a weekly amount for a babysitter. We have Saturday night set aside every single week for a babysitter. This has become something we decided we committed to and it is part of our life like clockwork and it is one of the best things that we have done for our relationship.
I was spending so much time and effort a few years ago. Around Tuesday or Wednesday would realize I needed to find a sitter for the week. I had to figure out what we were doing, and what time I was going to need her. I was stressing out every single week I needed to find someone new. I would go through my list of five or six babysitters. Which ones had already been booked? Which ones hadn't been booked yet? What times were they available?
Finally just said I need to just take all of the decision making out of this and I just need to find someone who will be my babysitter every single week at the same time. I asked one of our favorite babysitters who we had been using off and on if she would come every Saturday night from 6-10pm. That way we could just plan on her. She wouldn't book anyone else for Saturday nights. We were here Saturday night family.
She was 15 years old, great super responsible girl who was babysitting every single weekend anyway, so she hadn't been babysitting for us on a Saturday. She would have been babysitting for a different family. So this was good for her and it was good for us because she knew that she had a family to babysit for every week and we knew that we had a sitter every single week.
"The first thing I did when I moved to Richmond was to find our regular date night babysitter. I did this before we had a pediatrician, before I had a dentist, I hadn't changed my license plate. I told Dave I will feel settled in this city when I have a weekly sitter. We need to do our date nights. I need that time."
One great thing about having a regular babysitter that you know is going to be there is that you can spend more time thinking about what you want to do on the date and not wasting all of your energy trying to find someone to watch your kid.
The other thing that's really great about this is that the cost of the sitter is fixed every single week. I pay our babysitter monthly, and every week her time is from 6 to 10. It's the same amount and so I can build it into our budget. Sometimes the only cost of the date is the cost of the babysitter.
This has been just really life changing for us and if there's a way for you to do it, I could not recommend it more highly.
Conclusion
"Making space for your marriage is so important. This relationship can be the most fulfilling relationship in your life. It can be the place that you feel the most love, the most joy, the most support. That only happens with intention. It only happens when you are focused on it. And when you are setting aside time and making space to be together and to get to know each other."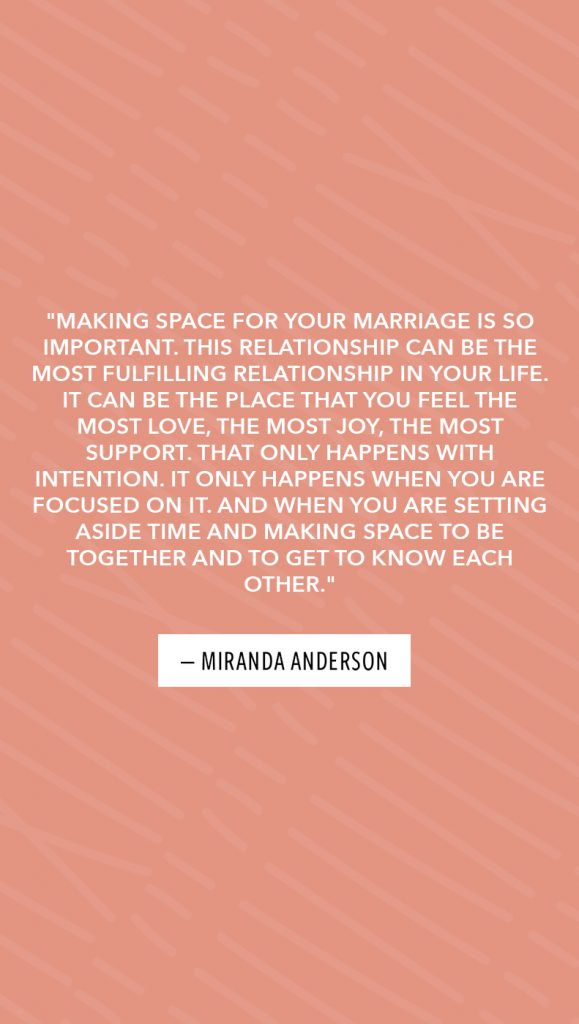 Our goal with this podcast is that you can make space in your life for your relationship in the way that Dave and I have found works for us to make space in our life, for our relationship, to keep it going strong 12 years.