Episode 12: Goals vs. Self-Imposed Deadlines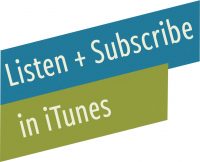 Introduction
Today I have a really fun, interesting topic to dive into. We're going to be chatting about arbitrary self- imposed deadlines. I want to share all about the way that I think about arbitrary self-imposed deadlines and also how you can recognize them in your life and what you can do about them. Before I jump into the topic with both feet, I want to share a couple segments. The first is going to be life lately.
Segment: Life Lately
Live Free Creative Co. Shop
There are so many exciting things happening right now in my life. We are at the beginning of the really fun holiday season and I have been working hard behind the scenes to launch a couple different types of products in the Live Free Creative Company shop.
Hopefully you have already seen the new t shirts and sweatshirts and leather luggage tags that have dropped in the shop. All with one of my favorite mottos and mantras on it. They say "Less Stuff, More Adventure," which is a phrase that we coined during our year of not buying things and really is at the heart of the culture of my family and the way I try to live my life.
I thought it would be really fun to bring some intentional products to the shop so that those of you with whom this message also resonates, can enjoy them.
I have always loved a good cut, be graphic tee, and I took care to make sure that these t shirts are cozy and that they fit well and that they wash well and they will be things you'll be able to wear on all of your adventures. And also just lounging around at home.
Also, leather luggage tags. One of my favorite things to do is to give the gift of travel or adventure during the holidays. And a lot of times people have asked me how do you give the gift of a trip? Because what do you actually give? What does someone open when you're going to give them a trip?
The idea for these luggage tags was not only that you could use them yourself as you're going off to explore your community or the world, but also as a fun way to gift adventures to your friends and family members.
I hope that these products will resonate with some of you, and those of you who they don't resonate with, don't feel bad about not purchasing them. I want them to go to homes where people feel like they will really add value and intention to your life.
Adventure Art Prints
The other really exciting product that is happening is sort of like a subcategory of the shop and that is a new adventure art prints shop. The purpose behind this shop is to provide affordable, inspiring principal art for people to use in their homes. I have traveled a lot throughout my life and everywhere I go I have taken art, photographs, pictures that I didn't really plan on sharing online that have just been memories of the travel.
Lots of really cool landscapes and details and I've had friends throughout the years asked me for the high resolution images so that they could print them and use them in their home. It finally came to sort of this idea had about a year ago when my friend Jansen of everyday reading asked me for a few images from a recent trip that I took to Amsterdam and London and Paris and she said, I have been to all of those places, but my pictures just don't look like yours, so I want to use your pictures on my wall to remind me of my experiences. And that really resonated with me.
There are over a hundred images that will be available for instant download. So, there's a lot of different ways to use these with all of the things that I do.
My mission is to inspire a creative, adventurous, and intentional lifestyle. And these products and shop offerings are things that I believe align really fully with that purpose. You can head to the shop to check that out.
You also feel free to subscribe to the newsletter to get the latest updates on anything related to the shop or podcast or blog. If you join the newsletter, you'll get weekly insights and the inside scoop on all things happening for the business.
House Projects
House project through the holiday months. I'm planning on working on that last 20% in three of the rooms that we've already remodeled, so I am doing the room by room challenge this year where I'm choosing one room to focus on per month that I'm really digging in and making sure the design is intentional, that it has everything it needs to feel more or less finished.
The idea behind the room by room challenges that when I focus on one space at a time, I'm able to do it much better and not feel frantic about all of the places in my house that aren't yet finished.
Because these next couple months are busy, I've chosen to do spaces that are mostly finished. These are places that have already been renovated and decorated and there's those last few things that are just hard to check off the list.
For example, this last week I painted the backside of the kitchen door, the back door that leads out to the porch. I had painted the front a month or two ago and the kitchen is my room of choice right now and so I finally painted the back. Another thing I need to do in there before this month ends is paint some of the touch on the trim and make sure that my hood vent. Right now, it's just sort of halfway mounted to the wall on the top. I need to just finish that up.
It's a great time during the holidays to focus on some of the smaller projects that you may have around the house rather than undergoing more large redesigns and renovations.
The Chickens
Just a quick chicken update. The chickens are doing great. They're starting to come out of the coop for a little run around before bed and Quincy, the dog so far is ignoring them when they're in the coop. We haven't let her out with them free ranging yet, so hopefully that will still go well. We'll introduce her slowly on the leash to them so that she doesn't teach them and when they're already. Hopefully in the next couple of months we'll all be a big happy family and can hang out outside altogether without worry of the dog chasing the chickens.
Exercise in the winter
The final thing that I want to give you a quick life lately, update on is exercise. I have mentioned a couple different times that I've been exercising more regularly and I don't love cold weather generally, but man, it feels so good to run outside when it's cold. Everything is starting to turn colors here in Richmond, the areas getting crisp and when I go running outside and I can go now in the middle of the day if I want.
It just feels so good to not be weighted down by the heat and humidity, but I just feel so much more alive and maybe I feel like I need to run faster to keep my temperature at because I feel like I'm able to exercise and run so much better in the winter. I know that a lot of people sort of hibernate in the winter and I would like to encourage you to use the cold as a benefit and get out there and do a run or a quick walk or something outside when the air is crisp and it just feels so good.
I'm actually going to do one more quick segment because it really sets up today's topic nicely, so next step. Let me tell you about an odd job.
Segment: Odd Jobs
Whitewater River Guide on the Main Fork of the Salmon River
One summer when I was 20 years old, I worked as a river guide on the Salmon River in Idaho. Previous to that I had worked as a wilderness counselor and I talked all about that in episode five. I share kind of the ins and outs and things I learned there so you could say that I was on a little bit of a roll with my wilderness adventure jobs and I totally was. I loved them so much.
My future brother-in-law was working the river and had done it before and he helped me get a job up there. I was six days on and two days off, all summer long. The river trips themselves were five days and we slept as a group of river guides. There was a double wide trailer with different rooms that we were able to sleep in.
We stayed right there where the boats were. We would pack the coolers, get all of the food ready, load the boats and the rigs, meet the passengers at the airport, drive them over, orient them to the river, to the rules, to the guidelines, to the safety measures, and then we would push off.
We would have several rowboats and also paddleboats. I don't remember how many passengers we had at a time, probably 20 or 30 and we would be paddling these passengers down the *main fork of the salmon. I also ran on that middle fork of the salmon a couple times, but I mostly was guiding on the main fork of the Salmon River. For these multi-day adventures.
*In the episode I say I mostly ran on the middle, and did a little on the main, but that was a mistake. I was primarily guiding on the MAIN fork of the Salmon.
I have to tell you, these trips are totally deluxe for the passengers. They're also very expensive. The trip is all inclusive. We did all the cooking, all the setting up tents and sleeping bags ready. We did all of the rowing. We sang campfire songs. We told stories. We would keep people safe and happy and entertained.
My very favorite parts were at night after everyone was asleep. I could lay down underneath the stars and just just look up at this massive sky. When you're in the middle of the wilderness and there's no artificial light coming from any cities anywhere nearby. The skies are incredible. I just absolutely fell in love with the stillness of being out in the earth, of being outside and I loved the constellations and tried to learn a few.
I just felt so tiny. I felt so tiny and at the same time so connected to my place in the world. I made some really great friends. We were really bound together by the intensity of the experience and it was a very intense experience.
I felt really at home in the outdoors, which is something that I learned growing up. I am very at home in the wilderness and that's probably why I'm drawn to wilderness type experiences and adventures and jobs.
One random thing about the river is that we would always serve pork chops and French toast on one of the mornings. And I remember thinking this is so gross and so weird, but we did it every single week. It was one of sort of the traditions of the river. And I've never really been a huge fan of pork chops, so I couldn't really get on board with pork chops, but I have always loved French toast, so that was fine.
I also was in the best shape of my life by the end of this summer heating boxes, pulling on the rowboats and teaching people to paddle.
Three Things I Learned As A River Guide
It was a really incredible experience, so I wanted to just mention three things that I learned. These are going to tie in to the rest of the show, so just know that I'm going somewhere with all of this.
1. Sometimes the best thing to do when you're being pulled underwater in a rapid is to relax.
Now, I will say as a river guide, I wouldn't recommend to do that all the time. Sometimes when you're out of the boat. I mean if we're being very literal, there are times when you want to swim. And want to paddle.
I do remember really specific instances though when I myself had been knocked out of a boat. I remember being knocked out of the boat in the middle of a rapid and being caught churning in what's called a hole where the river is just turning back over and over itself. It can be really dangerous and you don't know which way is up and you don't know which way is down, and so if you were to try to paddle, you don't know where you're going.
In that moment it's terrifying, but the best thing that you can do is just relax and let the river naturally spit you out. I feel like that is a metaphor for so many things in our life that we try to muscle through and that we're just swimming frantically, but we don't really know exactly where we're going. Sometimes we've got to just relax and let life take us where it needs to go.
2. When you are out of the boat, you always keep your feet up, your arms out, and your eyes downstream.
This position, when you're on the river helps you become aware of what is coming up and be able to quickly navigate. You can use your feet to push away rocks. You can use your arms to kind of keep you centered, your eyes always downstream so that you know what is coming.
Again, how easily is this one applied to our lives to stay focused on moving forward and figuring out how we're going to overcome the obstacles that are in front of us rather than trying to swim upstream and figure out what's happening behind us.
3. The end of the experience isn't always the end of the river.
At the end of these five day trips, after going through all of these amazing rapids and really wonderful soft parts of the river we would get to the end of the trip and pull the boats out at a pull out, but that was not the end of the river.
It was the end of the trip that the river continues to flow down to the ocean where it connects to all of the other water of the world.
Sometimes we come to the end of something in our lives, but that doesn't mean that our life has ended. Sometimes the experience ends in the middle and we get to continue flowing along.
So those are three things that I learned. Life lessons that I learned working on the river in Salmon, Idaho.
Arbitrary Self-Imposed Deadlines
Okay, friends, let's talk about arbitrary self imposed deadlines. I'm just going to have to laugh every time I see that phrase, you will not forget it after this episode.
I want to illustrate the idea of these deadlines with the metaphor of a river, You see how it's all tying in now, right?
Life As A River
I want you to imagine your life is a river. The source of the river is the beginning of your life. You begin learning and growing and winding and changing your landscapes flow from one to another as you meander down through the canyons and through some valleys and just roll along through your life along the way. There are all different sorts of mile markers or flags planted. These are indicators of things that you have done or have achieved or sign posts coming up down the road of things that you're hoping for and anticipating.
You're paddling along down your river. You're flowing along every day is bringing a new adventure. You can't always choose what happens to you, but you do get to choose how you navigate it and how you respond.
Our River Is Individual
It's really important to recognize that each of us has our own river. In this metaphor, we are not all boats sharing the same river. We each have our very own river. Our life is different. It's individual, it's full and independent of any other river.
What begins to happen as we go throughout our life though, as we look around at these other rivers that are flowing in similar directions to ours and we recognize what mile markers and sign posts other people are reaching, we wonder why we haven't reached that one yet. We forget sometimes that we are not in the same river on a race, that we each have our own river flowing at our own pace.
"I think it's really easy for us to recognize that our lives are independent and different from people who are unlike us. It can often be difficult, however, to realize that our lives are different and independent of people who SEEM a lot like us."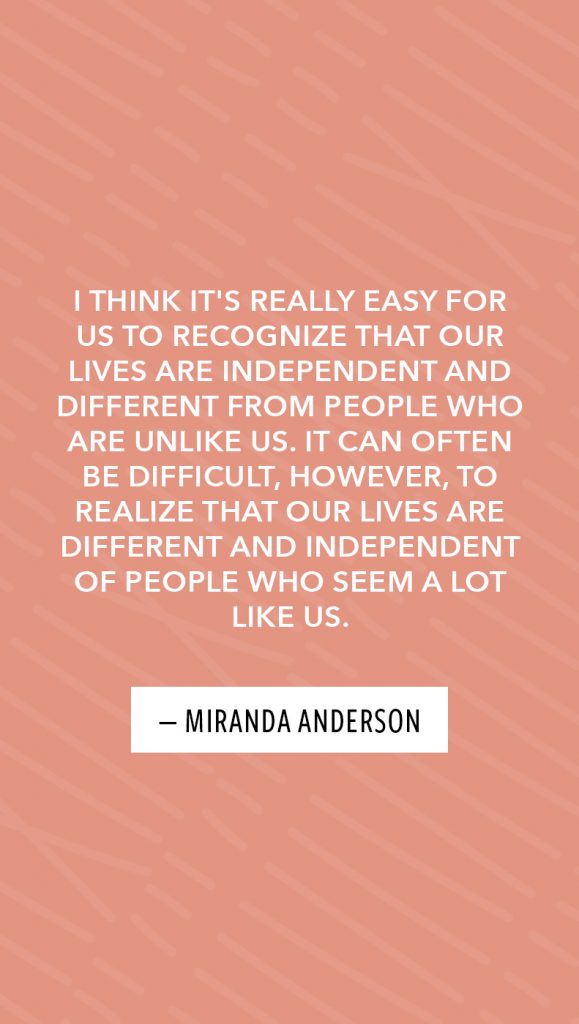 People who seem like we're on the same trajectory, people whose rivers flow really similarly to ours and we think, "Gosh, why is it that that person is reaching all of those achievements in their life when I'm not in my life, but we're on the same path?"
It's really important to recognize how separate and individual are meandering river is than anyone else's.
Age As A Milestone
One of the major milestones that we all have in common as a common mile marker is age and a lot of times we look around and we think, why are people my same age reaching things differently than I have.
That starts when we're really young when we're babies and toddlers are parents are comparing us to this percentile of all the other kids. This is to mark our development and our achievement to make sure that we're in the in the realms of normal as it applies to physiology and development.
However, once we get out of a certain point, especially once we're into adulthood, those things disappear and all of the percentile comparisons are no longer applicable. However, I think that it's ingrained in us to want to say, "Well, I have reached age 30 and I'm not x, Y, Z, so therefore something is wrong with me or with my development."
That is simply not the case. Sometimes I see people my same age who seem a lot like me who have everything that I have, plus more and more and other things that I hoped for or that I've been working on and that can feel really disappointing until I realized that their river isn't my river and I start to bring it back, pull it in.
Arbitrary Mile Markers In Life
Sometimes we arbitrarily set down our own markers for ourselves and then we miss them. And then we get frustrated that we missed them.
Other times we don't even set down a mile marker. We simply become of aware of an achievement that someone else has achieved and we feel bad that we haven't achieved it already. We jumped to feeling bad about it before we even set it as a goal for ourselves and give ourselves a chance to work on it!!
Does this resonate with you? Do any of you do this as well?
I want to give you some examples of both of these things. Here's some mile markers you may arbitrarily set down for yourself:
I want to write a book this year.
I want to lose 10 pounds in the next three months.
I want to be married by the time I'm 30.
I want to have a baby within six months of discontinuing my birth control.
I would like to have a six figure business in 2019.
Goals vs Self-Imposed Deadlines
On the surface, these things look like goals.
"I firmly, firmly believe in goals. What I firmly disagree with is the emotional exercise of beating ourselves up for not quite making it."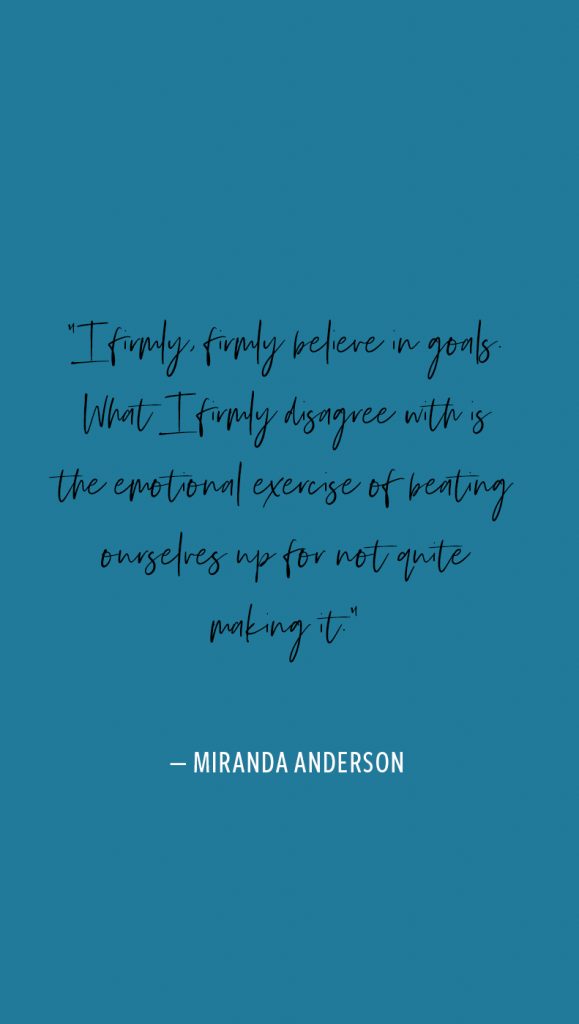 It's okay to change and it's okay to let things flow a little bit.
"Goals can be motivating, focused and positive. Arbitrary self imposed deadlines are disheartening, random and breed negativity in our lives."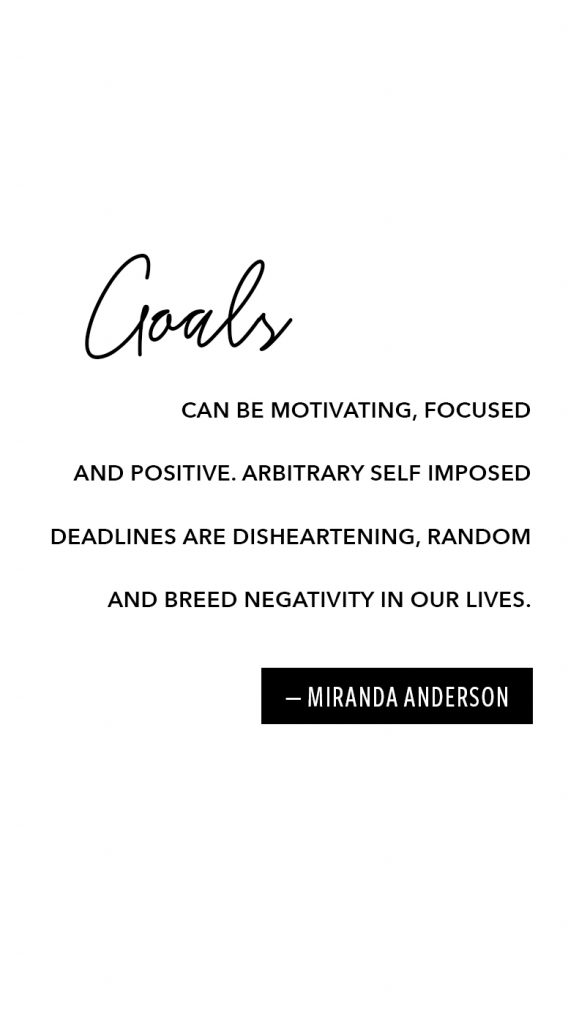 That's how you can tell if you're working on a goal or if you are stressing about an arbitrary self-imposed deadline.
Here are some other things that might resonate with you. These are the mile markers that we feel bad about missing before we even plant them in our river:
I should have already graduated from college.
I should already own a home at this point in my life.
I should have already paid off my college debt.
I should be reading a book every month.
I should have already started that etsy shop that I thought of last year.
I should have already recorded this week's podcast episode.
Raise your hand if this resonates with you.
"Telling ourselves what we "should have done" is like creating a race for ourselves and then not allowing ourselves to win. We get to choose the rules, we're in charge and we still don't let ourselves win!"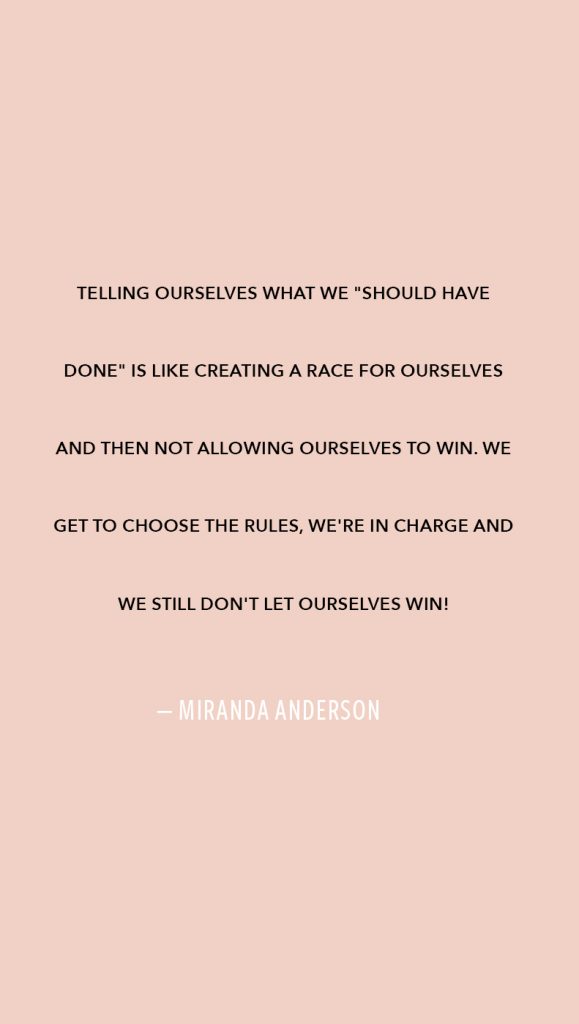 We make ourselves lose, that's not very smart.
This whole idea of feeling bad about things that we think we should have achieved is like trying to feel bad about a mile marker that we put up river against the direction that we're flowing and then feel bad that we missed it. It wasn't there when we passed that point of the river and that's okay.
What Are YOUR Arbitrary Self-Imposed Deadlines?
I want you to think right now about some things in your life that feel like arbitrary self-imposed deadlines.
These are not actual deadlines set by other people or in your work. These are hypothetical deadlines that you are killing yourself to meet or beating yourself up about for not already having met.
Can you think of some?
Think of some of the negative emotions that are causing you stress right now in your life. You might find some arbitrary self imposed deadlines right around those pain points.
Recognize and Overcome Self-Imposed Deadlines
I want to offer two ways that you can recognize these negative emotions it brought about by arbitrary self-imposed deadlines and then my favorite way to overcome them.
When you start recognizing negative emotions or stress or overwhelm those feelings like, oh my gosh, I am not doing all the things that I think I should do.
1. Recognize the Self-Imposed Deadline With These Questions:
Who is requiring this of me?
If the answer to that question is yourself and you're feeling all of that negativity surrounding it, you probably should back up a little bit and give yourself some grace and maybe make some adjustments.
Is this what I want?
Is this what I need?
What will happen if I adjust this deadline?
If it's an arbitrary self-imposed deadline that you're feeling bad about and you answer that question, you will most often find that the answer is nothing.
"Nothing will happen if I back up the deadline that I created for myself that I keep stressing about."
Isn't that silly that we do that, but we do. I do this all the time.
I expect a lot of myself, partly because I'm super high energy and I am doing things all the time and so my natural pace is to always be five steps ahead of myself. Recognizing the idea of self-imposed deadlines has been so helpful for me and I still am working on it.
It can be so disheartening to feel like you're always behind and it helps me so much to ask myself this next question:
What will happen if I just give myself a break on this one?
When I allow myself to flow downstream at the pace of my own river, things happen a lot more easily and with a lot more positivity. Things start to fall into place when I allow space and time for that to happen, rather than always trying to muscle through it all.
If you're able to answer those questions and recognize that you are in some negative emotion caused by arbitrary self imposed deadlines then I want you to move on to number two.
2. Find Beauty In The Present Moment With These Questions:
"Be still, close your eyes, and recognize the beauty in your present moment."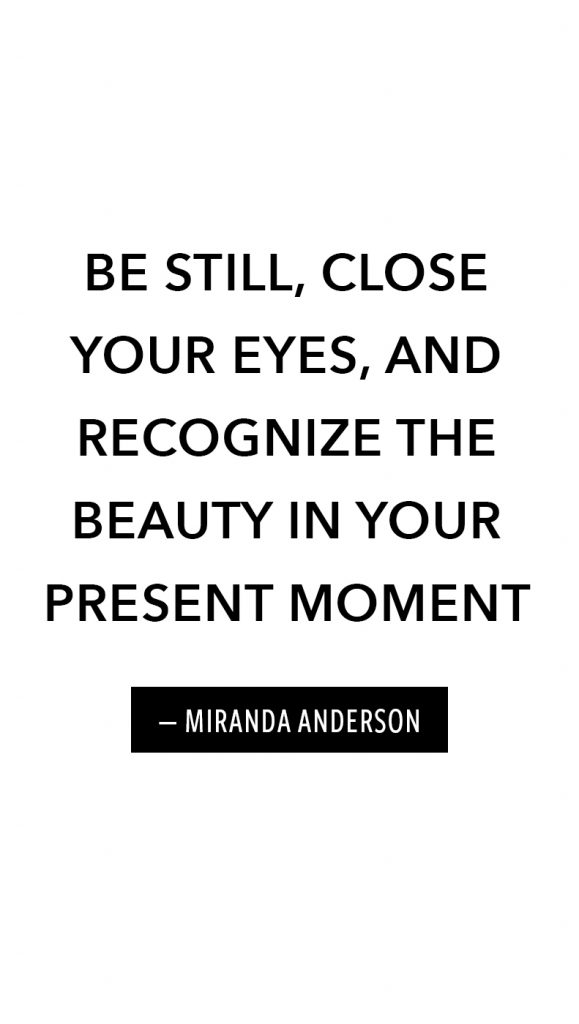 When I feel stressed out or overwhelmed or jealous or defeated by the deadlines that I have created for myself, I'm living in my head. I'm not living in my life.
I need to take inventory of my real present daily life and I will see how incredibly beautiful it is. Like I mentioned in episode nine about having enough money. I want you to ask yourself this question.
What do I have in my life right now that I used to want?
What things in my life am I blissfully grateful for?
What things make me incredibly happy?
This is my river. It's my ride, the scenery, the current, even the rapids, all of that is part of my river and if I can relax and enjoy the passive movement from one day to the next, I can recognize that regardless of anything that I do, I can only move downstream.
I can rest and still reach the milestones that I want to reach. I just have to sometimes give myself a little bit more time, a little bit of a chance to catch up with myself and a little bit of grace to be able to relax.
Sometimes I still feel the stress and overwhelm of my arbitrary self imposed deadlines and expectations, these high, high expectations, but I'm also able to accept and overcome them more easily. When I prepare myself to stay focused on the work that I'm doing at the pace that I'm doing it.
Do You Love What You Are Doing?
A lot of times I can look around my life and say, "I love the things that I'm doing."
I love the things that I'm doing. It's okay if I don't finish them tomorrow because I love the things that I'm doing.
So the process then is also part of the journey. When you actually achieve the goal or meet the mile marker, guess what happens? You continue moving down the river!
You set new goals, you set new mile markers, you set new expectations for yourself. So if the end of this experience isn't the end of my river, maybe it's okay. If it takes me a little bit longer to get to the end of it, maybe that's okay. Maybe that's even better. Maybe I get to enjoy it more if I enjoy it more slowly and longer.
Since visualizing this idea of self-imposed deadlines versus goals, I've helped myself ease out of so many stressful situations when I'm able to just bring it back home and recognize that this is my life, this is my river. It's going to be different than anyone else's and not only is that okay, that's incredible. What happens for me in my life is all my own. It's so beautiful.
I get to choose the pace I get to navigate the water. I get to decide on the flags that I want those mile markers that I want and I get to move them as I wish or delete them all together.
Sometimes most powerful thing you can do is recognize an arbitrary self-imposed deadline and realize that you don't even need it. Not only are you not meeting that deadline in the timeframe that you had planned, you don't even need to meet it because it's not something that you choose to have as part of your life.
Does this resonate with you?
"What types of arbitrary deadlines have you been holding yourself to and then feeling bad about? Can you invite yourself to be flexible? Move that sign post just a little bit down the river and allow yourself to more fully enjoy the ride."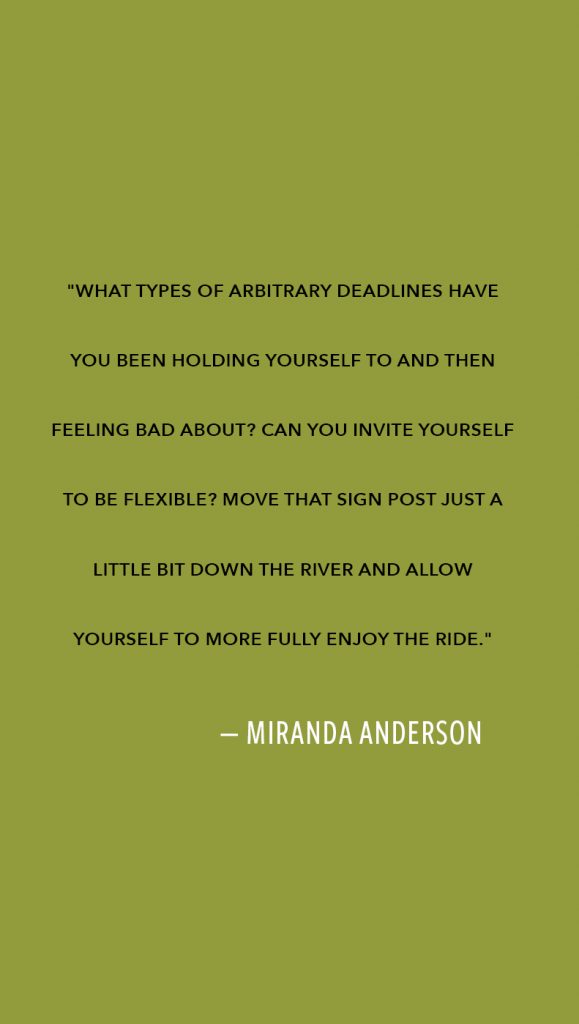 That's a question I want to leave with you today.
Conclusion
Thank you as always so much for being here. I have just been overwhelmed with gratitude for the podcast community. For you friends who are here listening every week. If you haven't yet subscribed to the podcast, I want to invite you to do that. That way you don't miss an episode. They'll automatically download onto your phones so that the next time you want to listen when you're doing dishes or driving your car or going on a run, the episodes that you have not listened to will be readily available for you.
One way that you can take action right now is to share this podcast with a friend. There's a bunch of ways to do this. You can text a friend, you can call a friend old fashioned. You can also take a screenshot, share it on your instagram story or your feed. There's actually a place in that itunes. You're listening on all different platforms, but there is a place, those little three dots where you can click and you can actually send an episode straight to someone in a text message or an email. Thank you for sharing. Thank you for inviting me into your headphones or your car or your speaker and sharing a piece of your life with me. I can't wait to share more with you as the weeks roll on. We'll catch you next time. See you later.