Episode 15: A Magical Minimal Holiday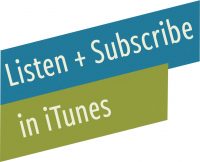 The Holidays Are Coming!
Today's episode is timely because the holidays are coming. Hooray. We just finished Thanksgiving. I hope that it was cozy and you loved it and were preparing for all things: Christmas, Hanukkah, Kwanzaa. The December month is just so full of magic and so full of wonder and so full of all the things people, activities and gifts and advertisements and traditions and family and friends and expectations and it can be a lot. I recognize that, and I want today's episode to help you boil down for yourself what really matters the most to you this holiday season.
What is going to make you feel the very best? Today we're going to jump into talking about a magical minimal holiday.
Life Lately Segment: The Flood
If you follow along on Instagram ( I am @livefreemiranda over there) then you are aware that in early November, our family had and very unexpected catastrophe at our house.
An unexpected phone call
Our cleaning ladies were over at our house and I usually take the dog and my youngest, Plum, out of the house while they do their cleaning just so we stay out of the way. It's a small house and Plum and Quincy are both our mess makers so it's easier to leave.
We were out grocery shopping and I got a call from the cleaner saying that one of the pipes upstairs in the bathroom had broken. I asked her if she could turn off the water behind the toilet there on the shut off valve. And she said that is what had broken. So, I walked her through the process of going out to the street where the main water shut off valve is on the house.
I only know where it is because we have gone through now eight months of construction on this house. And so from time to time during the renovation process, we've needed to turn off that the whole house water. So I knew where that was.
I walked her out to where it might be and she said, okay, I'm going to hang up and try to work on it.
I finished my grocery shopping thinking, "Okay,  that sounds like there might be a problem." I called my husband and said, "Dave, why don't you meet me at the house because the cleaners said that there's some flooding and I just want to make sure that you know that I have you there in case there's any questions or need help." Kind of resolving the issue.
Raining Indoors
I didn't think a whole lot of it, but I got to the house and the door was open and there was water running out of the front door. There was water raining down from the ceilings in almost every single room on the main level of our house. Our house is small. It's only 1400 square feet. It's two levels and the top floor is just a master bedroom and bathroom and the bottom floor has two bedrooms, a bathroom and the kitchen and the living room. Everything was wet and it was so surreal.
You can go back onto my instagram highlight and watch this. It is the most bizarre thing. I had never even imagined what it might look like for it to rain inside in this type of flood. I don't know exactly how it happened, but somehow while cleaning behind the toilet, the cleaner had accidentally snapped the pipe where the water shut off valve comes out of the wall and because that is a line that brings water from the street, from the city to the house, it's a supply line.
It didn't have any stop, so once that valve was off, the pipe was shooting water, full pressure onto the floor of the bathroom, which of course then immediately flooded and spilled out into the bedroom and then spilled out down the stairs and sunk through the flooring into the ceilings and started coming through the air vents. It was coming through the light fixtures just pouring everywhere.
It was surreal and terrible and in the moment all we could do was look around wide eyed and get the water turned off and start to clean up. My daughter decided that it was a perfect time to put on her bathing suit because what else does it rain indoors? So she put on her bathing suit and danced around in the clean water that was falling from the ceiling.
Restoration Team
We called the plumber who recommended a flood restoration team and they came out to start the mitigation process. Let me tell you, it has been a little bit wild. The flooding affected most of the downstairs rooms and the entire upstairs flooring and bathrooms, so at this point the upstairs bathroom has been demoed. The flooring has been removed. The toilet and the vanity have been removed. They're deciding whether or not they're going to demo the walls upstairs. All of the flooring in the attic space has been taken out completely down to the plywood. The ceilings downstairs had been removed in the living room, half of the kitchen, one of the bedrooms, and then the downstairs bathroom has had the ceiling and all of the walls removed except for one because of the age of our house and the type of materials used in the installation.
All of those ceilings had to come down because the plaster and the installation was basically acting as a big sponge and so despite dehumidifiers and fans and all sorts of equipment, it wasn't drying out all the way, so all of that demo had to happen so that the actual wood of the house, the ceiling joist framing, all of that can dry to completion to maintain the structural integrity of the house.
The Finances and Insurance
A lot of people have wondered how the finances of this reconstruction process are being handled. Luckily, we have homeowners insurance and the cleaning company that I use is a licensed bonded and insured company and so the owners of the company came over immediately upon hearing about the flood, helped with the cleanup bucketing and you know, sweeping water out the front door and accepted full responsibility for the flood. And so the actual house, flood mitigation and restoration process is being handled by the insurance company of the cleaners. And then all of the accommodations that we've needed as a family. Hotels boarding our dog, spending time out of the house that is being handled by our insurance company.
Gratitude in Tragedy
I could go through a whole list of reasons why I'm super grateful in the midst of this tragedy:
One, that my kitchen that was just a huge, huge renovation process was saved. It was not damaged at all, which is just a huge miracle.
Two, that most of my hardwood floors are saved. They're original to the house in most of the main level and they were able to put rescue pads and professional dehumidifiers on them so that the wood dried out quickly enough that there's only a couple of sections that need to be replaced.
Three, my favorite cactus hallway. If you go on instagram and click on the hashtag #ourrichmondfixeruppper, you'll be able to see my cactus hallway of all the walls and ceilings coming down that that hallway was not affected at all. My very favorite cactus hallway is intact.
And the last silver lining is that we had planned on doing a full renovation of the master bathroom in the spring. We did phase one of the main level and the exterior and the porches and all of the things that we added this year and we were planning on doing a master bath renovation coming up in the spring, but because the bathroom and the upstairs is all completely demos right now and the demo and the reconstruction up to restoration point will be covered by insurance.
Master Bath Renovation
We have decided to go ahead and do a full master bathroom renovation now. It will be really fun and of course we will pay for everything that goes beyond restoring what was previously there, even though the timing is a little bit crazy. It's also really fun and really exciting and so that is what's been happening at our house lately.
When you listen to this episode, we will probably just be starting reconstruction mode. Meanwhile, we're so grateful we have a functioning downstairs bathroom and if we need to, we have good friends that we can stay with as well, which is so nice and we feel very blessed.
Emotional Management During The Flood
Now, as part of my sort of emotional management process with the flood, I have been focused on two things: 1. What I can control and 2. What there is to be really, really grateful for.
It's been so fun to see how just through managing my thoughts and just accepting the things that I can't control and moving beyond them and not giving any emotional energy to the flood or the demo or any of the things, you know, it's annoying. Yes. It's super crappy to totally renovate a house and then have it be basically destroyed. However I can't do anything about it.
And so I've had one moment of just sort of overwhelmed crying in my car and that felt really good and I also have had mostly days of just feeling grateful and I'm excited for the opportunity that it provides to work through this process again and to renovate. And I'm so grateful that my belongings were all spared. And I also recognize that none of the things that matter the most to me in my life are in my house. And so that is really special as well.
Segment: Magical Adventure Moment
When I was about eight years old, my parents decided to take us to Akumal, Mexico for Christmas. We woke up Christmas morning and there were backpacks packed beneath the Christmas tree. There weren't piles of presents and there may have been a stocking. I don't remember the stocking. I remember a backpack with a plane ticket and some snacks for the airplane.
We got in the plane and we flew to Cancun where my dad rented a van and we drove about two hours south of the city to a little town called Akumal, which is absolutely beautiful. And 30 years ago it was even more beautiful than it is today. I've been back a couple times in my life and that first visit, man, there is just nothing like it.
My magical adventure moment happened when I was snorkeling in the half Moon Bay and I came around a corner.
I was little, I mean eight, I think. I knew how to swim well and I also, this was new to be underwater and to be seeing everything and I remember just so vividly kind of turning a corner, around some coral and seeing a sea horse in the water in the wild.
I was absolutely enchanted by this creature that I had seen in an aquarium. I had seen in picture books I had seen in cartoons, but I don't know that I had ever realized that they existed in real life and it was just beautiful and tiny. It was probably six inches tall and just watching it in its environment, like, you know, swimming, swimming in the ocean.
Imagine that, a sea horses swimming in the ocean. I was just delighted. It is this moment that has just stuck with me through my entire life and I love remembering that. The simplicity of that single magical moment that happened that Christmas, that year.
The Magic of Experiences
We can choose which experiences we want during the holidays!
I've talked a lot about how I love experiences. I love the gift of experiences. I love choosing experiences that make an impact and that matter and that really fuel our souls and our spirits that feel authentic to us. Things that we choose and we love and that aren't just doing the things that we feel like we should do or that everyone else is doing or that we feel like we should go along with, but actually being intentional about the experiences that we choose for our lives and you guys, the holidays, the perfect time to choose for yourself, what experiences you value and you want to be part of your holiday magic and what things don't matter to you. Even if it seems like everyone else is doing them.
The holiday season is full. It's full of magic and lights and gifts and treats and activities and entertainment and opportunities and it's also full of expectations and it's full of excess and it's full of advertisements and it's full of social pressure and it's full of sometimes tricky to navigate family situations.
Making choices ahead of time makes the season easier.
I think that the holiday season can become too much if we don't choose ahead of time, what we really care about and what really matters. I think we would all agree that the gifts don't matter, that the tinsel on the tree doesn't matter that much. I think we all know that the things that matter the most during the holiday season, our time spent with family and the service that we can give to our fellow man, the connection that we feel in our communities and recognizing, especially if you're celebrating Hanukkah or Christmas, the religious symbolism of these holidays and how we celebrate.
We all probably agree on some level about that and still we don't always reflect those values in the things that we choose to spend time, money, and energy on during the holidays. And so I want to just quickly give you some ideas and exercises to help you have the most magical minimal holiday that you can.
"When I say minimal, I don't mean that you have to just leave behind everything that you love about Christmas or not buy anyone any gifts or not decorate, but simply that you don't have to do it all. That you allow yourself the grace and the intention to choose what matters most to you during the season and be okay saying no to the rest."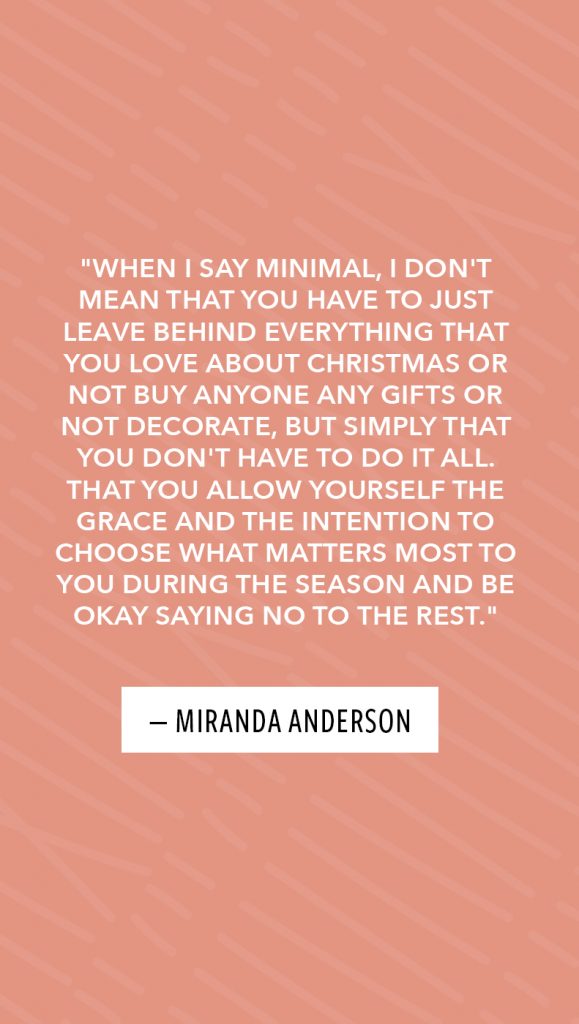 To illustrate this, I want you to think for a minute about if you've ever seen a child opening gifts on Christmas morning, there is such a big pile of gifts that the child opens, one looks delighted and then puts it down and moves onto the next and then opens it and looks delighted and puts it down and moves onto the next. Have you ever seen a kid cry on Christmas morning because they were overstimulated and overwhelmed? I have.
I think I've been that kid crying on Christmas morning because I was overstimulated and overwhelmed. It always has made me sort of think what type of experience are we giving to our kids and to ourselves when we're so overstimulated and overwhelmed that we don't get to feel the magic and the happiness and the joy which with each individual gift or experience, but that we get so overstimulated and overwhelmed that we want to cry. It's so silly, right? And that can be avoided by focus.
How to focus during the holidays:
For those of you who feel like your holidays go swimmingly every year, everything works out. It's magic from start to finish. You don't feel any social pressure. You don't feel any overwhelm. You don't feel stressed out. You don't feel financially shot. You don't feel little twitches here and there of wondering if what you're doing is enough. Then I'm so happy that you've got it figured out and that's so amazing and we probably have a lot to learn from the way that you do that.
For those of you who resonate with the idea of sometimes maybe feeling a little bit lost during the holidays, wanting to do it all and still sometimes coming up short or doing it all, and realizing that at the end of the day, doing all of it doesn't feel the way that you hope that it would. Then let's talk through a couple of ways that you can resolve that and be a little more focused and intentional to leave space for the magical moments that do lead you with that lingering feeling of happiness and joy and peace and connection this season.
What is your favorite holiday memory?
So I want you to close your eyes unless you're driving or running or dishwashing knives. Just take a moment and think to yourself of a holiday memory that was absolutely joyous and magical.
What were you doing when you felt that really incredible feeling?
"What activity, scenario, or circumstance really invites the beauty of the holiday spirit in your life? That feeling, that magic probably doesn't attach to all of the experiences that happened during the holidays, but I'm sure that you can think of one or two or three very specific things that you absolutely adore."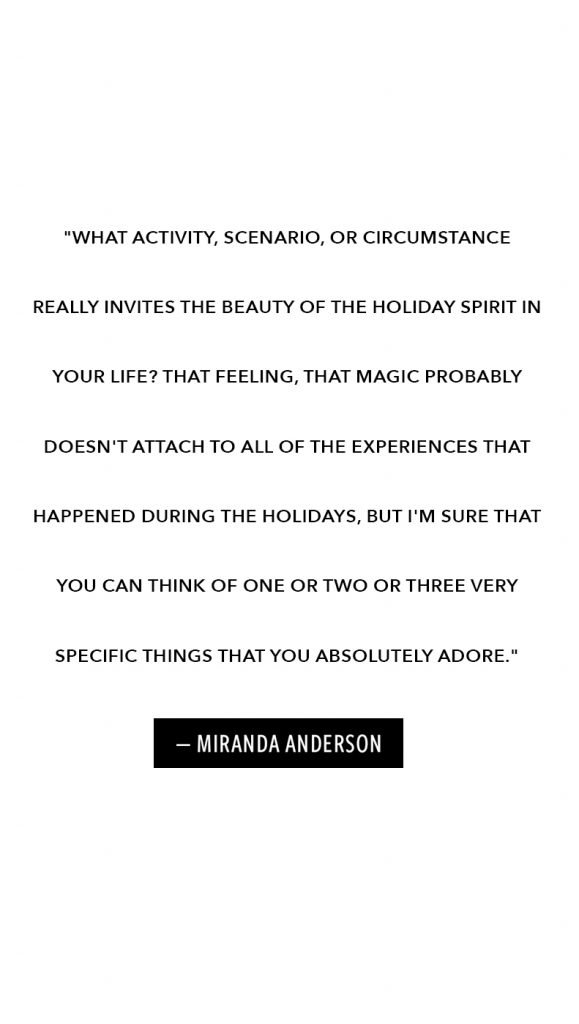 And you can probably also think of one or two or three very specific things that you do every single year or every few years that you don't really care about or you don't really like. I want you to think about what you love, what you don't love so that you can make some choices.
Make some choices!
It's really, really easy during the holidays to come up with more and more and more things that we want to do. You know, maybe the advent calendar that we've done before and loved 25 things that you do one every single day that can be really fun and some pieces of it can feel a little bit hurried or a little bit annoying or a little bit overwhelming. If it's something that you absolutely love, then that is such a great intentional practice to keep in your life and if it's something you feel like everyone is doing and so you probably should do even though you kind of resent it, then I'm going to encourage and invite you with kindness and grace to recognize that it might not be the best way to spend your energy this holiday season.
"Saying 'no' to some things can be the most powerful practice that you exercise during the holiday season because it leaves room for the very most important yeses."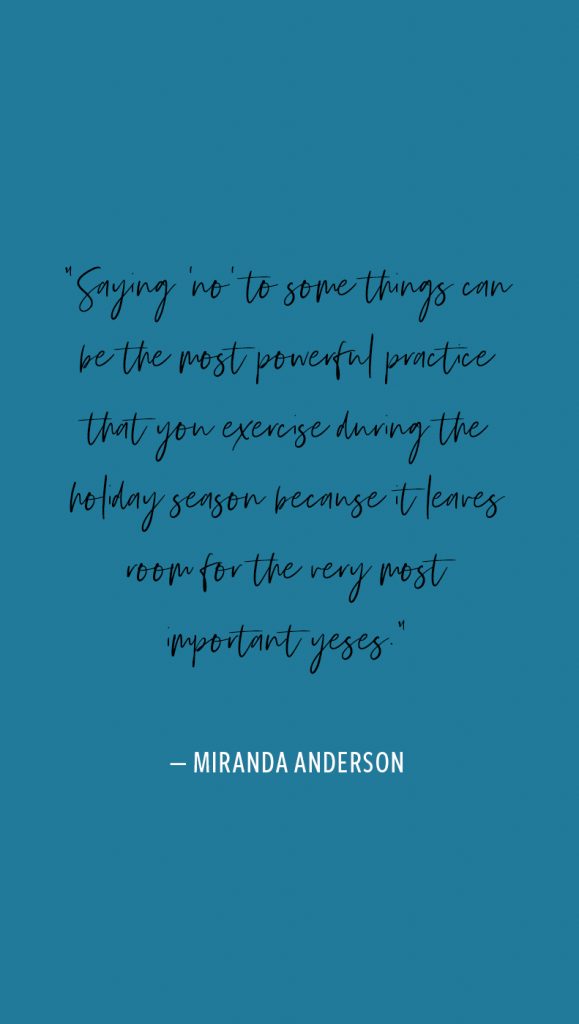 What are three things you can say "no" to this season?
I invite you right now to think about some things during the holidays that you are going to intentionally say no to. Specifically, I want you to think of three.
What are three traditions or practices or activities or products or gift ideas or parties or what are three things that you find creeping into your life during the holidays or that you feel this should like you're "supposed to do" because it's the holiday season."  Will your lives be complete without it? There are at least three that you don't need this year.
That's not to say you're never going to need them again or they're never going to add value to your life again, but at the beginning of this holiday season, choose three things that you're going to say no to with intention to give you some ideas. I'm going to share mine, my three things that I am saying no to with intention this holiday season.
Here are my three:
1.  No decorations at home.
I am choosing to say no to bringing out my holiday decorations for the inside of the house. I am planning on hanging a wreath on the door and um, dave is going to string up simple string of lights on the edge of our house, on the outside. But I'm not, we're not even going to set up a Christmas tree and I'm not going to feel bad about it because it doesn't make sense when our house is under construction to decorate for the holidays, I'm barely going to be able to keep things semi-organized as furniture and knickknacks and books are shuffled from room to room as drywall goes back up and things are painted.
So, I'm just going to release that. We're going to be able to enjoy holiday decorations in other places and we can still feel the magic of the holidays at home without everything looking like Christmas. I did find a really wonderful rosemary tree at trader Joe's this week that I'm going to put on the middle of the dining room table. It smells like the holidays. I'm going to light holiday candles, but I'm not going to bust out my full boxes of holiday decorations and I'm going to be okay with it. I'm going to feel happy about that.
2.  No Nativity reenactment. 
This may be one of those things that you absolutely love. If you do this as a tradition in your family where all the kids dress up as the different characters that they have and, it may be just like the sweetest part of your heart that just loves this tradition and you guys. This may be blasphemous, but I do not love this tradition.
I did maybe a little more when my kids were younger or something that it's sometimes fun when the word together with a whole big group of cousins and stuff, but even then sometimes I would much prefer to sit down cozy with a cup of hot cocoa and read a really beautiful nativity book. Then all of the bustle of having everyone dress up and act out and come in at the right times and find costuming and again, maybe you're thinking this lady is crazy because that's my favorite part of Christmas is that nativity reenactment. It's not mine and so I'm going to be okay not to doing that and I'm not going to feel bad about it.
I'm excited to find a new way this year to focus on the Christmas story and they naitivity story with my kids and our family without having to dress up as shepherd and wiseman.
3.  No impulsive off-list shopping.
What this means is that Dave and I are going to sit down, plan our Christmas gifts. We're going to do that with intention and with thought and with as much love as we can and we're going to choose those things, experiences, whatever it is that we decide and we're going to buy those things and I'm not going to be swayed by the piles of Christmas catalogs that come in the mail, this email sales that landed in my inbox, all of the beautiful displays and end caps and things that are popping up all over the world for the holiday season.
I want to choose things with intention ahead of time and not be swayed by impulse because something has been marketed or wrapped really beautifully that we'll leave space for me to really love the things that I'm choosing and not feel frantic about all of the things that I'm not choosing because I have decided that I'm not going to do any of that off list impulse last minute Christmas shopping.
I'm going to decide that what we choose is enough and focus on making the experiences more magical.
"So think for yourself, what are three Christmas traditions or Christmas activities that you are going to intentionally say no to this year to leave space for other things that matter more to you."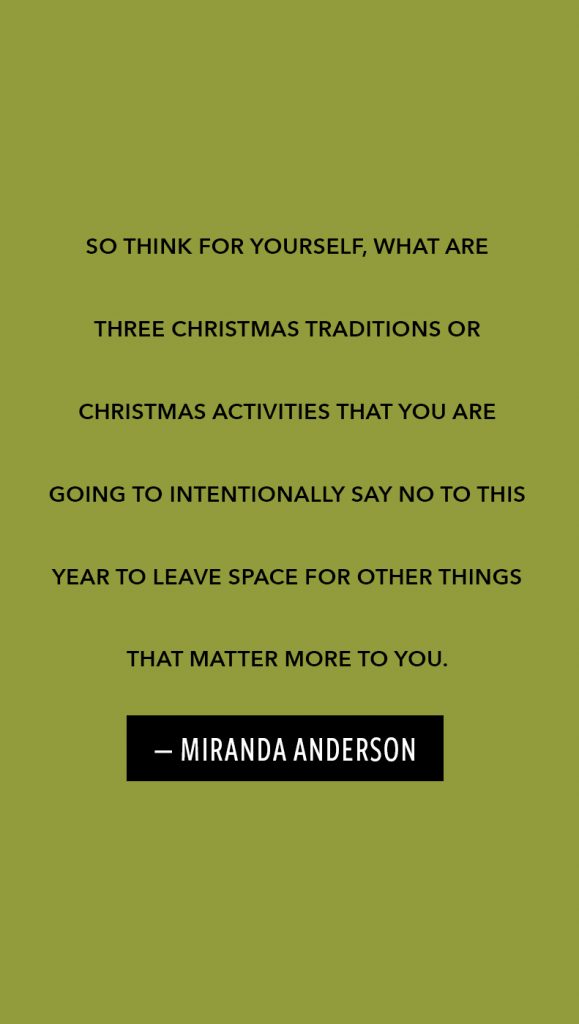 What are three things you want to say "Yes" to with intention?
Now on the flip side of this, I also want you to choose with intention, the activities and traditions and holiday magic that you want to enjoy fully. Sometimes, like that kid on Christmas morning who has too big a pile of presents, we do so many things that they all sort of run together and we don't actually get to focus on and enjoy them fully.
We aren't present in the moment of sitting in the Nutcracker because we are thinking about how we have to race over to the ice skating rink after or because there is a neighborhood Christmas party tomorrow and we need to make sure that our decorations are up. Choosing with intention the things that you do want to experience allows you to really make those moments matter.
Our three yesses this season:
1. Sending Christmas cards.
This is something that a lot of you may have put in your no pile, that it's a lot of work, it's a lot of money and you don't really like it, but you feel guilty and so you do it anyway. Sending Christmas cards is actually something that I really enjoy. It's a tradition that I hold dear because I love that simple connection that it maintains between our family and a lot of the friends and people that we value that we don't get to interact with often and so I think that just for me sending Christmas cards, I do it not because I have to, but because I really enjoy it and I love creating and maintaining those relationships through our annual Christmas cards.
2.  Christmas PJ's hot cocoa and Christmas books.
That sounds like three things, but it's one experience to be enjoyed altogether. You many of you probably have a similar tradition of giving your kids matching Christmas pajamas every year. I love that tradition and my kids were there Christmas pajamas year round. It's about time when Christmas comes to get new pajamas for everyone. Not only do they need them because it's Christmas time, but they also need them because we don't buy a whole lot of pajamas throughout the year because we know that the Christmas time is one of those times that we will be.
I really love reading Christmas books and Christmas stories with my kids and a lot of times I feel like it gets lost. It gets lost because it's so simple that it doesn't feel like really doing something. So this year I'm saying yes to making cozy cocoa and Christmas stories. Something simple and sweet that our family can just really absorb and enjoy.
Maybe it will happen more than once, but at least once. I'm going to set aside a night that our whole family gets in our pajamas together, drinks hot cocoa and reads a pile of Christmas stories and just really relishes that moment. My kids are still little enough they want to sit right next to me and on top of me and a couple of them can read the stories themselves and can help read aloud. The youngest isn't reading yet, and so she still gets to enjoy with wonder as as one of the other members of the family reads to her, and I just want that magic of that moment to be really intentional and something that my kids remember.
3. Decorating gingerbread houses on Christmas Day.
This is just such a fun tradition. I love it. We don't necessarily do it every single year, but something that I've decided that Dave and I talked about and decided we want to do is reserve our gingerbread house making for Christmas Day. A lot of times we do so many activities and things leading up to Christmas that by the time Christmas morning is over, we're sort of done with the holiday and we miss the opportunity to actually celebrate and enjoy that time together on Christmas Day.
This year, after we enjoy our Christmas morning and open our few gifts, and have a wonderful breakfast, we're going to sit down and build a magnificent gingerbread house. Take some time and just enjoy it and my kids really love it. They're just the right ages, too. I love decorating gingerbread houses and I am already looking forward to how fun that's going to be.
Again, decorating gingerbread houses may be one of those things that you think is not important at all of a hassle every year. It can be on your no list. That's okay.
The purpose of this exercise is to decide. 
The whole purpose of this exercise is to determine what you want in your life this holiday season. What can you say no to unapologetically in order to make space for the magic of what really matters to you in the holiday season?
"I think it's going to be so fun to look forward to a holiday with intention. Choosing a couple things to really enjoy and be present in, rather than feeling frantic as we rush from thing to thing to thing, spending all of our time and all of our money on things that might not matter."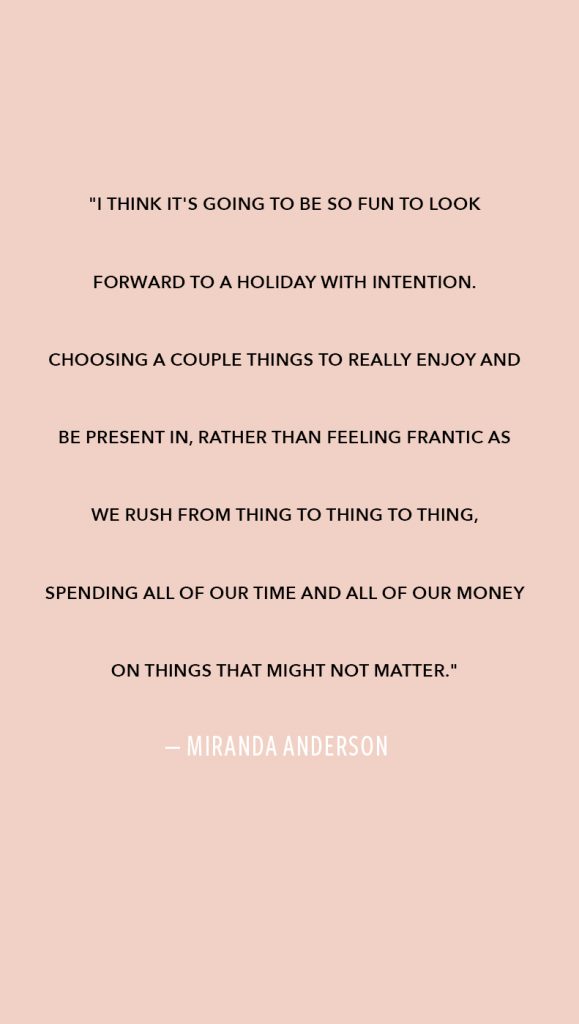 The magic of the holidays comes from the feelings that we have surrounding each of the things that we choose and so for choosing with intention and deciding to feel grateful and excited and be present in our choices, we are going to be filled with the joy and the magic of the season and be able to easily let go of all the things that don't have a place in our life this year.
You can choose again every single year!
I also want to just remind you that because you make a choice of something that has a place this year or doesn't, that doesn't have to be a choice. That is for the rest of your holidays forever. The seasons of our lives are different as we have kids, as we don't have kids, as our kids are older, as they are babies. The things that will add magic to the season make sense in different ways at different times and that's okay.
I hope that as you've listened, you've had some "Aha" moments about that you love about the holidays that you are so excited for. I also hope that you've had some "Aha" moments about some things that you might do without really thinking about it every year that you can let go of and make space for really enjoying the things that matter the most to you.