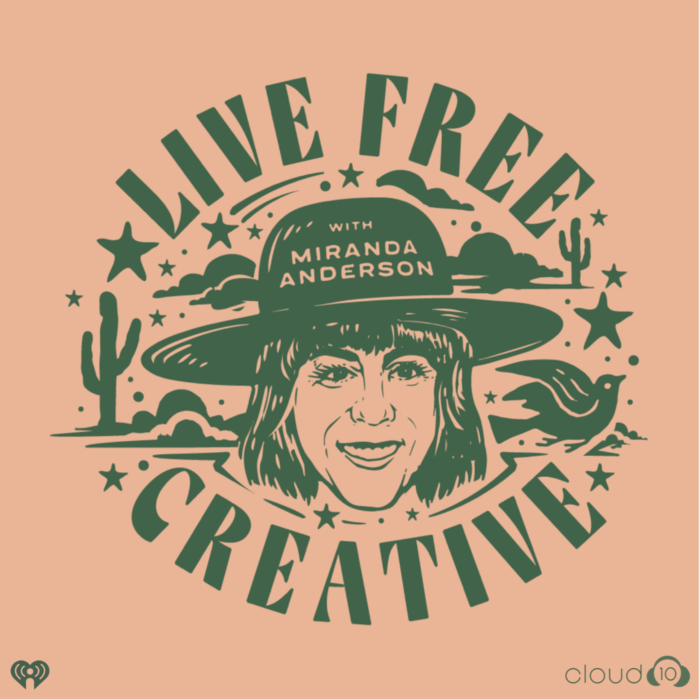 Episode 170: Choose Your Own Adventure

Today we're going to talk about choosing your own adventure.
Adventure is kind of a buzzword around here. You know that I really appreciate the idea of experiences. Experiencing adventure, having an adventure mindset.
I did an episode all about developing an adventure mindset, and I've been writing an outline for a book around this idea of adventure mindset, approaching life, with curiosity and with openness and with creativity. And the last few months of my personal life have felt so turbulent I've needed to continually pull myself back to this idea of adventure.
Of being open to the experiences that are happening in my life right now. Curiosity knowing that I don't know what comes next and understanding that it's okay to settle into the not knowing that can be really complicated as an adult. We want to know all the answers. I think when we were children, most of us assumed that part of adulthood was sort of having things figured out.
I love that song, that Olaf sings in Frozen II, about having all the answers when he's older. It's just so funny, this idea, like I'm going to figure all this out when I'm older, when I'm older, all of this will make sense. I'll have all the answers. The truth is that. We don't have all the answers that life is a continuum, and we are learning and growing and discovering things all along the way.
And it's so great when we have, when we can step back from the sort of disillusion meant that we may have to overcome and recognize that we have this opportunity to continually learn and grow and develop and progress and understand new things and face new opportunities and obstacles. It can feel really, wonderful, and it also can feel really overwhelming.
So, today's episode is sort of my own answer to some of working through my own feelings around change around life, moving forward sometimes at a breakneck pace that we feel like we're having a hard time keeping up with. And some thoughts that have helped me to pace myself.
And it's interesting that I just mentioned that Frozen II song, because another something I'm going to get to later in the episode is addressed in Frozen II as well.
Maybe we all just need to watch Frozen II for movie night this week, get a little refresher and then we'll, we'll be able to relate all these things, synthesize the information.
To get started today, I wanted to share a quick segment I call pause for a poem.
Segment: Pause For A Poem
Allow yourself loneliness
only a country on the way
Traveling, by Nayyirah Waheed
Hmm. There's something about this idea of being secure in the unknowing, allowing yourself loneliness through the process. Not expecting that we know the end from the beginning.
Today's show is called Choose Your Own Adventure. Did any of you grow up reading Choose Your Own Adventure books? Whether you did probably depends a little bit on when you grew up, there was a real heyday of a choose your own adventure series written by a Montgomery's Vermont crossroads press called the Adventures of You series.
It's sold over 250 million copies between 1979 and 1998. According to Wikipedia, the trademark is currently owned by Chooseco and they reissue the originals. So, you can buy these books in a lot of bookstores on Amazon. I will link to some of them in the show notes. If you're interested, you can check them.
They were originally created for school-aged kids seven or eight to 14-year-old kids. That's about when I got into them when I was reading them, and the books were written fully in the second person. So, as you're reading. You as the reader, get to take on the role relevant to the adventure, making decisions for the protagonist.
So maybe you're a PI or your race car driver, or a spy. You can get to the end of a chapter. And depending on what you want to do, you get to choose what happens next in the story. Some of these books had like 30 or40 different endings. So, depending on what you chose next, you really wound your way through the book.
You didn't read cover to cover like a traditional book. You would get to a decision, a choice in the road, in the book. And you could either, for example, cross the river over the wooden foot bridge or continue down that wooded trail path. And it would say if you wanted to cross the bridge flip to page 13, if you want to continue down the path, flip to page 27, you would, as the reader be making decisions.
Literally choosing the story as it went, choosing your own adventure. It's interesting to read a little bit about how this idea emerged.
Packard was the original, the originator of the idea. He was the original author who sold the series. And then later the print, the printing press decided to hire other authors under the umbrella of the choose your own adventure series.
So, you can find these books written by dozens of different authors. Packard was the original with the idea, and he says that the real prompt for this story was he was telling his daughters a bedtime story, revolving around a character named Pete. And he would have him go on these different adventures each night.
And one night he just was tired of coming up with new ideas. And so, he asked his daughters, what do you think Pete should do next? And to have he had two daughters and each one came up with a different storyline. He thought up a different ending, depending on, you know, his daughter's told him what Pete did next.
And so, then he created the story from there and then he followed the other path and created a different ending for Pete. So, each of his daughters got their story and they were so enthusiastic about the idea. And he thought, is there something here? Could I write this down? And you know, invite other readers to create these stories for themselves, depending on the decisions that they make Every few pages?
How Life Is Like A Choose Your Own Adventure Book
There are a couple things that strike me now as an adult, looking back on the excitement of reading through a choose your own adventure book, the idea of having that control over the story based on the decisions that you made.
There's a couple of things that I think are interesting to know. And then I put myself back in that stage, you know, I'm eight-years-old, nine-years-old sitting on the counter in the kitchen, reading a book or laying on the grass in the backyard, reading one of these, choose your own adventure books. I knew without a doubt that the story would continue regardless of the choice that I made.
And I don't remember ever being worried that I was going to make the wrong choice. I had, you know, read a couple pages. I had a little bit of context of who I was working with and what was happening in this story. And then I would be faced with a decision go left or go right. And I don't remember ever thinking, oh no, which is the correct choice?
Because you didn't flip the page to this isn't the right way. Go back the other way. I mean, there's some games and things like that, where you do have to make decisions and you hit a dead end. In the Choose Your Own Adventure series, the story continues regardless of the choice that's made. It's just different.
And I don't remember ever feeling like one story was significantly better or more interesting than another. It's kind of just depended on my mood. Like, oh, I kind of feel like exploring across the bridge today, or I really liked this pathway that we're on. Let's continue that. Sometimes I would flip ahead a little bit and see like, well, what does it look like happens next.
And because of the way they were written, it really was hard to get a whole picture. It wasn't like one decision shaped the whole entire rest of the book. One decision simply took you to the next step. And then the next decision took you to the following step. And the next decision took you to the following step.
It was a step-by-step journey and each step just led to something else different, not wrong, or right. Just different. Everything was interesting with the perspective of curiosity and there wasn't anything objective bad or good. There were circumstances that arose and, you know, sometimes your character would get in a tight spot and in the context of the adventure, it was all okay. You knew it was going to work out.
As I've been experiencing the turbulence of the last couple months and the last couple of years, if we're being frank about life, it has been very interesting. I think we all embarked on an adventure beyond our control, and we keep being given decisions that we didn't ask for, depending on what's happening in your own personal life.
We're Collectively Struggling
Most people that I know are struggling in some way right now. I don't know very many people personally, who this has been the best couple of years of their life, or who feel like elated about all the circumstances and, and opportunities available to them right this second. Most people are feeling a little bit overwhelmed.
Maybe some of that languishing, the New York times talked about, you know, this is months ago, talked about this kind of collective feeling that we may have of feeling a little bit lower energy, feeling a little bit less motivation, feeling a little bit less hopeful because we keep making plans. We keep making decisions that keep getting foiled by things outside of our control.
I have liked personally to try to put myself in this space where I can think about this objectively as a, choose your own adventure book, our life, my life, my personal life, all the things that are happening right now, put it in the context of this story. It feels a little bit lighter. It feels a little bit better. It feels a little more approachable.
I want to share today six ways that our lives can feel like a choose your own adventure. And these are all positive things. They're all things that we can draw upon for hope, for motivation, for encouragement, for positive emotion, for meaning and connection.
It's been helpful for me to use this as a reflection exercise, and I hope that it will help you with the things you're going through right now and your own adventure in your life right now as well.
Six Ways Life is Like A Choose Your Own Adventure Book
Number one is that it is a journey. It's a story. The choose your own adventure book is about someone having an adventure as they go throughout the ups and downs and the twists and turns of whatever time it's, you know, it's created in.
Likewise, I sometimes think that we can forget about our life having a before and a current and an after, like that it's, it's all along this continuum that we have come from where we've come from. We're in the middle of the things that are happening now, and that will continue.
Sometimes I find a lot of hope in and comfort in the idea that whatever it is that I'm experiencing right now likely won't last forever, especially when I'm experiencing something difficult.
Looking forward to this, isn't going to last forever and I can do it. And you know, I can, I can feel it. I can lean into it. I can endure it in some cases. And knowing that it's going to end that the pages will turn that there will be a new opportunity or a new decision. Okay. Can be really comforting.
The other thing that is nice about the temporariness of each sort of part of this whole story is that when things are good, we can… knowing that something will change. We can really enjoy them as well.
Sometimes I get in the mindset of really separating out pieces of my life from other pieces. When I think about it as a story, not work and life as separate things and not my house and my business as separate things and not my family and my friends and my, you know, we try to sort of put things in their own little boxes and sometimes that's a good coping mechanism to be able to sort of manage life and sometimes allowing ourselves to see how everything works together for our benefit.
That even the hard thing can end up being lessons that are helpful. Negative emotions are part of the story as well, that we don't try to just separate it all. Like seeing some of the connection between what we're experiencing, where we've been, where we're going, what we want, where we're headed, that the story of our life is ongoing and full. That can feel really relieving.
When I lived in Austin, Texas, there were these stickers and posters that people would like to put all over things. I'd go on a run downtown, and there'd be like a, these bumper stickers posted on light posts and like columns on the sidewalks and stuff like that.
And they said, "Live A Great Story."
It is a good reminder to step into the role of the protagonist of our story and that our life can be this journey. That's the first similarity between our lives and choose your own adventure books.
2. We Make One Choice At A Time
The second similarity is that in both cases, we must make one choice at a time. It's very seldom that we are asked to make all the decisions at once. Usually, one decision then determined the available decisions after it.
An example of this just that's very recent for me is when we were buying our new house, there was a point in the paperwork where we had to submit something, and we didn't know if it would be accepted by the city or state or whoever does the recording. We didn't know if it would go through or not.
We were trying to come up with all of these like scenarios of, of how to solve this problem. We didn't have the information yet that would help us make further decisions. So, we were trying to make like three decisions at once, but the decision to submit this and see what happened.
That was the only thing that we could do. I mean, it made more sense because that was going to be the easiest thing to just, hopefully we submit it, and they accept it and we're good. We spent a lot of sorts of emotional energy and time and stress and strategy, trying to figure out all the, what if, what if they don't, what else will we do?
I don't think that that was time wasted necessarily. I really do think it's good to play scenarios out and to have some plan B and be prepared for the unknown in whatever way you can. And you must make the decision first that informs the other decisions that come after it.
One decision at a time. We make one choice and then we know based on that choice, what the next options are.
Sometimes our choices, like one choice can limit the next available options. Sometimes our choice can expand the next available.
Sometimes I like for my choice to limit available options, for example, with decision fatigue, which is something a lot of us face, sometimes something that I like to do is create a guideline decision that then limits my options. This is helpful, and it sounds sort of counterintuitive, but I have kind of a personal shopping guideline for myself with regards to clothing that I try to buy my clothes secondhand whenever possible. And if I can't find it secondhand, then I like to buy it from a sustainable source.
I have a whole list of those on my blog and a whole episode about, you know, a little bit more intentional consumerism. I will link in the show notes. This greatly reduced. The available options that align with those guidelines and that's feels beneficial. I make this first choice and then that limits the choices that I have next, which I do purposefully so that I don't have so many choices.
Likewise, you can decide that then opens all the available options. For example, people who decide to homeschool. Go from having the available options, be, you know, maybe a charter school, the public school, and a private school, and all of the different things that those contain to, we can kind of do whatever we want.
And I know for all the trickiness of doing homeschool, kind of enforced homeschool by deciding not to do digital learning last year, I felt free in our academia at home because there were so many available options by choosing to stay home. That meant that what we studied when we studied it, how we did it, where we went, all those options became available. That was fun.
The point here though, is that you make one decision at a time. You don't need to expect yourself to have created and plotted the whole adventure. Sometimes we want to do that.
I know I really love Stephen Covey's Seven Habits of Highly Effective People. One of the habits is to begin with the end in mind. I think that that's great to begin with the end in mind and then be able to make decisions that lead us in the direction of what we're hoping to accomplish. What we're hoping to experience. You still are making one decision at a time though, and you can use that greater vision of what you want your life to feel like what you want your days to look like.
You use that as a guideline and as sort of a vision for the daily decisions are these smaller decisions along the way, sometimes big decisions along the way, this choice to move was a big decision. And it was one decision. Like the first decision was we're going to buy this house. And then the next decision was we're going to sell our house.
And here's the different choices that are involved with each of those things. One choice at a time, it's okay to just do one choice at a time. And then that will determine. What your future options are. I just want to also mention here that I really don't think that there is in a lot of cases I must back up and say in a lot of cases, I really don't believe that there is one correct choice or one right choice for you.
There are lots of available options by choosing something. Your, your story will be a little bit different than if you choose something different, but that doesn't mean it's going to be better or worse. It's just going to be a different adventure. It's just a different story and that's okay.
I'm so excited to get some of these and give them to my kids. I don't, I think Eliot does have a current book. Not one of the originals Choose Your Own Adventure. It is like a contemporary version of a similar thing where he does get to choose his adventures. At the end of each chapter. I'm excited to find some of those like old ones though and see if my kids like them as much as I remember liking them.
3. We Don't Know What's Coming
Number three is we don't know what's coming. We don't know what's coming. We make our choices, and we get to choose that decision now. What happens next? It seems like those are the same thing. But think about like choosing a door, we have door number one, door, number two, number door, number three.
And we have kind of an idea of what we think might happen on the other side of that door. But when we walk through the door, what we face the obstacles and the opportunities are an unknowable. Even things that feel like we think that they're guaranteed might not be. It's okay. When we understand that this is just the nature of life and the nature of stories and the nature of adventure, we don't always know what comes next.
I really, really want to know what comes next. Sometimes I really want to know that if I do this then X, Y, and Z are guaranteed to happen. And I know that we'll be safe. I know that we'll be healthy and happy and that all these things will fall into place. And it's just simply unknowable. The pandemic has highlighted this for us because the truth is this has always been the case for our entire lives.
We didn't know what was coming next. We didn't know what would happen tomorrow or next week, we had a pretty good idea based on past experiences that created a sense of comfort, a sense of relief. We can look to things that have happened and kind of get an idea of what we think might happen. That's usually what we're doing.
We're usually taking our experience and projecting it onto the future as well. I know that I experienced it like this. And so, this next time will probably be something like this.
If any of you had similar labors and deliveries to mine, you know, that not one of those experiences for me was even anything like the other. I had three kids and thought after I had gone through Milo's pregnancy and labor and delivery that I like, okay, now I kind of know what I'm getting into. My pregnancy and labor and delivery with Eliot we're so different that it almost nullified my experience with my pregnancy and labor and delivery with Milo, because it was just totally different.
And so that experience, I guess, in some ways sort of translated, but it really, I mean, it really did. It didn't help me know what was happening and the same thing. My labor and delivery and pregnancy with Plum, having already had two full term babies and labors and deliveries didn't prepare me for what her pregnancy and labor and delivery would be like.
We just simply don't know what's coming next. And when we get, we can get comfortable with that. I think more than trying to figure it all out and sort of into intellectualize or philosophize our way through it. So that we think that we know, like we want to set ourselves up for knowing, what I'm trying to do is get comfortable with the unknowing.
Get comfortable with the curiosity, get really open to whatever happens. Of course, making the decisions that feel within my control that I can make to align myself and to point myself in a certain direction and being very open to the idea that anything can happen. This is an adventure story, and that's part of the fun, it's part of the excitement.
A couple of years ago when we bought our current new house. Now, by the time you're listening to this, we probably have moved, but the blue house I'll talk about our fixer upper is the blue house in my new house is the white house. When we bought the blue house, we did massive renovation on the blue house.
We had so much fun designing and decorating and remodeling and everything. And within a couple months of moving in had this very unknowable adventure of a catastrophic flood that brought down the ceilings in 80% of the house led to us moving out again.
After we had lived there for four months, we moved out for over six months while we did repairs and renovation again on this house. It was very exciting. It was very unexpected. It was in a lot of ways, overwhelming and inconvenient. And it was part of our adventure. It was part of our story and opening to that experience as I can't do anything about this, like this is happening and I get to decide. The choices that are within my control in the middle of this experience.
But the actual happening to me is something that I can't, I can't simply go back five hours and say could that not happen like that? That's not the way that life works. We can't go back. We can only go forward. The decision is, can you get comfortable with not knowing what comes next? Can you see your journey as an adventure where you flip the page?
And the story continues, and it might surprise you. I feel like just acknowledging that for myself is helpful that I, I don't know all the things that are going to come. I can hope I can be excited. I can dream, I can plan. And I also can release the expectation of what comes next, needing to be certain.
I can be remaining open to the adventure open and curious and hopeful. I know it's not always easy.
5 .Take The Next Right Choice
Let's talk about number five, which is where we come back to Frozen II. When Frozen II was released, I had just in the few months prior to that, been making some big decisions for my business.
I had kept coming back to the phrase –and I think I even shared it in a podcast episode about the purpose being the process that I didn't have to do all the steps I just needed to choose the next step, the next right step. And I used that phrase in my journal. I used it in my planner. I used it on the podcast and then Anna comes along and sings the song:
I won't look too far ahead.
It's too much for me to take,
but break it down to this next breath.
This next step. This next choice is one that I can make.
So, I'll walk through this night,
stumbling, blindly toward the light
and do the next right thing.
And with it done, what comes then?
When it's clear that everything
will never be the same again,
then I'll make the choice
One step at a time that next right choice. I've gotten fond of saying, I don't know all the things that are coming next, but I do know this next thing that I want to do. I do know what I feel like doing right now. What feels energetic and exciting and interesting right now. So that's the thing that I'm going to explore and it's okay if it doesn't end up being like my life's purpose and it's okay.
If it's. Just fun. It's okay. If it's just learning. It's okay. If it's just a chapter, it doesn't have to be all the chapters. It can just be the next thing. I have an episode very early on. I think it's probably one of the first five episodes where I talk about getting things done. And one of the keystones for me in the idea of getting stuff done, you know, this like quote, unquote, get stuff done is.
Not getting hung up on all the things I think I should be doing, really focusing on what I do know. Oftentimes we have lots of questions about things happening in our life and there's all the questions on one hand. And then there's a handful of things that we don't have questions about. We have a handful of things we definitely know we want to do, we feel committed to, we feel inspired by, and that's where I want us to focus when we're making decisions.
When we're walking this path, when we're creating the chapters of our life, allow the things that are unknowable right now to be unknowable and embrace the things that you do know that you are interested in or excited about.
Don't put so much pressure on them, but just do the next right thing. That's, you know, flip to page 11 and see what happens then. And this kind of rolls into my next one.
6. We're Always In The Middle
The last similarity that I'm going to share between our lives and a choose your own adventure book is that the story continues in some of my favorite, choose your own adventure books.
Now this wasn't true for every single book in the series, but in some of my favorites, when you got to what felt like the end, it didn't have like the end. It would reroute you back to a different storyline. So you were always in the middle, it felt fun to not have it have a definite end and beginning.
I mean, it had a definite beginning. You open the book, but you have the beginning and then you can kind of continuously loop and explore the different pathways and explore the different options. And that feels hopeful and encouraging to me in my life. We are so often racing. Milestone towards what we think is the end of the road.
I will tell you if someone gave me a dollar for every time, I said, "I can't wait until this is over" the last couple of weeks of it's been very stressful and very exciting, and those things can exist simultaneously. We'll talk about that next week.
The idea that as soon as we get to Saturday and the paperwork's in, then we'll feel better. And then as soon as we get to the showings. And as soon as we get the offers, and as soon as we get all the rest of the paperwork done, and as soon as we finished the inspection and as soon as we move right now, again, when you're listening to this, we probably have just moved about right now when I'm recording, we haven't moved out or in yet.
And so, I keep having to curb the thought. Oh, as soon as we're settled into this new house. But even that idea, like settling in takes a long time, like even once all our furniture and boxes are in the new house, that doesn't mean that we instantly like snap our fingers and feel settled. Settling in is a process.
This is what I'm trying to say. That's good. It's okay. So much more relieving to take the pressure off the finishing and the finish lines and the milestones and the top of the ladder and the through the next door. And to just allow ourselves to be experiencing life as a whole, to be in the messy middle.
The whole thing is the messy middle. The whole thing when our lives are physically over is the only time that that it's over. So, until then, until we're gone, can we be here? Can we be in the adventure? Can we follow the pathways? Can we make the next decision? Can we determine our future options? Not by choosing the 10th decision, but by opening each door as it comes.
I Like My Life As An Adventure
Thinking about my life as an adventure series has been helpful for me. And hopefully you get a perspective shift knowing that you get to be both the protagonist and the author of your story. You get to play the main role. You are the one experiencing this life, and you also can take a high-level perspective of it and think what would that protect and as do with this decision?
Taking a couple steps back, maybe putting down some of your preconceived ideas about it, maybe allowing some of the past that were like projecting onto the decision or onto the future, letting some of that go and allowing ourselves to create the story that we want to live.
That's cool. I mean, that's a fun idea. I loved reading Choose Your Own Adventure books. And I really love the idea that I can be living one that each choice is simply just another step in the pathway in the adventure. I'm so excited to see what comes next. I can be excited to know what happened.
And if I circled back around to this decision, maybe I'll choose the other one. Just to see what happens on the other side.
If this metaphor feels helpful to you, if it feels insightful to you, then please allow yourself to explore that plugging in some of your current circumstances, some of your current life scenarios and future choices, and, you know, into this and see how it feels. If it feels open and expansive and, and curious and hopeful. And if it doesn't work. Then leave it.
You can choose dude, turn this episode off and explore. Other ideas that feel more resonant. I want to thank you for tuning in for listening.
I've had a very tumultuous couple months, like I've mentioned a lot of times and I am grateful to have the opportunity to sit down and to record some thoughts and to share some ideas with you, hopefully to uplift, inspire, and help you to live a little bit more intentionally to think about your life with a little bit of.
Purpose and ease to invite some creativity and some adventure into the story that you're writing right now. If you're new to the show, I invite you to subscribe. Don't miss an episode, explore past episodes. If you are interested, go ahead and leave a five-star rating and a written review. If you haven't yet done that, it is hugely beneficial to the show.
And I look forward to chatting with you again next. That's a good one. Bye-bye.