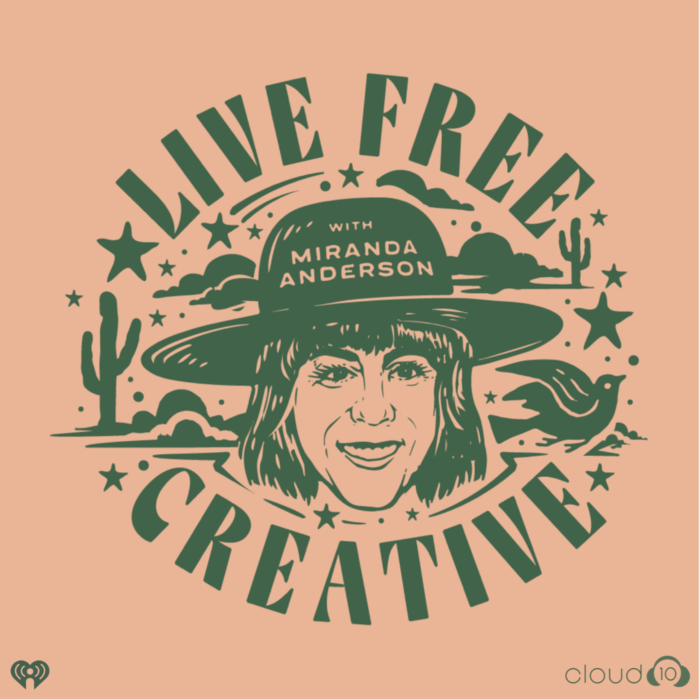 Episode 173: 4 Before 40

Hello, welcome back to Live Free Creative Podcast. You're listening to Episode 173. I'm your host Miranda Anderson, and we have a fun episode today. I'm going to share a little bit about my new personal project "4 Before 40".
As we jump into the episode, I want to remind you about the huge, exciting milestone that we are celebrating right now, the Million Downloads Celebration Giveaway is in full effect right now.
Up for grabs, I have two round trip tickets anywhere in the United States, including Alaska and Hawaii. These are in partnership with Alaska Airlines who has always been one of our favorite airlines to fly because of their attention to detail and the customer experience.They're such a wonderful airline and they're so generous to donate these tickets to the winner grand prize winner of the Million Download Celebration.
The second-place prize is for two individuals. If you win second place, you get a free registration to Grown-Up Summer Camp coming up this July in New Castle, Virginia.
Grown-Up Summer Camp was one of my very favorite experiences of last year. When I gathered 40 women together on the banks of the Bear River in Idaho. We spent days eating and creating and learning together, connecting together, going out and kayaking and canoeing and paddle boarding on the river, soaking in the hot springs, doing crafts together, watching the stars. It was an incredible experience. Everything that you imagine a grown-up summer camp would look like and more, as soon as it ended, I knew that it was something I would do again.
I Found an incredible camp here in Virginia with amazing bunks and great hikes and a fun of river float and a zip line and a campfire and amazing camp tunes.It's going to be so fun. And two second prize winners are going to be able to join us as a result of the contest.
For third prize, I'm choosing five winners and I will send you an exclusive podcast prize pack that will include some of my favorite things. Things I've included in peaks of the week. Things that have been shared with our sponsors and also some exclusive podcast merchandise that you will only be able to get as a result of this giveaway.
So be very excited. There's a bunch of different ways to enter from subscribing to the podcast on any of your favorite podcasts, listening apps. Sharing about the show and the giveaway on Instagram and tagging me live free Miranda to simply answering the question, which has been your favorite episode and why.
All of those are available at livefreecreative.co/giveaway. You can find the details there. I would encourage you to enter in if you haven't yet shared on Instagram, that's one of the biggest and best ways to invite other people, your friends and family, to listen to the show. If you don't have Instagram or don't want to share there during the giveaway period, you can celebrate with me by telling your friends and family, send them a text message, write an email and include one of your favorite episodes.
I would love to have more people listening to this show and living into their most purposeful creative, adventurous, and intentional lifestyle. I want to invite you to join and celebrate with me and thank you so much for listening.
Segment: Life Lately
Okay. Now let's get into the show. It's been a little while since I shared about life lately:
We have settled into our new house to about 70%. That means that most of the boxes are gone, even if the contents were simply taken out and piled onto the floor. It is always amazing to me, the amount of adjusting that is needed in a new space, even a bigger space. We are a minimalist family. We declutter regularly as part of our routine. And still because of the shift in spaces, there are things that I simply don't know what to do with yet.
They all had great home in our old house and the configuration that we had there and they don't have it home yet in our new house. I'm trying to be really patient and allow us to sort of nestle into some of that disarray while I am establishing what might be the best system moving forward with the new spaces that we have.
When we chose this house, we knew that we had about three specific projects we wanted to complete within the first couple months of moving in and that everything else would just wait for a little while, both because of budget and timeline and not being exactly certain about some options yet.
The three things we wanted to complete were to:
Take out the carpet and replace it with a matching hardwood
Add a stove, a double oven gas stove to the kitchen
To cut down the two-tiered island into one flat plane
As of right now, two out of the three are complete. The island will be installed in about one month. I went and chose out the quartz that we're going to be using for the island already, the new countertop. And we just got their books a couple of weeks ago, and they had such a wait that it won't be installed for a couple months.
Having a couple clearly defined initial priorities has been helpful for me because we're making progress consistent with our own priorities and there's something happening, even though everything isn't happening.
Some of the other projects that we have in this sort of floating around brainstorm area are to tile one of the fireplaces with a cool tile. There will be a lot of painting, painting, and wallpapering, some rooms I am planning on painting, just the trim and leaving the walls white. Some rooms I'd like to paint the walls a color and leave the trim white. Some rooms I have slated for wallpaper and I'm looking for the perfect one. Some I have the wallpaper and I'm just waiting for a time in my schedule that it makes sense.
We've decided that we want to go room by room. Sort of like a one-room challenge, just a personal one-room challenge where we give one room about a month or six weeks of focus and budget to design, decorate, install, DIY intentionally create the space the way that we want it to be.
And then we can relax on that one for a while and move on to the next. That feels easier to me and more attainable than trying to do little projects around the entire house all at the same time. I like being able to move the needle clearly and sort of start and finish a space at least, you know, a phase of a space at once.
That brings me to just another note about life lately. It's an interesting mental game. When I'm a person who likes to complete projects, I like to start them and finish them. That one thing that's helpful for me is to define for myself what complete looks like for now. So rather than having the far end, you know, five-year goal of a room, I define what complete is going to be for this week and get it to that point.
I allow myself to celebrate and to relax and to check it off the list at each phase. So, a good example is that all of my kids have their own rooms now. And to get them settled into the very first sort of phase one level of settling they each needed to have a bed and a dresser or somewhere to put their clothes. Because we went from two rooms to three, we were short a little bit of furniture. Our bunk bed, luckily split in half. So, we had sufficient beds, three beds, three rooms. We only had two dressers, however, and so we needed to add a dresser, which I did.
And then I went room by room and had my baseline level of organization be that the clothes are put away in the dressers. The toys are put away either in a closet or on a bookshelf. The beds are made. They have space. Each of them needed a nightlight, a couple of those little details and the rooms aren't designed, they don't feel super homey yet.
There's no art on any of the walls yet. We haven't painted, we haven't added rugs. We haven't done any of those sorts of layers of intentionality that happen with time. And my baseline level of complete, I could check off and I allow myself to say, it's okay, that these rooms aren't all the way done because they're done to this defined line that I created.
And that feels good. Life lately looks like a series of very small goals and milestones allowing ourselves to be patient with the process, encouraging ourselves. I should say, to be patient with the process to enjoy the things that are fun about the house. So many fires. I think we've already had three fires in our wood-burning fireplace.
I figured out how to turn the gas fireplace on. And so we've had some fires in our gas fireplace. We have two fireplaces in this house. We're playing games around the dining table in the evenings. And I baked my first cake for a dinner party that we went to this weekend, little by little. We're nestling in and nesting and feeling more settled and allowing ourselves the space to not feel all the way settled for a good amount of time.
That's going to be okay. Other things happening in my life lately quickly are that I am finishing my application for grad school. I've been talking about it for months. I know I hoped to finish it around Thanksgiving and then my essay needed work. I sent it to a couple of friends to edit, and then we hit the holidays and house buying and traveling abroad and moving.
And so here I am in February with an application due in March. My new goal is simply to have it turned in before the deadline of March 1st. For those of you who are curious, the program I'm applying to is at University of Pennsylvania. It's a master's of applied positive psychology program. The applications are due in March, the applicants who are accepted, we'll find out in June. I'll know either way, if I am accepted or not in June. And if I'm accepted, I will begin full-time study in September. I'll keep you updated on that.
The last piece of life lately that I have to share. Something that goes along with this week's episode, I turned 39 yesterday and I am beginning what feels like a downhill tunnel into my forties.
I'm excited about it. I'll share a little bit more about that in this episode, about 40 Before 40. To celebrate my birthday, after having canceled birthday trips for the last two years, I am (fingers crossed when you're listening to this) I'm on an airplane to Porto, Portugal.
I saw inexpensive tickets round trip to Porto, and it's a city that I visited once before for just a day and I fell in love with it. I thought if I could ever get a chance to come back, I would love to spend more time in Porto. With that thought in mind, when I saw really inexpensive tickets round-trip from where we live to Porto, I jumped on them and booked myself a birthday trip. And hopefully the stars have aligned for us to go.
We don't have a big itinerary. We're really just planning to wander around, explore on foot, and duck into some cafes and get to know the city a little bit, and also have some downtime just to relax and reconnect after what has been a really wild couple of months. That my friends is life lately.
4 Before 40
4 Before 40: this is my version of a very short-term, very minimal bucket list for this last year, before my 40th birthday, I just turned 39. A couple weeks ago, maybe a month or two ago, I started thinking about this sort of last runway before my 40th birthday.
Now I have to mention just right up front that I don't buy into a lot of the milestone necessities of life. In fact, I have a whole podcast episode about creating your own milestones goals versus expectations and how personal all of that is. I'll link that episode in the show notes.
If you haven't listened to it, it's a great podcast that defines sort of this idea of self-imposed deadlines and how they can sometimes be a little bit arbitrary and a little bit overwhelming and frustrating rather than beneficial if we don't think about them in the right mindset.
Fast forward. I've been thinking about my 40th birthday. I know that it's not that big of a deal. And at the same time, it feels like a fun milestone. You, you know, it's a, it's a big one. It feels like something that marks a, the entrance into a new phase of life. Whether or not that actually physiologically, mentally, spiritually true, I don't know.
I do feel a little bit encouraged and enthusiastic about the idea of using this finite period between my 39th and my 40th birthdays to create some very finite and specific experiences for myself. Goals, ideas, check marks on a bucket list.
I don't know what to call them. I'm calling them my 4 Before 40.
I had some great answers a few weeks ago on Instagram, when I asked people. I just simply said, I'm turning 39 in a couple of weeks. I've been brainstorming a few fun ideas for this 40th year around the sun. Does anyone have any ideas for before 40 adventures or experiences? And I got some great answers.
Ideas for Before 40 Activities
I wanted to share some of those:
Create a "Before 40" lists with big and small things that I've never done before
Learn to swim the butterfly
Hike the Inca trail to Machu Picchu
Take a hot air balloon ride
Do a rim-to-rim hike of the Grand Canyon
Go on a hot air balloon ride
Learn a new song on a fun instrument
Make a list of 40 songs from my life
Lots of really great examples and ideas.
My own 4 Before 40
I took into account these different ideas, the brainstorms for my community, along with a few things that I think will align with my own personal values and things that I am hoping to accomplish, or the direction that I'm hoping to head. I came up with 4 before 40.
I have four somewhat simple things that I hope to add to all of the other things that I already like doing in this next. Luckily, I feel like I don't need to make a whole lot of major shifts in my life. I already read a lot of books and go on a lot of hikes and try a lot of new things as part of just my baseline lifestyle.
I am an adventurer I love going out and doing and seeing and exploring and learning. In fact, I think I mentioned in a podcast a few years ago when my kids asked me about some of the things that I want to accomplish in my life, I started listing off things that I've already done:
Write a book, speak another language, live in a different country, travel the world, teach skiing and snowboarding.
They said you can't do that. You can't list things that you've already done. And I said, I think that that's okay. I think I can want to do things that I've already done and feel excited and enthusiastic about the life that I've already decided to live, that I'm already living.
There's something powerful in acknowledging where we're on the track that feels aligned with who we are and where we also could use a little bit of encouragement. So, my 4 Before 40 ideas are things that I want to accomplish, because I feel like in the greater context of who I want to become, who I'm becoming, they help me point in that direction.
4 Strict Pull-Ups
The first one is simple. I want to be able to do four strict pull-ups by my 40th birthday. I've mentioned on the show that a couple months ago, I started doing CrossFit at a local CrossFit gym (shout out to CrossFit Addict) with my husband, Dave. Dave's been doing it for several years and has told me time and time again, how much I would love it.
It is new and novel every time you go, the workout is pre-planned for you. It's an incredible community and it's a mix of gymnastics and weightlifting. So, it kind of plays to some of my strengths. I grew up doing gymnastics. I'm pretty flexible. I have pretty good balance. I'm fairly coordinated. And the weightlifting is something that feels fun and different and interesting in part, because I'm such a beginner.
I have no idea what they're talking about sometimes. It's like a whole new language, all the different lifts are like outside of my wheel house and I'm learning. It feels really fun to be learning something new.
One of the skills that is kind of a baseline skill in CrossFit is doing a pull-up and not just a regular, pull-up. A strict pull-up where you're not swinging around. You're not kicking your feet. I can do a couple of pull-ups if I act like a frog on the way up there. These particular pull-ups are very slow, methodical, hollowed out body, just really in control the whole time.
Right now I can do one, one strict pull-up and then I can't get up there again. So, my goal is to do all of the other reinforcement exercises that will help me develop the strength to do four in a row of this particular type of pull-up, and I am so excited. I think it will be fun and also help me develop different muscles, different strengths, different flexibilities as I work on that.
It's something that I'm going to have to work on outside of the regular workouts, because although pull-ups are. Occasionally part of the workout itself, there's not a whole lot of space in the middle of the workout to be working on a particular skill. I'm going to need to put in a little bit of time before or after or on separate days to do the different types of exercises that will help me get for strict pull-ups before my 40th birthday. I will keep you updated on the progress for that.
40 Volunteer Hours
Number two on my 4 Before 40, is that I want to contribute 40 volunteer hours in local community organizations in this next year. That evens out to about one hour a week in weeks that I'm not traveling, because I'm often traveling during the year. Or it could be a series of a couple longer volunteer events.
I have wanted to be involved in a clear way in different community organizations since we moved to Richmond, to the new city, and I've had a couple different chances to be involved in different ways. I still have yet to do anything really consistently in a way that I feel like contributing something more than just kind of a one-off volunteer opportunity.
My hope is that by dedicating these 40 hours, it feels like a little bit more robust, a little bit more intentional. I'm going to have to find somewhere to either volunteer regularly and get on sort of a rotation or be seeking out regular opportunities. This is one that I think is going to push me in the direction that I want to go in a meaningful way. I think it's going to be a little bit of a challenge. It's going to take some intention.
I know that when I'm giving time to a specific organization, that's time and energy and resources that won't be going to another area of my life and sometimes my life already feels full. When I stand back and take stock of the things that I'm involved in. I recognize that this piece missing that I feel called to do, which is to be more involved in my local community in sort of grassroots efforts to help fulfill needs that exist right now, where I live.
I'm interested to see, as I explore this, where I'll be able to find something that feels really aligned. Where I can use my skillset to be of service and that I can contribute in a way that's meaningful for the organization.
4 Songs on the Guitar
Number three is that I'd like to learn to play four songs on the guitar. If you've been listening for a long time, you may remember that right when we moved to Richmond, I started taking guitar lessons. Learning to play the guitar has been something that I've wanted to do forever. And I also recognize that's a little bit of a vague goal. I've often said I want to learn to play the guitar.
I already know how to play the guitar. I can play some chords. I can pick out a couple songs. So, I decided for my 4 Before 40, I wanted to refine that a little bit. Rather than just the general learn to play the guitar, I'm going to learn to play four songs on the guitar that I would be comfortable playing around a campfire. Pulling out and having people sing along with me as we do these basics. So, I don't know what they are yet. I'm going to spend a little bit of time figuring that out, dust off the guitar and dedicate myself to one song per quarter over the next year.
4 Camping Weekends
And the fourth 4 Before 40 is that I would like to spend four weekends camping out under the stars over this year. I know that doesn't maybe even seem like a lot. We go camping fairly frequently. Anyway, although looking back, I think that we maybe went twice last year. So, upping that to four feels like it will be a little bit of a stretch.
It will also encourage me to be on top of planning ahead getting prepared. We can't camp in all of the different seasons here, or at least it would be very uncomfortable, and we wouldn't have all of the right supplies for winter camping. That means that I'm going to be over the next few weeks, even planning. When are we going camping? Where do we want to go? What is that going to look like? Who could we invite to come with us to make it even more fun and make those adventurous happen?
Our family already has a really great culture of outdoor involvement. We hike and we kayak together, and we go on walks fairly frequently. My kids are comfortable in the outdoors. They like going camping. We all love camping. Adding to that, just a little bit kind of upping the ante. Now that we're all my kids are a little bit older. Camping is much easier than it was when they were toddlers and babies. And we still did it. Then I know that to continue to cultivate this culture of outdoor awareness and the love of nature in my children and my family as a whole, one of the ways to do that is to spend more time in nature.
I think spending those times overnight, where we're able to see the stars and wake up to the sunrise and observe the flora and fauna and all of the different lights of day and dusk is really powerful. So, I'm excited to add four weekends under the stars to my 4 Before 40.
I decided to go with 4 Before 40, rather than so many of the ideas that were so great, but that had 40 as the number. And I get that of course, like 40 Before 40 makes so much sense, 40 new things or 40 books or 40 hikes. I did decide to go with 40 volunteer hours. I'm going to need to keep track of that for some reason, adding so many different variables.
Aligned Goals
Like it was more than I was going to be able to handle right now, mentally. I couldn't wrap my mind around even coming up with 40 new things that I've never tried, that I needed to then add to the calendar. I just wanted to share that because I think sometimes what seems fun and what seems like it makes sense are different. Also, as we start to play it out, I like knew going into it that if I had 40 different things that I wanted to accomplish over the next 52 weeks that I would probably not get there. Where if I chose four, it was much more likely that I'd be able to dedicate the amount of time and energy necessary to make them meaningful and to accomplish them.
So that's just kind of a fun, easy reminder to make sure that when you're setting goals and you're planning things that you want to accomplish, that there are things that make sense for you for your lifestyle and for your season of life. Also, that they make sense in the overall context of your life.
These are things that I tried to choose that will contribute in meaningful ways to other areas of my life, not only the one specific goal itself. And I tried to just to give you a little bit of sort of background, I tried to choose a couple of different areas. The pull-ups, you know, is a physical fitness thing.
The volunteer hours feel more like a spiritual or community oriented relationships, service thing.
The songs on the guitar feels like a creative thing and learning something new thing.
And then the weekends under the stars feels like a family bonding and connection to nature, connection to myself, sort of thing.
I tried to span a few different areas that feel like they could use a little bit of encouragement and focus on those over the next year. I will check in from time to time and let you know how my pull-ups and songs and volunteering and camping is going.
And I want to encourage you, even if you're not meeting a milestone birthday this year, that you think of a couple things, you know, now that we're through the resolutions of the new year, and we're kind of settling into midway through February, did just take some time to check in with yourself about what you'd like to accomplish this year.
What would feel meaningful and fulfilling to encourage growth in the areas of your life, where you could use a little bit of growth? Are there any things that feel like self-development, that would be encouraging and hopeful for you? How can you add or take away from your current lifestyle in order to align more fully with the lifestyle that you hope for?
That's my question for you to ponder and to think about you don't have to have a milestone birthday or even a birthday at all to decide. That you want to challenge yourself in a couple interesting ways to develop even further into the person who you'd like to be.
That's all for today. I hope that you enjoyed those ideas and my 4 Before 40.
I hope that you have a wonderful weekend. Don't forget to enter the giveaway. Oh, my goodness. I'm going to choose winners will the, the app that I'm using, they'll choose winners at the end of the giveaway, and we'll let you know next weekend. You have one more week to enter in all the different ways that are available and to share it with friends.
And I hope that you win have a wonderful week. I'll chat with you next time.