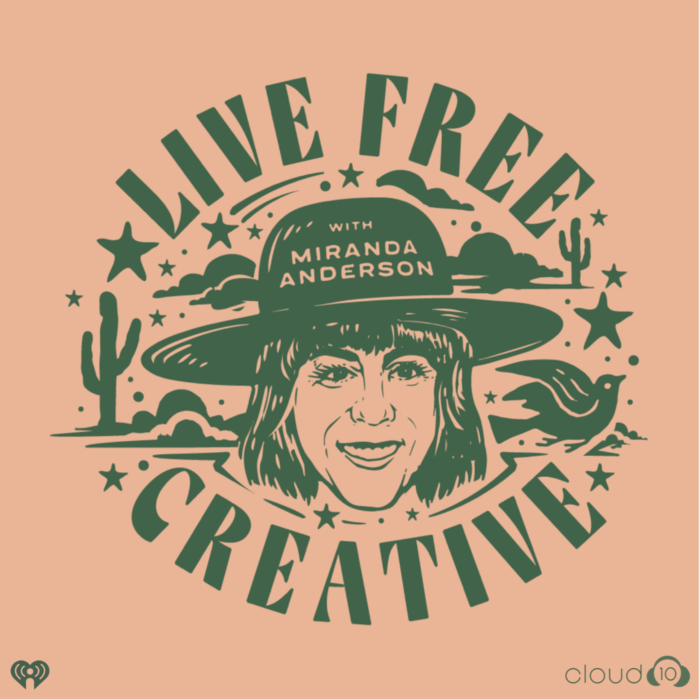 Episode 179: Making Friends As An Adult, Part 2

Welcome back to Live Free Creative. I am your host, Miranda Anderson. This is episode 179 Making Friends as an Adult 2.0. I did an episode in the first season of the show called How to Make Friends as an Adult. That was episode three. Episode 80 of the show was about cultivating adult friendship, which was kind of a step deeper.
Today, after COVID, we're still kind of emerging… things are normalizing socially a little bit, at least in a lot of the world.
I want to take just a minute and acknowledge the absolute tragedy that's occurring in Ukraine and Russia. My prayers and my hope and my donations and my heart is with the people of Ukraine in this terrible time of war, it can be so difficult and heavy to hold all of the different things happening in the world among our fellow humans at the same time. I acknowledged that and send my love to the people of Ukraine.
And there's, there's not really a segue out of that into how to make friends as an adult, except that loneliness itself is an absolute epidemic. It's something that has. Waiting on us globally for almost a generation. And there's lots of study and research about that and why that's happening and how we can improve it.
Today I wanted to bring back to the table some new and different ideas for cultivating adult friendships for making friends as an adult in this post pandemic emerging pandemic world. Now, there are some of you who have really tight knit groups of friends, and you feel kind of taken care of in the friend department.
There are many times in my life when I would have felt like that. Just that I had my group of friends. I had my routine; I had my play dates. I had a running group. I had book club. I had things going on.
I wasn't really seeking out and looking for new friends. This episode won't maybe help you to find new friends, but it might help you think about friendship in a new way and how to enrich the current friendships that you have.
Along with that, I know that there's a lot of people listening who would really like to have some new, different, and possibly simply deeper friendships. That person that you can call at three in the morning to tell a worry too, or a story. Or that person that you can call when you have an emergency, and you need someone's help. Someone to meet up with for a coffee or a soda on a weekday afternoon.
Who do you meet at the park? Who can you invite over to watch The Bachelor with you? Whatever type of depth and breadth of friendship that you're looking for, hopefully some of the things that I share today can help you on that path.
Segment: Peaks of the Week
Before I get into these seven specific ideas that I have, I wanted to share a quick peaks of the week.
These peaks of the week today are all inspired by friendship.
The first one is something that one of my local friends gave to me for my birthday last month that I was both surprised and intrigued by as a gift. This is a product that I had heard of before but hadn't used myself called Babe Lash. Have you heard of Babe Lash?
Do you use Babe Lash? I had heard of it kind of peripherally. They lash is a serum of prostaglandins that help your lashes to grow long and full and beautifully. There it's proven you can look up before as an, after, as all over the internet, I looked up a few different things and was like, is this going to be okay to put near my eyes?
You know, I felt a little weird about it initially and was excited to try it. I can report that after about a month and a half of regular use. I do notice that my eyelashes have gotten fuller and longer. I must acknowledge that I start with. Large eyelashes to begin with just genetically. I have kind of these boosty lashes.
I wasn't as interested in, in that having fuller lashes, I feel like I like my lashes. I was interested in this little kind of side note that I noticed on a blog post about how you could use babe lash to fill in your eyebrows. I like my eyebrows as well. And there's a couple little spots that I don't know what happened, but they feel a little bald.
So, I'll go in and kind of fill in with a little bit of eyebrow filler or like a little eyebrow brush on occasion. I thought maybe I'll try some of this babe lash up in my little bald spots and listeners, I can tell you that the baby lash has done miracles on my eyebrows. It's essentially filled in completely in the last six weeks.
These little baldy spots in my eyebrows to the point where now I look at them and think, I don't even really need to fill them at all. Unless I'm kind of going for like a, a little bit more of a dramatic makeup look, which is not really my, my regular. Babe Lash has done it! It filled in my bald spots.
If you're interested in longer fuller last year, lashes or eyebrows, check out the blast, I will link it in the show notes. The vial that I got, it's a little bit of an investment. I think it's $60 for six months' worth. However, you use a tiny little bit and it, it works. So, I'm a believer, I'm a fan of the Babe Lash. And that is something that now I'm super appreciative that my friend took a chance to gift it to me for my birthday.
Along those same lines of recommendation that I make very frequently to friends, family. I think I've mentioned it on the show before, but I wanted to bring it up again is my absolute favorite basic makeup. I use Fleckk, everything I use for blush and a little bit of bronzing and all of my eyeshadow, eyeliner, even like eyebrow liner that I used to use that I no longer need is from a company called Fleck.
This was designed by a friend of a friend in Arizona. It's a woman-owned business designed by professional makeup artists. And not only does Fleckk and Quikk, Flekk is the name of the eyeshadow palette, and Quikk is the name of the blush bronzer kind of contouring palette.
Not only are they great mineral colors and supernatural looking beautiful. They also teach you how to apply makeup with a paint by numbers diagram on the pallet itself. If you feel like you're a makeup person and you've got this, then Fleckk would be wonderful for you just to have an array of beautiful colors, all in one palette.
If you are like, I was a couple years ago and felt like a little clueless around, I make up and you know how to do like contouring is something I stayed so far away from. Cause it felt like lots of different things happening there with lines and stripes and all sorts of things. Flekk and Quikk have made my simple, minimal makeup routine, a breeze, and I super appreciate them.
I also have a discount code that you can use because I've been an affiliate with Flekk for the last couple of years. People ask where it all the time. So I thought I'd mentioned it because you're all my close friends. I wanted to tell you about. Flekk and Quikk. You can check it out in the show notes and use the code LIVEFREE for 20% off your entire order.
Now, the third thing I want to mention is something that I experienced for the first time with some of my best friends in the world in Austin, Texas last spring, around the same time. Last year, I went to Austin to spend a weekend with my girlfriends who all still live there. We got a hotel downtown and spent a few days, they were doing a staycation and I was doing a vacation.
And one of the places that we tried as an ice cream shop, a woman-owned ice cream shop called Jeni's ice cream. It is so good. It was right there on South Congress, an actual like scoop shop. And we tried it and we went back like three times in the weekend. I've since found Jeni's ice cream in my local grocery store.
I started buying it regularly. If you don't have it in your local store, they ship. So, you can go buy it. I think you must order six pints at once. So, you could get it to go for it for a special occasion or something. It's so wonderful.
I normally lean to like chocolate flavors in the ice cream world. And for some reason, with Jeni's the Sweet Cream Biscuit and Peach Jam just like hits every single one of my buttons. I love it so much. I haven't tried a flavor that I didn't like though.
This last week I went on a little bit of the spree at my local shop and we tried the darkest chocolate. My kids love the birthday cake flavor, which was actually really good. We tried that, Lemon curd and Blueberry. Of course, we got the Sweet Cream Biscuit. We tried a Blackberry Bramble. We've tried the Peanut Butter with Chocolate Fleck. We've never been disappointed.
Add Jeni's to your list for your next special occasion. Have a Girls' night in invite some friends. Invite some friends get together and go enjoy indulge in some lovely ice cream. There you have my peaks of the week.
Making Friends as an Adult
Making friends as an adult 2.0. Didn't I learn how to make friends or share how to make friends the last time around? I think this is such an interesting topic because. For me, it's felt cyclical. There are times when I need to learn to make friends and then I make friends and then I am surrounded by friends and connected to friends for a while. And then in my case, what generally happens is that we move for one reason or another. We've lived in several different cities across the country. I've formed great groups of friends everywhere that I've lived, and I've left eventually.
Richmond is now home. We've lived here for almost five years, which seems bizarre to me. It's the longest that we've lived anywhere as an adult family, since we got married.
The weird part about that is that I have less friends here now, and less good friends then I have in any other place that I've lived! There are a lots of factors that go into that. Some of them, I wanted to mention in case you find yourself in similar circumstances.
Factors for Changing Friendships
Life Stage
One of them is that when we moved, I didn't have any really young kids. All of my kids went to preschool or elementary school when we moved. So, I didn't have a toddler or baby at home to take, to play groups or to go to the library. Most of the day was occupied for my kids, with their schooling. And I was able to use that time to settle into the house. We were working on a big remodel.
So, I was often working on that along with running my business, which has always been a project that I've had either on the side when it was a hobby or since 2014, my main day to day gig, not having young kids or being single in the work environment.
Those different opportunities that naturally occurred in life to be surrounded by people in a new area that you don't know, weren't immediately available to me. When I moved, just because of a different stage of life, I don't think I recognized how big of an impact that would have on me.
When I moved to Texas to Austin from Virginia, we lived in Northern Virginia before we lived in Texas. I remember one of the women that I met, who became a really fast friend mentioning that things change as you get a little bit older, her youngest was the age of my middle child. She acknowledged that, you know, having kids in junior high and high school occupies a lot of time, like you think it's going to get easier and somehow you feel like you need to be even more available.
There's lots of different things happening for them at different ages. And that, you know, she wasn't coming to play groups and things like that. We hung out outside of some of those other young mother situations of playgroups and things like that. And I remember thinking, oh, that's interesting. I don't know if I will feel like that when I have older kids. It turns out that's a little bit of what's happened at this current stage.
Built-in Communities Vary
Another factor that has been interesting in our move here is that our church community is a lot more spread out geographically than it has been in other places that we've lived. Although we've had the opportunity to form some connections with people who we see on Sunday's. We don't see those same people regularly, like we have in the past.
So, there's been a little bit less of an opportunity for those acquaintance type connections to deepen into friendship and into close friendship. I'm going to talk a little bit more about the kind of strategy for that later on in the episode.
Secondary Connection
Another factor is that moving to Richmond, we didn't have really any secondary connection. Other places that we've moved, we've known people we've been connected. Like I have a friend or a cousin or someone that you would like to know that lives there.
And so, we've been connected ahead of time. Oftentimes we've known people from other phases of life, and we've ended up in the same area and that wasn't really the case here. So, we moved to Richmond, not knowing anyone in the area and not really having even secondary connection to people here. We were starting off with brand new newness.
Which is absolutely fine and can be totally normal. And it just requires a little bit more effort. So, if you find yourself in any of these scenarios where you don't know a lot of people, you don't have immediate connections through your kids or through your work or through other kinds of natural environments to make friends. You might not have an established community, whether a gym or a church or some sort of a spiritual home or, you know, work environment. And maybe you don't have a lot of secondary connections where you are, or maybe you do.
Maybe you have a lot of family where you live, but because that, you know, takes a lot of your time and energy, you don't have a lot of, you know, outside of family relationships and you want some. All of this and then COVID. Right?
We were kind of getting, getting settled in and then any type of true in-person connection interaction went on pause for quite a long time. I think the reason that I'm coming back to this topic after a couple years is simply that I'm thinking about it a lot more right now because the opportunities to make and cultivate new friendships are opening again for the first time in quite a long time.
I'm excited about that. I also just want to like little asterisk here that *I do have friends in Richmond. I have friends who I love and that I'm super excited to continue to get to know. I have lots of acquaintances. I have some friends. Just a couple close friends and I'm moving into hope for some of those friendships to move into deeper friendships. And that takes time. It takes time and it takes energy and it takes really concerted focused effort. It is a fostering and growth of a relationship that doesn't just happen automatically.
That is one of the things that we're going to talk about today.
Seven Ideas To Help Create Adult Friendship
I have seven specific ideas to help you make friends as an adult. And these are a little bit different. They overlap a little bit with some of the ones that I shared a few years ago in episode number three, if you listen to that episode, this episode will still serve you.
If you listen to Episode 80 about Cultivating Friendships. This episode will still serve you. I think even if you have a great group of friends, some of the tips that I share today also, still may serve you. So, continue listening. Lean in close.
Acknowledge the Desire
Here we go with number one, the first tip that I want to share today for making friends as an adult is to acknowledge the feelings of desire that you have for friendships that you're seeking friendships, build optimism around the idea.
That you are looking for new friends that you are anticipating and hopeful for new relationships to come into your life. Rather than dwelling on the feeling of loneliness or lack or feeling like you don't have a lot of friends, even if that is the case. Like even if on paper, you write down all the people, you know, and it doesn't add up to a whole lot, acknowledge that you want to move forward into new friendships and that will open you up automatically into those situations and possibilities.
Identify Local Opportunities
Number two is to identify local opportunities for parallel interaction to others in environments that you already enjoy, that's kind of a mouthful, but what I mean is what are the things that you really like to do and then find opportunities to do those things parallel with other people.
An example is a new hobby. For me, I've mentioned a few times is going to the CrossFit gym. I didn't know that I was going to like it, but I put myself out there and I went along with Dave. Luckily, I had someone holding my hand for the first few sessions, and now when I go every time that I go, my interactions with other members of the gym deepen a little bit, I know a lot more people's names.
I have some what I would call acquaintances, maybe bordering on the idea of having friends at the gym. Whether or not those friendships then parallel out into other parts of life is probably determined by my own gumption, whether I want them my desire and their desire. And, you know, that's yet to be seen.
However, the basic, like you must start with an acquaintance before you build a deep friendship. Exercising your network of acquaintances by putting yourself in situations to come across people in environments where you already are enjoying yourself is really key. The CrossFit gym might not be for you, but maybe you want to join a local pool.
Maybe you there's a social club in your area that you could join. Maybe you identify a craft or creative endeavor, like a pottery class or a stained-glass class where you're going to be working parallel along other creative people. Maybe there's a volunteer group that you're interested in supporting, and that could be an opportunity to meet other volunteers who are working alongside you.
This is a personal project. You must take some time to look into what are the things that you are interested in, things that you enjoy doing, and where are other people doing those same types of things, put yourself in those environments and allow those connections to develop if you want.
Participate in Relationship Building
Number three goes along with number two. Once you are in a situation to meet someone new next it's important to actively participate in their relationship building.
This means having a conversation, saying hello, asking questions, listening, support. Saying things like "see you next time" or "I'll see you tomorrow, or what time do you usually come to the gym?" How often do you make it to the library lecture series? Basic polite conversation is the beginning of relationship building.
I had an interesting experience a couple of weeks ago where I signed up for a lunch and learn at my local co-working social club space. I'm following my own advice here. Right? I acknowledge the feelings that I want to have more friends. I signed up last year. I've been a member for a full year of a social club, coworking space here in Richmond called Common House.
And it's a beautiful space. I'm here right now at the common house recording this podcast. I Don't really use the coworking because I have an office that I lease an individual office for my business. However, I was really intrigued by the different meetups and activities that the social club environment offered.
One of these is a new series called the lunch and learn. I signed up to go to the lunch and learn, and then I put myself in one of these parallel situations, I like learning about things. It was a discussion, from some really interesting players in the social justice piece of Richmond. And I was super excited about that topic.
I went and I sat down in the room at a table. I didn't know anyone else there. And a woman sat next to me. We started to have a conversation and it ended up being such an enriching and enlightening and supportive conversation at one point. In the conversation, we exchanged phone numbers. She texted me a resource that she had recommended.
I texted her back a few hours later and just said, Hey, it was nice to sit by you today. Thank you so much for being so welcoming.
That conversation was the beginning, like a seed of a relationship that can turn into a friendship. If I had just simply said, Hey, and then turned to my food or moved on to something else. Then that relationship wouldn't have really had a chance and not all conversations at random social clubs or at the library or at the gym are going to turn into deep friendships.
I can tell you that deep friendships do not come from nowhere. They have to begin in this acquaintance phase and then move through into a friendship phase with some cultivation, and then they can develop into those longer term long lasting deeper friendships.
Leverage Current Contacts
Tip number four is to leverage your current content. Who are you friends with? Who has some great friends that may also potentially be your great friends, this kind of circles, back to number one as well, acknowledging your feelings and acknowledging that you want to create some new and deep friendships and being vulnerable enough to let some people know, maybe it's a sister or a cousin, or maybe it's someone that you know, who might know someone who is also looking for friends.
I know it can sound a little weird. Like I am 39 years old and I'm desperately seeking friends. And it's also part of life getting vulnerable about that and not feeling like, oh, I'm such a loser because I don't have any friends. And instead recognizing that we all are hungry for connection now more than ever.
And that, you know, even having friends doesn't mean that you might not want more or different types of friends or that some of the seasons of your friendships have changed and moved on. People that you once considered really close friends now, for one reason or another have become sort of regular friends or maybe moved back into more acquaintance type friends.
It's possible there's space that needs to be filled. If you want, you know, there there's, there's places where there's openings in your life for, you know, cultivating and nourishing new relationships. It's okay to be in that phase at any part of your life. One of my wonderful coaching clients that I worked with last year is in her sixties, mid-sixties.
And one of the things that we worked on was creating opportunities to invite people over to her home and, you know, helping kind of plan that and set that up and working on continuing to develop friendships. Even in different phases of life, it's important. It matters. Let's not shy away from leveraging our current contacts, friends, family members, coworkers, who are people, you know, who could be good friends.
That's one way outside of identifying local parallel situations where you may already be connected to someone who could potentially be a great friend.
Create Opportunities
Number five is a secondary step. In order for number five to work, you need to have already worked on some of these other steps.
You have an acquaintance and number five is creating an opportunity. For acquaintances to become friends. I want to share a couple of findings from an interesting study that was done in the eighties about friendship. A researcher wanted to find out how to quantify the amount of time of meaningful interaction that it took for someone to go from an acquaintance or first meeting to a deep friendship, deep friendship, meaning the type of person that you could call in the middle of the night.
Someone that you're disclosing personal or maybe tender information to. You know, that degree of closeness where you really feel seen and have a true sense of belonging in the relationship. And the research showed that normally very quickly upon first contact or first interaction participants in the study could identify people with whom they wanted to pursue friendships.
Some people they met and were cordial and polite and nice, and yeah, it was great to meet you and other people they met and thought I could really be friends with this person. This is someone I could see as potentially being, you know, close to. And I don't know about you. I'm curious how you all feel about this as listeners.
I have felt that absolutely. Most of my good friends are people who I immediately had a connection with for one reason or another, that I would come home and tell Dave, I met someone. And I feel like we're cut from the same cloth, or I feel like we have the potential to be really good friends and he'll always kind of laugh and say, okay, let the dating begin.
You know, this kind of courtship. I think that it was interesting that the research acknowledged that, that some people, most people who become our good friends are people who we have some sort of an immediate connection to, or a close soon connection to so follow those gut instincts.
How Long It Takes To Make Friends
A person can move from an acquaintance into a basic friend with about 50 hours of close contact. This was referred to close contact as outside of school or work environment. These would have to be places like the CrossFit gym when you're meaningfully interacting and conversing, maybe meeting at the park. Maybe this is when you have someone over to dinner or you go out and grab coffee, that meaningful interaction, about 50 hours of that, or about three to four weeks.
Was the length of time that it looked like it moved acquaintances into basic level friends where it was normal to call them, to invite them to things. There was kind of a mutual degree of a relationship and respect and interest. And then it took about 200 hours to move from friendship into close friendship, about 200 hours or about three to four months for someone to have meaningful interaction of intentional relationship building activities in order to become a good friend that is kind of a long time.
It actually gives me a lot of hope to think that creating opportunities like starting a new book club or inviting people over to dinner or meeting up for coffee, that every one of those interactions is putting water and sun onto the seed of this friendship. And as that happens with consistency, that friendship will start to grow.
And as that continues to happen, and once we get past friend, you know, we're kind of stay in friend mode for a while. Things that the amount of time you spend together, and meaningful interaction can develop those friendships into deep friendships, close relationships, those people who you feel really connected to and who you trust is that wild.
I mean, I've never really thought about quantifying adult friendship in that way. And it gives me a whole new perspective on the different levels of relationship that I have with different people. It tells me that in order to move people who I consider friends into that deep friendship, that really some true cultivation needs to take place.
I need some more consistent contact, some intentional interaction spending time together is what will grow the relationship. And of course, of course we know that that's how relationships happen is by spending time together. I think that it's also interesting. This is kind of an aside, not on my notes, but I think it's interesting to think about that in relationship to our romantic partners, our spouses.
I often think about Dave as my best friend in addition to being my, my teammate and my partner and my love. That friendship is maintained through meaningful interaction. Not only side-by-side running a household, but also intentional, meaningful. Conversations, finding out more about one another, asking how each other's days went celebrating with each other, encouraging each other, the things that you do for your best friends, are those the types of things that you're doing in your relationship with your spouse?
That's an aside because this show is about adult friendship. Just an acknowledgement though. That's something that popped into my head.
Say Yes When Invited!
Tip number six is to say yes when you're invited. Allow yourself to make space for relationships, especially if you know that you're wanting to make some more friends that you want to deepen friendships.
I know it can be exhausting. I know that life itself fills up faster than we even know what happened. And if you want to have good friends. You need to create space in your life for good friends, not only showing up to things that you choose also saying yes, sometimes to things that someone else invites you to.
Now, I'm not a proponent of the martyrdom or making yourself do things that you don't want to do. Sometimes, though, we have to move a little bit in an uncomfortable direction. Like I don't really want to go to that women's activity at the local rotary club on Wednesday at 7:30, I'd rather be home in bed and I want to make friends.
Here is a chance, an opportunity not to dive into a deep friendship, but to dip my toes in the shallow end of the pool of acquaintanceship and maybe, maybe not, but maybe have a spark with someone with whom I want to wait a little deeper and possibly, maybe one of those people who wades out into the middle of the pool with me, we'll end up.
You know, swim into the deep end and go to Mexico together and form a band and buy houses on the same street. You know, you just never know it all starts with the, with the yes, though. It all starts with creating space, with acknowledging invitation, with trying to make it happen. Even if the actual activity, maybe isn't like your favorite thing.
And to know that sometimes you're going to go to these friendship, building networking, you know, say yes to invitations and there won't really be that spark. And no one from that environment will move into acquaintance, to friends and to, and to deep friend. And that's okay. Some of it is a numbers game of creating opportunities and acknowledging and accepting opportunities simply to be around other people.
Be Patient! Friendships Take Time
I'll go into tip number seven, which is to be patient because relationships take time, connect to current and old friends. And the meantime to feel loved and supported and seen, and also to not discount people from being friends because of factors that are unexpected because of their stage of life, because of their cultural context, because of their job or the age of their kids or anything else remain open to the idea that friends maybe just around the corner for you.
Tip number seven, the real most important part of the step is to be patient and to allow those baby acquaintance ships to turn into friendships. And then to invest in them meaningfully so that they can move from friendship to close friendship, best friendship, deep friendship.
However, you want to think about that. I also feel like it's important. Like I mentioned to continue to connect, not to every old friend that you've ever had, but to make sure that if you have some older friends, even if they're family members or sisters or cousins or someone who knows you, when you're feeling lonely, to make sure that you have some that you feel like you can reach out.
Or even if you feel like you can't or you shouldn't, or that's harder vulnerable, someone that you do reach out to that you can cultivate friendships, even long distance friendships by using technology by moving social media, you know, leveraging social media. Into real life friendships, leveraging the power of Marco polo or Voxer to keep up with people, meaningfully, even if your life is busy for some people, when they have young kids is a great time to make friends because they have a lot of free time they're not, you know, encumbered by work or that their kid's school.
And there's a lot of moms with young kids who then have double duty because they are working and they have the young kids. There's, you know, people in school, there's people. At all different stages of relationships and stages of life.
And so just acknowledging that we're all kind of headed the same direction. We all want to be connected. Some people who you're interested in becoming friends with may be at their threshold of close relationships and not have space in their life right now for more. And I guarantee that there are people close to you nearby, locally, somewhere in your neighborhood or in your library system, or, you know, parents of your kid's friends or in your neighborhood.
How well do you know your neighbors? I guarantee that there is someone that if you put on the hat. Desiring new friendships, identifying situations where you can interact actively participating in relationship, building, leveraging your current contacts, creating opportunities for interaction by inviting people saying yes to opportunities in which you're invited.
Plant the seeds!
And then being patient as these friendships grow, you will make friends. You will find yourself along that pathway with those seeds, sprouting and growing and blooming, and it will be wonderful.
Thank you so much for tuning in today. I hope that you enjoyed this episode and these seven tips for making friends as an adult in a post pandemic or emerging pandemic world.
I would be remiss if I didn't mention an opportunity for making friends coming up this July grownups. In new castle, Virginia is a retreat space where you can spend a weekend reconnecting to your spouse, connecting to nature and cultivating other credible women. It's so fun to see how some of the friendships that formed at my retreat in Idaho last summer, at Grown-up summer camp, 2021.
Cultivated friendships that are still going. Every time I get tagged in a photo of previous camp attendees, spending time together, it makes me so happy knowing that this speaks to that I create can go on to serve ways far beyond the actual retreat. There are spaces available for you to come join in a cabin, a bunk house. Do campfire songs with us and learn craft.
We're going to have a speaker series, incredible food hikes, and a zip line. And look the river expedition. It's gorgeous to have an amazing adventure at summer camp. And I want you to join with a friend or come by yourself and make some new ones!