Episode 18: Tradition and Creativity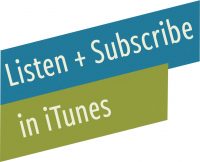 Introduction to Creative Mornings
Welcome back to Live Free Creative. I'm your host, Miranda Anderson. I'm thrilled to be recording another episode for you. Today is episode 18, and it's kind of a fun special episode. I am going to share the recording from a talk that I shared at Creative Mornings in Richmond this last week.
If you're unfamiliar with Creative Mornings, it is a monthly breakfast club. It's free. It was founded by Swiss Miss out of Brooklyn years ago. I first discovered it when I was in Austin and looking for a way to connect with the creative community. It came up in a google search as a fun way to get together with local creatives. There are hundreds of chapters of Creative Mornings all around the world. I'm guessing that there's one if not in your city, in a city nearby, and it's a really fun way to interact with other people and also a really fun way to just be inspired every month, so the third Friday of every month, the local or all of the chapters all over the country, all over the world meet together.
It's all volunteer driven, 100 percent free, so it's free for your ticket. There is coffee and breakfast that's all provided by local sponsors for free, and then there's a speaker at each event that shares some sort of insight or inspiration and I was asked in Richmond to v, one of the speakers, so the December speaker for creative mornings, Richmond, each speaker has given a topic.
My topic was tradition, which was a really fun one for December. Diving into exploring the idea of tradition and the relationship between tradition and creativity. I recorded my talk for you. I was really excited about it and it went very well and I'm excited to play it for you right now.
Tradition + Creativity
Personal Introduction: My value is inherent.
Good morning. There's such good energy in the room. Everyone's excited. It must be Friday, must be the holidays. Right? That was a great introduction. I want to just introduce myself a little bit further. I'm Miranda Anderson. I'm a maker. I'm a creator. A my business, as Linda mentioned, is live free creative company. It's a design and diy lifestyle blog where I share all kinds of tips for renovation, for adventures and traveling with a family. I also have a shop. I do digital download art prints. I have a weekly podcast. It comes out every Thursday. It's called live free creative company. It's shares ideas for self development so you can feel a little more free to live the life that you want. I'm also a teacher and a workshop host. I teach craft and social media strategy workshops throughout the country.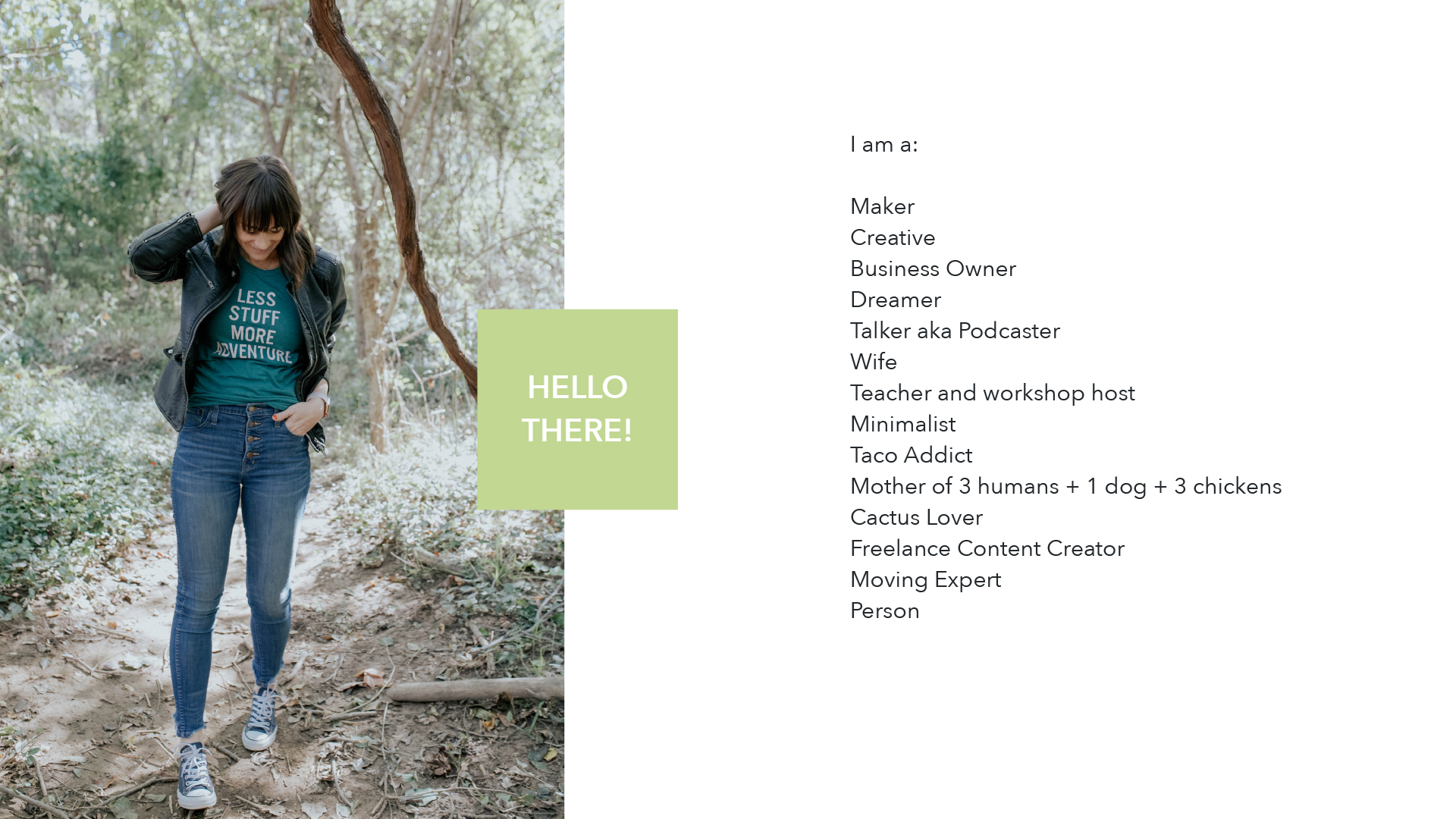 I'm a minimalist. I'm a Taco addict. I love cactus. I'm also a wife and a mom. I have three kids, I have a dog, I have chickens, we've got a whole lot happening. I'm all good things. And it's interesting, as I was getting ready to introduce myself, I'm thinking about really like how, who am I to speak to a group of you and share, you know, anything of value, all of these sort of ideas about the things I do and um, you know, maybe a titles or accomplishments that I have came to mind.
And I realized that beyond all of that and underneath all of it, maybe what matters the most is that I'm a person with a story and a willingness to share it. And that traditionally in our society, when someone stands up to speak, they introduce themselves with all of their accomplishments and the checklists of why it matters that you should listen to them, right?
But none of that really matters that much. What matters is that I believe that my life and your lives have value inherently and that none of those things that you do, the titles or the accomplishments or the boxes that you check and can add to the work that you have and the connection that we can create because of our humanity. And so if you don't take home anything else from my talk today, that's something that I hope that you do a believe or begin to understand as we get started today. So that's me.
"I believe that my life and your lives have value inherently and that none of those things that you do, the titles or the accomplishments or the boxes that you check can add to the work that you have and the connection that we can create because of our humanity."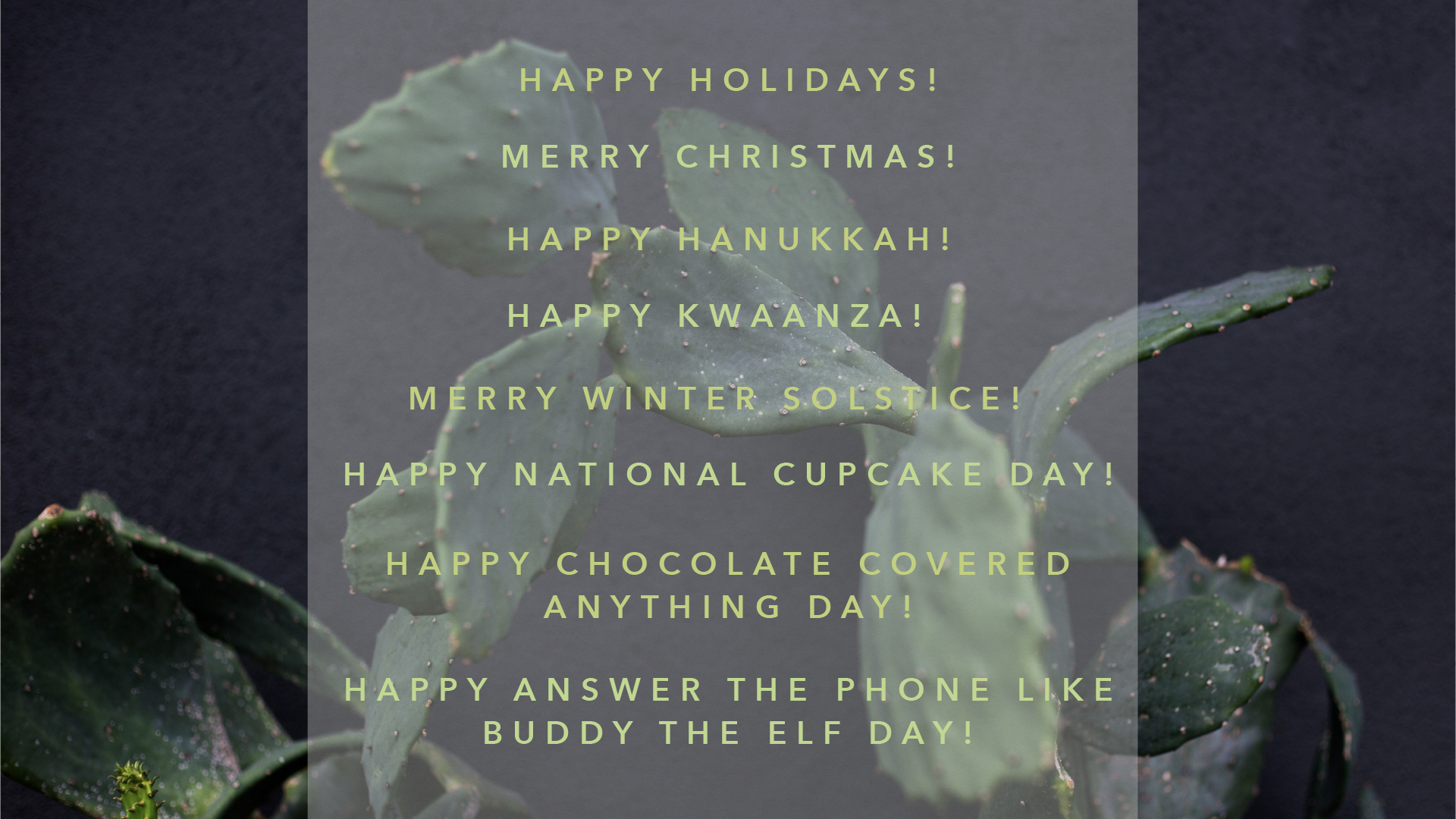 Happy Holidays!
So what a fun time to meet together, right? December the middle of December. It's like 10 days. Eleven days until Christmas. Merry Christmas. Happy Hanukkah. Happy Kwanzaa. Happy Winter solstice. That's coming up in a few weeks. I'm happy. National cupcake day. That's tomorrow. And national chocolate covered anything day is also tomorrow.
And national answer the phone, like Buddy, the Elf day is on Tuesday, so you're going to have to wait a couple of days for that one. There's a lot happening right now. Who feels like there's a lot going on? Does anyone feel the bustle of the holidays? Isn't that an approval? Every word that we use for the holidays? Why? One of the reasons is because of traditions, right? The holidays are steeped in tradition. So I want to play a little game quickly.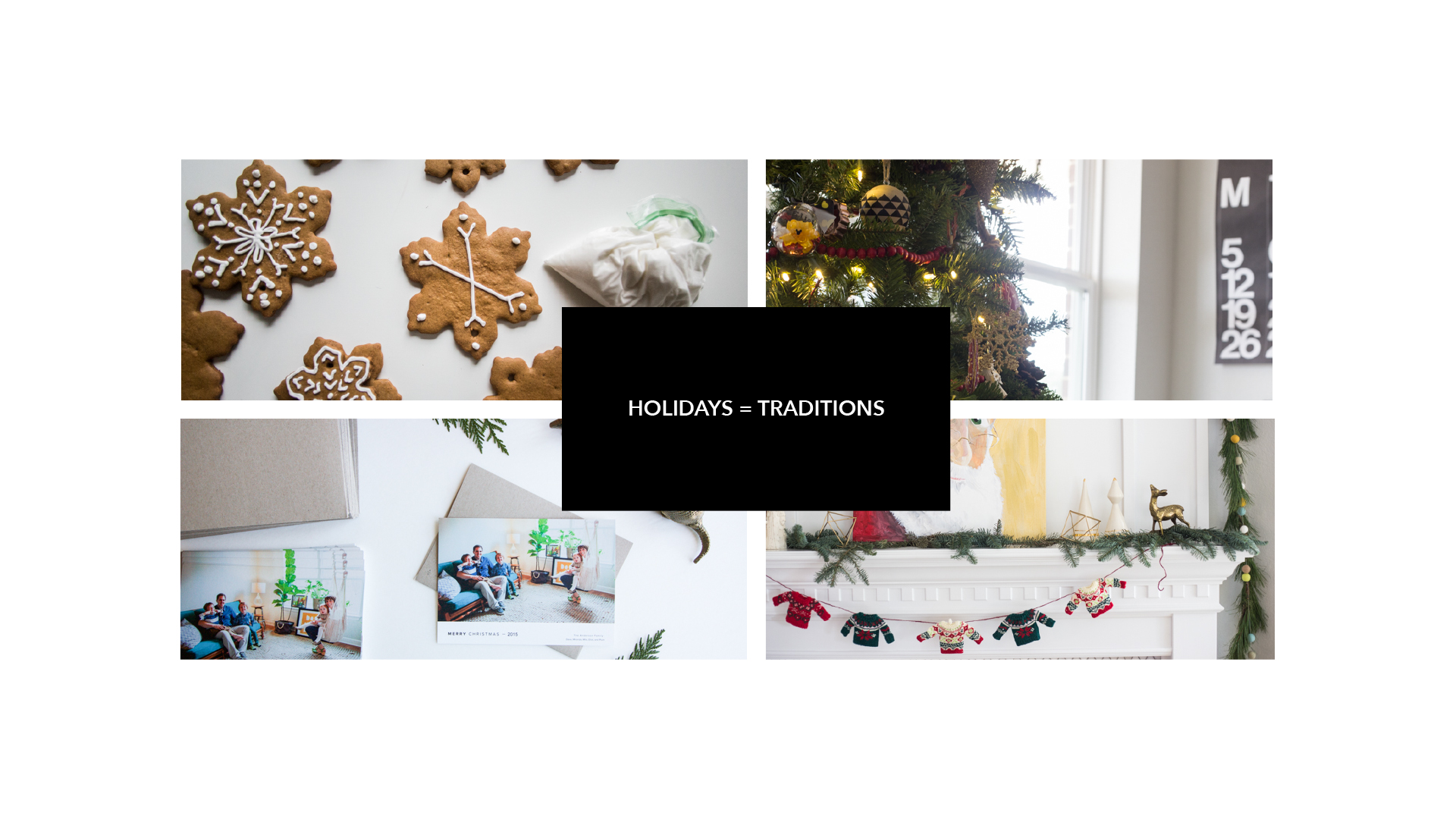 Raise Your Hand
Raise your hand if in the last two weeks you have decorated a tree.
Whoa. You guys are not playing around. Have you eaten or drank something peppermint flavored? Have you lit a candle? Was it for or Balsam centered? Yes. Mine too. Tell me if you have bought a gift for someone… other than yourself can stay up. Good. Okay. We're all on the right track. Have you sent a card? If you haven't, there's some in the back there.
You guys, we are living parallel lives. We are all doing the same things. Why? That's the question. Do we know why we do any of those things during the holidays? Have you stopped to ask yourself what it is about peppermint in December? I honestly have no idea. Will complain about it? No, because I love it. But what is the meaning or the symbolism behind some of the rites and rituals and traditions that we follow during the season and other important question you might ask yourself, especially if you're feeling a little bit hurried or feeling a little bit overwhelmed or feeling like you might not get to all of the boxes on your list is:
How do these traditions contribute to your overall wellbeing?Do they contribute to your overall wellbeing? How do the things that you do during this time of year and throughout your life serve you?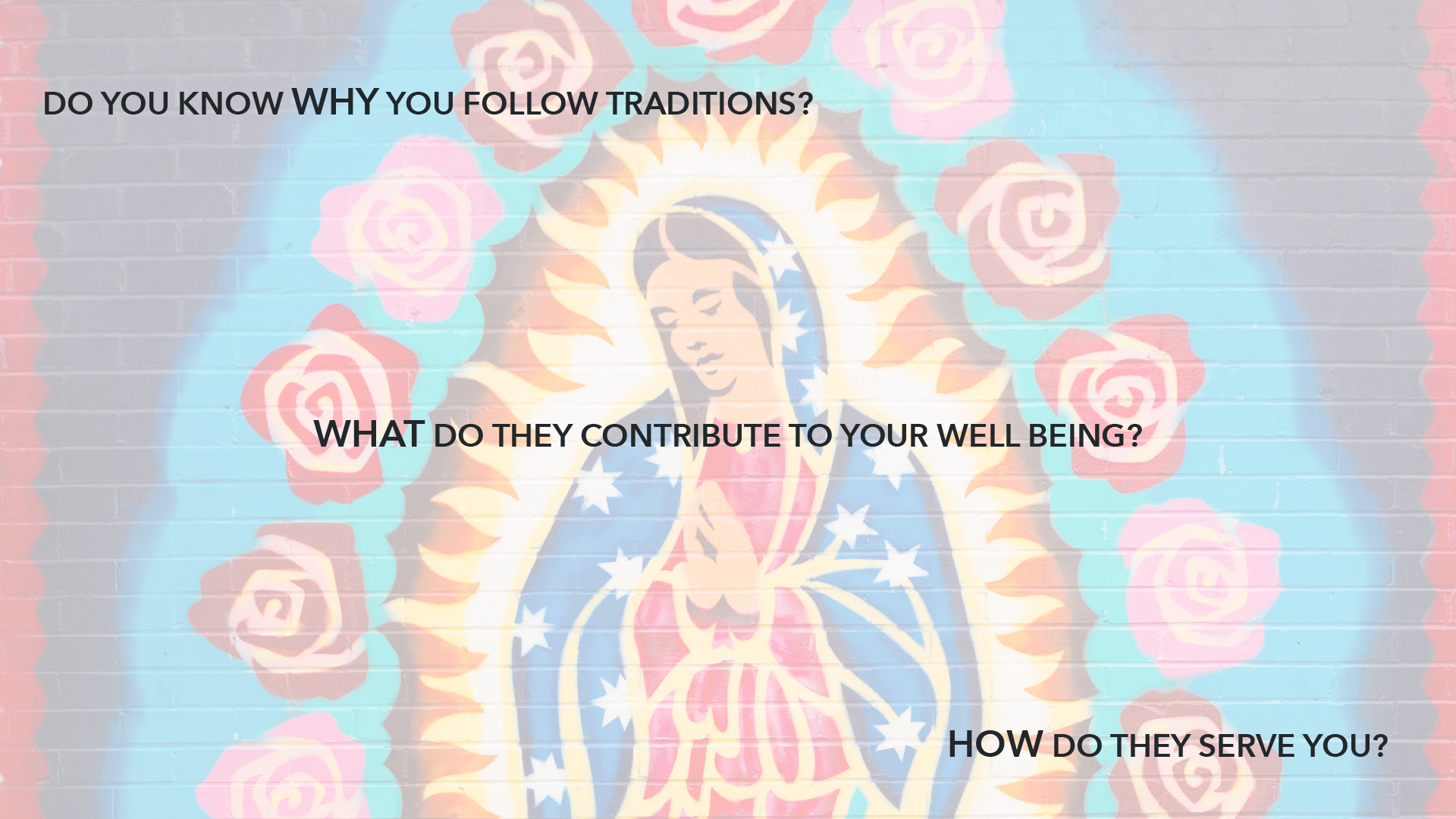 The Paradox of Tradition and Creativity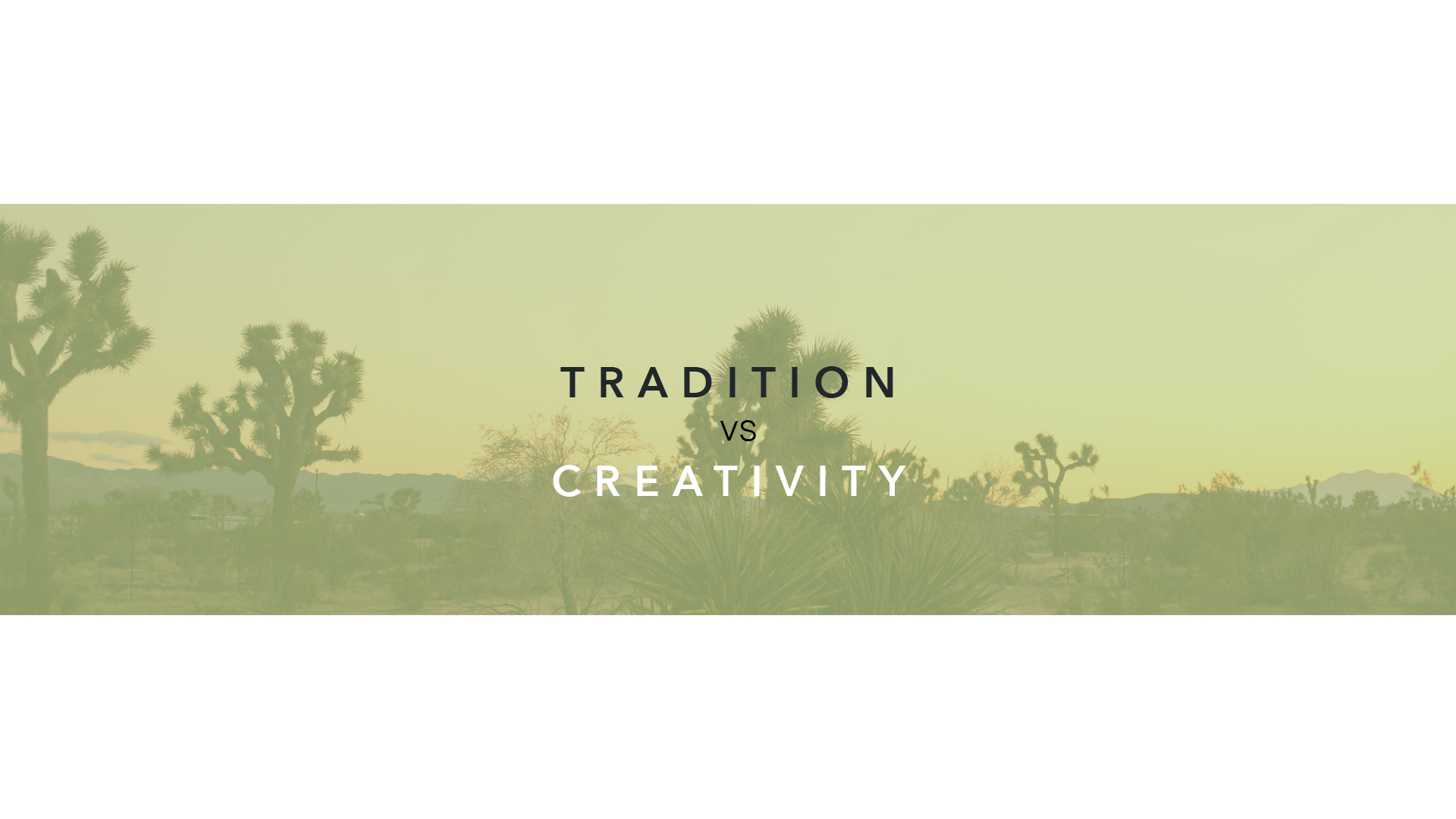 This is creative mornings and so we're all creative people here, right? We believe that everyone is creative and it's been so interesting is I've been thinking and pondering and researching a little bit this last month, preparing for this talk about tradition and creativity and how they're seemingly at odds.
There's a paradox happening between tradition and creativity and I want to discuss that a little bit with you.
What is tradition?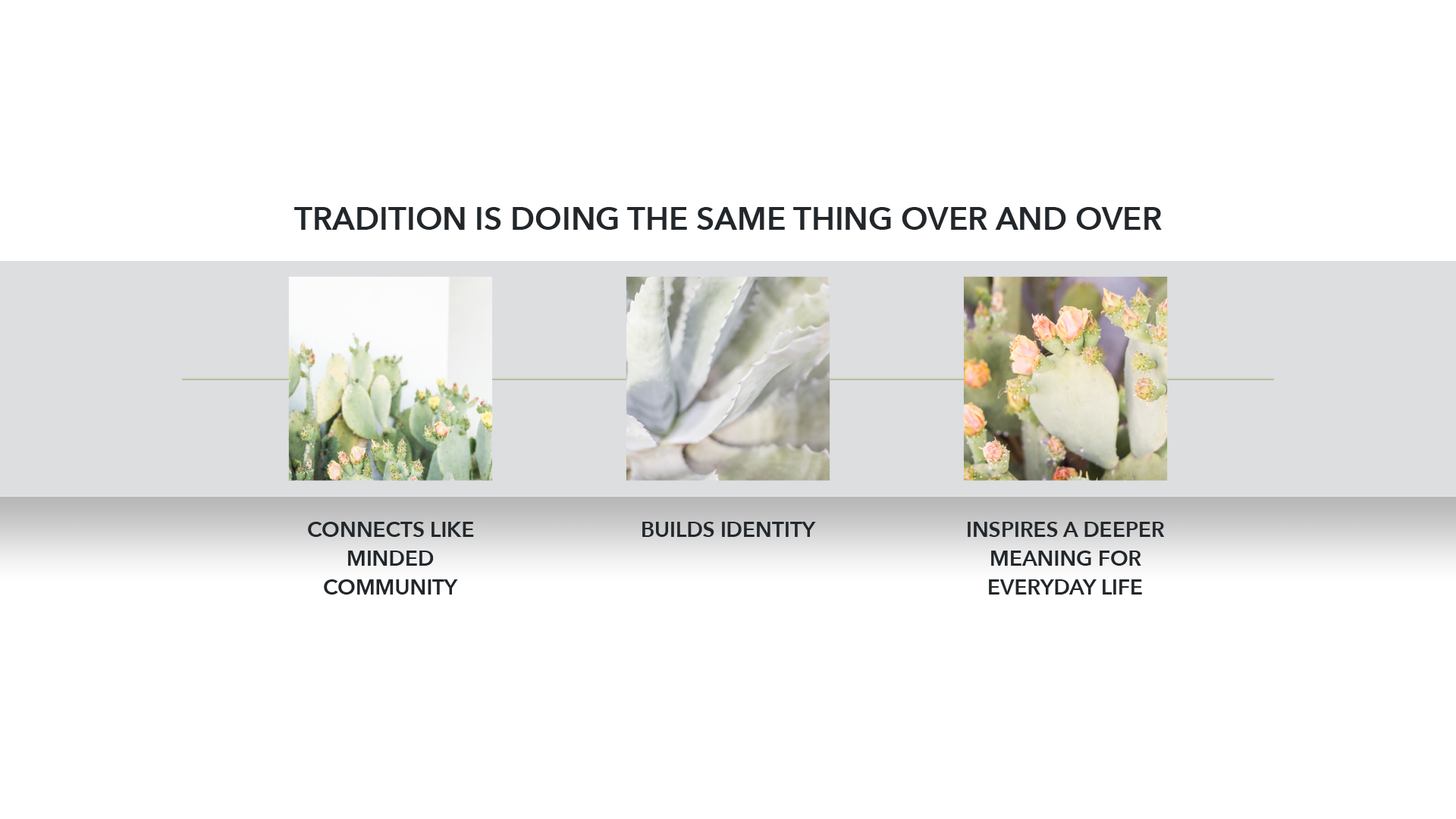 Tradition goes back to the beginning of time. Tradition is doing the same thing over and over. It's the rites and rituals that are passed down through families, through religions, through cultures, and people's traditions mean you know what to do because it's all. It's always been done, right? That's what. That's why we all raised our hands, you know, 15 times in a row because tradition is doing the same thing because that's what you do.
The principles of tradition are important.
Traditions connect like minded communities.
Traditions build identity. And in fact there's some really interesting studies that have come out about children raised in families with really strong Emilio traditions that they feel they have. They have a stronger sense of identity because they know that this is what they do in their family. I'm one of those children. I come from a family full of tradition and I'm going to share some more about that, but tradition really does build identity. When you can identify with a group because you do the things that they do, then you feel a little bit more comfortable there. Right?
Tradition also can inspire a deeper meaning for everyday life. There is some reason that we do those things that we. That we do. We might not know what they are. Wikipedia might be able to tell you a little bit later.
If we know the symbolism, then it's, there's a higher probability that it's going to add meaning to our lives. If we do a little research and we understand the reasons that we're doing, the things that we do that will help to inspire this deeper meaning for our everyday lives.
My Childhood Family Traditions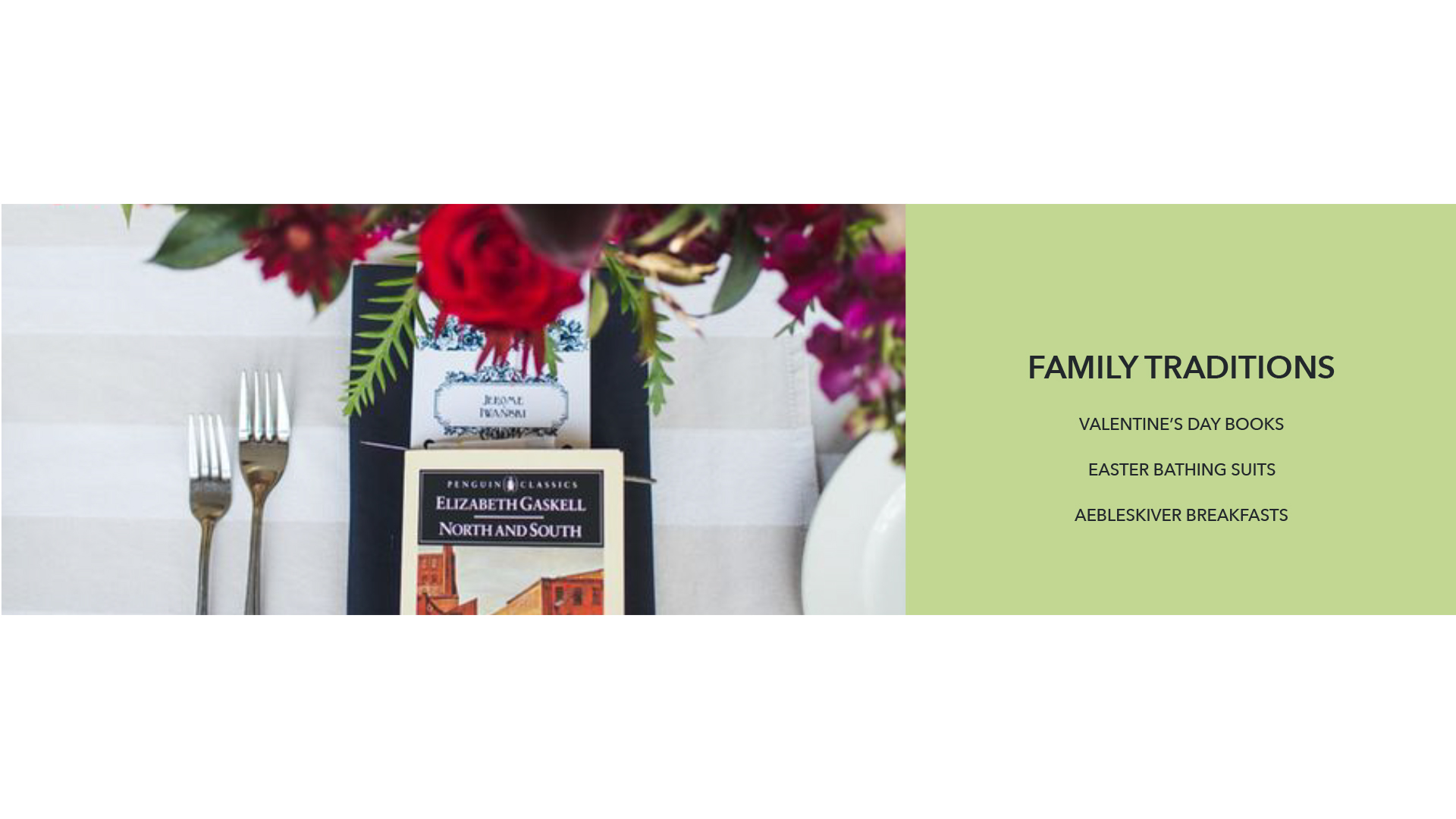 I want to share a little bit about my family traditions growing up. So I came, like I said, from a family that had a lot of traditions and religious and otherwise. One of my favorite traditions, nonreligious, was Valentine's Day books.
Valentine's Day Books
Now, I did not know that Valentine's Day had romantic connotations until I was a teenager. I grew up in a family where Valentine's Day was a celebration of love for our family. My mom would close the dining room doors and we couldn't go in there. It was her secret, special Valentine's Day dinner set up. She would close it up. She would decorate it, she'd get it already. We always had breakfast for dinner on Valentine's Day, which I will have every day, best dinner ever.
And then as it came time, she would open the doors and we would all go into the dining room that she had meticulously decorated. There'd be flowers, she would have, you know, red tablecloth and little heart, you know, those little hearts that no one likes to eat, but we all think they're funny conversation hearts scattered along the table center and on each place setting we would have a, my mom would have chosen a book, especially for us. And you knew that she was thinking about you because it was something that you were interested in, uh, maybe the next book in a series that you would started reading.
It was maybe a book by an author that you really enjoyed or an illustrator that you just couldn't get enough of. There was no mistaking which plate was yours and your brothers or your sisters and which I have a lot of both. Um, because it was so personal. It was such a beautiful way to share love and this really simple, um, tradition of Valentine's Day books and she would write happy Valentine's Day in the year in there and I still have a stack of books, you know, I'll be flipping through a book and open it up and realize in 1996 my mom just knew what I needed and gave me that Valentine's Day book. What a special tradition. Have you ever heard of that before? I hadn't. Will you all start doing it? Maybe some of you will. I do with my kids and I love it.
Easter Bathing Suits
Another one is Easter bathing suits. Now this has nothing to do with the religious rites and rituals of Easter, but a lot of kids, whether religious or not, wake up on Easter morning to an Easter basket. And a lot of parents spend the week before Easter trying to figure out what the heck they're going to put inside the Easter basket because it's just like candy and like another stuffed bunny. And what do we do? And you know, so this tradition, it was mom, my mom's a genius. Basically she created guidelines for herself for Easter so that there was never a question of what do I put in the Easter basket every year for Easter. We got a bathing suit. It's the perfect Easter gift. And I'll tell you why. Easter usually happens march, April, which is spring when everyone's really just excited for the summer.
So you get your bathing suit, you're all prepped for the summer, you start swimming lessons or you start going to the pool, you get really excited. Um, so that was something that we got every single year we could count on it. In fact, I got to the point where I would start like very not so subtly circling the one that I liked in the catalog and just like leaving it where the Easter bunny might happen to see it so that she would know which one to put in my basket.
It is another thing that I do now with my own kids, in fact, two days ago I was birthday shopping. My daughter turns five tomorrow and I was in a store looking for a gift for and I saw a bathing suit and I was like, it's the Easter bathing suit and I bought it, so I am ahead of my Christmas shopping. I'm now moving onto Easter. I've got her bathing suit now, so having that tradition, even though it doesn't have a whole lot of meaning religiously, has created this guideline and taken away all of the questions that I might have otherwise about what to do. It's a fun tradition.
Aebelskiver Breakfasts
Now, another one that I want to share is aebelskiver breakfasts. Does anyone know what aebelskiver or have you had one? Aebelskivers are Danish pancake balls. On my mother's side– my Dad's family had traditions too. It sounds like I'm skewing everything towards my mom, but my dad was in there doing stuff too. I'm sure. aebelskivers are these really fantastic pancake balls. They come from Denmark. My mom's family was Danish and had passed this recipe down. In fact, there's this kind of old wives tale that I don't know is true or not that one of my ancestors worked for the royalty for the Danish royalty and that this may have been one of the recipes that came out of the castle. So, it's on my blog.
So this is what they look like. A little hint of what's to come. There are these round balls. You make the batter and then you pour them into this special aebelskiver pan which has these divots in it. They kind of a golf ball sized about and then you have to turn them. So they kind of fry on one side and then you turn them a quarter and then they formed and so then you can turn them another quarter and when you're finished, if you've done it right, you have a perfect pancake sphere that's hollow in the middle. In Denmark, they put applesauce inside them. That's where the "aebel" comes from, the apple. But we abandoned that tradition at some point of the apples and we just left our empty to fill with melted butter and powdered sugar as one should. Right?
So this is what my family had for breakfast every single holiday, birthday breakfast, Christmas morning was aebelskiver breakfast, for dinner on Valentine's Day, aebleskivers this was what we had all the time. They were fantastic. And the kicker was that we couldn't have them any other time. So if you felt like aebelskivers on a Saturday morning in the middle of July, you were out of luck, you have to wait for the next holiday to have them.
So when I got married, my grandmother gave me aebelskiver pan. My first birthday after I got married, my husband just bless his heart, woke up and was like, okay, I need to use this pan. He looked up a recipe online and he found a recipe for aebelskivers (not the right recipe.) And he made them and he brought me in breakfast in bed. And there were these, what looked like aebelskivers.
They were a little bit of a mockery of aebelskivers. Inside he had stuffed goat cheese and cherries, which are two of my very favorite things. It sounds delicious, right? It was all wrong. I was like, what is this? This is not the aebelskivers of my childhood!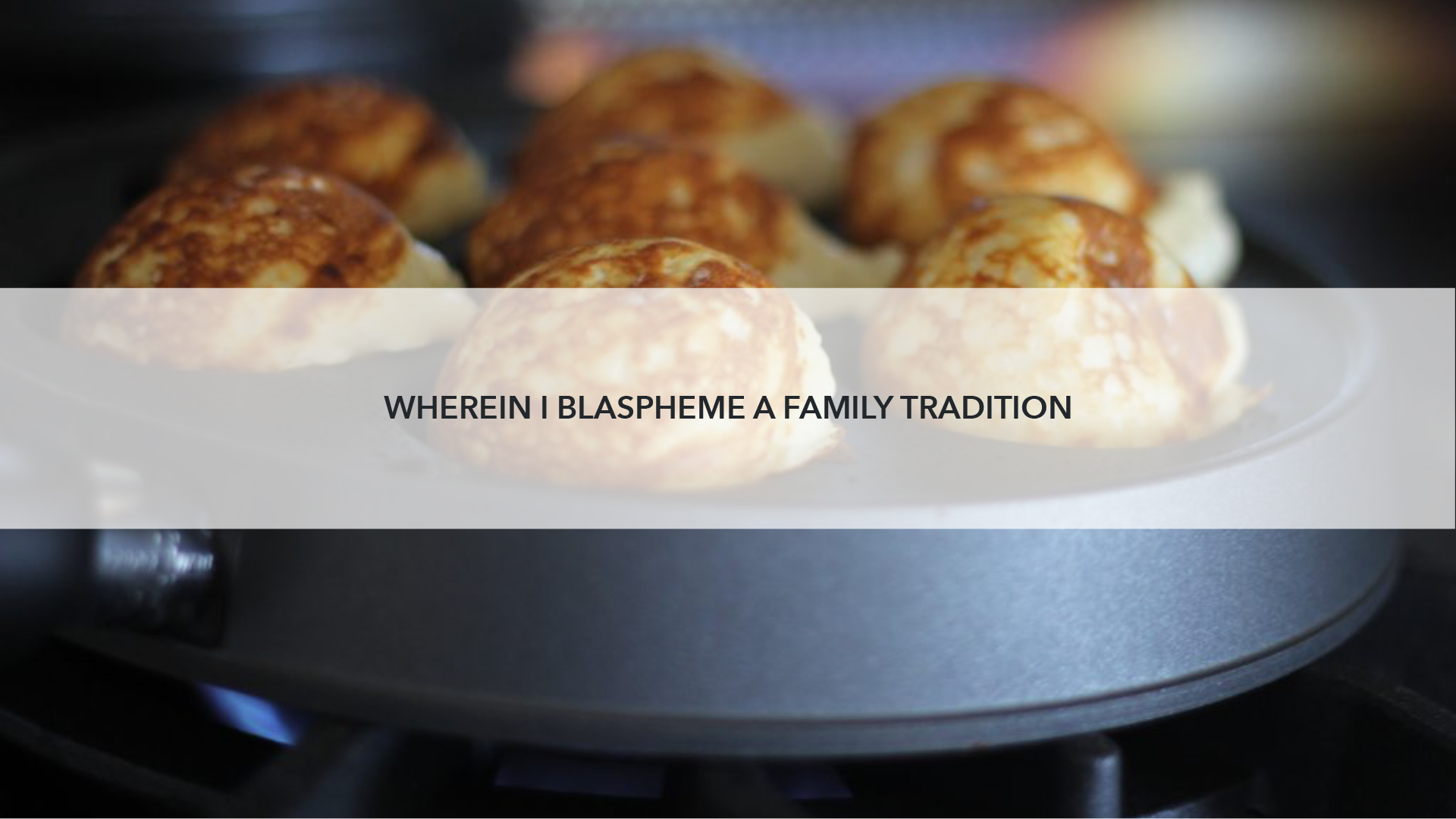 We got, we got over it, we've made it through, we've been married 12 years now, so it wasn't the end of us, but we learn together how to make aebelskivers the right way. And we went on to do so for many, many years.
And then I started having kids and if you have kids, that complicates life doesn't it a little bit. So we have kids and then we have, well we have a child and then we have another child and then I'm expecting my third child.
I'm 15 weeks pregnant. We've just moved to Texas. I have a four year old, I have one about to turn two and it's his birthday and that means aebelskivers and I sleep in. Now, aebelskivers takes some time. It takes about an hour to prep the, you know, all the batter and to whip all the eggs properly and then you can only make six at a time because of the dang pan and so you have to turn them all. You know. It's like this whole process and I slept in and I'm pregnant and everyone's asleep and I'm overwhelmed and I'm thinking there is nothing fun about the aebelskivers. I hate the aebelskivers and I got in my minivan and I drove to the nearest Dunkin Donuts and I bought a dozen sprinkled donuts and I brought them home and put them on the table.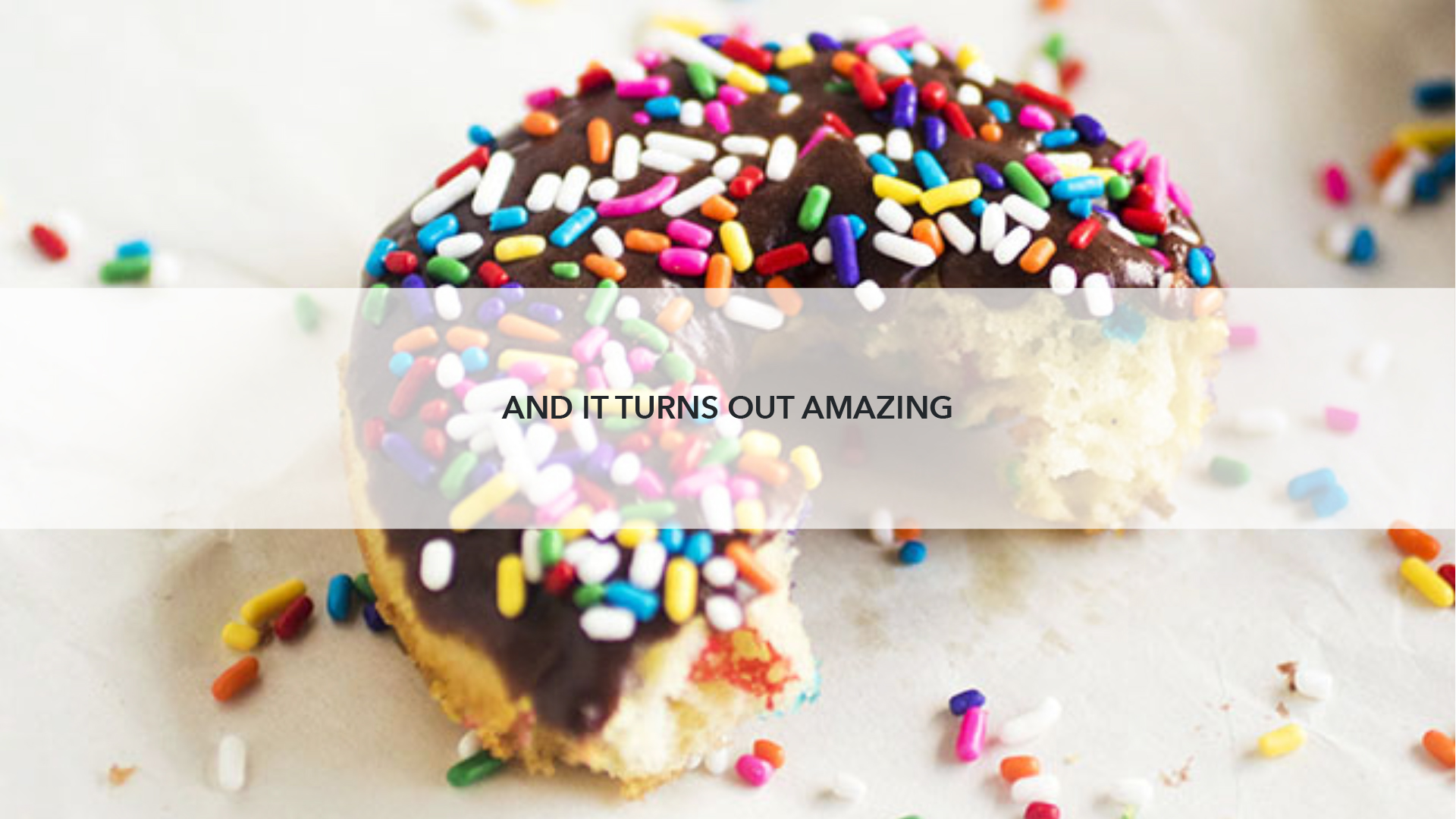 My two year old woke up and came into the kitchen and his eyes were as wide as saucers and he saw the pile of sprinkled donuts and had the biggest grin I've ever seen in my entire life. He was so happy that for his birthday breakfast I had brought home sprinkled donuts and I realized that it was okay.
That I hadn't spent an hour making aebelskivers because all my two year old wanted anyway was sprinkled donuts. And he was so thrilled. And then the four year old woke up they're like losing their minds over sprinkled donuts and I'm thinking, "What have I been doing my whole life? What is happening? The sprinkle doughnuts are all they need."
This sprinkle donuts on birthday mornings allow us to feel all of the love and the meaning of this birthday celebration without all of the headache and without all of the baggage of doing it just right all the time.
Choose and Create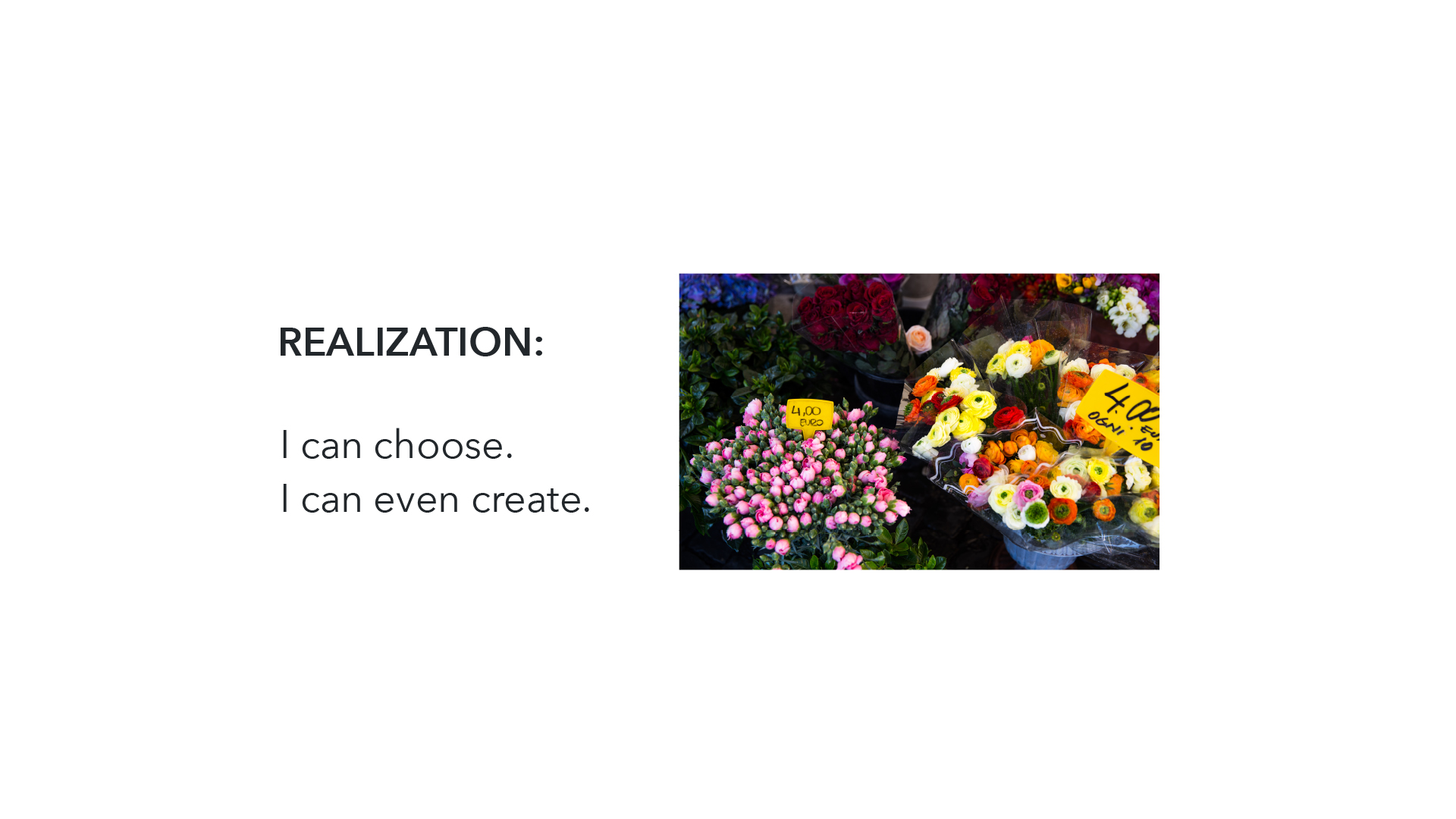 "I learned that I get to choose the traditions that I follow and I learned also that I can create traditions that have meaning for myself and my family and that allow us to feel with intention all of the things that we really want to feel."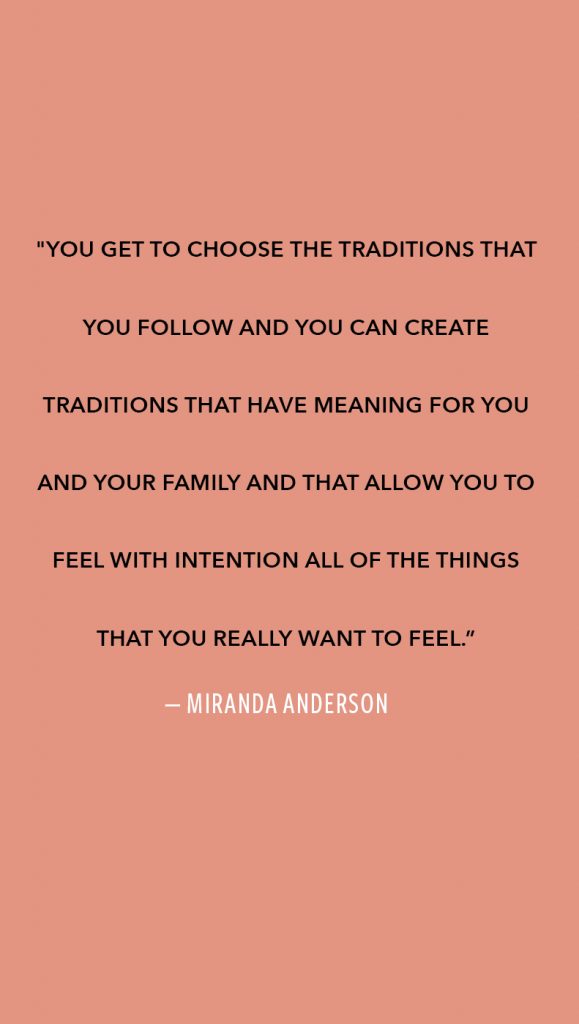 The things that I want to feel on my child's birthday are not frustration and overwhelm and panic. The things that I want to feel are ease and enjoyment and satisfaction. And a sprinkle donut will allow you all of those things.
So just so you know, we're not total blasphemers. We do make aebelskivers still in my family, but we make them when we have time, when no one has to go to school first thing in the morning, a lot of times they're more like a Brunch, you know, give ourselves time to sleep and make the aebelskivers. So it's still part of our family tradition, but we just decided to step a little bit outside of doing it exactly the way that it had always been done and we're better for it.
Creativity
We talked about tradition being the thing that you do the same every single time doing the thing that has always been done.
Creativity is doing something new and different. We would like to think that creativity is doing something that has never been done right, but we all know better than that. It's all been done, but creativity is thinking outside the box. It's coming up with something that matters for you.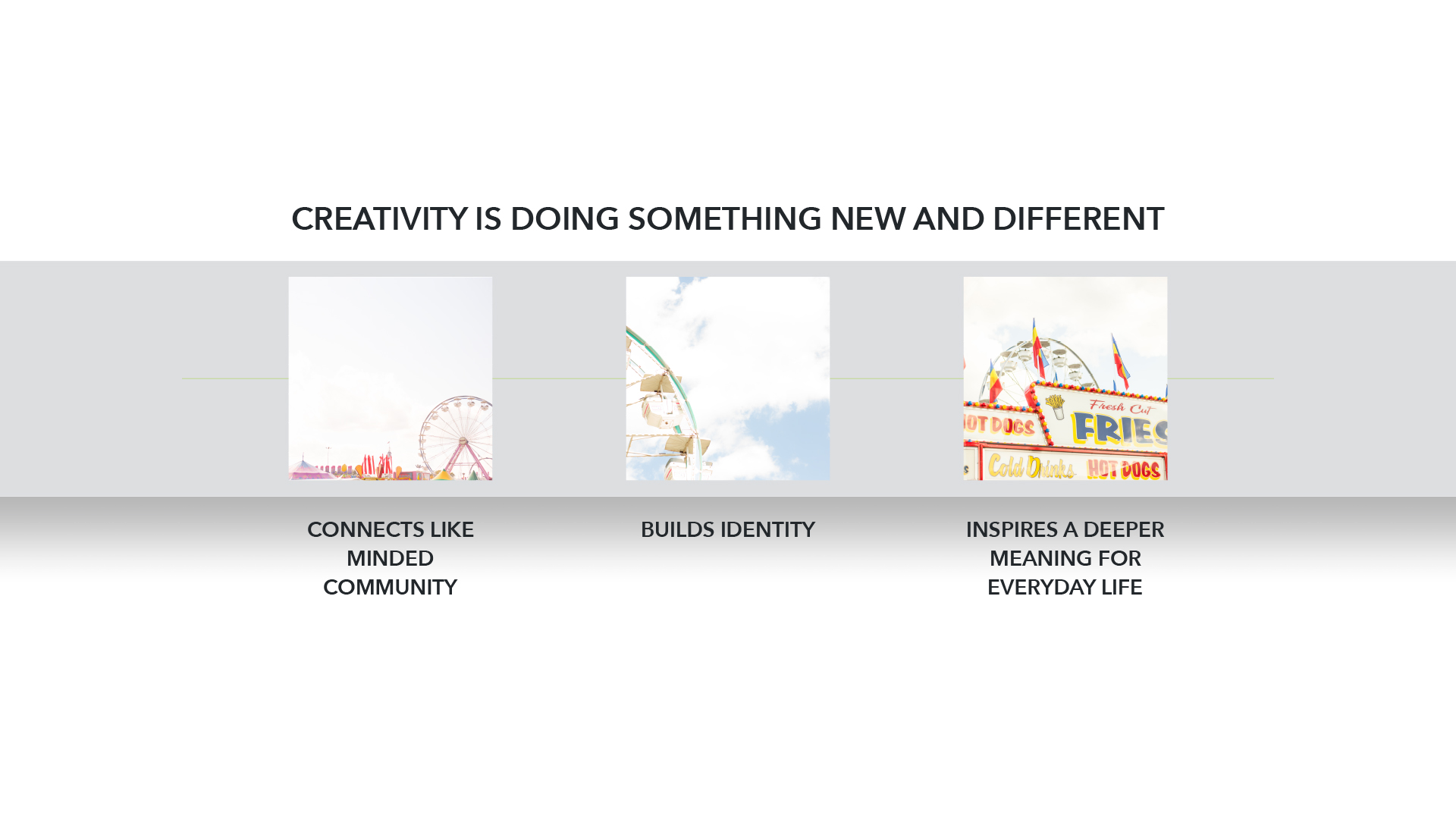 Tradition and Creativity seem opposite.
The interesting thing though, as those seemingly opposite things, tradition, doing the thing that's always been done and creativity, doing something new and different every time they seem to be opposite, but the principles here are exactly the same. Aren't they?
Creativity connects like minded community. Look at us here connected because of this creativity that brings us together.
Creativity builds identity. Who of you feels the most like yourself when you're creating? That's how I feel when I'm just doing the thing that feels like me. That's when I feel like myself.
Creativity also can inspire this deeper meaning for everyday life.
So as much as there is a paradox between tradition and creativity, they're just like sisters and the thing that bridges them is intention.
"We bridge tradition and creativity with intention."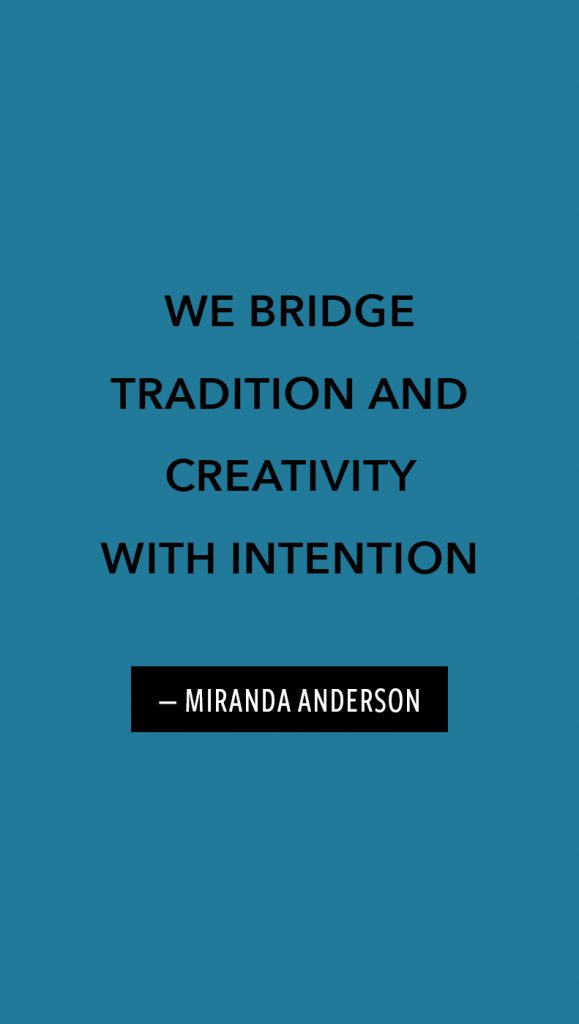 With choosing to do the things that have always been done because we want to, because we understand why we do them because they bring to our lives the type of things that we want in our lives and then we choose to do things that have never been done because we want them because they bring the types of feelings to our life that we want in our life.
New Family Traditions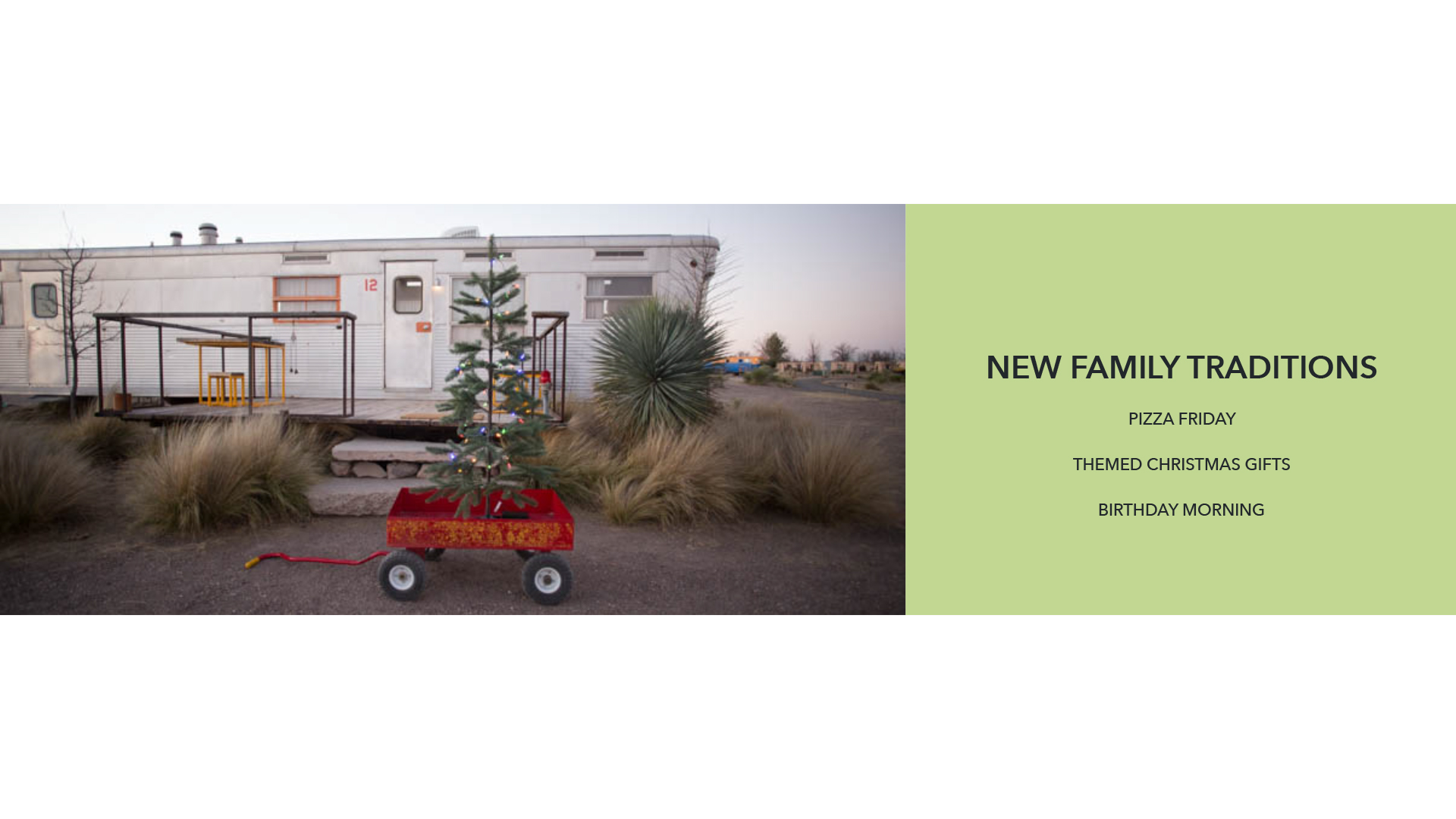 I'm going to tell you about a couple new family traditions. My family with my husband and our children. Sprinkled donuts. You already know that one. If you asked my kids now nine, seven, and four, almost five. What their very favorite family tradition is. Without hesitation, they will all shout pizza Friday.
Pizza Fridays
Do some of you do this? This isn't like an unheard of. Like I didn't invent it and I should win a Nobel prize because of it. I'm eating pizza and watching a movie on Friday night is something that in our house happens religiously without fail. There is one time in the last 10 years that we have not had pizza on Fridays and my nine year old will tell you about it. I was pregnant, we had Chinese food. I'm going to chalk it up to the cravings, but he, you know, I can't live it down.
Pizza and movie Fridays was one of those things, kind of like the Easter bathing suits. There's not a whole lot of meaning to it except for the meaning that we give to it, that it's time to spend with our family together. My kids love pizza, so it's a meal that we don't have to argue about.
They love movies, so it's, you know, cozy. We all climb up on the couch together, lots of pizza sauce on the rug. It's cool. Like clean it up after. We just enjoy this time that we spend together. It happens all the time. Something to look forward to. It creates anticipation and it builds identity. If you ask me know, if my kid's friend is like, Hey, do you want to come over and have tacos on Friday by the way, Tacos or a Tuesday food? Um, my kid will say, no, we have pizza on Friday, so builds this identity in a fun way for the, for the ages of my kids.
Family Christmas Gifts
Another thing that we've done that my husband and I decided when we were early married, we didn't have kids yet and we were thinking about the holidays. And how are families do things a little bit differently. You have to navigate some of that when you're married, you know, like your family has some traditions that I love and don't love and my family has lots of traditions I love and okay, there's a couple that I know.
So we had to, we had this sort of like meeting of the minds, what do we want for our family, what is the holiday season going to look like in our house? And one of the things that we came up with it we have really loved and has added a lot of dimension and meaning to our holidays is the Christmas gift.
We do one Christmas gift for the family from Mr Claus and he's alive and well with my youngsters. It's a themed Christmas gift. What we realized was that a lot of Christmas mornings, one kid gets a Nintendo and another kid gets a bicycle and another kid gets, you know, a board game that one missed out, but they all, they all go separate ways to play.
"The holidays are about coming together and then we give them things so that they all disappear and play separately. And I'm like, what is the point of that? So we decided that in our family on Christmas morning, our kids would get a gift that brought us all together. A family themed Christmas." 
I'll give you some examples. A couple of years ago where this picture was taken, we spent our Christmas out in west Texas in a place called Marfa. Really cool little town, if you ever get out there. We rented this vintage trailer. We had this vintage Christmas and Santa brought a camping gear. So each of us got a new sleeping bag and a little, you know, dish set. And then we packed it all up and we went an hour away into big bend and we spent a couple nights camping as a family.
Everything that we got that morning allowed us to spend more time together rather than time apart. A couple of years later we got a family bicycle. If you've seen those, it's like an actual bike with a bucket on the back with seats for all the kids at the time we got it. All three of them could ride in it now that the boys can write on their own. But Plum still, my daughter still rides in the bike I gift that our whole family can use. And it's kinda hard to use it without the whole family. In fact, it is a family gift.
This year, Santa brought a chicken coop and some chickens, family chores, family, pet, family gifts. We very intentionally choose to do a thing that brings our family together rather than what everyone else would say is right. Just give them the thing that's on their list, right? That's not right for us, and they know what, my kids don't even make Christmas lists anymore because they know that Santa has got to figure it out.
Birthday Mornings
The last thing that I want to share a family tradition that I love, um, we're going to do tomorrow and looking forward to it.  Birthday mornings. Now, what do we have for breakfast on mornings? Sprinkled donuts. We love it. We also realized that birthdays are kind of like backloaded, like you wake up in the morning and then like maybe you get to work in on facebook. Someone said happy birthday or like 700 people have said happy birthday that you haven't talked to you since you were in high school. And then um, you go home and then someone might text you and then you go to dinner and then it's finally your birthday and you like get to open birthday gifts or like go out to dinner with someone, and they spent the whole day like wondering if it was really a birthday.
I mean, does this ring true to anyone? Like what is the deal with birthdays happening at the end of the day when all you have left to do is go to bed?
This was a problem that needed to be fixed. And so we fixed it by having birthday mornings we instituted in our family. Your birthday starts right when you wake up. My kids come, I love balloons, so my kids come in. I have a helium tank at my house in the closet and so we blow up balloons, there's balloons all over the table and I'd throw balloons onto the floor and we've got the sprinkled donuts in the middle of the table. All of their birthday gifts on the table. We have breakfast together. They open their gifts right there in the morning.
It's their birthday right when they wake up. They don't have to go to school if they don't want to on their birthday. That's a free pass day. So. Right. So usually, they spend the day with me. We'll do something fun, go to the art museum or go to the Science Museum, spend the day feeling like you're being celebrated because it's your birthday and you matter and it's so fun.
It's just for you, it's the only holiday that is celebrated just because that person was born every other holiday. There's a reason that we celebrate it. Your birthday is just for you, and so we've created this tradition in our family where you get to feel that and you feel it all day long and it's amazing. My daughter turns five tomorrow. I'm already excited about it. Birthday mornings. Feel free to steal any of these for your own family if they feel right for you.
Closing Questions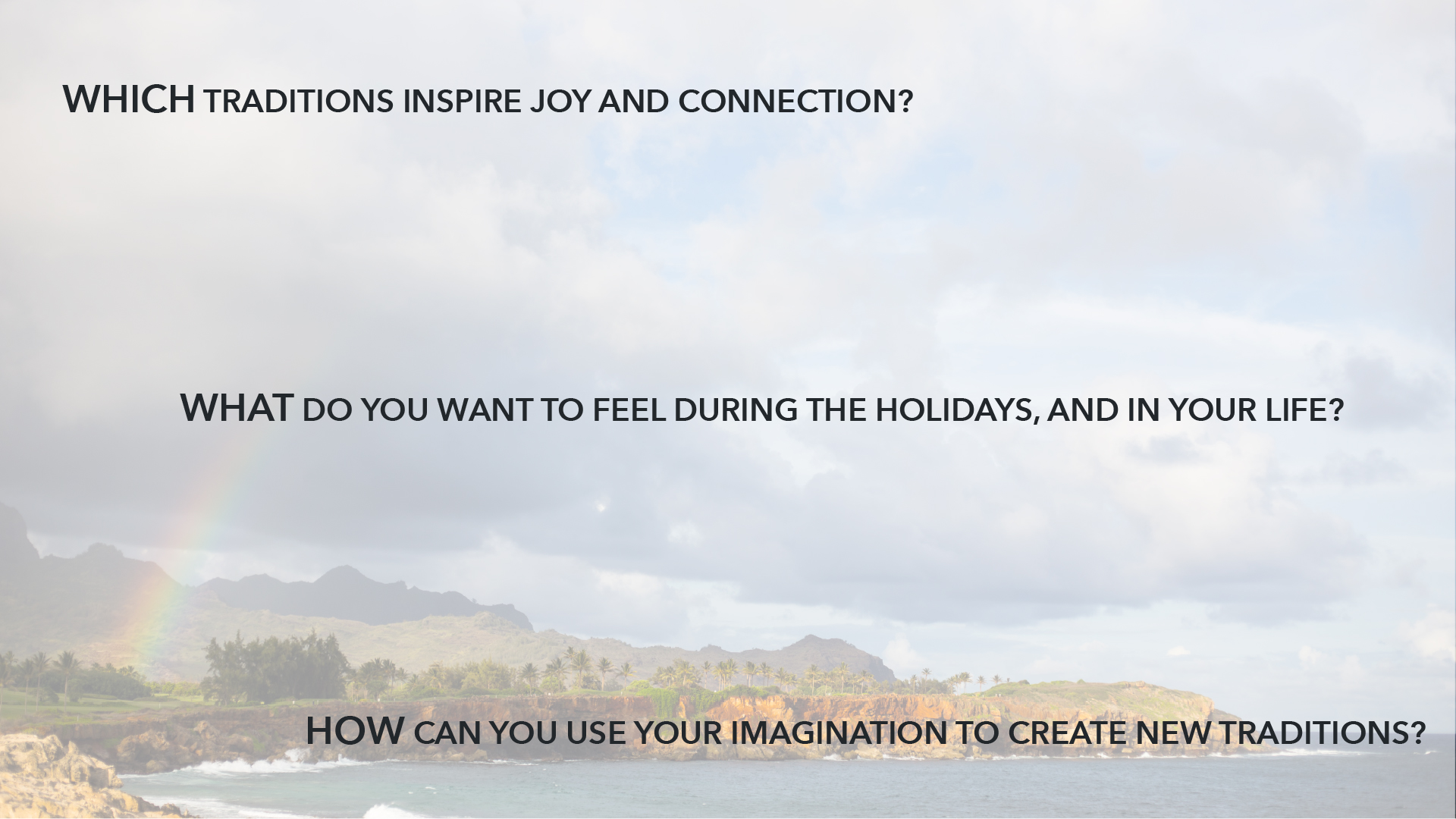 So as I close today, I want you to ask yourself this question: Which traditions in your life inspire joy and connection traditions, this holiday season or throughout the year are ones that you love and that you understand and that add meaning?What do you want to feel during the holidays and in your life? Are the traditions that you follow allowing you to feel those things or do they bring up all sorts of other feelings that you don't need? How can you use your imagination to create some traditions in your life or the life of your family that are gonna matter?
"I want to give you permission to release a tradition that you follow that that doesn't add value to your life."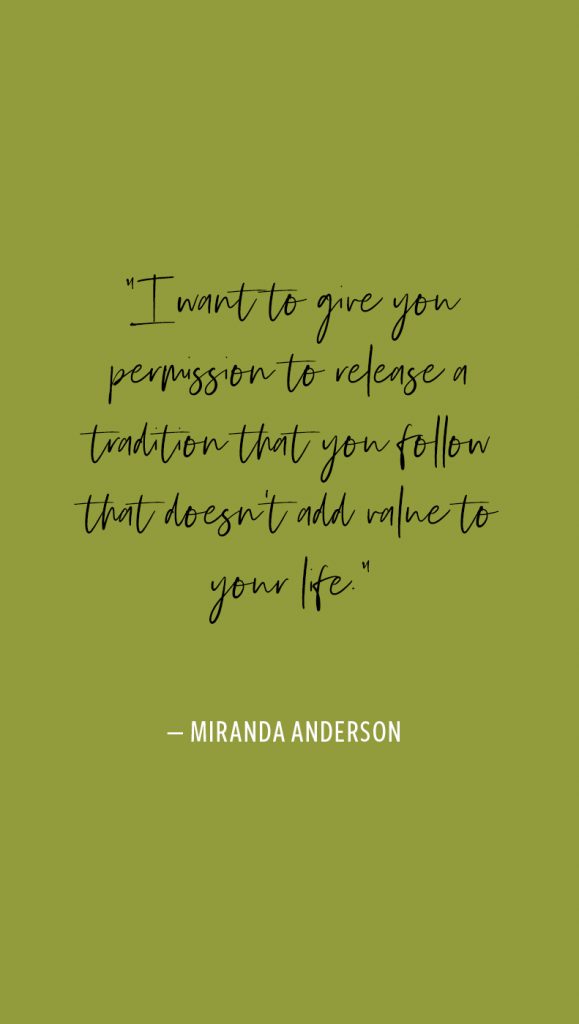 A lot of times we need help saying no to things that we've always done because we think that we're supposed to do all of the things, say no to one or more that aren't adding value to your everyday life and then I've offered an invitation for you to create a tradition that will add value and meaning and connection and love and joy and peace and all of those things that we want to feel that often have a hard time feeling on our own.
Create a tradition that helps you with some of those feelings. The bridge between tradition and creativity is intention and that's all in your hands. You get to choose. You get to create. Thank you.
Thank you.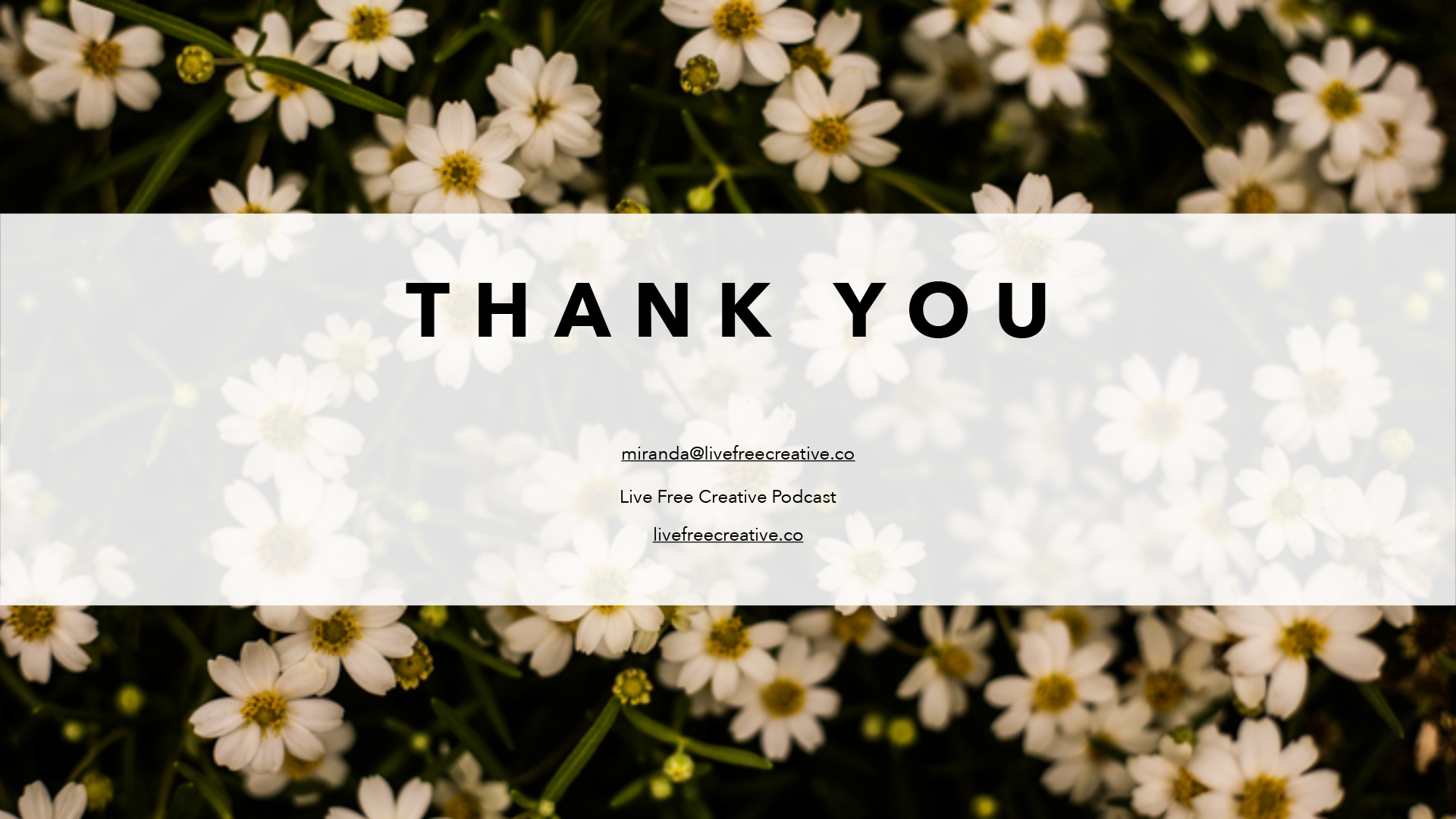 I think we have time. If anyone has any questions about anything.
Q: What happens when your kids get to the point that they don't really want to do the family traditions anymore? What do you do?
A: So there's a couple things that come to mind. One is at that point when they start to kind of have their own mind, and I'm not a parenting expert, I have, my oldest is nine. So I think what I will do is to start asking how would you like to do this? You know, depending on what it is, if it's a tradition that you just created for fun and the purpose is to have meaning and, and you know, love and connection that maybe involve them a little bit in the process. Okay. So, you know, we don't like pizza anymore. Maybe we've outgrown one. What do you know, what do you want, what could we do that, that, that you could feel a part of it.
And if that's the purpose, if it, you know, if it, if it's something like a ritual or rite that is just the way that it is.I think that there's something also too, having that structure. And that when, you know, when you're older, maybe you get to choose and you get to choose for your own family.
When I go to my mom's house for Christmas, we still line up at the top of the stairs in age order in our matching pajamas. I'm 35 years old. I wear matching pajamas with my siblings and walked down the stairs to go into the dining room. I mean, Santa only comes, if you believe in him anywhere you're matching pajamas and you line up on the stairs with your siblings. Okay. You know, at some point, there's some honoring of, of the traditions of my parents as well, even if there are things that I've chosen to do differently. And so I recognize that my kids will probably go through some of that and I'll work it out with them.
And I think that it's interesting to open the idea that, um, that maybe all of the traditions that you have don't have to be the way that they are. Like maybe there is some room for creativity. Maybe there is some room for flexibility and involving everyone. And so that's something I didn't get you to explore. Yeah. Any other questions?
Q: How do you navigate changing family traditions that you family has spent years creating?
A: I really, I really believe what I've been learning and sharing for the last several years is the idea that you get to choose what you want for your life. That's a really, really powerful idea that a lot of us, for whatever reason, don't understand. For whatever reason we get put on this path and there's family pressure and their societal pressure and there's cultural pressure and we sort of just go down the path that has been laid before us because that is what people do.
"You get to choose what you want for your life."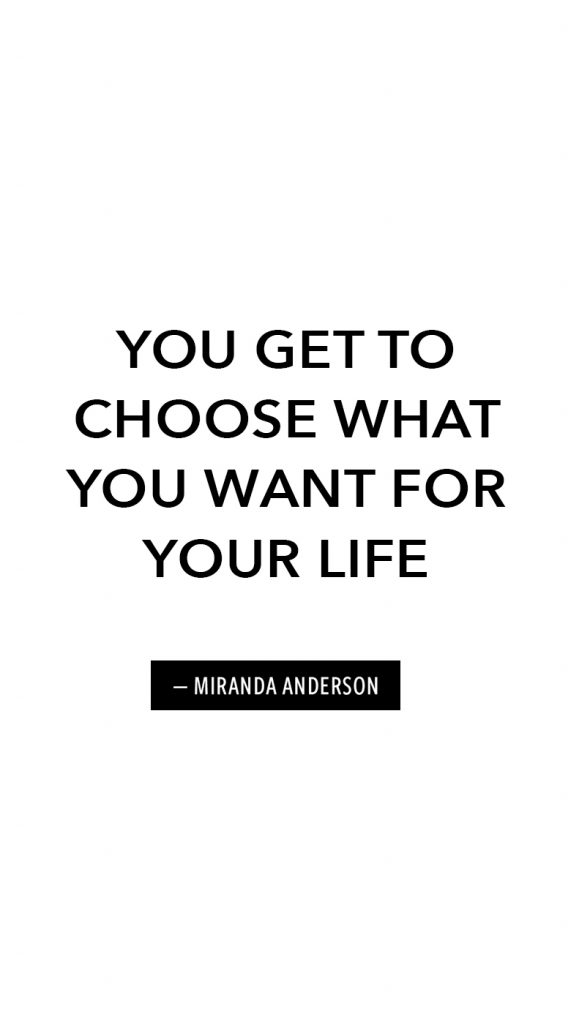 And I choose to believe that I don't have to follow that path, that I know myself better than my inlaws do. I love my inlaws. And gratefully I have ones that would never expect me to do anything that they say. So I think that there is a way to, and it's a fine line probably too with grace and gratitude, honor the lives that have been lived to bring us to the point where we are the lessons that we've learned from the people who have laid down those pathways and to have the understanding and the courage to choose for ourselves what matter to us and to do that kindly and you know, with love, and, and to live the life that you want because at the end of the day, I mean, that's, that's yours nd then you have to be the one in the driver's seat.
Any other questions?
Q: So was there a particular tradition that you bucked, or an experience that kind of led you down this path that you can remember that you can pinpoint?
A: That's a good question.  I feel like I bucked a lot of traditions. I'm like, I mean, I, I grew up in the family with so many. Not all of them serve me, but even just like societaly and for example, a big one, we talked about this a little bit over tacos.It was a Tuesday, I will eat tacos any day of the week just for the record.
In 2017 I, it was just right after the holidays. This is the first week of the year and I felt so encumbered by what we're supposed to do as people.  I had just cleaned out some cabinets in my kitchen and realized like we had so much stuff. We had just done the holidays and it was really fun, but it's so much and I just kept feeling like, oh, we have so much stuff and everything is so much and so much is expected of us all the time and there's activities and there's things and to do listen and then stuff, actual physical stuff or assisted by.
I decided with my husband that we were, we were going to say no more stuff for the year. So we took the year of 2017 and we stopped buying anything that wasn't at a consumable good. So we bought groceries for our youngsters to eat and we bought toilet paper and we bought, you know, printer ink that probably far too often because it doesn't run out before any of us are ready. But we didn't buy anything. We didn't buy clothes or shoes or furniture or anything in the dollar spot at target. We didn't buy electronics. Um, we didn't upgrade, you know, any of our technology. We just didn't buy any more stuff. And we spent the year experimenting with minimalism, what we, that's what we called it. And at the same time we got rid of stuff.
And so there, there's all these things that were told to do, you know, by matching flag shirts for the fourth of July. We don't need a matching flag shirt. We have a shirt. It works fine. We're not going to buy that. You know, so much like, buy this, buy that all the time. You need a new this, you're going somewhere, do this. Even things like a mowing the lawn, we, we would, we shared a lawnmower with our neighbors and would just borrow that rather than like, we need this new tool, we'd find someone and borrow it and we found through this process that we are creating community because we were borrowing and sharing rather than always buying something new that we were understanding what it is that we really need in our lives and what we really want and what matters the most to us. And it became so easy then to turn off all of the messaging that says, this is what you need. This is the pathway that's right for you because we just do.
We just turned it off. And 2018 hit, we had moved to Richmond, downsized by over half, and I feel like it was like this step to bucking essentially all capitalistic commercial listed tradition enabled us then to feel so much more in control of the things that matter to us. And so now when I choose something, it's because I choose it with intention because I know that I needed. I know that, I love it. It's not going to go in a goodwill bag next week,  because I've, I've honed that a little bit, so I think that we spent the day, there were lots of things leading up to that and then that whole experience and then there's been all of the trickling effect of like an actual shift in the culture of our family that allows us to be really clear about what matters to us and recognize that that is so personal and it's personal for all of you.
I share a lot about this on my podcast, a ideas of the things that we're doing and then always reflecting back like, and what you do will be different. The traditions that you have will be different. The choices that you make, the things that you need, that'll all be different because we're different people and deciding that's why it matters so much that we are, that we're empowered to choose what's right for us because it was right for us, might not be right for anyone else. And so we just have to choose that. Answer your question. Yeah, thanks.
Conclusion
Wasn't that fun? I had such an incredible experience with that group and sharing all of those thoughts. I hope that you enjoyed the talk. I hope you learned something that you started to think about traditions in maybe a little bit of a new way and I hope that you are left with some ideas of maybe a couple of traditions that you don't need in your life and we talked about this a little bit a couple episodes ago with a magical minimal Christmas and I also hope to empower you to be creative and choose some traditions that are just right for you and your family. It's so incredible and so fun and builds connection and meaning and identity to have those things that we have chosen for our own families and our own lives that feel just like us and so I hope that you will create some time to do that for yourself.