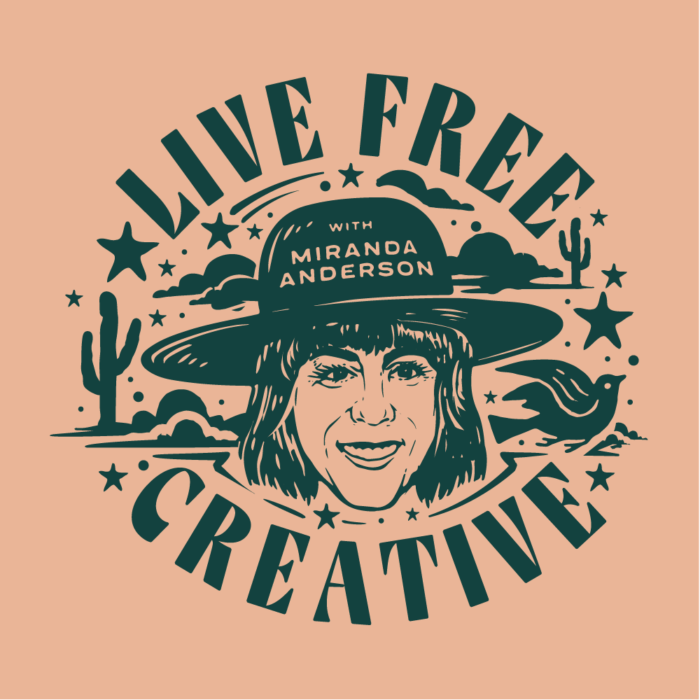 Episode 198: Slow Productivity

Introduction
You're listening to Live Free Creative, an intentional podcast with practical tips for living your life on purpose. I'm your host Miranda Anderson. And I believe in creativity, adventure, curiosity, and the magic of small moments. I hope that every time you listen, you feel empowered and free to live the life that you want.
Hi there friends. Welcome back to Live Free Creative podcast. You're listening to episode number 198: Slow Productivity.
I feel like I can take a deep breath and sigh with that title. I am so excited to share a little bit about this newish idea that has been transforming the way that I think. My time, my accomplishments, the intentionality of my rest.
Especially right now where we are in the middle of the summertime. I have a couple days that I have allotted for work days where I have childcare at home with the kids and then the rest of the week, I'm on duty. And then wondering sometimes if I should maybe be doing other things or if it's totally okay to just go to the pool and there's this weird amount of subtle discomfort that comes with simply enjoying myself, almost like that's not allowed.
And I am actively fighting against the idea that I need to be doing something "productive" all the time. As I've mentioned in lots of other podcasts before, we've focused on pausing on creativity, I've talked a lot about the importance of sleep.
So I know that pauses are important. And I know that rest is a vital. I value my sleep. Yet there is still this outside voice quietly whispering and nudging me toward the idea that I'm not doing enough or that what I'm doing isn't enough.
Now, have you ever felt like that? Do you get this kinda weird, uncomfortable feeling when you're just hanging out on a hammock, reading a book or going to the pool by yourself for fun, taking time away from the other duties that you might have, whether that's work or whether it's the work of being a mom?
I would love to invite you to settle in a little bit, as you listen to some ideas about slow productivity, that hopefully will help you feel a little bit better.
Before I jump into the episode, I wanna share a segment that I like to call odd jobs.
Odd Jobs
It's a nice complement that I'm gonna share about an odd job during a podcast about slow productivity. I have shared so many different jobs over the last four years of this show. I've talked about working at a French cafe, being a wilderness counselor, working at Williams Sonoma, my summer as a river guide, working at Sundance cafe, being a janitor at my dad's construction office, a Spanish translator for the park city police department, a store manager in Puerto Rico, a dog sitter.
I have talked about sewing custom costumes, working as a CNA, being a snowboard instructor, a medical translator, a pizza hut box folder, doing construction cleaning on my construction project jobs. I was a fulltime nanny. I gave vaccines during that pandemic as a vaccine nurse, I've shared more about dog sitting about odd yard jobs, cutting down an apricot tree.
And today I want to talk a little bit about a job that I had over the last couple years, doing product review videos for the Home Depot website. Now I had worked with Home Depot as a content creator for my blog a couple years before. And so I was familiar with the team over there that was handling partnerships and media.
And when they reached out to me about doing some videos for the website, I was overjoyed. I love working with the Home Depot. It was super fun. And these are perfect jobs for me because they were various, they were on my own time. I didn't have to do a full blog post or anything related. I filmed probably over a couple years about a dozen–maybe more than that between a dozen and 20–one to two minute videos reviewing products that would live on the homepage of Home Depot.
So if someone went to look up a down comforter, this was a real one that I did, a beautiful goose down comforter that you could go to the website, look at the specs, and then if you wanted to see it in action–see a real person talking about it–you can click on the video and there I am sharing about the details and doing some closeups of this comforter and showing myself flipping it beautifully onto a bed.
This way the customer gets an inside peak at the way that the products work. I as the video creator got to try out a bunch of really cool products, take videos of them and get a paycheck.
The way this job worked behind the scenes was that the Home Depot team would reach out to me with a full list of products. They were hoping to highlight over the next couple months, I would take my pick by choosing three to five products that I was interested in, or that I had a need for.
So some of them might be a little more detailed, for example, hinges on a door. Did these hinges fit my door? Do I need hinges on a door? There were some plumbing products, there was lighting. There were all sorts of different types of things I could scan through, see what worked for me and my situation at my home, what I felt like I could highlight well and what I could endorse well.
And then I would send my preferences back and the team would then respond in a couple weeks with the products that they had chosen for me, those would be shipped to my door and I would get an email with all of the details and the talking points.
The next step was for me to send back my shot list with a proposed script. I was usually a little bit off the cuff and candid with these, but I would give them an outline of how I was planning to begin, what shots I would try to capture, how it would all fit together. And mind you, this is 60 to 90 seconds where I would try to include as much of the great information that they had given me, as well as a variety of beauty shots and front facing, talking to camera.
I had a couple weeks to film this series of videos. The very first time that I embarked on this project with Home Depot, I hired a videographer local to me in Richmond. He came over for an afternoon and we set up shop with lights and angles and had about four different products that we shot all in a couple hours.
It was so nice to have the first one kind of under my belt. And when the next set of videos rolled around, I realized that I felt confident doing the whole process by myself. So I set up a tripod with my camera, my video camera. Which is like a DSLR. And I shot all of the video footage myself with audio.
I had a lapel mic that was hooked to my phone. And then once I got all of the media, the video and audio, I would upload it all to my computer, synchronize it all in my video editing software, and then put together these little clips to make the full finished video.
There are a couple reasons that this job was perfect for my personality.
One is that I like talking. I like talking to people and doing these reviews was just like a mini conversation about a product. If you've been listening to the podcast, you know that this is perfect for me too, because I just get to sit and chat with you. I
also really like video. I don't mind being front facing to camera. I don't mind chatting with the camera. It feels oddly natural to me. I know there's a lot of people who really hate being videoed and I don't mind it.
I also like the creative direction, the creative process of setting up and styling a shot. So for example, when I did the down comforter, we were actually not living in our house in Richmond.
We were in a rental because our house was being repaired from some flood damage. So I had to pull everything out of one of the rooms, set up a bed in this room where the lighting was really nice, put bedside tables from different parts of the house and matching lamps from downstairs.
I pulled all of the furniture together from all different parts of the house, so that I could set up the scene that I really liked to highlight the beauty and comfort of these comforters.
It felt I really was truly a one woman show, just like running around the house, barefoot, grabbing all the different furniture and styling this area. With stuff off to the side, setting up the tripod, doing the shots. And then I got to do the other piece, the technical piece that I also really enjoy, which was the editing of the video itself for a lot of people, it sounds like a lot, and there's no way that they would wanna handle all of the different aspects of that.
However, it's a perfect fit for my personality. I'm a Jane of all trades. I like doing a little bit of a lot of different things. So these product review videos brought all of that together in a really nice way.
I remember as I was going through this process, I did a couple videos every few months for a couple years, while this kind of backlog of videos were being uploaded to the website at Home Depot.
I remember telling Dave, this is such a random aside, like I'm running my normal business. I have the podcast and my retreats and the blog and all these different things that I'm doing with my actual–what feels like the umbrella of my business. And this is just this sort of random side project that has felt really fun, really different.
And for someone like me that has created different types of content online for specific communities, for example, I built up a blog community and then could work with companies to create content specifically for that community. And the same thing on social media. And even with the podcast, those are like my–I wrap my arms around these communities and share specific things with them.
With these videos, it was totally different. It was content creation for a company for them to use for their community. So I didn't feel like there was any pressure for me to share about, or endorse personally, all of these products that I was reviewing with my own communities. It was just like a side gig and felt so fun.
The most recent videos I did were last summer. The Home Depot was doing a series of DIY for kids for the summertime. I was hired to film three different kid friendly summertime DIYs.
One of the huge benefits of this project was that I got to include my kids. So I actually created the DIYs with my kids and filmed it all. We had a great time doing it together. And my kids got to earn a little bit of money for being actors on the Home Depot videos.
And then we sent the videos off to the Home Depot to share with their wide audience. Really fun, very odd job.
Main Topic: Slow Productivity
Let's jump into talking about the idea of slow productivity. Does it sound like an oxymoron? Productivity by definition is the measure of efficiency of a person completing a task. It literally could be tied to the speed at which things get done. So why a conversation about slow productivity?
First, because we are all as a world stressed out right now. We're all burned out. There was a lot of talk about this idea of languishing during the pandemic. And I think we're still globally and very poignantly nationally.
If you're living in the United States, our culture, the very foundation of this country, was built upon the idea of working hard, producing a lot and treating rest as an equivalent of laziness or pleasure and play as an equivalent of wastefulness.
I first heard the term slow productivity on Cal Newport's great podcast called Deep Questions. He takes a lot of listener questions where he dives into his ideas about deep work, deep focus, and the deep life he has been exploring this idea of slow productivity.
And he shared some of the history of where our ideas about work came from, the whole culture of the way that our hourly wages, our 40 hour work week, how all of those things came into being in the United States in particular. And this idea of work equals benefit the whole world over.
I, for most of my life, have been a student of productivity, a student of efficiency. I loved the idea of getting a lot of things done, doing them well, doing them quickly and then moving onto the next.
In fact, one of my most commonly asked questions throughout my adult life was, how do you get so much done? When do you sleep? You seem to be accomplishing things all the time.
And friends, I was accomplishing things all the time and I was absolutely burned out. I was stressed out. I wasn't sleeping very much. I wasn't enjoying my life very much, which one of the side effects of being focused on productivity as an end, instead of on productivity as a process of accomplishing meaningful, worthwhile things while at the same time replenishing your ability to do them.
In an article in The New Statesmen, Steven Poole calls productivity, "one of the great unquestioned virtues of our age." Does it sound like a great thing? Productivity and accomplishing things and working hard is just a fantastic aim.
And what are we calling productive? What are we calling worth? To what end are we working and working? I think the answer to that question matters a whole lot.
And that's where this idea of slow productivity comes into play. Are we just measuring the amount that we're doing? The tick marks on our to-do list at whatever cost those things might require.
Or are we also taking into account and adding to the equation, how we feel, the quality of our relationships, the quality of our health, our mental state, our physical wellbeing, the quality and quantity of our sleep, our ability to feel free to explore hobbies, to pursue passions for their own. And not for a side hustle or a side business, or starting an Etsy shop or building something for the sake of earning more money or having more power prestige.
What does our picture of productivity look like? I've shared on the podcast in a few different episodes over the last four years. One of the pivotal moments of my life took place back in 2013, when I was sitting in a conference, listening to the incredible designer Stefan Sagmeister share about his pursuit of happiness.
He explained that he had done the equation about the amount of years he would be in school and the amount of years he would be working. And then his retirement tacked on the end there almost as if a side note.
And he looked at that and said, there's something wrong with this picture. Now, I think it's important to note that Steon Sagmeister is Belgian. He's not American. And so because of his European culture, it may have been easier for him to see what looked a little bit wrong with this picture. I go to school for 20 years and then I work for 40 years and then I have this retirement where I'm supposed to have leisure time and enjoy my free time and rest and relaxation.
And at that point, my body is wearing down I'm in my sixties. I may or may not be more financially stable. What is wrong with this picture? And he said, I'm gonna take some of my retirement years and insert them at different points within my working years.
He called this his seven year sabbatical. He would work for seven years and then take a full year off. Close up shop, clode up his entire design shop and go on sabbatical where he could rest and relax and enjoy the time off for a full year and then open up shop again for seven years and then take another retirement year. Just infuse his working years with retirement years.
Doesn't that sound a little bit like a dream?
I went home and talked to my husband about this idea of interspersing work with rest. No, it doesn't sound like this is supposed to be rocket science that you work and then you rest and the rest benefits your work. And it also benefits your yourself, your wellbeing and infuses your life with actual life.
Dave and I sat down and talked about this and said, that isn't realistic for us and the type of work that we do, but how are we working in a way that allows us to have that type of really deep rest? To build in the process throughout, have it woven into the way that we work.
Is that something that we even considered, do we have deep rest alongside our hard work? Do we have willingness and capability to allow ourselves to stop working in order to rest and to play and to be present and to enjoy the day to day of our life at every point, not just at the end, not just when we hit the finish line, but all along the way.
When Cal Newport explained his idea of slow productivity on the podcast, the first time I heard it. Now, he talks about it quite a lot. Right now he's writing a book about it that I'm really excited to dig into.
I loved his work the very first time I heard him talk about it. This is how he explained it. You take the task that you have on your list. And usually these, this is like a bigger task. This is something that you aren't going to get done in 10 minutes.
It's something that's gonna take a little while that may be stressful. It may be something that kind of hangs out over you until it's done and you stretch it out. You stretch out the timeline until you don't feel the stress anymore. You stretch the timeline out so that you have space to rest, to play, to have relationships, to breathe, to go on vacation, to take days off, to go on a walk, so that your productivity isn't dependent on time, but that you're more concerned with the quality of product, rather than just the speed and accomplishment of the product itself.
If you are like me, there's something stressful about leaving things partially finished. I tend to want to get all the way to the end and just get it. Because then I don't have to think about it anymore.
And I've done this throughout my life to the detriment of every other part of my life, to my own physical health, to my relationships with my kids, to my presence, to my mindfulness. I have said, I just have to get this thing done, whatever that "thing" is forgetting that there will always be a thing.
So I'm gonna give you two examples. One, when we moved into our apartment in Alexandria, Virginia, this is about 12 years ago and younger, more efficient, roductivity-minded Miranda moved into this apartment. I had a five month old baby and I decided that I needed to paint the apartment, which was a great idea.
The management said, It's okay. You can paint it however you want. As long as you paint it back when you're finished. We knew we would live there for at least three to four years. And so it felt like a valid investment, even as a rental.
So I went out and got all of the different paint that I wanted for the different areas in the home. And I spent one week painting the entire apartment, top to bottom, right to left. Every single room got paint and I almost didn't sleep. I was exhausted. It was fun. I was having fun, but I also was a little bit overwhelmed and stressed out by it. I was calling it "Miranda Paints the House" and I just went at it and that's one way to handle it.
It was very efficient. I had all the paint stuff out. I got it all done. And then we enjoyed it. And I wonder if I could have stretched it out over two weeks or three weeks and taken a day off just to go to the park or walk around the national mall or to go meet some friends for lunch, to enjoy the sunshine, sitting on the patio, reading a book, all of those things that I decided could wait until I finished the thing that I wanted to do.
It would've been totally okay to take that project, reduce the stress by stretching out the time.
On the flip side of this. I have to just say that sometimes it's stressful to be in the middle and that's a mind game. That's something that I'm working on right now.
My next example is that we moved into our current house about six months ago, and I started painting the trim in the front room in February, and I finished it in June and I took about two weeks to wallpaper it.
I've put paint samples up in about three different areas, but haven't finished painting or even settled completely on all of the colors. And in between, I'm sitting down for dinner with my family and playing a round of Rummikub.
I'm going on walks around my neighborhood every single day. I'm sitting on my back patio chair with my binoculars and my bird watching book in the mornings as the sunrises, watching the birds hop around the branches and fly over my backyard.
And the world still turns even as the house remains unpainted, I'm stretching out the timeline in order to accommodate life, feeling rich and full in the middle of the process.
I have a friend here in Richmond named Rachel. She is a coach for CEOs, for female founders. And the other day I saw a video on Instagram that she shared that I just listened to the first 20 seconds and my mind was blown. She said, and I'll link this in the show notes. She said, Do you ever consider your work to stress ratio when you're taking on projects or when you're thinking about the timeline of your work?
Are you considering not only what needs to be done and when, but how that will affect your stress level?
Does that feel a little bit mind blowing to you? It does to me, the idea that I'm going to adjust my workload until I land on a work to stress ratio that feels sustainable for me.
And one way that we can do that, that we can adjust our work to stress ratio is by stretching out the timeline, extending our own deadline within our mind of when we think something needs to be.
Now, if you work in a corporate environment, there are probably actual deadlines imposed upon you. And you may have to experiment with whether or not those can be extended, or if there are other ways that you can feel like you're reducing your stress to work ratio within the timeline given you.
In my experience working not-nder other people's deadlines often, but under deadlines that I've imposed upon myself or deadlines that I have collaborated to create with other companies that I'm working with.
I often get a little nervous about a pushback on a deadline. And then when I actually go to talk to the company or send an email and say, Hey, this is supposed to be due on Friday. Could I have it to your inbox on Tuesday?
I'm often dumbfounded by how the other party says, oh yeah, we aren't even looking at it until next Thursday. They've built in a cushion on their end. I can have a little bit of cushion on my end.
The whole world isn't going to end if things aren't done on the timeline that we have given them, or that has been given them under this crushing amount of stress.
Do you want to know the other huge pro to slow productivity? Slowness increases your presence, both in your work and in your life. It increases your mindfulness, your ability to open up to different possibilities. Be a more creative problem solver. And come up with ideas and innovations that you otherwise can't when you're single focused and stressed out.
Slowness and rest and play increases our cardiovascular health so we're able to continue playing and living and working even longer. It lowers our stress. It increases our brain power and increases the quality and quantity of our sleep.
Not only will you feel better, but your work product, whatever it is, whether it's a corporate work product, whether you're an entrepreneur or whether you're working at home and doing house projects, organizing doing laundry and dishes and all of the fundamental vital work of running a household, all of those things will be improved at the same time that your physical and mental health are improve.
If we can back off the gas pedal, allow ourselves to pump the brakes a little bit and say, Hang on. There is time for all of these things. It's okay to take this task and to stretch it out. It's okay to make space woven in like a braid into our lives incorporating the different things that all matter.
In his recent New Yorker article about slow productivity, Cal Newport says the central goal of slow productivity is to keep an individual worker's volume at a sustainable level. A natural fear is that by reducing the amount of work each employee tackles at any given time, it might reduce the total amount of work an organization is able to complete, making it less competitive.
This fear is unfounded as argued when an individual's work volume increases. So does the accompanying overhead and stress reducing both the time remaining to actually execute the tasks and the quality of the results. If you instead enable the individual to work more sequentially, focusing on a small number of things at a time waiting until she's done before bringing on new obligations, the rate at which she completes tasks might actually increase.
That's the end of the quote, this idea, of course, in this article is being applied to an employee in a workplace. I don't know what the percentage is. I should probably do a poll sometime of listeners who are employed by a corporate environment or in a specific workplace who is. Putting work upon yourself as an entrepreneur.
And who of you listening? Your primary role is completing tasks, managing a household. It does not matter which of these areas we're applying this idea of slow productivity to, as he states the central goal of slow productivity is to keep an individual worker's volume at a sustainable level. What does that look like for you in your.
If you feel burned out and stressed out and overwhelmed, what would help ease those feelings? What work can you take off or put off until a later date? Do you have a never ending to do list that you are creating for yourself? And if so, how can you stop the auto boxing? I'm gonna link in the show notes to a podcast episode that I did all about the never ending to-do list called auto boxing.
You can stop that in another great podcast episode that I recorded during the pandemic with my friend, Elise CRI, we talk about the three things. This is one way that you can reduce the overwhelm and the quantity of tasks that you're expecting yourself to fulfill on any given day. Elise recommends choosing three things, three, just that you want to accomplish in a day.
Something like go for a walk, fold a load of laundry and make dinner. Those things can be the three things that you choose. Of course your day will be filled with lots of other things, but as you keep your focus on the three that you've assigned to yourself, that's a sustainable level. That's something that you can do and know that it's okay to let the other things stay undone until tomorrow.
And maybe until the next day. And maybe you'll find that some of the things that you keep feeling like you need to. you don't actually need to do it all and you can put them down thereby vastly increasing your productivity because you've started to give up things that are no longer essential. I have been actively practicing, incorporating the idea of slow productivity into my life as a household manager, a mom and a wife, as well as in my role as a business owner, this looks.
Taking a wide angle on what things I hope to accomplish each week and each day, and then stretching it out a little bit if I think, oh, sure. I'll get those five things done today. I cross off the five and give myself back one or two or three. When I finish with a task that I have given myself to accomplish, I'm stopping myself from jumping right into the next task.
While I still have energy and I'm still feeling good. That's a great time for me to pursue a hobby, to sit and read, to have some deep relaxation, to call a friend, go to a movie, go on a walk. There's no reason to use all of my vital hours of the day when I have the most energy and the most creativity on tasks that are moving the needle of productivity, but aren't fulfilling my life.
Or building my relationships. Can I tell you something that might be an unpopular opinion? I really dislike the 30 under 30 lists. I really dislike and don't appreciate the way that we applaud people for hustling and being so productive when they're so young. And the way that we think that everything has to be done early in order for it to matter, that is just simply not true.
We have our entire lives to do great, meaningful things. We have our entire lives to stretch out and to pursue great work and to develop hobbies and have passions and pleasures and relationships. To travel and to work and to write and to sing and to learn, to play the guitar and to go back to graduate school, we have our entire lives.
We don't have to do it all right. Now we don't have to do anything right now. Right now. We probably should take a nap right now. If you're stressed out and burned out and overwhelmed and you have young kids, you should probably call a sitter and take a nap and go get a pedicure. If you're stressed out and overwhelmed and frustrated, and you don't have young kids, you should probably take a nap or kick back in a hammock or book yourself a vacation.
Here's a great quote from an article on health worker burnout. "There is a difference between being busy and being productive. Being busy means that you have many things on your plate that often don't amount to any value, which you're trying to finish as fast as possible so that you can move on to the next thing on your list.
This often results in highly stressed individuals who always feel like they are falling behind. On the other hand, productivity is still having a lot of things to do, but knowing which ones are urgent and which ones need to be done by one particular person and which of those tasks can be outsourced to other people or simply dropped.
It's also about knowing how to prioritize the tasks that will make the individual feel most accomplished. And when it's time to take a step back to rest and come back to it again. You need to find a balance between productivity and rest that works for you and your lifestyle, because ensuring that you get proper rest and quality time away from work is just as important as ticking the things off your to-do list.
Isn't that as great, simple quote, this is going to look different for all of us, the balance between productivity and. It's gonna depend on your unique stage of life, your energy level, the type of work you do, the type of family situation you have. All of those things are going to be personal and effect.
The balance that you strike and it might look different for you than it does for your sister or your mom or your friend. And that's okay. One simple switch that I've liked to make in my life is to write on my list of things that I want to accomplish things that you might not think of as productivity.
For example, spend 30 minutes reading on the porch or go on a walk. Sleep nine hours. This works especially well, if you are a person that loves to check things off a list, I know my hand is raised. I am a person that loves checking things off a list. If I put leisure rest activities on my list, I start to see them as they are, which is equal in productivity as the tasks of work themself.
Our ability to accomplish and be creative and have this beautiful output of work that we are able to put into the world, whether in a corporate environment or a home environment, depends vitally depends on our ability to rest and recover and feel revitalized as a human as a whole human. I don't know that it's fully gendered, but I can say that most of my work is with women and most of the women that I talk to have a really hard time taking time to rest.
I just got back from Grown Up Summer Camp last month. There were 25 women there and over half of them had said, this is the first time that I've given myself a chance to go on a trip by myself, without my kids, without my family, that I've invested in myself and given myself the gift of rest and rejuvenation and play and fun for its own sake.
It wasn't a work retreat. It was a fun retreat. It was a way to gather together and reconnect to ourselves and to nature and to community. The replenishment that happens in those days of leisure and rest and rebuilding enable us to be more fulfilled and show up to the rest of our lives. With more creativity, more innovation, less stress, higher patience level, a deeper ability to cope and this sort of energizing motivation to accomplish meaningful things in our lives.
Sometimes I worry that if I go to bed early or if I go on a walk instead of doing the dishes, or if I sit down to read because I'm tired. If I honor the way that my mind and my body are feeling, and I give myself that rest. I worry that I'm never going to want to get up again.
Do you ever think this? I worry that if I lay down to sleep, I will never get out of my bed again, because all I want to do is sleep. Or if I sit down and leave the thing undone that I'll never actually wanna do it. And here's the paradoxical secret when I'm rested.
When I have paused and I've given myself space to take care of my body and take care of my mind, that motivation comes. I feel this desire to produce amazing things in the world. I feel this energy to take care of my household and to take care of my kids and to build those relationships and to spend time pursuing projects at work that feel meaningful and important.
And even things that don't even the things that I don't totally love, I have much more of an ability to show up and do them if I've taken care of myself. And if I've given myself the timeline that accommodates me being a whole human, instead of just a robot on an assembly line, getting stuff done all the time.
So as we're wrapping up this idea of slow productivity, I want to invite you to slow things down, to take that project that you're working on and stretch it out to incorporate time for presence for health, for moving your body, for stealing your mind, for building relationships.
See if you can't slow the roll of your productivity so that you can increase your fulfillment throughout the process.
Conclusion
Thank you so much for tuning in to Live Free Creative podcast. I really appreciate your attention. I know that you have lots of ways that you can spend it. And I hope that turning on this show and listening in leaves you feeling refreshed and renewed and excited about making small changes with big impact in your everyday life.
Whether you're new to the show or have been listening for a while, I would love if you would leave a written review on iTunes. These reviews make a huge impact on the ability of other people to recognize that this show is one for them. It just takes a couple minutes of your time and makes a huge difference over here for the show to scroll down to the bottom of the podcast app on your iPhone.
If you have an iPhone or go to an Apple podcast, you can find live free creative. Click the dots where you can leave a review, leave a five star rating and write a quick review. Very often people send me really great messages into my direct message on Instagram. And I would love to invite you if you have that urge to copy and paste it and add that same couple sentences to the iTunes podcast app.
If you do leave a written review, you have a chance of me reading it here on the show and sending you a thank you package in the mail. Today's review comes from Brook-Lynn. She says,
"I've been looking for a podcast for a year or two that I loved and looked forward to. And finally, I started listening to Live Free Creative and love it. It's relaxing, inspiring, and she just speaks my language. I love that I can better myself and take time to reflect. I'm able to think about my life, dream bigger and feel grounded."
Brook-Lynn, thank you so much for leaving that written review.
Send me an email at Miranda@LiveFreeCreative.co, and I will drop your thank you package in the mail. For the rest of your listeners, I would absolutely love if you would put "leave a review at live free creative" on your list of three things to do today or tomorrow.
Thank you again so much for being here.
I'll chat with you again next week. Bye bye.