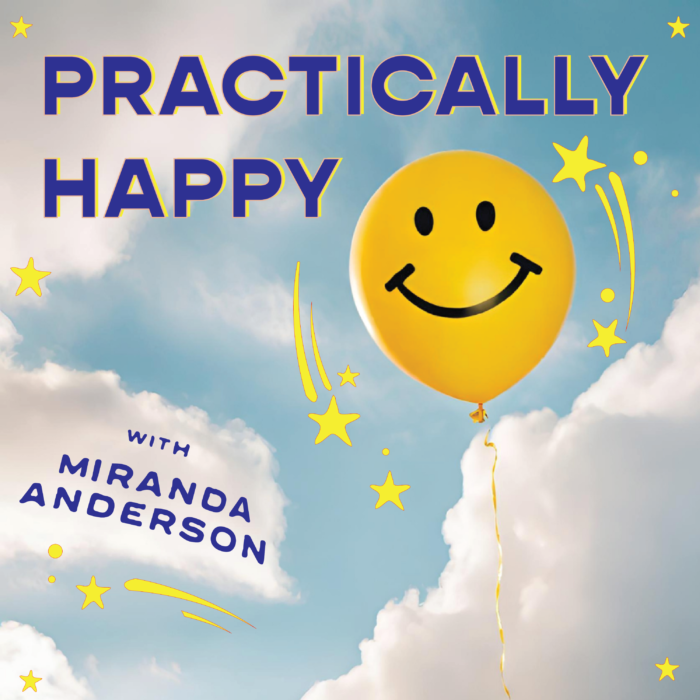 Episode 256: Burnout and Taking A Break
​Introduction
Hey, welcome back to the show. You're listening to episode number 256, Burnout and Breaks. This is an episode that I've been excited to share all during the break that I just recently took about. Six weeks away from the podcast between season five and season six, and I want to share a little bit more about that experience and some of the things I learned personally about burnout and taking breaks.
This show is called Practically Happy, and the intent is to give you practical tips and ideas to live your life a little bit better, to feel a little better. And… That never will take away from the reality that is our lives have difficult times. There are beyond our control that we wouldn't always choose.
Prepare Now for Future Difficulty
Practically happy doesn't mean discarding or trying to ignore or gloss over the difficulties that we experience. It includes choosing actions, ways of being. Mindsets that build our resilience and help us stay strong and feel okay, hopeful even, in the middle of a crisis, in the middle of difficulty.
This topic came up yesterday as I was teaching my students. I'm working very part time as a nursing faculty at a local nursing school right now. I'm the clinical instructor for the psych unit. We were talking about how a nurse might prepare herself for difficult encounters with patients or encounters with patients who might become difficult, as can happen on a psych unit as well as it can happen in the ER or in med surg or any other place where a nurse may work.
And this goes outside of nursing as well. I mean, how do we prepare ourselves to encounter difficult situations in life, whether that's a relationship or a person or, uh, you know, an unexpected experience. And what we, what we came to, what we kept circling back around to was that that preparation for how you have the capacity to respond appropriately or positively, that preparation doesn't happen in the moment.
The preparation happens in the way that you live and the choices that you make and the way you think about those types of situations before they happen, so that you're ready. You have this mindset practiced or you have the resources available because you've worked on them ahead of time. This could be the same for thinking about…
You know, you're, you're about to move a heavy thing. Do you get strong because the thing in front of you is heavy? Or do you have the capacity to move a heavy thing because of the way that you've been lifting weights and lifting, you know, heavier things little by little in the gym or in, you know, your, your exercise practice outside of that moment.
Burnout Prevention and Recovery
Developing resilience and capacity to manage difficult situations is ongoing. Today I want to share some ideas about burnout prevention as well as some recovery methods for if you find yourself in a situation where you're feeling quite overwhelmed, uh, how you can start to dig yourself out. Today's segment, before I begin, is going to be a quick pause for a poem.
Segment: Pause for a Poem
I am silver and exact. I have no preconceptions.
Whatever I see I swallow immediately
Just as it is, unmisted by love or dislike.
I am not cruel, only truthful'
The eye of a little god, four-cornered.
Most of the time I meditate on the opposite wall.
It is pink, with speckles. I have looked at it so long
I think it is part of my heart. But it flickers.
Faces and darkness separate us over and over.
Now I am a lake. A woman bends over me,
Searching my reaches for what she really is.
Then she turns to those liars, the candles or the moon.
I see her back, and reflect it faithfully.
She rewards me with tears and an agitation of hands.
I am important to her. She comes and goes.
Each morning it is her face that replaces the darkness.
In me she has drowned a young girl, and in me an old woman
Rises toward her day after day, like a terrible fish.
I love a poetry moment. That's a cool poem, right? Sylvia Plath wrote that poem in the 1960s, but it wasn't published until after she had died about 10 years later. It was part of her collection of poetry called Crossing the Water. I love the idea of just thinking about the perspective of our mirror that we go to every day as we're, as we're getting ready, and you know, throughout your life maybe, and what relationship that mirror might have with you from the other side.
Burnout and Taking Breaks
I want to talk today about burnout and taking breaks, and it's a topic that I've, I've circled back around to several times, um, I have some episodes about burnout, about overwhelm, uh, it comes up over and over again, and I think the reason for that is because it's a natural part of the cycle of stress in our lives, and like I was, it's Talking about in the beginning of the show.
A lot of times there are things that happen in our lives that we're not expecting and that we're not necessarily prepared for. Other times we take on more than our resources can handle. So, we, we sort of overcommit ourselves and then we have choices to make about whether we're going to complete and fulfill those commitments, you know, despite the difficulty, or if we are going to learn to, you know, disappoint people, and put some things down even mid process.
My personal burnout
The reason why burnout feels poignant for me right now is that I had like a realization of my own burnout in about August of this year, and I knew that I had been having a difficult year in terms of, Resources and energy expenditure. Lots of these things were my own choice. I decided to go back to school and get a graduate degree in a rigorous program.
I decided that I was going to continue doing, you know, running my business, running retreats and online courses, and coaching at the same time concurrently. And I, you know, decided 17 years ago to get married and 14 and 12 and nine years ago to have children and, you know, eight and two and one and a half years ago to have pets.
So… A lot of these things were my choice and I think that, you know, this is a lesson that as a high energy personality and a, you know, a highly motivated person that I am learning over and over again, like how to pay attention to only building my life to 80 percent because the other 20 will be filled and, you know, maybe even aim for 70 because then you have 30 percent of time and energy and resources available for the unexpected.
On paper this was all going to work out great. Then my program was a lot more rigorous than I expected. I… I really loved it, and it would have been amazing if that was the only thing on my plate. But it wasn't. I also had a family and had a job. At the same time, unexpected came in through the back door.
I had all these things I'd welcomed into my life through the front door, and I hadn't locked the back door. So… In, at the same time where, you know, I'd filled my house up, I had some unexpected medical issues within my immediate and extended family. I had some relational changes in my extended family where the burden wasn't on me, but my desire to support and encourage and, you know, navigate my own emotions related to some of these changes was present and unexpected.
We also had some unexpected challenges with our kids this last year. I had never imagined and layer all the things that I had invited in, you know, excitedly invited in through the front door with the several layers of difficulty and unexpected circumstances and stressors that let themselves in the back door and I was far beyond capacity.
Burnout Results from Chronic High Stress
This situation was ripe for burnout. Burnout is chronic high stress. for a routine amount of time. Our bodies are designed to experience small or even medium amounts of stress at once. We have the capacity to flex into a fight or flight response where we have extra energy and extra, uh, hormones racing to our system to kind of handle these things.
And we need to recover. And a lot of our fitness in terms of our health is dependent on our recovery, our ability to stress ourselves out, whether that's intentionally through exercise or unintentionally through, you know, interpersonal relationships or whatever it might be, and then recover. Like, how fast do we get back to baseline?
How easily is our body able to close those loops. With chronic stress, with things that continue for longer than you have the capacity to, you slowly start to lose those reserves. And this results in what we now call burnout.
The history of Burnout
The concept of burnout has its origins in psychology. It was first introduced 70s. It was popularized by the psychologists Herbert Freudenberger and Christina Maslach who conducted research and developed theories around this phenomenon. Here's the brief quick and dirty about burnout. Herbert Freudenberger is a psychologist and psychoanalyst describing research around Staff burnout, specific to an employee environment.
He talked about burnout in the Journal of Social Issues, and it was specific, his research was designed to capture an experience of workers in free clinics who became physically and emotionally exhausted because the demands of their job far exceeded the resources available to them. In the 1980s, it was picked back up by Maslach, who was another psychologist, and she developed a burnout inventory called MBI, the Maslach Burnout Inventory.
It's a widely used questionnaire designed to measure burnout, and this research brought about the idea that there were some core dimensions to burnout that could be described. The core indicators of burnout on the MBI are emotional exhaustion, depersonalization, which could also be called detachment from life.
The work that you're doing or from the stressor itself and reduced personal accomplishment. In the 1980s and 1990s, the research continued, burnout gained recognition, and it extended beyond professionals in healthcare to other fields like education and social work and corporate settings, and the concept of burnout starting in the 1990s became widespread.
Once the problem was identified in the 1990s, and beyond a lot of focus has turned to developing solutions, and that includes what types of things can we do to reduce the job stress, improve the work life balance, and enhance employee well-being and until around the mid two thousand. The focus on burnout was about the workplace.
It was about how your work stressed you out and the resources that you needed in work in 2019. This is recent. The World Health Organization is Officially recognized burnout as an occupational phenomenon in its International Classification of Diseases described burnout as a syndrome conceptualized as resulting from chronic workplace stress that has not been successfully managed.
In the same year, A book that I have really enjoyed was published. It's called Burnout, The Secret to Unlocking the Stress Cycle. It's by Emily and Amelia Nagowski, and this book sheds light on burnout as a phenomenon outside of the workplace specific to women. They address why women in and outside of the workplace or corporate setting experience burnout differently.
Then men and how we can if you're a woman address that in a way that meets your own unique needs, so we know that we all have stress stressors are a normal part of life whether your stress is coming from your work or your family or Unexpected medical conditions or Relationships or financial issues.
There are so many ways that stress impacts our lives and comes at us from different angles and burnout is the word that sort of Encompasses the result of chronic stress where our demands outweigh our resources for an extended period. There's a quote from the book Burnout that I really like.
Emily Nagowski says the good news is that stress is not the problem. The problem is that the strategies that deal with stressors have almost no relationship to the strategies that deal with the psychological reactions our bodies have to those stressors. To be well is not to live in a perpetual state of safety and calm, but to be able to move fluidly from a state of adversity, risk, adventure, or excitement to safety and calm and out again.
Stress is not bad! Being stuck in stress is bad.
Stress is not bad for you. Being stuck is bad for you. I love the way that quote succinctly discusses What the problem is not stress itself, but the inability to move from stress to calm and safety back into stress as needed, and then back into common safety. This is that flexibility in that recovery that's so necessary.
Our ability to move in and out of stress. So, I'm going to stress, and staying stuck. Something that has been interesting for me as, you know, a fairly educated, insightful person was that it took me a while to recognize and identify burnout as stress. Something that I was experiencing personally, I kept feeling stressed and stuck and overwhelmed and frustrated and tired.
And, you know, I started like thinking about all the things that I would do if I didn't have to do the things that I that were on my plate currently and kind of these escape fantasies. And… It took me, it took me probably several weeks to recognize, wow, I am not recovering as easily as I expected from the stressors that I've been experiencing in my life.
Burnout is not self-healing.
That has a name. It has a name, and it doesn't go away on its own. You don't just, you know, continue, like, skip into burnout, and then just, it just goes away, you know, with you doing the same things that you're doing. It requires attention, paying attention, acceptance, and then some clear steps to recovery.
In my experience, I had this idea that I would finish school and, you know, the kids would be out of school themselves this summertime and we had planned this month-long family adventure to Costa Rica. This, for me, was going to be my rest and recovery after being in school and I was going to go and relax and enjoy and have a great time and then come home and just get right back to life as I knew it before.
And what happened was when I had the space to be on a break, when I was on that extended vacation, I was, I had enough space and clarity in my head to recognize that I needed more than a couple weeks of vacation, that I was sort of in deep in this state of exhaustion and isolation and um, fatigue and like my burnout was real.
And so, I was able to have the clarity there, like the, the vacation gave me the clarity to make some decisions. To take a real rest and that's what the last six weeks have looked like for me coming home in August and getting the kids settled back in school but making the decision to delete Instagram from my phone and turn off the.
Sort of eternal loop of noise that happens in social media. I gave myself permission to take a break from the podcast, which is hard. And I love it, and it feels like something that's routine to me. I've been doing it for years and years and years. And I needed the break. I needed time to not do it.
Not do the things that I was doing. I gave myself permission to… Not do a lot of things and to do things that felt fun. I gave myself the space to cultivate joy in small moments in my everyday life without a grander plan and Those were some of my personal pathways back to a baseline state of wellness and after a break for today's sponsor, I'm going to share some specific steps to recovery and prevention for burnout, should you be experiencing it now or sometime in the future.
As a 40-year-old woman, I am always on the hunt for the latest and most advanced skin care to keep my skin healthy and looking great as I get older. If you feel the same way, you will love today's sponsor. Support for today's episode comes from OneSkin. This is the world's first skin longevity company, which was founded by a team of four female longevity scientists with over 15 years of experience studying the biology of aging.
Now you know that I love research. And the research behind OneSkin is phenomenal. After testing over 900 different types of peptides, they discovered OS-1. OS-1 is scientifically proven to target aged cells. So, these skin cells, these aged cells, are called senescent cells. All our cells go through a life cycle and senescent cells are the, the elderly cells that just kind of hang out, creating inflammation and deteriorating our skin's health.
Well, OS-1 reduces the biological age of the skin by targeting those senescent cells. When you use one skin, you are reversing your skin's biological age by reducing the number of those cells in your skin. I just started using their flagship product called OS-1 Face. It's clinically validated to improve your firmness, fine lines, and overall tone and appearance of your skin.
I started using the flagship product, OS-1 Face, this week. It's clinically validated to improve firmness, fine lines, and your skin's overall tone and appearance. I used it for three days and then called my sister. and told her all about it because we both go back and forth sharing our favorite skincare products, I knew that OneSkin would jump to the top of her list.
In a space that's really saturated with some over hyped topical skincare products, OneSkin stands out because it targets the root cause of skin aging, not just… Improving the surface level signs, but improving your skin from the inside out. You can use OneSkin on its own, combined with your favorite routine products.
It's vegan, cruelty free, fragrance free, and it has a skin safe seal, meaning it's suitable for even the most sensitive skin. I'm a huge fan, I think you will be too, and you're in luck. For a limited time, listeners can get 15% off OneSkin with the code LIVEFREE at oneskin.co. OneSkin addresses skin health at the molecular level, targeting the root causes of aging so skin behaves, feels, and appears younger.
It's time to get started with your new face, eye, and body routine at a discounted rate. Get 15 percent off with the code LIVEFREE at oneskin.co. That's 15 percent off. One skin.co with the code live free. We only have one body, one skin, and only you can choose to make it better. Age healthier with one skin.
How Can we Recover from Burnout?
I'll make sure that that link and the code are right there in the show notes on your phone so you can click through and give one skin a try today. Now that we've defined and clarified the criteria and the problem. With Burnout, I want to share the practical recovery steps that we can use to feel a little bit better.
These steps will work for recovery from burnout in an acute situation. They will also work if you begin folding them into your regular routine as a prevention from burnout in the future. So just quickly, I'm going to go over the signs of burnout so you, you know, you can kind of use it as a checklist quick, and then I'll move into those recoveries.
So, our signs of burnout are going to be exhaustion, feeling tired and fatigued a lot of the time. Isolation, kind of pulling away, not wanting to spend a lot of time with other people, feeling like it's just too much. Escape fantasies. This is the one that kind of made me laugh because I remember sitting on the beach in Costa Rica thinking, I wonder if we just stayed here.
Like, that would be great. We'd just not go back to life as we know it. Which is hilarious because I love life as I know it, but from a state of burnout, everything looks a little bit more difficult than, you know, you know that it can be. Irritability. Feeling like you're just on edge a lot of the time. And sometimes people even get sick.
I loved in the book, Burnout, where the Nagowski sisters talk about that our body's response to a high stress experience, we expect that we'll feel relief at the end of it, and a lot of times what we, what happens at the end of a high stress experience is that we get sick. Because our body has been keeping all of that at bay, and then when we finally have time to rest, our body takes advantage of that ability to rest and, you know, our, we are allowed then to be sick for a while.
It doesn't always feel as good to finish something big as we expect it will. Oftentimes it takes weeks or months of integration and allowing ourselves to really come down and to settle back in before we're able to enjoy the benefits of whatever the hard thing is that we've just accomplished.
Three Steps to Burnout Prevention and Recovery: Name, Frame, Tame
I've divided our recovery into three simple steps that all kind of break down into bigger explanations, but I wanted it to be easy to remember. So, when you're dealing with burnout, I think it's important that you can name, frame, and tame. Easy to remember, right? Name, frame, and tame. What am I talking about?
Step One: Name
The first step that is important when we're dealing with burnout or overwhelm, or stress of this type is that you acknowledge that it's happening. We will never solve for the problem that we don't acknowledge, that we don't open to. I didn't start taking steps to recover from my state of burnout until I recognized and acknowledged that that's what was happening.
That gave me permission to then step into recovery mode rather than just feeling like I can handle it all. You know, when you're stressed out and just managing, even if you are burned out, this, this idea is that you just keep managing, that you can just handle it. When you name it, I'm feeling burned out, here are the criteria that Uh, you know, that I recognize in myself and in my life that brings me to that conclusion.
And you start to accept it, then you are in a place to begin recovering. Name means acceptance, maybe admittal, if you feel like it's something you must admit. And distance from the stressor itself. This one can be tricky, and depending on what that is, it can look different ways. I worked with a coaching client who was severely burned out because of a corporate job, and distance from the stressor meant leaving the job and doing something different.
Distance from burnout in a relationship may look like needing to pause the relationship for a little while. In my case, the burnout was work, school, and family related. And school ended, you know, I pushed through. So, I got to the end of that work was something that I didn't expect to need to pause in the way that I did.
But once I named my burnout for what it was and recognized my need to recover, I was able to give myself permission to take distance from some of the things that felt like continual drains on my resources, even though and I want to clarify that even things that I like when they're continually constantly.
Drawing upon resources that I no longer have become intense stressors. So, things like using social media or recording my podcast or hosting retreats. These are things that I love doing that also take energy and time and thought and creativity and things that I was out of. So, distance from my stressor became.
Putting on pause, taking a rest from some of the things that I had doubted before if I ever would be able to rest from. And in this idea of taking a break from the stressor, it can feel scary. You might have to use some courage and recognize that Burnout doesn't heal itself, so to feel better in the long run, you might have to feel a little bit uncomfortable taking a break in the short run, so that you can build up and fortify your resources once again to move forward into the next stage.
Step Two: Frame
The next one after we've named is to frame. Think about a frame on your wall. You usually put something in there that you enjoy looking at, that you like, right? How do you frame the experiences of your life and the stories that you tell yourself? Framing means that you want to refocus on your health and healing and that you want to reevaluate your goals and priorities.
Oftentimes, burnout happens because of a mismatch of our values, that we're doing a lot, that might matter less to us, but we feel compelled to for one reason or another. Framing or reframing as a step to recovery means evaluating and realigning with our current goals, values, our why. Things that can help with this are journaling, taking time to get out of our heads and onto paper and read.
what we're thinking about, that can be helpful. Noticing patterns in the stories that we're telling, the way we're talking about things, what comes up with positive energy and what comes up as sort of a drag. The things that are sort of a drag might be causing undue pressure or sucking more of our resources than we feel like we want to give them.
There can be resentment building there. So, once we've named, then we can frame, and we are able to take a clear look at what we need. And just because, if you're listening to this show, I'm going to assume that you're a human, there are some basic needs that all humans share, even though some of us like to pretend that we don't share these needs.
Baseline, we're looking at Nutrition. Fueling our bodies with food balances what we need in terms of energy and, you know, macro and micronutrients. That might mean taking a multivitamin. It might mean making sure that you're not Iron deficient, especially if you're a woman, 50 percent of women are iron deficient without knowing it.
Another quote that I love from Burnout, the book, is when Emily says,
"So, how much rest is adequate? Science says 42%. That's the percentage of time your body and brain need you to spend resting. It's about 10 hours out of every 24.
It doesn't have to be every day. It can average out over about a week or a month or more, but yeah, 42%. That's ridiculous. I don't have that kind of time. You might protest and we remind you that we predicted you might feel that way. We're not saying you should take 42% of your time to rest. We're saying that if you don't take 42 percent, the 42 percent will take you.
It will grab you by the face, shove you to the ground, put its foot on your chest, and declare itself the victor."
How is that for the importance of rest and sleep? They're not talking specifically about sleep when they're talking about rest, but sleep is incorporated into the ten hours that we might need.
So, at least eight. hours as an adult is the recommended amount of sleep. I prefer nine personally. And if you get a couple hours of rest outside of sleep, that could mean sitting quietly in a state of calm. It could be meditation. It could be a walk. Other ways throughout your day that you're resting in a state of rest will contribute to the overall need for rest that you have.
We also need movement. Our bodies, our human bodies need movement and exercise, activity, physical activity is one of the best ways to move stress out of our system. Hormonally, the stress chemicals that bubble up inside our bodies are burned up and released through physical activity. The other morning, this week, I had a stressful morning helping my kids get to school.
I joke that from 6:00am to 8:30am is like the worst time of my whole day because I feel like I'm just running on the heels of three teenagers, trying to help them get up, get ready. They go to three different schools. The schedule's a little bit wild. I have some a little bit more reluctant than others.
We're trying to get into a rhythm. We're almost at the end of the first quarter, and we're not quite there yet, but I have hope we'll get there. Some days are better than others, and I had a day this week that was… Not a great one. It was so stressful. In fact, I dropped my son off at high school, my husband was in the car, we, our loop is supposed to be drop our high schooler off in the car because he's a little bit further away, and then we go straight to the gym, and we were a little bit behind, we were late to the gym, I didn't talk at all, like I was I was, I was so stressed out that I dropped off my son, he went in, love you honey, have a great day.
And then I was just like, quiet. I just needed the space to just drive angrily to the gym. And I got there and saw a friend and she said, oh, how are you? And I said, oh, it's been a hard morning. I either needed to come here or I was going to just have a terrible rest of my day. And uh, She, you know, kind of laughed and gave me a hug, and I mean, I was, it was, it was a hard morning.
Maybe not necessarily, but it, it felt hard, and I started the workout. We did our warmup, and then we started doing our workout, and by about 15 to 20 minutes into our hour-long session at our CrossFit gym, I Felt the stress start to burn up, and it was so interesting because I know that this happens, but I could feel it specifically happening inside, like almost a cellular level.
I could feel it disappearing as my body went to work using that energy, that cortisol that had been, you know, pumping through my system in my fight or flight response to stress, my body started using it and needing it because I was giving it something to do. I was rowing and I was running, and I was lifting weights.
And I, by the end of the hour, I, the stress was gone. It had burned up completely. It had lifted off me and it was such a real, physical, tangible example of how using our body's own resources to recover from its own responses can be healthy. Activity, physical activity, exercise, in whatever way you choose to do it.
I happen to love CrossFit. I've been doing it for about two years, and it hits all the right notes for me of community and fun and, you know, dynamic and intense but not super long. I really like it. If you're in the Richmond area, I go to CrossFit Addict up on Staples Mill Road, and you should join. It's so fun.
If you like walking, if you like gardening, if you like doing Zumba, if you like riding your bike, if you like spinning, or bar, or yoga, or one of the million ways to move your body, do it regularly. This not only is helpful to recover from stress and burnout, but it is also a great preventative from chronic stress leading to burnout.
I didn't intend to go on an exercise soapbox there, but it just reminded me, talking about exercise, of this. Really real and present experience that I have this week that reminded me of the benefits of exercise on reducing our stress and elevating our mood. We'll talk more about that in the future, but if you're a human, you need nutrition, you need sleep, you need exercise, and you need people.
You need other people. in community, in connection, and I'm going to call that help in this situation.
Step Three: Tame
So, once you have named and framed your burnout, you need to tame it by taking simple steps toward eating a little bit better, getting a little more sleep, exercising in whatever way makes sense and is fun for you.
It has been helpful for me to have a therapist. That's actual help, a neutral third party. Unrelated to me, I mean, I talked for years about how great therapy seemed before I had gone to therapy, telling myself, I have a lot of good friends and family, I have a great support system, and those people sort of act as therapists.
Until I got a real therapist, I didn't understand how different it is to talk to someone who has no buy in to your life. Other than, you know, caring about you as a person, your choices don't influence anything about their lives, where they do with a family member or a friend. Taming your burnout also involves taking alternative paths.
Not going right back into the loop of, you know, setting yourself up to just feel burned out again in another year or a few months. Charting and a different path into your future. This might mean you need to tell people about it. I find it can be difficult to talk about hard things, like going through extended periods of stress or burnout.
And it is so relieving to not be carrying that burden by yourself. Having self-compassion. And this may just look like reminding yourself that it's okay to not be okay. And I like to do this out loud, to tell myself I'm having a hard day and that's okay, hard days are part of life, it's part of being human, and I'm going to take care of myself so that I can feel better in the future.
Some, other than exercise that I, you know, really went into for a minute there, a couple other stress management techniques that are helpful in burnout recovery, but also in burnout prevention, are learning to breathe, like box breathing, which I've shared with you before in other episodes, but this is a technique that's used in the highest levels of the military.
Like Navy SEALs are taught to box breathe to manage stress, and it changes your chemistry to breathe in this way. reduces your heart rate and smooths the tone on your vagus nerve. Box breathing looks like in for four, hold for four, out for four, hold for four. So, you can imagine it like a box where the sides are all the same.
Inhale for four, hold. Exhale for four, hold. If you can just have that little technique in your back pocket for when you're feeling stressed out to help manage that stress. And again, the, the goal isn't to avoid all stress. It's to be able to move into stress and out of it just as easily. Another technique that I love.
is called forest bathing. This, to me, just feels like being in nature, like immersing yourself in nature. You can go forest bathing where there's some good research about being in trees, seeing trees, being surrounded by them. A lot of people like to ground where they take their shoes and socks off, allow their bare feet to be on the earth, and that can change some of your electricity, like it can start to change the ions that are surrounding you.
The ocean's also good for grounding, being out on the sand near the ocean and the salt water can help our bodies absorb negative ions from nature that help to neutralize oxidants and free radicals and, and inflammation in our system. So, starts to reduce stress causes inflammation and grounding and being in nature and, you know, walking barefoot on the beach or grass or the dirt in your yard can start to reverse some of those processes.
When you are experiencing chronic stress leading to burnout or even just an Instances of stress in the rhythm of your daily life, remember, it can be helpful to name, frame, and tame it.
Name: Name it by admitting and accepting and saying it out loud. It helped me to say, I am really burned out. And the more I talked about it, the easier it was to search for solutions for myself.
Frame: Distance yourself from the stressor, frame it by focusing on your health and well-being, reevaluating your goals and priorities, and setting yourself up on a new pathway.
Tame: And then tame it by taking a break, talking to people, focusing on your baseline human needs like sleep and nutrition and exercise and connection.
And then try some of these other specific examples that I gave, like getting a therapist, doing some box breathing, journaling. Forest bathing and grounding, identifying the patterns of things that help you and are supportive for you as a unique individual and the things that don't work as well for you and that you can, you know, put on the shelf for a different time.
Even just recording this episode as I was preparing to relaunch the show for season six. I thought I really want to talk about burnout because although I feel like it's out there in the world that, you know, you can read an article about it, or you hear it talked like the word is zingy. Like we're talking about it in the zeitgeist right now. I really appreciate knowing people personally or people that I feel like I have a little bit more rapport with talking about it from their own personal perspective.
Hopefully my sharing about my own experience with burnout recently humanizes it for you in a way that it feels like less like something that's just out there and something that if you are experiencing it, it doesn't feel shameful to say this is something that I'm experiencing.
Hopefully some of the tips that I've shared on burnout. Identification and recovery can help you avoid or recover from your own instances of burnout in your life. And remember that this whole thing is a process. That, you know, my goal is to prevent burnout in the clinical way that I've felt it over the last few months.
But that I can set myself up again for success to be resilient to burnout in the future by managing my stress as it comes. And… Dipping in and out of stress on a regular basis and acknowledging that in times where unexpected stress is coming in my back door uninvited, that may mean that I need to excuse some of the things that I Have chosen or put them away for a little while so that I can manage with the resources I have available, the demands on my time and energy.
Thank you for tuning in today. I hope you've enjoyed this episode and whether it's immediately applicable to you or something that you could just think about or. How to build some burnout prevention in your own life. Make your life burnout proof. I hope today's episode and the examples I shared will help you feel practically happy.
Talk to you next week. Bye. Bye