Episode 26: The Magic Of Creativity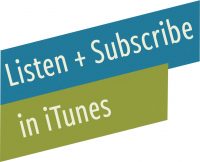 Introduction
Hello. Hello. Welcome back to the show. I'm Miranda Anderson. This is Live Free Creative Episode 26, The Magic Of Creativity.
How are you? I'm so happy that you're here, that you've tuned into the show. You know that recording this podcast is one of my very favorite things that I do every week. I look forward to it. I think about it. I dream about it. I pay attention to the things that are happening in my life, looking for lessons that might be something that I could share here with you in hopes to make an impact on your life and the way that some of these lessons make an impact on mine.
I remember years ago when I was talking to Dave about starting a podcast before I actually did it, I told him one of the things that one of my ideas for a podcast would be a podcast called, "So I Read This Thing." Because I read a lot and I read articles and Dave will send me funny things on the Internet and also I love to read books and I just read everything that I can find when I have the time.
Every so often I read something that I think, "Gosh, I need to tell people about that!" and I find myself telling friends and family members. I just read this thing and then going on to explain it.
I feel like this podcast, although it's not that idea exactly, has been a place for me to be able to share some of the things that I read. Some of the things that I think and some of the things that I experience. I know I learned a lot in my life from hearing other people tell their story, from reading what other people have written, and I hope that as you listen to the stories that I share and the things that I come up with to inspire and teach and entertain you, that you find some value in this show for your everyday life.
To start off the show today, I want to give you a little update on our life lately.
Segment: Life Lately
Happy Valentine's Day!
When you are listening to this episode. It is Valentine's Day. Happy Valentine's Day! I shared a little bit about how our family celebrates Valentine's Day with a breakfast for dinner, special meal, and every one in the family gets a new book specially chosen for their situation or their stage of life. Something that I think they'll really enjoy and how we celebrate as a family.
I was surprised to hear on instagram that a lot of people don't celebrate Valentine's Day at all because they think of it as a romantic holiday, which of course in its inception, that's kind of how it started off or where it came from. But I have loved thinking of Valentine's Day as a family holiday and celebrating the people that I love that way.
We celebrated our Valentine's Day a little bit early this year because today on actual Valentine's Day, Dave and I are in Munich, Germany. While Dave doesn't travel super often for work on occasion, he goes to London to work with some inventors there. If you don't know, Dave is a chemical patent attorney and he shared a little bit about that in episode 10 where we talked about making space for marriage in your life.
We're Going To Germany
I was excited when I saw that this year, not only would he be going to London to speak with some inventors, but he also was going to go to Munich, Germany for a patent litigation trial. I don't know all of the ins and outs of the details of exactly what that looks like, but I just saw on his calendar that he was going to be in Germany over my birthday, which is February ninth, and I casually invited myself along because why not? Of course, I went to go spend some time with Dave in Germany to celebrate my birthday.
I turned 36 on February ninth. So as you're listening, we are currently wandering the streets of Munich, Germany, eating schnitzel and visiting castles and hopefully just having a really incredible time. I am super excited to visit Germany. I've been once before. When I was in high school. I visited with my mother and I have fond memories of it.
In fact, I have this incredible memory thing that I dream about some times of driving through the countryside in a southern Germany and we start. We pulled into a little town and we started to smell this really sweet smell and so we kind of followed the smell. I mean, I think of it as like a cartoon where you know, the smell is like floating in the air and you can see it in the cartoon character. It just lifts up his or her nose and follows a smell all the way to this little bakery.
We found this little tiny bakery where they had just pulled coconut macaroons out of the oven and they were warm and so we, we got a little paper bag filled with these small bite sized coconut macaroons in southern Germany, some small little town and they were delicious. They were so good. I love coconut macaroons anyway, but I had never had them fresh and warm right out of the oven. Such a fantastic experience.
Our House Renovations Have Finally Begun!
So meanwhile dave and I are in Germany. My mom is home hanging out with the kids and doing the shuffle because we're in a rental house while our home is being renovated. Life lately when I'm home right now, looks like waking up in the morning, getting the kids ready for school, driving them across town to drop them off at school, going to our house, which is just a few blocks from the school to check on the chickens, let the chickens out to free range in the yard and make sure their food and water is okay.
And then I hop in the car. I go over to my office, which is also nearby the house that we own. Spend some time working there, go pick up the kids from school, meet the bus at the bus stop, put the chickens back in the coop and then drive back across town to the rental house. So we're living in quite a shuffle right now.
It's all going really well though, surprisingly well. We feel settled into the rental and we're really enjoying exploring the new neighborhood. Like I mentioned in the last episode about how we went out and had been walking around and finding some cafes and parks and things nearby, which has been really fun.
I Turned My Book Manuscript Into The Editor!
The other exciting thing that's been happening lately in life is that I turned my book manuscript into the content editor for the first time. Over the weekend I submitted the entire draft of the manuscript that had been written by me and then revised by Dave and me and I also had some Beta readers read through it and now the entire draft is in the hands of my editor and I'm super excited to start working on this process.
I know and I'm looking forward to the manuscript, coming back with lots of suggestions, lots of ideas and lots of ways that we can change and improve it. I in no way expect that the first writing is going to be the best writing and I am actually just really looking forward to the process over the next couple of months of refining my messaging so that this book that I am going to put into the world this year, we'll have the type of impact and really communicate the message that I want to communicate as clearly as before.
About The Book:
So in case I haven't mentioned it, let me just give you a little bit of detail about what the book is going to be about. This book is a collection of the lessons that our family learned during our year of not shopping. So if you haven't learned about that, you could go back and listen to episode four where I share all about our year of not shopping that we experienced in 2017. The minimalist experiment that we did to try to learn some different values and also to just see what it was like and see how we could do it too, curb are mindless consumption and to work on being a more intentional family.
Needless to say that experience was pivotal in our family culture, in our lifestyle and in the way that we spend our time and our resources and I really loved the process of writing through all of that. I don't share the chronological, month-by-month of our year of not shopping. Rather take a topical approach and share the different lessons that we learned all along the way, highlighting different experiences that we had that helped encourage and move us along the path towards those lessons. I will continue to share little updates as the process for the book rolls along, but get very excited. It will be coming out in the late spring and I will be sure to let you know all about it when it comes out and I'll definitely be sharing some insights and snippets here as well. So all of that, my friends, is what's happening in our life lately.
The Magic Of Creativity
I want to talk to you today about the magic of creativity. The idea that as we put pen to paper or mix things up in the kitchen or sit down at the piano and play little ditty that our minds actually grow and expand and change and that our hearts get filled up with gratitude and with peace and with contentment and with fulfillment as we exercise all of our ability to create. One of my favorite resources on creativity that really explains a lot of it in ways that I have thought about it myself and also in some new ways is the book Big Magic: Creative Living Beyond Fear by Elizabeth Gilbert. If you haven't yet read big magic, I highly recommend it. I'll put a link to it in the show notes so you can check it out or you can find it at your local library.
It came out a few years ago. I actually remember picking it up from my mailbox, opening the packaging and then driving to the grocery store because I needed to go to the grocery store. And while I sat for a second in the grocery store parking lot, I thought I would flip through the first couple pages and I ended up sitting in my car and reading the entire book in the grocery store parking lot. I just sat there for two and a half hours and read this book from cover to cover.
I devoured it partly because it resonated so fully with me and the ideas that I have about creativity and then partly like I said, because there were these new ideas and new introductions to ways of thinking about creativity that I had never considered before. That also really resonated with me.
Humans Are Innately Creative
One of my favorite things that Elizabeth Gilbert shares is that humans are innately creative.
"We are all creative beings. It is part of our makeup. It's part of who we are as a people. As a collective."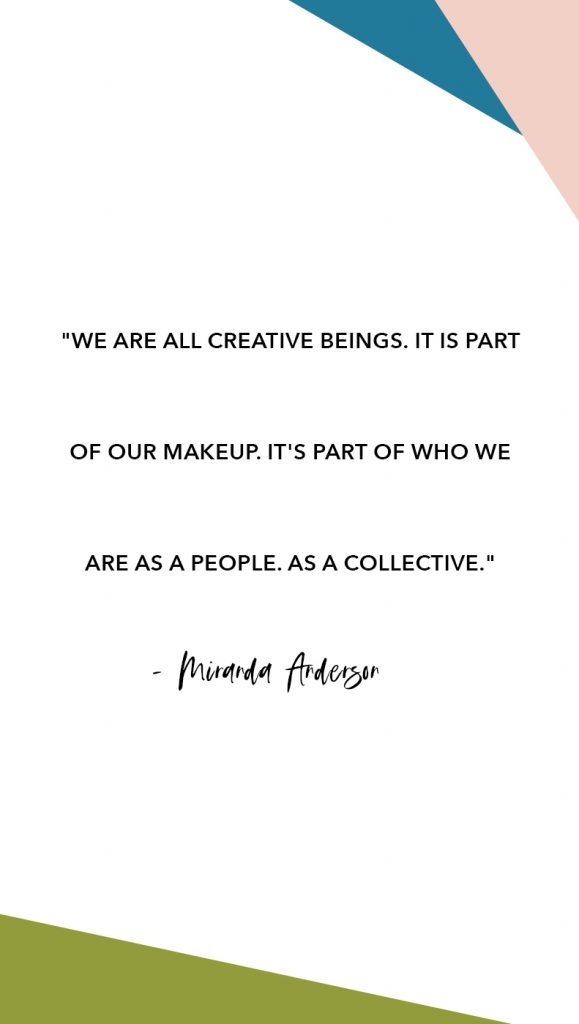 We are all creative beings. It is part of our makeup. It's part of who we are as a people as a collective. I know that sometimes when I talk about creativity, when I'm teaching craft classes or when I'm sharing DIYs online or when I'm sharing projects that I finished on my instagram account, people tell me, "That is so amazing. I wish that I was creative. I'm just not a creative person." And my friends. That is not true.
Every single person is creative. It is part of who we are as human beings, whether or not you choose to embrace or exercise your creativity is another thing, but we are all creative people. We all have the ability to create. Elizabeth Gilbert specifically says, I love this quote: "If you're alive, you're a creative person."
That's the truth. If you are alive, you're a creative person, and today I want to share a couple of ways that you can think about creativity in a new way and maybe some ways you can exercise a little more fully in your life if maybe you're amplifying your creativity in the way that you could.
The History Of Creativity
Creativity Was Reserved For Diety
I want to start by briefly explaining a little bit of the history of the word "creativity" because I find it fascinating throughout most of history, creativity was not considered something that humans could engage in. "Creativity" was reserved for God or the Gods.
In ancient Greece and ancient China and ancient India, the concept of "creativity" was reserved for God and art as a was a form of discovery, not creation. It was believed that people could not bring forth something that hadn't existed before. That was something that God did. So if you were to make something, you could "make" something or "discover" something, but you couldn't actually create something.
The ancient Greeks didn't use the words create or creator, except in talking about God, but they also did talk about ideas coming from those same deity, calling them muses or genius. People who were discovering new things or sharing new ways of doing things were thought to be accompanied by these mythical creatures or companions who were feeding them.
Ideas Came From Muse or Genius, Not From People
These ideas who were sharing those things with them. It wasn't coming from inside the person, him or herself. It was something that tapped you on the shoulder. Elizabeth Gilbert shares this same type of idea in Big Magic. She in fact talks about "ideas" in quotations, "ideas" as being things that exist outside of our own selves and outside kind of floating around in the world.
An idea can come to you and that you may choose to embrace it and to act upon it or you can choose to release it. She gives this really interesting set of scenarios where she's had an idea for a specific book and for whatever reason it hasn't been the right time or something. She will release it. She doesn't embrace and act upon it and soon after she'll notice that someone else that she knows close to her has taken that same exact idea and has embraced it and has acted upon it and that has brought it forth to to fruition. The other person has written that novel or has written that book or has created that painting.
"Ideas are readily available to all of us, but we are responsible for making place for them, embracing them, and bringing them to fruition."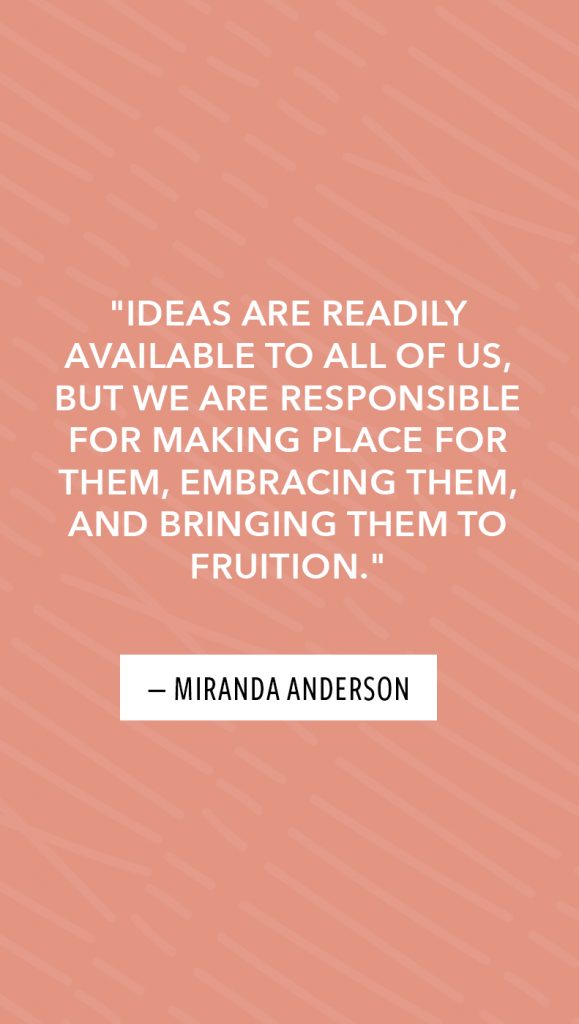 I love this idea because in some ways it takes some of the pressure of creativity off of oneself. When you can think about ideas as being things that are readily available to all of us, but then it gives us the responsibility of whether or not we're going to make place for them in our lives and take advantage of them and embrace them and bring them to fruition.
What Do You Do With An Idea?
Talking about that reminds me of a children's book that I picked up last year for my kids that I loved called "What Do You Do With An Idea?" It's a beautifully written and illustrated book. The author is Kobi Yamada and the illustrator is Mae Bessam. I'll link that in the show notes. It basically talks through the same thing in a way that your kids can understand.
What do you do with an idea? Your idea is here and it kind of follows you around and you don't really know if you want to claim it or what you want to do with it. And then as you nourish it and as you make it your own, and as you embrace it and you nurture it and you feed it, then your idea comes to life. And your idea starts to really work. And your idea–in that book– in the end changes the world.
We Get To Choose And Focus
Now, this isn't to say that I think that every single idea that taps us on the shoulder is something that we should embrace and take full advantage of because I especially am in particularly prone to having lots of ideas. Tap me on the shoulder day in and day out, and I simply don't have the time or the energy or the receipt sources to embrace all of them.
So I have to exercise focus and intention and discernment when choosing which ideas I want to act upon and which ideas I want to follow. But when I'm talking about creativity in general, creativity and ideas, and these washes of genius and Aha moments are available to all of us. We can feel that spark of newness and that spark of ingenuity in our lives if we create place for it and that it can feel so magical when we do.
Four Steps For Exercising Creativity In Everyday Life
I want to give you four steps to exercising creativity in your everyday life. I know that some of you are listening to this thinking, "I don't have time for creativity in my everyday life. I'm a busy mom. I've got lots of little kids running around or even just one little baby running around." Or maybe you're not a mom at all. Maybe you're a busy business person. Maybe you have your life filled with other hobbies and with other things or with school or with work, or maybe you just don't have a lot of energy right now and you are feeling like they're just– you know the ideas tapping on the shoulder, are more like horseflies that you want to squash or shoo away.
The Benefits Of Creativity
You're not very interested in moving forward with anything and I want to give you four ways that you can implement some form of creativity into your regular life because the benefits of creativity, of exercising creativity in your life are innumerable. Study after study shows that people who exercise small acts of creativity in their lives live longer, live better, have reduced stress. That their overall health improves and is better. That their mind is sharper. That there are more positive and more able to see the wonderful things that are happening in their lives.
Creativity doesn't need to be specific. It doesn't need to be painting or drawing or writing. The types of things that we think about as what creativity looks like. Creativity can be exercised in so many different ways. In fact, I read a really interesting article, the activity, and I will link it in the show notes. I don't remember exactly what the resource is right now. It was in an actual magazine though talking about creativity. I think it was a Time magazine special about creativity.
It shared how the act of creativity is simply bringing together things that already exist in new ways. Sometimes we get frozen by the idea of not being able to create something totally unique or new like everything has been done before. Everything has been made before. Everyone has doodled that thing before the handwriting, you know all starts to look the same after a while.
Everything is just so saturated that how could we possibly be creative?
Bring Forth Something That Hasn't Yet Existed
I loved this idea that creativity is bringing forth something that hasn't existed before using things that already do exist. All of the materials are here around you, whether that's a paper and pen or whether it's some celery and spices in your kitchen or whether it is the way that you're going to approach a problem. The resources and the materials for creativity surround us readily in our lives and our job as creators or our invitation as creators is to combine them in new ways to bring forth something that hasn't yet existed and that would not exist unless we brought it forth.
I'd like to think about that as well. Even if we all were to sit down around a big craft table and make the same craft using the same materials and they all ended up looking sort of the same. The one that you make would not have existed if you hadn't made it because you're the only one who could do it that way, and also the benefit that you get from the simple act of creating could not be felt by you if you didn't do it.
The Purpose Is The Process
A lot of times in my own life I've thought, "Gosh, I have all of these ideas for things I want to make, but I don't really need the end product." For example, with sewing, I have an edited closet. I have a capsule wardrobe. I really have a lot of essentials. I have all of the clothes that I feel like I need and I don't really feel a lack. I don't feel like I need a lot more, but I also love to sew and I love to make clothing and I especially love to make clothing for myself and sometimes I don't need the end product.
A couple of weeks ago I sewed Valentine's dresses for Plum and and me, matching dresses. I'll put a picture of them in the show notes are linked to the blog post where I talk all about them. I did not need a Valentine's Day dress. That wasn't something that my closet was lacking or a big space that I felt needed to be filled, but what I needed was the time spent creating.
"I didn't need a Valentine's Day dress. What I needed was time spent creating. Sometimes the purpose is the process."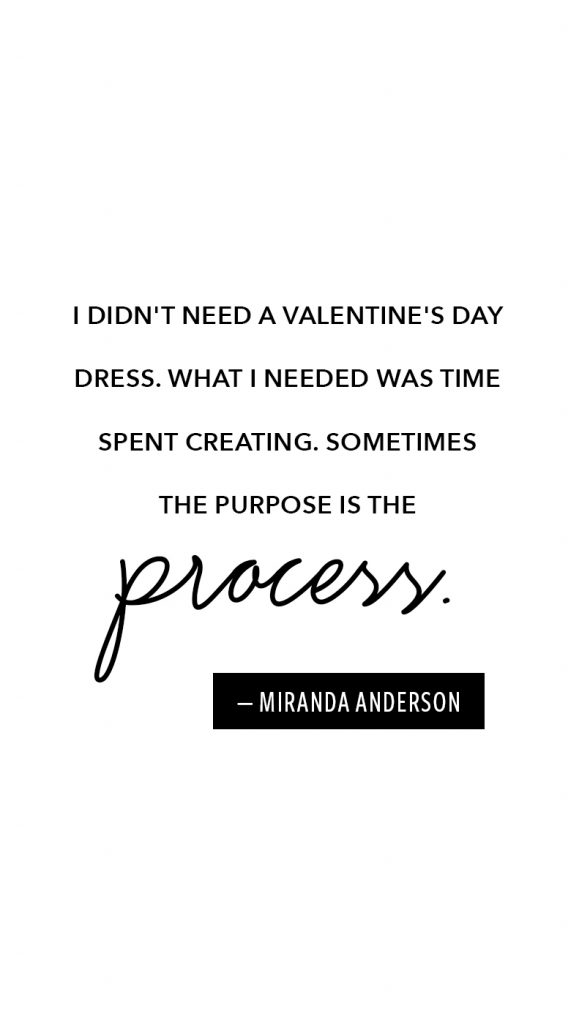 I needed to feel the process. I needed to engage my mind and my hands and my heart in an act of making something that didn't exist before and the benefit that I got from that has been long reaching. When I sit down to make something or to create something, my mind starts to work in new ways and I feel my body start to relax and get into a rhythm and get into the zone and feel the flow.
The active creation can be so beneficial and a lot of times, especially if you're not in the habit of creating things, you forget that. So here are the four steps to making some creative magic in your own life.
1. Recognize That You Are Creative Because You Are Alive
Step one is to recognize that you are creative because you are alive. So if you're not alive, I don't know how you're listening to this podcast, but if you are alive, you are a creative being. And step one is just recognizing that trying that on, even if it doesn't feel exactly right. Even if you haven't identified with the idea of being creative a lot before in your life, try it on. Just give yourself a chance to feel that you are a creative person. That's step one.
"Even if you haven't identified with the idea of being creative a lot before in your life, try it on."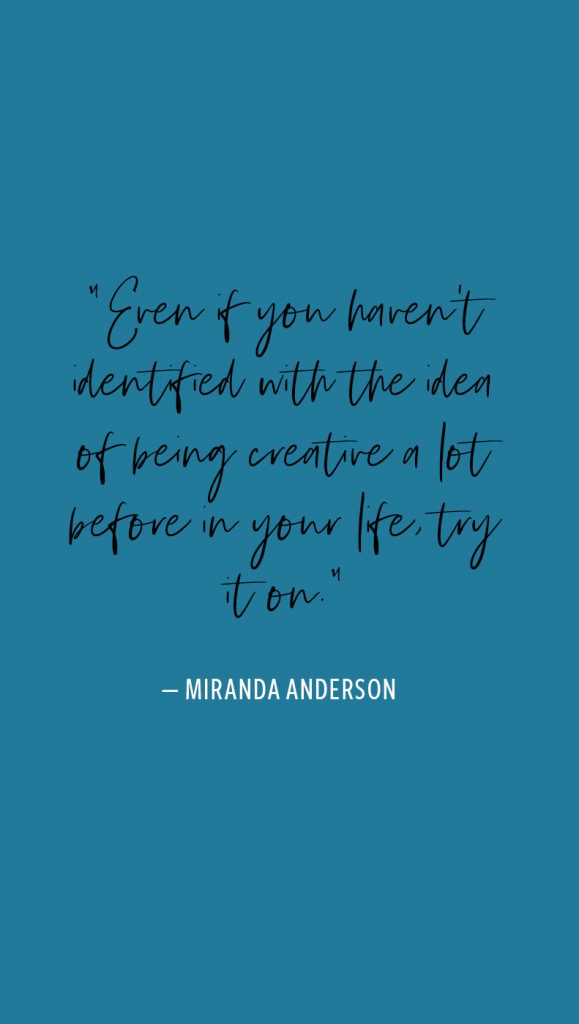 2. Experiment With Creativity
Step two is to begin to experiment and I like the idea of experimenting rather than just making or creating because when we talk about experiment, there's inherently this idea that we don't know exactly what we're doing and that we don't know how it's going to turn out. An experiment is an experiment because the end product is unknown.
The End Is Unknown
You create a hypothesis and then you experimented. Then you find out, you find out what's going to happen. So step two of embracing your own creativity is to experiment with things. Don't put the pressure on yourself to make something specific or to make something that looks just like you expect it to, or to develop a skill really quickly and just be really good at something.
When you're creative, you allow yourself to discover. I love that. Like I mentioned at the beginning of the episode, the Greeks and the Romans talked about creation as discovery. Art is discovery. You weren't responsible for bringing forth something perfect. Your only responsibility is to sit down and to try whatever that is that resonates with you, whether it's doing some doodles in the pages of your planner or whether it's using colored markers to write up the calendar, whether it's trying a new recipe or inventing a new recipe, whether it is getting out in the garden and planting a garden, whether it's sewing or knitting or painting or writing poetry or doing a dance or creating music or designing a room, choosing a color of paint, organizing your cabinet.
All of these things can be creative and as you experiment with something just for fun, you'll start to feel the joy and the benefits of creating in the process. It's not the product that we're interested in. When we're talking about creativity, the purpose is the process.
One of my favorite quotes from Big Magic about this is when Elizabeth Gilbert says, "Do whatever brings you to life. Follow your own fascinations, obsessions and compulsions. Trust them. Create whatever causes a revolution in your heart."
What Interests You? Choose Something!
I appreciate that so much because it is wide. What is it that you've been interested in? What is your obsession? What is your compulsion? What is your fascination? Whatever it is is okay. You get to choose what you want to spend your creative time doing and what your creative life looks like, but choose something and start to experiment with it. I want to share a couple examples because I have spent a lot of my adult life sewing and crafting as a creative pursuit and I love it so much and I feel really engaged in it when I'm doing it and I've also tried a lot of different things.
A couple of years ago I took a class to do glass blowing. It was just a one day class and it's not something that I've ever done again, but the time that I spent engaged in that process, learning something new was really, really incredible. I felt like my mind was just absorbing all of these new things and ideas and I have never gone back to a glass blowing class and I haven't done it again, but I still reflect on some of the things that I thought about and some of the things that I learned as I was doing that class.
Another example, and I don't know why it's all glass, is that I took a stained glass class. My Dad used to do stained glass and he has a couple of really beautiful panels that he had, you know, in our home growing up and I've always just been interested in it and so I found a stained glass class in Austin just a few months before we moved to Richmond and I started taking this class.
It was a weekly class. I did it for six weeks and I created this little sunrise panel that I like okay. I don't love the finished product to be totally honest, but the process of being engaged and learning something new and being a beginner helped me to feel confidence in a lot of other areas in my life. I was able to take the process of learning and doing something new and just making something that I had never made before and then take some of those same lessons and apply them to other areas of my life so it truly does not matter what it is that you're creating. Really anything that you're interested in, I would recommend to experiment with it. That's the whole point of this step. The step number two is that there doesn't have to be a good reason that you're interested in that thing or another thing.
Allow yourself the space to display and just be a beginner and just try some new things and see what you learn.
3. Create And Then Pause To Process
Step three, to embrace your creativity is to pause. So, you decided that your creative person, and then you experiment with creativity a little bit every day, a few minutes, every day here, their writing a little note drawing, little doodle, and then I want you to take some time to pause and to think about what you've created or to think about a way you could do it a little bit differently or to think about it.
Not actively think about it, but give yourself some space to consider and to ponder and to meditate.
I recently read a book called Big Ideas: How To Unleash Your Creative Self And Have More Aha Moments by Craig Chase and Jennifer Beck Strand. A lot of the book is talking specifically about the way that your brain acts when you're in the different types of thinking modes.
There's active thinking and problem solving and then passive thinking. One of the things that really struck me about this book was how many big ideas, those big Aha moments and those strokes of genius or those light bulbs that turn on happen during moments of pause. During the time that you're actually taking a break from whatever it is you were working on. That's when your brain starts to engage itself in problem solving and in and in more dramatic acts of creativity.
And so I am going to start implementing this in my own practices to do my experimenting and do my creation, and then also to take time to pause and reflect and ponder and allow those big ideas, those muses or those genius to tap me on the shoulder and invite me into something brand new or something really exciting or really different or maybe simply just a creative different way of solving a problem that I haven't thought of before.
Downtime Is Important!
I think we often forget how important that downtime is. One practice that a lot of seasoned creatives or artists or authors, people that you would traditionally think of as idea people use is to carry a notebook and to take notes, take notes because those ideas that float around and come tap you on the shoulder. Maybe they just need to be written down so that you can think on them and give them a little bit of space.
I know some people will have dreams of ideas and I actually recently have been feeling this a little bit because I've been so wrapped up in the process of writing my book and getting ready for the launch and preparing for marketing ideas and how I want to share about it. All of the things that go into releasing a book. I have been having dreams about ideas and I will wake up in the middle of the night and have to write them down! I've been using the notes app on my phone and I've also been using my paper planner during the day to just jot down little notes.
Something will come to me and rather than just dismiss it as you know, like, "Oh, that's an interesting idea" and dismiss it to where I might not ever ever have it again. I have started the practice of actively writing down ideas as they come and it doesn't mean that all of them will ever be used, but just capturing them as creating a system where my brain is paying attention to interesting things and interesting ideas and maybe solutions for problems that I hadn't really even been thinking about seriously.
Creativity And New Ideas In Problem Solving
One of the magical things about creativity is it can be applied to not only making new stuff and crafting and sewing and that kind of stuff, but creativity is so important in problem solving and looking at areas of our life that could use a little bit of positive change or progress and then applying new ideas to the way that we do things.
That's one of the really incredible things about creativity. I think that as we create space, as we give ourselves time to pause and to meditate and to ponder on some of those problems that may be happening, we allow ourselves that downtime. Those brainwaves that kind of go into passive mode and it's from there that those connections start to be made for the big ideas or the big solutions to come to us.
So step three is to pause, give yourself time away from whatever it is you're working on. When I was writing the book, and I'm still writing on it right now, I'm in a pause mode because it's with the editor and so I wrote and wrote and wrote. I thought about it for two full years. I wrote and wrote and wrote, and then I handed it off and now I'm in pause and when it comes in, I'm still thinking about it, but when it comes back to me with edits, then I will have some new insights and new ideas to add to it to make it even better.
4. Celebrate Your Creations!
The last step to encouraging creativity in your own life is to celebrate, to celebrate the things that you do. Create whether or not they turn out exactly the way that you expect them to or hope them to. Recognizing that just giving yourself time, making time to do something, even if it feels so unnecessary.
I know that as a young mom, I had so many things going on and I kept trying to find time to just sit down and so or sit down and write or sit down and you know, cook something just for fun and the time wasn't really there. It didn't magically appear. It wasn't readily available. I had to actually give myself time, schedule it in, take a class, get out of the house, do something to make space in my life for the creativity and when I did that, the benefits of it were just huge, but I also had to celebrate that I was able to do that, celebrate whatever it is that ended up coming out of that. Even if it was just a doodle or even if it was just a mediocre journal entry.
"When we make space in our life to create, we build our confidence by then celebrating whatever it is we have created."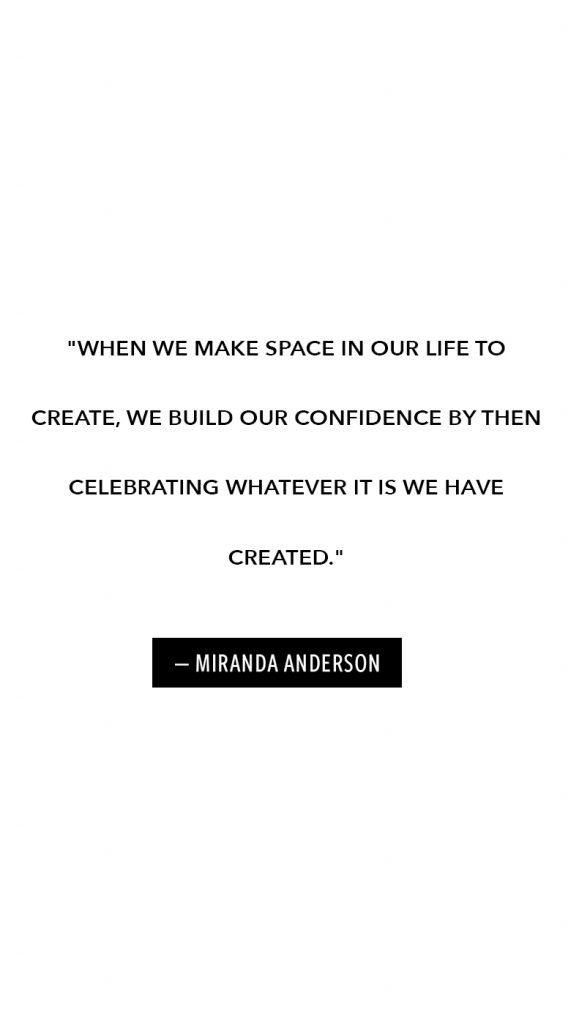 When I teach craft classes, one of the first things I do when I begin the class, I invite everyone to introduce themselves and then I take a moment to allow them to celebrate giving themselves time (on a Saturday morning usually) to come and make something with their hands. I know that their lives are busy. I know that your lives are busy and investing in yourself enough to give place and space and sometimes invest money and sometimes invest resources and time into yourself, into your creativity is really, really commendable and should be celebrated.
Create Instead Of Consume
When we recognize how important this is to our lives, the act of creativity, the act of making things, the act of not always consuming. Sometimes we want to take a break from our life like we give ourselves a break, maybe two hours that we hire a babysitter or that we go on a walk and our immediate reaction might be to consume, to consume media, to consume television or even to consume books, which reading is such a fantastic thing.
I love reading, but reading is not creating. When you're reading, you are consuming someone else's creativity. When you are creating, you are putting something into the world that did not exist before you are gathering materials or ideas or resources and arranging them and discovering them and organizing them in a way that has, that hasn't been done before.
Not that it's totally brand new like I said, but that doesn't exist in the thing that you create doesn't exist until you create it, you know, to line poem that you scribble because it jumped into your head did not exist in the world until you put it down on paper. So rather than always using our break time or downtime, which is hard to come by, I know in our, in our oversaturated busy lives, having a couple hours or even 10 minutes sometimes feels like a. We should use that as a break to just relax and consume. Watch netflix or read.
"Using free time in the act of creating something will have a far more lasting and long reaching effect on our wellbeing than if we always use our downtime to consume."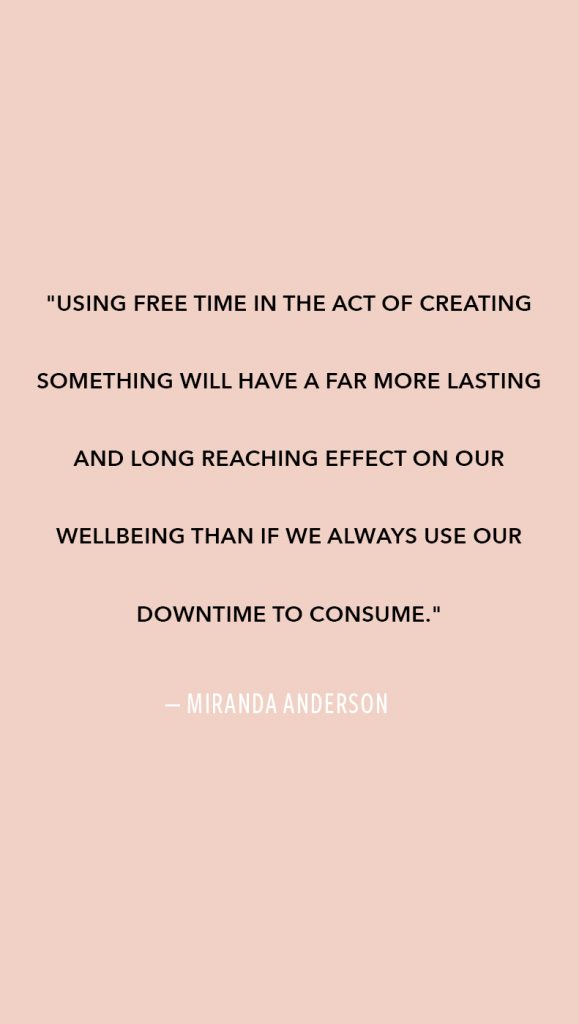 And so step four is to celebrate giving yourself the opportunity to create, celebrating. Taking that time, the confidence and the joy and the fulfillment that can come from that. I want to finish today with a quote, another quote from big magic, and again, I'm going to link the book in the show notes or you can get it from your local library. I highly recommend it. I just think that it's one of the most wonderful reflections on a creative life that I've seen.
A Creative Life Is An Amplified Life
This is the quote Elizabeth Gilbert says, "A creative life is an amplified life. It's a bigger life, a happier life, and expanded life and a hell of a lot more interesting life. Living in this manner continually and stubbornly bringing forth the jewels that are hidden within you is a fine art in and of itself."
We all have within us the ability to live this creative, amplified, big, happy and expanded life and as we recognize our own innate ability to be creative. As we experiment with those things that have been nagging on our hearts and jumping into our brains as we pause and give ourselves a chance to really absorb the lessons that we're learning as we create and as we celebrate setting time aside, to just make to put something into this world that hasn't been there before.
I believe that we will all feel like our life is a little bit bigger, happier, expanded, and more interesting than it was before. So what are you going to do?
Decide What You Are Going To Make
I want you to take a minute right now and choose what is your creative project for this week and to be. Are you going to just write in your journal? Are you going to paint a picture? Are you going to get out and start gardening a little bit in the yard? Are you going to make a new meal? Try a new recipe. Are you going to sit down with your toddler with a bunch of blocks and build a tower? Are you going to grab some of your kids, Play Doh and molded it into a unicorn?
Commit to yourself right now that you're going to spend at least a little bit of time every day, this next week, creating something, bringing something forth that hasn't existed before.
Use a little bit of your Netflix time or a little bit of your reading time or a little bit of your meditation time to make something to create something and enjoy the power in that process.
A Review
I'm going to finish the show by sharing a quick review that was recently left on itunes and I want to also remind you that every couple of weeks we choose a review that has been recently left and send a really lovely care package. A thank you package off to the reviewer. So if you haven't yet left of actual written review for the show on Itunes, it makes a huge impact. And I say that every single weekend. I'm going to keep asking you to do it. If you haven't done it, please head over and just click on the bottom where you can write a review.
If You Haven't Left A Review, DO IT!
It takes just one or two minutes and I will be ever so grateful for you taking that time to support the show.
This review comes from KellySparger and she titles it: Everyday Life Inspiration.
"I get so much practical inspiration for my everyday life from listening to this podcast. In fact, I scrolled through the list of episodes to remind myself a favorites that I wanted to mention and my list of favorites is half of the episodes, so instead of listing off episodes, I'll share a few concepts. I apply at least weekly in my everyday life. They come uniquely from this podcast, energy management. Instead of time management, checking in with my family when I feel like checking out and planning my year, big picture in advance and worrying about the details later. Live Free Creative is a podcast that helps me navigate life with more intentionality and create daily joy."
Kelly, thank you so much for that review! I really appreciate the way that you're listening with intention and also applying the things that I'm teaching to your everyday life and I love that you said that it's helping you navigate your life with more intention and create daily joy. That is it. That's what my hope is, that you will listen to these episodes and they will find ways to create more daily joy in your life because of them.
I really appreciate the support that you show as you give me some of your attention, which I do not take for granted in this fast paced world. I hope that you're enjoying the topics that I share and if you have an idea for a topic, send it to me in an email: miranda@livefreecreative.co. I would love to look over some of your ideas for upcoming shows and hopefully implement them into my schedule. I have a really incredible week. Happy Valentine's Day!