Episode 28: Understanding And Overcoming Overwhelm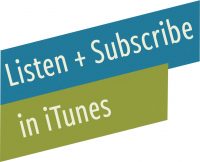 Introduction
Welcome back to the show. I'm Miranda Anderson. Your host of Live Free Creative. Today is Episode 28: Understanding And Overcoming Overwhelm.
This is one that I had been really looking forward to sharing with you because I feel like it's so applicable not only to all of your lives I'm sure, but to mine. For years and years, if you would've asked me the number one emotion that I felt on a regular basis, I may have said happiness, but I also may have said overwhelm. I have always identified with the idea of feeling overwhelmed more than feeling angry or stressed out or frustrated.
Overwhelmed is that emotion that I would jump to whenever I had a lot of things going on, which if you know me at all by now you know that I always have a lot of things going on and so overwhelmed has been something that I've been trying to understand, get a hold of and avoid really for as long as I can remember.  I feel like I'm making progress.
And so while I'm very much in the middle of this journey as I am with all of the topics that I talked to you about, I am excited to talk through and share it some steps and advice and things that are helping me to understand and overcome my overwhelm on a regular basis. Before we dive into talking really more in depth about the topic of overwhelm, I want to share a couple quick peaks of the week.
Segment: Peaks Of The Week
If you're new to the podcast then you might not know what I'm talking about. Peaks of the week stem from this game that my family and I play at dinnertime where we go around the table and people each share a pit and a peak. So something good that happened during the day and something bad that happened during the day and we talk through it.
It's just a really great conversation piece in a way to get my, especially my older boys talking, my nine-year-old and my seven-year-old that are getting to the stage where they don't automatically share everything that happened during their day. I've taken this and transformed it a little bit for the podcast peaks of the week is where I share a couple products or activities or books, all different categories of things, just kind of random things that I've been loving lately basically.
And today I want to share about a book, a snack, and a podcast for kids.
Book: Shoe Dog by Phil Knight
So let me start with the book. My peak of the week book, it's shoe dog by Phil Knight. Shoe Dog is the memoir of Phil Knight, who is the owner and founder of Nike.
This book was fascinating and one of the things that I loved the most about it was that it confirmed something that I have have begun to suspect that no one, no matter how smart, powerful, successful, according to the world's standards, no one has it all figured out. No one just knows what they're doing all the time and you think of Nike, this like gigantic corporation that seems to just have been successful forever. It was really fun to read about the nitty gritty, the creativity of how it started, where the idea came from, all of the risks that were taken along the way.
"No one, no matter how smart, powerful, successful, according to the world's standards, no one has it all figured out." 
There were so many times throughout the book when I thought anyone advising this person on his decisions would say to make the opposite decision of the one that he made. Anyone who had any professional understanding about business or about finance or about athletics or about marketing, anyone would have said, you're doing it completely wrong because he was doing it differently.
I was also really inspired by Phil Knight's complete dedication to his cause, which initially was just a love of running and wanting to bring the best possible products to the runners in America. And I think that so many times when we get caught up in feeling like we don't know what the next step is or we're feeling frustrated in our lives, if we can take ourselves back, if we've defined for ourselves, what are the things that are the most important to me, what is the most important message?
What is the most important principle or value and make decisions that align ourselves with that. Then we start to feel some clarity. Even if things don't always pan out exactly the way that we hope to, we at least feel aligned with our own personal values.
I think that's so important. So I will link that book into the show notes.
I recommend it for anyone. It was really great. I actually gave it to Dave for Valentine's Day and then when we were in Germany, he hadn't read it yet and I finished my book and so I took it from him and read it. And then I gave it back to him on the plane ride home because I finished it. It was wonderful.
Snack: Lara Bars and Chomps Jerky
Okay, next I want to tell you about my new favorite snack. Those of you who follow me over on Instagram, I'm @livefreemiranda over there. If you're not following and you want to come hang out on that platform as well, I would love to have you.
I talked about on Instagram how I was doing a sugar cleanse at the beginning of this year and I actually, when I signed up for it, it was a guided sugar cleanse and I signed up for it with a certified nutritionist and I signed up back in November and then I kind of started. I preempted it and just started doing, started making some more healthy choices in my daily eating.
And while it was not meant to be a longterm thing, and I know there's lots of opinions about intuitive eating versus you know, withholding and you know, I don't want to get into any of that. For me, this was an incredibly positive experience and beyond being just a sugar cleanse, it was a whole foods diet, so I was not eating anything with preservatives, no added sugar of any type, not even honey or a agave syrup.
We were actually also trying to not eat things from packages at all, although I did fall back on some staples because of being on the go so often. I really needed some snacks for traveling and some sort of great healthy substitute meal options for when I was at work in the middle of the day and I was in the middle of a project.
And so a couple of the things that I found, well, the one that I want to mention, actually I'll mention to one of them is the Lara Bar and I had previously been eating our experts, which are great. And then somehow all the stories that I was buying the mat, I couldn't find them anymore. And so I thought I would try something different, which is the Lara Bar.
It's a fruit and nut bar made of primarily dates. I feel like most of the people in the whole food world sweeten things with dates, so dates and other fruit and the nuts and it's as simple as that and I've just found them to be a really great gluten free, no sugar added option for um, also having some healthy carbohydrate and some healthy fiber in the middle of the day when I need a snack.
The other thing that I love is Chomps Jerky and it was really, really interesting to do the sugar cleanse and be looking at labels all the time. I will probably share an episode where I go more into detail about this because I've had a lot of interest in it. Every single thing has sugar in it and I was just shocked.
I knew that in my head, but as I started to actually look at labels, I'm not really a label reader in my general life. I am more of an intuitive eater in my regular life and so I was looking at labels thinking, oh my goodness, I didn't realize that this and this and this all had sugar in them and a lot of cured meats and processed meats like bacon and even like sausage, you know chicken sausages that I feel like we're fairly healthy.
Option have added sugar and Chomps Jerky does not. So Chomps brand has spices and has um, you know, I don'y know, but it doesn't have sugar. That's all that I know. So I don't eat them every single day. I still would prefer to have like actual non packaged foods but both the Lara bar and chumps Turkey have been really great to toss into my bag or actually I keep them in my car because they are shelf stable, they're in packages.
They're really nice snack to have in the car because when I used to get really hungry and I was driving, that's when I would drive through somewhere and get a little snack to tide me over and it's really nice to have a snack on hand that I'm just prepared ahead of time. That is something that I've chosen, so those are both things that I've been enjoying and I will link them in the show notes.
Podcast for Kids: Story Pirates
The last thing I want to mention as a peak of the week is a podcast that I have been loving for kids. Now forgive me if I've mentioned this before because we're up to 28 episodes and I don't remember every single thing I've said in all of them, but I don't think that I have.
I know that I wrote a blog post with all of my favorite podcasts for kids and I will link that in the show notes so you can find that. I just have to say the story pirates podcast is one of my very favorites. I initially heard about it from John and Sherry with Young House Love and I thought I was looking for other podcasts for my kids. We have a several that we listened to all the time, but I ran out of episodes and I like to put them on when we're driving to and from school and things like that.
And the Story Pirates podcast is laugh out loud funny. Not only for my kids, but also for me. There are so many references to modern culture and to technology and just, it's so funny and I loved the concept. They take stories that have been written by kids, the kids all over the world, all over the country, right stories and submit them to story pirates. And then they turn them into sketch comedy. They  you know, they turn them into songs or into different stories and then they share them on their show.
And there's also this underlying storyline of the story pirates themselves and they're on this ship. And so they do a lot of interacting and I really love, there's multiple voices and they often have additional guests on, but they're all in character and you don't really necessarily get to know their names or anything. I'm sure some people do, but it's really like just listening to this group of people, they're all really funny. They all have these kind of side comments. One of them loves Kiefer, like it's just so, so funny.
So I highly recommend that if you have kids and you want to get them used to listening to stories and being able to hold their attention that way, I think that it's a great one. Those are may peaks of the week.
Understanding Overwhelm
Let me take a deep breath and just share some thoughts about overwhelm. How many of you relate to feeling overwhelmed as a regular emotion?
What is Overwhelm?
Overwhelm is the feeling that there's too much happening. It's all too much. That life has given you more than you can handle or that maybe you yourself have opted in and said yes to various different things and then it all feels like more than you think that you can handle more than you feel ready for. Overwhelmed, like I mentioned at the beginning of the episode is one of those emotions that I actually have often felt was a circumstance.
I am really interested in doing a lot of things. I also like to feel involved in a lot of things and so people invite me to speak to teach, to help with this, to volunteer for that and I have often not willy nilly said yes because I'm a people pleaser because I'm not necessarily that much of a people pleaser. I mean I think we all are to some extent but I don't think I was always saying yes because I wanted to make the other person happy. I have often been guilty of saying yes to too many things because I wanted to do all of them.
A distinction that I want to make right here is that I don't think that there's anything inherently wrong with that. Yes, in some circumstances actually taking on more than you can physically or emotionally or financially handle at a particular season of your life can lead to burnout and to some serious health problems and detrimental things. However, I don't believe that that is because of a particular circumstance.
Overwhelm Happens When We Think Too Much
I think that overwhelm is something that we default into feeling because we're thinking too much. Have you ever felt so incredibly overwhelmed? Like there were so many things going on or all of these things happened and you're trying to deal with all of them and you find yourself thinking about kind of just going on loop, all of the things that you need to do or that you haven't yet done or that that person said or that's coming up or that just happened and you feel the pressure of all of the things at once and then you have to just buckle down and get started on something.
"As soon as you start doing something, you get out of your head."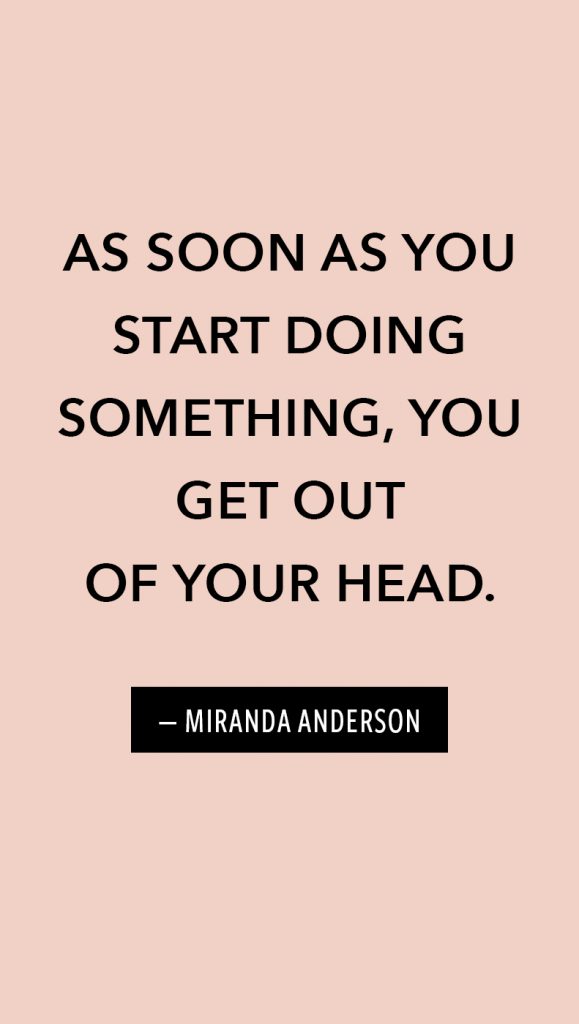 The next thing and you get started and as soon as you start doing something, it doesn't even matter what. As soon as you start doing something, you get out of your head. Because in order to accomplish the task that's in front of you, you have to stop thinking about everything else and just think about the one thing that you're doing right now and that in that moment that you bring yourself to the present and focus on what's in front of you, all of that overwhelm lifts. It disappears for a while because you're not just cycling in your head.
Overwhelm Is Not A Circumstance
That to me is what it means that overwhelm is not a circumstance. It is an emotion. There have been times in my life when I have had several work projects all happening and I've had a conference upcoming and I need to help out at the school on Thursday and the car just broke down and so I have to get the tire fixed and all of those different things individually pile into my head and I feel so overwhelmed. I feel stressed out, I feel anxious, I feel like I can't function super well because of all the things that are happening in my life.
Now, contrast that with how I feel right now. I have several projects for work going on. I have not one but four upcoming conferences in the next month and a half that I am speaking or presenting at. I'm also in their traveling to Europe with my sisters and my mom for 10 days and I'm in the editing and revision stage of my book and I'm planning a series of indigo dyeing workshops, the spring series that will hopefully go live early next. So look out for that.
We haven't been living in our house for four months because of a catastrophic flood that happened in November and instead of feeling overwhelmed, I feel like I'm going to be okay. I acknowledge that there are lots of different exciting and sometimes frustrating things, positive and negative things that are happening in my life, but instead of looping in my head about them all, I'm simply doing them.
I'm excited about them, I'm moving forward on them, each in its own time. I'm staying present, enjoying what's happening today while I spend purposeful time planning for things that are coming up, but rather than looking at the calendar and feeling like, "Oh my goodness, how am I going to get through?" I look at the calendar and say, "Wow, I have a really full month or couple months and I better stay in the day each day or else I'm at risk for feeling overwhelmed and I don't want to feel that way."
I want to feel capable, I want to feel peaceful, I want to feel enthusiastic, and those are all feelings that don't coexist with overwhelm. So if I want to feel the positive emotions of all of these wonderful opportunities that I have in my life, then I better stay present. I need to reiterate here, for those of you who feel like, Gosh, I'm overwhelmed by all of the things that you're doing.
"I want to feel capable, I want to feel peaceful, I want to feel enthusiastic, and those are all feelings that don't coexist with overwhelm. "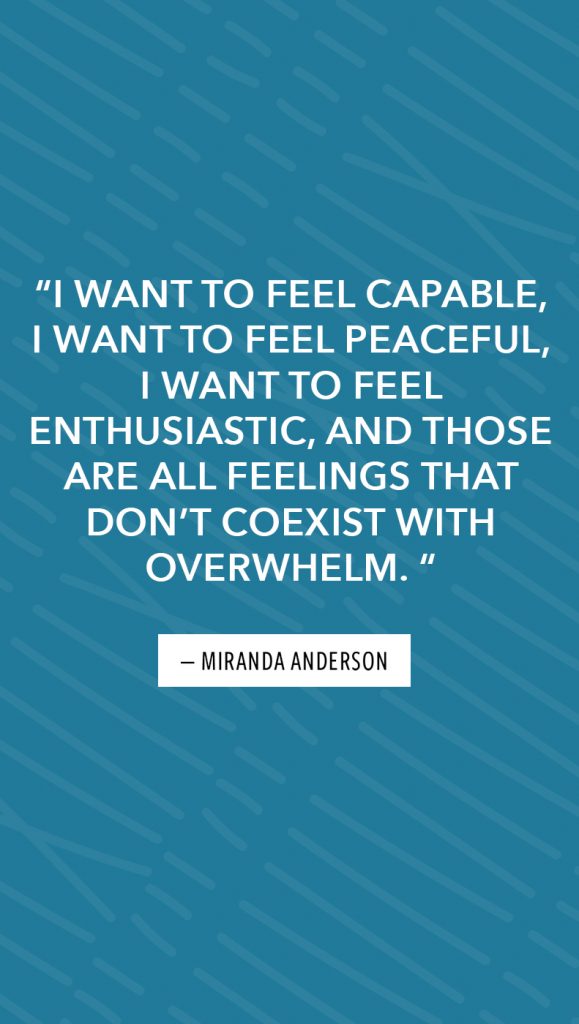 Overwhelm Is Unnecessary
I used to believe that overwhelm was a necessary step in the process of progression towards a goal. I used to believe that overwhelm was part of the ladder, that I would take something on and I would brainstorm about it and I would feel overwhelmed by it.
And then after I had felt that overwhelm that was like my crossing threshold into actually doing the work, I would feel overwhelmed and that overwhelm would propel me to take action.
I have realized that the overwhelmed piece is not necessary, that I can take action without feeling the overwhelm. I definitely need something to propel me forward, but that can be motivation. It can be discipline, it can be enthusiasm. I do not have to feel the overwhelm in order to accomplish the goal. That's a really key thing. It has been a really, really important thing for me.
So those of you who are chronically overwhelmed and who relate to the idea of overwhelm as being part of the journey, I want to tell you that it doesn't have to be, in fact, doesn't that seem like a more positive weight to accomplish things that you skipped the step of overwhelm? You just decide to not feel that way.
"I do not have to feel the overwhelm in order to accomplish the goal."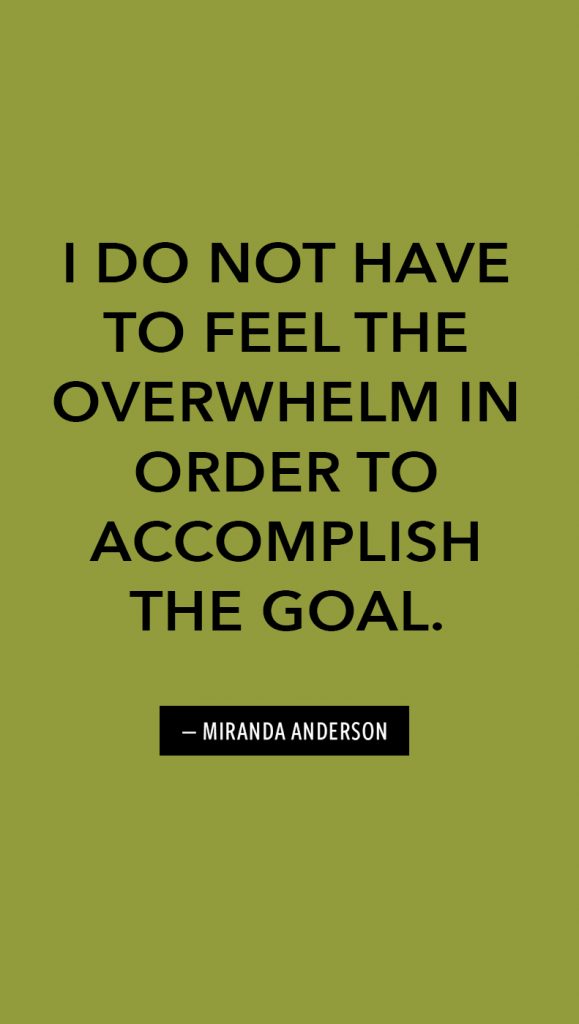 Overwhelm Is Unhelpful
In my experience, overwhelm has not been helpful towards accomplishing my goals. If anything, it has caused unnecessary suffering. And then been a hindrance because I can get caught in feeling all of the feelings and thinking in that thought loop of all the different things going on in my life. And guess what? A lot of them are things that I either can't control or that I can't do anything about right now.
If there is something that I can control and I can do something about right now, then isn't it better that I start doing that thing then sitting around feeling bad thinking about it?
I think so. I think that that's right. I am not saying that it's not hard, but I think that it is important to recognize that that is a viable option that you can choose to skip the overwhelmed and go straight to doing the work and that that might feel better.
I have found that things are almost always harder in my head than they are in real life. Things have a way of expanding in my mind to just feel like they fail my whole life up, that this one task that I have to perform fills up all of my brain space and then when I actually start doing it, I realized that it wasn't that hard or it didn't take that much time.
Or once I start doing it, that means I will actually finish doing it and then it's done. And all of that wide open expanse that it can take up in my head isn't the true nature of the thing. The project, we'll have a start and a middle and an end. The car will eventually be fixed. The debt will eventually be paid. All of the things that can cause us overwhelm are finite, but we allow them to have so much control, this infinite control in our heads.
Six Steps To Overcoming Overwhelm
And so let me talk you through six steps that I have come up with or I've actually just sort of reverse engineered. How am I able to feel not overwhelmed in a life that is just as full or even more full of the good and the bad and the unexpected then before and yet approach it without feeling the overwhelm.
What am I doing differently that is helping me understand and overcome the overwhelm? So here are my six steps.
Step One: Write It Down
Step one, write it down. Writing or identifying the different things that are causing me to feel overwhelmed brings immediate relief for me. You can pull up a notes app on your phone, you can grab a piece of lined paper, you can scribble it on the back of the receipt.
I really don't think it matters where or in what format. You write these things down. Maybe you want to pull out a calendar. If you are like me and you have a lot of events upcoming that all take a certain amount of focus and preparation. Then pull out the calendar and start writing them down in the dates that they go and the things that you you need to accomplish in order to feel prepared for them.
"As soon as you write it down, you get it out of your head and then you can look at it objectively."
As soon as you write it down, you get it out of your head and then you can look at it objectively and you don't have to let your thought loop run and you don't have to let it feel the expanse of your brain. You can get it in black and white on paper and you start to be able to digest it when it's in that format and maybe you write down a list of all the things that are making you feel overwhelmed and you can then immediately recognize that 10 of your 25 things are things that have nothing to do with you and you can give your yourself permission at that point to stop thinking about those things because they do not concern you.
You have no control whatsoever over them. And so rather than wasting your energy on thinking about things that are someone else's problem, you can focus on those 15 things that you do have some work to do or that you can have some level of control over.
Step Two: Prioritize By Urgency Or Importance
Number two is to break down your list into priority, either by time or by importance level. Those of you who are unfamiliar with Stephen Covey and the seven habits of highly effective people will probably not have heard of these quadrants of importance: Something is urgent and important; Something is urgent and unimportant; Something is not urgent and unimportant; Something is not urgent, but important.
So within the Stephen Covey methods of productivity, there are these quadrants and you can prioritize your things based on speed, when they need to be done. There are things that have to be done today or tomorrow or this week or importance level. Maybe it doesn't have to be done today, but it's highly important or very valuable to you.
What Is Urgent And Important?
So both of those things that are urgent and the important are the things that will go first. Now, lately in my life, I have been focusing more on accomplishing my tasks by timeframe because I feel like there are so many different things coming up. I can't think about all of them at once. And so I'm focused on the next thing.
So today, while you're listening to this episode, I have just arrived in Austin, Texas to speak at thrive bloggers conference. It's happening on Saturday. I'm super excited about it. This week I have been spending my time preparing for the talk that happens on Saturday, getting my slides ready, thinking about it.
I actually had a dream about it and had to wake up and furiously write notes down because all of the things that I wanted to say came to me in this dream. When I returned home from Austin, my next most important, most urgent thing is to work on a couple things at my house. I have to build in the window seats to the dormers in the attic and I have to paint one of the pocket doors that's going to be installed while I am out of town the next time, which a week after I get home from Austin, I leave for a girl's trip with my sisters and my mom to Portugal and Spain, which we are so looking forward to and I haven't been thinking a whole lot about it.
I'm excited for it in the back of my head, but I haven't been thinking a whole lot about it because it's not the next thing. So I focus on the next thing and then I'm going to Europe and that will be the next thing and then I come home and guess what? I have four days to think about the next thing which is going to teach a couple workshops and presentations at Alt Summit in Palm Springs. While I'm there, I'm going to finish those up and then focus on the next thing which is starting my spring indigo dyeing workshops series.
So you can see how I could think about all of these things at once and just drive myself crazy because it all happens almost at once.
Luckily nothing is actually on top of each other on the calendar. I have at least a few days in between each of the next few events that are coming at and you bet those days will be filled with very intentional present quality time with my kids who I'm not going to see a whole lot in the month of March and focused on wonderful family dinners with our minimum meal planning.
I am eliminating the feeling of overwhelm by choosing to break down each thing into priority and doing the first little thing.
Step Three: Take The First Tiny Step
You break things down into priority and then you take the very most tiny first step towards the very first thing on your list, whether the next thing or the most important thing, you take the very first small step. Maybe that is sending someone an email, maybe that is stopping at Home Depot to pick up a light fixture that you need to have installed.
Maybe that is sitting down at the computer and opening up word to start the book that you've been wanting to write. Maybe that is putting on a pair of running shoes. And even if you don't know if you're going to make it out for a run today, you really want to, but the very first thing, you definitely aren't going on a run in your slippers or your sandals. So the very, very first thing to do is to find the smallest action and doing that.
The First Step Is The Hardest
What I find is that after I do the first smallest action that the next ones come fairly easily. Not all the time, this isn't across the board, but my nine-year-old right now in science is learning about the motion and energy. And one of his vocabulary words for last week was inertia. Do you remember the word inertia? Do you remember the definition? Objects in motion want to stay in motion. That's what inertia is.
You take that first small step and you have started the movement and then your body and your mind and your emotions go to the place of, okay, what's next? We have started and now we can continue. It's almost easier after you begin to continue because it takes energy to stop.
"If you can break down the next thing that you need to do into the very first step, you'll start to feel some relief."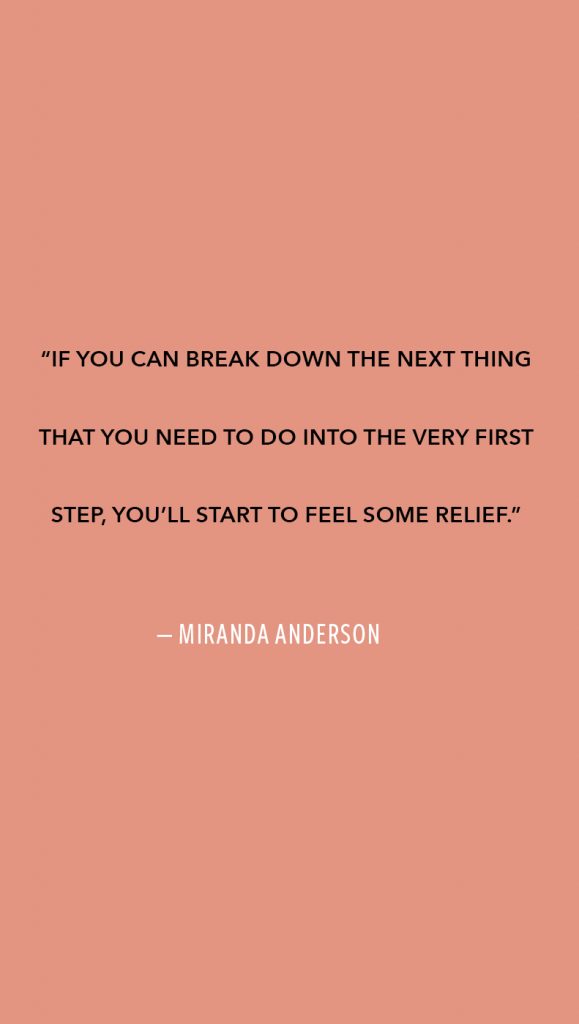 Maybe you're feeling overwhelmed, not by a whole litany of things, but by one thing. Maybe in this season of life that you are in, you are simply overwhelmed by the pile of dishes in the sink. You're overwhelmed. It looks like a really big job. You do not have the energy. You do not want to do it. You have a choice here.
You can take the first small step and stand up and walk over to the sink and maybe just stand in front of the sink for a little while, maybe turn on some warm water and just let the warm water run over your hands and feel the way that that feels. I always loved that feeling.
Maybe you don't like it, but I love the feeling of warm water on my skin. Maybe that first step is enough to sit to to help you propel you into the accomplishment of that task or, and this is maybe a whole other podcast episode maybe in the recognition that that is what's making you feel overwhelmed right now you are, you're feeling overwhelmed because of the thought of having to do the dishes.
Maybe you just decide that you don't want to do them right now. You decide to not do them and to go to sleep instead and to worry about it later or to not worry about it later, to just do it later or have someone else do it later or ask your husband to help you with it later.
But you don't have to sit and feel overwhelmed about it. You can choose to take a small step and try to work towards accomplishing it or just let it go. And either way you're making a choice that relieves the emotion of overwhelm.
Step Four: Give Yourself A Time Limit
Number four is to give yourself time limits and stick to them. I love this because we can do about something for a really long time when it actually only takes five minutes to do it. Now in my episode a few weeks ago about Simple Solutions, this is one of the things that simple solutions offers is just getting the thing done.
Don't sit and think about it and be frustrated about it for months. Just go and you know, call the plumber and have them fix the shower. Give yourself a time limit. Maybe you say the the dishes are so overwhelming.
I don't really feel like doing them. I'm going to give them five minutes. I'm going to do five minutes of dishes. You set a timer and you go stand there and you do dishes for five minutes and you either get it done or you don't, but at least you've gotten started.
Sometimes Things Take Less Time Than We Give Them
We sometimes give ourselves all of the time that we have from now until the deadline to think that we're working on a project when we actually only work on it for two hours or three hours total.
For example, these slides that I had to do for the Thrive Creative Conference this weekend. I was asked to speak several months ago and actually assigned a topic, which is unique, but I loved the topic about growth and development and actually next week's episode we'll be sharing that talk that I give on Saturday. So I got this topic. I started thinking about it.
Like I said, I started having dreams about it and then I had all of these notes that I had taken and I needed to sit down and create a slide show because this is a conference where you use a PowerPoint presentation and so I sat down at my computer and started to work on the slide show and I just wasn't feeling it.
I got through like the first two slides, which were both introduction sides like, "Hi, I'm Miranda. These are the thing of this. These are the things that I do, this is my company, this is, this is my family." And I got to that point and was like, oh well I don't really feel like doing it. I just, for whatever reason in that moment wasn't feeling the flow. Well, I should mention that I got a text from the organizer and I was already overdue.
So the slides were due before I left for Germany, but I was working on the book. That was my number one priority, most important, most urgent. And so I asked for an extension on the slides. I said I would get them to the conference organizer after my trip and it had been a week since my trip and I hadn't finished them.
I got a text and they said, "Hey, we're working on putting the whole conference slide show together and we're looking for your slides". And I said, "Okay, thank you for your patience. I will get them to you in the morning."
Well, then I pulled my laptop out, I was in bed, it was 10 o'clock at night and I pulled my laptop out and I said, I'm going to work on these for one hour. And the intention was in my head, I just want to get started and kind of get into it more than, you know, actually into the meat of the presentation, not just my introduction slides, which isn't very far.
Give It Five Minutes, Or An Hour
So I gave myself an hour, I'm going to work on this for one hour and see us get as far as I can. And then my plan was to give, give it some time the next day to finish it up and send it over. Well guess what?
I worked on the slides for one hour and they were finished at the end of one hour. The slides were done. I gave myself this time limit thinking that it was going to be sort of my initial push into the project and at the end of the time limit it was done. It took me that long and that was it.
Oftentimes we expect things to take a lot longer than they actually do when we are just simply focused on doing them. And just as a side note here, we're so distracted as a people because of email and our phones and Instagram and all of the other things that you can be doing concurrently with actually working on something and that multitasking, distracted working is just not efficient at all.
It's just really inefficient. So if I want to get something done, I put my phone away and I turn off the Internet. I put my computer like take off the Wifi unless I actually need the Wifi for working, which sometimes they do. But a lot of times I don't. If I'm just writing or in this case working on a slide presentation presentation, I don't need the distraction.
If I had stopped every five to 10 minutes to look at my phone or to answer a comment on Instagram or to answer an email, it would have taken me a lot longer than an hour. So that's just a side note how much of our, the time that projects take us, if we're being really honest with ourselves, how much of it is because we're distracted and we're working really efficiently, we just need to answer that question for ourselves and try to be more realistic with how long things actually take versus how long we spend on them because we're actually not very focused.
Step Five: Allow Yourself To Make Adjustments
Number five is allow yourself to make adjustments in your priorities along the way. So this may be seem, seems counterintuitive, but as uh, an example, let me go back to the slide presentation. So, I started working on the site presentation that day and felt like I kind of hit a wall and I probably could have slogged through it. I probably could have just, you know, with determination I'm going to get this done and just tried really hard.
I would have effort efforting myself through finishing it up, but for whatever reason I wasn't feeling it. I wasn't in the flow. And so I allowed myself to make an adjustment to work on something else for a while. And so I went and did something else. I don't remember what, but I went and worked on something else. And then the next day when I sat down to work on it, I felt better. I don't know what the change was.
I didn't identify some specific thing, but sometimes I think we try really hard when maybe what we need to do is just get into a better state, move our bodies, get up and, and walk around the block, have a snack, just some change in our state that will change our, the way that we think and help us change the way that we work.
And while I do definitely think that there are projects and things that are not going to just feel good the whole time you're doing it, that you are going to have to face through doing some hard things. Sometimes it always feels so much better when you try to help yourself get into a good emotional state before you start working and that looks like having systems in place of self care. Maybe it's exercise, maybe it's meditation.
I've been doing a lot of yoga and feel like it is really on. It's just really helpful for my psyche to have an hour where my intention is to breathe and be present and that's it.
That has been so helpful for someone like me who is often moving onto the next thing and this brings me to number six which is just that to stay present and mindful in what you are doing.
Step Six: Stay Present
There are a lot of things that feel like drudgery until we start doing them and when we're actually present in whatever the project is, we can find that we really enjoy it. An example that I used earlier in the show is doing the dishes. I can look at a stack of dishes after dinner or even like the whole kitchen, you know, destroyed after my kids have been in and out and we've been playing and cooking and the whole kitchen's a mess. I can look at it and think, oh my gosh, I do not want to do that right now.
"There are a lot of things that feel like drudgery until we start doing them and when we're actually present in whatever the project is, we can find that we really enjoy it."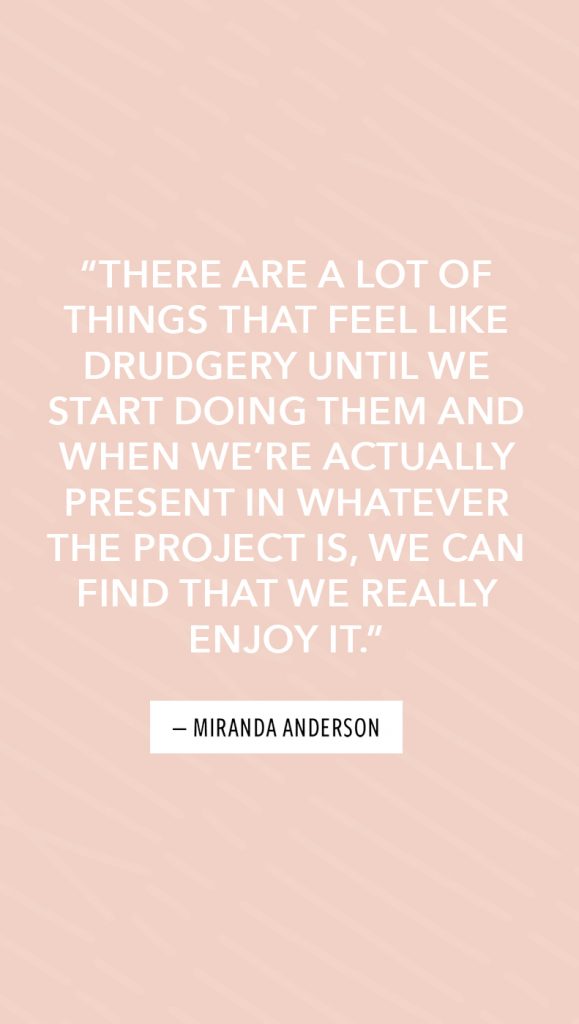 I just want to go to sleep or I want to take a bath or I want to go read a book. And I find that as soon as I take that step over to the sink and I turn on the warm water, I usually we have a Google home and I'll say, hey Google play James Taylor on Spotify. James Taylor comes on who I love and I feel like he's just therapy and I have, I buy dish soap that I really like and so I squirt my dish soap and it smells good and they get my hands in the warm water and you know, five minutes in, I'm feeling like doing the dishes is kind of like a break.
Doing the dishes is kind of like its own little meditation because if I'm present in it, I don't hate it. I like it. I like the feeling of the soap and the water and getting things clean feels like accomplishment and I get to load the dishwasher in a certain way and it always feels good to have a clean kitchen and I like to listen to the music and sing along.
If I'm present and mindful in the middle of the things that I'm doing, I don't feel overwhelmed by them. They find enjoyment in them. The same is true for going on a run. The same is true for working on that slide show. Once I got in the right state and I just really got into it. I loved it.
I loved the work, I loved the things that I was sharing and I felt creative and of course pres. Being present and being mindful in our life in general is just a really positive thing. It's just really positive because the moment is all that we have like right now is this moment and in a, I mean it's also existential, right? But in a minute this minute is gone and we've moved onto the next one. And so right now what I think and feel and do right now is all that I really have at any given moment.
"If I'm present and mindful in the middle of the things that I'm doing, I don't feel overwhelmed by them. I find enjoyment in them."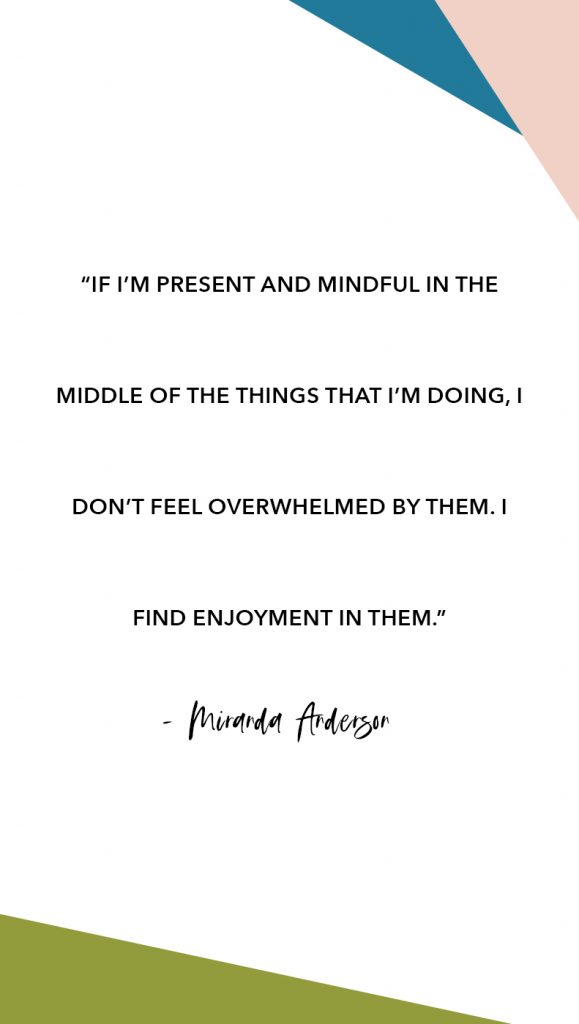 It's all that I really have and when I pull myself back into the present and I'm mindful, what I often find is that I, more than any emotion can feel grateful. I've talked about gratitude a lot before and it really just feels like one of the most overarching important emotions and skills that we learn to develop. Because if I feel really grateful for the things that are happening in my life, then they also stop overwhelming me.
I recognize them as opportunity. I recognize them as like with wonder and I feel so much better.
The Six Steps Reviewed
So let me review the six steps to understanding and overcoming our overwhelm.
Write it down. This can bring immediate relief.
Break down the thing or things into priority, either by urgency or importance.
Take that very first tiny baby step because once you take a step, you'll be in motion in action and your life will want to stay in action.
Give yourself time limits and stick to them. Don't let one small task fill an entire day. Give yourself a time limit and get it done.
Allow yourself to make adjustments in the things that you're working on to shift and feel the flow. Change your state if you need to work on something for an hour and then work on something else if you need to so that you can feel good about all of the different things.
Stay present and mindful. Whatever it is you're working on right right now, be here now. Focus on the thing you're doing now and be amazed to discover how much enjoyment you can find in it when you're present.
Like I mentioned, I am trying to overcome and eliminate the idea of overwhelm from my life because I recognize that it isn't. It has nothing to do with what is actually happening in my life.
Overwhelm is an emotion that I can choose to indulge in or not, and guess what guys, I want to skip it. I don't want it anymore.
I truly believe that it is not necessary to feel overwhelmed on our way to accomplishing the things that we want to accomplish.
If we understand that and we can take action to step past it, to not let it be a part of our experience than those are the, those are the choices that I want to make. To finish off the episode, I just want to share a couple resources.
Other Resources For Overcoming Overwhelm
So Natalie Norton has a new podcast, it's called Show Up and she interviewed Dr Samantha Brody who has a new book out called Overcoming Overwhelm.
I haven't read it yet, but I loved listening to the interview and I am going to check it out so I'll link that in the show notes. And so that one seems right on par, right, overcoming overwhelm.
The other resource that I feel like influenced my thought process surrounding this episode was an podcast episode by Jody Moore. Her podcast is Better Than Happy. I really love it. And she has a podcast about the emotion of overwhelmed and so I will link that in the show notes as well. If you want to go to some other resources to understand this idea more fully and to help yourself overcome overwhelm in your daily life.
If you have listened to a couple episodes but you're not yet a subscriber to the show, I want to invite you now to go click subscribe. I really love being a subscriber to my favorite podcast because then when I find myself on an airplane for example, or a long car ride where I don't have service to download new episodes, there are already a bunch sitting waiting on my phone.
They don't take up that much space on your phone and so you are safe. Having your app automatically download my show each week so that when ever you find yourself with a little bit of time wanting a little bit of inspiration, you can click right in there and listen to an episode, so click subscribe so that you make sure you don't miss any of the episodes that are upcoming or that have already happened of the live free creative.
Thank You For Being Here!
Thank you so much for being here. I hope that you have had a great week. I hope that you're enjoying these episodes. I want to just say a huge thank you to everyone who is telling your friends about the show, who is sharing about it on your Instagram or Facebook or your blog posts. Thank you so much. If you are taking the time or have taken the time to leave a rating and especially a review, those things make a huge impact towards this podcast. Being able to continue being able to reach more people in a way that allows me to spend a lot of my time on it, which I do spend a lot of time on it and I really love that.
The last thing I want to share today is a quick invitation to join my 100% free email course called five days to freedom. I've talked about it a couple times before and just recently I've had a bunch of new people sign up and it reminded me, Oh yes, I have this incredible resource that I spent hours and hours creating and I haven't shared about it lately.
So if you are not yet a subscriber and you haven't gone through the free email course, five days to freedom, I'm going to invite you to do that. Now if you go to my website, you can see right at the top there's an opt-in where you can sign up for the free email course. The five days to freedom course is kind of a jumpstart in living, a more creative, adventurous and intentional lifestyle. I focus on gratitude and abundance and living more with less.
These are principles that are so inspiring to me and if you've made a huge difference in my life and I broke it down into really, really small bite sized pieces. Each day for five days you get an email with a discussion and I share some experiences and then at the bottom of each day there's a little homework assignment and that is where you get to take this work and apply it to your own life and to start making real changes to help you progress in your own way towards the life that you want.
I'm not offering a whole bunch of tips on how to live your life more like mine, but helping you discover what is the life that you want to lead and finding the pathway back towards taking control and living the life that you really want to live. I just wanted to make sure that I shared that because it had been a while and it is ongoing. You can sign up at any time. It's a really powerful course and I've seen an incredible response come from it. So I would love to invite you to go be a part of five days to freedom. I want to thank you again for being here. Have a great week. I will talk to you next time.