Episode 3o: Small Space Living Pros And Cons With Shavonda Gardner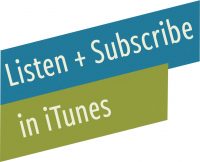 Introduction
A few years ago, my inlaws moved into a new house just a few blocks from the one they had lived in before. This was a little bit smaller and a little more perfect for, they're now empty nest. I remember talking to my mother in law on the phone and that she told me she loved a house in yard that she could wrap her arms around. Over the last few years. I've thought about that image a lot and I've come to discover that I'm the same way. I love a house and yard that I can wrap my arms around.
Pros And Cons Of Small Space Living
Hey there friends. Welcome back to the show. I am your host Miranda Anderson. You're listening to episode 30 of Live Free Creative: Pros and Cons of Small Space Living. I'm super excited to dive in and talk about this topic with you today. We all, whether we're living in a smaller space or a larger space for ourselves or our families, we all can think about the space that we live in a little bit differently and maybe change our perspective on how we approach the different areas of our homes or apartments. And so I hope to give you some ideas about maybe just some new perspectives, some new ways to look at it and think about it, especially for those of you who are in stages of life where you are not in a permanent place. Maybe you will have an opportunity to move sometime in the near future.
Maybe you are in the process of moving right now. Maybe you are in a temporary location and you're going to settle back in somewhere sooner than later. The things that I address today in talking about larger and smaller spaces should hopefully shed a little bit of light on some new ways to think about this opportunity that you might have to choose because definitely the flow of society and culture, especially in America leads us down one path, right?
The traditional ideas about spaces is that as you grow and as your family grows, your space should also grow and I want to just take a good look at that today and maybe challenge that idea a tiny bit. I'm also super excited to share an interview later on in the episode with my first official guest.
My husband Dave, has been on the show a couple times and it's been really fun to record with him, and this was an official call to a friend who lives in California, so we figured out the technology to get both of our voices recorded.
You wouldn't imagine that it's very hard, but I had to Google how to do it and so we got to figure it out. And I have Shavonda Gardner from SG Style Blog on the podcast a little bit later. I'm super excited to share our conversation and the things that we spoke about. She is an incredible interior designer who also is a small space mama and I can't wait to some of the tips and some of the experiences that she has to offer as we get started today. I'm going to just jump in with a quick segment. Here's a little bit about life lately.
Segment: Life Lately
House Renovation Update
It has definitely been a few weeks since I shared a life lately, so I thought I'd give you a little bit of an update. Most of you know that we had a big flood back in November. I'm not going to rehash all of the details. I go through that in several of the different episodes and I also am planning on getting a blog post up about it because I've neglected to share it there, but we are making some real progress, so I'm super excited that we have ceilings again in our house.
All of the sheet rock has gone up. It's been mudded and taped and is sanded so it's ready to paint upstairs. The new master bedroom master bathroom has been almost entirely framed, so we have these two cool closets. We added two pocket doors, which are really great for space saving when you live in a smaller space.
Thoughtful Attic Storage Solutions
This week I'm ordering tile, I'm ordering the vanity, I'm ordering lighting. I already built some Ikea furniture. We're actually going to do some really cool kind of tuck built-ins. The attic of our house has knee-walls. So if you're not familiar, you can imagine the pitch of a roof, like a triangle goes down it on those very end corners on the two sides of the triangle that doesn't have a lot of usable space. Like if the wall were to really to go all the way down into the corner, you'd have this little teeny tiny edge. And so contractors generally install what are called knee walls at about a four foot mark. So there's this triangle of unused space behind the wall in the attic. And so I'm tapping into that and using some of that unused space for a builtin dresser and a builtin bookshelf. And I'm super excited to see how that comes along.
I actually just bought a dresser, a wood dresser, and a wooden bookshelf from Ikea and put them together and I'm going to have the contractor in, set them into the wall. So in my closet there will be sheet rock and then this dresser where the drawers actually pull out of the side of the wall, which is really cool. And then sheet rock on the other side.
I'm really excited to transform our attic space with some personal touches, some really strategic and thoughtful ways to use the space better to make it feel more cohesive. The attic of our house, we live in a 1948 Cape Cod and the attic had been an afterthought, so we're at the point the house was built, the attic was just an addict space. The home was intended to be a single story at some point, you know, in the last 80 years someone puts stairs up to the attic and add a small bathroom upstairs.
We were so happy that it was done when we bought the house because that's a lot of the plumbing and things that we didn't have to deal with. However, the space was not really used super intentionally. It was kind of one big random open room with a little bathroom in a closet tucked into the corner. And so although we didn't ask for a catastrophic flood to ruin a lot of our recently house, this silver lining was then that we were able to have a reason, kind of an extra push to remodel the master bathroom master closets and master bedroom into a space that we really want, wanted to have some ownership over and really lab.
We had intended to do that later on this spring. Funny enough, it's taking so long for the construction that we actually are ending up completing this construction of the renovation at the same timeline that we would have anyway, but back when the flood happened in November, I thought, oh good, we're going to get the master bathroom and bedroom done ahead of schedule instead of all the way into spring, but by now we probably won't have it completed until the middle of April.
Another Flood!
In the meantime, we've been living in a great airbnb and you would not believe if you saw on Instagram, you probably were shocked along with me that a couple of weeks ago I was at a conference in Austin, Texas. I got a phone call from my son who said that the airbnb was flooding as well. You cannot make this stuff up. He, I thought he was joking. He was not, in fact joking. One of the pipes beneath the vanity in the upstairs bathroom of the airbnb property had wiggled loose from its fitting and water head started to spray all over. Unfortunately no one was home when the leak began. So it was probably going for a couple hours when my kids and the babysitter walked in after school, it was raining through the ceiling in the kitchen. There was water coming down the stairs, it was all over the floor, both upstairs and downstairs.
And it was basically like Deja Vu. Once Dave was notified, he left work and came over to help problem solve and get ahold of the airbnb owners and make sure that they could, you know, rectify the situation as quickly as possibly. And he sent me this video where my daughter plum has gone and put on her bathing suit. And when my sons asked her about it, she was dancing around in this, you know, raining ceiling. And she said, well, this is what I do when there's a flood. I put on my bathing suit when there's a flood, which I just think is the absolute best lesson.
Through all of this craziness. Our ceilings falling down back in August, our giant flood in November, moving out of our house and then having this albeit minor flood in the airbnb. Luckily we're still going to be able to stay in the property throughout the process of they're going to have to do some sanding, a little bit of sheet rock repair and the painting and we, it didn't affect any of the bedrooms, just the kitchen and the bathroom and so we said let's just stay put for our own sake.
It has been amazing to see how flexible and adaptable my children are and they've been such a good example of that for us as well that we just know now that we can roll with the punches. Really nothing could surprise me at this point. I do not even know what crazy unexpected experience we could have that would knock me off my feet. So right now I just feel like we are rolling with the punches were going with the flow and we're making the best of whatever comes at us and trying to enjoy life every day in the meantime. So that is life lately.
My Housing Journey
I'm really excited to jump in and talk a little bit more now about the pros and cons of small space living. If you know me at all, you probably know that I'm a, an advocate of smaller spaces, not necessarily always living in the teeniest tiniest that you could possibly cram your family into, but just recognizing that bigger isn't always better and that idea is a current that can be hard to swim against in our society.
Our First Apartment
I remember when Dave and I were first married, we lived in about 400 square feet in a small basement apartment while I was finishing going to school and we loved it. It was tiny, but it was also really, really affordable. We were able to paint it and make it our own and decorate it mostly with secondhand furniture, garage sale finds and definitely I was not above picking up a book case or a chair from the side of the road that someone was giving away for free.
We were creative and we really had all of the space that we needed. We had a small living room for entertaining. We had a kitchen for cooking. We had one bedroom for ourselves, one small bathroom, and then there was a little room that we used as a study, so it was really the perfect amount of space for our then two person family.
City Living
When we moved to the DC area, we found a 900 square foot apartment. At this point we were a family of three. It was two bedrooms, two bathrooms with a small living room, dining room and kitchen. It was really, again, another perfect layout, a perfect amount of space. We had great neighbors. It was affordable and it was just right for our growing family. Of course around this time I saw friends back home in Utah who had not moved away for school and we're starting to buy their first homes.
They were buying homes that look like the home that I grew up in. They were buying really big, beautiful homes with big yards and I think because Dave and I lived in the city, we were living right near DC in Alexandria, Virginia. Everyone that we knew lived in apartment buildings. No one had an actual real house that lived anywhere near the city that we knew and so it felt really normal.
But our idea was always that one day when we were living, quote unquote, our real life, we would move into a big house with a big yard, with a swimming pool and a tennis court and just live the dream.
Creative Small Space Living
Fast forward a couple of years, we had our second child. We lived in a two bedroom apartment and so of course the boys were going to share a room and I created what was one of my favorite and most popular blog posts about building my son a crib into the closet. We called it a Dutch cupboard crib, if you familiar with a Dutch design. This was really common to build beds into little nooks and so we built his crib right into the closet. It was perfect. Milo had a toddler bed. Elliot was right in the closet. Dave and I had our bedroom. There were two bathrooms. We were able to do all of the things that we needed to do.
The toys tucked away into little baskets in the living room so they could be out playing during the day and then they would all disappear from sight at night. When we wanted to have friends over to play games or invite people to dinner, we were able to easily get outside to parks or playgrounds. It was really just a great lifestyle and when I was expecting our third baby, we decided it was time to move, not only move out of the apartment into a new place.
Moving To Texas and Building A House
When we looked up to see what it would cost to add one more bedroom, it almost doubled our rent to add one more bedroom. And so right at this time we were also feeling antsy for just maybe moving on from the job. Dave's law firm was really very taxing and we also thought, you know, I think we've grown out of apartment living, we've grown out of this, we're ready to move on to that next stage. And what that stage looked like in our heads was a big house on a big lot.
So we decided what city we wanted to move to. We settled on Austin, Texas. Dave looked for a job and quickly was able to find one working for a different law firm. And so we headed out west. It was really easy to find a small rental while we decided what we were going to buy.
And because we had lived in such normal size, small size departments, we felt really comfortable in 1000 square feet or 1200 square feet with the two boys and the two adults. And then I was expecting plan. When it came time to actually choose a house, though I knew that I didn't want a giant, giant house because it just felt a little bit overwhelming, but I did want more space and so we found a lot. I was actually more concerned about our law. I wanted a lot of space outside and so we found a half acre lot on a coal dust sack that had a little grove of trees and it just looked beautiful and we decided to build a house.
2400 Sq Ft on One Level
Now I've always loved single level homes. For whatever reason, I actually didn't grow up in a single level home. I grew up in a home with lots of stairs. My parents' home is about four levels, all completed, a finished basement, a living level, a bedroom level, and a finished attic. That was a playroom.
I had a really large house growing up and I also, I think maybe living in smaller spaces for most of my adult life had made me feel like I just liked a little bit cozier space. And so we decided to build the smallest house that our builder offered on this big lot, but small was 2,400 square feet. So we were over doubling the amount of square footage that we had had living in the city. This felt like a palace to us. It was all on one level, which is really, I just think still is the best loud. I love it so much to have a big rambling single level home and we just went to work designing it and making it just right for us.
Around this same time, our friends who were back in Utah or other places in the country, we're also moving into newer homes and they also were upsizing, so whatever they had moved into as their starter home, they now we're moving onto a mid level home or what? Some of them may have even called their forever home. If you were moving into a forever home, that was quite a bit of a leap.
People were moving into really big multi garage multiroom multilevel homes and of course space and home size is very relative. Right. So what is it large in one city or area? Maybe tiny in a different city or area? It's very location based. It's very cost of living based. It's very cultural. And where we were living in Texas, in our neighborhood, our house was the very smallest house on the block, one of the very smallest homes in the neighborhood, in fact.
And it felt like an absolute palace to us. It had ten foot ceilings throughout. We added beautiful hickory hardwood floors. We could slide from the front door all the way to the open format kitchen and living area. I had all of these beautiful windows overlooking this giant lot with our trees and we put a trampoline out there for the kids.
It was really wonderful. And as the years went by, so we had, it was four bedrooms and three bathrooms, but we still put the boys together. They shared a room, plum had her own room. She was the baby and so we had a nursery set up for her. I used the front bedroom as my studio, so I had an in home office and then Dave and I had the master bedroom and bathroom. In addition to that, there was a big living room, a big kitchen, a dining nook within the kitchen and a separate dining room.
There was also a two car garage and a separate laundry room and we quickly realized as we moved in and settled in, first of all that we did not have near the enough furniture to fill this house. We had one tiny little couch, one little rug, all the, you know, we brought like our chairs and our tiny little table and the home just swallowed our furniture and so I knew we were going to have to go to work, really feeling filling this home up to make it feel cozy and like our own. I also quickly realized that there were a couple rooms that we didn't need at all. Oh, there was a study I forgetting. Oh, there all of these rooms. There was a study that we ended up using as a toy room. So we had a studio, we had the toy room, we had the dining room, which we quickly converted into an indoor patio room.
So Many Rooms!
We, it just felt too far away from the kitchen to actually use it as a dining room. It didn't make sense. And so we hung some hammocks from the ceiling and put a bunch of plants in there and used it as an indoor patio room. The truth is looking back that we didn't need it and we didn't use it all that often anyway. And the truth is I can look back on the toy room and realized that my kids rarely actually played in there and less I was with them. They still would bring their toys from the toy room into the living while I was cooking dinner or I was working on something in the kitchen so that they could be nearby.
The laundry room was another room that we never ever used. I would wash the clothes in there and dry them and then put them in baskets and bring them back into the living room so that I could fold them while I watched my favorite show on Netflix or listened to a podcast or talk to Dave after work.
So all of this to say that it was really wonderful to have all of this space and as we got ready to move, accepted a job in Richmond, Virginia, and we're in the middle of our year of not shopping.
"We had an opportunity to make a change, to PROGRESS by SCALING BACK."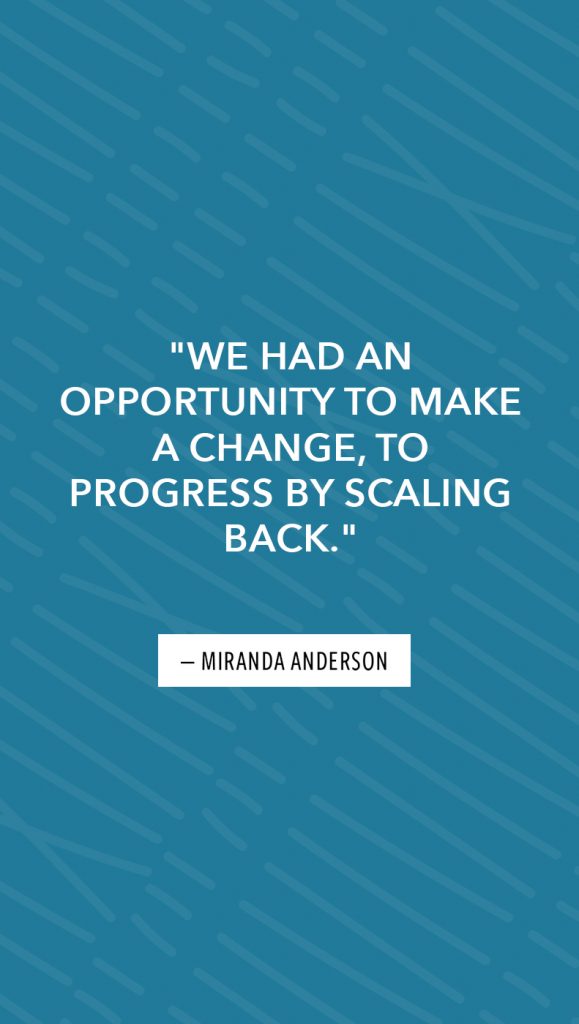 So this year of experimental minimalism, I realized that a move offered us an opportunity to make a change. We could find a home that was similar to the one that we had been living in and loved. We could progress or move forward or move up like a lot of my friends had done and like would have been natural and accepted for us to now move into a little bit bigger home. Maybe add some stairs. All my kids wanted with stairs so we could have moved into a home that had a second level and had some stairs or I realized we had the opportunity to make a change to progress by scaling back.
And that is ultimately what we decided to do rather than find a home that was a little bit bigger, a little bit shiny or a little bit better than the one that we had been living in. We decided to spend the first year living in a 1000 square foot rental just while we got our feet wet in the city and got to figure out where we really wanted to live.
I was excited to experiment with smaller space living even as our family was growing up at this point. We have three kids and a dog and they weren't tiny kids anymore. When we moved, they were three and five and seven and so they all needed a little bit of space, but I knew as I thought back on the way we had used our house, this big house that we had built and plan to grow up in that there were whole areas of the home that we weren't using, but we were furnishing them. We were paying for them, we were cleaning them, we were paying utilities on them, but we weren't actually using them. They didn't add a whole lot. To the value of the home itself or to the value of our lives. So we decided to downsize.
We moved from our 2,400 square foot home into a 1000 square foot, two bedroom, one bathroom house in Richmond. And you know, the craziest part about it, it didn't affect our lives all that much. All of my day to day worries and joys felt the same. And this wasn't like a really beautiful, redone, excellent thousand square feet. This was sort of a crappy little house, to be honest. It was just what we could find in the nick of time to move. And there were things kind of falling apart. I definitely added a lot to it. I painted the entire house, even though it was a rental.
Investing In A Rental
I was investing time and money into this space so that it would feel cozy and cleaned for our family. But it definitely was not like a high end, you know, a thousand square feet can feel really, really beautiful and posh. This was not that, but it was really interesting to pay attention to how much it actually affected our day to day living. And the truth was not that much. I had all three kids in one bedroom including their toys and all of their clothes.
Dave and I shared another small bedroom. The five of us shared the bathroom. We had a kitchen, a small living room, and a little sitting room and we were able to function really well because the downsizing went so well. We decided we were looking for a smaller home and so we were able to find a house in the city. The fixer upper that I talk about all the time on here that we are still fixing up is 1400 square feet right in the city and we absolutely adore it.
Buying Our Fixer Upper
We were able to go up one bedroom and one bathroom from the rental, so now we have three bedrooms and two bathrooms, a living room, a little sitting area, our kitchen with the dining sort of attached. We added a front porch and a back porch and it feels absolutely perfect for right now. Will we stay in this house forever? Honestly, I don't think so.
We didn't buy it thinking it was our forever home. I'm really, really loving living there and working on it. We're nestled into the neighborhood and the school and after our last couple of years, I have no idea what the future is going to bring and so I'm trying to put in our roots, dig down deep bloom where we're planted and maybe we will find another opportunity sometime in the future and make a little different decision. However, I love it. The idea of thinking about all of the options when you're considering your living space rather than just going with what people tend to do, and let me tell you what people tend to do.
The Trend Is Bigger, Bigger, And Bigger
People tend to buy bigger, bigger, and bigger houses at each stage of their lives. There are all kinds of studies about this, but a couple of recent ones that I just saw showed that living space per person in the 70s was about 300 square feet. So of course if you had a larger family, it was a little bit larger home. If it was a smaller family, it was a little bit smaller home. This is the average national average in the United States, about 300 square feet per person in the 1970s now, by the 1990s just 20 years later, that square footage per person had over tripled between 900 and a thousand square feet per person in the average home in America. So to use my family as an example, our home in Texas was 2,400 square feet and there are five of us, so we were just under 500 square feet per person.
Like I mentioned, this was one of the smaller homes in the neighborhood. Now in the 1400 square feet, we're just under 300 square feet per person, which is closer to the average of the 70s then of the 90s take a second and just calculate for yourself about how many square feet per person do you have in your living area.
It's not good or bad. This is a very neutral circumstance, right? It's very interesting though to just take note and be aware of maybe where you fall. I also want you to consider for a second the last time that you needed to make a change or maybe you're in the middle of this right now. Thinking about moving, does it ever even occurred to you to scale back or does making a change in living space always mean to buy bigger?
Because I think that that is what we are taught to understand that the only real way to go as far as living is to go up to bigger spaces and I want to just introduce the idea that that might not have to be the case and in fact you may find that your life is even more fulfilled living in a little bit smaller space.
And to share this perspective, I want to give you some of my favorite pros about small space living. Don't worry, I will follow it up with some cons so that you can see that I understand that this isn't the only way to go and there are some downfalls to having a smaller space, but I overall I feel like it's something that we ought to consider a little bit more often than we do. So here we go.
Pros of Small Space Living:
1. Less Expense.
Of course is less expense, not only less expense in actually buying or renting a smaller property, but there's less expense in filling it with furniture and decorating, less expense in cleaning. If you hire a cleaner less expense in your utilities and electricity and when you free up that money in your budget. Think of all of the incredible things that you could do. We of course are huge proponents of spending our resources on experiences.
"Less Stuff, More Adventure" is our mantra and our rally cry. Think of if you can have less space and more adventure. That is also something that is huge, wonderful benefit of choosing a smaller space.
It's an interesting to consider how much a clean home means to you if having things put together and organized feels really important to you. Recognize that if you had less rooms or less stuff in those rooms that it would be a lot easier to keep it put together and to keep it clean.
2. Natural Boundaries.
I love that having a smaller home also create some natural boundaries. When we moved to Texas and we had big rooms with big closet over the four years that we lived there, I unnecessarily filled it up. I filled it up with stuff, not all random junk, although there was some of that, but every time there was something that was great and it was cool and it was beautiful and I loved it. There was always somewhere to store it and so I unnecessarily bought and kept things that I didn't need.
When you have smaller spaces you think twice about do I really want to replace something in a cabinet or a cupboard because I don't have room for everything. So it's really nice to have some natural boundaries on your actual consumer habits.
3. Closer Family.
One of the things that I love and some people may disagree with this and that's okay, is that my family stays close together. There is not a lot of space in a smaller home for people to retreat off into their own bedrooms or their own wings of the house and not be seen. I love that there are natural gathering places that we spend all of our time anyway. Our kids are still young enough. They want to be with us all the time. Hopefully that doesn't change too much as they grow up, but they do have bedrooms where they can have some alone time when they need it.
I often invite them to go spend time outside if they need to run around or or burn off some energy, but for the most part, everyone is within a hugs reach or within the sound of our voices and that has felt really special. I feel like our family is really close because we spent so much time in each other's spaces.
4. Invites Creativity.
Another pro that I love about small space living is that it invites this natural creativity because you don't have all of the space in the world. There isn't just another room to turn into a sewing room or to turn into a ballroom. So if you want to sew or you want to dance, you have to start to think of some creative solutions. Having some constraints on your space naturally invites you to think in new ways about how you're going to solve the problems that you encounter.
In our house in Richmond are 1400 square feet. I have found so many interesting ways to add storage and to add space and to make the rooms feel big even when they're small with just some different tips and tricks. Like I mentioned earlier, building a dresser into the knee wall of the attic adds an entire dresser that doesn't take away from any of the actual footprint of the bedroom. And so I wouldn't have maybe thought of that if I had a room that had enough space to add dressers on all the walls anyway. So it's really fun to think of creative solutions and to use all of the space in an interesting way.
5. Intentional Choice.
And the last pro that I want to mention is that I feel like choosing the amount of space that you need for your family is an intentional choice. It's not just going with the bigger is better attitude because that's what you've been taught, but actually considering what do we need? How do we want to feel at home? What would improve on our lifestyle?
Considering those things and then choosing with intention what you need, whether that's a little bit bigger or a little bit smaller. I feel like for me, being able to take a step back and not just automatically choose the next biggest thing, but to choose the thing that fits our lifestyle right now. That's a really good choice.
So those are some of my favorite things about smaller spaces.
Cons Of Small Space Living
1. Give Up Status
Now I want to quickly tell you some of my cons about small space living. One of them is that you give up the status of living in a big house and unfortunately there's no way to get around the idea that people are kind of googly eyed over giant houses. In fact, my son comes home from my parents house and says, "Gosh, Mammo and Papa live in a mansion. I want to live in a mansion one day."
They don't live in a mansion, they live in a big house. But just the idea that bigger houses maybe mean more wealth or more status or more visibility or more success.
"I have loved coming to an understanding for myself that the size of my home and the things that I wear and the car that I drive, that none of these external factors really, truly say anything about who I am and what my worth and value is."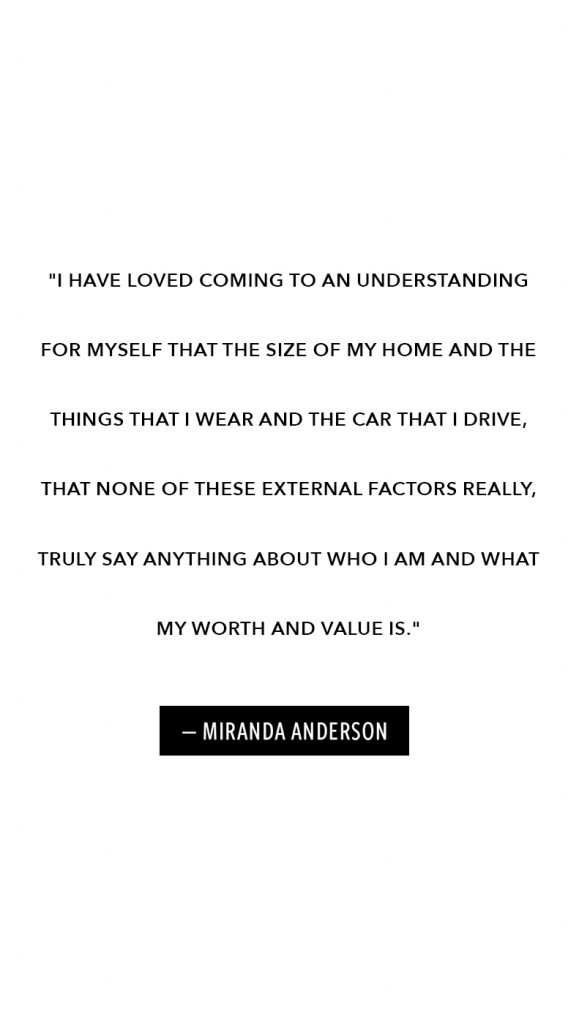 And so even though they may be used from time to time as status symbols for other people, I don't have to internalize that or feel that for myself. And in fact, if I'm being totally honest, sometimes I feel like maybe it's a look. I have a little bit of pride of being a smaller home owner that I feel like, no, I don't need all of that excess, that I feel really cozy in my house the way that I am choosing to live right now, even if that's not everyone's choice.
2. Less Hobby Storage
My second con about smaller space living is that storage can be tight. I find that our day to day stuff, the clothes that we wear and the books that we read and the toys that my kids play with, those all fit fairly well within just the closets and the baskets that we have appointed for them, but where we get into trouble with storage is that we are a hobby family.
We love to camp, we love to hike. We love to ride bikes, and so in our current house we don't have a garage. We have a little shed, but I realized that a garage is, it doesn't add anything to our living space, but it would absolutely be a place where we could store the lawn mower and the bicycles and all of the camping gear and maybe some holiday decorations. I still have a few boxes of journals and scrapbooks that are sentimental that I want to keep for my children, or at least for a few more years until I decided I don't want them anymore.
In a larger house, you definitely have more opportunities for easier access to storage.
3. Hosting Guests And Entertaining
Another con of smaller space living is that hosting friends and guests can be a little bit tricky. We have such wonderful family that they have just been okay coming and staying with us. Even if we don't have a whole room dedicated as a guest room in our current house, my son's room converts into a guest room. We have a queen bed in there and he can easily go sleep on the trundle in the other kids' rooms. So we ended up being able to have a nice space when we have a couple come stay. But if we were to have a whole family come, we would definitely need to put someone on the couch and a couple people on the floor and you know, shift things around. So it's not like we have a whole area that would just be dedicated for guests.
It's the same when we invite people over for parties. But I will admit that although I love to host and entertain, sometimes I can't wrap my head around exactly where I'm going to put all of the people I would like to invite. And so I second guess it. Maybe I have to pare back my guest list or maybe I have to ask someone else to host with me and my final con about smaller space living and I would love to hear yours if you have some leave them in the comments of the show notes at livefreecreative.co/podcast look for episode 30 and tell me your pros and cons about small space living.
4. Quick Messes
The last con is that it does get messy quickly. So if you have one living room and the toys are in there in baskets and your kids play all day and you come into the room after an hour or two, I mean, let's be honest, after five minutes there can be Lego's from wall to wall in that room.
So it gets messy very quickly if things are out of place in a small house, it feels messy. When I get a couple packages either for collaboration I'm working on, or if we order, you know, some new tennis shoes for the kids and those boxes stack up in the entry area of the living room. All of the sudden I feel like we can't move around, so I have to deal with the things that come in very quickly in order to not feel like the whole house is cluttered.
The flip side of that is that it does clean up very quickly, but if you're someone who feels a little bit flustered, if things are not in place, then that's something that you may have to adjust to with a smaller space.
Guest Interview With Shavonda Gardner
Now that I have given you the ins and outs of my perspective on the pros and cons of small space living as well as our experience as a family. I can't wait to dive into this conversation and give it some extra perspective with Shavonda Gardner. Let me give her a call.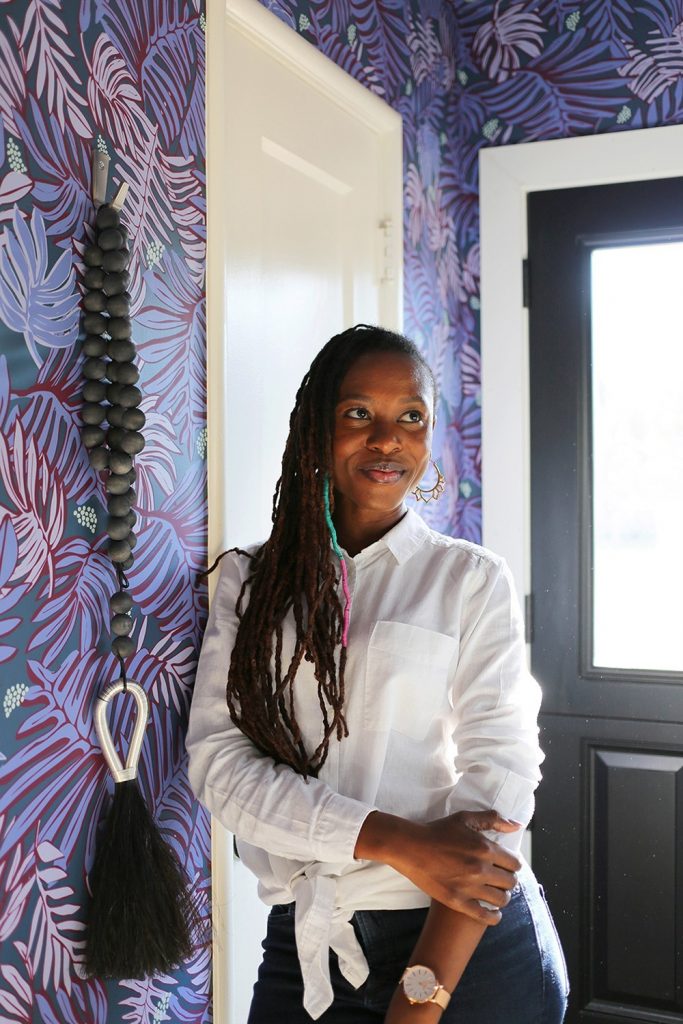 S: Hello.
M: Hey there Shavonda. How are you doing today?
S: Hi, how are you?
M: I'm great. I'm so excited to be talking to you and having you on the show today.
S: Thank you. It's great. I'm happy to be here.
M: Yes. Awesome. So for those, those people who are unfamiliar with you, I'm going to encourage them all to go follow you on Instagram. Find out more about you visit your blog, but why don't you give a short introduction about who you are, your family, and you know, what you're up to.
S: Okay. So, hi everyone. My name is Shavonda Gardner and I am a blogger and interior designer, content creator based in Sacramento, California. And I live here with my wife Naomi and our two kids in our great Dane. Basically I am a blogger who is very passionate about interiors, specifically small spaces, because I am a small space dweller and so I just kind of am really up close and personal with the struggle, the struggle that is head.
Yeah. So I just really love sharing, you know, our family's journey and to downsize life as well as just really beautiful things that I see happening in the world of interiors.
M: Yes, you are one of my favorite places to see it. Just a different perspective on interior design, not only because of your small space living, which you know, it's so easy right now, especially to see beautiful interior design done in huge homes and huge spaces. And you think, well, yeah, if I had, you know, a 20 foot wide and tall wall of windows, my living room would be beautiful too, it doesn't matter what you put in it, but where you are able to add drama and color and layers and all of these beautiful texture is, and your spaces are just so vibrant and so interesting and so beautiful and they're not common, which is so fun to see.
So I want to start by asking about your, your journey to downsizing because you didn't always live in a smaller space. Tell me about your house right now about how big it is.
S: So my house right now is we're just under 1200 square feet and we're in two bedrooms, one bathroom.
M: And there are four of you plus the dog. That's a human size because that's a big dog. By typical American standards, that is a small amount of square footage per person. It's about 300 square feet per person. What was it that prompted you to decide to move from what was a bigger space into the house that you live in now? Can you explain a little bit about the things that led to your deciding to downsize?
S: Sure. So this was actually kind of a multilayered question for me. Well, first of all, our previous house was twice the size of this, literally came from about 2,400 square feet, four bedrooms, three bathrooms. And yeah, so we literally cut on living in half and we have half the bedrooms, half the bathrooms, half the square footage. And we were in like, uh, uh, just kind of your basic builder grade, you know, track home, kind of print community situation. It was what I thought we needed as a family when our kids were younger, when we were first trying to get into the market.
I mean, first of all, we live in California. So for us to be able to even break into the market was a huge accomplishment because it's, you know, it's kind of hard at the time. We were just, you know, our tooth were much younger when we first, when we bought our first house, um, I think our son was maybe two and our daughter was like six, seven maybe that they were young. And so, you know, we had that perception as young parents and parents of young little humans, we were like, okay, we need all the space.
We can get these, you know, we need space for them to grow. We need, you know, a place for them to, for us to be able to spread out. And it was just this whole concept of space, space, space. It's what you hear that that's what you think that you need, especially when you have children in the picture.
M: The phrase like, "we need something to grow into", it's like when you're, when you're young and your mom always buys your shoes, two sizes too big so that you can grow into them.
S: Exactly.
M: Yeah. We hear that about homes, right? Like buy a home to grow into, because the kids are only gonna get bigger. There may be more of them, you know, so, yeah. Okay.
S: Yes. And so, I mean that's, we, that's exactly how we went into our home buying process. You know, the house was wonderful. We didn't think that it was going to be our forever home for sure. But it was a great starting point for us. And you know that house thinking like, okay, we're going to start here and it's luck. Like our next house would maybe be bigger. We've maybe have, you know, a little bit more space or whatever.
But we were in that house for three years and I'd say around and three and a half year mark, I looked around one day and realize that of all of the space that we had and how big it was, we were literally only actively living in about half of it. You know, we had like the formal part of the house. So we had our, our front door that had like the formal living room, formal dining room, big entry, and then you'd walk into the kitchen, which was like a big, like eat-in kitchen.
It was open concept. And then off the kitchen with was family room. So essentially the only parts of the house that we really lived in and use on a daily basis was the kitchen family room and then our bedroom set. And I just of saw the way that our family was living in it and our kids were younger, you know, and they had their toys and all that, but they would bring their toys into the family room and take them to their bedroom.
And it was like we were literally only living in half of our house. It just kind of struck me, well first of all, I am a southern woman. I was raised in the South and so I'm just kind of was always raised around old houses and I always wanted to live in a little old house. And it just kind of with something that this was a part of my heart that I wanted to be able to do one day.
And it just struck me that first of all, we're not even using half of this. We're paying this mortgage, were heating it where air conditioning it, we're maintaining it and we're not even using it. We didn't even have furniture in our, in our formal living areas, like we didn't have a formal living room set, we didn't have a formal dining set. It just literally was like an empty space in our house for three years.
And you know, and I just said this is not like what are we doing? This is crazy. This is ridiculous. I just said honey, I really think that maybe we should think about getting a smaller house because we're not, we're living as if we are saw home dwellers in this really big house right now.
M: And you know, it's so interesting cause your sounds so much like ours that I kind of had that same realization of we're living in about half our house and I don't need all of this space. And there's whole rooms that we literally don't walk in. Like, I don't know the last time they went in that room. What I hear you saying that felt like what I was feeling was I'm living this like maybe typical American dream, but it's not my dream. Like this isn't what I want for my family.
And even the idea of like, "Oh, it'd be so fun to live in a, in a charming older home in the middle of town versus like a big sprawling home in the suburb." I mean those are totally different decisions. You can't have both very easily. And so being able to recognize that maybe the things that everyone else is telling you you're supposed to have or the, you know, this is the dream, like to move up and to buy that house, you know, that your family has room to grow into and all of that.
It takes like a little bit of introspection and perspective to realize that you know, that that's right for a lot of people and it might not be right for me.
S: Right. Absolutely. Just thinking about all those things are not the same time my children were in elementary school, they were school age and we really started to notice this sense of entitlement that was brewing in them that I didn't like and okay.
I think that a big part of that had to do probably with their environment too. I mean, they were in a neighborhood with all of these really big houses. All their friends had huge houses. We've go, you know, they would go for sleepovers and they would come home and say, well mom, you know, so and so has, you know, two stories in her house. They have, you know, a sun room and five bedrooms and they have a pool as it.
And I started to notice that this conversation was less about their family and their friends and like the things that I felt like the focus should be. And it was more on like the things that their friends had that they didn't have. Right. Yes. That's so interesting. You know, and I just kind of was like, no, we're not doing this. This is not happening.
Yeah. And so that really gonna make a change so that we can another layer of, you know, really are, this isn't design size was just to really show our children that just because once someone has, that doesn't mean that that's necessarily what you need to aspire to have and that that is not what is important just to show them that you can have a very happy, full, wonderful, amazing life in a smaller home and it has, nothing, has nothing to do with, you know, how you see the world and how the world needs you and people's perceptions and just really, it's just like a whole life lesson there.
M: You talked about how you recognize that you were only living in about half of your 2,400 square foot home. Did that help you determine what amount of space would be right for your family when you did decide to like, okay, we're going to move, we're going to find a smaller, we're going to move out of this neighborhood and 1200 sounded about right because that's about what you felt you had been using.
S: Yes. And I think we gave ourselves a little bit more grace. I was looking for around 1500, you know, I knew that it was, I knew that going from 2,400 to like, you know, 1000 or 1100 would feel like a pinch. Yes. I mean it would feel, I mean, it was just going to be like one day you got it, the next day you don't, which I knew we would adjust, but still, even 1500 square feet is still smaller than the national average is.
So I just kinda felt like 15 hundreds a good number. I didn't go into our home search 13 four square footage. It was more so the flow of the house, the number of the bedroom. And I did, however, tell our realtor we don't want anything larger than about 1500 or 1600, you know, asked her not to show us anything above that.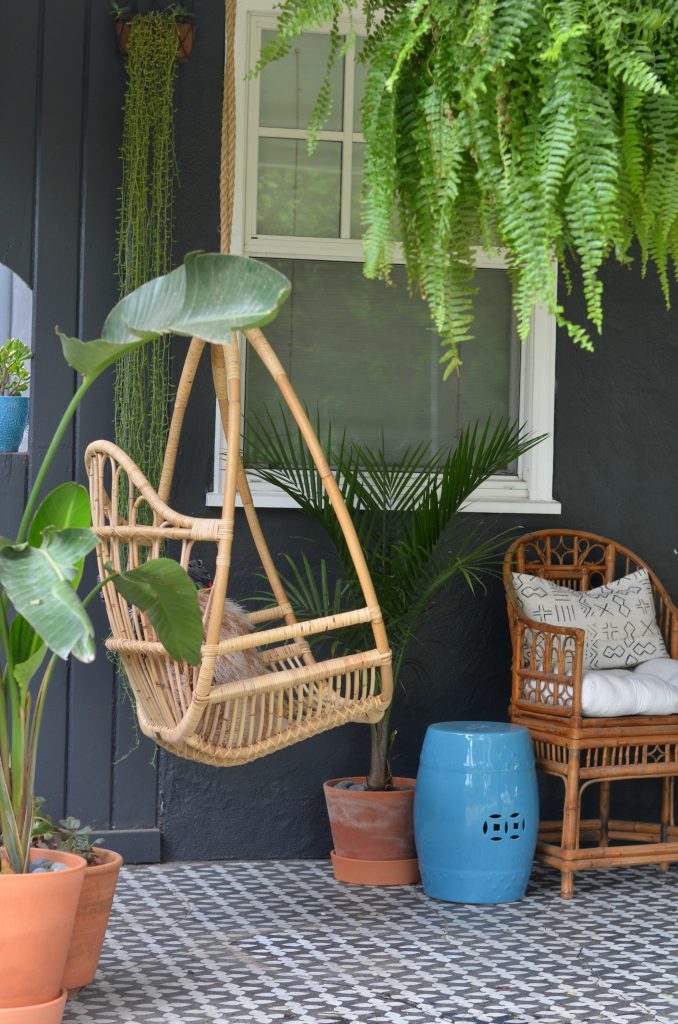 M: So how did you know that The Cottage Bungalow, that's what you call your home. How did you know that that house was the right one for you?
S: Oh Gosh. So, interestingly enough we were in escrow, um, for about three months on a different house. We were four days away from closing on this other house, something just wasn't right. The seller's realtor did something that really did not sit well with me and I just was like, no, we were really frustrated that we had spent so much time and energy on this particular house is in for it, not to work out, but I actually found our current house online. I was just didn't narrowed down our search. We discovered which area we really love and I did memorize all the street names and I was at home that like every day.
Yeah, every day I would just go on to MLS and I would just type in all the street names just to see if anything new had come up. And I typed in the name of our street and this little house came up and at first I didn't think it was going to work out because our house when we had two bedrooms and one bathroom and we really, really wanted to find the three two.
So my wife was literally like, I will do anything. The house could be a complete dump, but it has to have two bathrooms. Like that is not right. And I just saw how absolutely charming it was and I found that it was on a really huge lot. And I just said, you know, hey honey, I found something but it's only got two bedrooms and one bathroom. She's like, absolutely not.
I don't even want to hear about it. We're not talking about it or not. It's a non negotiable. Yes. It was like not doing it. I mean if we got into the biggest argument that night and we woke up the next morning and she was like, you know, I'm really sorry, I'm just really stressed out. This whole process is stressful. Let's go look at the house. But don't get your hopes up is basically way.
M: Yeah, I love it.
S: And as soon as I pulled up and as soon as she opened the door, I walked in and I was like, this is our house. I just do without that from all the original details. And I just felt like I just felt like this, this is where our family needed to be and I knew it was going to be a lot of work and I knew it was going to be a struggle because of the bathroom situation.
M: So that brings up an interesting question about that. I want to ask you about some challenges that you maybe didn't expect about downsizing and about living in a smaller space. Does that bathroom still pose a challenge? Is that still a challenge and if not, what are some of the maybe two or three challenges that you didn't expect when you decided to move into this smaller space?
S: Um, so yes, the bath, the bathroom is, I mean I, it is not so much a challenge for me personally. Sure. A challenge for my wife and I think it's also a challenge for my daughter in our previous house. My daughter basically had her own bathroom essentially. So you know that it, it, it can be a struggle. It can be a problem at nighttime when it's like bath time, you cannot go in there and be in there for an hour. You just can't.
But I would say for me, the bathroom is probably the least of my worries. For me, the biggest struggle has been entertaining. Making my guests really comfortable. That I think has been a challenge for me. And I totally understand that, you know, because I look at it like if I'm a guest in someone's health, no matter what the size of their house, I just feel happy to be in the presence of my friends and family that like I don't even care.
I will literally sleep like in a corner on the floor. It'd be happy because I'm with my friends and family, you know? Um, but as a host, you want to offer the on the last day that you can. Exactly. So that, that has been a challenge because in our previous house we had plenty of space. We had a dedicated guest room, we had plenty of space for people to stretch out.
We had two large dining areas. And I love to entertain. And so here in this house we've lost our guest bedroom and we have also lost our dining space. We have a very, very small like dining corners, really what I call it. Um, and that's been probably the hardest adjustment for me to make as far as like the infrastructure of the house.
That's been the hardest thing for me is the dining area. And so I just kind of find alternative ways to entertain. Now she just has to make those adjustments instead of sitting down at a table that seats 10 to 12 like we had before, we now I now entertain in a different way. We don't have sit down deals, we'll do things that allow us to all come skate like in the living room or that allows brands to kind of like move in between spaces rather than being just seditary in one space.
M: Well I love that you rather than like this is the challenge entertaining and a smaller space– and I'm with you. We love to entertain and we have several like traditional parties, like times of year that we invite people over and do open houses and, and you move into a smaller space and it kind of disrupts the flow.
But I love that you rather than saying, "Well I guess we can entertain anymore." You are changing the way that you entertain and you're coming up with these creative solutions so that you still, you know, you don't have to give up one for the other. You could do it differently as a guest.
I think that that creativity always add something rather than going to another said to, I mean a sit down dinner is great. Right? That's wonderful. But it's kind of fun to go somewhere where the experience is a little bit different and has to by virtue of the space be a little more thoughtful. But that is an interesting challenge.
And so your son and daughter, I'm just thinking of bedrooms, your son and daughter share a bedroom, your 16-year-old daughter and your 11-year-old son and has that been a challenge?
S: No, they don't.
M: So tell me, if you have two bedrooms, right? Tell me how this works.
S: Right. So part of what we to the house is, I noticed literally right off the dining room, there was just some little area. I think that was being used as a den by the previous owner. Okay. And I just kind of said honey, cause she was like, what are we supposed to do? There are only two bedrooms.
And I said yeah, but there's just did but we could theoretically turned into our bedroom. So that's what we did. Okay.
So our daughter technically has the master bedroom of the house. Our son has the second bedroom. There was a space that the previous owners were using as a den that we have basically essentially turned into our makeshift master bedroom. the bedroom is kind of an awkward space. There's like slanted ceilings, and there was no closet, there was no door, there was no, there was no nothing on it. Basically.
M: For the master bedroom is a little…
S: …exactly, exactly. And it's right off the dining room as well. Right. You know, the placement of it was not ideal, but it ends up, it ended up working.
So, um, we put on a, we put on a barn door because, perfect. You can't swing open the door. It's just really tiny on a barn door. And then I went to Ikea and got a Pax closet system. Put against one wall. So rather than having like a walking closet or anything like that, um, we also don't have any dressers or chest of drawers or anything like that.
We have created this custom, this space that has turned and we've made it into our bedroom. And one of the things about the space that drew me to it, at first it's, there's these French doors that lead out to the backyard and I just thought, wow, this could be a great bedroom, this could be a great bedroom for us.
We are just going to have to make some adjustments and make it work for us. And so we did. And it's great. It's great now. But yeah, definitely it took some imagination.
M: Yeah. Creative, creative reuse of the spaces. I love that. I find that that that is required when living in a smaller space than what would be typical for your family size. So I love that you've done that.
Let me ask you now about some of your, we talked about some challenges. What are a couple of your favorite things about living in a smaller space?
S: Oh my gosh. Uh, I mean, aside from the fact that it's cleaning, it is a breeze. I mean, look, I'm just going to be honest, as a mother, like the last Saturday, it's to my weekends like cleaning and it is so wonderful to be able to essentially clean my house from top to bottom in about two hours.
That's it. It's done. Um, so I'd be just like, that is always a good thing. Yeah.
I think more than that, I really appreciate how close our family is because of our, our small home. Honestly, we've just, the proximity makes it like we can't not see each other. You know what I mean? Like, right. You know, the approximate makes it as it is, but honestly also living small has given us like a lot of consideration for the other person.
You know, we all understand that we're all in this together. There's no back week, not like you can go off to your corner of the House and somebody else could go up to their women in the house. We have to be understanding of each other's space. It also makes us just a lot more aware of the fact that even though we are living small, like we have to understand that sometimes people need a moment. They need their space, they need their time. So it's like we have to be aware of that. It gives, give each other the opportunity to do that, to kind of be like, okay, I love you, but like I need it. I need a minute to like sneak away.
It just in our house feels really cozy, like it feels like a hug. It just feels like a really, really good, good space.
Also, I've been able to do things, you know, my wife and I had been able to make some decisions, things like me starting a business and be like leaving my nine to five to really focus on being a content creator and being a blocker. They're things that I would've never been able to do if we still had the financial responsibilities of our last house. It's so much easier for us to go down to being like a one income household, like steady income.
No, like household, right when our mortgage is what it is now. I mean we pay less than mortgage now than we did in rent. It's nice to have that buffer, you know, because we've been able to really take time to like, you know, figure out what we want and not have to be like, I can't do this because we cannot pay our mortgage if we both aren't working full time.
M: So Nice.
S: It's really nice. It's really, really nice. And you know, obviously heating costs, cooling costs, um, maintenance, you know, it's, it's definitely, definitely so much nicer and I just feel like you have left house, but we have more lights now and before we have totally and less so.
M: Okay. Last couple questions. And first I just have to ask you about design because I just admire your design style, your aesthetic, your, he's just really have the most beautiful design. I and I, I love it.
So how would you help someone discover their own personal design style when it comes to their home?
S: That's a great question. I think the first thing that people have to do is they have to take other people's opinions and thoughts out of it. That's like number one. You know what I mean?
M: That I love that.
S: Yes, and this is what I tell my clients that I work with as well. You have to really give yourself permission to do your own thing and I think that, I think that's probably the hardest part of it all is that if people just feeling like, can I do this? Like I don't want to paint my walls. Why? I'll have to read. Can I do that? Absolutely. You can. There's, you can. You can do. You can do whatever you want. You know what I mean?
M: I love it.
S: I think that the biggest thing really, again, it's taking other people out of it and letting go of the fear that you're going to do something wrong. Those are the two things that I would stay because at the end of the day, you are the one that has to live in these spaces. This is your home.
This isn't your neighbor tone where the person's home you saw on TV or whatever you are home. So I think that being, no matter what size your house is, whether it's 3000 square feet or whether it's 300 square feet, the thing that makes the house beautiful and special is when it is something that you have created and when it is a space that brings you joy, whatever that looks like for you, no matter what. And I think that as soon as you start to make those decisions for yourself and no longer care what other people may think about it or how they may feel about it.
Once you do that, that is really when you start to hit your design stride because that's when you start to create spaces for you. At the end of the day, you're the one that has to live there.
"No matter what size your house is, whether it's 3000 square feet or whether it's 300 square feet, the thing that makes the house beautiful and special is when it is something that you have created and when it is a space that brings you joy, whatever that looks like for you, no matter what. – Shavonda Gardner"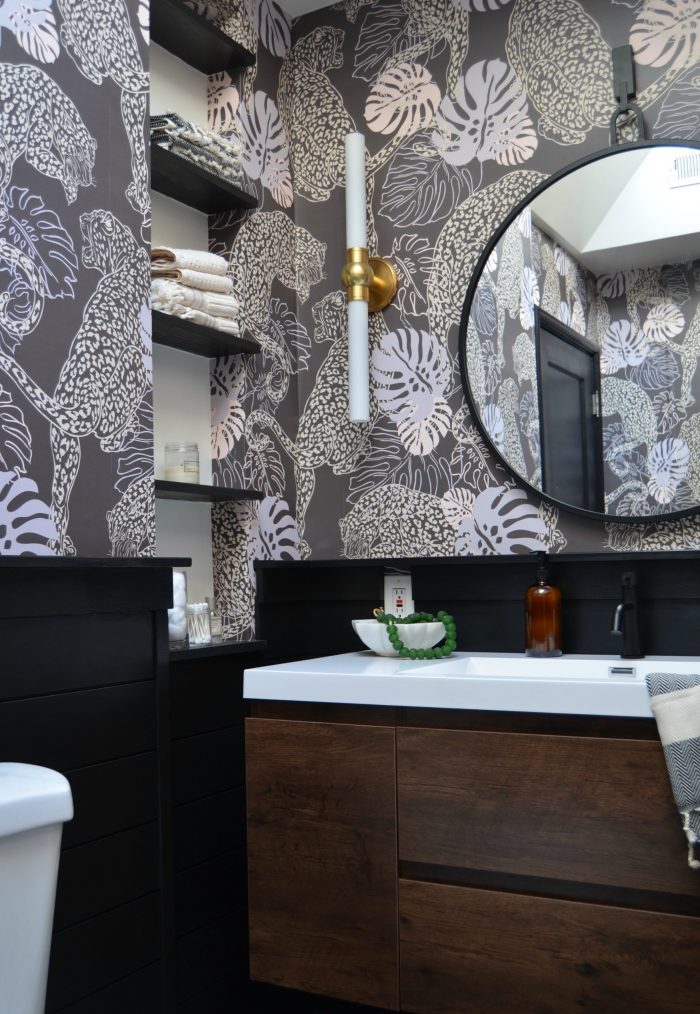 M: That's just yes, I love that. Yeah, and I know I love it so much.
S: I know it seems really simple, but it really is. It really is that simple. You know what I mean?
M: But it's surprising how many people though, just need to hear that. I need to have someone give them permission to choose the things that they like. Like I mean that seems silly. Like, wait, I like it, but is that okay? And yeah, that is okay. I love that. And you're such a good example of that because I feel like what, what I see you do that's really inspiring is that you experiment and sometimes you make a choice and you say, I'm going to try this out and see what I think about it.
And then you could live with it for a little while and deciding to what, I don't love it, so we're going to make a difference. And that that is part of the process. But you wouldn't know that unless you made the first choice and you actually tried it out and maybe you paint the room red and then decide that you want to paint it back a different color. But you won't know that unless you try. And so giving people permission to really own that and experiment with it and not feel like they're going to make a wrong choice, but just choices that lead them to more discovery.
S: Yes, absolutely. Absolutely. And I think the design is so fun. As soon as you start to allow yourself to do things the way that you want to do them. And again, realizing that there are no mistakes, maybe you try something like you said and you're like, yeah, that didn't quite pan out high expected, but that's okay.
It's going to take a moment. We're going to readjust and we're going to, this is not brain surgery. Like no one is going to die if you hate your wall purple, it don't like it. It is life changing situation here. Right? Yeah. And when it's seen as you take it too seriously, then you don't enjoy it anymore. Exactly.
M: Yeah. I love that. Okay. Amazing. Well, last question I want to ask you. What are you most excited about right now with your, with The Cottage Bungalow, with your garden or with your life? What is really lighting you up right now?
S: Oh my gosh. Oh, this is a hard one. Yeah, so definitely. I've got a couple of things that are making me super excited. Number one. Um, uh, we're going to be focusing on our, on our outdoor spaces if you're, so I'm very excited to see my, my garden up and running.
I've been dreaming a protege garden literally since the day I got keys to the house. So I'm very excited to get our garden going and you know, to get our chickens in.
M: Oh my gosh, chickens are the best!
S: You're a chicken mom, right?
M: Yes, I love them.
S: I am very excited to, to start growing more my food. I grew up with a grandmother who had a huge garden and we just, I loved going out and being able to take our fresh fruits and vegetables and having food, um, you know, cooked from what we planted. I mean it was just such a huge part of my, my childhood until now to be able to do that as an adult and they have my children experience it to really big. So I'm very excited about that. Yes. I also am just very excited about what's happening with the interiors of our home right now.
I've got some really fun projects coming up. I'm just really loving it. I am right now scoping out wallpaper for our kitchen. So bolder the better.
M: Uh, I'm with you. I love wallpaper too.
S: Yes. Yeah, I'm very excited about that and I've got some things happening in our bedroom as well to kind of make it look even more like an intentional part of our home rather than just like a room off the dining room that we did something to sound like really fun things.
M: I am so excited about your garden too. I love following along and seeing your plans. And I were going through a similar thing over here. I have the chicken's already, but I don't have a garden yet and I'm working on landscaping this, this coming spring, so, so that will be fun to, uh, to follow in your footsteps as I learned from all the things that you're learning and sharing.
S: So my other honey, because be trial and error.
M: Okay. So I'm going to like backup. Have a backup of going to a farmer's market on Saturdays. Like if there's no harvest that actually grows and at least we can go get it like down at the farmer's market.
S: I love it so much.
M: Well, thank you so much for spending some time with me today. Where can people find you if they want to look you up on your, on your blog and an Instagram? Where should they find you?
S: So if you, I'm always on Instagram. Instagram is my jam.You can find me on Instagram at @SGardnerStyle and on my blog it's SGStyleBlog and yeah, you can find me in either one of those places pretty much on a daily basis.
M: I love it. I will put links in the show notes so that you can find Shavonda and follow along and see all of the incredible spaces that she's creating both inside and out of the cottage bungalow. And, I just wanna say thank you again for being here.
S: Thanks so much for having me.
Conclusion
Shavonda thank you so much again for such a wonderful conversation. I'm so excited to share this and I want to invite everyone who's listening to go to the show notes live free creative.co/podcast look for episode 30 and you, I'm going to share a few photos from Shavonda's beautiful Cottage Bungalow and also all of the information so you can find her and follow her because she's amazing.
Questions For YOU
As we finish up today, I just want to ask you a couple questions.
How can you use this space that you live in just a little bit better without needing to have more or even have less?
How can you be creative and intentional about the home that is yours right now, even if it doesn't feel ideal to you?
"I absolutely believe in making where you live the very best that it can be and making very intentional choices about the things that you add and the way that you use each room."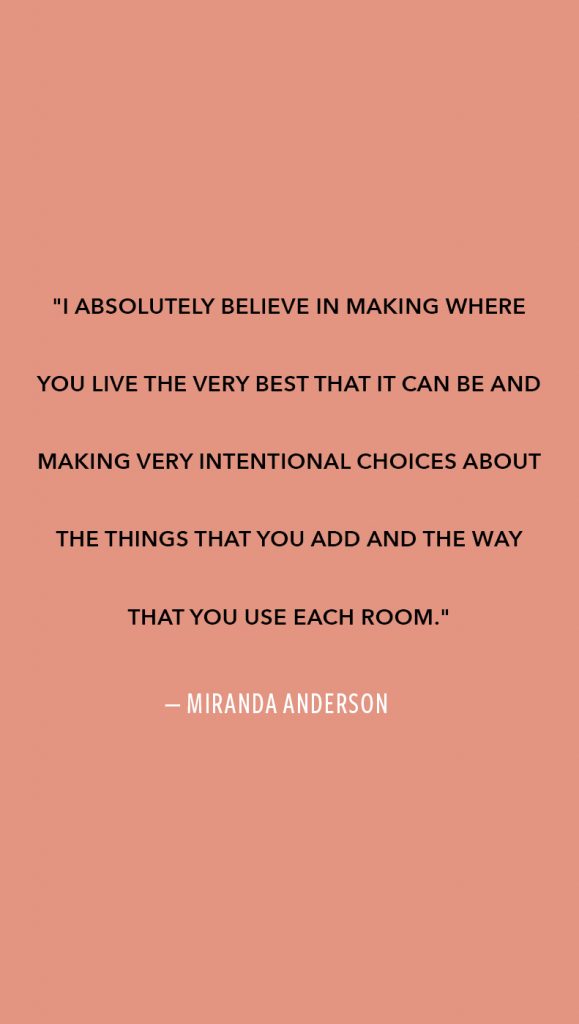 I like to ask myself, what is the purpose of this room? What do we want to do here? And then make sure that everything that we need in order to do those things in that room are there.
What Is The Purpose Of This Room?
For example, in our living room, I want to gather, I want to spend time together. We want to watch movies there. We also want to play games there so we have a couch and some chairs. I have a basket nearby with a couple of blankets for cozying up to watch a movie in another basket.
I have all of our family games that can tuck right next to the couch, but be pulled out easily when we have a little bit of extra time. So make sure that in each of your rooms that you consider what it is you want to do and also how you want to feel and then see if you can make just the tiniest adjustments to make the space that you live in now the very best that it can be.
As a final thought, I want you to reconsider the idea of growing into a house we mentioned in the interview or Shavonda how people buy bigger homes so that they can grow into them.
"I want you to consider how you can grow into a house that isn't bigger. You can grow into a space by growing in deeper, by feeling more in touch, by feeling more peaceful and feeling more content with the space that you have."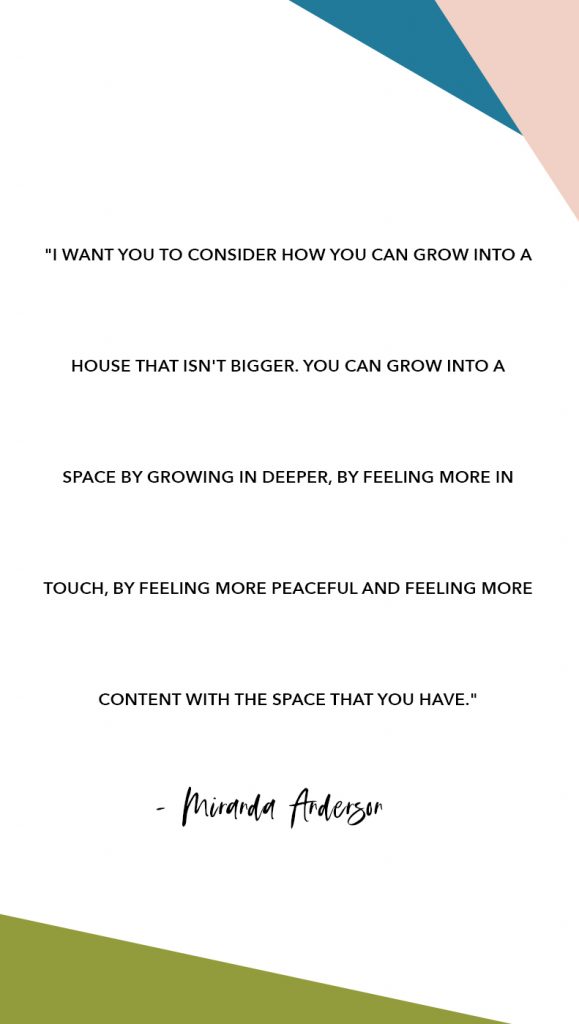 The Purpose Of This Episode
This episode was not meant to convince you of the idea that you need a smaller house than you have or that it's always a good idea to downsize. Rather to just invite you to consider a new perspective and to try to live with intention and be grateful for the space that you are in wherever it might be.
Right now, I want to finish today's episode by sharing a quick listener review. This review is from SuperMargrette.
She said, "I just listened to my first live recreative podcast, number six on creativity. It was an incredible eye opener for me and truly inspirational to open up and get in touch with my innate creativity. I was raised hearing that my sibling was the creative one and me, not so much, but just because I don't draw or paint doesn't mean I'm not creative. Since listening to Miranda's podcast, I've started recognizing, appreciating and expanding on the things I love doing, which are creative in their own way. I. love decorating, playing with color combinations, designing and coming up with new ideas in styling and now I bring up more time to spend doing these things that I love. Thank you so much for sharing your thoughts and inspiring viewpoints. I can't wait to listen to more."
Thank you so much for that thoughtful comment. I am so happy that that episode 26 on creativity hit a chord with you and that you have been opening up and experimenting with your creativity a little bit more fully. Make sure to send an email to michelle@livefreecreative.co to send her your address so we can put a thank you for the review gift package in the mail.
If you haven't yet left a review on iTunes, let me invite you to do that. As I do every week, every few episodes I choose when to read and we sent a thank you gift pack in the mail. I absolutely appreciate your time and your intention and showing up and listening to me today. If you haven't yet subscribed, make sure you hit that subscribe button on whatever podcast app you listen on. I can't wait to chat more with you next week. See you later.