Episode 41: More Than Enough Introduction and Prologue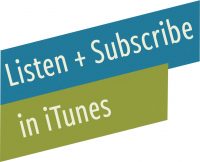 Introduction
Hi there friends. Welcome back to Live Free Creative Podcast. I'm your host Miranda Anderson and today is Episode 41: The "More Than Enough Stuff" Introduction and Prologue.
You guys, it's an exciting day! Not only do I get to sit down and chat with you, and record a podcast episode–which is one of my favorite things to do all week. But I also am super excited today to share a little sneak listen of the audiobook of my new book, "More Than Enough" that releases on June 25th.
If you haven't already heard, "More Than Enough: How One Family Cultivated A More Abundant Life Through A Year Of Practical Minimalism" is available right now for preorder at an Amazon near you.
Audiobook Free With Pre-Order of Hard Cover
Right now, the book is available to order in hard cover version or the kindle version. There will be an audiobook available soon for preorder, but one of the perks that I wanted to include for people who order the book ahead of launch date is to get the audio file for free when you buy the hard copy version of the book I mentioned in the last episode.
Why? Because I really, really love reading books and taking notes in them and my book has workbook sections that are really designed for you to take notes, answer questions, and reflect back some of the principles that I discuss in it onto your own life. But sometimes it's nice to just sit and listen to a book as well–in the car on a road trip for the summer, when you're riding your bike or doing dishes.
How to Claim Your Free Audiobook
And so for every single person who pre-orders the hard cover version of the book, there's a form on my website and I will link it in the show notes. And if you go to livefreecreative.co, one of the menu items right now up at the top on the header is More Than Enough, or maybe it says Book Pre-Order. Either one of those, you'll figure out what it is, click on it and that page tells you about the book, and it has some different links where you can click to order the book on Amazon, and it also at the very bottom has a very important form where you are able to claim your free audiobook gift.
So when you pre-order your book, copy and paste your order number, go to my website: livefreecreative.co. Find that little pre-order button at the top, scroll to the bottom and you enter your name, your email and your order number. And then we will be able to email you the audio files for free on the day the book comes out, which is June 25th. So you have between now and June 25th to claim this offer.
After that you can buy the hardcover, the kindle version or the audiobook all separately. It will be available in all of those different format so you can pick and choose which ones you prefer. I think that it's pretty great to get the hardcover and the audio book file cause that's always what I wish I had.
For every book that I read, I kind of would like to have one in hand and one in my ears. I think it goes well together. So I thought that I would make that available to you.
Making the Audio Version
I knew as I was writing the book that I needed to record an audio version, and that I wanted to narrate it myself. I've had such a blast with this podcast. It feels like a really fun fit to just be able to read my book to you. And so a couple of weeks ago I went into a local studio here in Richmond.
I record the podcast on my own in my home or my office or sometimes in hotels, sometimes in rental cars. I mean I've kind of taken my podcast on the road.
But for the audiobook, it needed to be just really, really great sound quality. Although I feel like we do okay here on the podcast, I wanted to have a professional level and so I went into a studio here in Richmond and recorded. What it looked like was two days, for about five hours each time, sitting in this soundproof booth with headphones and the, you know, the guy in my ear telling me when we were rolling and when to take a break.
It was surreal and exciting and a little bit terrifying to know that this is all happening. The book is at the printer, the kindle version is uploaded and the audio files were being created as I spoke the words of my book into the microphone.
Sharing Part of the Audiobook Today
I'm thrilled to share a piece of that recording with you today.
The book itself is 17 chapters long, but what I'm sharing today is not included in that because these are the two sections that come before the chapters begin. The first section is the Introduction, and the second is the Prologue. So in total, the book is about 20 chapters long because I have the Introduction and the Prologue, the main chapters, and then I have an Epilogue at the end of the book. So it's a full 20-chapter circle and I should stop rambling about it and just start playing it.
Segment: Life Lately
But first I want to share a quick life lately because we've had some very exciting developments on the home front.
The Upstairs Remodel
Okay, drum roll please……..
For the first time in about six months, Dave and I are sleeping in our own bed this week and it is so exciting. Well, that's not to say the entire upstairs remodel is finished because it's not, but we were able to finish the painting and the trim enough to move, shuffle everything else around up here so that we could actually put linens back on our bed and sleep in this room in our own room. And it feels amazing.
If you are new here. Let me do the two second quick catch-up. We bought a house in January. We renovated it until July. We moved in and started decorating and then had a catastrophic flood happen in November, so we moved back out for renovation and right now it's almost June. We are finally settling back into the house after almost seven months.
A Few Things To Finish
1. Plumbing. The main thing yet to do in the upstairs is to finish connecting the plumbing. The plumbers were actually here today, and they did almost everything but a few things didn't fit quite right, so I had to run to the plumbing specialty store. I am familiar now with every specialty store in Richmond, so if you're local and you need any recommendations for renovations, hit me up because I have got them for you.
Once the plumbing is finished, we will finally once again have two functional bathrooms in our house, which is awesome. Something that I definitely don't take for granted.
2. Electrician. We also need our electrician to come back and install all of the light fixtures and just tweak a couple of the electrical things upstairs that still need to be finished.
3. Closets. We still need to install our custom closets, which we changed the layout of our closets. And if you remember our house is quite compact–we live in 1400 square feet and the closets are rather small. But I feel like they can be so incredibly efficient with the right organizational systems. And so we are looking into that, and I would love to hear if any of you have a DIY custom closet system, either from IKEA, or from somewhere like Home Depot, or from The Container Store, or something that you are able to customize to fit your space, but you really loved it and you felt like it was easy and fairly affordable and high quality.
Please leave me a comment in the show notes or send me a DM on Instagram at @livefreemiranda, because I'm right in the middle of looking for custom closets right now ,and I would love your recommendations.
4. Floors. Our floors are almost done. We just need to add that little quarter round shoe mold to the bottom of all of the baseboards and then down the stairs, and that might be it.
I mean, that doesn't sound like a whole lot, right? We are getting there and then we get to move in and actually, oh, you know what, I forgot….
5. Window Seats. We still have to build in our custom window seats, which are their 5% done. I bought some really cool wooden dressers from IKEA that are just the right size and we've hacked him down a little bit, and then we're going to build a frame around them for the window seats. And all we've done is set the little dressers where they're supposed to go but we haven't built the frames yet or painted or anything. So that I guess is going to be the big DIY project that we have to do.
Other than that, things are pretty much almost there. And you know what is the craziest, it can take seven months to do 80% of the work and then take another seven months to finish those last 20% of the little tiny line-items.
And so one of my goals as we wrap this thing up is to not leave things hanging. I want to not only finish all the big things but also like get down into the details because why not just finish it up and make it happen and make it great.
Recording in the Bedroom
So that is what we're in the middle of and I just am so happy to be recording. I'm recording right now in my bedroom, which is one of my favorite places to record. I sit next to my bed and just talk it out with you guys and as soon as I'm done tonight, I'm going to edit this thing and I'm going to climb under the covers in my own bedroom, in my own bed and just sing praises because we have made it, we have made it into our own beds and into the home stretch of this renovation and I am thrilled so that my friends is our exciting life lately.
Main Topic: Miranda Reads Part of Her Book, "More Than Enough"
Okay, it's time for me to turn the mic over to my past self reading the book, "More Than Enough". You guys, I'm so excited. Here it comes:
More Than Enough: How One Family Cultivated A More Abundant Life Through A Year Of Practical Minimalism.
By Miranda Anderson, read by the author
Introduction
Have you ever told yourself that a new pair of shoes will make you feel better? Or that a new computer will transform your ability to work harder? Do you believe that bigger homes, freshly decorated in the latest trends, indicate the great success of the owners? Do you ever long to travel the world, but instead, more often find yourself traveling the aisles of your nearest store? Went in for one thing, came out with twenty?
Do you sometimes look around your house, with its closets and cabinets filled with things, and still feel a little empty? Like there must be something more?
Yeah. Me too.
For years I lived a very happy life, quietly watching and waiting for the time when true success and contentment would knock at the door. I did all the right things: I got married, graduated from college, got a good job, and had a few kids. My husband and I worked hard and saved so we could buy iPhones, build a beautiful house on a big lot, and fill it with all the lovely things our hearts desired. We included wood floors and open shelving and even Pinterest-worthy hanging hammocks that swayed just-so when you relaxed into the cords.
We followed the path that had been loudly proclaimed as the journey to the American Dream—minivan and Madewell high-waisted denim jeans included. We were achieving all the goals we'd set out to reach, but found something unexpected on the other side of success: an insatiable desire for more. More success. And buying more stuff.
I wasn't entirely ungrateful. I had moments of feeling blissful within my life, and if asked I would have said that overall things were pretty great. But that nagging for bigger and better was consistent. I was often setting my sights on goals or gain, then postponing my sense of real happiness until it was achieved.
…..
I wasn't alone in my feelings of inadequacy and impatience for success. It seemed like everywhere I looked people were struggling with the same problem. The same constant drive to have better in order to feel better. It seemed as if the mutual whole of society had agreed to chase more stuff. In fact, it also felt a little bit like a race. A race to perfection, power, acknowledgment, and achievement. A race that didn't seem to have a finish line at all.
A quick scroll through Instagram could verify that almost everyone was shopping their feelings, and proving their worth by the perfection of their houses, wardrobes, vacations, or business success. Myself included.
We were all filling our homes with things, not for their inherent value, but for the value we assigned to them. The cool factor of that on-trend mid-century modern couch that is just unique enough no one else will have one. The story of success that a designer handbag tells—when in reality its function is the same as the regular old tote bag you already own.
Our stories about our possessions are as varied as our lives and backgrounds. But they are all just stories. We wear complex clothes of emotions, mixed with our upbringing, multiplied by the outside marketing, and steamed in social conditioning.
We acquire stuff, not for what it is or what it can do, but for what we believe it will reflect back onto us. How the latest pair of Nikes will change us. How a new iPad will improve us. No one is ever really buying a product, but buys how that product makes them feel.
But do we really need the new stuff to feel the feelings, and what are these feelings really about?
What stuff adds value for me in my life might be different than what stuff adds value for you in your life. The things you love are very likely different than what things I love. What you want to feel might be different than what I want to feel.
And so, it's not about the stuff, itself. This never-ending race is actually about feeling better or feeling period and not about having more.
But for me the beginning of this journey wasn't about freedom, gratitude, and feeling content— it was all about the things we owned. It was about the stuff filling my cabinets and cupboards, stacked in bins in my garage, and tucked away in the closet. It was about the time and energy I was spending every day sorting, organizing, cleaning, and managing the stuff, and the space where it lived. It was about constantly wondering how, when, and where I should get more or different things.
In a world where most of my decisions seemed to revolve around our possessions, I needed a break. And one day, I decided to take one.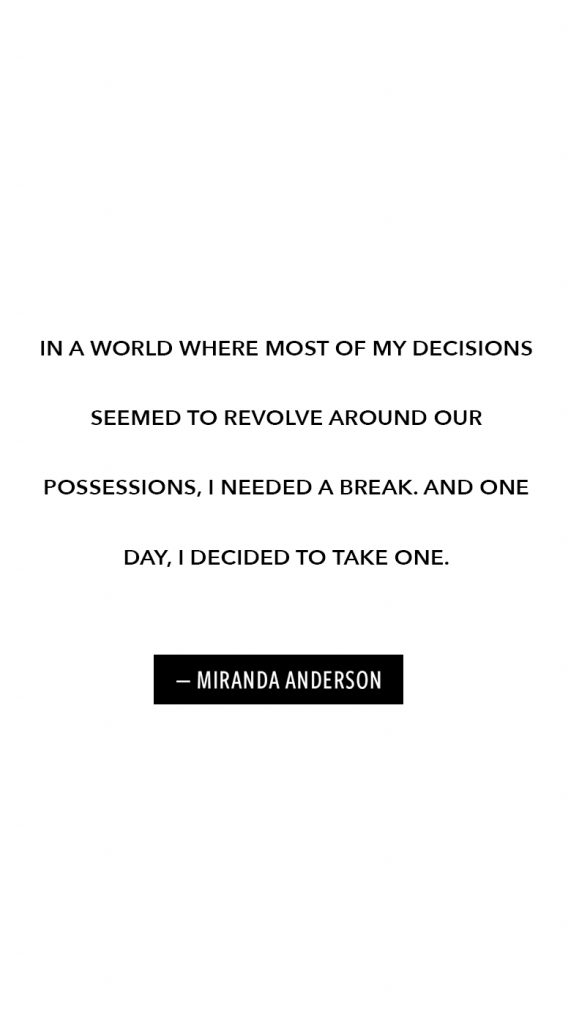 I woke up to the idea for The More Than Enough Stuff Challenge after years of small steps toward simplifying, and looking back, they seem laid out like a pathway leading me to the life I have today. A life full of opportunity and freedom. A life of less stuff, and more adventure.
A life where I feel better than ever before.
One year, overwhelmed with small children and a large house and too many decisions to make with too little time, I decided to consolidate my wardrobe to a very edited collection of my very favorite things. I pulled everything out of my closet, tried it all on, purged eighty percent, and was left with a tidy forty-five pieces of clothing including tops, bottoms, dresses, and shoes that I could mix and match to make endless combinations. The time and energy I recovered by no longer asking myself "What should I wear today?" gave me confidence that outweighed the worry that friends would see me in the same outfit more than once.
Feeling encouraged to simplify, I next tackled my laundry and cleaning routines.
Setting one day for each household chore and sticking to it. I was systematically reducing my stress by eliminating deliberation. On Thursdays I cleaned the floors, on Mondays I did the laundry. I was experimenting with a type of practical minimalism that involved not only thinking about my stuff, but really considering how I was spending my time and energy.
I tried on short challenges. One was a no spend month in which we didn't spend extra money on anything beyond regular groceries. Just to see what it felt like to be conscious with our money. Another was called the "Spring Fling" where my sister and I challenged each other to sort through and donate one hundred items in the thirty days of March. I think I had donated one hundred by day ten, which said a lot. At the time, my husband and I were living in a 900 square foot apartment. I have no idea where I had been stashing one hundred (plus) unnecessary items.
But, there they were!
When the idea to stop shopping unnecessarily for an entire year tapped me on the shoulder, in the biggest experiment so far, it was not completely out of the blue. This minimalism experiment, what we named "The More Than Enough Stuff Challenge" (what I will refer to in the book as "The Challenge"), was not the first step in the pathway to a grateful, abundant life, nor has it been the last. It was the pivot.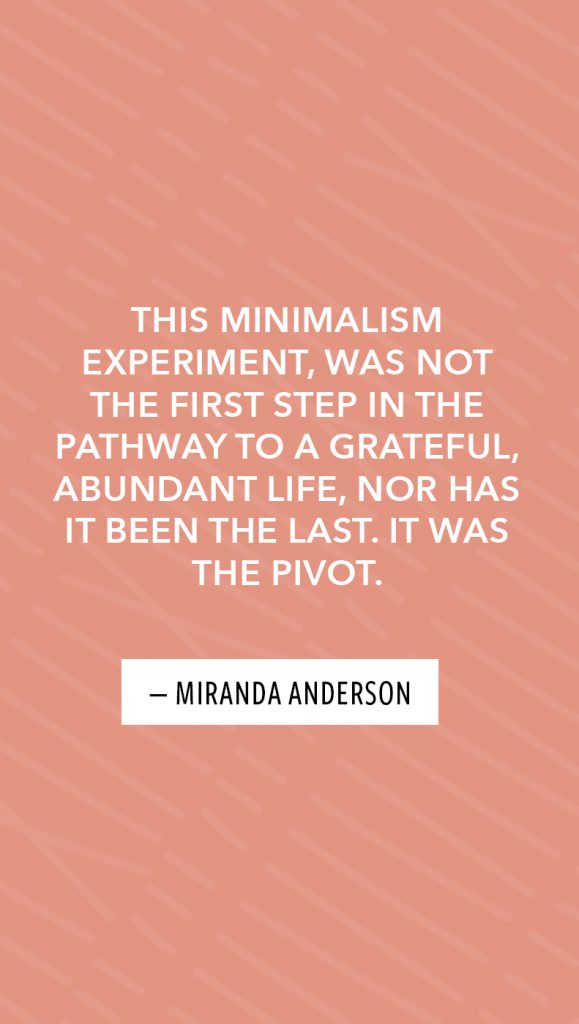 This was the year where the fundamental culture of our family changed. The year my perspective shifted and I practiced living a more meaningful, fulfilling, and sustainable lifestyle. The year I could not just say, but truly believe, that what I had, and who I was, would always be more than enough.
……
The purpose of this book is not to convince you to become a minimalist, or to encourage a year of not shopping. However, I want to share the lessons that we learned during this pivotal time in our family's life. I hope to offer a unique perspective, a shared experience, and maybe some relatable insights that will give you a chance to think about your own life in a new way.
Our year-long experiment of not shopping was simply a framework for living some basic values in a more tangible manner. I believe we all want to live more abundantly. We all desire that feeling of connection and peace. The choices we make every day are all in hope that we fill our lives with joy—and the things we buy are often to serve the same purpose. To help us feel more worthy, happy, or successful.
I hope you find within these pages something of value to use in your own life. And as you do, I want you to feel confident enough to actually apply the lessons in a meaningful way.
The following chapters will share the perspective changes and ah-hah moments that led to our family culture shift and living more fully a life that we desire. I am not going to take you chronologically month-by-month, because the lessons we learned wove through the whole experience.
My intention with this book is to reflect back, distill down, and offer up the most meaningful lessons and insights from our year of practical minimalism. At the end of the year I no longer felt like I was experimenting with minimalism. I felt like I was living an entirely new life with a fundamentally fresh perspective.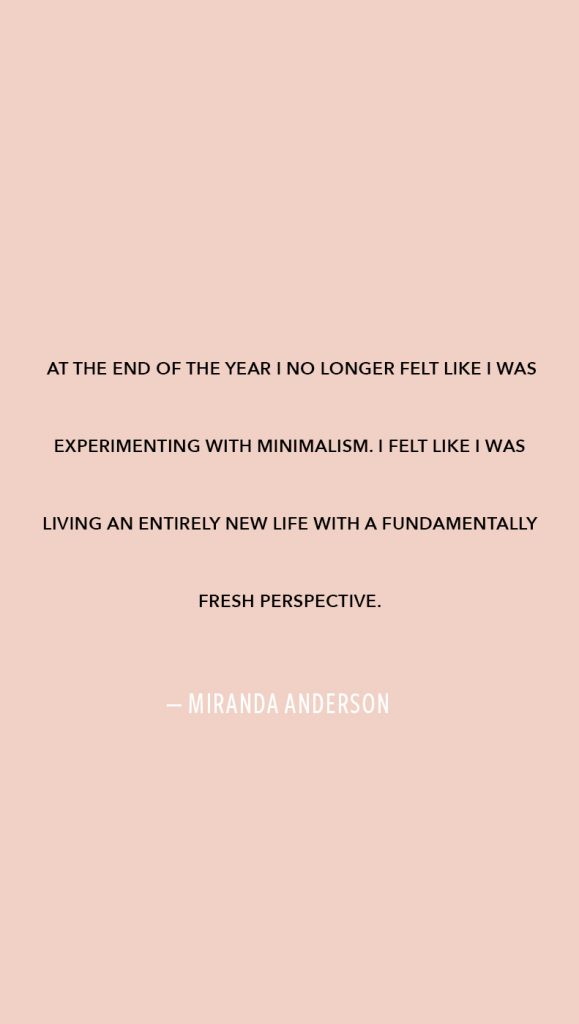 I will share memories and stories both from The Challenge and from my life. I will explain some of the history of consumerism and why we have redefined minimalism for ourselves.
In parts two, three, and four, each chapter explores one principle and lesson we learned, and at the end of the chapter, I have included an activity for you to use to apply the principle to your own experience. As you do, you will be more aware and grateful of the abundance that surrounds you. You will feel more connected to your true desires for your life.
You will begin to see how you already have and are more than enough.
Come along, let's get started!
Prologue
It happened the first week of January. I was trying to make sense of the chaos happening behind closed doors of our home in Austin, Texas. I had been organizing, and uncovered stacks of unused stationery and handfuls of colored pencils. Three pairs of craft scissors were hiding beneath the pile of fabric pendants ready for the next celebration. I noticed a letter that had been incorrectly delivered to my house two months before.
I set aside the letter (so I would finally remember to walk it over to the neighbor) and I turned back to the clutter. Old kindergarten workbook pages, five Sharpie markers, a roll of blackboard vinyl that should have been installed in the very cupboards I was organizing. Bins of chalk and baskets of paper. And this was just the first cabinet.
All in all I recycled, donated, or otherwise disposed of four full garbage bags of stuff.
It seemed impossible that quantity of stuff had even fit in four tall cabinets. Yet, there it was.
As I sorted, stacked, and purged, the thought kept hitting me:
"We have so much stuff!"
The funny part was, before I opened my cupboards that day, I thought I was somewhat of a minimalist! I had never really enjoyed shopping just to shop, and our family of five had always lived on a sensible budget. At this point, my husband Dave and I had been married ten years, and we had already moved eight times. Each time we moved, we decluttered and organized as we packed up everything we owned.
We spent the first few years of our life together nestled into a cozy 400 square foot basement apartment in Salt Lake City, Utah. I finished nursing school while Dave waited to begin law school. He worked as a valet, parking cars in the freezing snow, to bring in enough income to pay rent and buy groceries. We lived a minimalist-by-necessity lifestyle then. With little space and little money, but loads of love!
The next few years were a blur of moving, first to Puerto Rico for an internship, then New Hampshire for law school. After one year of school and one baby, we packed up again, this time headed to Alexandria, Virginia where we found a modest two-bedroom apartment with lots of potential and lots of great friends. I worked part-time as a nurse and ran a small custom sewing business on the side while Dave lived between the classroom and library at George Washington Law School, occasionally making it home for dinner before heading back out to study for exams.
We lived the best we knew how with limited space, time, and money. I creatively designed our small apartment to function as a family-friendly play area, a creative sewing studio, and a hub for entertaining, all with quick changes of scenery. I could tuck toys into baskets and out of sight when I hosted game night or our annual New Year's Day brunches. My sharp scissors and pins folded easily into the sewing closet when the kids were playing in the living room.
I knew not to buy more than we needed, and was necessarily constrained by both space and budget. But that didn't stop me from thinking about all of the things I wanted. I would pore over catalogs and admire my favorite new furniture or clothing. My Pinterest boards were filled with photos of beautiful, spacious homes with natural light pouring through floor-to-ceiling windows and well-appointed furniture placed just-so.
I had done my best with our small apartment, painting walls, arranging and reupholstering furniture, adding personal touches that felt like home. I loved where we lived, and how we lived, and I was also excited to move on to the next chapter. What I felt like would be "real life" owning a home, having more money, more time, more flexibility to just buy things, rather than circling them in the catalogs.
That time had eventually come, when with two babies and one on the way we packed up once again. This time bound for Austin, Texas where we would build a big home on a big lot. Where we would buy new furniture—the kind we really wanted rather than the hand-me-downs we had been making work. Where we would never again need anything else, because we would have made it. Checked the boxes for success and live happily ever after.
…..
But on this day, three years after we moved into our dream home in that quiet Austin suburb, I was surprised by the amount of stuff we owned, and also weighed down by it. I had been pulling unused and forgotten items out of the cupboards for an hour when I felt something shift a little bit within me. A crack in my perception of what success looked like and what it truly meant to have enough.
Since moving to Texas with a bigger home, I had started shopping a little more.
Feeling some flexibility and freedom. Ironically, I had also started being more aware of the excess that existed both in my own life and in the world at large. A blogger who I followed and admired had recently released a book that resonated with me. In her memoir Chasing Slow, Erin Loechner had quoted Epicurus: "Do not spoil what you have by desiring what you have not; remember that what you now have was once among the things you only hoped for." In moments I could humbly look around and recognize everything we had as all that we had ever wanted. I asked myself, "Can all we have now be enough?"
Another book that was helping me shift my mindset surrounding my lifestyle was Essentialism, by Greg McKeown. As a natural-born busybody, I was always up to my elbows in projects, goals, and tasks I had taken on. I had been particularly touched by Greg's emphatic declaration that choosing fewer, more meaningful activities led to a higher contribution and more fulfilling life.
"The way of the Essentialist means living by design, not by default. Instead of making choices reactively, the Essentialist deliberately distinguishes the vital few from the trivial many, eliminates the nonessentials, and then removes obstacles so the essential things have clear, smooth passage. In other words, Essentialism is a disciplined, systematic approach for determining where our highest point of contribution lies, then making execution of those things almost effortless."
These ideas of living a more meaningful life through focusing, rather than expanding my choices floated around in my head like balloons bouncing lightly on the ceiling of a birthday party. The seeds of prospective change had been planted, and with every additional stack and basket of unnecessary junk I pulled from my cabinets, I felt the roots start to sprout. Digging a little bit deeper.
…..
Later that week, my interest still piqued by how to deal with all of our unnecessary stuff, Dave and I sat down to watch a documentary on minimalism. While the film shared a few ideas that resonated with me, a lot of the scenarios portrayed in the documentary were un-relatable and I had a hard time seeing myself in that minimalist world.
The stories that stole the spotlight were of wealthy, single men quitting their highpaying jobs to live out of a suitcase and travel the world. It was a cool idea in the abstract, but completely unrealistic for this wife and mom of three. I had a family, a house, a husband with a great job, and, for as much as we loved to travel, the nomadic lifestyle was not a good fit for us.
Plus, I love throw pillows, potted plants, and a garden in my backyard. We could definitely trim things down a bit but living out of a suitcase was going too far!
Not all was lost, however. Two principles from the film jumped out at me, echoing the lessons I had heard in the books I was reading. Reminding me of things I already knew and truly believed. These were two things I could use and apply to my own, very normal life:
1. Use what you have.
2. Keep only the things that add value to your life.
That I could do. And as I was telling Dave that these were my takeaways, I was struck by an idea.
What better way to focus on using the stuff we already had, than by not buying any more?
I had just confirmed through my cabinet deep dive that we definitely had amassed enough office supplies. And a quick mental walk-through of the rest of the house confirmed we also had enough clothes, shoes, furniture, art, kitchen accoutrements, sporting equipment, books, and everything else I could possibly conceive of us needing in our day-to-day existence.
"What if we stop buying more stuff?" I asked Dave.
He looked at me with interest and asked me to explain further. He could already see my eyes sparkling with excitement.
"I mean, do you think we could not buy anything this whole year? Of course, we will need groceries and printer ink and consumable things. But, we have so much, and I can't imagine needing more!" Dave nodded with a big smile.
Now my head was spinning. I had that buzzy energy that comes when you're hit by a sudden, exciting, and somewhat wild idea. It was the first week of January, and I hadn't yet come up with my yearly resolution that would challenge and inspire me. Maybe this was it! Not buying unnecessary things would not only help us use what we already had, but also encourage even more gratitude and patience as we pressed pause on any random new things that we might want.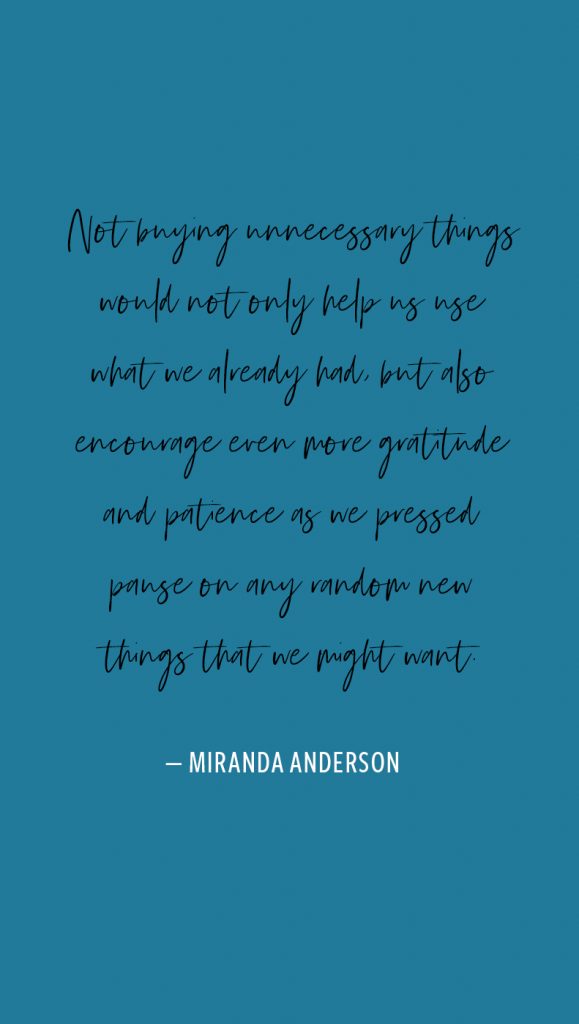 "The year just began. We can look at it as a family challenge. An experiment. What do you say?"
Dave was all in.
He usually is, which is one of the reasons we are such a good match. I have lots of crazy ideas, and he supports me in all of them. And as most good ideas usually are, it was a quick, easy decision without overthinking of all the reasons it couldn't work.
So, it was decided. We would work out the specifics over the next few days (and make a couple last-minute impulse buys: an instant pot and a Dolly Parton Vibes tee shirt. You know, the essentials.) And we were on our way!
I shared about The Challenge with the readers of my blog, livefreecreative.co, and I closed with the following exclamation:
"Cheers to a year of abundance and gratitude!"
And that is what it turned out to be, and so much more.
…..
Over the twelve months of The Challenge, we did our best to eliminate unnecessary and mindless consumption, and more importantly, we developed a family culture of gratitude, contentment, and recognizing abundance in our everyday life. With the elimination of more, new things, we were able to really deepen our appreciation for everything we already had. Stepping off of the race for more, we found that right where we were was a really great place to be.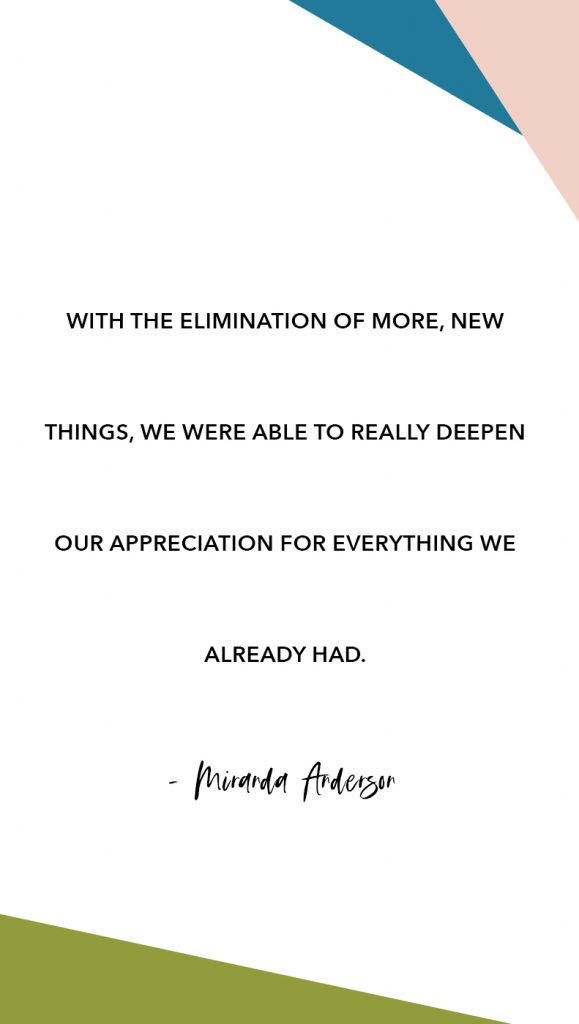 We navigated holidays without giving material gifts, resisted relentless social pressure to buy new and better, made lifestyle changes that eliminated unnecessary decisions, like deleting email subscriptions that enticed shopping, and only going to the store once a week for groceries, and our family grew closer than ever before. We spent our time and money on experiences and adventures, opting for weekend camping trips and visits to local museums with the kids, rather than acquiring more stuff.
Of course, we were not perfect, and had to make adjustments along the way to accommodate some unexpected life circumstances. For example, Dave taking a new job midway through the year and us choosing to relocate our family from Austin, Texas to Richmond, Virginia.
In the middle of our experiment, helped by the new job and relocation, we took the challenge a step further and downsized from our 2400 square foot house in Texas to a 1000 square foot temporary rental home in Virginia where we could learn even more about living well with less.
Through all of our months during our year of not buying things, using what we had, and living in abundance, I learned firsthand that life is bigger and more beautiful than anything we could ever need. My eyes became trained to focus on here and now, rather than if and when. I remembered that I am in the driver's seat of my own life, and I get to choose to be happy today, because I already have everything I could ever need.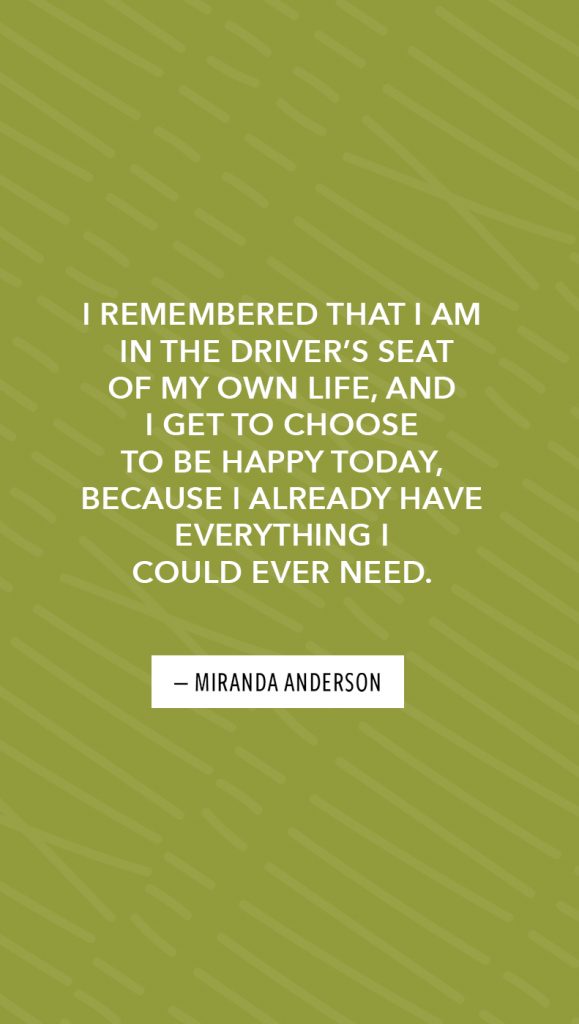 I felt I had more than enough. Chances are, you do too.
Conclusion
There we are, friend! The Introduction and Prologue to my new book, "More Than Enough". I hope you enjoyed it. I hope that you can't wait to read and listen and share all about the book with your friends and family.
You know that it means so much for you to be here every week listening to this show, and I hope as I always do that you're getting something of value out of each episode that I share. This was a unique show, I know, and I look forward to sharing other chapters from the book in the months to come.
Next Week
Next week, we'll get back to some regular scheduled programming. I have a very interesting and exciting topic to share with you next week that I have been thinking about, and that has really been blowing my mind and changing my own life over the last several months, so I can't wait to share that.
Subscribe to the Podcast
If you haven't yet subscribed to Live Free Creative, the podcast, I would love if you would do that. Just head into whatever your favorite listening app is and hit subscribe.
Leave a Review
Also if you haven't yet left a review, you know that's one of the best ways for the show to be found by other people who would also enjoy the messages that I share and just learning how to have a little bit more creative, adventurous, and intentional lifestyle on their own. So if you could take a couple minutes and do that, let me know. I'd be much obliged.
What Can I Do For You?
What can I do for you? I'm asking you for things all the time and I would love if you have something that you would love me to talk about or to share in one of these episodes, please leave me a comment in the show notes at livefreecreative.co/podcast.
Show Notes
Today is Episode 41 and you can find the show and that the full transcript, so if you want to dive into something a little bit deeper or if it's easier for you to read through a concept that's shared, please make sure that you check out the show notes. They have been available every week since we started back in September.
Until Next Time
I hope you have an incredible week and I will catch you here next time. Same time, same place.