Episode 54: Everyday Courage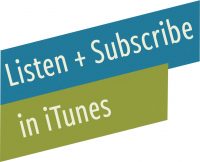 Welcome to Live Free Creative, the podcast that provides inspiration and ideas for living a creative, adventurous and intentional lifestyle. I'm your host, Miranda Anderson and I hope that each time you listen you feel a little bit more free to live your life exactly the way you want to live it.
Introduction
Hey there friends, we're back. Episode 54 of Live Free Creative, and I am here in my office. It's almost 10 o'clock at night because it's summertime and my kids are still not back in school. I have been recording after bedtime in my office, which is a really great place to record except that on occasion there is a band that practices in the building.
So when I walk in the back door I can tell immediately if it will be a recording night or not because if there's a band playing the drums and the guitar, it's not going to be a good recording name. Although maybe I should come in some time and record a little snippet. I don't even know who the band is or why they practice in the building, but I guess they need to practice somewhere. So that is fun.
Tonight I have a grapefruit scented candle lit on my desk that is starting to smell really delicious and a mug of water right here in a cactus mug that I thought I should own because I have a slight obsession with all things cactus.
I am so excited to share today's episode with you. Today's episode number 54 is titled Everyday Courage and it is a topic that I have been thinking a lot about for months and I don't even remember what it was that triggered the first sort of shift in my brain regarding the idea of courage and how we talk about courage and how we teach our kids about courage. And that's what I want to share with you today.
First, let me tell you about a couple peaks of the week.
Segment: Peaks Of The Week
It's summertime and, like I mentioned, my kids are still out of school. So we've been doing a lot of reading and a lot of movie time. I wanted to tell you about a couple new favorites in the books and movies category.
Some of them are kid friendly and one of them, the first one I'm going to mention, was a mom movie that I went to by myself after one of those days–one of those days that I was just a little bit tired and a little bit grumpy and I was trying to just stay present and trying to just like be in it with the kids and we did lots of fun things.
I don't remember what the date entailed, but it was one of those days that we did lots of fun things and then at the end of the day I was like, "I'm just outta here," and Dave and the kids said, "Why don't you just go to a movie?" And I was like, "Yes, thank you. I think I will."
I love going to movies by myself. I think I've mentioned taking yourself on dates in a different episode. Sometimes I do that because I love myself and sometimes I do that because I need to get away from my family. Totally honest. Both. Both can be true. They're not mutually exclusive.
So the other day I took myself to a movie that is also a book, actually: Where'd you go, Bernadette? Have you seen this yet? Have you heard of it? The book came out years ago and I love it. I will link both the book and the trailer for the movie in the show notes at www.livefreecreative.co/podcast Episode 54.
It is that story of a mom who sort of loses herself–her identity–and gets a little bit out there because she is not fulfilling her calling as a creative and, although she's loving being a mom and she's doing such a great job at being a mom, there are pieces of herself that she's neglecting.
I remember reading this book and loving it. And I've shared many podcast episodes that refer to this idea of just being whole as a mom, being a whole person. In addition to being a mom–or even outside of being a mom–you can be a whole person and should indeed nurture yourself. And the parts of yourself that keep you alive and keep you being you.
Bernadette–you have to read the book and watch the movie–ends up leaving her family sort of escaping. Not in a weird way. I mean it is in a weird way, but it's kind of a funny, weird way and she goes on an adventure to find herself and it's really cool. I loved the book and the movie's fantastic. So if you haven't seen it, I highly recommend it.
Dora and the Lost City of Gold
My second recommendation for a movie is kid friendly and maybe you've seen this, it's the new Dora movie: Dora and the Lost City of Gold. Have you seen Dora the Explorer? I took my kids and thought I was going to sort of like snooze through it. I mean I liked Dora the Explorer. She's a cute cartoon, but I didn't know it would be as interesting for me as an adult as it turned out to be.
It was hilarious. And part of what's so funny about it is that I think the producers and the screen writer knew that, you know, while you can sit your kids in front of the cartoon Dora at home on the TV, you might not send your five-year-old to a movie theater by herself and so the parents would likely be in attendance at this kid friendly movie.
There's a lot of humor that plays to the adult audience. Not in a weird way or even in over the kid's headway, but I just think it's so funny. There will several times that I laughed out loud because of the sort of ridiculousness of this teenage Dora who is a human instead of a cartoon.
A lot of the things that she does are not really appropriate for a high school girl. They're just, it's just really funny. So if you haven't seen Dora, I recommend it. I thought it was hilarious and I even came home and said, "Dave, I don't know that you would like to see it full price at a movie theater, but I'm super excited for when it comes out on RedBox because you'll definitely want to see it at some point cause it's really funny."
Side Note: Thunderstorms In Richmond
Ooh, did you hear that? That was thunder outside my office. So quick side note in my peaks of the week, I walked to the store–there's a 7-Eleven about a half-mile from our house and we took the dog on a walk down to the store. The whole walk there we were saying, "Oh it's so beautiful out." And like the weather felt so nice. It was humid but really like nice and warm and not too hot.
And then halfway walking home it just opened up. If you haven't lived somewhere like this East Coast or even like when Dave and I lived in Puerto Rico or any like humid tropical environment, it doesn't just rain. It's like the heavens turn on like a faucet and it is a complete torrential downpour for like 20 minutes. And then the heavens open and the angels sing and the sun comes back out and it's like you don't even know what happened.
So that faucet turning on happened onto our heads as we were walking home from seven 11 and we actually ended up being really fun and memorable. The kids and I and the dog just got home sopping wet and I mean we just, there was nothing to do. Like we just walked, just continued walking in the rain and just got super soaked and my kids put on their pajamas and we made hot chocolate when we got home.
So as you hear thunder throughout this episode, if you notice it in the background, just think about hot chocolate and that will make you cozy.
Okay, let me tell you about two book peaks of the week.
A book that I have loved for years that I kind of forgot about is called The School Of Essential Ingredients. I will link it into the show notes. I pulled it out because we had a readathon at home a couple weeks ago where we went and got snacks the day before I took the kids to the library and we planned on reading at home in our PJ's from 9:00 3:30–that was like our plan and I rotated snacks out on the kitchen table during the day.
The only goal of the day was to read so I could read out loud to the kids. They could read to themselves. Plum could even listen to audio books. And the reason that I pulled this book off my shelf was because I thought, "Why wouldn't I usually read nonfiction?" And I read a lot of self development books and I thought, "I just want to read like a fun story for the readathon day."
And so I pulled this book down and I hadn't read it for a while and I loved it. I devoured it. Again, it's called The School Of Essential Ingredients and it is the story of a cooking school and that it's formatted in that each chapter goes into sort of the background of each of the characters that comes to this class, to the cooking school class. And you just fall in love with them and their stories are so beautiful and so intertwined.
And what I actually especially love is the food descriptions. It talks through the actual making of the food in the classes and the author is just, you can tell she's just obsessed with food in the best way. Okay. The author's name is Erica Bauermeister and again, I'll link it in the show notes. Oh, I love this book so much.
And then I went to look on Amazon and realize that there a sequel. I actually thought, I wonder what else she's written because I really loved this book and I saw there's a sequel to the actual School Of Essential Ingredients that is called The Lost Art Of Mixing. And so I promptly ordered it and devoured it as well. And I loved it.
It was a good continuation of the story but also developed in a little different way. And there's a couple of relationships that are just thought provoking and man, such great books. If you're looking for a lighthearted, just like, well not even lighthearted but more emotional, I mean, School Of Essential Ingredients. I cry multiple times because it's just sweet or it's, it's sentimental and you relate.
Oh, there's just characters that you just relate to so much. And the food, Oh and I have found myself cooking more and liking cooking more in the last couple of weeks. I mean, I love to cook anyway, but I remember how much I love to cook when I read these books. So School of Essential Ingredients and The Lost Art Of Mixing by Erica Bauermeister are my adult peaks of the week book.
And then let me share one more with you. I know this is getting kind of long, I'm feeling a little bit babbly but let me tell you, this book is a middle grade book and it is fantastic.
It is called The Insignificant Events In The Life Of A Cactus. And the author is named at Dusty Bowling.
This was a book that we just grabbed off the shelf at the bookstore when, earlier this summer, I was looking for a new book to read aloud to my oldest at night. I like to read a chapter or two of a book to him and kind of help him wind down. And it's kind of a nice time we get to spend together.
It's been really fantastic actually. He doesn't go to sleep super easily and so it's been a nice way to wind down together and spend some time together before bed. And this book jumped out at me, honestly because of the cactus thing. I saw it and I was like, Yep, a book about cactus. I'm into it. And it was in the middle grade section. And so I thought, okay, well this'll be fun for him.
And I liked the description on the back. It's about a girl who has limb differences. Her arms end just after the shoulder. And she was born that way. And so she does everything with her feet. But the story doesn't center around the idea of her limb differences, although of course it plays a major role.
There's also like a storyline that goes along with it. And I loved it for a couple of reasons. One, because the book itself is just really funny. It's written well and you fall in love with the character. Her name is Aven, the protagonist character, and she is fantastic. And then also she kind of forms this motley crew with some other boys at school who are a little bit of outcasts for individual reasons.
And I loved both, just, the book is great–it's a funny story and interesting–but it also is so nice to have protagonists who are, uh, diversified and have some differences and it's not just another story about another popular or unpopular, the middle grade little boy. Like it's a story about interesting people and celebrates the diversity and the differences and the acceptance and the interest that can come from having people who are different and relating to people who are different.
And so I thought it was great to read to Milo, my 10 year old. And I also would recommend it to anyone. I love also reading books that have female protagonists to my boys, especially my friend from Everyday Reading, Jansen Bradshaw, talks about this a lot. She has all girls and thinks that it's so interesting that a lot of times people will say, well, I need books for my boys that have like boy leads. And um, you can read books with female protagonists to your boys, just like you can read books with male protagonists to your girls. And that's just a whole other thing.
But I especially like that because I think Milo and Eliot are naturally drawn to books that have characters that are male because they relate to them and they want to read books about dragons and they want to read books about Diary Of A Wimpy Kid, and stuff like that. And so it's nice to be able to occasionally choose a book with a really fantastic female lead just for relatability and just so that they grow up understanding both sides of the coin.
So hopefully those recommendations are helpful. And our little soapbox moment at the end may be helpful as well. Maybe you've been needing to hear that. So yay. Female protagonists books.
Okay, that's my Peaks Of The Week. Let's talk about everyday courage.
Main Topic: Everyday Courage
So this whole idea of "everyday courage" came about months ago when I was talking to my boys about something that they were afraid of. And we were talking about how when you're afraid of something, you use courage in order to get through it. Like you're afraid, but you can do it anyway. And courage is sort of the buffer that you can use to build yourself up and to feel like you are going to be okay even though you're afraid.
And my boys, I realized as I was talking to them about the concept of courage of what it meant to be brave and to use courage. They thought that people who were brave or courageous were people who were unafraid, that the people who fearlessly went into battle or who didn't have any issues getting on the roller coaster, that they thought that was super fun, that those kids were the brave kids. I mean, kids weren't going into battle, but you know what I mean?
Fear Is A Requirement For Courage
And I told them that no, in fact, if you don't have any fear, you don't require any courage. If you feel fearless about something in your life or something that's coming up, then you use other qualities. You use other emotions. But courage is not something that you need. Fear is a requirement for courage. Fear is the requirement for being brave.
And the only way that I can think to describe it is that it's the same way with faith. When you know something to be true, absolutely true and unequivocal, then you do not require faith because faith, the definition of faith is trust in something that you do not know and likewise, courage is what you use when you are afraid–you are afraid, but you do it anyway and you exercise courage.
Courage is what sort of helps your heart get through it even though you're afraid now. Doesn't that small difference feel like it then becomes more applicable? That maybe we all are using courage every single day and we're not giving ourselves the credit that we deserve for, you know, doing things that we are afraid of or that we have anxiety about or worry about or fear about, but then just doing it anyway.
I think a lot of times when we are afraid and we do not move forward through our fear, that's when we get stuck. Our development sort of stalls out at the point where we do not move forward through our into a new stage. It's okay to be afraid. Being afraid. I think that we get this mixed up a lot.
Successful People Have Fear
We think that people who are out there doing big things or even people who are at home wonderfully doing small things, but doing them with consistency and doing them with patience, that they aren't afraid of anything like the people who we would say the line that we use is, "Oh, that person's got it all together," or "They've got it all figured out," or "They're not afraid of anything."
Those people are afraid. Often they're afraid, but they move through their fear with courage. They allow themselves to be afraid and do it anyway.
When we think that we're living right, if we have no discomfort in our life, we're living right when everything is just rolling along super smooth and there's nothing like throwing us off or giving us or making us stretch. What we have actually done is then just hit a plateau in our development because we're meant to progress.
Now, contentment. We did an episode a few weeks ago about contentment and progress and that you can be content and feel at presence. Feel peaceful in your progress. You don't have to wait until you get to the next step to feel contentment.
Progress Means Facing Our Fear Of The Unknown
But our lives are meant to be progressive. We're meant to change. We're meant to grow, we're meant to learn. And guess what comes along with all of those things, the unknown. And guess what? Most of us are scared of the unknown. And so our lives could be filled with fear and we could find ourselves stalled out.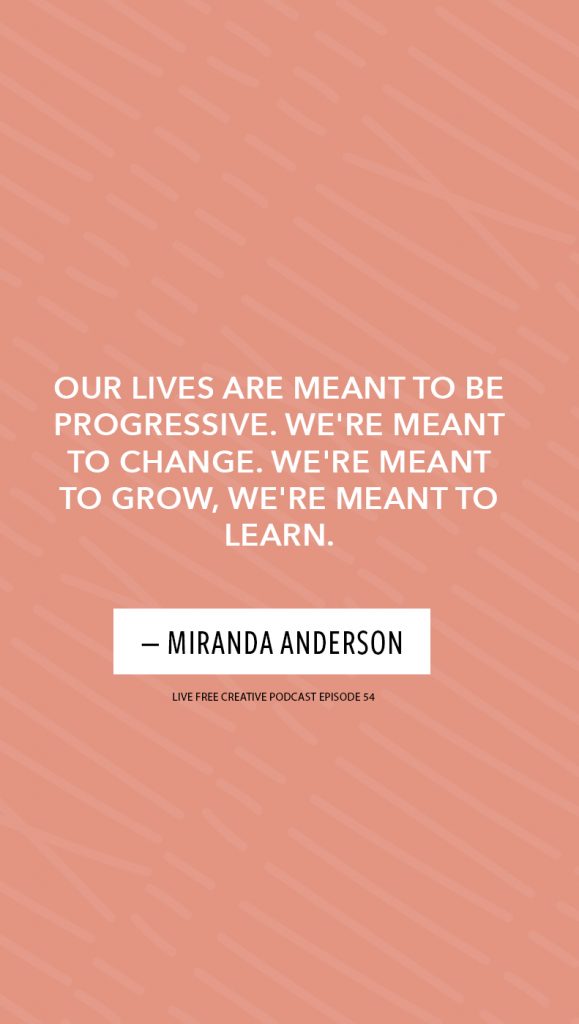 And we look around and we see everyone else doing it and we think, well, they just must not be afraid. They must be so confident that they have it all figured out and they don't worry about fear anymore and they just feel differently than I do. And the truth, I think, I think the truth is that people who do things are afraid and they just do them anyway. And that is where the courage and the bravery comes in.
I think it's important to ask ourselves when we're approaching something that feels scary. I mean, do you all relate? Is there something right now? I don't know what it could be, but something that feels a little scary. Maybe it's sending your child to school, a new school, or maybe it's getting ready to have a new baby and you don't know how that dynamic is going to change things.
Or maybe you're starting a new job, or maybe there's shifts happening in your relationship with your kids or with your, or with your parents. Or maybe you've recently lost someone and you don't know how you're gonna move on. There is something a little bit uncomfortable and a little bit scary happening for all of us all the time.
Maybe you want a job and you don't know how to get one. Maybe you keep feeling this nagging in your heart that there's something you're supposed to be doing, but you don't know what it is and you're almost afraid to start experimenting because you're kind of comfortable. And that little bit of nagging and little bit of fear means that, you know, we probably should be trying something new.
Facing Fear Can Help Us Be Honest With Ourselves
It can be really helpful and really telling to ask ourselves the question, what are you really afraid of? And allow ourselves to be honest, really like raw and honest. What are you actually afraid of?
Brooke Castillo with The Life Coach School talks a lot about how we have these primitive brains and our brain is meant to survive from like a standpoint of running from saber tooth tigers and finding our next meal and like staying warm and protected through the harsh winter conditions. But our brains don't. They haven't caught up to the evolution of society that we actually do not have.
Most people do not have mortal danger around every corner yet we are built to be looking for things that may harm our way of life. And so sometimes when we ask or we just have to stop for long enough to ask ourselves, what are you really afraid of? And a lot of times the answer is an emotion. It's a feeling.
We're afraid of being hurt emotionally. We're afraid of being abandoned. We're afraid of people not liking us. We're afraid of feeling like we're not doing a good job. And that is a self-inflicted emotion. We're afraid sometimes of not living up to our own expectations. For ourselves.
When you allow yourself to be really, really honest about what you're afraid of, then you start to understand that it might be okay to be afraid that that thing that you're worried might happen could happen and it still will be okay. And I think this is what people who exercise courage on a regular basis begin to understand that it's okay to feel some of those hard emotions, that it's okay to be uncomfortable, that the only way to the other side of that fear is to go through it, to pass through it through whatever experience, conversation, exercise, you know, first day, second day, third day that you have to go through the thing.
Confidence Comes After The Doing
And in fact, I'd spoke a little bit earlier about the idea of confidence. Confidence comes after the doing. We don't feel confident and then go forth and do the thing that we want to do. You feel super afraid and you use courage to do it, whatever it is. And I'm sure you all have your own. The thing that you feel like you should do, you want to do, but you just haven't or you're worried about it, you do it and that's when you receive the confidence. It comes as a result of the action, not a precursor.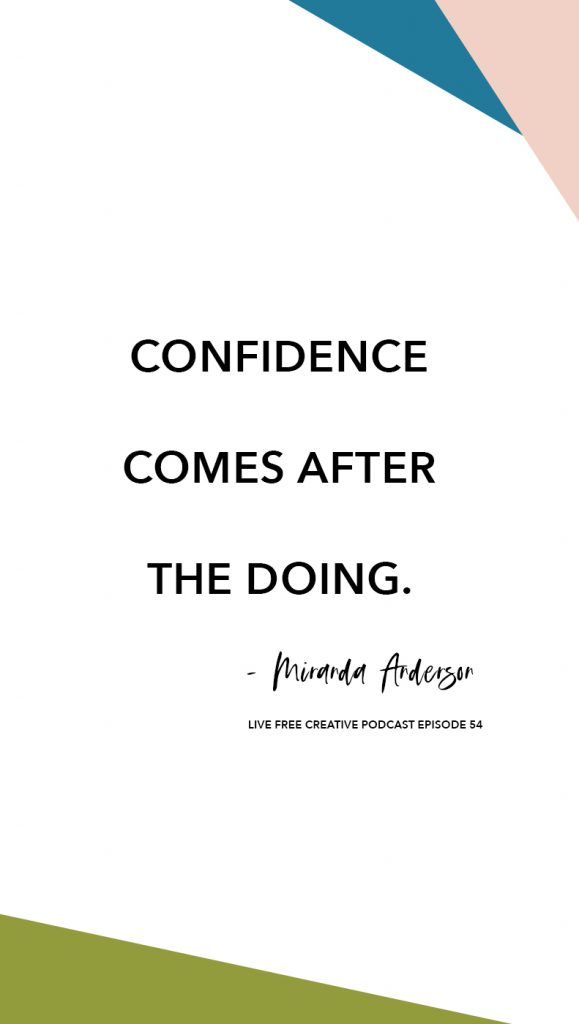 It's so funny because sometimes I think we also believe that courage is only required for big, big things like going into battle or starting a company or you know, singing the national anthem at a baseball game. I don't know, whatever you think of as like these big achievements, big deals, but everyday courage is something that we use to just get through life and it's almost more important because these are things that are unsung.
Courage Can Be Accepting Yourself And Your Current Circumstances
Sometimes it's hard to just get through the day. Sometimes it's uncomfortable and challenging and you're afraid of getting it wrong. Unfortunately, sometimes we just feel like the best we have to give is not quite enough and part of everyday courage is understanding and accepting our own imperfection. It's being brave enough to pick our battles, being brave enough to decide that we are okay with whatever's happening in front of us right now, that we don't have to escape it in search of something different or better or more.
Sometimes we escape our present lives through Netflix. Sometimes we escape it through scrolling through Instagram and consuming everyone else's lives. Speaking of Instagram, I was scrolling there the other day and I saw someone mentioned that self-care is nourishing and self-destruction is numbing. So when you think, well, I'm just gonna use my self-care minutes to scroll through Instagram and if you find yourself energized and feeling better about yourself and your life at the end of that scroll session, then yes, that could be nourishing for you. You can call that self-care.
But what if you finish scrolling through Instagram and you feel worse about yourself than you did before? That's numbing. That's not, that's escapism. That's not necessarily helpful. And it could in fact contribute to the feeling that you had before that you just weren't measuring up.
Sometimes the most courageous thing to understand is that you are imperfect and accepting that and being at peace with your presence. I know my personality is to try lots of different things. It's, it actually doesn't take a lot of courage for me to try new things because I'm just like into that. I like it, but part of what I need, how I exercise courage is when I don't try something new. When I just sit still for a little minute, that takes more courage for me because of my personality actually slowing down.
For some people everyday courage means getting yourself out of bed and going on an adventure and packing up your kids and taking them to the river or taking them on a walk or going to the playground like that is really hard and it takes some courage because you feel nervous or afraid about that. Uh, about you know, what might happen or about not feeling like you're doing it well enough or about everything. You know, all the kid's crying or whatever.
Get To Know Yourself
The point here is that you need to know yourself, get to know yourself and what you need to exercise everyday. It takes more courage for me to stay home and to sit in the normalcy of the rhythm of just being at home and just living in the normalcy and the rhythm of a systematic existence because my instinct is to always be on the go. And so it takes everyday courage for me to know that it's okay to stop sometimes to know that it's okay to not be out all the time to find contentment in the chaos and not escape it always through going out and doing things.
And you know, again, absolutely sometimes there's power in going out and doing things. I love adventures and I love them for lots of different reasons and it also is okay to be still sometimes. I found a quote by Mary Ann Radmacher that says, "Courage doesn't always roar. Sometimes courage is the silent voice at the end of the day that says, 'I will try again tomorrow.'"
A month or two ago I put a post on Instagram and I was just shocked by the response because it was such a simple thing. The picture was of some of my chicken eggs, which you all know I love so much my blue and green chicken eggs that are so beautiful. But in the caption I mentioned that I had gone to the store earlier and that I was putting pre-hard boiled eggs into my basket and a guy was laughing and he said, "I don't know why people buy those. How hard is it to boil an egg?"
And I said, I get them sometimes because boiling egg just feels like too much sometimes. Like it feels too hard for me. There are other things that I, that I do really, really well and sometimes I just don't want to boil the eggs and I know that it's not a big deal. And I know that it, that isn't the, you know, it isn't hard. And I know everyone has everyone who does it has like the way that they think is the only right way to boil eggs. But the point was that sometimes it feels too hard for me.
And so I choose not to do it. So the response that I got to that was just, isn't it incredible that we all just live such, such different lives? And you know, there are people who are like, oh my gosh, boiling eggs is so easy for me. It's something that I always do. And then there are people who are like, oh, I always buy those too because it just makes my week go so much smoother. Cause they don't have to think about it.
The reason I think it resonated, the idea resonated that we are all so different and we can't compare our lives. We look at each other's lives and we think, Gosh, I bet that person boils her own eggs because she seems like that type of a girl. I don't know if that example even is making sense, but the idea was this, that we need to get to know ourselves.
Examples Of Exercising Everyday Courage
What is it that you are doing right now that is kind of tricky for you? Acknowledge that and for you know, recognize that you are exercising courage to do the things that are hard for you right now.
And then in addition to that, ask yourself (and be honest) what are some things that you kind of want to do (or think you should do) that it would be good for you and your family if you did x-y-z, but you are afraid?
What is it exactly that you're afraid of?
And then can you do it anyway? Can you exercise that everyday courage and do it anyway?
Some things that I wrote down that are examples of unsung courage are:
Having hard conversations.
I have to admit, I have just this week had a couple tough conversations and you know, not even like relationally, but they were conversations between ourselves and the insurance for our big master flood happening and with the contractor.
Nothing terrible has happened, but we have had a couple things that people were not clear about–miscommunications I guess is the right way to say that–and you know how sometimes when you're like, oh, the conversation just isn't going to be super easy. Like I'm going to have to explain these things. And of course we have to bring up money and talking about money can be tricky for people.
And in fact, we had a meeting with a contractor who I thought was hilarious. He sat down at the table and said, "I just have to let you know that like, I'm not very good at talking about money. So this is hard for me."
And I thought, oh, that's so interesting that he's just so open about that. This is going to be a little bit tricky to talk through the money when, I mean partially that's like his job, that's what he does all day, but you know, good for him first of all for for coming out and just saying that this is going to be a little tricky, but also I felt like I was putting off making the appointment because I knew it was going to be a hard conversation.
It wasn't going to be a fun, easy conversation and so it was easier to just not make an appointment to have the conversation. It was easier to just not send the email and say, hey, when can we talk about the contract? And finally I think partly because I've been thinking about this idea, I was like, okay, it's going to be hard. It's uncomfortable, it's not fun.
But what am I really afraid of? Like the discomfort of talking through the contact, the discomfort of–I don't know what–appearing unorganized. I'm having to assert our difference of understanding. I mean, there was really like no logical thing–like no saber tooth tiger–so I just had to suck it up and say it's okay that that this is going to be uncomfortable. We're just going to do it anyway.
We're a little bit afraid and we're just going to do it anyway.
Trying new things.
Now this, I mentioned, I don't use a whole lot of courage for some new things that I try, but there are some things that are hard and you know, I use this example a lot because it's recent experience, but putting pause on my blogging business to write a book has been uncomfortable and it has also been incredible, but it's also been uncomfortable.
It's been a little bit scary and that's okay because the only way that you get the thing done is by doing it despite the fear, despite the discomfort.
Being in a relationship.
What about being in a relationship, being in a relationship of any type, whether it's being a daughter, being a son, being a spouse, being a mother, being a friend. Every single relationship in your life takes courage because when you're in a relationship, you have to be vulnerable about some things, some time and vulnerability is scary.
Vulnerability is opening yourself up to the unknown. That is what it is, and every time we exercise our vulnerability by being open, by sharing thoughts, by sharing feelings, by telling stories, by relating things, by asking questions, by offering service and love. All of those things require courage because we do not know what's going to happen and the unknown is a little bit scary.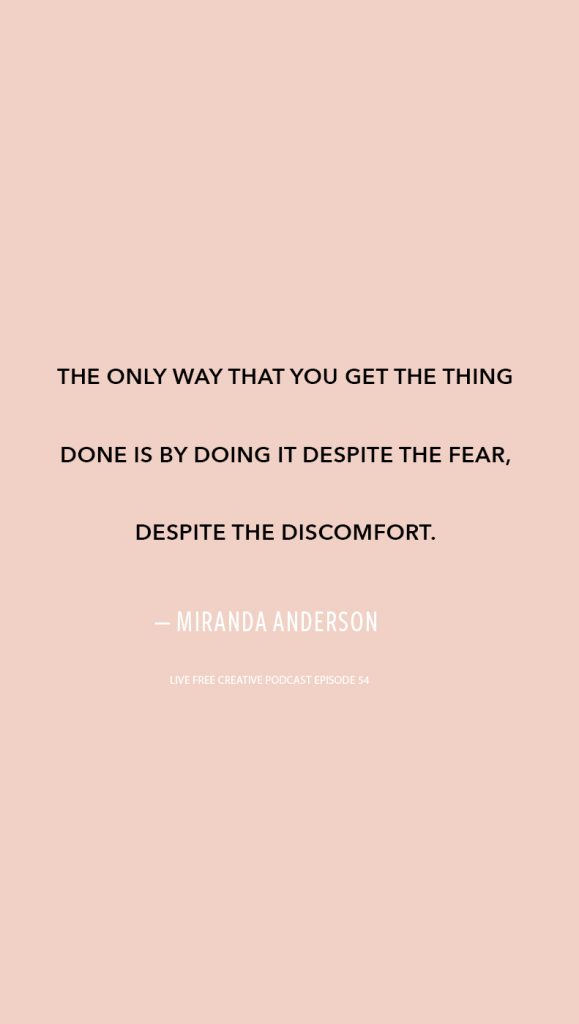 Doing the right thing, for yourself or somebody else.
Everyday courage looks like apologizing for something that you've said or done. It's knowing when to say enough. It takes courage to say, I don't need any more. Whether that's activities in my calendar, whether it's pairs of shoes, because the fear of lack is uncomfortable, but knowing when to say you have enough, that's more than enough for now. That takes some courage to find that abundance.
It takes everyday courage to say, I love you. Courage to say yes. Courage to say no. Courage to be honest with yourself. When things are are tricky and it's really easy–and doesn't take a lot of courage–to say, I just don't know or care what's going on. So I'm just going to self-destruct with these behaviors.
Courage is saying I'm not really sure what's going on, so I'm gonna go in deep and figure out. And maybe that requires getting help sometimes and, and understanding your own thoughts. It takes courage to be still to be still and present.
I've been doing a lot of meditation. I started using the headspace app recently and I love it. It just makes it so accessible and easy rather than just previously I was doing meditation just on my own, just being still and focusing on my breathing and things like that. But the headspace app has been really great to help just have some guided meditations and to actually like meditate towards a purpose.
But I will tell you that sometimes creating that space for your thoughts can be scary because all of the sudden you might understand what you've been thinking about or you might uncover thoughts that are uncomfortable. Being honest with yourself and really doing some of that work to understand yourself can be scary and it takes courage.
Making changes.
It takes courage to get out of bed in the morning and go on a run or go to the gym or go on a hike to get out and move your body to exercise, to do something that you believe in, that you want to do that you haven't been making all the time for it.
Or even if you have just being there and fighting through what is inevitable discomfort and because I mean it also feels good later, right? But sometimes we don't want to do the thing, but then we do it and then we feel better after. But it takes a little bit of courage to do it.
Letting go.
Sometimes it takes courage to recognize what in our life is no longer serving us, whether it's physical, and I have a couple episodes about actual decluttering. Episode 7 and Episode 27 are both about organization and actually letting go of things within our lives that can be scary and it can take courage to declutter our lives.
First of all, to open everything up enough to see what's in there, what we're storing in our closets and in our garage and in our drawers, but then to actually get rid of some of it, the things that no longer serve us. That takes courage.
Watching our kids grow up and understanding that we don't know exactly how they're going to turn out regardless of what we do or don't do. That takes courage.
Feeling your feelings.
Going in for that hug or allowing yourself to have that affection within your family and with your friends. That takes courage. It takes courage to cry. It takes courage to cry when things aren't the way that you hoped and you feel so disappointed and you feel so frustrated. It takes courage to acknowledge and accept those hard feelings and also to pass through them because the only way out is through it.
Fighting your fight.
My friend Kelly Jensen on Instagram has kind of started this thing where once in awhile she shares a story about someone who's just fighting for their lives, for a good life. Not In like a physical sense necessarily, but all the stories she shares about people who have sometimes tricky things going on in their lives or even just normal transitions that are tricky because change is hard and uncomfortable and you don't always know what's coming next.
And she talks about it using the phrase, fighting for it. We're fighting for that peace. We're fighting for the joy. We're fighting for the enthusiasm. We're doing our very best and doing our very best takes courage. It takes everyday courage.
You Exercise Everyday Courage
Every single one of you listening is exercising courage in your lives, on the hard things that you're doing, whether you like it or not, unfortunately. But it has to be that way. It has to be hard sometimes so that we grow. It has to be uncomfortable sometimes so that we grow.
Understanding the idea that we exercise courage in our everyday lives can be empowering and it can also be inspiring that we understand that it isn't just easy for everyone else, that everyone is exercising courage and everyone has their own things that they have to find their bravery in order to accomplish.
Being content in spite of the chaos takes everyday courage. Recognizing that where you are right now is just right and at the same time that there is more to come, that you aren't meant to stay the same forever, but that you are meant to learn and to grow and to progress all along the way. That takes courage.
Fear Is An Opportunity To Grow
I guess the point to wrap it all up is that if it's uncomfortable and if you're afraid….you're not doing it wrong. That is life and that is exactly when you use courage and bravery to live. Simply say good night and wake up in the morning knowing that it's going to be a new day and we can do it.
We have everything we need right now to get through it. Whatever it looks like for you. I know that that's true and I believe in you and you're doing a really great job and I'm sorry that it's sometimes tricky. It is for me too. You better believe it. It really is for everyone in their own way and their own time and our own unique, incredible lives.
But how amazing that we get to be here, that we're living them, that we're breathing, how incredible that we use our courage. We put on our boots and we pull up our pants and we get through this day the very best we can and that we get to do it all again tomorrow. It's pretty amazing.
Conclusion
I hope this episode has been helpful in some way that one of you, even if just one of you, has needed to hear something, the encouragement to do the thing, even though it scares you and the encouragement that what you're doing right now is really good, then it will have been worth it.
My grapefruit scented candle is still smelling delicious, but I need to go to bed so I am going to sign off for this week.
Support The Podcast
You know, it takes a little bit of courage that every single week I invite you to do the same things because I have learned that you do not get things very often that you do not ask for specifically.
Subscribe, Write A Review, Buy My Book
Specifically what you can do to support the podcast is subscribe to the shows. Listen, of course, I love to hear that you listen and that the things that I share resonate with you.
Write a review on iTunes. That is an amazing way to support the show.
Another thing you can do to support me as an author, an independently published new author, is to buy my book. It's available on Amazon in three versions, hard-copy kindle and audio book. It's just is hard for me to ask you to do that and at the same time I believe in it. I have already heard of people who are saying that it is just giving them perspective and if you love the podcast, you will love the book.
We Ship Worldwide
If you do not live in the United States, do you know that we are shipping worldwide from shop.livefreecreative.co you can order the book to Africa, to Australia to anywhere in Europe to Canada, to Argentina. You can order it anywhere in the world and we will get it to you. So make sure that if you are international that you hop over to shop.livefreecreative.co and we will hook you up.
Review the Book on Amazon
If you have bought the book and you've read it, I want to ask you to leave a review on Amazon.
Join Podcast Plus
And finally the Podcast Plus membership is coming. Next week you will be able to sign up on Patreon to be a Live Free Creative Podcast Plus member. There's gonna be a couple of different levels: one for just general support, one for all of the bonuses: bonus episodes, a self development book club, and some other free fun things that are coming along.
And possibly I'm toying with the idea of a Super Bonus level with some one-on-one coaching with me and we'll see how that goes. So all of the details have not quite finalized as of the recording of this episode, but by the time it goes live, the Patreon membership page will be almost ready and we'll go live just around the time of the anniversary of Live Free Creative Podcast as a celebration. So keep an eye out for that. I can't wait to share that with you.
See You Next Week
I'll be here next week. Same time, same place. Have a wonderful one.