Episode 61: Becoming A More Conscious Consumer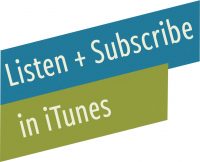 Introduction
Hello there friends. Welcome back to Live Free Creative. I'm your host, Miranda Anderson, and you're listening to Episode 61 "Becoming A More Conscious Consumer." I'm really excited to share this episode. I kind of gave you a little sneak peek of it a couple of weeks ago as I shared some conscious brands–eco-conscious and globally conscious brands–that I had recently been introduced to.
I've been thinking about this idea of being a more conscious consumer for a while and so this episode is just going to explore some ideas surrounding how we can begin to be a little bit more conscious with our consumer habits, and a little bit more intentional with our purchases. I collected at really long list of eco-friendly and global-friendly brands that you love that lie on the right side of the conscious consumer conversation.
There were too many to go into detail in in the episode itself. So if you are looking for a list of places to start shopping for great clothes and shoes and a gear and gifts, I'm going to have an entire list in the show notes for this week's episode. So go to livefreecreative.co/podcast, find Episode 61, and it will be like a little collection of eco-friendly brands globally conscious brands that you can use as a reference point for starting. Especially as we're getting close to the holidays–and right now it's just October so you have some time to be thinking about what types of things you want to be gifting to your friends and family members.
FIND THE MASTER LIST OF CONSCIOUS COMPANIES HERE!
Maybe if you decide on material goods instead of experiences, this is something that you could use to be a little bit more intentional with your purchases and so I'm excited to share that as a resource. I hope that you will leave comments if you have brands that you've heard of or that you love that are not mentioned on the site. I'm sure it will not be exhaustive. There are more than we could ever mention and more all the time, which is amazing, but use the comments on that post as a place to share some of your favorites.
Before I dive into the thought piece of this episode, I just want to share a quick life lately
Segment: Life Lately
Life lately has been so awesome and it feels really good to just be in a place right now where I feel like, although not everything goes perfectly all of the time, I am so much more aware of making sure that I'm including the things I really want to be doing in my life on a regular basis. Episode 56, if you haven't caught that, is all about planning your life from the inside out and I think we sort of entered a new stage in our life.
All of my kids went to school for the first time this year. My youngest is five. She's in kindergarten all day with the boys. And so I have this new schedule. It's sort of a new stage of motherhood, a new stage of life for me where my kids go to school, and I have the whole day to explore and to work and to plan and to do tasks and errands.
And then we also are really enjoying a slower pace after the kids get home from school. Each of my kids only has one activity that they're doing in addition to piano and it feels like just the right pace. Dave and I look at each other all the time and just think, "Gosh, our life is just what we hoped for, like we are living our dream." It feels really fulfilling to have set ourselves up in a way that we're enjoying the day to day existence.
And I think that there's something really powerful and of course it has so little to do with our actual circumstances and so little to do with our actual day to day life and so much more to do with our mindset and the way we're choosing to think about our life as having all of the pieces that we need in order to be successful and to be happy to feel filled up by the experiences and opportunities that we have rather than consistently chasing after the ones that aren't in our lives.
Of course we're still goal focused and forward focused and progress focused in a lot of ways. But I've started to think of those things as simply a compass and as the path existing underneath my feet, the path isn't ahead of me all the time. The path is where I am and where I am walking today and that has felt really powerful. I am excited to explore more about that in future episodes with you.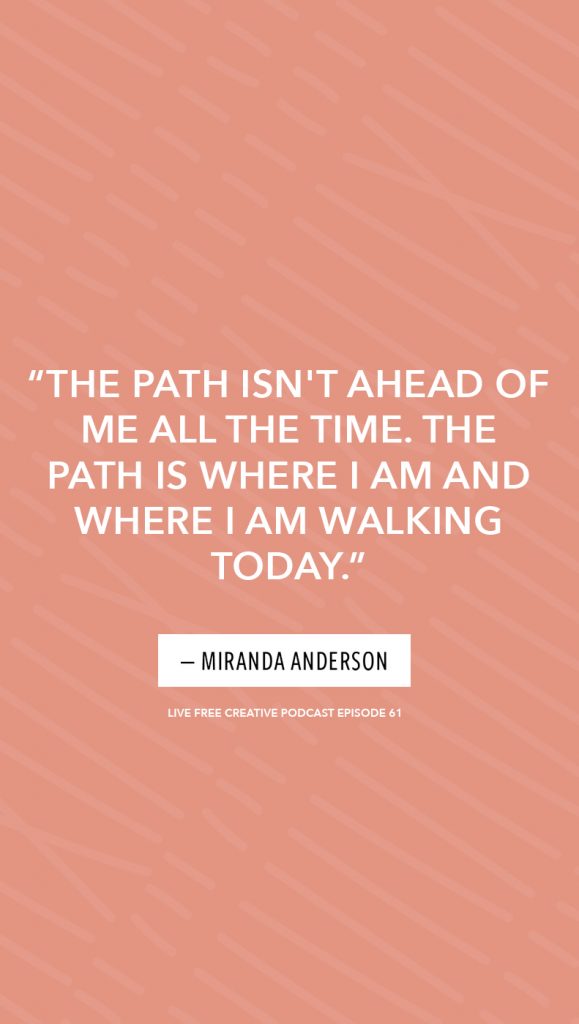 I think one thing that has been really special lately for us, because I feel like last year all of my life lately is we're updates on our house and renovation and moving to an Airbnb or traveling or being here or there. And what has felt so beautiful is to just have our life feel pretty normal and understanding that, "Gosh, there's a lot of wild things that can happen unexpectedly" and it's feels really good to be to a place where–right now at least, knock on wood–most things feel pretty normal.
Our house renovation is complete. I hung all of the pictures in the hallway this last week and that feels done. Our inside feels done; our outside feels done. Everything just feels like we are at a good place to just relax for awhile. And that's a fun place to be. Not that there aren't things still on that list, right? We always have this list of, well, I could do this and I could do that and we will do this and in the future we'll do that. That's constant.
But what is beautiful is coming to the understanding that at any time we get to choose that we feel like where we are as good. And I guess that's sort of my main takeaway of life lately right now is that it matters so little what is actually happening and matter so much just to decide that you really like where you are and you really love what you already have and it's okay to take a break from wanting more or wanting different. It's okay and feels really good to just say, wow, life is awesome right now today. And just enjoy it.
Becoming A More Conscious Consumer
Okay, friends! Are you ready to talk about stepping into a more conscious consumerism?
A Little Background
As I was preparing for this episode, I was reminded of this really interesting time in our lives a few years ago, well, several years ago now. Dave and I had been married for about two years and we moved to New Hampshire for Dave to start law school. We lived in this cute little condo and during the first couple months that I was there, I picked up a book at a bookstore and I'm going to have to look up the exact name, but it was something like the girlfriend's guide to green living. (It was Gorgeously Green: 8 Simple Steps to an Earth-Friendly Life)
Now, at the time I had just finished my nursing program–I have a bachelor's degree in nursing. I was a registered nurse and I specialized in diabetes education. For those of you who don't know that about me, so I had just started working full time as a diabetes educator, which had a huge focus on nutrition and physical movement. In my practice, I shared a lot of nutrition tips and did a lot of meal planning and a lot of focus on healthy eating with my patients who, most of them, had type two diabetes.
Because of this focus on nutrition, I had been reading a lot of books about whole foods and healthy foods and–this sounds like it's not going to be relevant, but I promise it's going to come back around. We joined a CSA, we were getting organic local produce and we were cooking at home most of our meals and really focused on high nutrient, low preservative foods.
Chemical-Free Cleansers
And so it was around the same time with this kind of focus on local farm fresh foods that I found this book that was sort of bringing that same idea into the household of chemical-free cleansers and reusable washcloths. I'm excited to link this and like remember, I don't think I even own the book anymore, but it went sort of through all of the different household items that you might use and gave options for a more ecofriendly way to manage that part of the household.
So there were bathroom cleaners in their window cleaners and there were different alternatives for saran wrap and all types of things. It was kind of like the A to Z Girlfriend's Bible of Eco-Friendly Goods. Now the year was 2008, so I feel like this stuff is all over the place right now and it's amazing. You can go to a regular grocery store or to Target and get recycled paper and get Mrs. Meyer's Cleaner. There's Seventh Generation, like all of these big household brands. And I feel like a lot of people, it sort of almost become really mainstream to have some of these, even if it's not everything in your household, in your cleansers, that a lot of people do have some, at least some eco-friendly cleaning supplies and eco-friendly household items in their toolbox, so to say, in their cleaning closet within their homes.
I know a lot of people love those wool dryer balls and use them instead of dryer sheets. We're using, you know, more, um, eco-friendly makeups and coconut oil and all sorts of things in our regular day to day life regarding our household goods and our makeup routines and those types of things. Right. And in some cases are eating as well. The reason that I bring this up is because when I first got the book and was really into it and we kind of got Dave and I went kind of all the way.
For a while there I realized that because I was then aware of all of these better options, what you would call better options, more eco-friendly options, more green, globally friendly options. I started to feel a little bit like a hypocrite whenever I was confronted with this situation when there wasn't that option available, whether because of specific circumstance or because of costs, you know, maybe I had spent our budget for the week on other things and I needed something in a pinch and I didn't have that amount of money that I would've needed for the more eco-friendly option, which in a lot of cases do cost a little bit more here or there.
Incremental Changes
I started to feel bad and so the idea that I was making all of these positive changes also on the flip side, started to make me feel bad. Sometimes when I didn't feel like I was measuring up, I started to feel like if I didn't live completely green, zero waste eco-friendly all the time, everything, that I wasn't really doing it right. If I didn't do it perfectly, that it might not be worth it.
And the reason that I wanted to share that story and those feelings that I remember having all those years ago is that this is the way that I might start to feel when we bring the conversation out of the household goods into a conscious closet, into conscious consumers, and for just everyday fashion and for everyday goods. I know that a lot of you might have this same thought that I have, that you know that there are some better options.
You know that fast fashion isn't supporting a global economy. That there are a lot of people benefiting from cheap mass manufactured goods. And there's also a lot of people that are not benefiting from it. A lot of people who are not being paid fair wages, who don't have great working conditions that aren't receiving benefits. And the payoff trickles down into us paying a little bit less money. That is a really high cost for someone else or even for whole economies and for whole communities in other places.
Make Good Choices Whenever You Can
Some of you might be aware that there are better options, but you don't know where to start and you also get a little nervous that if you start that you won't be able to sustain it at the level that you want to. Then making one conscious choice then starts to make you feel bad for shopping at Amazon or for shopping at Target or for going to Walmart or shopping in the Dollar Store or any of the things that feel convenient and cost effective in your everyday life.
Now, I don't know if all of you feel this way, but I just wanted to voice that and just get it out there because that is a little bit how I have felt. It feels a little bit scary to make some positive changes, especially when you are not in a place or you don't even feel like you want to be in a place that you want to be 100% in on something that you're not sure about yet. Or that you feel like there may be some reasons, some barriers to being 100% to being cost and convenience. If there were more available, readily available, eco-friendly and global friendly options that were nearby that were within our budgets, then of course, you know, you put two things side by side and you have a little bit of information about them.
Of course, you want to make the right choice. You want to make a better choice if you can do good with your purchase. We all want to do good. I believe that we really do. We all want to do good. We all want to make choices that will improve the lives of other people and it's a benefit if it also can be a wonderful piece of clothing or a home good that will benefit our lives as well. But we feel a little bit nervous. Like if we take a step in that direction that we might feel like we can't do it all the way and that if we can't do it all the way.
This is the main thing that I want to say here: It's okay to not be able to go 100%.
Making one good choice, one better choice, one more conscious choice in a lifetime of great regular choices is better than not ever making that little bit more conscious choice. If you are able to buy half of your Christmas presents from brands that are using fair trade principles, that are supporting global economies, and that are using eco-friendly materials and the other half you get on sale, on clearance at Walmart, you have still done a great job. You've still done better each time you make a little bit of difference.
All Good Choices Make The World A Better Place
It's worthwhile even if it's just a little bit. Sometimes we feel uncomfortable being partway in, not feeling like we are going to dedicate ourselves to some specific standard or put ourselves on a soapbox for one particular ideal or ideology. I just want to start by saying that any better decision you make is still a better decision. Any effort towards being a little bit more intentional with any number of your purchases is still good, is still effort, is still progress.
And hopefully you all know that and hopefully you all feel like, "Oh yeah, of course. Why would I ever think that I needed to be 100% or nothing." But because I know I have felt that way and I still feel that way because I want to do good and I want to make conscious choices and I am trying to be really intentional about the things that I bring into my life and not only because of how they affect me in my life, but the switch is flipping a little bit now to for me to recognize that the things that I bring into my life don't only affect me, especially if they have been made or manufactured.
They impact someone else. They impact the people who made them, they impact the people who sold them, they impact the people all along the chain. And so I want to be really intentional and sometimes I'm going to give into cost and convenience because I also have to be sane and I have to be able to find some sort of balance. I believe that as we make better and better choices that it becomes easier and easier as we set up our lives in a way that enables us to live into the values that we have and align our actions with those values. It becomes easier.
Going To The Farmers Market, For Example
A quick example of that, again, I'm going to go back to food for a second because it is a big part of my life, was that a few months ago I decided that I wanted to shop at the farmer's market regularly. Maybe this doesn't seem like that big of a deal. Going to the farmer's market maybe as something that you do automatically all the time and that's fantastic. It is something that I wanted to have our family do automatically every weekend.
We had gone a few times before. I love a farmer's market. I love food. As I talked about at the beginning of the episode, I have studied and have really strong feelings about nutrition and about eating healthy and especially about eating local and about supporting local farmers and about eating more organic if possible, and grass fed and all of those things that we hear, those buzzwords. And then those aren't always the choices that we make.
And I decided why not if this is something that I really want for our family to have as part of our regular lifestyle. The only thing that is inhibiting us is us just, you know, not deciding to do it. And so we did. So I just proposed it as a new family tradition that every Saturday morning we started our day at the farmer's market. It's really fun locally because we have a fantastic farmer's market and they have an incredible donut food track, which might not sound super nutritious, but they are these incredible sourdough, handmade doughnuts that my kids love.
It's really easy to get the kids there when we say, "Hey, we're going to go get donuts for breakfast, and we're going to choose new vegetables." I let my kids each choose a vegetable. There's these incredible flower marts and they each get to choose a flower or help me choose a bouquet of flowers and we now that is part of our life, what felt before like, gosh, I really want to be shopping at the farmer's market. I really want to have my, most of my produce come from local farms and I know that that's available because I can go get them at the farmer's market.
I really had all of these desires. We decided to make the choice to align our actions with those values, with those desires. And what has happened is over the last couple months, it's transformed the way that we eat because now most of my regular produce every week, instead of coming from Trader Joe's and Costco, which both have great options, they both have healthy food and organic options, now most of my produce comes from local farms because of the farmer's market. Now my regular weekly bouquets that I put all over the house come from local flower farms because I'm getting flowers every Saturday at the farmer's market.
Be Patient As You Align Actions With Values
I'm just sharing this to illustrate that I'm starting this path with you. I'm sharing this as I go. The idea that I want my home purchases and especially my clothing purchases to be more intentional, as well. In the beginning it might seem like, gosh, this is going to be a lot less convenient than what I'm already doing, or this is going to be a lot trickier.
It's going to take a lot more time. It's going to take a lot more money. But, as we set our systems up and set our mindset up in a way that we are more easily able to make choices that align with the values that we have, we feel better. We feel better about our life, we feel better about our choices, and we have to start somewhere.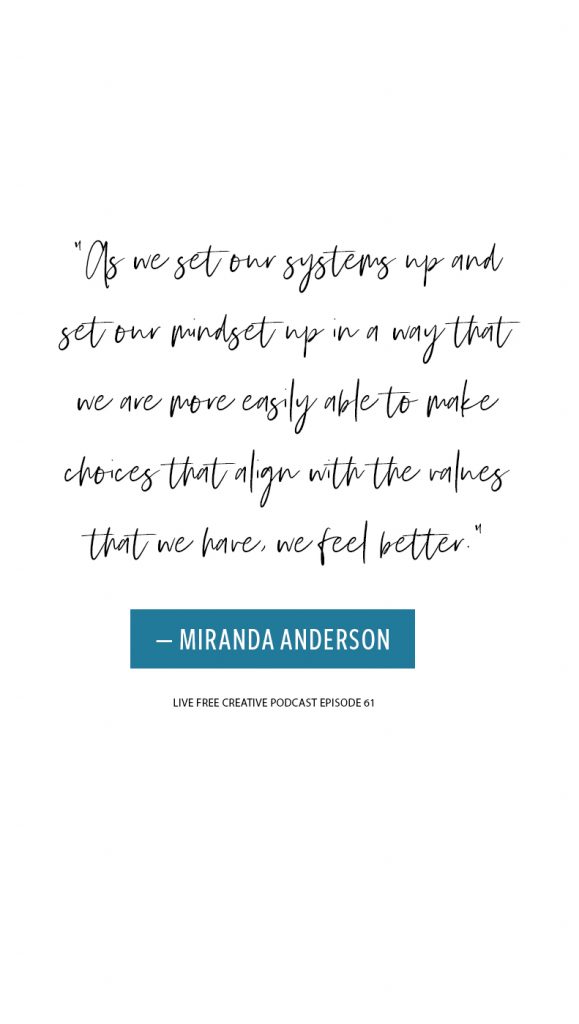 Where you are right now is a great place to start trying to be a little bit more intentional about the choices that you make regarding what types of things that you buy.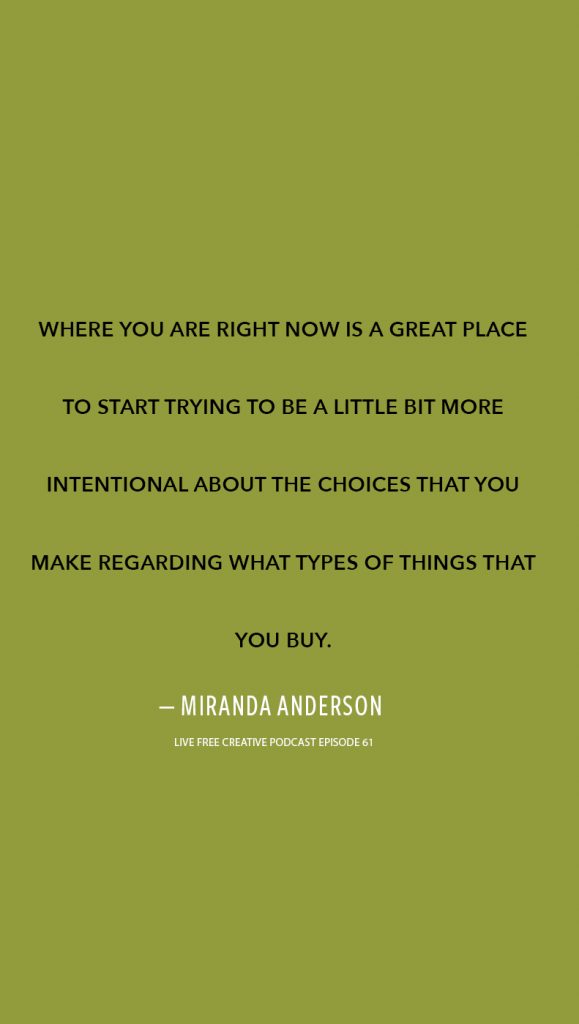 Conscious Consumerism Starts With Being Thoughtful
Okay. So I want to just give you kind of an overview. There are so many different ways to be a conscious consumer and the most important starting place is that conscious means that you are thinking–unconscious of course means that you're not thinking, you're not able to think. So conscious, by definition, means that you are making a decision using your faculties. I would say that most impulse purchases if you buy something by impulse, that is not by definition conscious, right? That could be unconscious.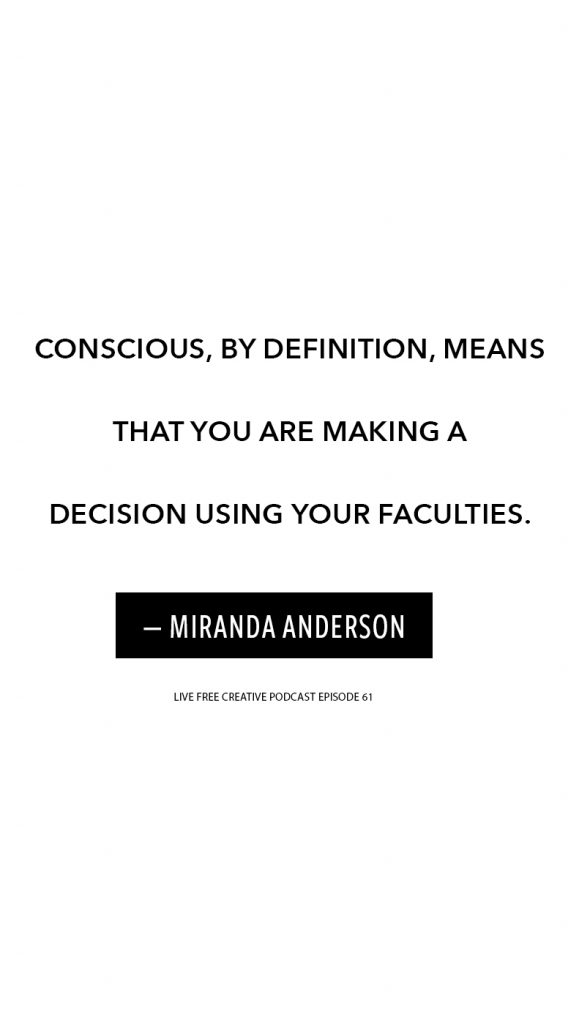 And I've heard of people who midnight Amazon shop, like in and out of sleep randomly. Things show up on their doorstep a couple of days later and they're like, "Oh man, that was like really like sleep shopping." Okay. So that definitely not conscious shopping, right? Not conscious consumerism. Conscious by definition is that you are thoughtful.
So it's only one step from that. From being thoughtful to considering what it is that you want to think about. In my book More Than Enough, at the end of chapter 7, there is a, Should I Buy This flow chart. The intention of it is to help you actually walk through some of the conscious steps of whether or not you need to add something to your life. Now, it was designed by my friend Becky Simpson from the shop Chipper Things. You have to check out her shop. This is an example of a person who does incredible creative, thoughtful things and a shop that I love to support.
This flowchart–if you haven't seen it, you need to either check out my book, you can grab it online or you can grab it at the library requested at your local library–the flowcharts starts with this: Should I buy this?
And then it goes through a series of questions and you can answer yes or no and depending on what you answer, it leads you to the next question. So some examples of some of the questions here are, do you love it? Does it fit? Do you have space for it? Can you afford it? Will you use it often? Can you borrow or rent one rather than buying it? Will it add value to your life?
These are all questions to consider even if its quickly when we're choosing to buy something because of course the most conscious choice that you can make or the most ecofriendly global friendly choice is to use what you already have. The very most conscious choice is to recognize that you probably already have something that you love and could use and that you might not need everything that you even ask yourself the question of whether or not you should buy it.
The most conscious choice is to use what you already have.
Because our family went through our year of not shopping in the subsequent years of shopping very little. I've recognized that in my life is a whole lot of space available for the shopping that I do to be taken a step further down the path of intentionality because I rarely buy things. I only buy them if we see a need of something that's going to add value and I've decided deliberated. It's within our budget and it's something that we choose very consciously.
Being Thoughtful About Where You Buy Things
The step that I can take even further is that then making the choice not only that I am conscious about the purchase, but that the company that I'm buying from is also conscious about the products that they are creating. I can be really conscious in my head about whether or not I need some particular item, but if I'm not also aware and conscious of where that item has come from, who my purchase is supporting or not supporting, then I've only hit on part of the equation.
It's a great place to start to be really intentional about the things that you buy or do not buy. It's an even better thing to be intentional about the things that you buy, supporting the causes and people that you believe in. There are lots of different words and terms and jargon that go around this idea of conscious consumerism. There's eco-friendly brands that are using organic cotton and I'm not using a certain types of plastics and things in there in their products and packaging. There are brands that are supporting a global marketplace and micro economies, there are brands that do good, where a percentage of their proceeds goes back into communities that they're supporting and different types of charities that they're supporting. There are companies that simply have a really healthy and thoughtful workplace and communication and different types of benefits for their employees.
So there are lots of different ways to be a conscious company and I want to share a list of six attributes to consider and you might not be able to consider all of these, but even just knowing what the company is and a little bit about what they stand for, what they do, if there is something, I guess it's kind of a big red flag if you think, I don't know if this company does anything good or if they are 100% profits driven company and there's no other purpose behind the company itself, they're probably not the best choice as far as supporting a conscious company because a conscious brand by definition again will have been more thoughtful about their approach.
So let me share this list. This list is from a website. I'll link the article in the show notes. It's consciousbrands.co and they have defined six key indicators of a conscious brand. So I'm just going to read these to you.
Higher Purpose
One is that they have a higher purpose. It says conscious brands bare their soul, they dare to dream about how the world could be. So an element of a conscious brand is that they want to create change.
Purpose Driven Strategy
Number two is that they have a purpose driven strategy. That they're guided by a purpose or a seed that um, evaluates everything that their company is doing as whether or not it goes back to this seed or this purpose or this why. And that why is not just to make money. There's purpose beyond making money, which of course a great company is one that's going to be profitable, right? But if you can be profitable and have a real true purpose, then you are going to be a much more conscious company.
Intrinsically Engaged Peoples
Number three is that there are intrinsically engaged peoples. So that means that the people who work there or who are leading the company, they have this purpose and they engage their employees in this purpose. People seek out to being a part of this company because of the beliefs and energies and positivities and innovations that the brand creates. Another indicator is conscious communication. That means that all of the communication, both inside and outside of the company aligned with the purpose and focus and value that the company has. This is the reason that you'll probably recognize a conscious brand because they will be sharing the things that they do, the purpose beyond the product. There is a purpose beyond the product and they want you to know about it.
Empathetically Connected Customers
The next indicator is empathetically connected customers. So when customers feel understood and appreciated, they have this loyal and advocacy with the company. And when companies are consciously trying to have a positive influence on the world by their customers, then they're able to develop this emotional connection with their customers. When you buy something from a brand that you recognize as doing good, you get to feel good. You get to share in that. If you buy something cute at Target, that can be great and you might feel cute in that product. But for example, I'm wearing a pair of Tom's tennis shoes right now. Tom's is one of the most widely recognized conscious brands who, from the inception of the company, has been contributing an equal number of products to people in need as they have sold. So 10 million pairs of shoes sold, 10 million pairs of shoes donated to people who needed them. As I put on my Tom's tennis shoes, I not only think they're really cute and they're really comfortable and I really liked them, but I also feel like I get to be part of something that's bigger than myself. And that is what it means to have empathetically connected customers.
Awake Or Agile And Responsive
The next one and the final one is that the companies will be awake or agile and responsive. This means that the world is always changing and conscious brands are able to use their goal and their defined purpose to be flexible and change as change is needed. So as needs change in the world, the companies are able to respond to those because they haven't been so rigidly defined by something other than their purpose. They are guided by purpose and so they're able to adapt in order to make sure that their purpose is fulfilled.
Of course all of these things will be in the show notes, so you'll be able to check those out. I thought it was really interesting to be able to find some things because like I said, there are lots of different brands that have different purposes. They have purpose and they are great conscious brands, but the purposes and definitions are different. So maybe one is really good in sustainability as far as the types of materials they use. Another is not as great on sustainability, but they're really good on giving back and being able to support communities both where the product is created and where the product is sold.
And all of these things are good and I think not there is not one perfect conscious brand, just like we are not perfect conscious consumers. And so the efforts that brands are making and the companies are making to do good with their products should be recognized and, um, and celebrated just the way that we should recognize and celebrate and feel good about ourselves for wanting to make a difference with our purchasing power.
So here's something that is really incredible. Women–I'm thinking most of you listening to this podcast are women–women control three quarters of the world's consumption. We are the buyers for the world, $20 trillion a year spent by women, so we are the ones who are really defining what the global marketplace looks like and as we make decisions to be more conscious with our dollars and with the way that we spend our money, we inform companies and brands as to what our values are. If we are able to even just a little bit more than we already do, align the way and places that we spend our money with, the things that matter most to us, we will find that companies rise up to meet that challenge and that they rise up to solve the problems and to align with the values that we are showing matter most to us.
Buy The Change You Want To See
If you want to read and understand even more about this idea, I want to refer you to a book by my friend Jane Mosbacher Morris. Her book is called Buy the Change You Want to See: Use Your Purchasing Power to Make the World a Better Place by t he change you want to see using your purchasing power to make the world a better place. I will link it in the show notes so you can grab it and read more about this idea about how your everyday purchases can change the world by making just small adjustments in the way that you buy things that you need to buy anyway, the place you buy them in, the types of things that you buy. By being a little bit more thoughtful and trying to align yourself a little bit more with your true values, you're able to make a huge difference.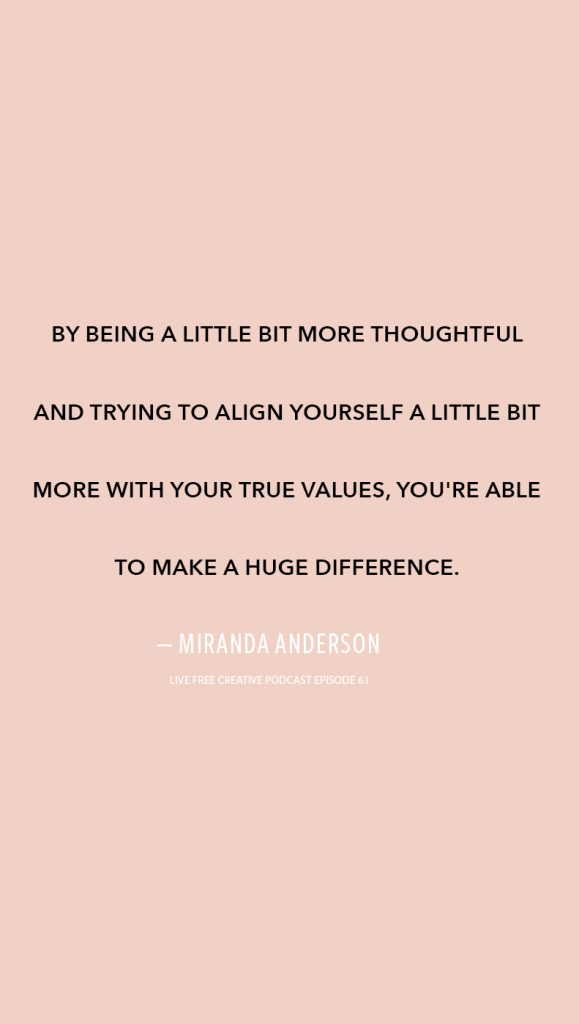 Baby Steps
So this is a step into conscious consumerism. This is like the baby intro steps because I am just getting started more fully on this journey. Like I said, I recognized that we as a family have taken a really solid first step, which is being very conscious and intentional about when we buy things, whether or not we need them.
And I think that that is a really good first step to take, to take inventory. Every time you go to buy something, do I really need this? Is this something I really want? Is this going to add value to my life? I'm probably going to feel the same when I take this home as I felt before I bought it, I will feel the same. I will have the same disappointments, I will have the same joys. I will have the same excitement. I will have the same goals.
We think so often that the things that we buy and surround ourselves with are going to make such an impact on the way that we feel when in truth, in truth, there's always something more that we want and so they don't often, and so if you are able to take that off the table and recognize that, yeah, sure, this is cute and I might think it's cool, but it probably is not going to change my life, then it makes it a lot easier to leave things in the store and think, gosh, it's really fun to be able to see this and to feel inspired by it and also not have to take it all home.
I think that that step number one for me was being really intentional about recognizing whether or not a purchase is even necessary and then going onto the next step. If this purchase is necessary, is there a better place that I can buy it? Is there a better company w when I know what I'm looking for, what is the best possible choice that fits my budget? Being conscious and thoughtful with our purchases automatically creates some space.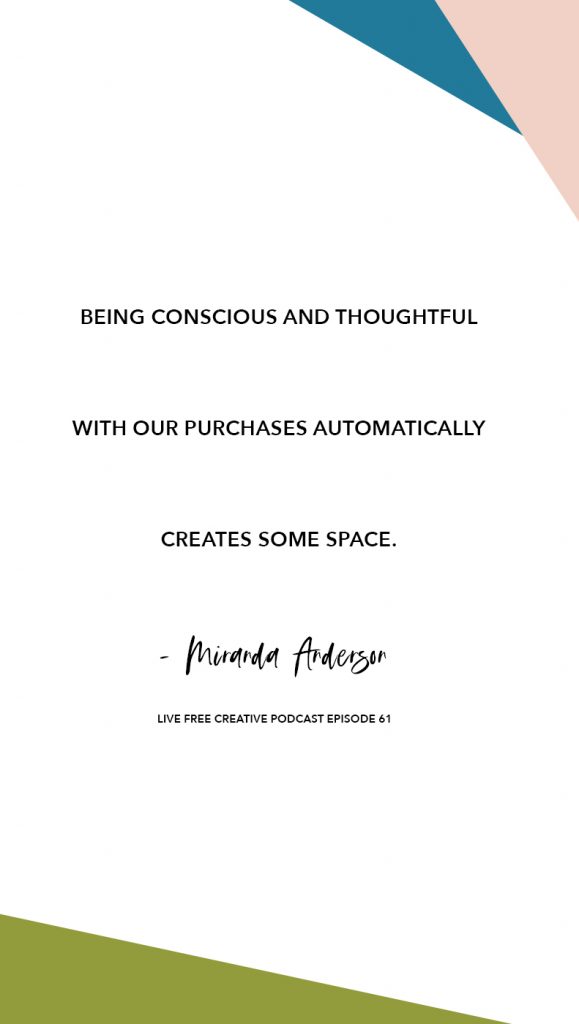 When we're not impulse buying all the time or we're not doing a lot of unnecessary retail therapy in order to give ourselves a boost or a high in the moment, we're able to create a little bit of space and think, okay, I recognize that I need a couple sweaters because it's getting cold and the sweaters that I have are worn out or they don't fit anymore. I recognize that this is a need that I have.
Then just having a little bit of space and planning ahead and thinking about it, we're able to, to make a more conscious decision. What is my budget? Think being thoughtful about that. Maybe if I only buy two sweaters instead of six sweaters, I could use the same amount of money and buy less, but better. And if I have a little bit more leeway, I can buy with a little bit more thoughtfulness and intention and add a little bit more money behind the two sweaters that I'm buying. What are the types of brands that I want to support? What are the companies that are creating things that are not only beautiful, but are also making an impact for good? And as we create that space, then we're able to be even more conscious and intentional with our decisions.
It's really hard to be conscious and intentional when you're impulse shopping or not buying things that you actually even need. So that's the first place to start.
Consider Quality Over Quantity, Price, Or Convenience
The next thing that I just want to share that I've been really enjoying lately, especially for kids clothes because I can see investing in an expensive, long lasting pair of eco-friendly, sustainably made and sourced conscious sneakers for myself, which I recently did. I bought a pair of sneakers that are gorgeous and I'm going to wear them for the next 10 years and I loved them. I only have one pair of white sneakers. Those are them. I thought about it for a couple months and researched before I actually bought them and I went ahead and bought them and I absolutely loved them.
But my feet are not growing anymore. So what about my kids? What about when I buy clothes for them?
Twice a year I buy my kids clothes for the next season in the sizes that they need. And I have a whole blog post about capsule wardrobes for kids. We've been doing this for at least three or four years with my kids. It works fantastic. Basically I get a small set of clothes that they can mix and match to their heart's desires and layer and they choose what they wear and they wear it well. And then we grew out of it and we either donate it to friends or donate it to our local Goodwill and then we move on to the next.
So recently I needed to get the winter wardrobes together for my kids. So they're all a size up. Eliot can wear some of my clothes because he's just younger than Milo, but Plum is on her own.
Normally what I have done in the past is just go to one or two favorite kids' stores. Old Navy is an example of one because it's inexpensive. I think they have some cute basics and H&M and other example of some cute basics and just easy to mix and match clothes. But I recognize that those were not necessarily the most eco-friendly options or sustainable options. And so I did a little bit of digging and what I realized was that shopping second hand is actually probably the best way to get conscious clothes for my kids.
Luckily, I have a really incredible second-hand consignment store for kids here in Richmond that I had had wandered into one time kind of unexpectedly and found it to be an incredible gem and realize that this is where I can do some easy capsule wardrobe shopping for my kids. This is also a great option if you are more on a budget and you want to be more conscious with the way that you're spending your money on clothes and home goods, but you also can't spend $120 on a pair of tennis shoes even if you are going to wear them for a long time.
So shopping second hand is an incredible way to do both: Be conscious with the way that you're spending your money and also conscious with the way that the things that you buy are created because they've already been made and loved and used by someone else. Places like Thread Up and Poshmark, and even Facebook Marketplace, Craigslist, all of these places make it really easy to shop online for a second hand goods as well.
Online Shopping
So there is a convenience issue there as well. I, for whatever reason, really don't do a lot of clothes shopping online. I like to go into the store and look at it and feel it and have my kids try it on. I like to go into the store and try it on myself. And so because I shopped so seldom, only a couple times a year really that I'm actually specifically looking for clothing to buy at the change of seasons or when someone has grown, it's not inconvenient for me. I like making a day of it and going and trying things on.
But if you are into online shopping, consider checking out those sites. In addition, to if you do want something new and you want to kind of make a switch over into having those dollars support companies that are supporting the values and purposes that you believe in, then make sure that you check out the list of more conscious brands that I have created that you've helped create.
A lot of people respond on Instagram and I have a bunch of companies for you to check out for me to check out, just to have on our radar of I need something new. I looked second hand and I didn't find exactly what I was hoping for. Maybe one of these companies will have something that I, that I love that will last a really long time. Something that I'll want to wear over and over again. I would say that second hand is also a really good option if you are more trend oriented and you want to like have some good basics in your closet but you also like to wear something a little more trendy. Secondhand is a great place to get that trendier piece, the trendier pieces and then re donate them when, when you're finished with them and then your long lasting kind of basics.
The Longer It Lasts The Better
The longer you can wear something the better it is for you and for the environment. I have a couple things lately that I think because people are aware that I don't shop a whole lot for clothes. People ask me, you know, where I got something and a lot of times it will be several years old but it's still in great shape because the things that I have bought I've been able to wear for a really long time.
I have a great pair of leather boots that I bought knowing that I'm going to have them for ever and they only look better with time. I was thinking today, the last time I bought a pair of jeans was two years ago and I have four pairs of jeans and I really like all of them and I just wore a hole in the knee of one of the pairs of jeans that I've had for I guess for about four years. Pretty soon they'll probably turn into shorts and I'll need to replace that pair.
But it's pretty incredible to see when you buy things that are a little bit more well-made and well intentioned, they are able to become real staples and real basics and things that you're able to get a lot of use out of if that's what you're hoping for.
Okay. I hope this conversation has been helpful or inspiring, even if you're like, "I'm not super interested in saving the world or in making any different choices than I'm making." I hope that you at least feel a little bit more informed and I'm curious if even just planting the seed of the idea of like, maybe I don't have to do things the way I've always done them.
Maybe I don't have to shop the way I've always shopped. Maybe I can create a little more space between deciding to buy something and and buying it. Maybe my spending, even if it's not a lot, even if you're not spending a lot of money or doing a lot of shopping, maybe the little that you do could make a big impact in someone else's life. Maybe if you are spending a lot and you are doing a lot of shopping and you are consuming frequently, maybe you can recognize that you could make a huge impact by the way that you choose to support different companies and the things that you choose to bring into your life.
The List Of Brands
I'm super excited and hope that you'll go check out that list of brands. I'm going to divide it by type, so there'll be some shoe companies, some accessories, some jewelers, some clothing. It was mostly like fashion, so mostly clothes and shoes and stuff. But I'll put all of the companies that I have on there.
There's a couple companies off hand that I know of that are more like market places, which is really nice because you can get in the habit of instead of logging onto your favorite retailer, just regular general run of the mill retailer to logging onto one of these retailers where their entire stock is made up of things that have been certified as conscious that are supporting communities around the world, that are empowering women in developing countries that are doing good and creating opportunities and in a lot of cases also providing services and water and other types of things that are so necessary to people who need them.
You Can Make A Difference
You can help by buying something that you need anyway and making this other difference. It kind of feels like a little bit of like a fundraiser auction. How fun it is when you go to like a fundraiser for your kids school for example. And there's all of these auction items and you get to buy something. So you put your bid down and you win the bid and you spend the money and you buy this thing and it's like this added bonus that the money that you spent goes directly to help your kids school. And so it's like everyone wins. That is the feeling that I have about being more conscious with my purchases.
If I have the opportunity to buy in a way where everyone wins, I win because I get something that I really love and that I need and that is beautiful and long lasting. The company wins because they get to fulfill their purpose as you know, and get my money that then someone else wins either someone else in an example of Tom, someone gets a pair of shoes because I got a new pair of shoes.
For example, a community in Columbia is able to continue practicing their art form weaving or a community of refugees right here in Richmond is able to earn money and provide for their families even though they don't speak English or all of these brands have these examples and stories and purposes behind them where someone else gets to win as well. And so you get to do good not only for yourself but for others as well, which is an incredible way to live. Feeling like you're able to make a difference even if it's a small one.
I just wanna wrap up by saying that I appreciate you being here and listening and I appreciate feeling like I have an opportunity and a forum to discuss things that are like this that might not be everyone's on everyone's mind.
This might not be something that all of you are thinking, "Gosh, I really hope that I'm able to buy Christmas gifts that support communities in developing countries," or "Gosh, I really hope that I'm able to think a little bit differently about the way I spend my money and the things that I buy, whether or not they're necessary for my life." I'm just working this out for myself and trying to take baby steps in the direction where I get to the point where I would like most of my purchases to be this way most.
I'm excited to explore this list myself so when something does come up that I need something new. Right now I don't need anything. I'm feeling really good. I just pulled out my winter clothes from the box and I'm like, gosh, I like all of my sweaters. I'm feeling good about it, but when the time comes that I do need something new and I make that decision, I want something new and I want to be thoughtful about where I get it and how I get it and who it benefits that I have this list of resources where I can do that.
I hope that is helpful. Helpful for you as well. And if nothing else it just made you think a little bit about a new perspective that you may not have considered as I've shared. And of course this is a conversation that could go on for years and it's very multifaceted and I am a beginner, just barely broaching the subject and I hope that you'll offer grace if you know a lot more about it than I do and you're further along the path than I am. I understand that we all are able to start somewhere and where we are is exactly where we need to be.
Conclusion
I hope that you have a really wonderful week. Thank you so much for tuning in and listening.
More Than Enough
If you want to hear more about making intentional purchases or being thoughtful about the way that you live your life, really that's what my book is about and I would recommend that you check it out. I think that you'll love it if you haven't yet. If you don't want the actual book, you can read it on Kindle, you can listen to it on Audible. If you'd like a free version, go to your local library and recommend that they buy it and bring it into stock so that you can read it for free and share it with your community.
The way that I share about the true life examples of aligning our actions with our values is what today's show is about, and we'll give you even more examples of how to be more intentional in your own life, starting wherever you are today.
Of course, as always, I invite you to subscribe to the show, to leave a review on iTunes, to share it with a friend.
If you'd like to support as a Patreon member, visit patreon.com/livefreecreative, and choose a membership level. The first bonus episode went live a couple of weeks ago. It's been incredible. And the next bonus episode, October's bonus episode will go live next week, and I hope that you are involved so that you can enjoy it.
Have a wonderful one. I'll chat with you next time.