Episode 43: Digital Clutter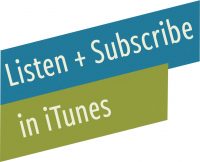 Episode #43
Welcome to Live Free Creative, the podcast that provides inspiration and ideas for living a creative, adventurous, and intentional lifestyle. I'm your host, Miranda Anderson, and I hope that each time you listen you feel a little bit more free to live your life exactly the way you want to live it.
Hey there friends. Welcome back to the show. You're listening to Episode No. 43 of Live Free Creative podcast. I'm your host, Miranda Anderson, and today we're going to be talking about "digital collector". Doesn't that phrase just make you a little uncomfortable? Because even if you've got a handle on cleaning out your junk drawer, or feeling like your closet is fairly well organized, you know that hiding away deep in your computer and your phone are just piles of things that you 1) don't need, 2) don't know are there and especially 3) don't really know how to get rid of.
Today in the show I'm going to tackle three different specific areas where you may be accumulating digital clutter and offer some suggestions on how to get in there and work it out, start organizing, de-junking, and feeling confident about cleaning up your digital spaces–just like you feel pretty confident cleaning out your bathroom cabinet.
Before I jump into the show, I want to share a quick Life Lately.
Segment: Life Lately
But First…Pleasant Pictures Music Club
That is such a happy little song, and I have to tell you (in case you forgot or you haven't been here for very long) all of the music from my show, it comes directly from Pleasant Pictures Music Club. This is an incredible online subscription service where there are hundreds of tracks that are all royalty free. So if you're any type of content creator, you make videos, do you do little things for your, even for your, like your family that you want to upload to YouTube or have a podcast or any of the above. Having really great royalty free music can be tricky. So shout out to Pleasant Pictures Music Club. I think I have a code. You may be able to get 15% off with the code LiveFree, I think. I think that's a real thing. So check that out. If you need royalty free music, it's really excellent and I am so happy that I use it.
My Trip To Colonial Williamsburg
Okay, so let's talk about life lately. You guys! Right now at this moment, I'm sitting in my own hotel room at the Williamsburg Lodge. You may have heard of Williamsburg or Colonial Williamsburg. It's a city about 40 miles south of Richmond in Virginia where a lot of revolutionary important things happened at this exact moment. I can't think of specific ones, but I'm excited to go on a tour today and remember more about it.
Everything I know about the American Revolution I learned from Hamilton, so that tells you a little bit about my baseline. I'm so happy to be here, though. I was invited down as part of a media tour because a lot of the Williamsburg Lodge has recently been renovated and it is gorgeous.
An Actual Fireplace
I have to tell you right now in my room, I'm sitting here recording. It's early in the morning. I'm about to go to breakfast as soon as I finish up. But this room is magical. It feels lodgey in the coolest way. There's a giant brick fireplace that's a wood-burning fireplace on one side of the room. And I asked last night if I could have like actually have the fire on, and they said "Yes!"
So I called the housekeeping and had them light a fire for me last night. I think that's the way you do it. You're not supposed to light when yourself. And I hung out in my room last night. I'm doing a little bit of work and kind of catching up on things with a fire crackling at my feet and it was just so cozy. I remembered how much I love fireplaces.
I grew up in a house with multiple wood-burning fireplaces, and I have never had one in one of my own homes. And in fact, our home right now in Richmond doesn't have a fireplace at all. For whatever reason, it wasn't included in the original 1948 layout. And so, and we don't really have a spot to put one, so I'm going to brainstorm that a little bit. But we do have a fire pit in the backyard that we love using.
Putting Out Fires
There's something just magical about a crackling fire. So that has been really cozy and it is nice to be on a little mini-solo-vacation/work-cation because this last week has been bonkers for me and a lot of it has to do with putting out fires. No, I'm talking about fire again, different kinds of fire, not good fire. The fire of crazy problems that are unexpected that happened at my house because we are now in the final, final, final little eking-out-the-last-few-things-on-the punch-list for the renovation to be finished and it was a good reminder to me this week of how my expectations need to stay neutral and how little I can really control.
The Shower
One day I went to the plumbing supply store five times to find the right fitting for the shower while the plumbers were simultaneously at my house working on the plumbing. So there was this pressure to like get the right fitting, and to get back so that they could install it while they were there. That was the reason that they had come and the trim kit was just wrong.
And then it was hard to figure out which was the right one because I didn't realize that all of these major faucet manufacturers have different lines. So there's a line of Delta faucets that goes out to Home Depot. But if you buy your trim kit at a specialty plumbing store or a specialty bathroom trim store for example, the fittings will be different. And then if you have an older model versus a newer model, they'll be different.
And so it took some working out. It took, not one, not two, but three days with the plumbers to get that worked out.
The Ceiling Fans
The same type of thing happened when the electrician came. One of the fixtures that I had didn't work. So we moved one from a different room. But once we moved it, that one didn't work. The wiring was the same. Everything was lined up as if it should work. And we even got on the phone with the manufacturer and did some troubleshooting. They ended up saying that under the warranty that they would replace the fixture. But that didn't help me the day that the electrician was there, which happened to be right then!
Our Circle Of Control
So in this entire last week, I was just remembering and it was being reinforced to me the importance–in renovation of course, but in all aspects of our lives–to really keep a clear handle in our head on what things are within our circle of control and what things are well without it.
It's very easy to waste energy on things that we cannot control. The fitting not working was not within my control; what was within my control was making the trip back and forth to the plumbing supply store until we got it right.
I had been bleeding energy for a little while. I was feeling really frustrated. I was telling myself the story that I was losing time on other things, and this was a waste of time, and I was supposed to be working.
Going Through the Steps
But in reality I had time for everything that I needed in its place. I couldn't have changed what was happening. And the only way to get to the end point–which, in this case, was having the correct trim kit–was going through the steps of discovering all of the wrong versions.
And in going back over that in my head, I can't think of another way that we would have gotten to that conclusion unless we would have somehow had psychic powers to understand what had been installed before. We just had to try a couple of different things before each step taught us something about, oh, this must not be a big box store trim kit and then, oh, this must not be this particular line, it needs to be the next line. And so we finally got there.
But it's really tempting in those situations to feel out of control and like everything is going wrong. And it feels like that. And I had to remind myself that this is the pathway to getting to where we are. And that's okay. And luckily my work is somewhat flexible because I create most of it myself.
Self-Imposed Deadlines
It made me think about my episode about arbitrary deadlines. You can go back and listen to that. These arbitrary, self imposed deadlines that we hold ourselves to and then feel really frustrated with ourselves for not reaching. These were my own deadlines. I could push them back, I would be able to get to work a little bit later if I needed to. The fire that needed putting out was current.
but it was day after day after day this week that I experienced that. And so when Friday rolled around and it was time to pack up and head to Williamsburg, I was so excited and so in need of just some rest and a vacation and to be away from where the fires have been happening. I know I'll go back next week and likely encounter multiple things wrong for the next couple of weeks as we really finish up these last few things. And that's okay.
I'm trying to just keep my head on straight and enjoy the things that I can enjoy. In fact, I bought the three whole bunches of beautiful peonies at trader Joe's, even though there's boxes still all over our house. We haven't moved back in completely. We're still just wrapping things up.
But I bought a bunch of flowers, and I separated them into a couple of small arrangements. I put one in the entry. I put one in my upstairs bathroom that is not finished yet, but it just adds a little bit of sunshine to the space and reminds me of the things that are within my control and that I can still enjoy pieces. I can enjoy everything that is going right. And when I put my focus on that, I sure feel a lot better.
So if that is helpful for anyone to understand that my life has been insane, but that it's okay. And if you feel like that too, that's also okay. There it is. That's Life Lately.
Main Topic: Digital Clutter
Now I want to jump into talking about digital clutter. The three areas that I'm going to tackle in this episode are: 1) physical clutter that comes along with digital technology; 2) computer clutter; and 3) phone clutter.
I think that they're all a little bit different and so I wanted to give you some ideas for each of these different areas.
Physical Clutter
I'm going to start with the physical clutter that accompanies our digital technology.
1. Get Rid Of Unused Cords
Some of the things that may come to mind when I talk about that are that whole pile of cords that you have tangled in a mess somewhere in a drawer somewhere that are waiting until you remember either what they go to or if you lose one that's similar that you can come back to this pile and find one that will match whatever you need to use it for.
Does anyone do that too?
I'm guilty of hanging onto cords that I don't know exactly what they go to because technology is a little bit intimidating and it is expensive, especially when it's newly released. And so I have personally hung on to some ideas that I need to keep all the pieces because maybe they'll be able to mix and match. I have I-don't-know-how-many mini USB cords in the drawer. They come with a printer, they come with the Google home, they come with every single new little device that you get and they're interchangeable.
Unless you have a really great system of keeping the device and the cord together all the time, then you may be like me and sometimes end up with a pile of chords that you don't need.
You Can Go Get What You Need When You Need It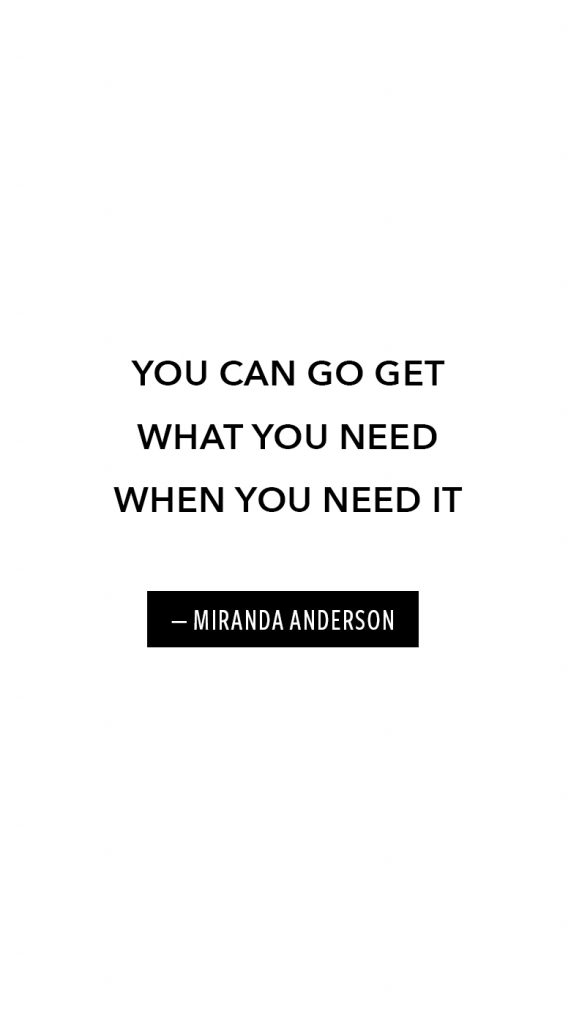 Recently I have discovered the joy of throwing cords away with the understanding that there will be a cord if I need one. If I come to the place where I need cord that that I don't already have, that's not already plugged in, that I will be able to find one at a store for probably $10 or less. And so the joy of not having a ball of chords in a Ziploc bag in the bottom drawer has made me so happy because all of those chords feel like unresolved issues.
This may not apply if you have an incredible system for keeping your cords altogether and labeling them and knowing what they're for. But what I found is that I often end up with a bunch of chords and I don't know what they're for, but I keep them anyway because I don't want to get to the where I need it and I don't have it. And that's just some fear and some scarcity.
How long have you gone living your normal life without needing one of those cords? Has it been kind of a while? Do you have kind of some old stuff sitting around? Feel free to get rid of it. Feel free to purge the physical clutter that comes with some of your digital technology.
2. Get Rid Of Old Devices
Along with that, the next point in this category is the actual technologies themselves. Raise your hand if you have an old phone, digital camera, computer, printer, keyboard. Something technological that you used and loved and replaced or upgraded and then could not get rid of. Why did you do that? Why do you hang onto the old computer that no one ever uses? Now if there's a reason for it, especially with cell phones, you can use a cell phone. In our case, we've sometimes had old cell phones that our kids then using use as toys and you know, a kid loves his cell phone as a toy and so that can be fun.
I've done the same thing with one of my laptops. I had an old laptop for a while that my kids were using to pretend to type and things like that. But if there's not an actual intentional use for it, why do you keep that stuff around? It's because we paid a lot for it initially, and so we feel very precious of it. Sometimes it's hard to know what to do with it if you don't have a current use for your old technology.
Don't feel bad about letting it go. It serves you in your life for a while and you can move on. When I upgrade my computer, I always transfer all of the files to the new computer or onto a hard drive. So then there really is nothing personal of value within that old computer.
Now if you can sell it because it's recently upgraded and there's a market for it, you can wipe it clean and sell it. But I recommend doing that as quickly as possible after you upgrade because technology fades in value so quickly that after a year or two. Unless it's something really special, no one else is going to want your old tech either. So know that it's okay to get rid of your physical digital tech like computers, phones, old digital cameras that you never use–and you're never going to because the pictures taken on them are so much worse than even using your new smartphone.
It's okay to release those things, so feel free to do that. I'm giving you permission.
3. Get Rid of CD ROMs and Manuals
Another area is the CD Roms and like manuals that come along with being the cds may be helpful if they have some information on them, but I recommend taking a little bit of time to get all of your content off of the hard disk onto a hard drive and you can maybe keep the desk as a second backup, but just make sure you're keeping it labeled and with intention that you don't have a bunch of old cds that you don't know what they're for but you're afraid to get rid of, find out what they're for and take a little time to work through your physical digital clutter.
The other thing is manuals–I think that some people are really guilty of this, keeping the manuals for everything guys.
Guess what? All of those manuals are now available in .pdf form online. You do not have to store your paper manuals for anything. The only exception I can think of is if you're planning on getting rid of this thing and you want to have the manual accompany it when you sell it. Other than that, the manuals for everything are available online and so you don't need to have a file dedicated to hard copy paper manuals. Recycle those! Get rid of them and, when you need something, it's a lot easier to search it online than to figure out what part of the manual you have to go to physically.
We hang on to technology, old technology for the same reasons that we hang onto a lot of things that we don't need, that we have invested money in them, that we think that there's something sentimental about them or that we are afraid that we're going to need them in the future. We're afraid that if we get rid of them, as soon as we throw away that old computer, that somehow somehow we're going to need it and I invite you just like I have done in other episodes about de-junking and organizing to ask yourself the questions:
Do I love this today?
Would I buy this again today?
Is it usable?
Is it functional?
And if the answer is "No", feel free with permission to release those things out of your life and gain back some mental space–some emotional energy that you don't have to deal with, looking at them and figuring out where to put them, if you move, you know, packing them up and bringing them with you. It's time, friends! It's time to release the clutter.
Computer Clutter
Let's move on to the second section to talk about the clutter that we find on our computers.
I was recently at a conference in Austin, Texas, and I heard a speaker ask the question of the audience, "Did anyone teach you how to use the Internet?" And this was all a room full of women, probably late twenties to sixties, and all of us sort of looked at each other like "No, like the Internet came around during our lifetime and we all started using it."
But I didn't ever take a class on how to use the Internet. I never took a class on digital organization within my computer. I learned to use the computer. During college especially, most of my work was handled through email and online. But no one ever taught me what to do with everything once it was created. With those files, with those documents, how to organize, how to de-fragment and organize the computer system itself.
So I want to talk about three specific things here with the digital clutter that we find on our computers.
1. Documents
One of them is with the documents that we have–sometimes dating back for years and years and years. You create a document and you always, if you're like me, you always automatically save it because you know–until you've sent it off to where it's going–you want to make sure that you have it. And even after you have sent it off, you want to retain the original version so that you can refer back to it if needs be.
What happens is that we end up with computers bursting at the seams with documents and programs that we used at one time, but that we no longer need. And unlike sifting through a stack of paper documents–where it's very easy to say, "Oh, I don't need this anymore," and get rid of it–with our digital clutter, we sometimes don't go through it and organize it and get rid of it because it's not necessarily taking up any additional physical space, and we don't think about it until our computer runs out of memory and doesn't have any extra storage space. And then we hurriedly figure out, okay, what are the big things I can get rid of?
I propose that creating a system for regularly organizing and de-cluttering our documents and our programs on our computer will not only help us actually know what's there within our computer, but then be able to feel confident when we need something–or as we create something that we do want to keep, we have a system in place of knowing how to do it.
There's lots of different ways to do this, but the first thing and all computers are so different, but I think the first thing is to set aside a little bit of time, just like you would set aside time to organize your closet, and get on the computer and start figuring out what you have.
Look through your documents folder, look through your pictures folder, look through your apps and programs that you have stored on the computer. It's really easy to start dragging and dropping things that you know that you do not need any more into the garbage and recycling them and clearing up that space.
If you need an actual organizational system, there's a lot of different ways to do this. I like to organize documents by type and by date. So create a new folder. You can create a bunch of new folders. You can create a new folder for work and a new folder for personal and a new folder if you need to for each of your kids and the things that you have stored for them. Start dragging and dropping things into where they go.
As you do this, even if you just do a little bit at a time, maybe you have so much, it's overwhelming. Just tackle a few things at a time. But creating a new folder and a new system will refresh your memory and then it will be a lot easier as you start the process to understand what you feel like you do need.
It's great to hold onto old things. In fact, I have some documents from my senior year of high school that I don't have printed, but I have stored on a hard drive digitally, but I know what's there because I chose them and  if I ever need to refer back to them. They were just a couple of essays that I thought were interesting, and kind of like a journal. It's really fun to go back and share those things with my kids. And at some point, you know, they may want to read them, but I know where they are and I know what they are.
It's not like my, you know, receipt from Home Depot and my tax documents from 2006 and everything else. There's just a couple of different things that I've chosen and I have work to do as well. And so this episode is partly for me because I need to go in and do more of this and I want to understand that my digital spaces create as much energy as my physical spaces. And so if I'm feeling a little bogged down, it partially can be because every time I log onto the computer it's a mess.
Clear off your desktop.
So going into that, I want to talk for a second too, about your desktop. Now people are different. Desktops can reflect like physical desks as well. If you're a person that you'd like to have everything out on your desk, real life desk, then you might be a person that likes to have everything out on your desktop, but just know that that will wear on you.
Having constant choices and constant little tiny icons of every single thing that you have to look at. Every time you open up your computer can be a little wearing. Now I like to put things on the desktop to save them. And so one of the solutions that I've come up with is to create a desktop folder on my actual desktop. So when I opened my computer, the desktop is clean almost completely, but I have a couple folders and one of them is desktop and when I click into that, it's everything that I would save to my traditional desktop. But instead I put in this folder so that I know where it is. I'm not like figuring out an exact system for it right now, but I opened the computer. I don't have all of those screenshots and pictures and files and everything right in my face.
2. Organize and Delete Emails
The next thing regarding your computer, and this would go for your phone too, but I feel like it's more like a computer thing for me. I often read my email at the computer rather than on my phone and I definitely prefer to respond from my computer because I can type easier. Your emails can be an incredible and incredibly cluttered place, right?
I mean, can I get an amen to email? Sometimes be a little bit overwhelming. I have shared this before and I want to share it again in terms of just subscriptions that come constantly to your inbox. I recommend the app unroll.me go to unroll.me and I'll link it in the show notes. I've used this for years.
I heard about it maybe six or seven years ago. What it does is scan through all of your emails and it will tell you what is the subscription and you can choose whether you want to keep that subscription coming on a daily, sometimes multiple daily basis, depending on the retailer or if you want to consolidate some of those into one a week. So it will give you like a digest once weekly or if you simply want to unsubscribe, it's wild how many people, how many email lists you will be subscribed to that actually don't email you very often. And so it's really helpful to go through.
I think the first time I did this I had over a hundred email subscriptions and I was able to go through and decide what I actually wanted consciously wanted and what I had just been added to a list to somewhere or you know, I had gotten a discount shopping for the first time somewhere and put in my email and now I didn't want that anymore. So it allowed unroll.me allows you to go through and make those decisions consciously. So I highly recommend that for emails.
Another Quick Email System.
The other kind of quick systems for emails that I would like to share are to respond immediately to things that will take you a couple minutes or less to respond to. And then to mark as unopened things that are going to take a little bit more time so that things don't get lost. And I'll fully admit I'm not the very best at emailing and I often, what I've started doing lately that I like is I will respond and say thank you so much. I'm interested in this.
Give me a couple of days to get back to you and then I'll flag it so that I know I've responded, but I will take the time that I need to actually make decisions surrounding whatever the emails proposing. And that has been really helpful because I get my response back, but I also give myself time in case I need to look at my calendar or um, do a little bit of thinking.
So there are some quick email ideas, but unroll.me is really what I wanted to share there because it can be really helpful.
3. Organizing Digital Photos And Videos
The last thing I want to talk about in terms of computer, digital clutter is a huge one. You guys, photos and video, if you are, you know, in your 20s or 30s, you have grown up with almost all of the pictures of your adult life being digital.
I specifically remember coming home from my mission. I was living in Argentina as a missionary and all of my pictures were film. My Dad loves photography and so he taught us from a fairly young how to use a nice DSLR. And I had, he gave me one from my high school graduation. So I had a nice Canon DSLR camera that I was shooting on manual and really loving the process of photography. And I took it with me on my mission and I took, I don't know how many, you know, 50 or 60 rolls of film, um, during my mission and had them all processed. And I created these scrapbooks. Those were my last scrapbooks of my life that were physical.
Digital Cameras Changed Everything.
I came home and digital cameras were now the thing. And so I got a digital camera. And from that point on, all of my pictures have been digital. In some ways it's such an incredible blessing and we can take so many more pictures than we used to. You know, we can get the right shot and we can see it immediately, but in other ways we have hundreds of thousands of pictures stored on our computers or in hard drives that we don't ever see.
The hardest part for me is feeling like they're going to get lost and my kids will never see them because I don't know how to manage them.
I am excited to share a system I've been, I looked and looked and looked and I found a system that has worked and that I am loving right now because I on my computer in one place have all of my digital pictures and videos going all the way back to 2005 and you guys, it sounds like a miracle, right?
Digital Photo Backup Boot Camp
It really is. So I did some research and I found a girl, Casey Von Stein online. She's known as Miss Freddy, her whole business. She is a photographer but also her business is teaching people how to sort through your digital pictures and videos across multiple devices.
I had two computers and probably six hard drives that we went through to find all of the pictures from all of the places and bring them together into one cloud drive that I can now search. They're organized by year and by month and in some cases special ones that I had already. Like my wedding photos I had in like a wedding folder already. So we kept those there.
Miss Freddy has an online course that teaches you how to do this, walks you through the system of going through all of your different computers, plugging in your different hard drives and then pulling them altogether, creating folders, going through all the pictures with an app that will actually go through and find all of your duplicates and delete duplicates or ask you which of the ones that are all the same, which ones you want to keep. And they will delete actual duplicates. So if you have the same exact picture, like in four places on your computer, you only did at one place on the, in this cloud drive and then you bring it all together and upload it to the cloud service of your choice.
So you keep like I'm keeping my hard drives as backup, but I also have all of those pictures.
I chose Amazon photos because I already have a prime membership. So it's free. This is included in my prime membership, this photo storage service. I have hundreds of thousands of pictures and video now up there because of this system.
I also asked Casey if she would be willing to give a discount for her Backup Bootcamp to exclusively to live free creative listeners. And she was, so, it's a $50 program, which already is very inexpensive for the amount of information and the amount of peace that comes from really digging in and knowing that you have all of your pictures organized and put together in one place.
You can use the code LIVEFREE when you purchase Backup Boot Camp and get $10 off.
So that's like a 20% discount on the whole program. So for $40 you will be able to do her backup bootcamp and I will link it into the show notes.  And this goes across your phone as well. I mentioned it here in computer because most of mine was on my computers and on my hard drives themselves. Like I said, it was a mess, like it was an absolute bonkers mess. It got sorted out.
Miss Freddy also offers the service of doing it all for you, which is really, really nice. But I think it's really important to also buy the Backup Bootcamp. If you choose that route, it's a lot more expensive than $50 but if you do the Backup Bootcamp than you know how to do it yourself because now ongoing.
I need to do it all and I understand how to do that because of going through the course. So check out Miss Freddy Backup Bootcamp. Use LIVEFREE for $10 off.
I feel like I did a lot of research surrounding how to do this and this was the best solution I found and I am incredibly pleased. It's been really fun. I've actually spent a lot of time just meandering down memory lane. I used to have to plug in different hard drives and go to different photos, folders to figure out where the picture of my child was because he was going to be like the star child of the week and I had to figure out where are the pictures of him as a baby word because I had them spread so wildly across all these different platforms.
And now I can just open up my Amazon drive and go to photos and just scroll back to 2009 and scroll straight into may and find all of my pictures of Baby Milo right there where they should be.
It has been really incredible and has made me feel just a little bit more on top of my life, which is something that I always appreciate. So check that out.
I'm so, I've been really excited to share it with you because I think that a lot of you go through the same issue with your digital files and I hope that you find some relief in using backup bootcamp and organizing your digital photos.
Digital Clutter On Smart Phones
So the third and final area that I want to talk you through regarding digital clutter is on your phone, that little device that sometimes feels glued to your hand throughout daily life. So I'm going to talk specifically about three things.
1. Turn Off Notifications
The first one I want to mention is notifications. Do you like having all of those little buzzers and banners and little red stars next to everything in your phone telling you what you've missed? Maybe you do and that's great. Maybe you're like me and you really don't. You don't want to feel like you're always missing something or that you need to be told every time something changes in one of your apps. So take the moment that it requires to go into your settings and look at your notifications.
And unless you really do need to be notified about something from one of your apps, turn them off.
I have almost every single notification turned off on my phone, so if I need to check up on something, I can choose when I want to go check up. My phone does not control when I look at Instagram, when I look at Marco Polo, when I checked my email. I choose, I'm in the driver's seat of this is the time that I want to go check in on Instagram and when I log into the app, that's when I see the activity that has happened.
When I click into my email, that's when I see the new messages that have come in, in this instant society that we have. We can, if all of our notifications are on all of the time, we can be so readily distracted by answering everyone else's call that we never actually get to do the things that we want to do and to navigate life in the way that we want to navigate it.
And so I suggest being really deliberate and intentional about what notifications you actually need. There are some notifications that are pure vanity notifications. I would say that almost anything happening on your social media as far as someone liking or commenting anything on your social media pages, those are vanity notifications that give you a little boost of feeling good, but there really is no reason for you to see every time someone interacts with you.
I would venture that it's more healthy for you to have a clear guideline for yourself, whatever it is surrounding when you want to interact on social media. Then to be a constant slave to it through notifications. So just be clear about that. It does not take very long and most apps when you upload them automatically have all of the notifications on or you click a button one time and then they have all the notifications. So it does take a minute to go in and just look through them and make sure that you are in of which notifications are available.
2. Delete Unused Apps
On that same note, just in general, the second thing I want to talk about here with your smartphone is the apps that you have on your phone. Do you use them all? Do you need them all? This is just like going through a junk drawer or organizing your closet. There may be things that you use for a time that you no longer use or need and there really isn't a reason to keep all of the apps on your phone that you don't need.
If you've paid for one and you uninstall it from your phone the next time you do need it, you can reinstall it for free. You, it will hold record of that. But there are a lot of free apps even that you may use for one or two, you know, times or weeks or are you kind of are trying it out and then just because it's there, it stays there. And both for the functionality of your phone and the memory and the system being and all of that. And just for the pure fact that when you log into your phone, it's a lot easier if you don't have to shift through, you know, five different pages of apps to find what you're looking for.
Regarding my apps, I am deliberate about the ones that I keep around and I actively eliminate those that I don't need or use currently. I also organize them into files and I'm sure a lot of you do this, but it can be really helpful rather than having just pages and pages and pages of Apps to organize them if you hold it down and drag it on top of another one to kind of form systems.
Organize Apps Into Folders
I have all of my editing apps in one place for photo and video. All of my travel apps I have in one place. All of the coupon apps, for example, when I go to JoAnn's or when I go to Hobby Lobby and I want easy access to the 40% off coupons. Those are in a separate folder and so it's really easy to navigate around in this digital space just like it is hopefully easy to navigate around in a room or a closet that you've spent a little bit of time and intention organizing so that it feels good.
3. Be Intentional About Social Media
The final thing that I want to touch on is one of the most important and probably one of the most, I don't know, challenging for people, and this is being intentional about your social media use and your social media followings.
How often do you actually go through social media and decide who is adding value to your life? Who you want to be receiving messaging from on the regular? You don't have to unfollow people. There's actually new ways that if you realize that you're following someone that maybe you don't like the way that you feel when you see some of their messaging, you can silence them for a time. You don't have to automatically unfollow or feel, you know, feel bad about that. And I actually don't think that you need to feel bad about that at all because you need to be in control of the messaging that you receive.
And while there is some, you know, emotional and mental work that could go around the idea of feeling like you feel bad when you're looking at someone else's social media that you know, there's some internal work that you could do there yourself. There's no reason to subject yourself consistently to messaging that doesn't help you feel good.
You want to set yourself up for mental and emotional success. And social media is one area that has really infiltrated our lives in a very fast way and no one teaches us how to use it. We're all adults. You know, everyone listening to this podcast probably was an adult when Instagram became popular in 2010 so it's really within the last 10 years that this has become such a huge part of our lives. And you know, Facebook and Twitter and all of these things, no one taught us how to use them. We didn't learn guidelines surrounding them. And so it's of course absurd for us to assume that we all automatically have really healthy habits surrounding how we use social media.
This is just a reminder and an invitation for you to take a step back from your social media platforms, the ones that you use often and you feel like really affect your daily living and do some organizing, do some sorting, figure out how to increase the positive associations that you have with the different platforms.
Evaluate Whether Who You Follow Is Adding Value To Your Life.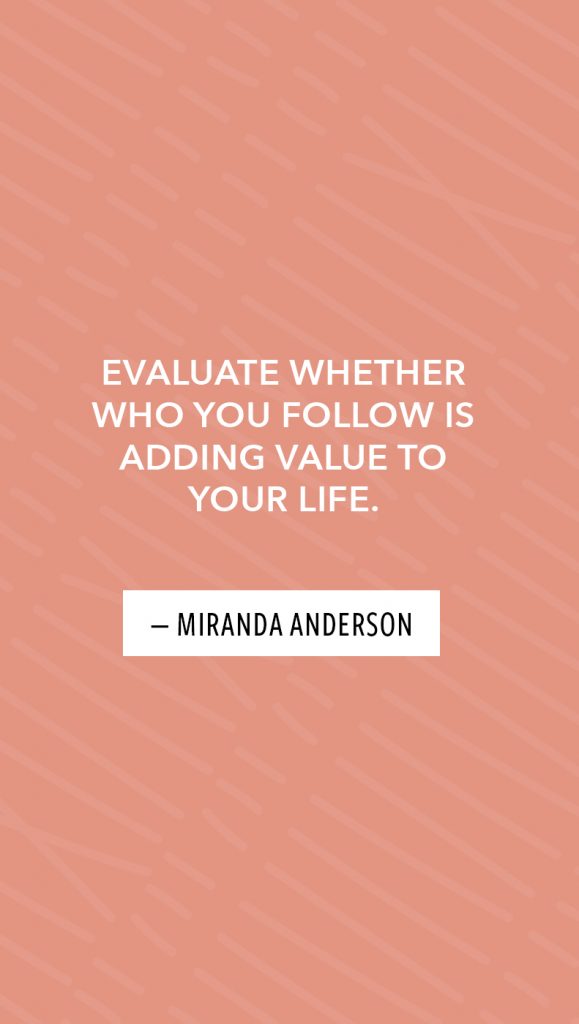 Maybe you realize as you do a little deep dive that there are people who you have followed that aren't serving you anymore. Or maybe you realize that you really would like to intentionally follow some new people to add different types of messaging and inspiration into your life. And you could actually spend a little time, a little time looking for people who will, you know, show beautiful design or architecture or painting or, who are motivational or whose lifestyle seem similar to what you're aspiring for in a positive way.
And you can actually start to kind of recruit some of that back into your life so that you control the way that that messaging comes to you. I think it's okay both ways to look for what you need and to understand that there are relationships and social media as far as you know, what we receive and who we follow that will serve us for a time that aren't necessarily meant to be things that serve us forever. And that's okay.
This is part of regular decluttering, systematic, intentional living that you revisit these things and you make decisions surrounding how you want to show up in your life and what you want to surround yourself with, both in your physical setting as well as in your digital setting, which is so intrinsic to our lifestyle right now. Your phone, your computer, and all of this stuff that goes along with those things are just going to be part of life.
Digital Clutter Conclusion
I just wanted to help you take a step back and consider some really practical application for decluttering your digital lives. And I hope that you found it helpful. So I'm just gonna do a quick review.
We went over your physicaldigital clutter, which involves chords, old tech and devices, cds and manuals. And all of those drives that you need to figure out whether or not you actually need them and then feel free to release them. I talked about our computer clutter regarding our documents, our programs, uh, emails that we receive as well as our photo and video, that digital clutter that we want to in a lot of cases that we hold so precious and we want to have stored and organized. But we might need some help doing that. And I shared Ms Freddy's information and the $10 off LIVE FREE code for backup bootcamp and then our smart phones with notifications, the apps that are consistently in our faces and our social media use.
Put Something Into Practice Today!
I hope that in addressing these three different areas of your life with these really practical tips that you have learned, something that you can put into practice today, that you can throw some cords away, that you can do it quick.
Look through Facebook and decide that you can silence some of those messages that you don't really need to hear anymore. Realize that the digital piece of our life also affects our mental and emotional health. That just because it isn't in our physical surrounding that were, you know, creating these relationships and receiving these messages through an online platform or through technology systems.
They still play an active role in how we feel and in how we think and, and in the choices that we make. And so we need to be clear that we are taking responsibility for making sure that those spaces digitally feel as intentionally cultivated and monitored as the spaces that we create physically in our surroundings.
I want to close just with a quote that I read on an article online surrounding digital clutter that was written by Joshua Becker who is a minimalist guru. He shared a quote. The author is unknown of the quote, but I love it. It says,  "An Internet user and his leisure time are soon parted."
We Waste Time When Our Digital Lives Are A Mess
I think the idea that as we, as soon as we hop online that we can start losing time because of all of these things popping up for us, our emails and the notifications and social media and all of the things that we are kind of drawn to and we can lose a lot of our leisure time.
By choosing to spend some intentional time decluttering, systematizing, and getting organized in your digital life, that then you have more life. You have more real life, more leisure time, more time to go outside and enjoy a walk, more time to bake in the kitchen with your kids. As you are able to organize yourself digitally, you're using the time in the digital world effectively and efficiently.
Then you're able to hop back offline and really feel at home in your real physical life, which is where most of the good things happen anyway. In our real life with people who we can hug and with food that we can really taste and you know, the fresh air that we can breathe sitting on our porches, watching the fireflies, all of the incredible experiences that happen in our real life.
That's The Show!
Okay friends, that's our show. I know that it wasn't maybe as aspirational or inspirational as as some of the other shows and topics that I share, but I feel like it's really important and also really practical application. So I hope that you are able to take some of the information that I shared today and use it to improve your life because as I say in every show, my hope is to help you live a more creative, adventurous and intentional lifestyle and starting with some digital decluttering should help in all of those areas.