I made this Great Gatsby Dress with a couple yards of sequins and about fifteen minutes. Nothing like winging it, right?
A couple weeks ago Dave and I attended a Great Gatsby themed fundraiser event in Austin. The benefit supported the Grey Hound Rescue here in the city, and two of my friends put the whole thing together. So, on top of helping the sweet pups, I was able to support some favorite girlfriends. And since it was a costume party, I also got to make a Great Gatsby dress to wear! Dave and I confirmed we were able to attend just hours before the event, which meant this was a time-crunch project, but what else is knew? I thrive sewing under a deadline, and with the simple, boxy lines the 20's era, I was able to whip this little sequined number together.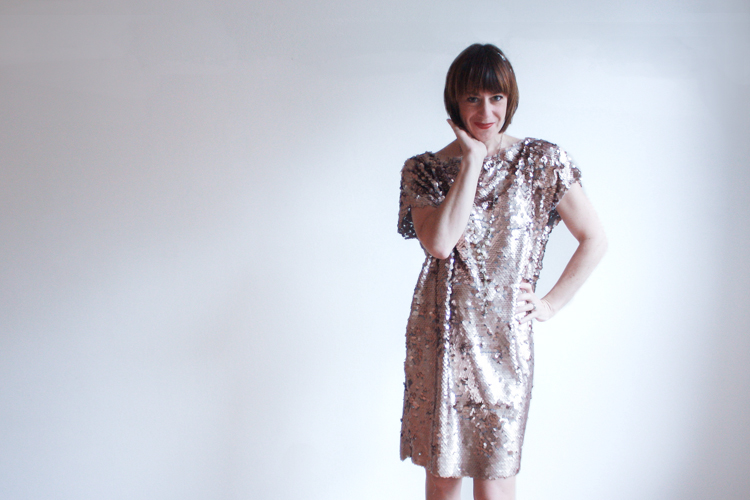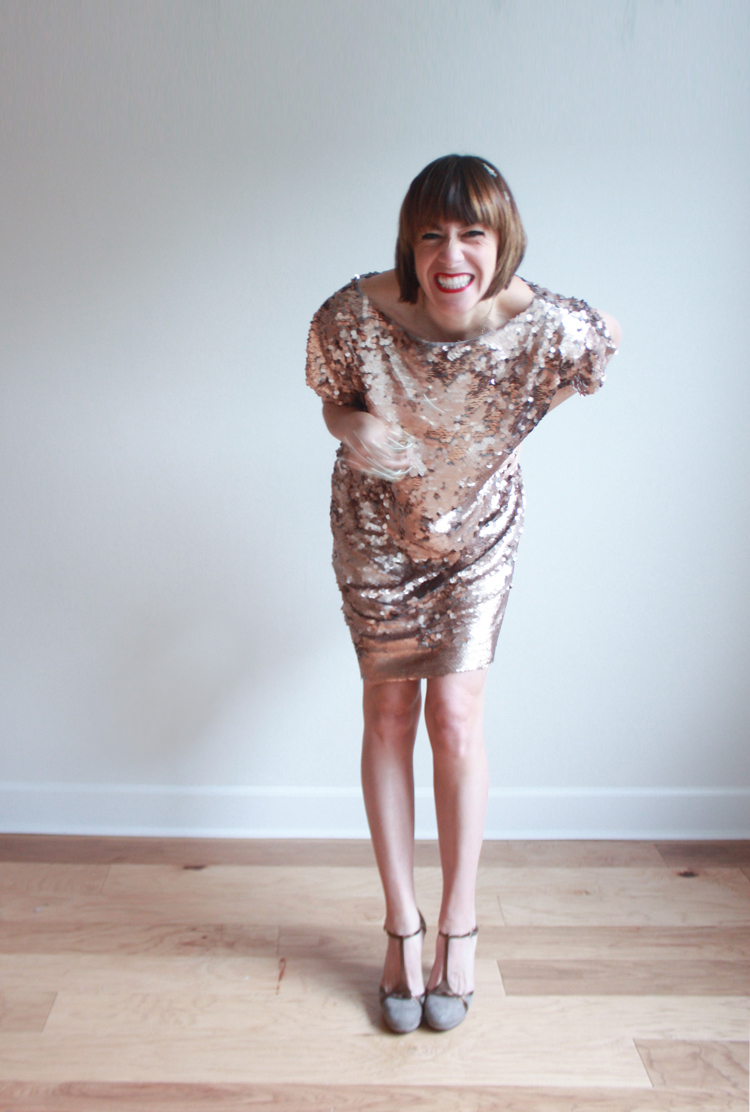 I really love making costumes. There's something really magical about creating not only a garment for comfort or style, but to evoke familiarity and connection. I've made lots and lots of costumes over the last several years, but I still look forward to creating something new. The key to the feeling of the Great Gatsby era is chic glamor. All of my inspiration images showed jewel and rhinestone-encrusted gowns with drop waists and draped fabric. Of course, the short bob with bangs that I'm currently sporting fit the bill perfectly, as well.
I had about a yard of this copper colored circle paillette fabric leftover from this cocktail dress I made a few years ago. It was fabric I grabbed in the NY fashion district while on vacation and luckily hung on to (I found some of the same type available here.) The paillette sequins are stitched onto a mesh backing, creating a sort of sequin armor that is both beautiful and glamorous.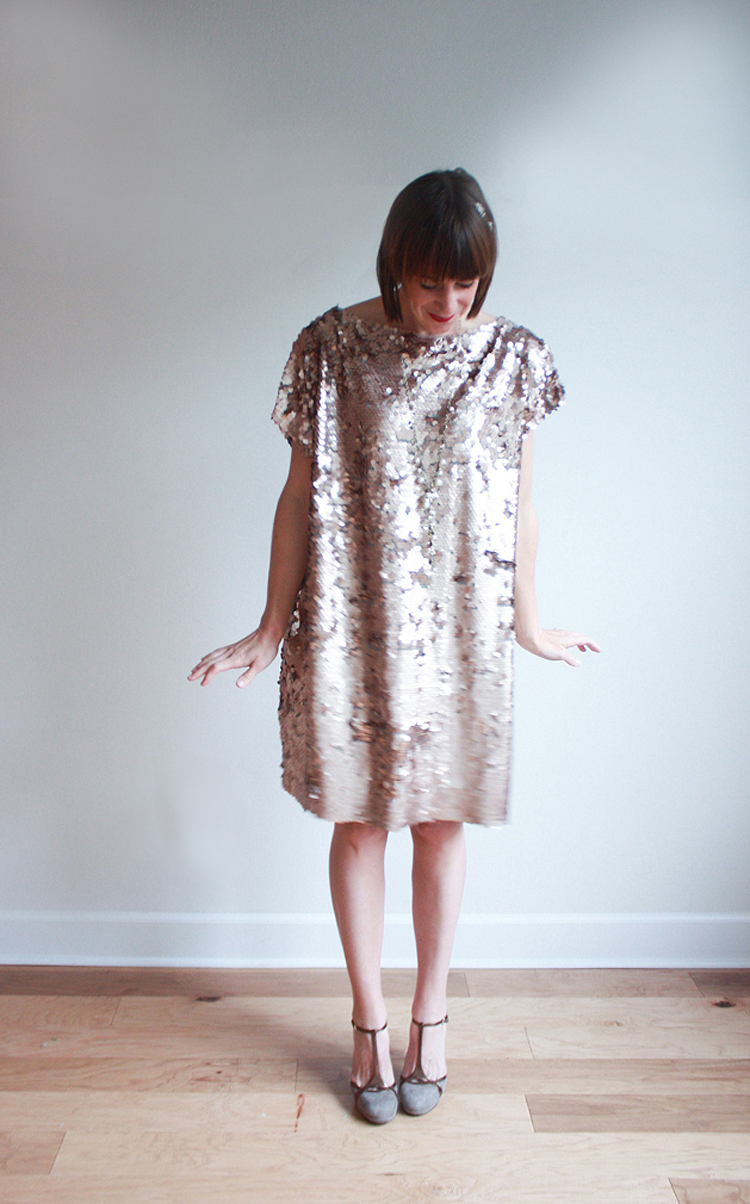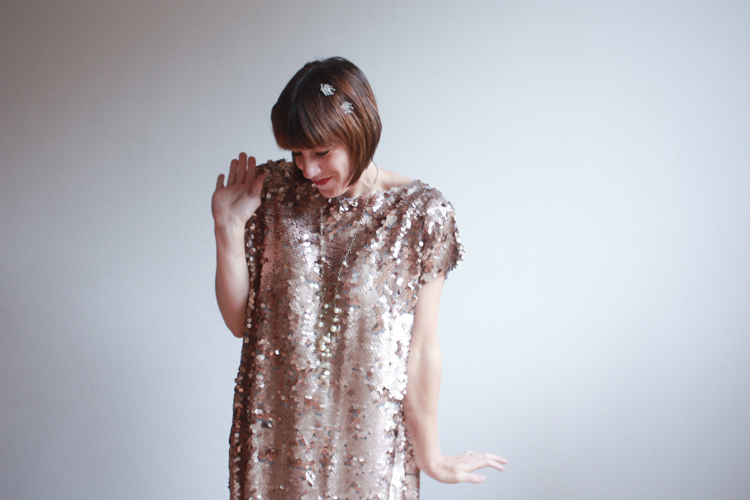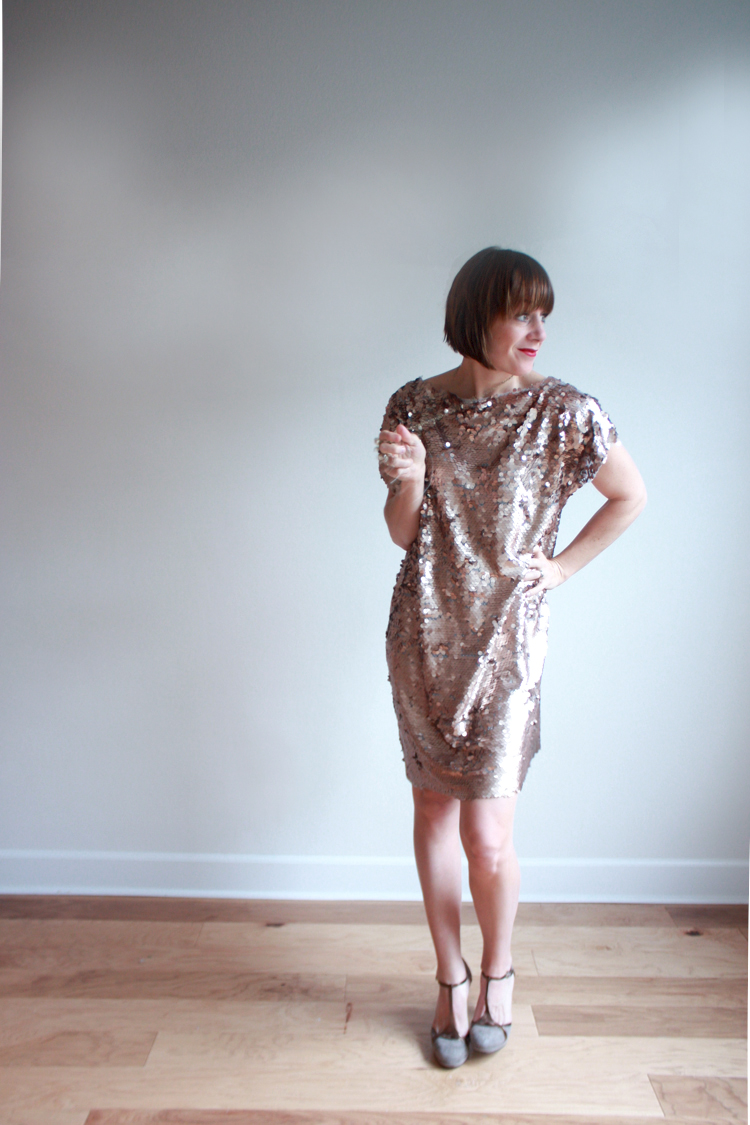 The Great Gatsby dress pattern is literally a box with just a couple quick cuts and seams. Let me show you how to make one!
You'll need:
1 1/2 yards of paillette fabric
Sharp Scissors
1. Fold the fabric selvage to selvage.
2. Fold it in half again, creating the center line from which you can cut a quarter-oval for the neckline. I eyeballed it, but if you want to measure, start at the center of your clavicle and measure out as far as you want the neck to go, that is the width you'll cut (maybe 3-4″) using about a 1.5″ inch scoop, you'll get  a nice, draped boat neck.
3. Measure 5″ from the top corner opposite the neckline and cut a little curve about 1″ wide and 8″ long to meet back up with the side.
4. With the fabric right sides together, stitch along the shoulder seams, and along the side seams.
5. Turn right side out and cut the hem along a sequin line where you'd like it to reach. Because the mesh won't fray, for this simple dress you can leave all of the edges unfinished! Put on your Great Gatsby Dress, some T-strap heels, and pearls and enjoy!  Easy as can be.

This same set of instructions would work well for any type of draped fabric that doesn't fray. A lightweight knit would make a great, lounge-style dress. You could even leave one maxi-length and add a belt for a different style.
This dress got tons of compliments all night at the event. I smiled and said " Thank you so much!" rather than "I made it an hour ago and it only took fifteen minutes and four seams, so don't look too closely!" It's also been borrowed twice in the last month since I finished it for other Great Gatsby themed events. It's a great Great Gatsby dress.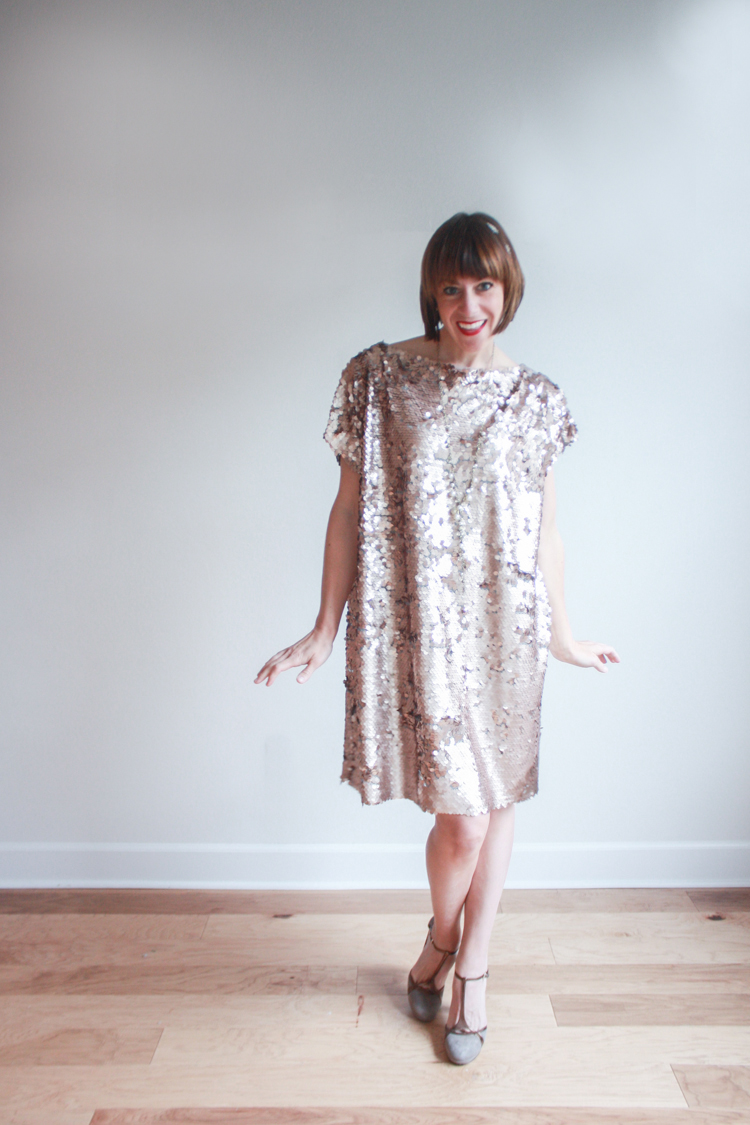 The best part is that although it was made with a Great Gatsby party in mind, I really love how it turned out and can't wait to wear it to another fancy event sometime soon! The simple line, easy fit, and neutral color all fit my design style, and the sequins take it up several notches in formality and fun.
You might also like