Halloween season is both insanely busy and incredibly exciting for me. I started making custom costumes on a whim a three years ago, and now I love seeing what cool ideas show up in my inbox! I have scaled way back from the last couple years (30 Olivia the Pig costumes last year was a bit much…). I knew I was going to be working on a wedding dress concurrently, so I only took on a handful of costumes this year. And actually, I thought I'd have them finished and sent before the Sewing Summit, but I should have know myself well enough to know I'd be spending the evenings of my vacation humming away at the machines at my mom's house!
This Shirley Temple Sailor costume is the first of my list to be complete, and I shipped it off yesterday. I love classic costumes, and who doesn't love Shirley Temple?
I used the top portion of the upcoming Big Bow Dress pattern to make the bodice (I added an invisible zipper to the front.)  I drafted the sleeves to fit the arm scythe, with a couple inches extra in the shoulder to gather into a puff. The waistband is a simple rectangle, cut to fit the bodice width, and the skirt is a long rectangle with a couple of box pleats added for detail. I totally winged the collar, and wasn't quite sure how it would work out. I basically laid a square of fabric under the bodice pieces, and then cut the neck hole out. After tapering the front edge, it looked like a sailor collar. I sewed it on wrong side to right side from inside the bodice (does that make sense?) so that when it was on the outside, it had a nice roll. Luckily, it went well (which was excellent since I didn't have any extra fabric!) Then finally, the red scarf is just a long strip of red cotton, with tapered ends.
All of the edges are trimmed with 1/4″ bias tape, and the pleats are accentuated with four small brass buttons that I hand-stitched onto the waistband. And of course, Shirley gets her Lollipop! The cute mom who ordered this costume specially requested a Lollipop so that she didn't have to keep supplying real ones for photos. Smart mom! I'm sharing the step-by-step DIY on how to make the lollipop tomorrow over at The Train to Crazy as part of Andrea's Handmade Halloween series,  so make sure you check it out (along with all of the awesome costumes and projects that have been shared!!)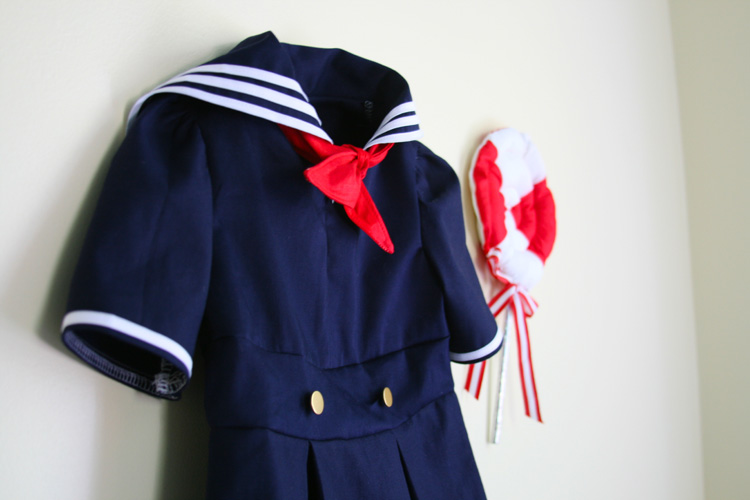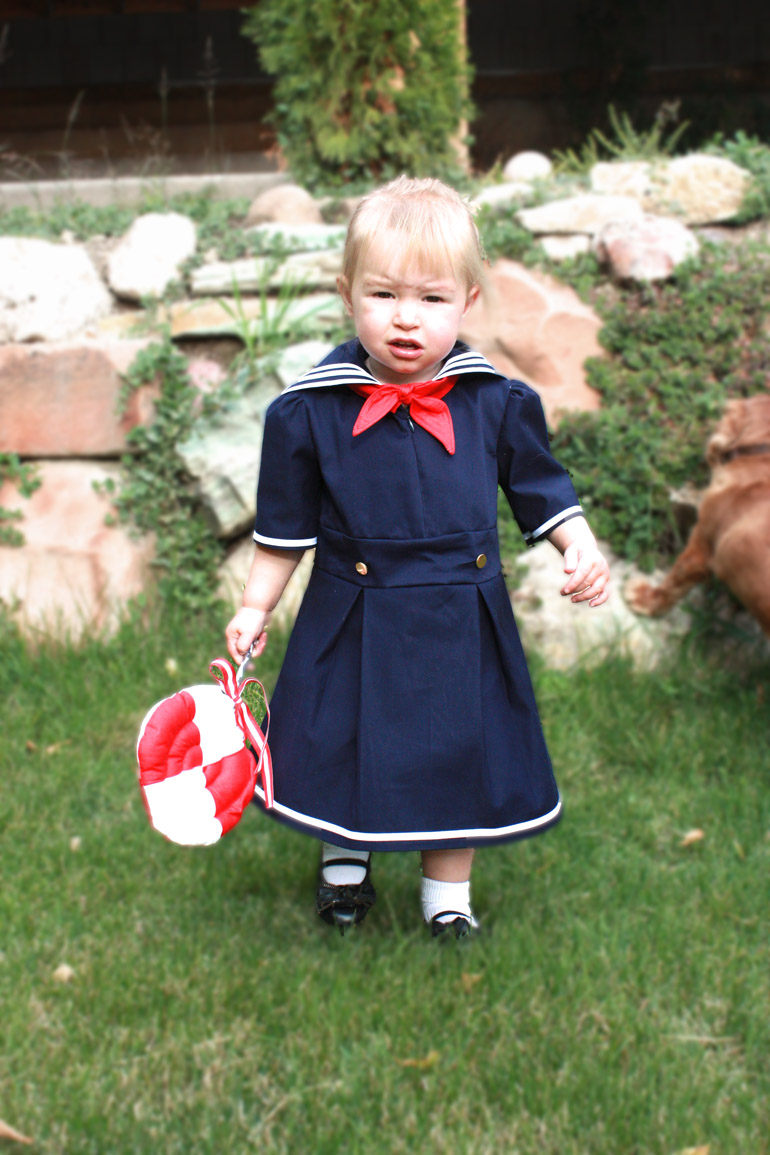 My little model is a year younger, and six inches shorter than the recipient of this costume, but it is so fun to see my work on cute little people! I've been known to cross-dress my boys to check fit, but recruiting darling little girls is probably a better idea! I hope the cute little curly-headed girl who will wear this Shirley Temple Costume on Halloween loves it as much as I do!
You might also like