Happy Halloween!
The first time I asked Plum what she wanted to be for Halloween this year, I expected a non-response that would enable me to choose for her. After all, we only have so many years that we can impose our own Halloween desires upon our kids before they discover their own opinions. Well, she surprised me by telling me confidently that she wanted to be a lion. For days, every time I asked the boys changed their minds and gave different answers, and every time Plum told me she was going to be a lion. So, we built our Wizard of Oz costumes around this cute little lion.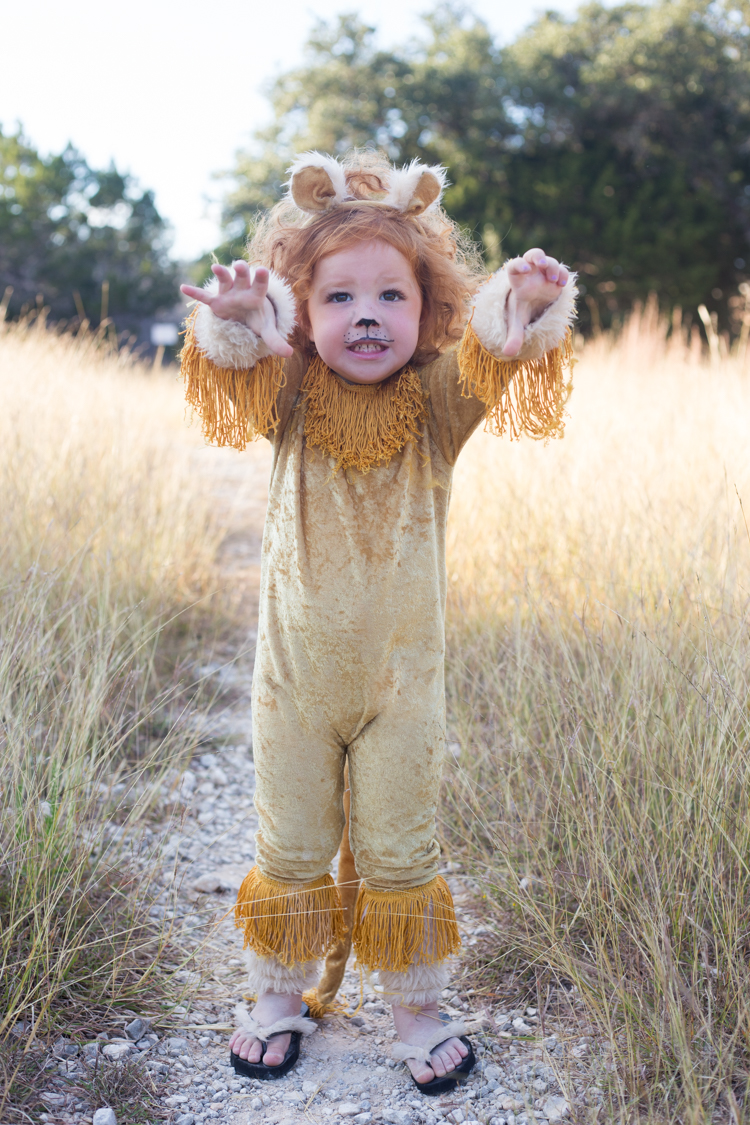 Since the boys didn't seem to be too set one one thing as Plum was, Dave and I decided to help them along by giving them options for characters within the Wizard of Oz cast, so we could pull together a family theme. Luckily, they each found a character they loved, Milo as the Wizard himself, and Eliot as one of the cheeky flying monkeys. Dave took on the Scarecrow and I jumped into the roll of the tin-woman to round out the misfit trio. And we have plans for the puppy to be Dorothy, but she didn't come along for photos.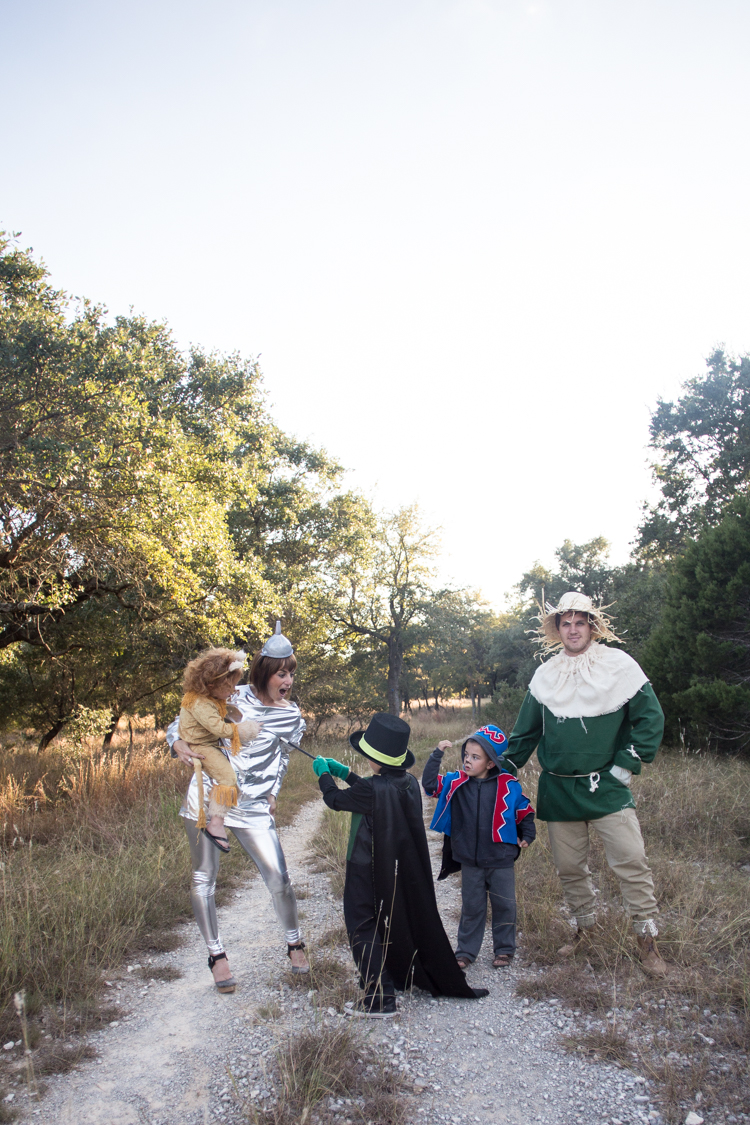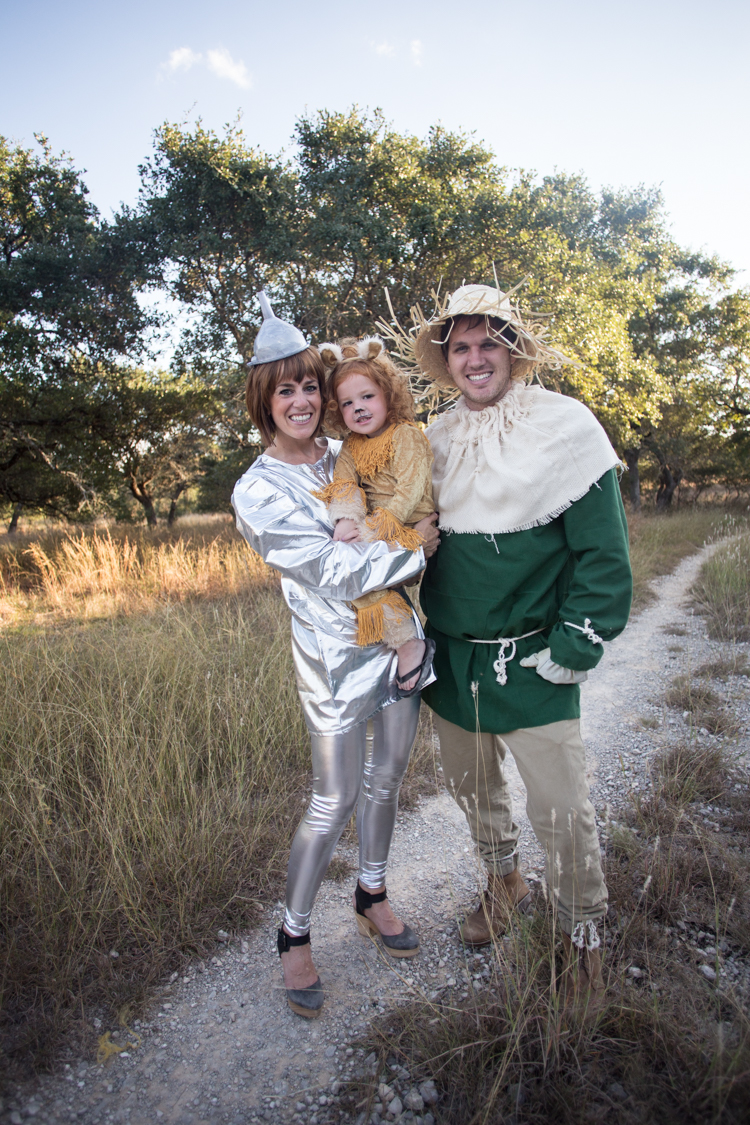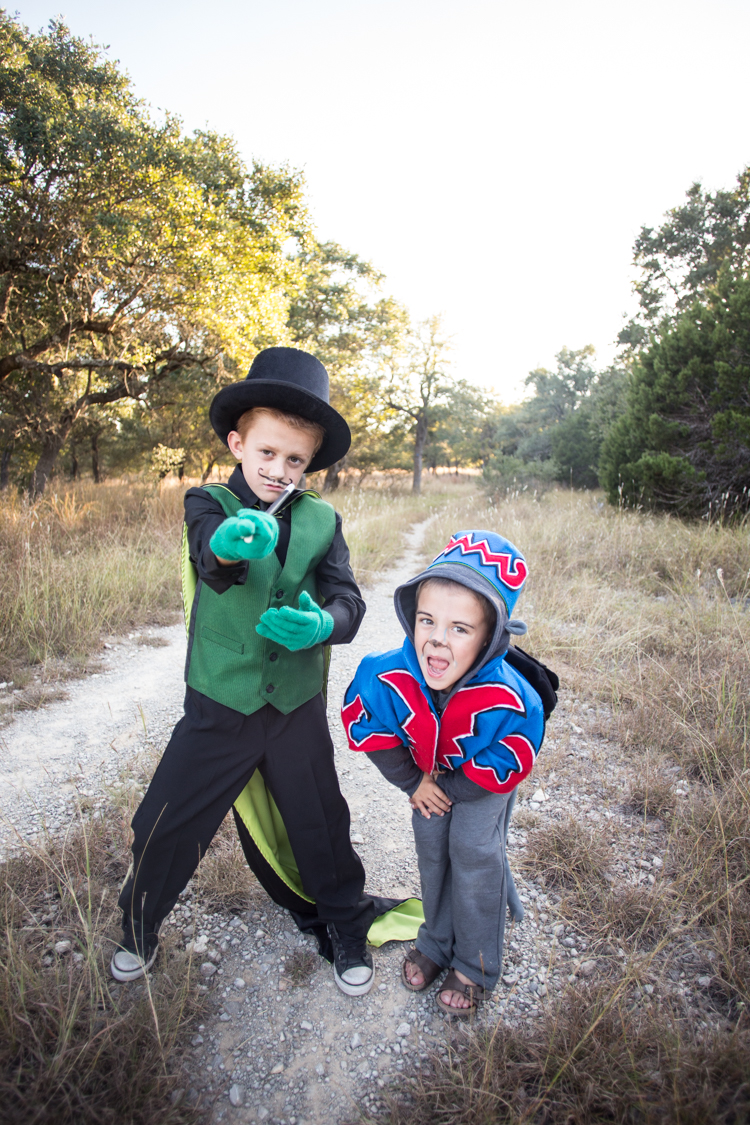 I told the kids that if we did one fun photoshoot before the first Halloween party of the year, I wouldn't bother them for another picture the whole week. They were all for that idea, and we had so much fun gathering together in the master bathroom, applying face make-up, spraying hair, and getting ready for these shots. Even the boys got really enthusiastic about it all and we had as much fun preparing for and taking photos as we did at the party later that night (minus the candy, obviously.)
I handmade most of the main costume pieces for each character and as I show them off one by one I'll give a little rundown. 

The Lion Costume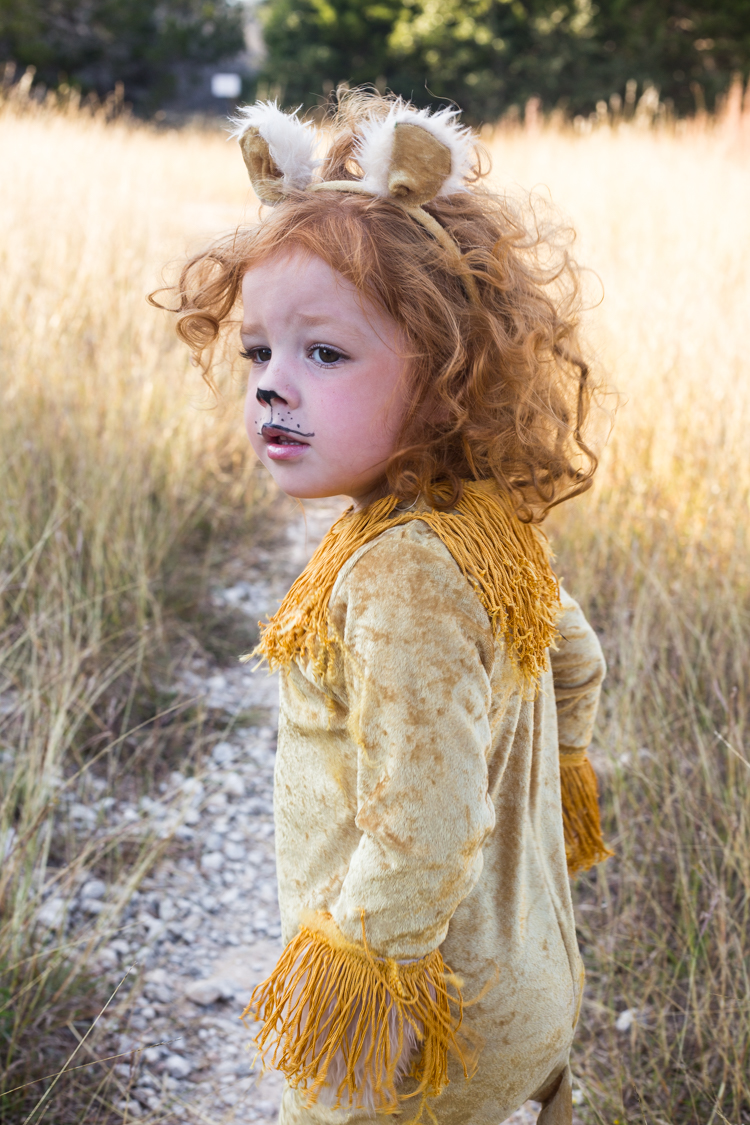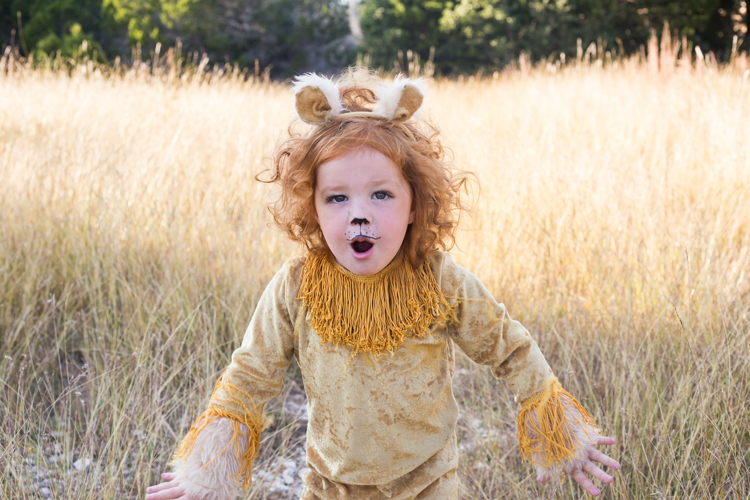 Oh man, how cute is this child? I'll admit, I was at first slightly confused how I would make a lion costume exceptionally darling. Then I realized that Plum's gorgeous red hair would make a perfect mane, and I set out to create a simple enough custom lion suit that would be fun and comfortable, and really let her mane be the costume.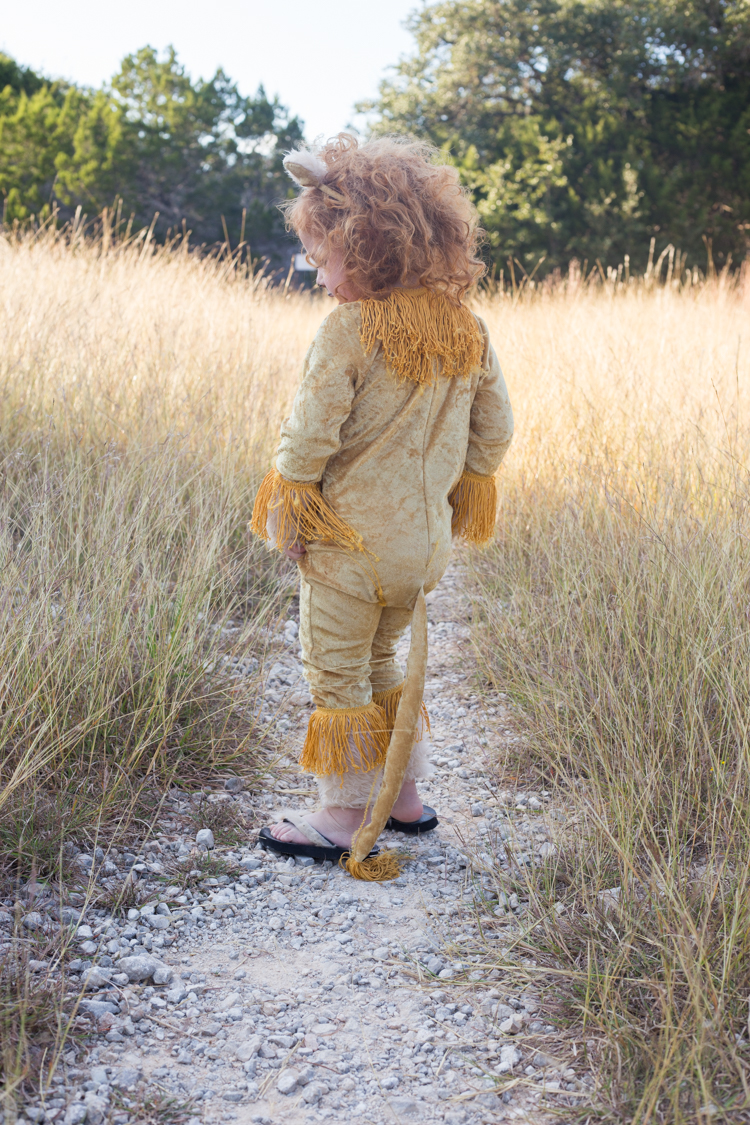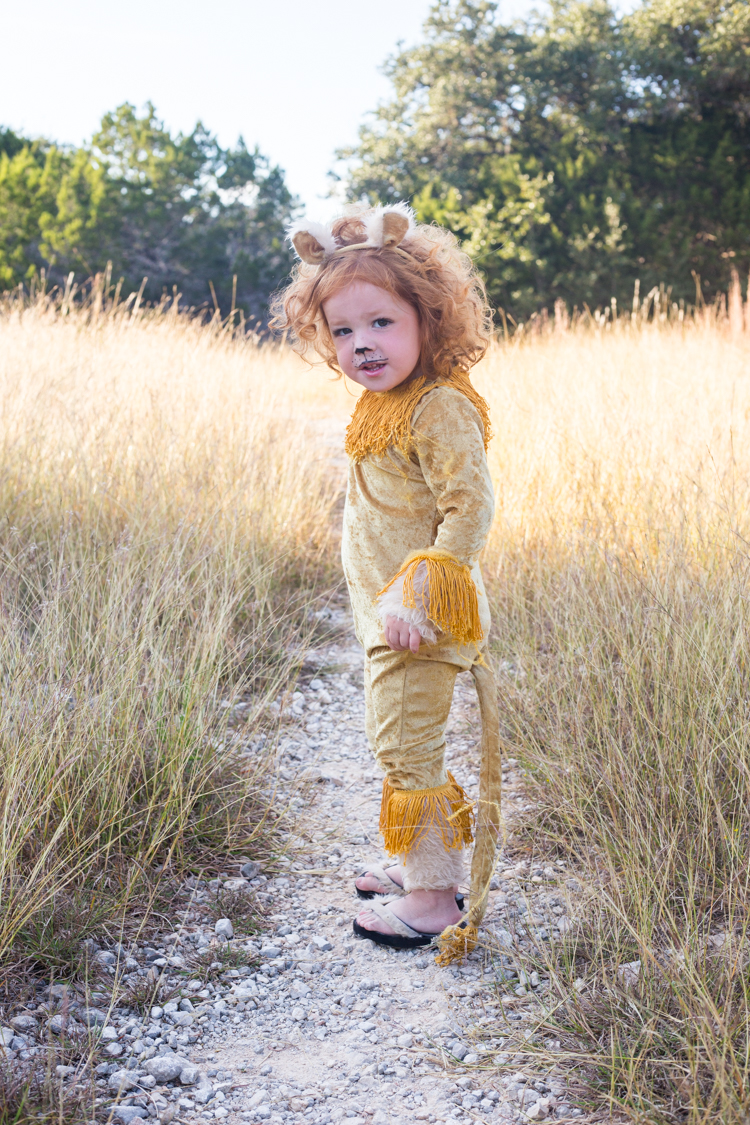 I used a pair of footed pajamas as a pattern, cut out simple front and back pieces, added a zipper and the tail along the back seam, and added faux fur and tassels around the wrists, ankles and at the neckline. I covered a simple headband with the same stretch velveteen as the jumpsuit and added rounded lion ears to sit nestled into those red curls.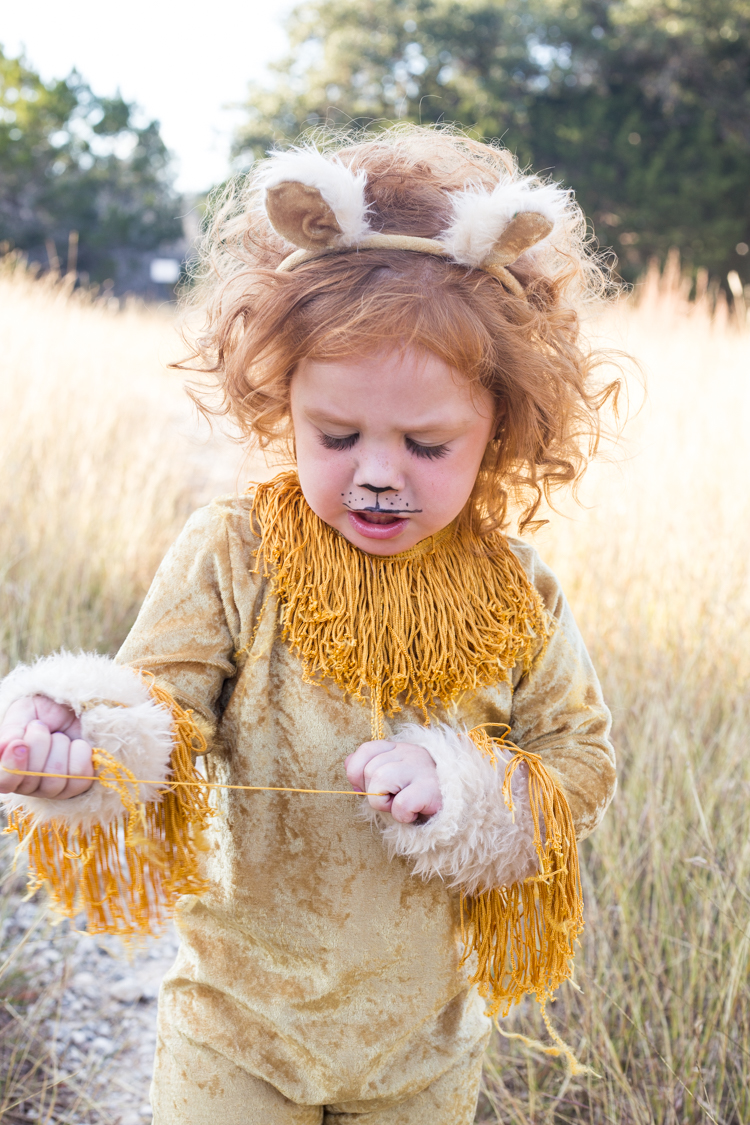 Although the golden tassels were some of my favorite design elements, they were quite annoying to little miss lion because they kept getting stretched out and clinging to the rest of her costume. I think I've cut about half of them off because of that little flaw!
It sure didn't affect her roar though, or her cuteness.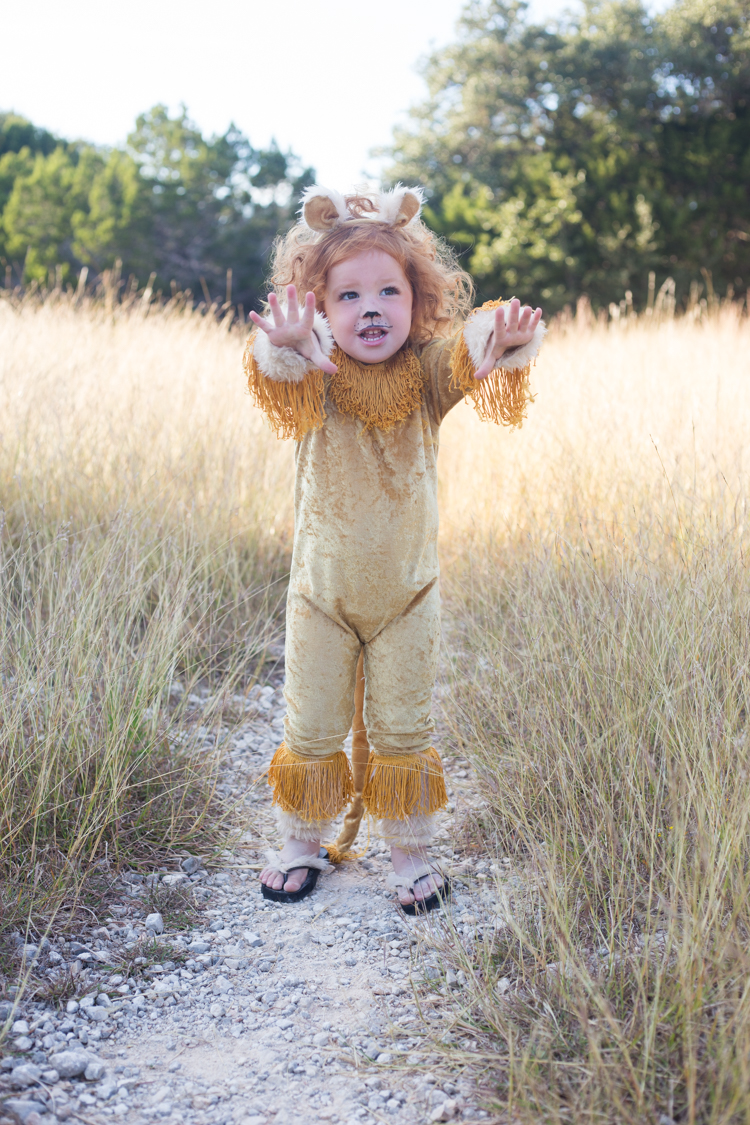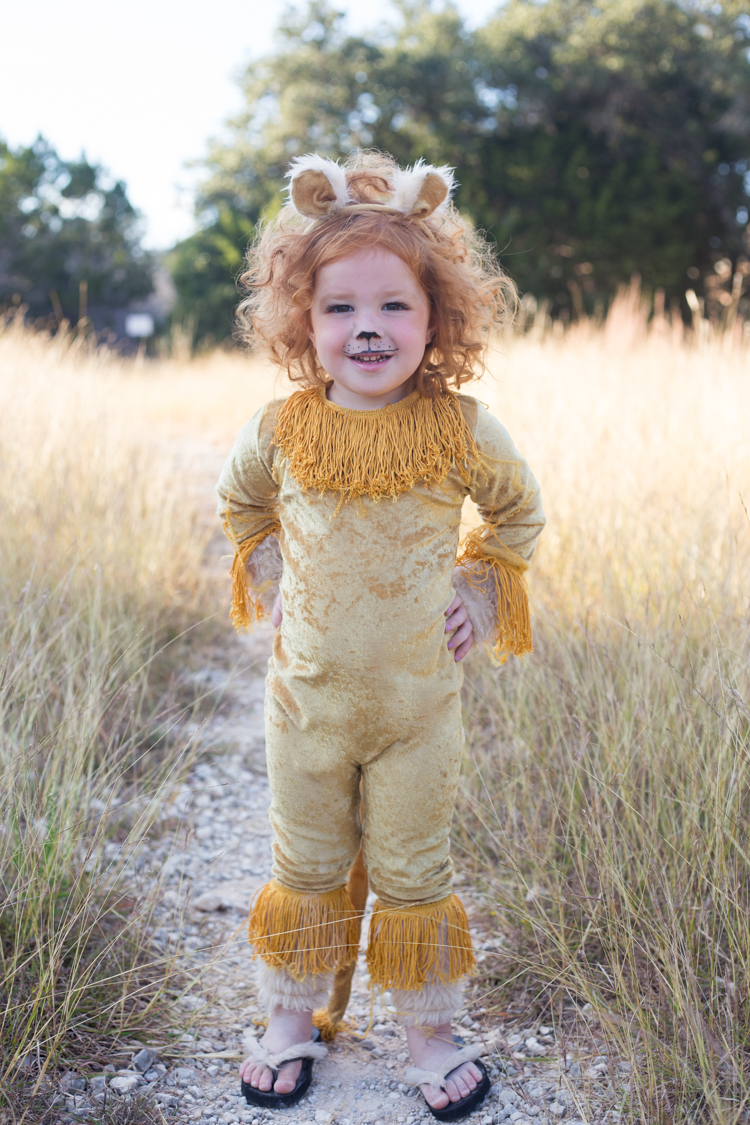 The Tin Woman Costume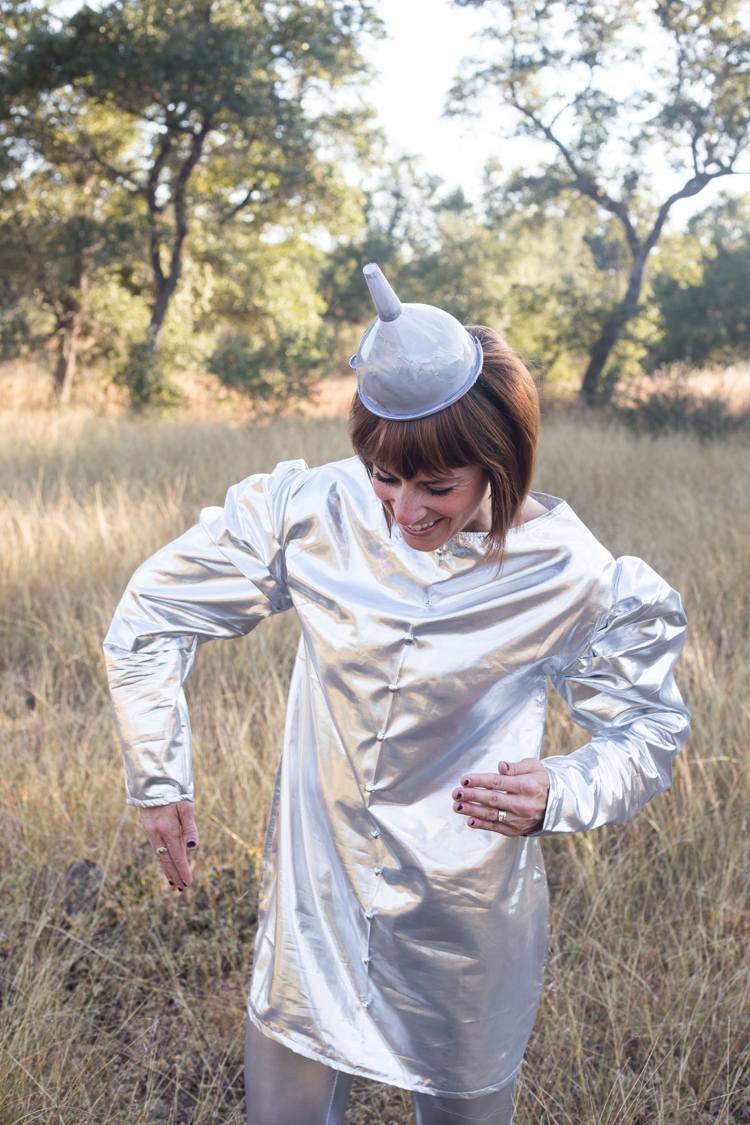 My tin man costume was another fully handmade costume. I started with a pair of metallic leggings made from my draft and sew leggings tutorial. The metallic knit was easy to work with except for having a tendency to stick under the presser foot. I had planned to pair the leggings with a really simple tunic, but then I referenced the movie photos and realized how much dimension the tin man had. Adding pleated puffed sleeves and silver buttons down the front made it feel more true to life, and also more fun to wear! (Also, I've been reading Anne of Green Gables and couldn't wait to add puffed sleeves to something!)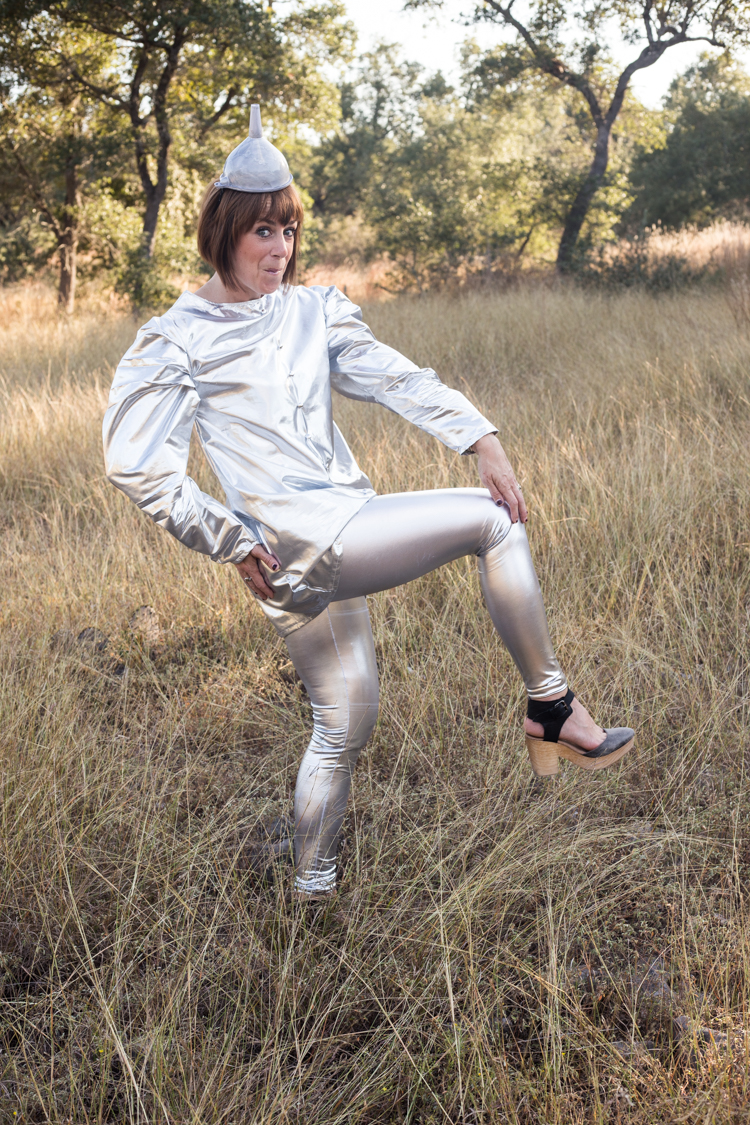 It turns out that metal funnels are a thing of the past. After five stores, I ended up compromising on a plastic funnel and painting it silver. Then I hot glued it to a headband for easy wearing. In fact, the plastic was probably a good idea because it was so light I would forget it was on!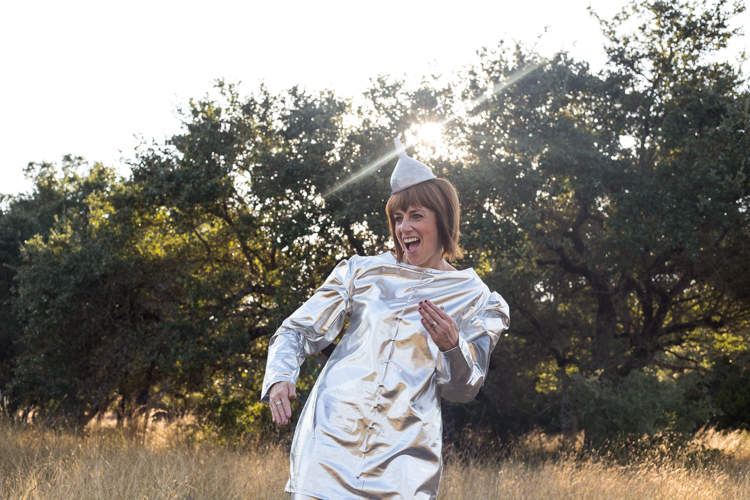 Until about a month ago I had the most perfect metallic silver flats to add to this ensemble, but they've been recently chewed apart by the puppy. My black and grey clogs worked well and made me feel intentionally dressed up. And although I was completely covered, I had a couple friends comment that I was a pretty sexy looking tin man. Ha! I'll take that as a compliment.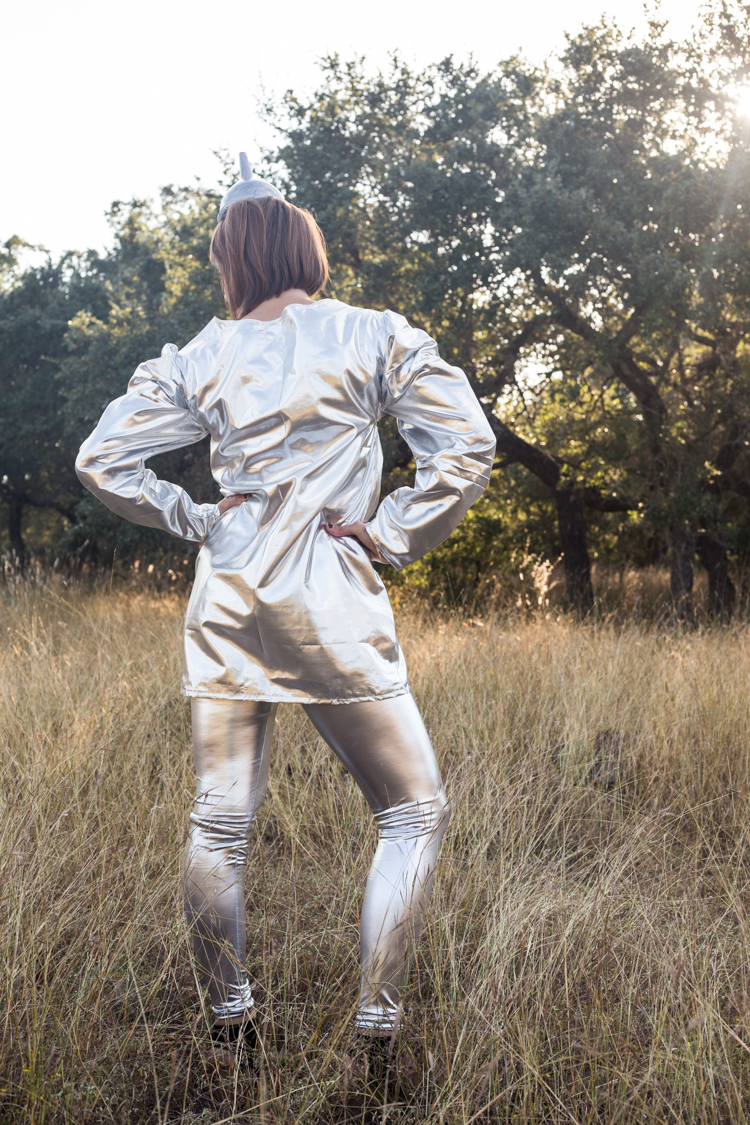 The Flying Monkey Costume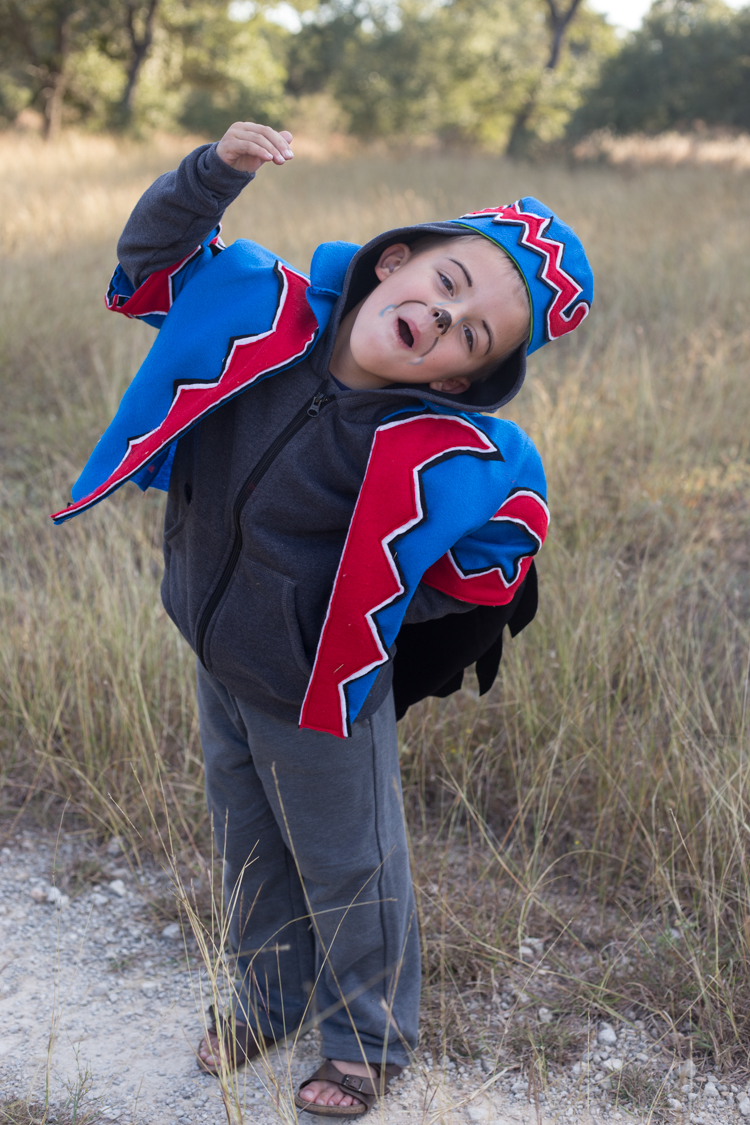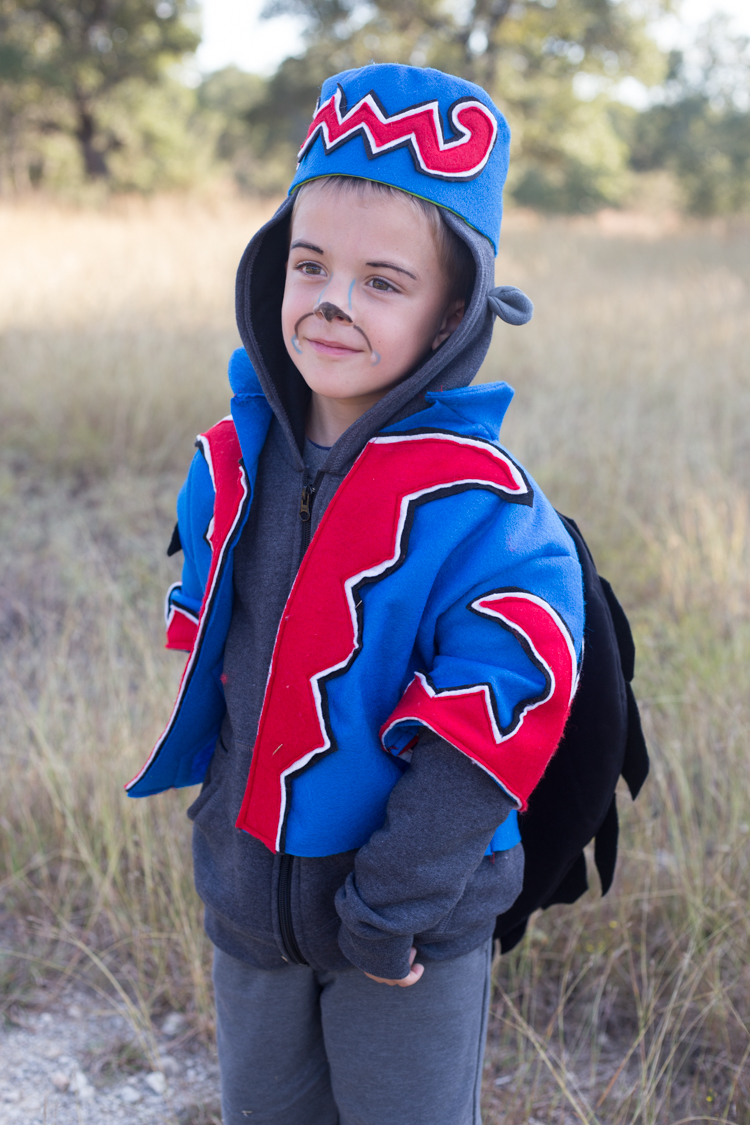 This one was a little more out of my wheelhouse, and I loved getting to do some more interesting details in the felt jacket. I referenced several movie photos and videos to try to make the design as true as possible. The easiest method to accomplish the layered felt design ended up being to cut the design once from red, then simply cut a strip of white and black with room on all sides for trimming. I sandwiched all three layers on top of the blue felt, then stitched around the red details. After it was all stitched in place I went back and cut the white felt to 1/4 inch around the red, then the black to 1/4 inch around the white. This method reduced cutting errors with multiple layers and made the while process a lot easier.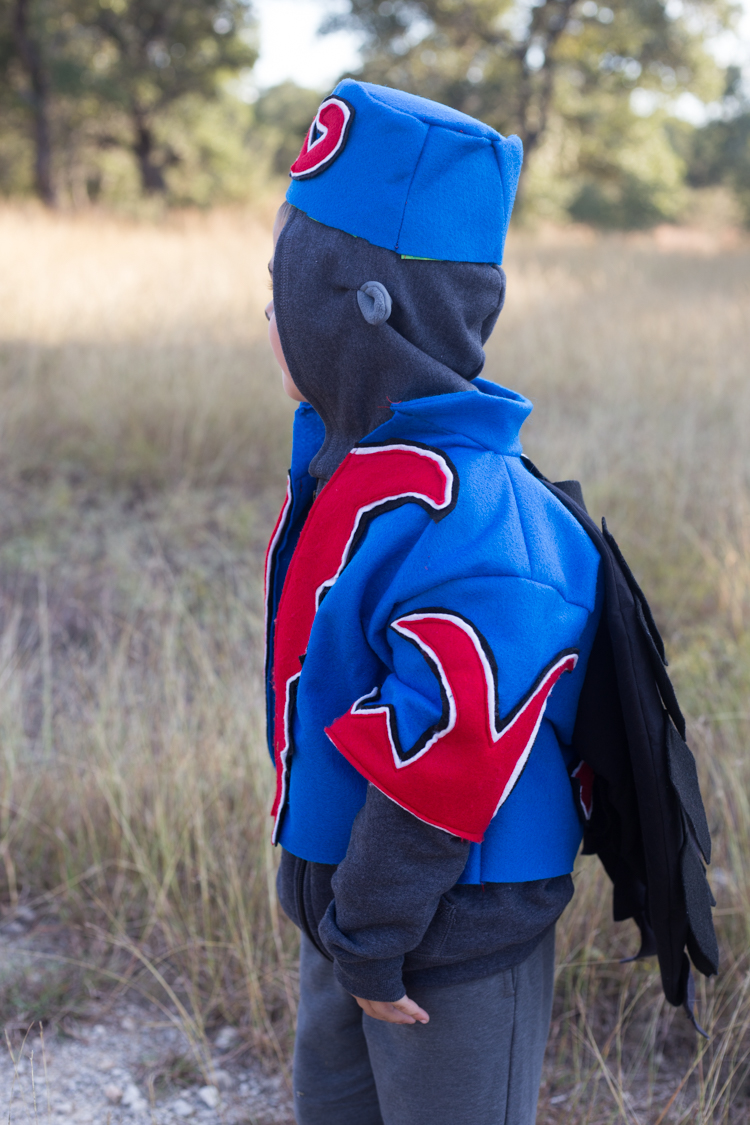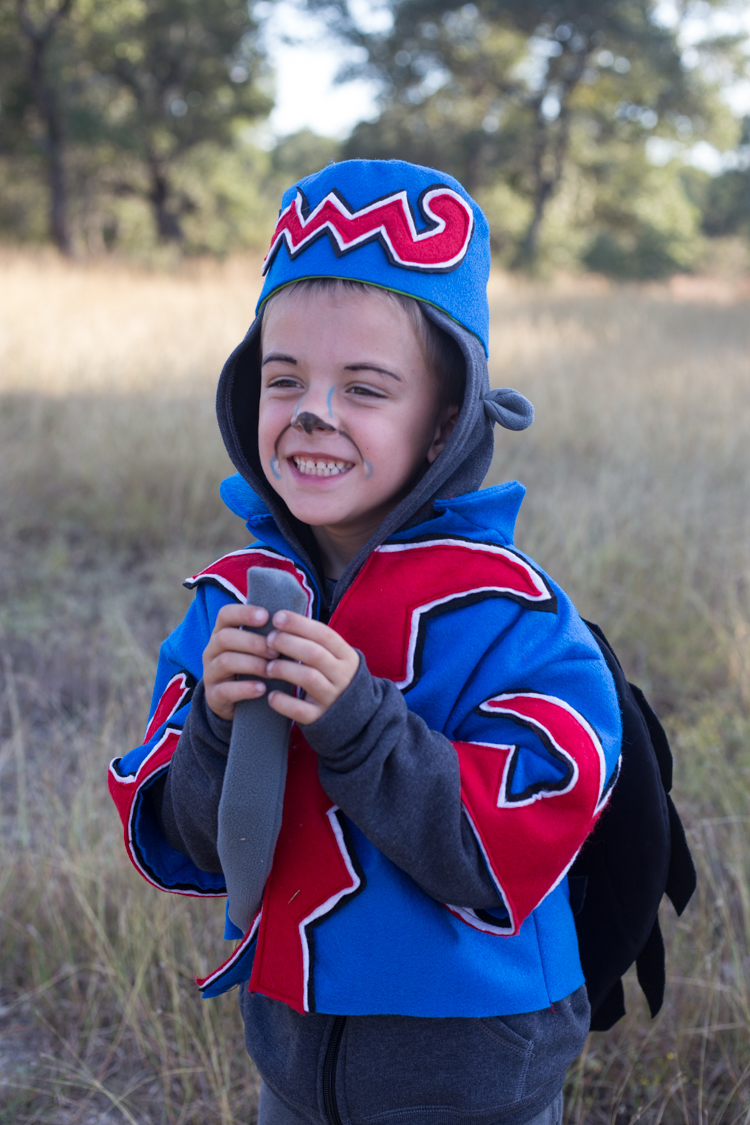 For ease, I simply added ears to a grey hoodie and a tail to a pair of grey sweatpants for the monkey body. I love both that he was comfortable and that he'll undoubtedly wear both again after Halloween (once I remove the tail.)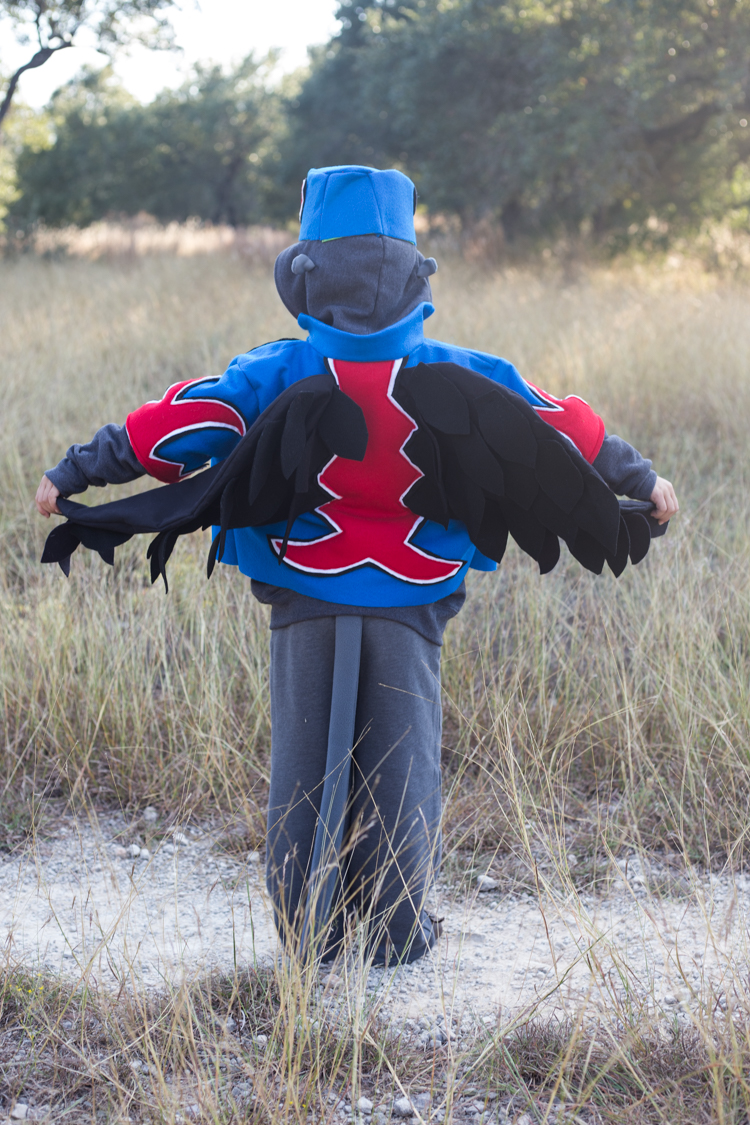 The wings were maybe my favorite part. I layered felt "feathers" over a piece of black fabric, backed with stiff heat & bond and cut into wing shape. After stitching each feather on, I sandwiched the top and back pieces with a soft layer of quilting batting and stitched around them. The affect is a stiff-enough but still soft wing with dimension and movement. I love them!
I loved watching this kid get into character and "eeeeii-ooouuuu" around. Cutest flying monkey I ever did see.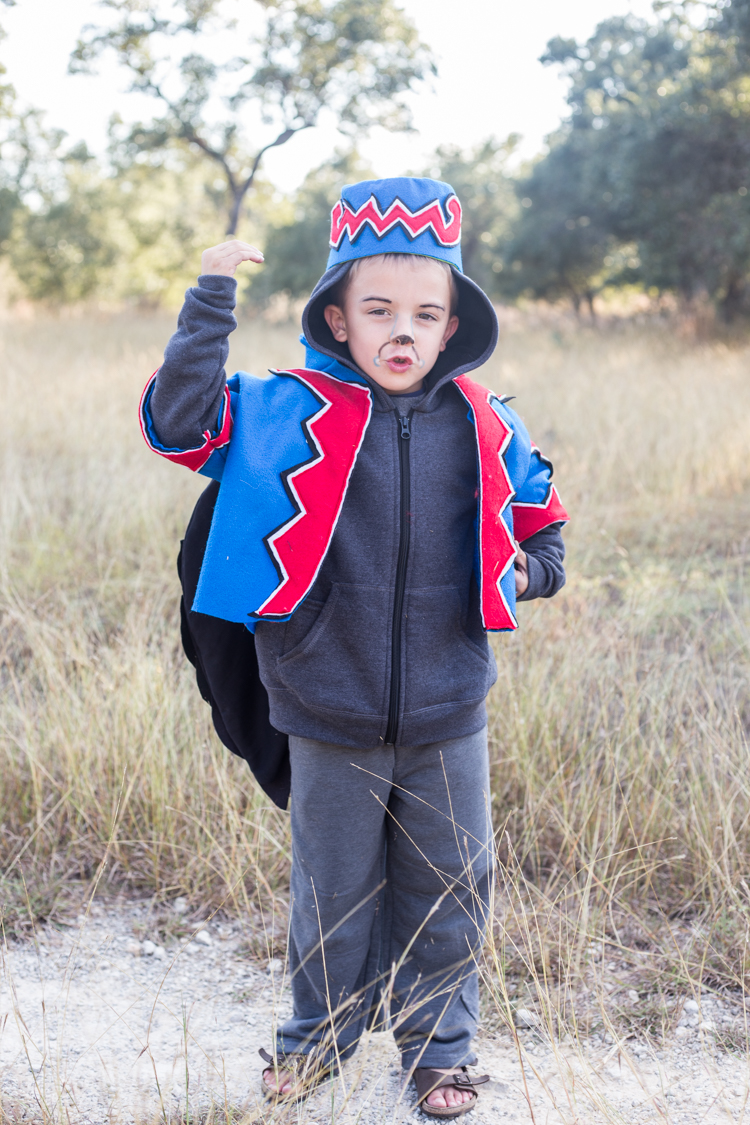 The Great and Powerful Wizard of Oz Costume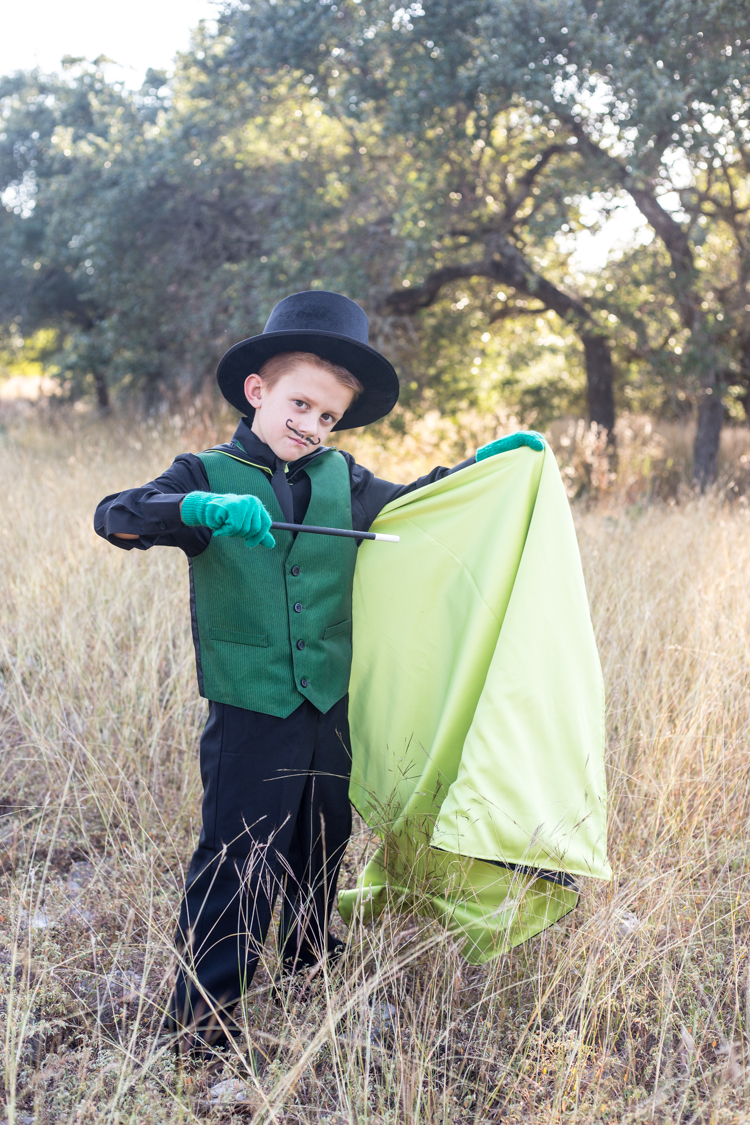 Among the costume ideas Milo had mentioned had been "magician", so it wasn't a far stretch to introduce the idea of being the Wizard of Oz. He was very excited to dress up in a suit and tie, and special requested the gloves and wand to go along.
I'm not usually a fan of hand making basics like button up shirts and slacks, especially when I can find a four-piece set for under $20. So, the base of Milo's costume was store bought. Black shirt, tie, and slacks, and the metallic silver vest that I dyed green with some dye-na-flow paint-on-dye. The gloves and hat were also store bought. I added the green band to the top hat to match the cape. I also painted the wand to Milo's specification with white "on both ends so I can use it backwards, too."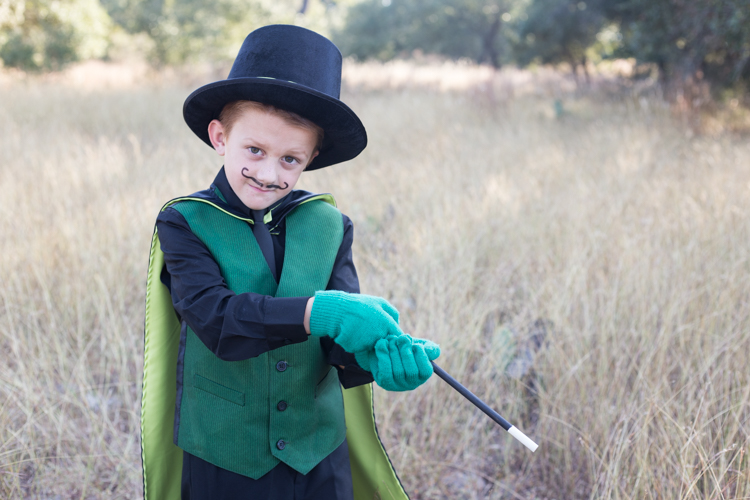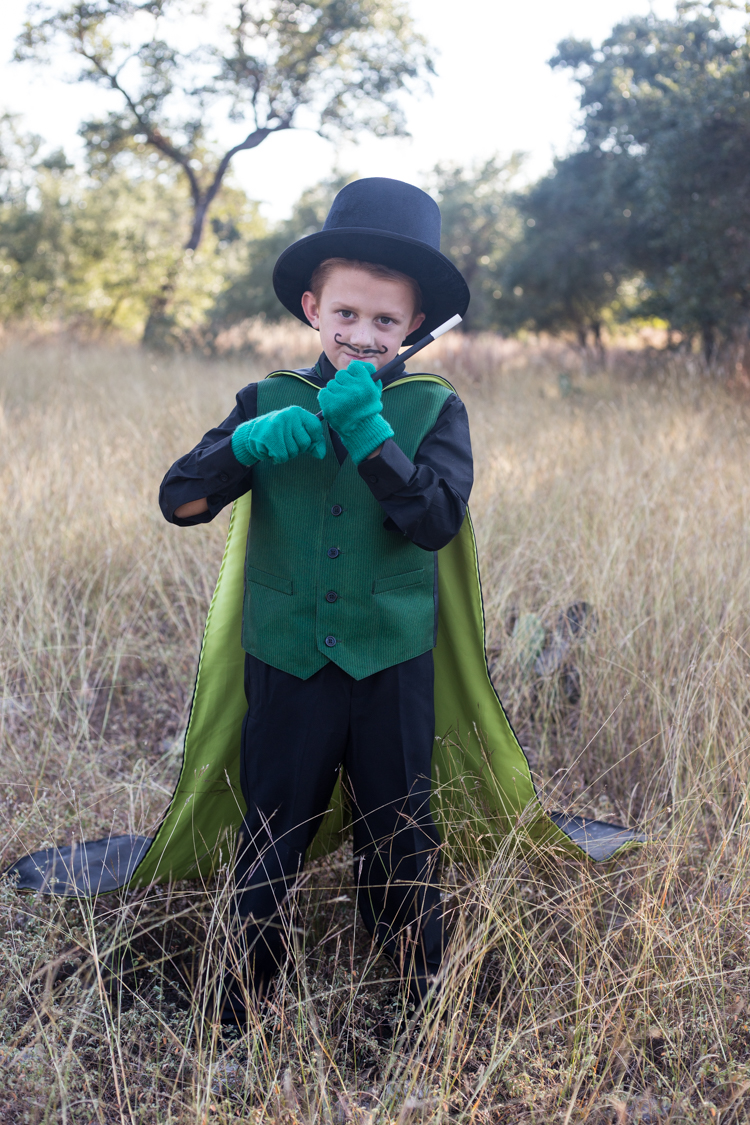 I handmade the simple cape using two layers of satin sandwiched together, stitched around the edges, then turned and topstitched. He was pretty excited about it having a snap button at the neckline. Ha! It's the little things!
I loved seeing how excited he was to get dressed up for school and show his friends his fancy outfit. His enthusiasm was contagious, and there's not much I love more than my kids being excited about an idea they are invested in. He made some key choices about this costume and loves every bit of it.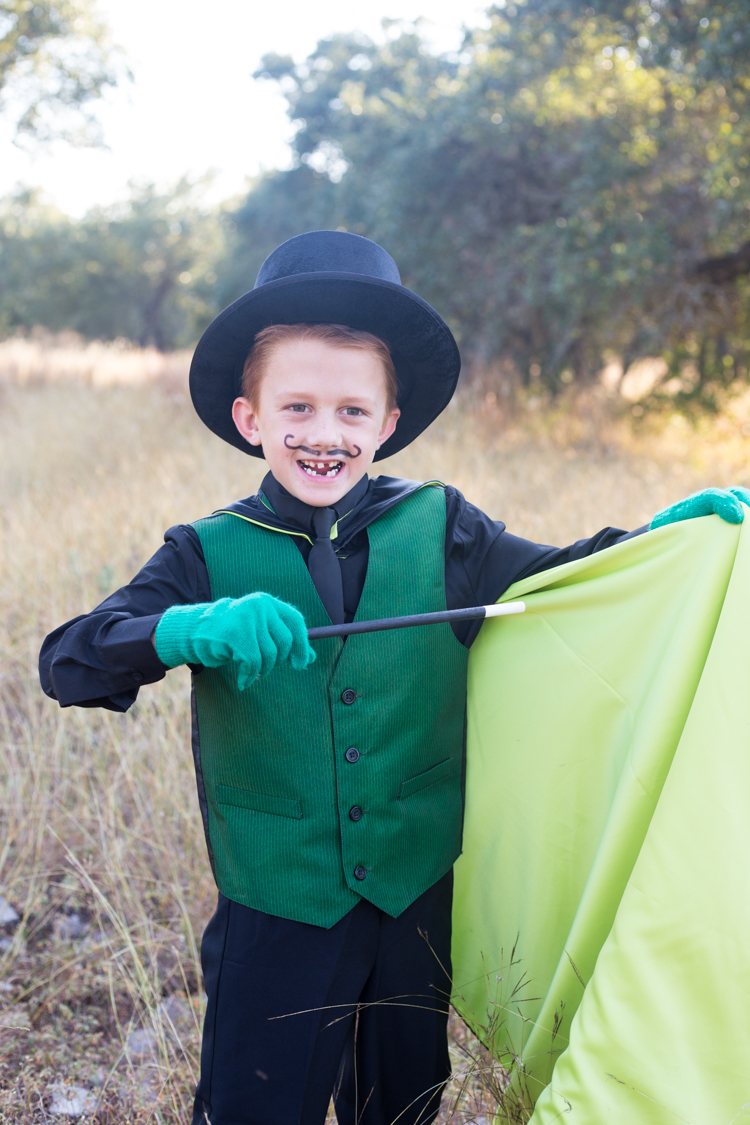 The Scarecrow Costume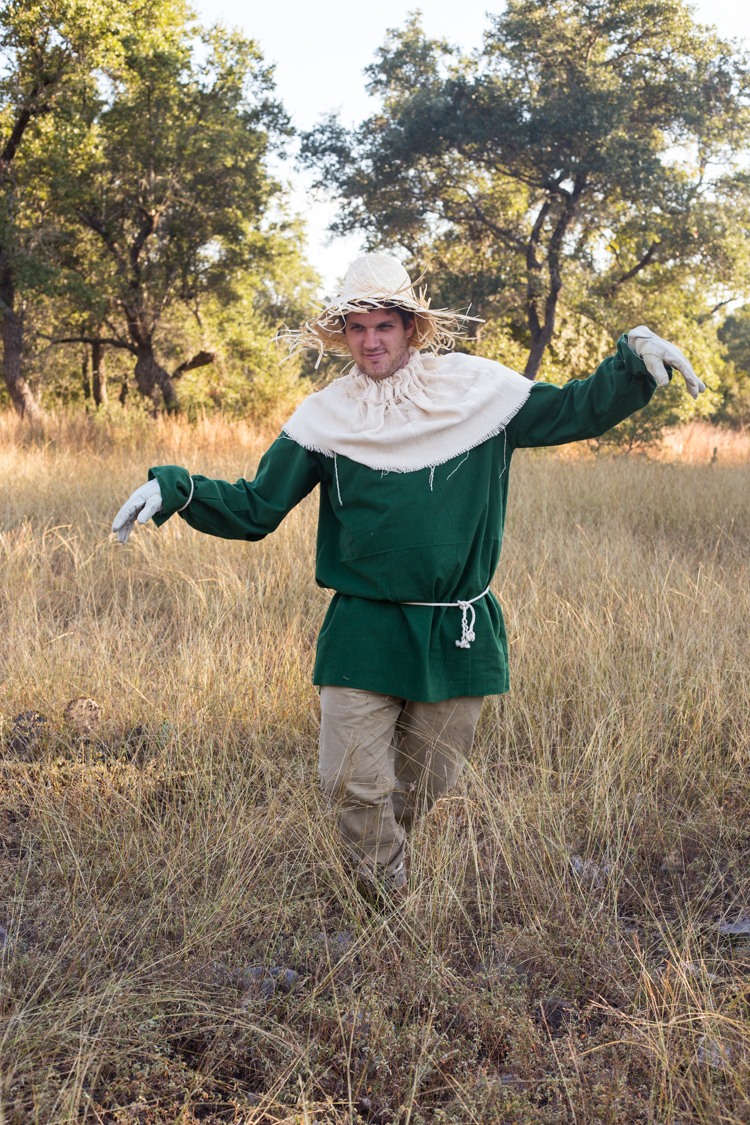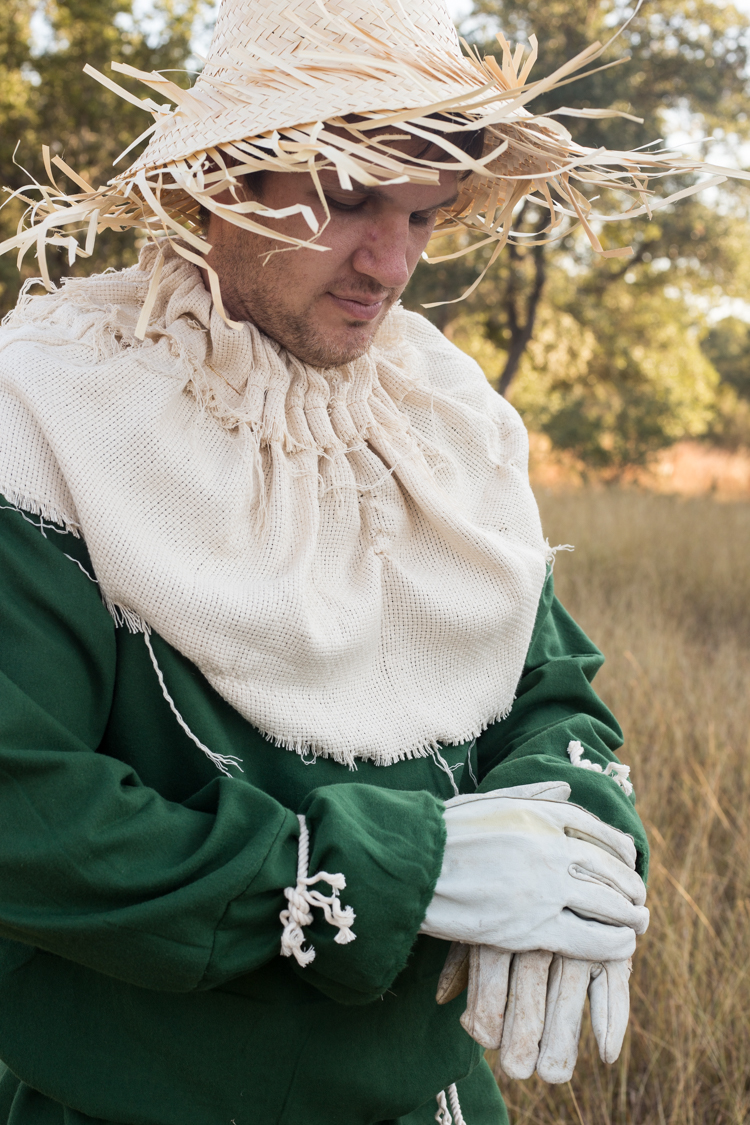 Initially, I planned on Dave wearing all pieces from his own closet to be a scarecrow, so I hadn't bought anything for his costume when I did my fabric run (three days before the Halloween party.) That afternoon, he referenced the movie photo and mentioned how he was looking for a long green tunic to wear. I took a look and realized there was no way we would just find something like that. So, on a last-minute funnel and button run to the store, I grabbed some green flannel and this cool straw colored woven fabric for the collar.
I traced around a jacket he has and pieced together this very rough tunic top. It fit perfect, and the unfinished edges made sense for this costume. The bag collar turned out to be super easy with this woven fabric simple folded over and gathered like a neck-skirt. After tying the waist, wrists, and ankles the whole thing looked so intentional. Borrowing this straw hat from our neighbor was just the finishing touch, and adding leather work gloves made it so we didn't feel like we even needed to add straw stuffing coming out. That was perfect since we finished with all of the final details just hours before walking out the door.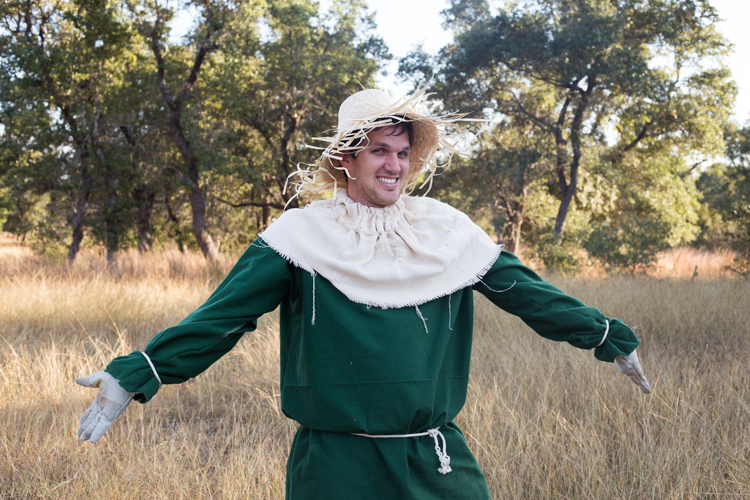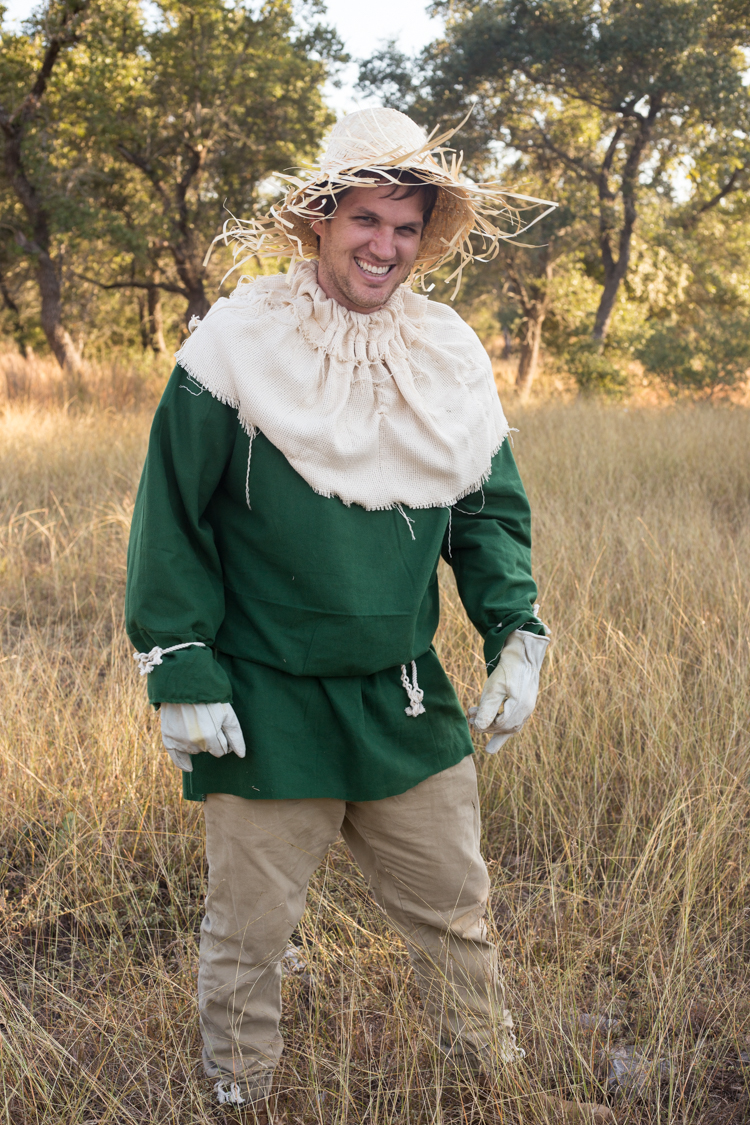 Dave has always been a really fun sport about dressing up with us, and his enthusiasm for the family costume this year really kept things exciting and fun for the kids as well. We're quite a good team.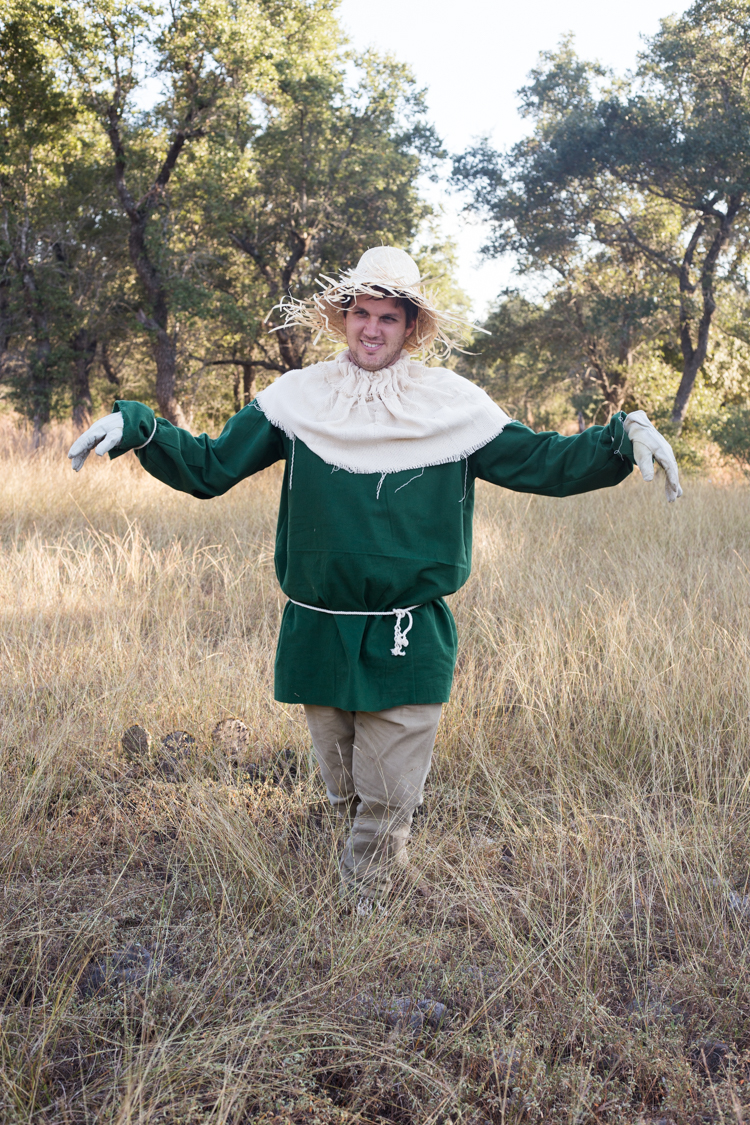 Dressing up together and heading out to take some fun photos was a perfect kick-off to the Halloween festivities this weekend. The boys were so excited about the Wizard of Oz costumes family theme and this unity it brought that they have already started discussing family costumes for next year. I'm trying to play it cool, but secretly SO EXCITED! Although I love and respect kids choosing their own costumes for Halloween, I also love the feeling of togetherness that a family costume creates, even if just for one party. It's a great tradition, and I hope we keep some elements of it as long as possible.
I can't wait to get all dressed up again in our Wizard of Oz costumes tonight for our neighborhood trick-or-treating and third annual Halloween donut fry in our cul de sac. Hope you have a fantastic holiday as well!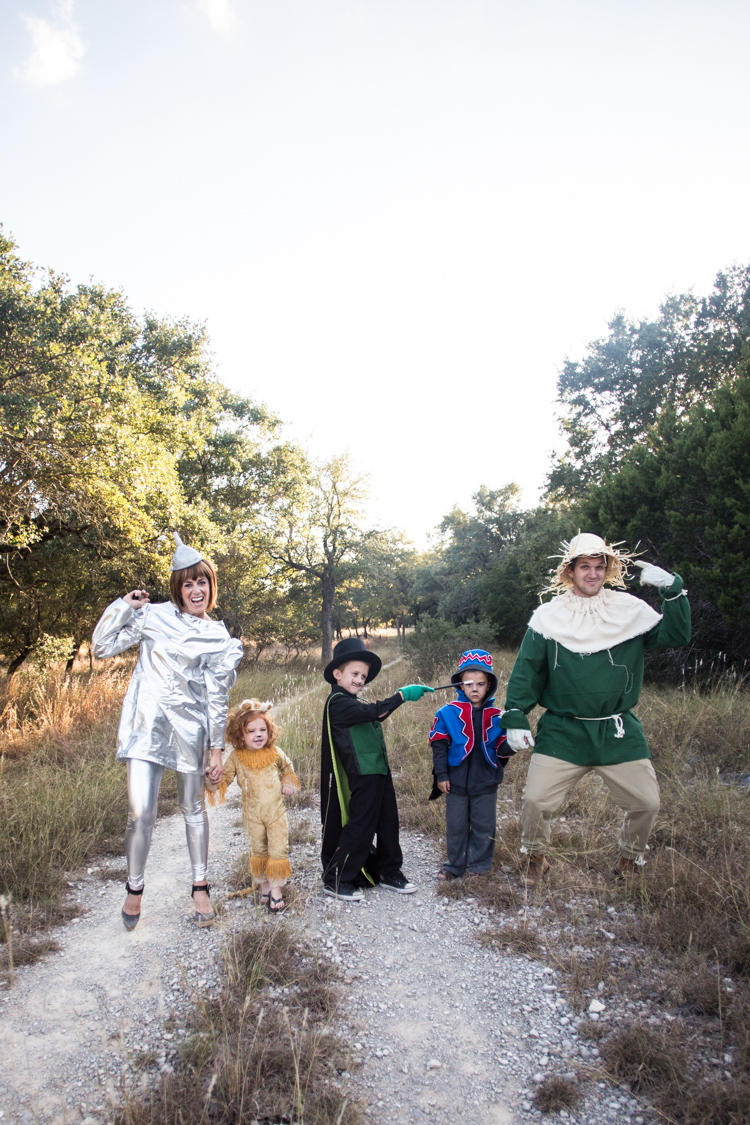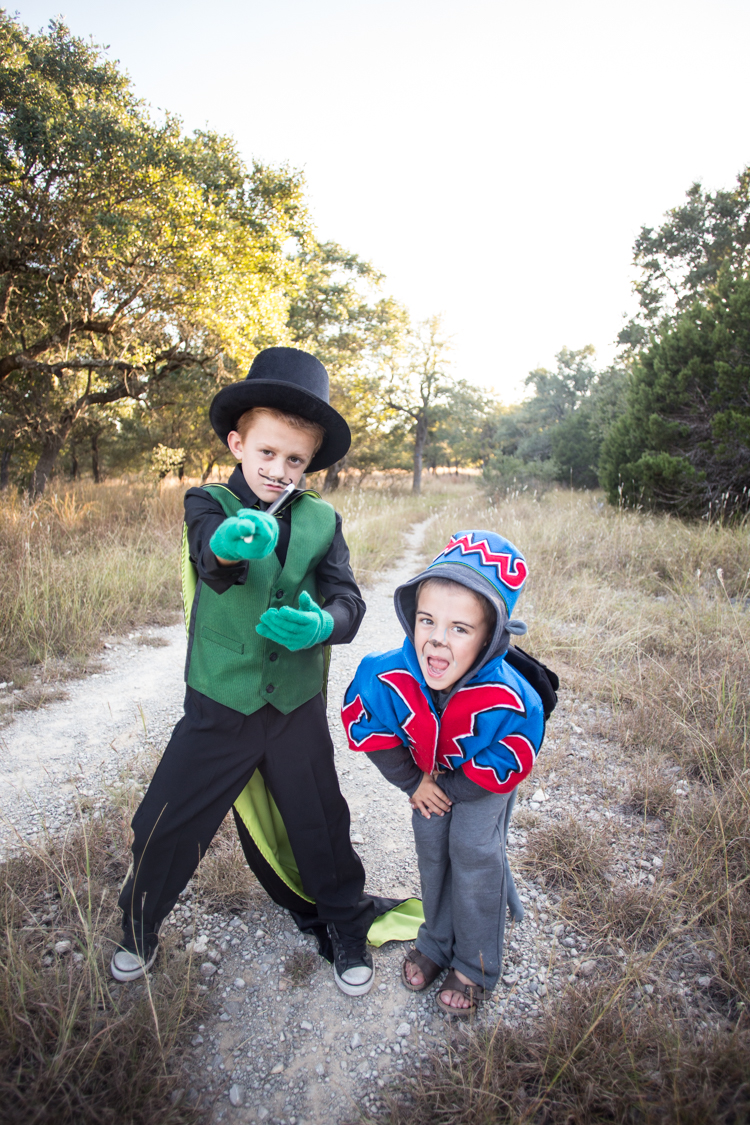 You might also like