Coming up with a new costume idea is one of my favorite things. When my friend Cassi asked for suggestions for her darling daughter, the first thing that popped into my head was a Cabbage Patch Doll! Ruby is especially adorable, with huge blue eyes and round cheeks, so she totally fit the part.
Cabbage Patch Dolls come in all different outfits these days, but Cassi and I both remember the classic dolls in sweet dresses and ruffled pinafores. I dug around in my mom's sewing room stash (which is the mother of all stashes, no pun intended!) and found this pretty pink floral and a pale blue lightweight cotton. There was only enough floral for the apron, so that made my decision pretty easy. I used my Big Bow Dress pattern as a base for the bodice, then added a gathered skirt and self-drafted sleeves. I slashed the back of the bodice and added an inch for a placket and those darling pink pearl buttons. The apron was all just made up as I went along. The shape reminds me now of this Clementine costume I made a couple years ago, so I probably based some of the pattern shapes on that.
The wig is the best. I snagged two skeins of yellow yarn at the thrift store for $2, and my mom helped me unroll them into long strands by wrapping the yarn around a storage box until it was all unrolled. When she removed the box, the yarn was in a long, flat pile of loops. I found the center, and carefully laid it along the center of this nude had that I constructed (roughly the same way I made these ball pillows, but as a half-sphere). I stitched the center part in place, then stuffed a ball of fabric into the hat so I could braid the pig tails. With the extra inches I cut off of the pig tail ends, I made some bangs by looping the extra yarn up and around the center part to hold it in place, then I trimmed it evenly.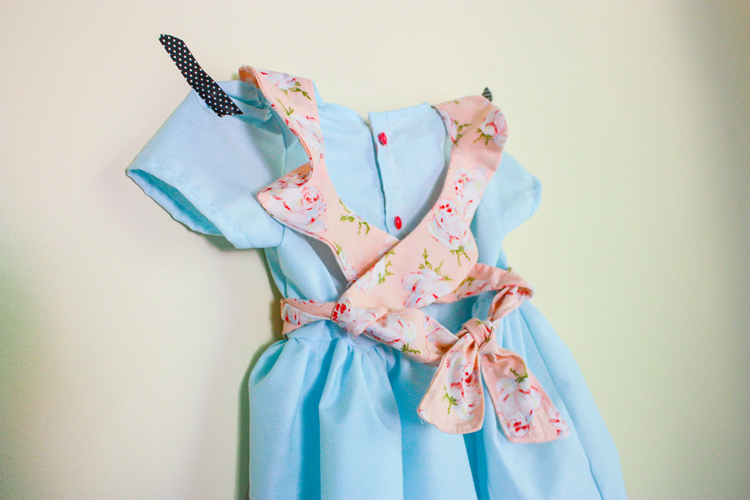 The costume is fun, and I even think this dress and pinafore is adorable on it's own when it's not Halloween. Heaven help me if I ever have a girl. I won't be able to stop sewing!
You might also like