Soooo, remember in my last post where I said I had one more costume to share for the year? I lied. I have two. This next one to share today, and another (which was actually one of my absolute favorites and I can't believe I forgot about it!!) tomorrow. That will conclude my contribution to costuming the masses:)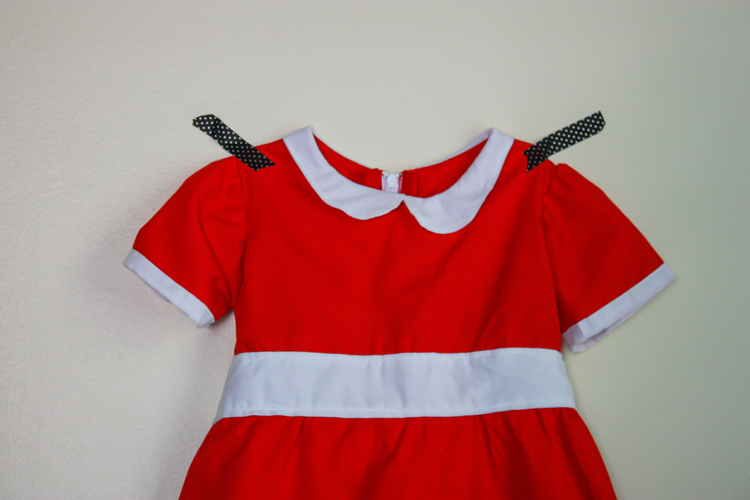 I've made this Little Orphan Annie dress a couple times before, and I still just love it. It's such a classic and iconic little red dress. I really love to make my costumes authentic-looking, and it was only after making my first Annie dress that I realized in the original movie, Annie has a pointed collar, not the cute peter pan that I added. Ah, well, the peter pan is pretty dang cute.
To make this dress, I use a basic bodice block drafted to measurements (though if I had a little girl, I'd probably just rub a pattern off one of her shirts) then I add a gently gathered a-line skirt. The waistband isn't cut into the pattern, I just topstitched it over the waist seam, leaving the back free so it can cinch the waist, if needed. I add the collar between the outer and lining fabrics, so I have a nice, clean interior. The sleeves are trimmed with homemade bias tape.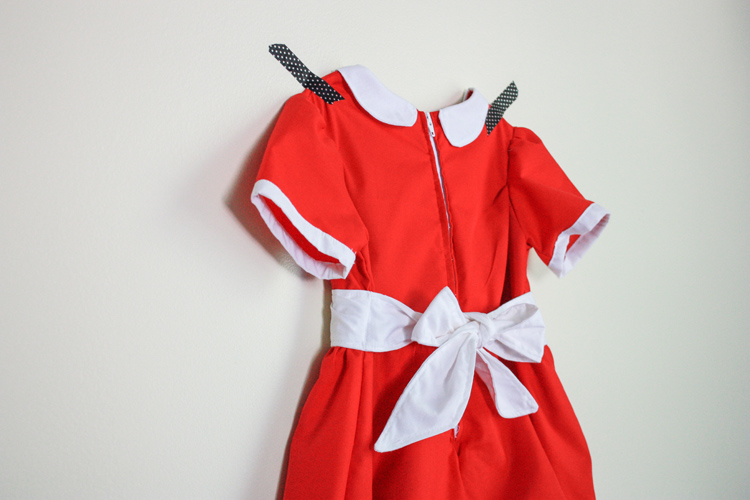 So, there you have it! My second to last Halloween costume of the year. Also a perfect red and white dress to inspire love of country on this election day! Had I planned better, I'd have added a little blue in there somewhere. Ah well. I am getting ready to go stand in a long, cold line and cast my vote. I hope you all get a chance to do the same!
Also, three of my wonderful pattern testers for the Big Bow Dress posted today about their experience. Testing was a really important part of the process for me, and I was lucky to get some fantastic feedback from all of my testers. Miriam made each of her two darling girls polka-dot versions. You can see a larger and smaller size on her blog Madmim. Kristin's chambray version is one of the best I've ever seen (or made). You can check it out at her blog Skirt As Top. Shannon's daughter Gigi loved her dress so much she wouldn't stop twirling long enough to get a picture! That's a sign of a satisfied little girl, I'd say. Visit her blog Googiemama to see the cute heart fabric she used, and the happy girl herself.
Check in tomorrow for the last. I mean it. The last Halloween costume of the year.
You might also like