I love having fresh flowers around the house. I used to buy one grocery store bouquet each week and arrange it into one big vase for the kitchen table. Lately, I've really loved creating mini-arrangements for all around the house! On Mondays, when I do my regular grocery shopping trip to Trader Joe's, I grab a couple inexpensive bouquets then use a three-step process to create beautiful, designer looking arrangements at a fraction of the cost. Not only am I saving money, but I also really love the creative exercise of organizing the flowers in interesting and unique ways. Let me share my easy process, so you can enjoy fresh blooms too!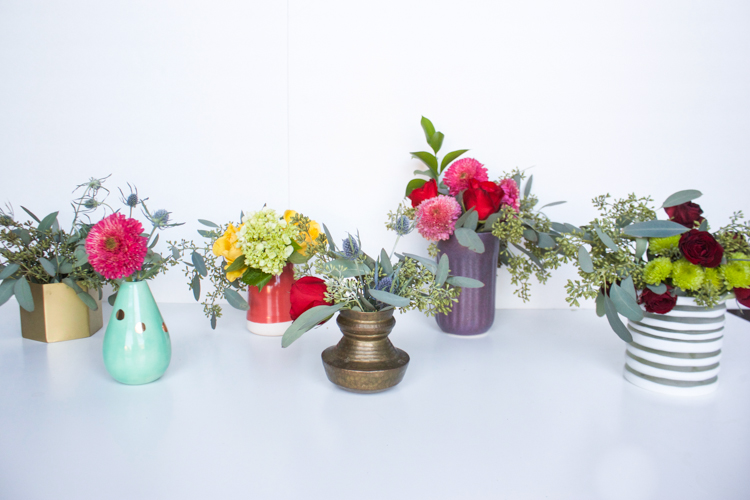 I choose the bouquets based on what looks the most fresh, and which colors I want to highlight in my home that week. I also love if a bouquet has some sort of interesting or different variety, like these purple thistle, for an added design element. I buy TWO mixed bouquets and ONE bouquet of greenery only, such as eucalyptus or lemon leaves. The added greenery is really important to making a grocery store bouquet feel designer.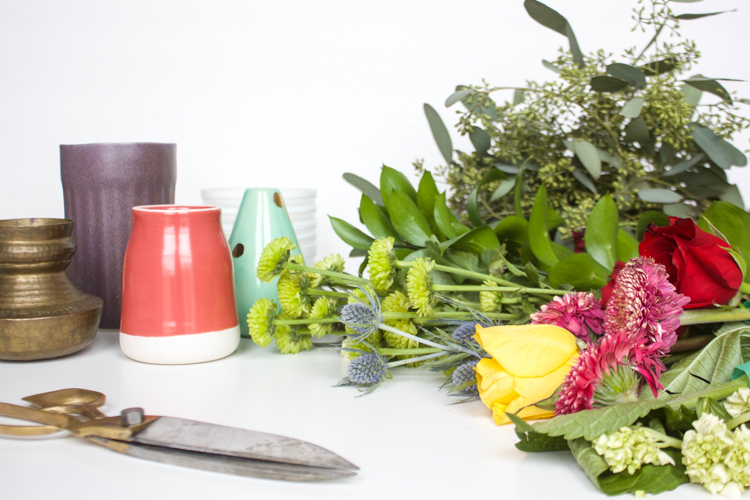 Back at home I gather all of my small vases. I've collected from small shops in town, bought favorite ceramics at art festivals and online, and pull together some vintage and hand-me-down pieces as well. If you don't have any small vases, you can use mugs, drinking glasses, or mason jars instead.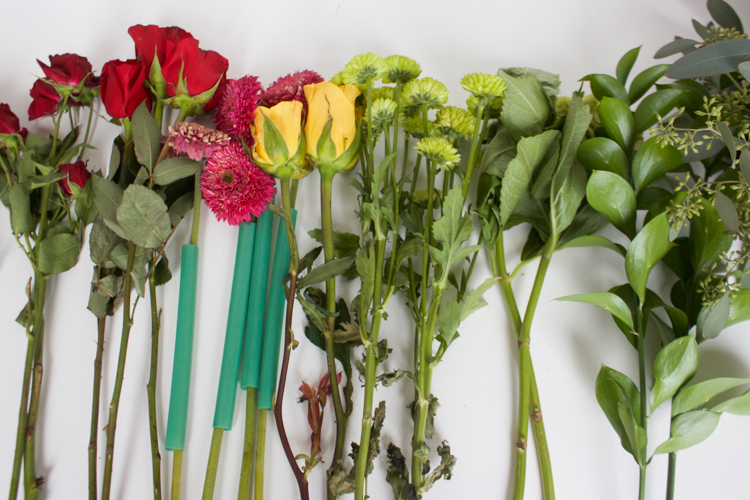 Before arranging, fill each vase with cold water with a bit of the flower food mixed in. Then start separating your bouquets into type of flower.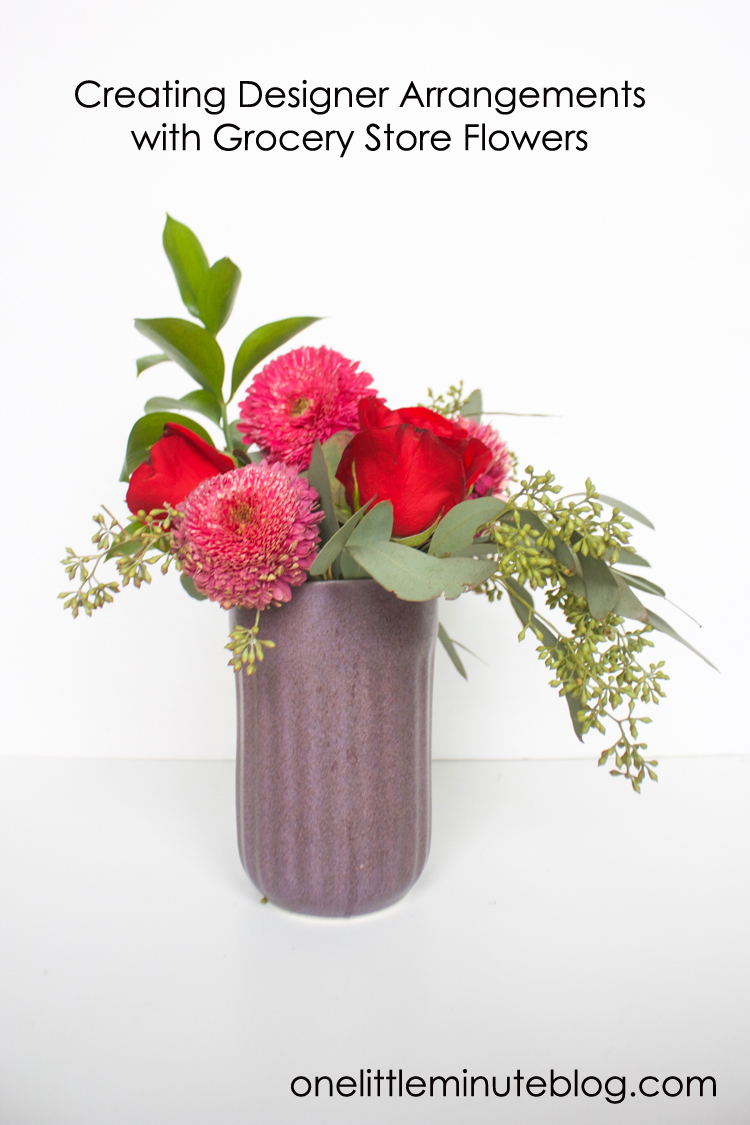 Once you have the flowers and greens all separated, you are ready to begin designing your arrangements with three easy steps:
Step One: Pick one flower as a feature flower and cut the stem on an angle to just peek over the edge of the vase. For a smaller vase, you may only need one or two. For a more medium sized vase, maybe three or four will work best. You want this type of flower to take up about one third of the visual space of the arrangement.
Step Two: Pick a second, complimentary flower and cut it to fit nestled with the feature flower. This will be your accent flower to give the design some depth.
Step Three: Fill in around the blooms with greenery, letting some drape asymmetrically from one side. The asymmetry does wonders to make an arrangement look organic and naturally beautiful, which is my flower aesthetic.
You're done! If you have more flowers on hand, you can add a third flower to the arrangement, but be careful to not overcrowd. Also, if you're feeling inspired, you could clip some branches or berries from around the neighborhood to add some unexpected elements.
Here are a the arrangements that I made with my 3 bouquets ($2.99 each) from last week: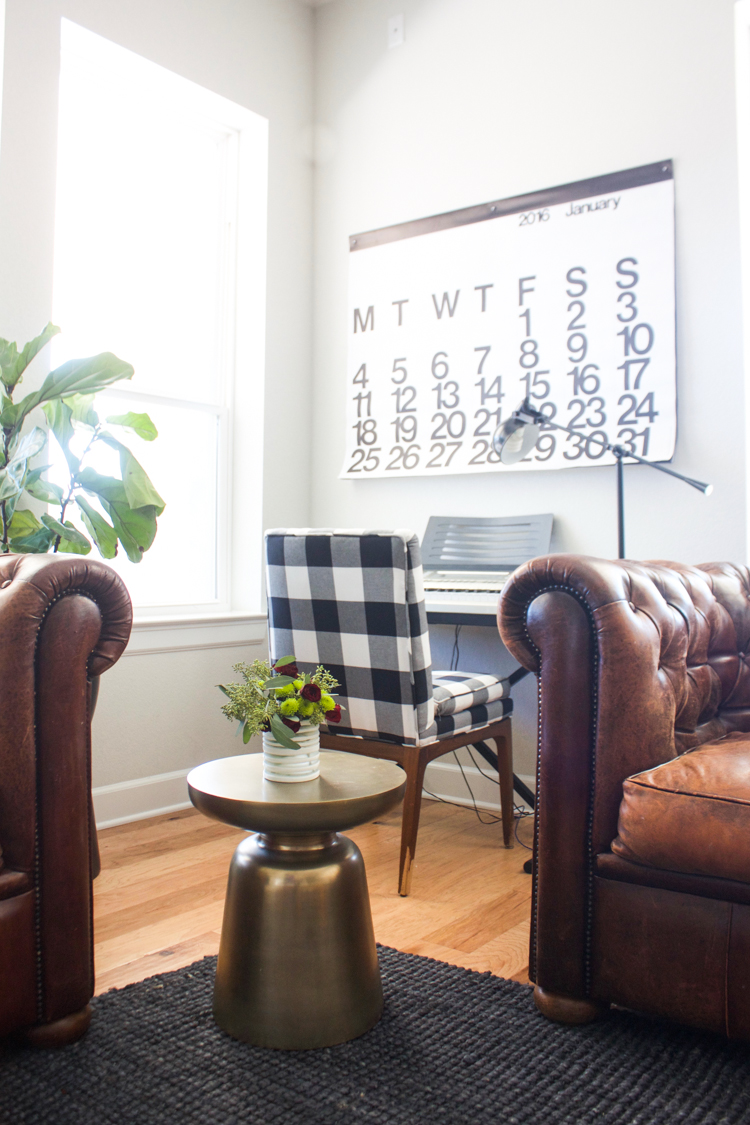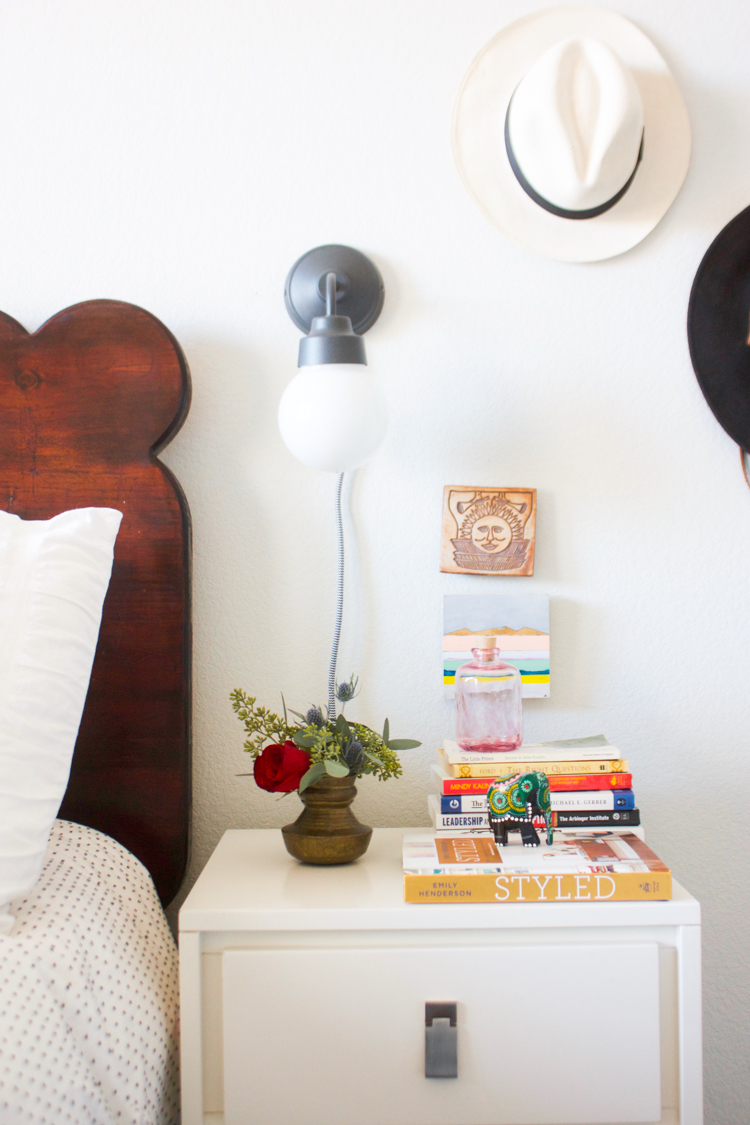 My grandfather brought this brass milk container home from his time living in Bombay years and years ago. When he gave me a set of two, I had no idea what I would do with them. It turns out they make the most wonderful container for our bedside arrangements. There is something really luxe feeling about fresh flowers at the bedside, and I love it. (Dave gets an arrangement each week, too, and I try to make his masculine with mostly greens and branches.)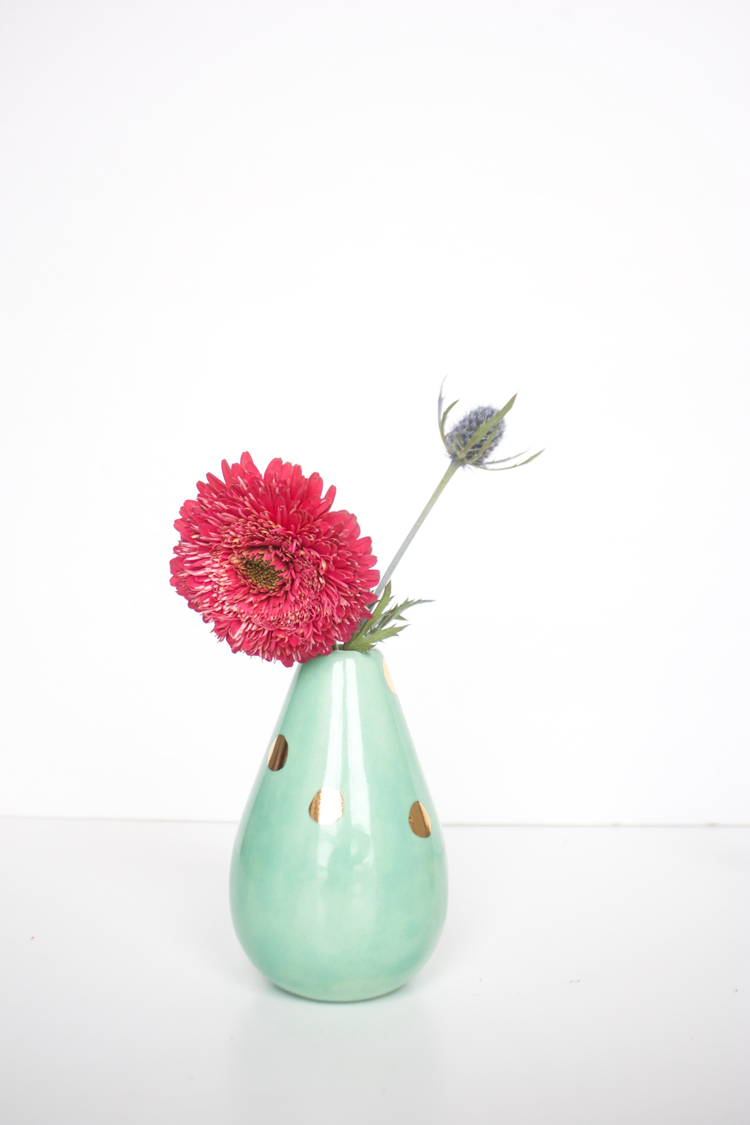 This cute bud vase is so tiny I skip the greenery and just use one feature flower and one interesting element to set it off. The gorgeous vase is from The Object Enthusiast and is a favorite.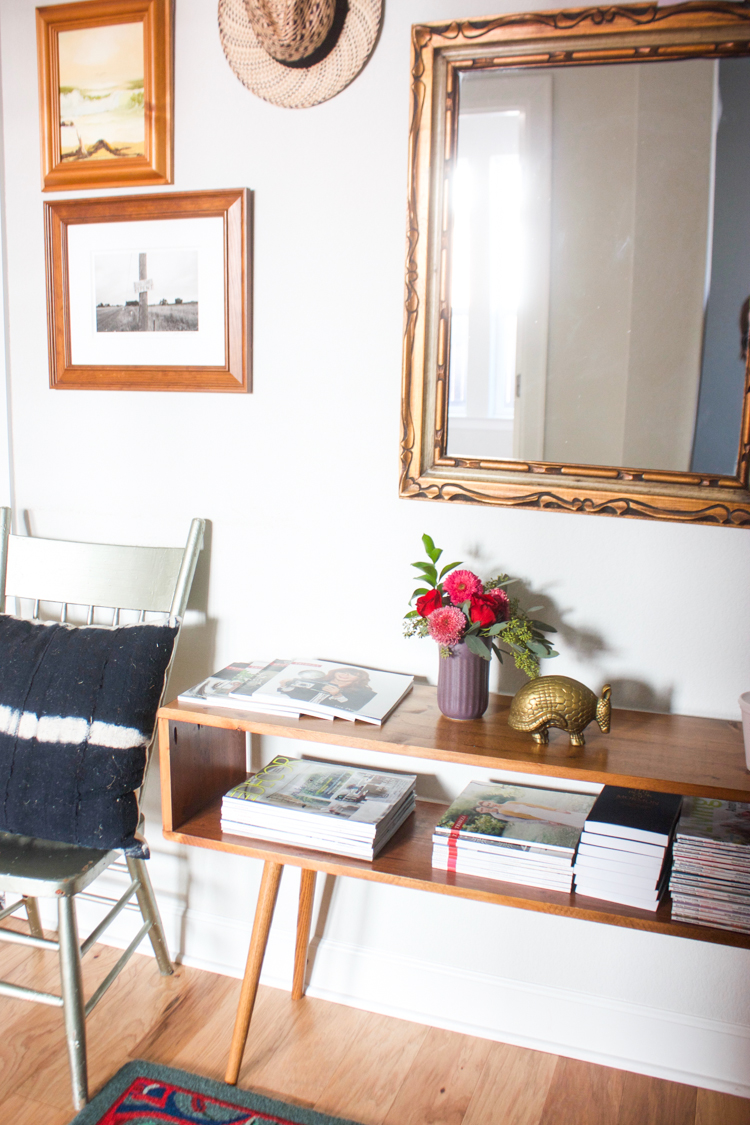 Fresh flowers in the entry sets the tone for the whole house! Even when the rest of the rooms are disastrously messy, this little hallway looks put together and intentional.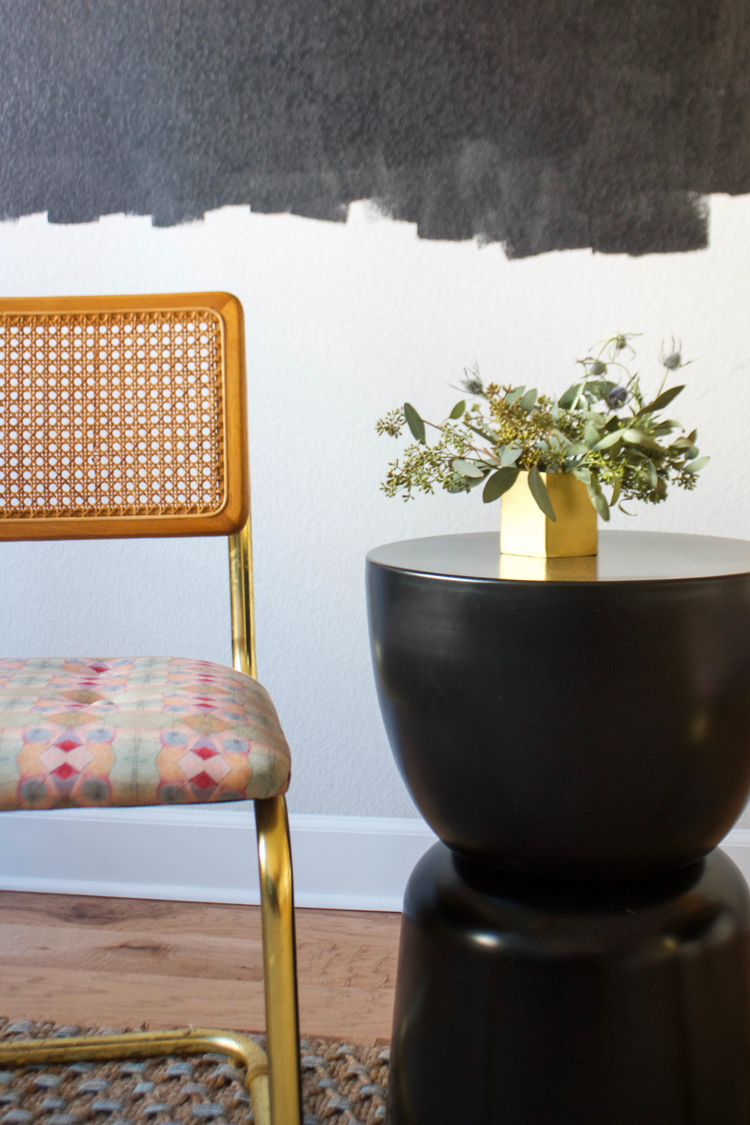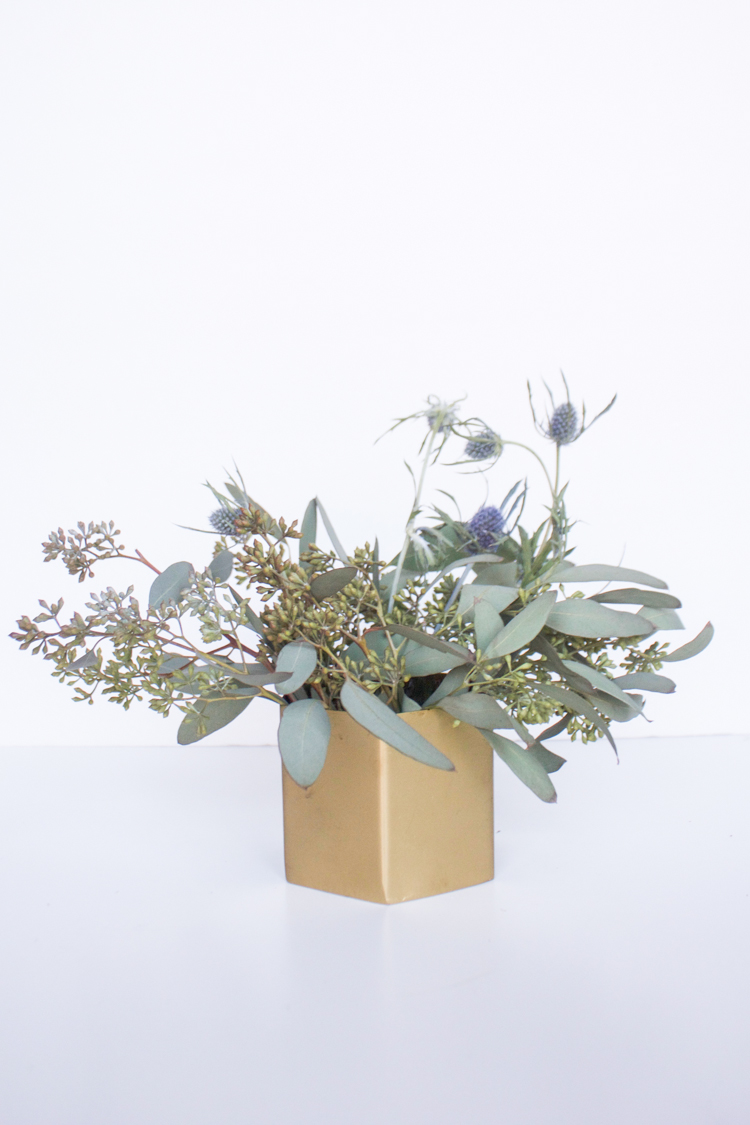 When I run out of flowers, I put the remaining greenery out as a minimal arrangement. This one with a little bit of extra thistle is pretty and wild looking.
Give it a go! Have fun, and enjoy the beauty of affordable fresh flowers regularly in your home!
You might also like