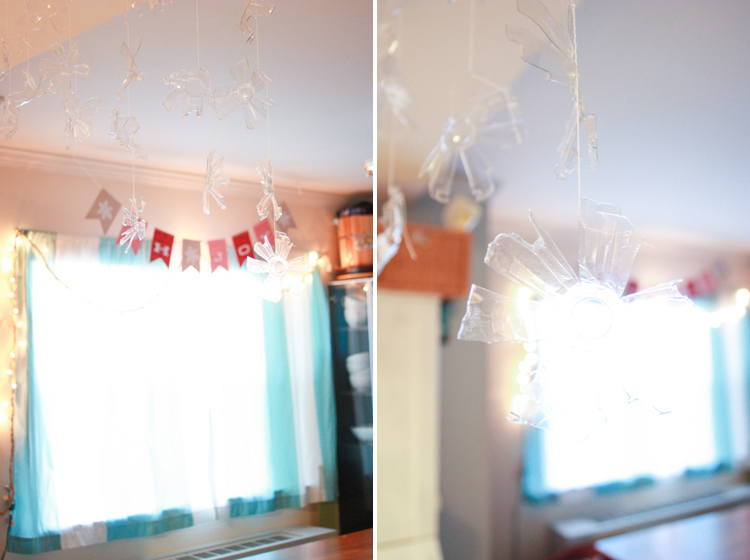 Want to make the easiest Holiday/Winter decoration ever? Enjoy some scrambled eggs for breakfast (we have them every day at Milo's request), then cut the carton into snowflakes! Done and done.
I just happened to have a clear plastic egg carton from the grocery (I usually buy my eggs at Costc0, but was in a pinch and got some fancy ones). This project would work equally well with a cardboard carton, I'm sure. You could even spray paint them silver when you're finished! The actual process is simple:
1. cut out each egg dimple (you don't need to be particularly neat, the imperfection adds character)
2. snip six straight lines from the upper edge to the edge of the bottom circle of the dimple
3. flatten each snowflake out
4. stitch or glue them into strands for hanging
I did the stitching with my machine, but hand sewing or hot glue are both good alternatives.
Following Dave's advice, I hung them from the ceiling between the dining area and the living/office area, cutting each strand to a length just over our heads for easy walking. They have brought instant festivity inside, and everyone who stops by has to take a second look at our "snow!"
This was so easy, we'll do it every year!
What are your favorite Holiday crafts? Are you all decorated for Christmas?!
You might also like