About three years ago I picked up a couple succulents at Trader Joe's on a whim. They were coming into trend, I had just moved to the desert of Austin, TX, and I was excited to finally have a house with big windows where I could try to grow something green. Since then, houseplants have become one of my favorite decorations, and keeping them healthy and beautiful has been a favorite new hobby. I have people ask me all the time about how to take care of houseplants, so I'm excited to share a few tips for caring for houseplants today!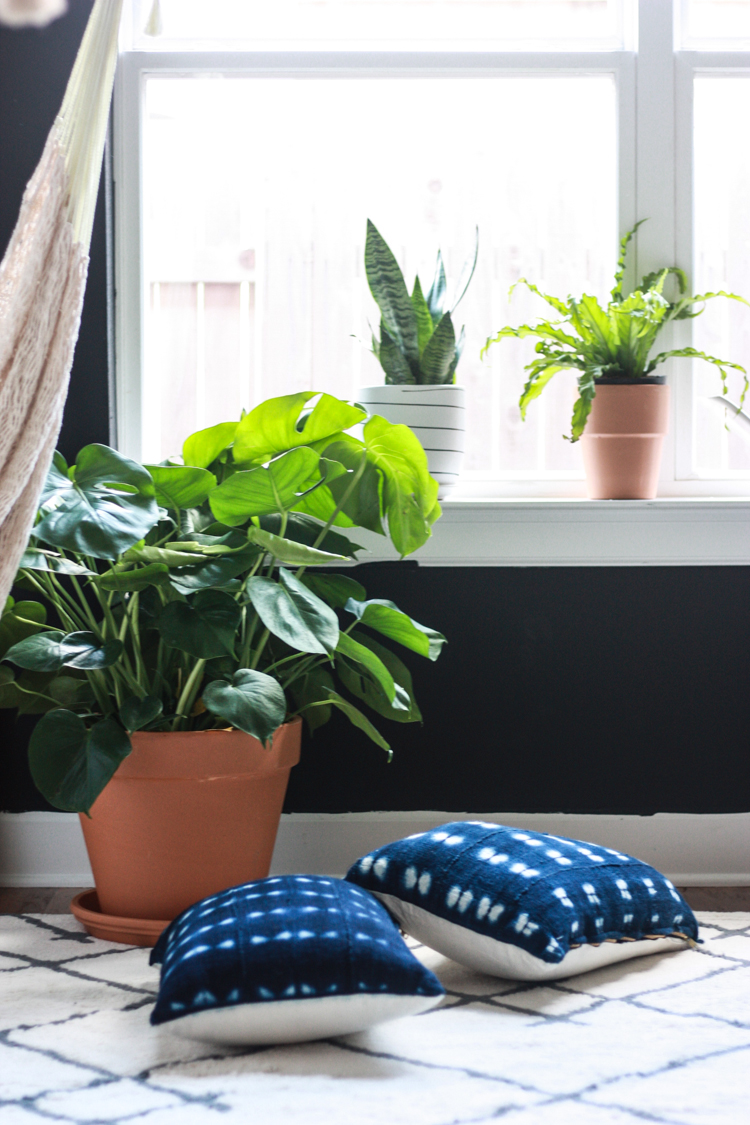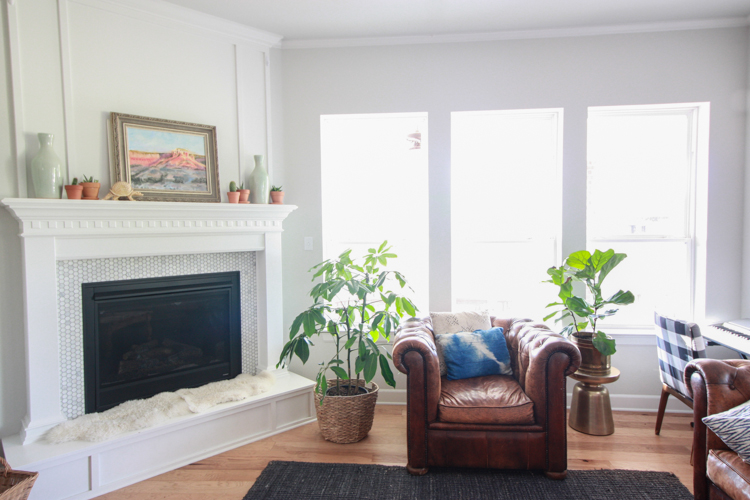 This post is also my first in a series in partnership with At Home! I'm excited to have joined the At Home Inspiration Team, and will be sharing some monthly ideas for how I incorporate some of their vast inventory of home and patio items into my home. The first time I experienced an At Home Store was here in Texas, and I was totally blown away by the huge selection of patio furniture, planter pots, baskets and rugs– and that was only the first third of the store!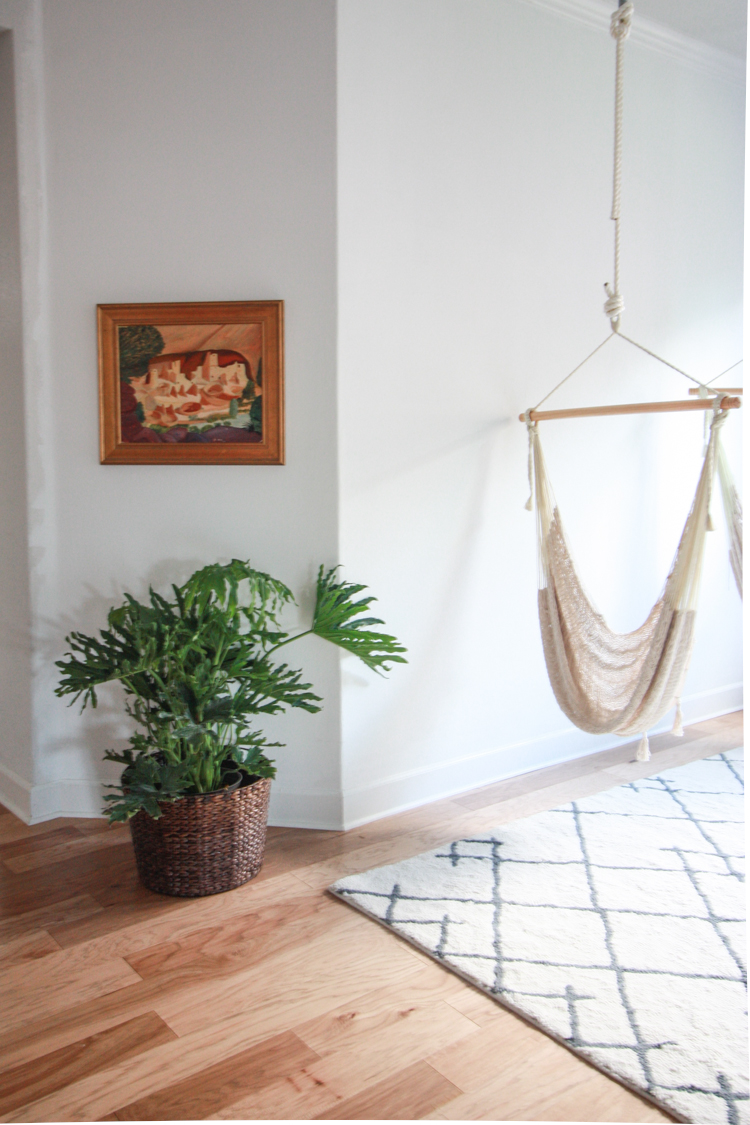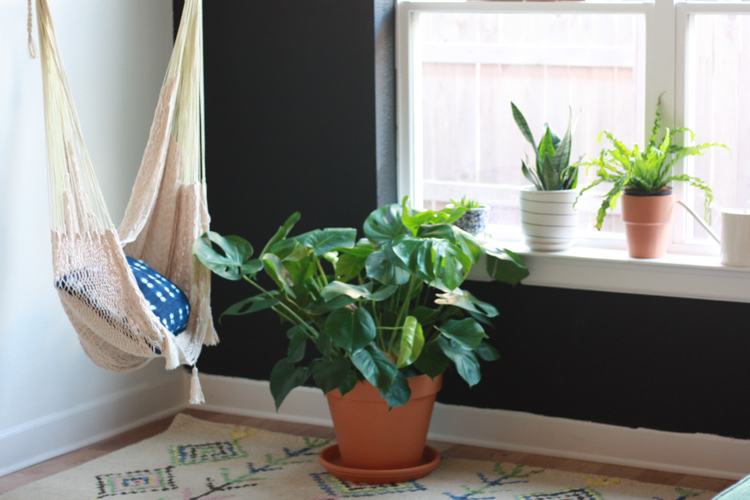 Summertime is the perfect time to start bringing the outside in, with some greenery indoors. It's also a perfect time to repot and fertilize plants that have been dormant during the winter. I chose an eclectic variety of planter pots and baskets from At Home for a general plant upgrade.
Some of my plants had been living in their plastic pots for months, and they all feel so much more finished as decor when they're intentionally potted. From basic, southwestern terra cotta (in every size and shape) to natural woven baskets, I keep my palate neutral and mix and match the styles and shapes to meet the needs of the rooms and the plant sizes. Read on for all of my houseplant tips!
When choosing a pot for a houseplant, it is important to make sure there is both drainage through the bottom and protection from drainage for the floors! The larger plants I have like the fiddle leaf ferns, and this trusty umbrella plant, are growing in their original plastic pots, then I lined the baskets with a thick plastic planter plate and a couple small rocks, or inverted cups before adding the plant. This way the excess water can run out of the pot, but the plant roots aren't sitting in that extra water. For the terra cotta pots, I've actually repotted the plants and set the terra cotta saucers beneath the drain hole. A few of the At Home planters have a built-in planter plate, which makes life really easy!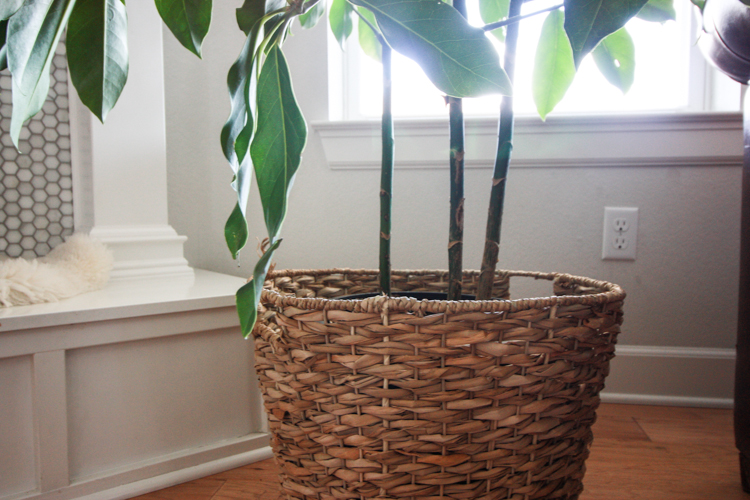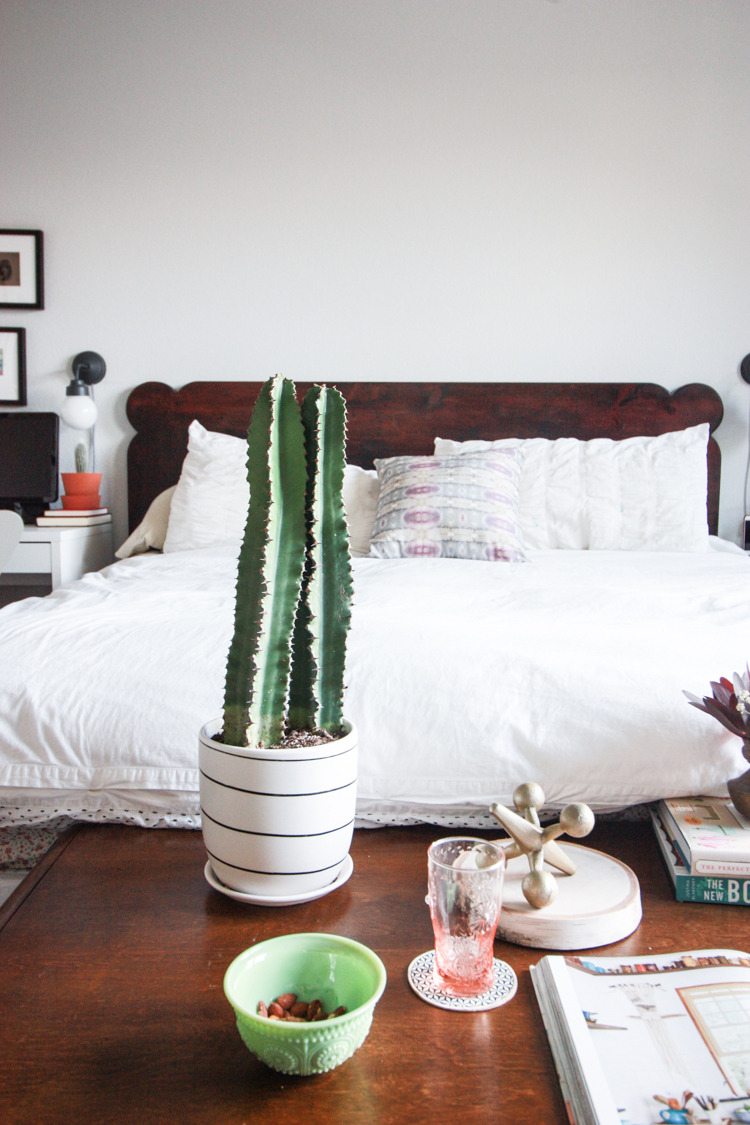 Now let me share some basic tips for caring for houseplants. I wrote these for my Modernize Home post a few months back, and wanted to share them here too!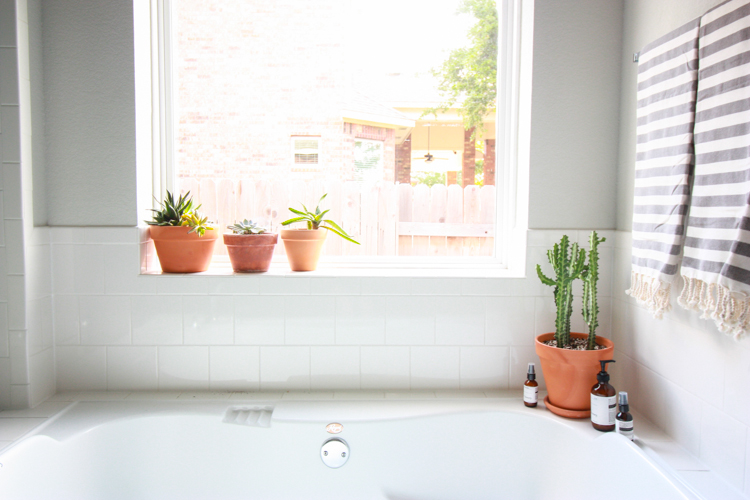 All plants need sunlight and water, just in varying quantities. No live plant will survive in a spot where it never sees the sun. So, make sure the spot you choose gets at least a little bit of filtered sunlight every day.
Cacti are the lowest maintenance, and some of the heartiest plants to grow. They require very little water (bi-weekly to monthly watering in the summer and not at all in the winter). Succulents are the next lowest maintenance, requiring similarly low levels of water, but maybe higher levels of sunlight. With both cacti and succulents, you'll kill them faster by over watering than under watering. Always err on the side of less water, and then if you see the plant start to wrinkle or look dry, add a little bit.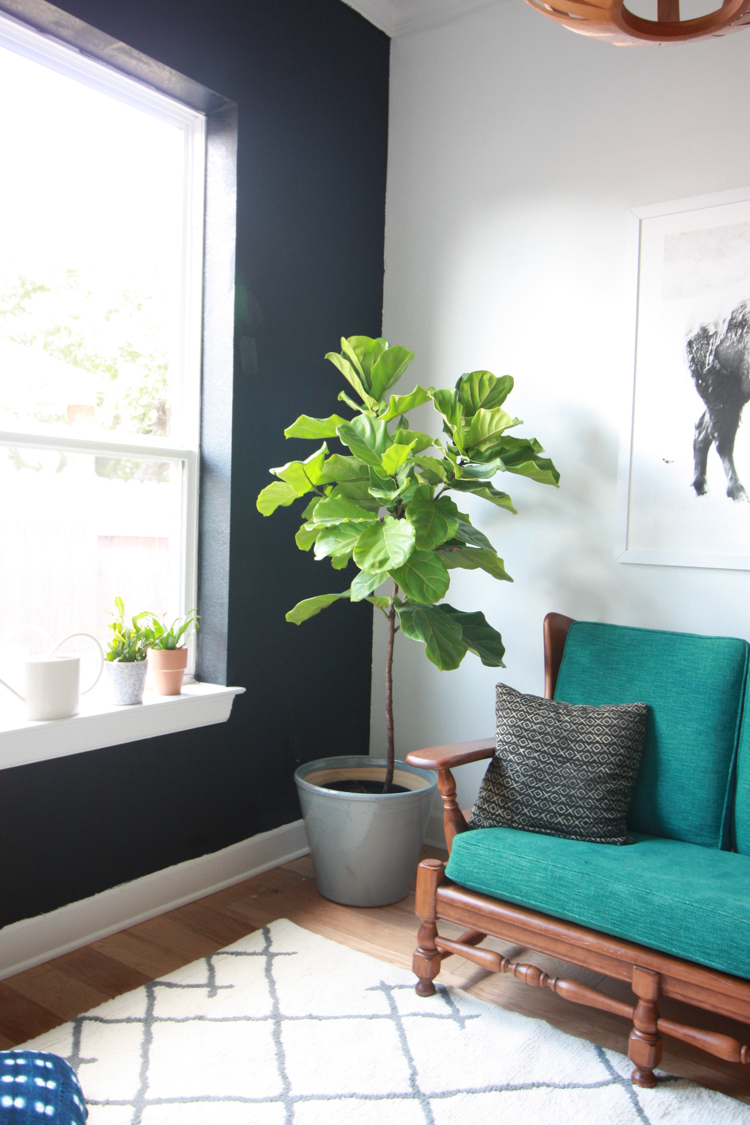 Tropicals require regular water and lots of light. I water about once to twice weekly on some of my bigger plants, and they seem more able to tolerate damp soil. Some even prefer it. Fiddle leaf figs want to be watered well, then allowed to dry out a bit in between waterings. Constantly damp soil on a fiddle leaf will cause leaf dropping.
I judge the health of my plants by new growth. With both succulents and other house plants, if they are healthy, they'll be growing! New leaves on tropicals, and bright green new growth on cactus tell me that the plant feels well enough to be growing.
Brown tips on leaves mean the plant is dry and needs more frequent watering, while yellowing leaves mean the plant is being over hydrated and you need to let the soil dry out a bit more before watering again.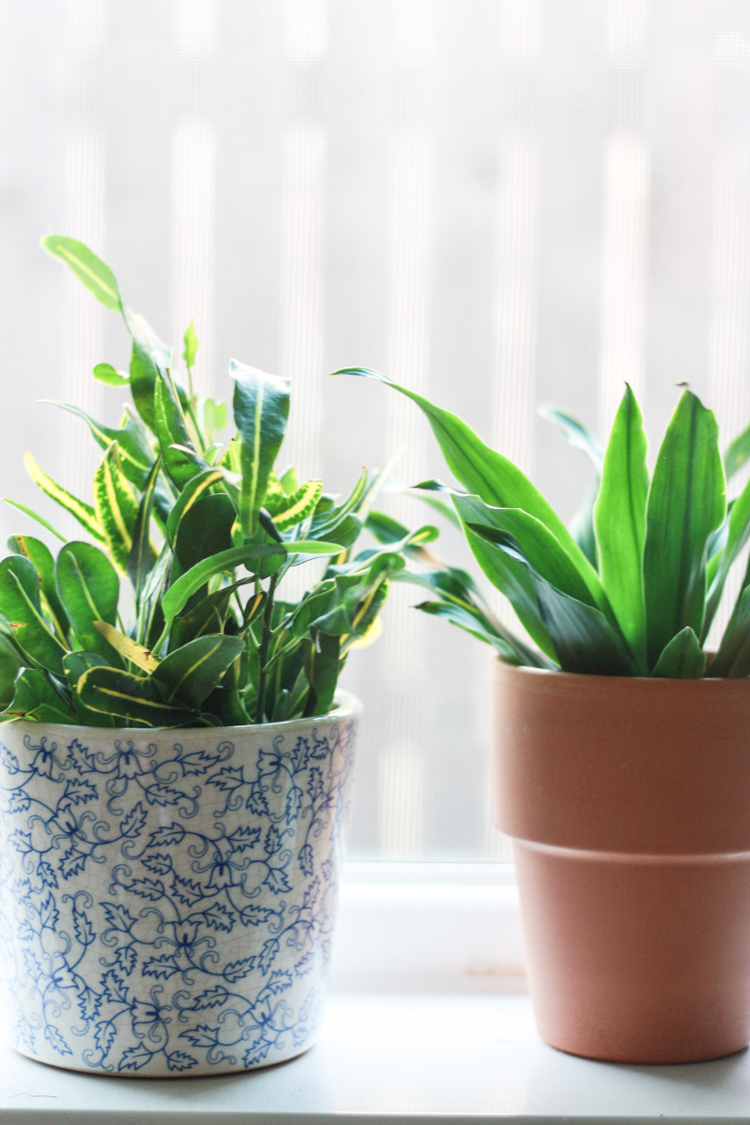 Once in a while, taking all the plants outside for repotting, adding fresh fertilizer (I use this), or simply for some outside air, even for just an hour or so, feels like a good practice. Of course, the outside temperature should be moderate, so as not to freeze or shock the plants, but I feel like mine enjoy a little field trip to the porch at least once a year.
Take it slow, and let yourself grow a green thumb as you learn from experience. I started with five small succulents bought on a whim at the grocery store two years  ago, and I now have over thirty-five beautiful plants scattered throughout my house. All literally adding life to each of my rooms.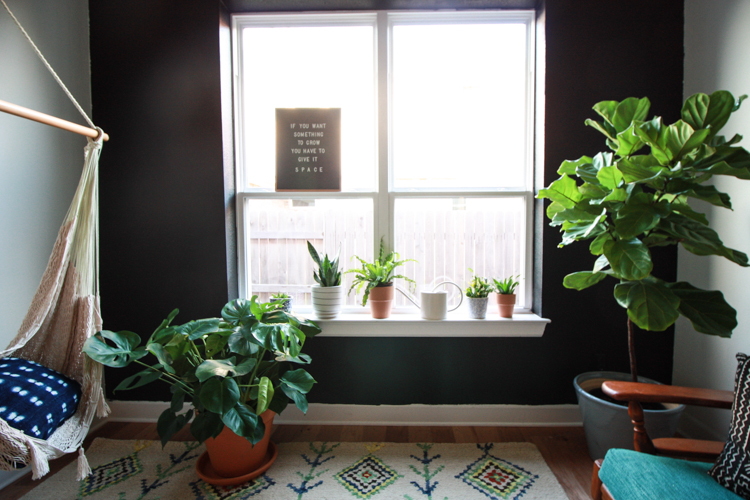 Dave used to joke with me about our home turning into a jungle, but he recently told me that he loves all of the nature we've brought inside. During the heat of the day, it's fun to lounge on our indoor hammock in the (newly redesigned!) patio room (full reveal soon!) and feel like we're hanging on the porch. I hope you'll give taking care of some houseplants a try! Even one small cactus will brighten your day, every day!
Created in partnership with At Home.