Have you seen the Kids Inspiration & Design Series (K.I.D.S) over at Me Sew Crazy? Cute Jessica came up with the idea to begin creating actual, wearable clothing from the drawings her girls were making. She invited a bunch of sewing friends to play along, creating something from one of their own kids' drawings! The first round of the series was awesome, and I loved seeing what the kids came up with, and how the mom's interpreted them into reality. This week kicks off the second round of the challenge, and I'm so excited to participate!
Today at Me Sew Crazy you can read the (sort of funny) story behind how I came to this idea for a Paint-Your-Own Artist Tee. It was so fun, I thought I'd share the details of the DIY so you and your kids can make some, too!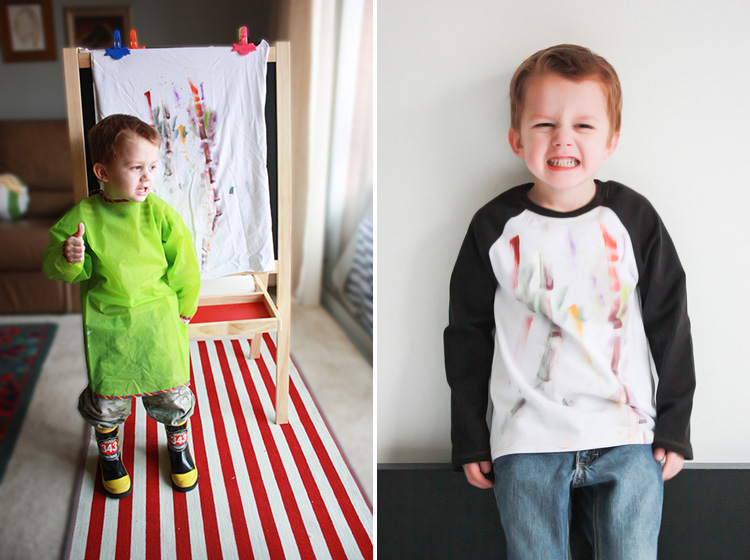 This project could be done with a ready-made tee shirt, if you're not a seamstress, but I had the boys paint on totally blank canvases: white cotton jersey. If you choose to use an already made tee-shirt, make sure you tape off the parts you'd like to remain tape-free (like the sleeves) unless you're going for an all-over paint look.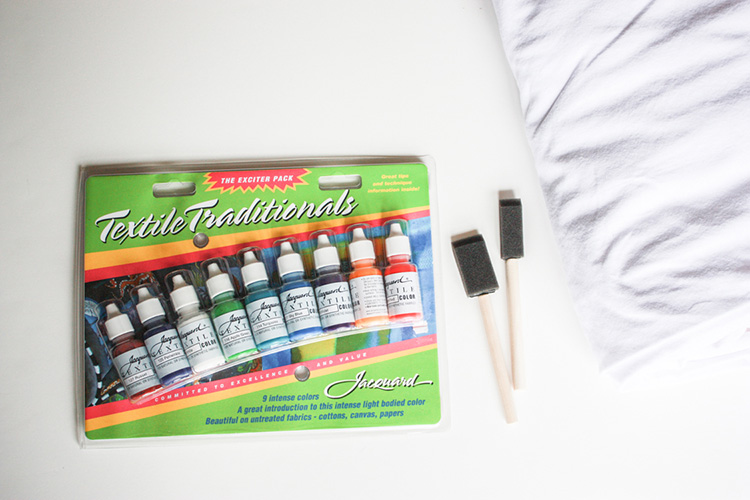 The paints we used are these really amazing Jacquard Textile Traditionals. They are like a paint/dye hybrid because they are thick enough to paint on with a brush and stay in one place, but they are lightweight enough they don't change the texture of the fabric at all! Regular fabric paint ends up sort of stiff, but using these textile paints, the tee shirts remained soft and comfy. In addition to the fabric and paints, we just used sponge brushes.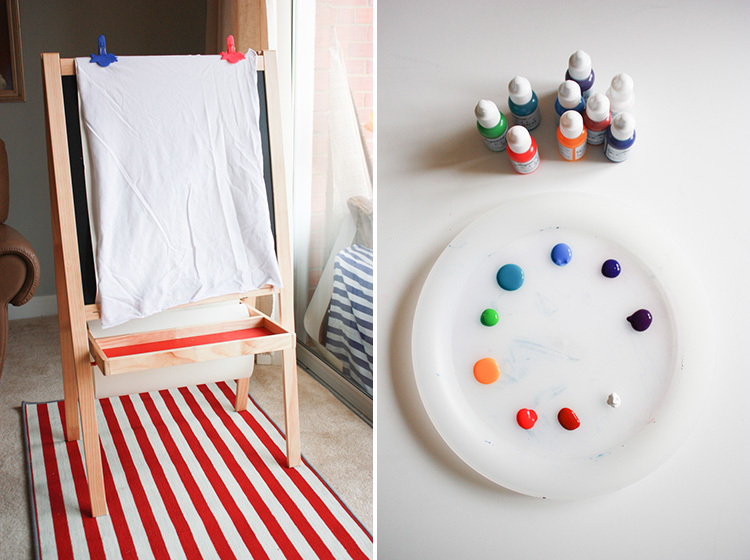 It helped to have this great easel for the painting, but laying the fabric out on a table would work well enough. I squirted a little dollop of each color of paint onto a plastic plate  for each of the boys, suited them up in their painting smocks, and let them go at it!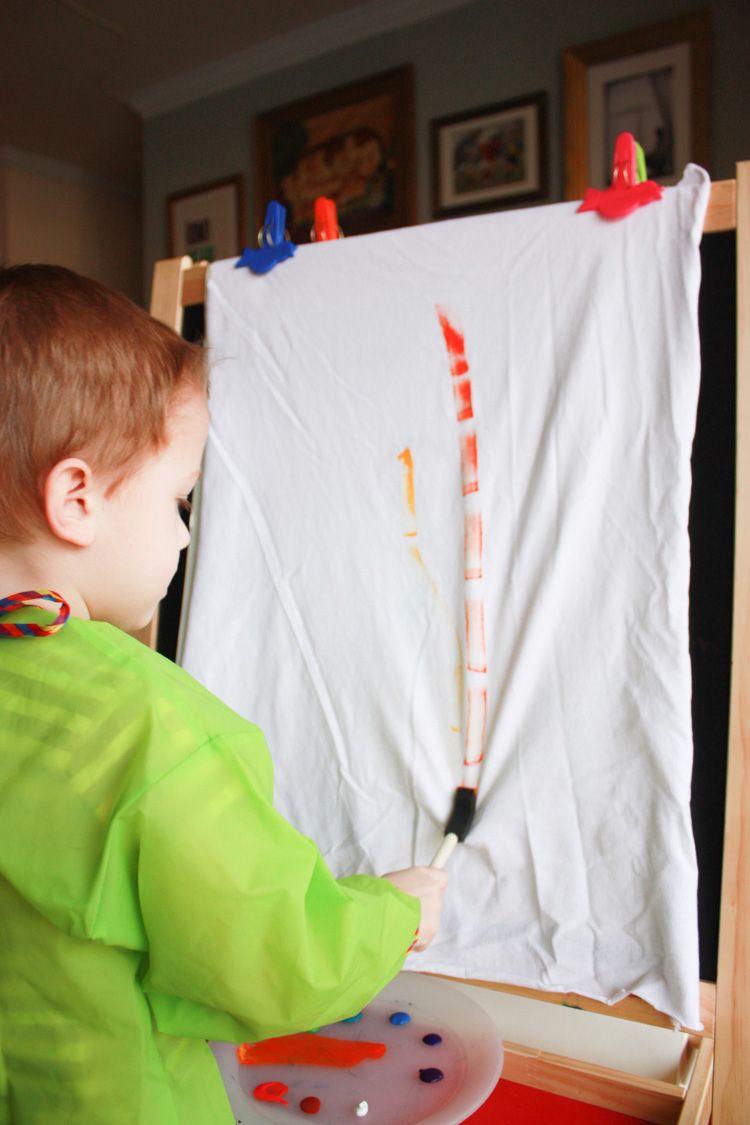 I'm so excited about how much Milo likes to paint. He has always been so busy, this is one of the first tactile activities he will engage in by himself for more than a couple seconds. He is fascinated watching the colors blend together, and did such a good job making his painting!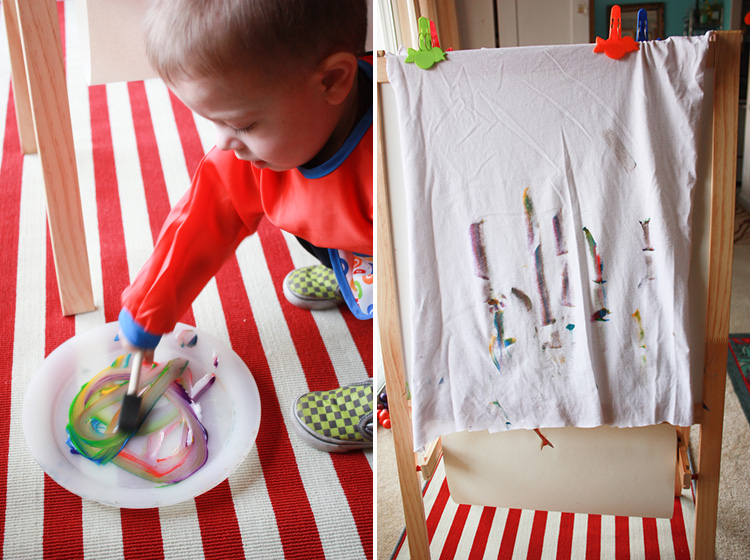 Haha, oh Eliot. He loves getting in on the painting action, too! After his whole plate of paints was mixed together, some of it made it up onto his fabric and made some really awesome graduated color streaks. I couldn't have done it better.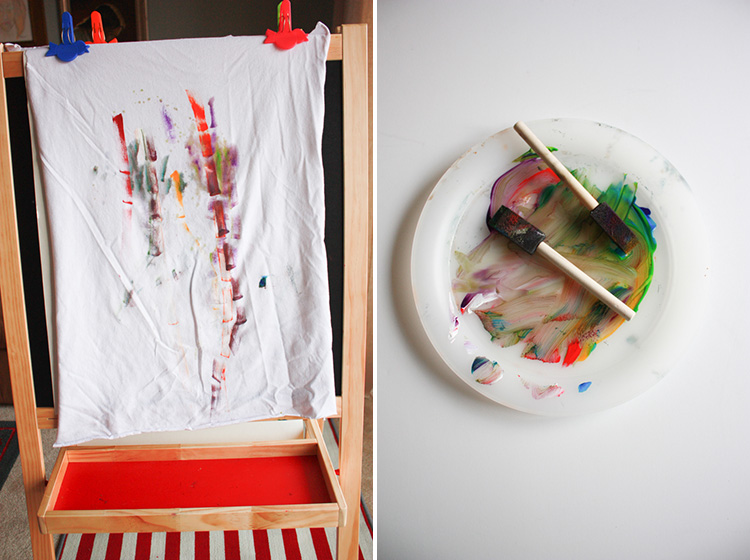 Once the boys were finished, we let the paint dry on the fabric and cleaned up. The whole painting piece of the activity took about 15 minutes, then we headed out to hit the gym and run some errands. Once back, we had lunch and I put Eliot down for his nap and settled Milo in for quiet time. By then the paint was dry and I was ready to sew during naptime. Perfect. First, I heat set the colors by ironing on high on the back side of the designs, then I pulled out my new favorite long-sleeved boy pattern and got to work.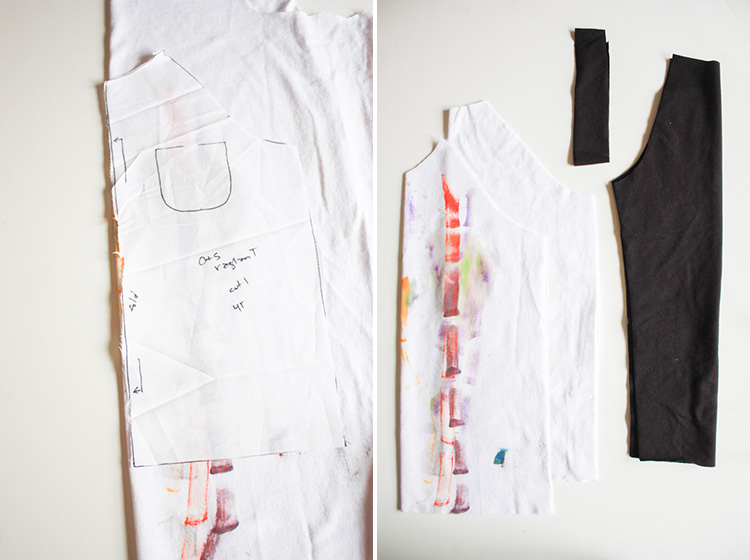 I folded the shirt in half on the grain, making sure to include as much of the painting on the front as possible, then lined up the pattern piece. I cut the back of the tee from unpainted cotton jersey, and decided (after much deliberation) on black for the sleeves and neckband because it felt artistic to me. I used yellow thread on my serger for fun contrast stitching.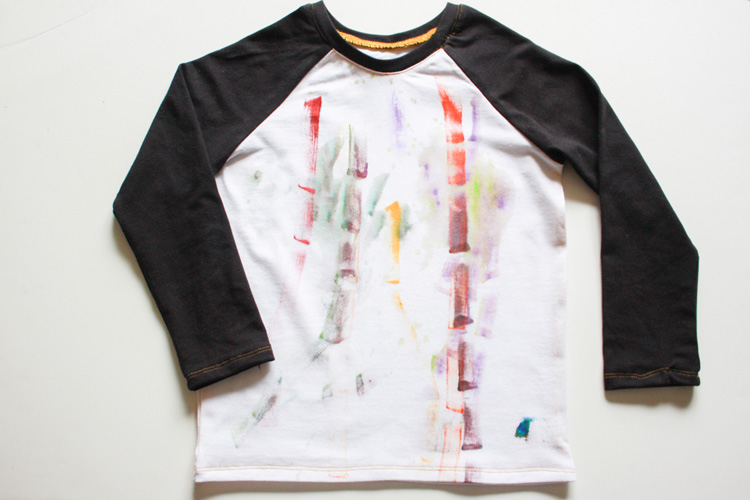 The tees turned out better than I imagined they would. I love them! Luckily, the boys love them, too. Milo wore his to pre-school the day after I finished them and as soon as he saw his teacher in the car line he told her "Look at my shirt! I painted it myself!" It was pretty awesome to be able to encourage his creativity with this simple tee shirt.
Eliot seems to like his, too, although he's not quite old enough to tell anyone so. One huge practical benefit of these shirts is that if they get a spill down the front (inevitable with my boys…especially Eliot) no one will know!
I had so much fun helping the boys paint-their-own artist tee shirts. I'm sure we'll do it again! (It would also make a really fun birthday party idea, if using ready-made tees.) Bringing an idea to life has always made me really happy, and including my cute kids in the process just makes it all the more fun. Thanks for such an inspiring series, Jessica!