Ahh, Lake Powell. It's a place unlike any other. My family has been going every summer (two or three times most years) since my childhood. I have more memories from vacation days spent here than anywhere else. Waterskiing on the early morning glassy water, stopping for ice cream at the marina store, sleeping out under the billions of stars, feeling my skin literally bake under the hot Arizona sun, late night board games, hiking on the redrock, dance parties on the houseboat roof, eating until I could burst…It's the best. This summer, we planned our trip to visit our families in Utah around a week in Lake Powell.
Taking our two young kids to the lake was not a small challenge. And having a total of seven small kids on the houseboat at once was even more dangerous. Even with all of my resolve to keep an eagle's eye on my boys, I had a near-miss with Milo:
We had been swimming with lifejackets, and headed back to the beach. Once he and his cousin Jane were safely on the sand, I took their jackets off for them to dig around. Realizing I should probably reapply sunscreen, I zipped into the houseboat to grab some. I was gone literally ten seconds. On my way back out the door to spray the kids down, I saw Jane headed towards me. She said, "Miranda, Milo's drowning." It took me one leap to get off the boat, onto the sand, and around the bow to where he had been playing. I dashed in to grab him at the same time I saw his little body just deep enough to be submerged, completely upright, eyes wide as they could be. He wasn't kicking or thrashing. He was standing on the bottom of the lake, waiting for me. As I pulled him out, I forced some water out of him with a Heimlich, then I crumbled to the sand, arms wrapped around his chest as he cried, breathing but terrified.  My mom helped us to the couch, where I helped Milo sip apple juice and snuggled tight with him as we watched Batman cartoons. After a little while he was back to happy and energetic, though he still talks about how he "went under the water."
It was the scariest moment I've ever experienced as a mother, and probably in my life as a whole. For days I couldn't close my eyes without seeing him under the water, and thinking about how a few more seconds could have changed my life forever. We were so lucky that it served as a wake-up call to be more careful.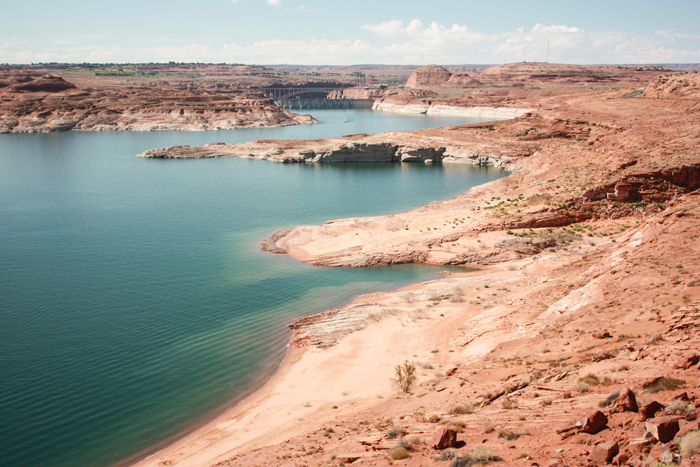 Other than that scare, we thoroughly enjoyed our time at the lake. Having the kids with us changed the trip so much. We did a lot more playing in the sand and swimming than hiking and waterskiing, though I did get to ski a couple times. It was so fun to hang out with my family. My three sisters were all there, and one of my two brothers made it as well. The weather was beautiful, and the food spectacular. We built a 75 foot water slide with plastic sheeting and duct tape, which was a huge hit. Milo discovered Legos, our new favorite toy. My mom busted out the drill gun to make holes in sea shells so the kids could make jewelry! I got a beginning fly fishing lesson from my expert brother-in-law, and can't wait for a chance to try it again. We ate lots of ice cream and sang karaoke. Basically, it felt like summer.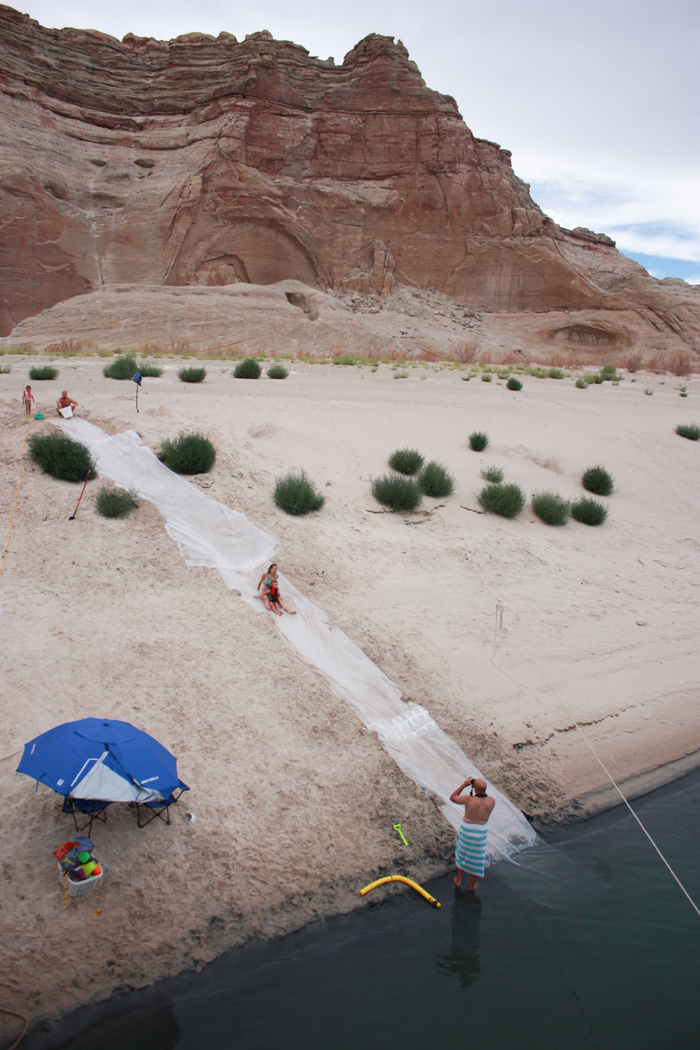 As we head into the weekend, I'm going to be dreaming of Lake Powell. Milo starts pre-school on Tuesday, so it really is the last weekend of the summer for us! Maybe I'll even take the boys to the beach…