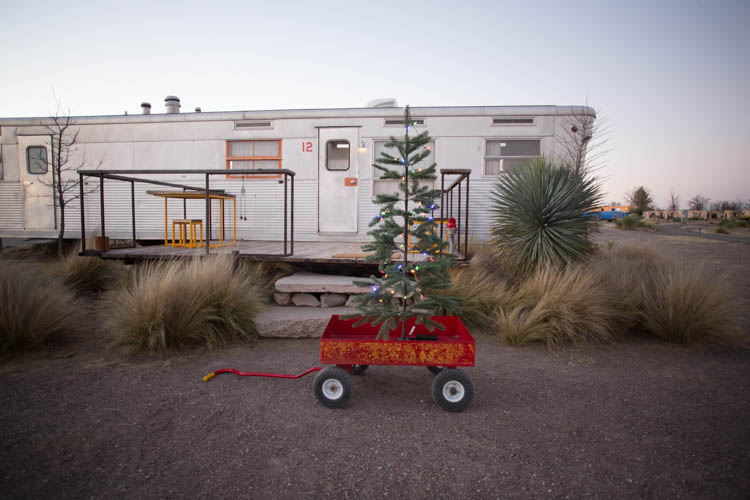 I've been thinking a lot about the upcoming holidays, and how we will approach them with our More Than Enough Stuff Challenge of not buying non consumable goods this year. Beyond the specifics of this experiment, I think more and more people are hoping for a meaningful, magical, minimal Christmas without all of the stuff, expense, overwhelm, distraction, and general discontent that can come with such high commercial expectations set by…well, everyone.
Have you ever sat and watched kids open gifts on Christmas morning, and they take one look, toss the item, and ask for more? That whole more more more experience takes away so much from the ability to process, enjoy, and feel grateful for receiving something. It feeds the feeling of discontent, and there is nothing more sad than kids sitting surrounded by their piles of gifts, feeling bad for themselves.
As I consider how we have always approached Christmas, I realize we have taken a minimal approach, even before we knew it. When Dave and I were married, we made a point to discuss how we wanted to handle the Holidays, knowing we had come from quite different backgrounds and had different family traditions. We talked about which Christmases had been our most memorable as kids, and what we felt were the most important pieces to include, and then made some guidelines for ourselves to make it easy every year.
Perhaps not surprisingly, our favorite Christmases were not the ones we received a pile of fancy presents. They were the years our parents had created unique experiences for us to enjoy. I remember one year opening up a tire on Christmas morning, while my sister opened a steering wheel, and a brother opened a helmet. We were a little confused until my Dad led us down to the driveway where there was a little red go-kart for our family to enjoy! We cruised that thing all over the neighborhood for a few years, taking turns driving and riding. It was so fun, thoughtful, and intentional.
Once Dave and I started having our own kids, I was even more grateful we had created some guidelines, because it is so so easy to be swept away by the glossy catalogues, trimmed-out shopping malls, and basically the messaging of the entire season that is "If you buy these things you will have a better, happier Christmas!" We have been able to make our family Christmas so meaningful and magical, even staying true to our Christmastime values of family, togetherness, gratitude, and celebration of Christ.
The guidelines we chose back 10 years ago are still the ones we use today, and this year we have the added excitement and challenge trying to do a completely handmade Christmas, or at least include something handmade with each gift we give.
So what are our guidelines, you ask? Let me share them with you.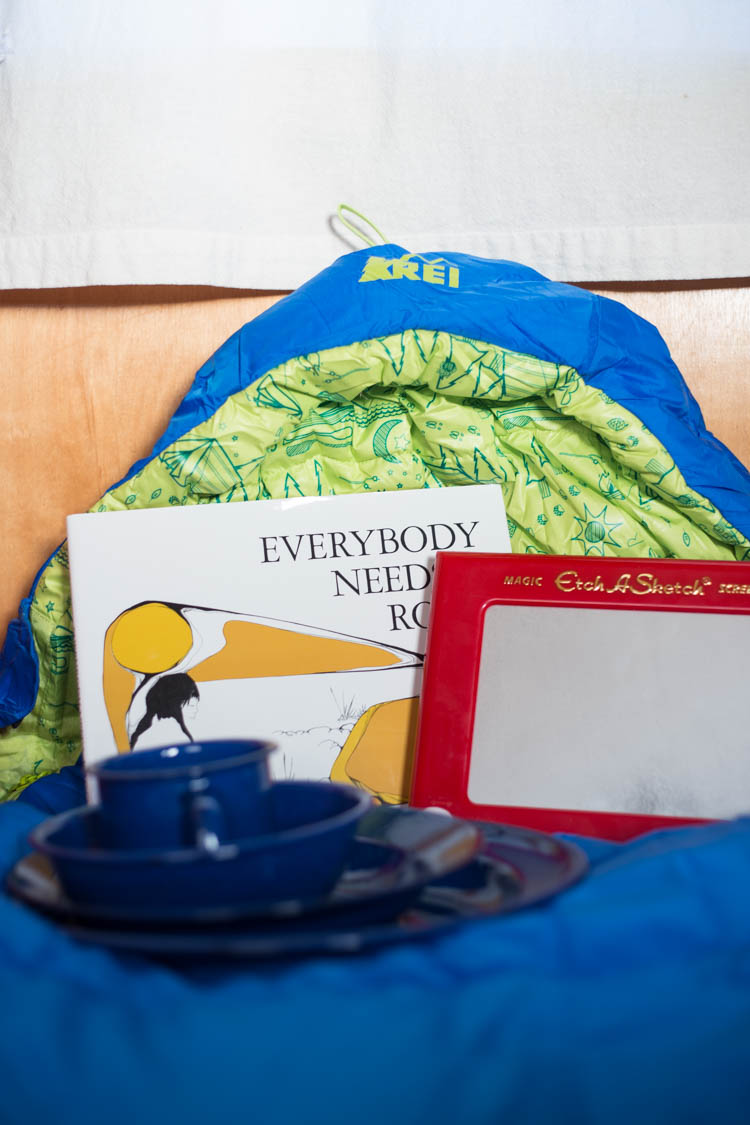 1   FAMILY THEME
Santa will give gifts along a family theme, and they will always be something we can do or experience together. We want to cultivate a feeling of love, recreation, and family enjoyment with the gifts that the kids wake up to on Christmas morning, rather than have them each get a toy that takes them off to play on their own.
Some examples of this from our family are: everyone getting a sleeping bag and headlamp, then we all went camping together; each of the kids getting a wooden swing to hang in the trees in our backyard where they could all play together; the whole family getting a Madsen Bucket Bike filled with a few Nerf Guns, so we could ride and play together.
Additional ideas we have for the future include: a year where everyone gets tennis rackets and lessons, a whole round of new bicycles or scooters (on a year they also need them) with matching Anderson Bike Gang tee shirts, or backpacks packed with snacks and travel goodies and an airplane ticket for a weekend family getaway.
This year, Santa is making special handmade art kits for each of the kids, adding in some of their favorite art supplies, and including a certificate for them to take an art class together. Santa is ALL ABOUT family togetherness.
2   GIFTS FOR DEVELOPMENT AND IMAGINATION
We as parents will choose one special gift that encourages growth and development. These gifts are usually more like what they would put on their Christmas lists. A new, cool Lego set, or a special baby in a stroller. The key here is choosing one thing and sticking with it. Kids, like adults, are easily overwhelmed by a deluge of STUFF and too many gifts ultimately leads to distraction and disappointment.
3   USEFUL STOCKING STUFFERS
We decided stockings will be filled with fun, useful things and treats. Dave grew up with an orange and a box of mini cereal in his stocking, mine were usually stuffed with jewelry, makeup, dvds, and maybe a camera. So, a little different expectations.
I love stockings as a way to give some fun, and useful things that the kids will like and also need. Cute socks, maybe new mittens or a beanie (if we need them), we still do the mini cereal for nostalgia, and also include one of those plastic candy canes with the candy inside because our kids think they're the most wonderful things. The last couple years I've also included a family-friendly DVD for us to watch on road trips or Friday movie nights. Simple, useful things.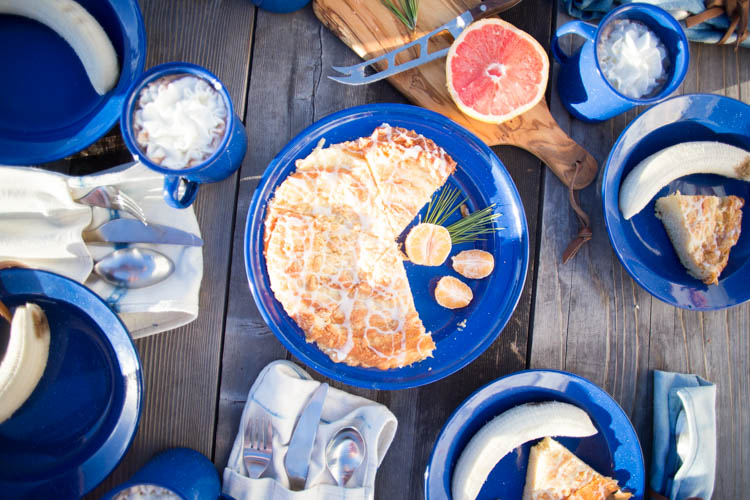 Now, if you come from a maximal Christmas background, the idea of only two or three gifts under the tree sounds ludacris. "You are depriving your kids of the experience of having their dreams come true on Christmas Morning", you might say.
Well, two things: If my kid's dreams stem from opening a bunch of random toys, I hope to adjust our family experience to reflect different values. Also, we want our kids to be celebrated and dotted on as much as the next people, and we decided way back before they came that the best day for the Royal Treatment is on THEIR BIRTHDAY! The day that is celebrated only because they were born.
This helps us stay focused on the real meaning behind Christmas, which is a birthday, just not one for my kids. Being able to keep the gifting simple and intentional has also helped us keep the focus on Christ, and why we celebrate this magical day at all!
With these simple guidelines, we've been able to navigate and create a magical, minimal Christmas mostly without feeling overwhelmed, overindulgent, or disappointed. We have been able to talk about and brainstorm gift ideas from the place of "What new family experiences would we like to invest in this year?" and are unaffected by the catalogues and sales of the season. We set ourselves up for success by choosing what matters most, and sticking to it.
All of this said, we aren't perfect with things all the time and if I see something totally random that I think would be especially wonderful for one of the kids I will get it, and think of a special way to include it. And, as the kids grow and change we'll have to manage expectations a more, I'm sure, as they will start to ask for iPhones and Xboxes instead of Star Wars Legos. We'll allow ourselves to grow and change along with them, hopefully maintaining the focus on family togetherness, experiences, simplicity, and the hope of the season.
I have a few gifting posts coming up next week, all that I tried to be thoughtful with about being intentional and creating experiences around our gift-giving this season. I hope you'll enjoy those too!
(All of the photos are from our Christmas 2016 in Marfa, Texas.)
SaveSave