I first heard about Marfa, TX when a local magazine featured a furniture maker whose studio is out here. In the middle of West Texas where the plains go on forever and the antelope literally roam. I didn't even know that there were antelope in Texas! Dave and I spend a couple days in Marfa for our anniversary this year. The sub-2000 population town which started as stop along the railway, and army post during the wars, is now kept alive through a thriving contemporary art scene and some nomadic tourism. It was everything I expected it to be: historic, quirky, peaceful, and inspiring.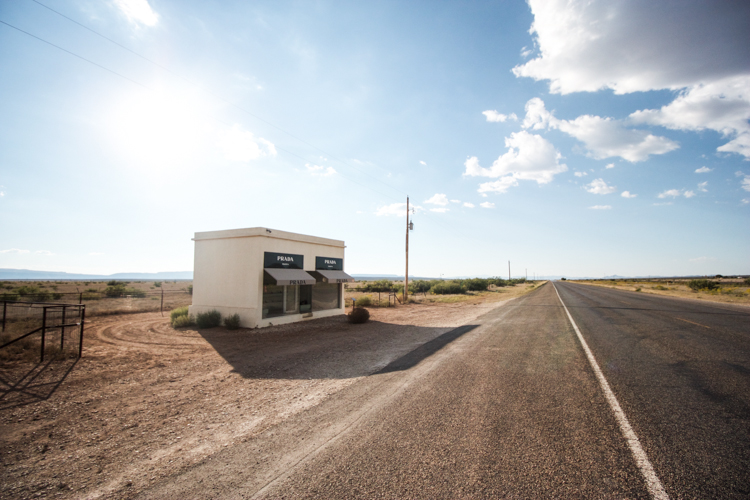 Our six-hour drive from Austin led us west, and somehow between conversation (alone in the car without kids!) we missed a turn that took us on a little loop. Luckily, the detour led us straight past Prada Marfa on our way into town, rather than us having to take the 45 minute drive out of town to see it later. That worked out well, and it was a great introduction to the place. We happened to arrive on October 1st, 2015–the ten-year anniversary of this pop architectural land art project. It looks like a Prada retail store, and houses selections from the 2005 collection. But it is art. Just a shell of a building, in the middle of the desert. Nothing else along the highway for almost an hour in either direction. It doesn't at all fit in, while at the same time being now such an iconic piece of the Marfa experience, it seems just right.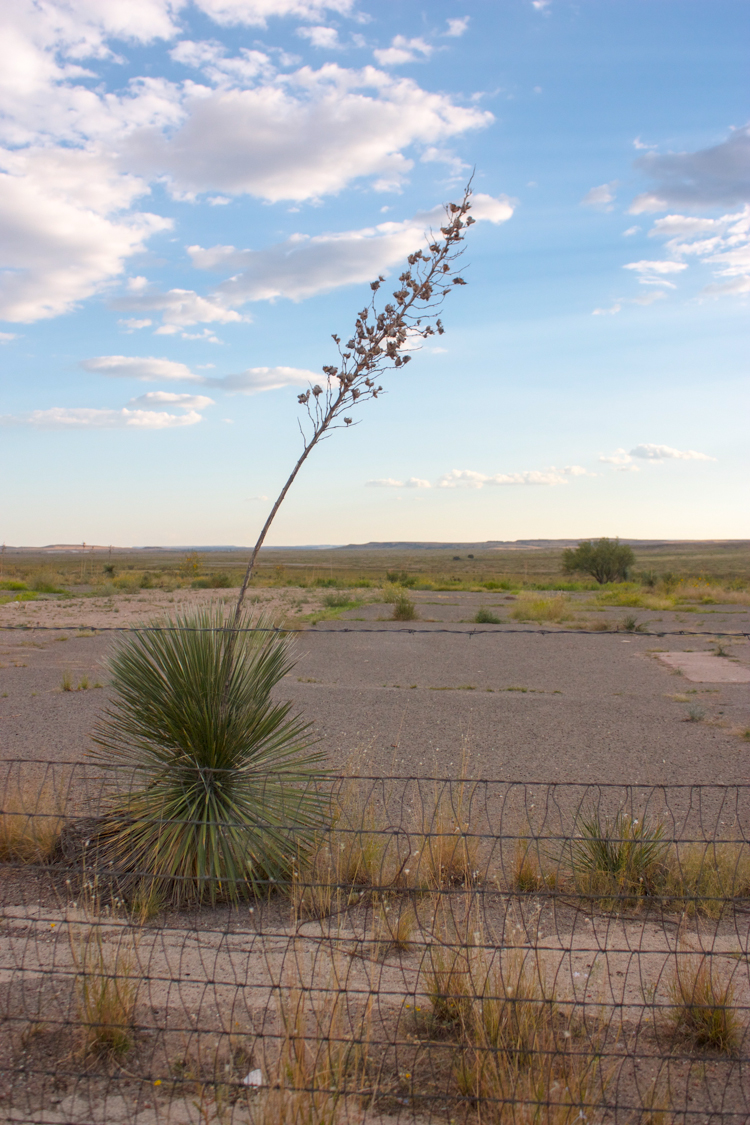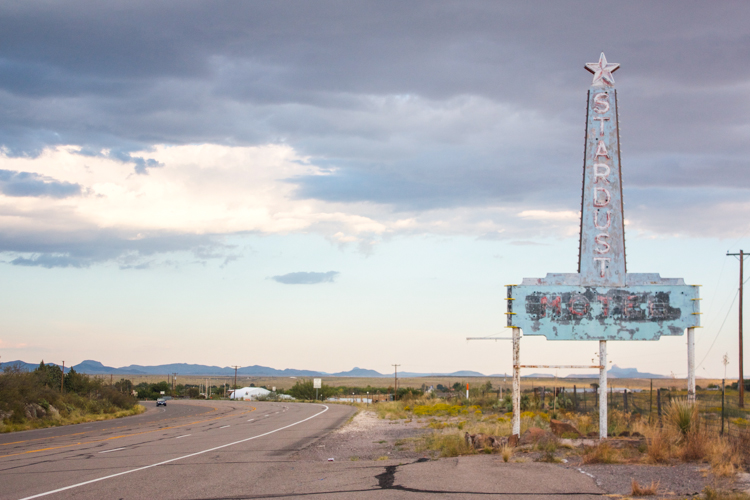 Not everyone see beauty in the desert, but it is my favorite landscape. I'm endlessly inspired by the shades of earth, greens, grey, and blues. The desert has to be resilient and tough to stay alive, and the plants and animals look it. The weathered signage, rusted fences, and dusty pathways all add to the charm.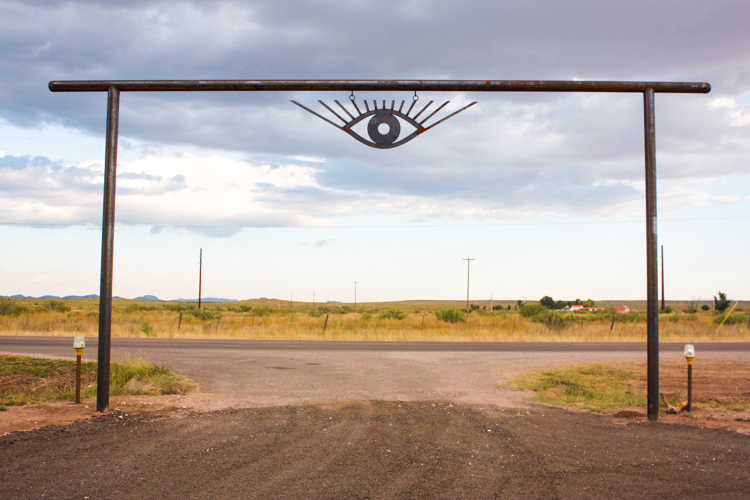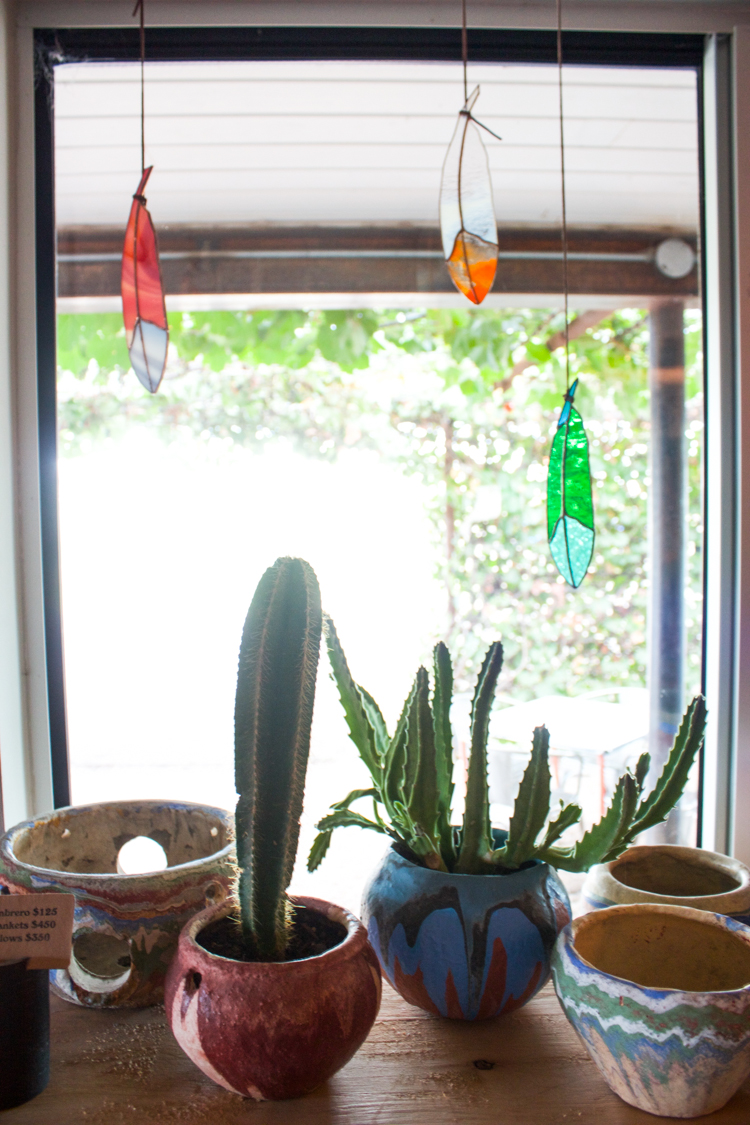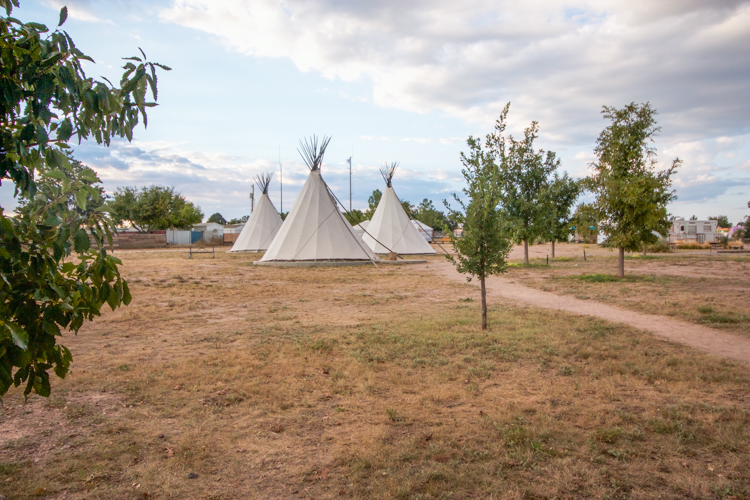 We stayed our first night in a teepee at El Cosmico. I had looked at lots of photos online before booking our trip, but ducking through the small front flap of the structure, I was still surprised by the awesomeness of the scene. The spacious interior was super well designed with cow hide rugs, a leather safari couch, beautiful blown glass lamp, and the classic sarape bedding tucked into the queen sized bed. The gas fireplace nestled at the foot of the bed was a huge selling point for me, and ended up making our stay cozy.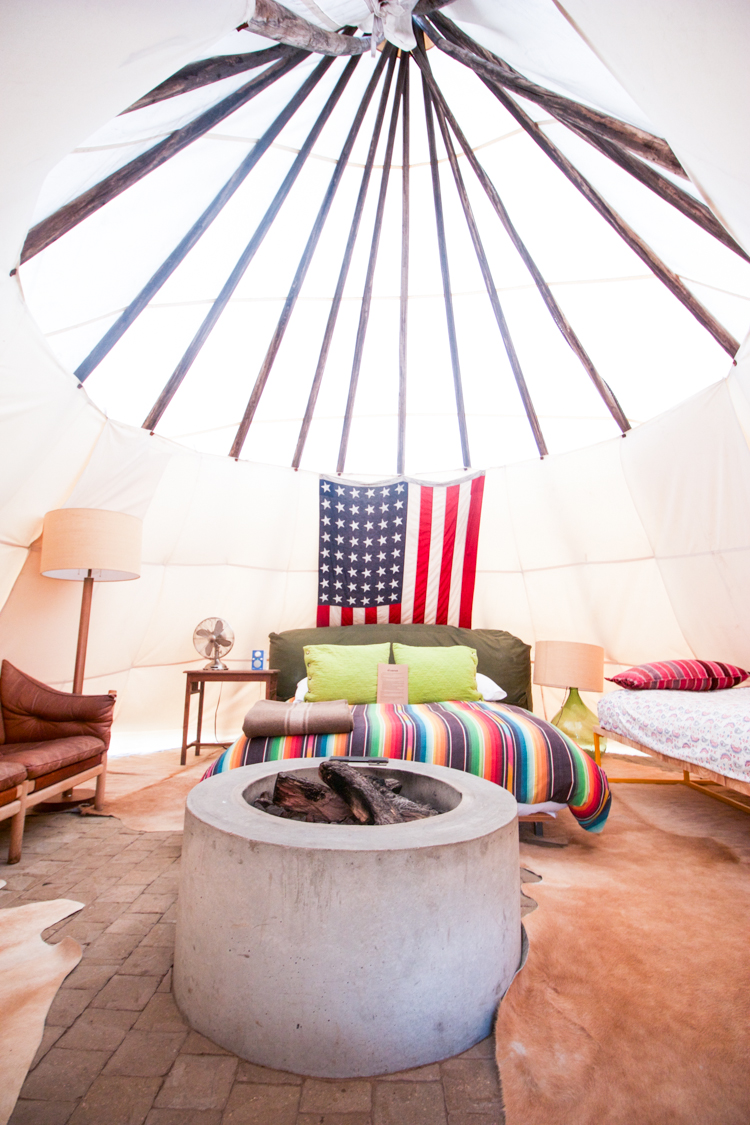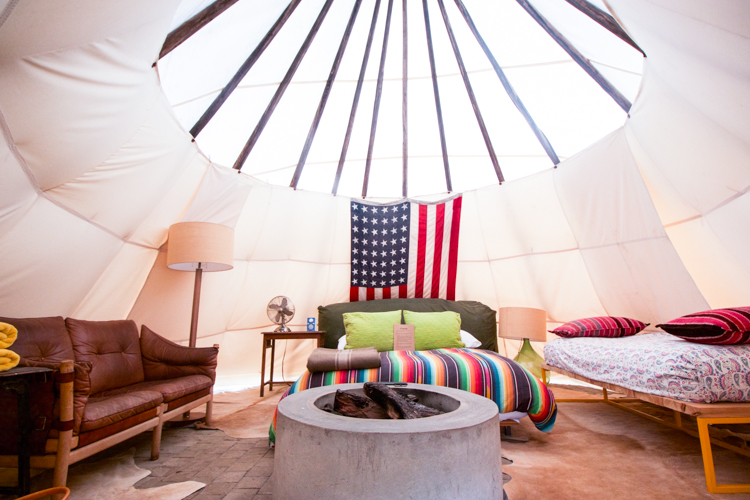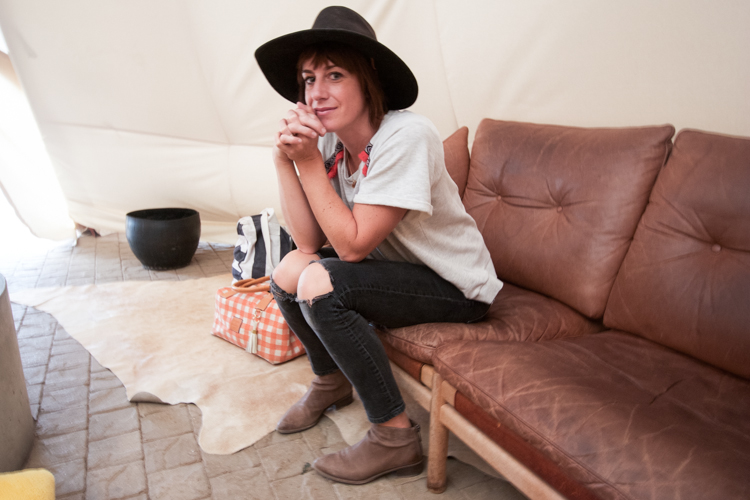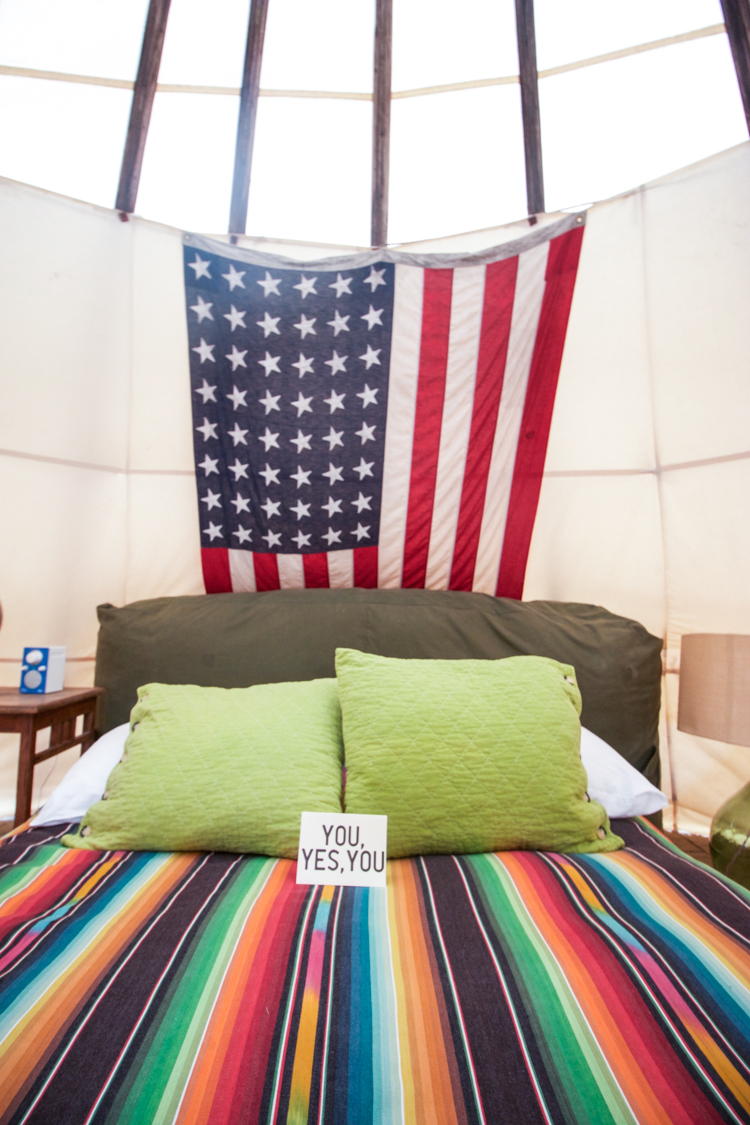 The bed was super comfortable, and we both slept well, with the stars overhead peeking in through. We decided we'll have to bring the kids back, because they would love sleeping in a teepee so much. The novelty of it made the whole experience especially fun.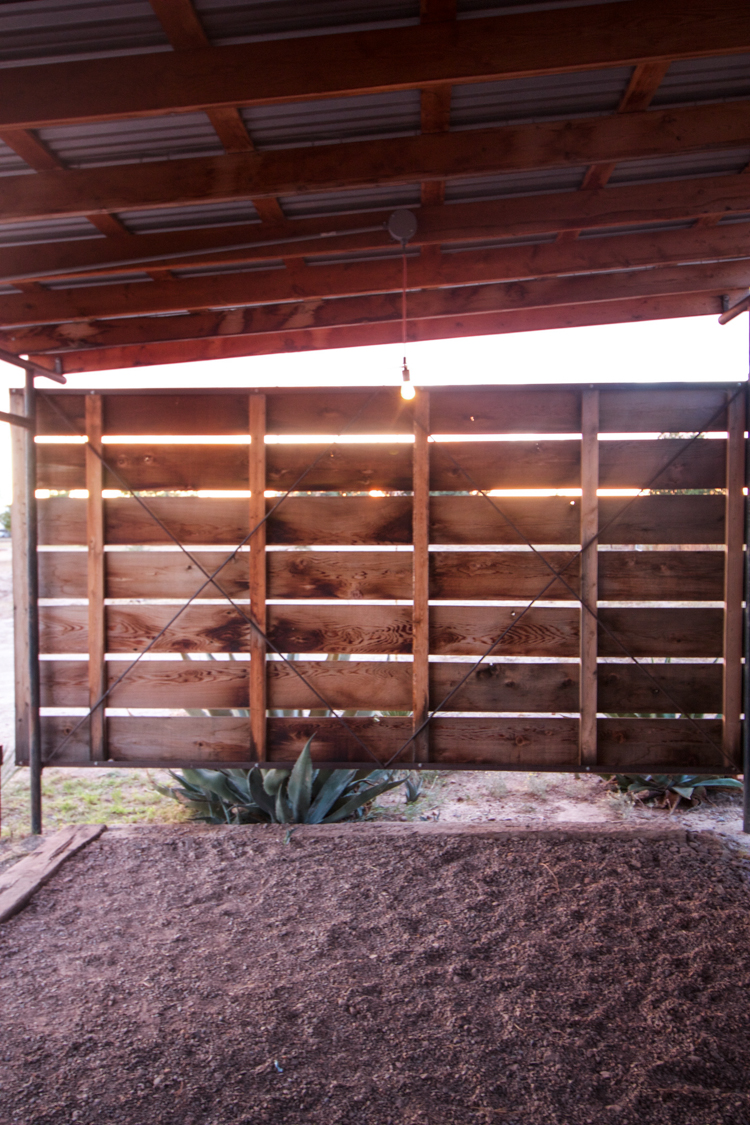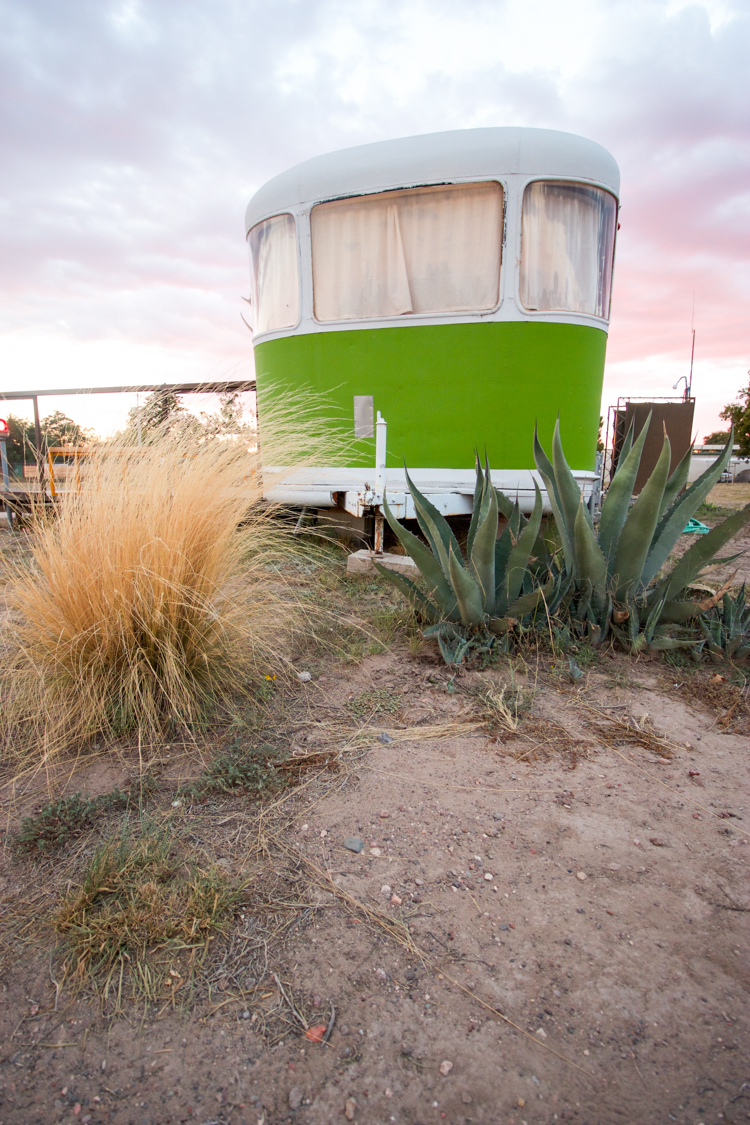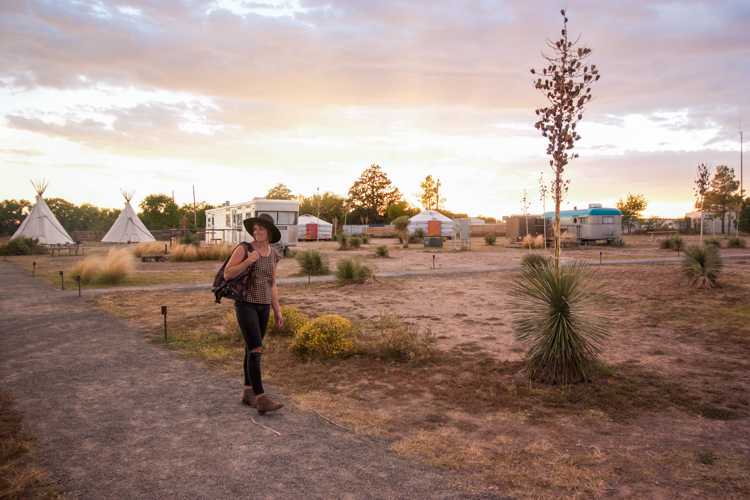 In addition to the teepees, there are a couple yurts, several safari tents, and a dozen or so refurbished vintage trailers available. The grounds are wide open, connected with walking trails between the different accommodations, the shared outdoor bathrooms and shower areas, the community kitchen, and the hammock groves. I loved the setup. Even with the rustic feel, the details were amazing, and I kept seeing perfect little vignettes everywhere I looked.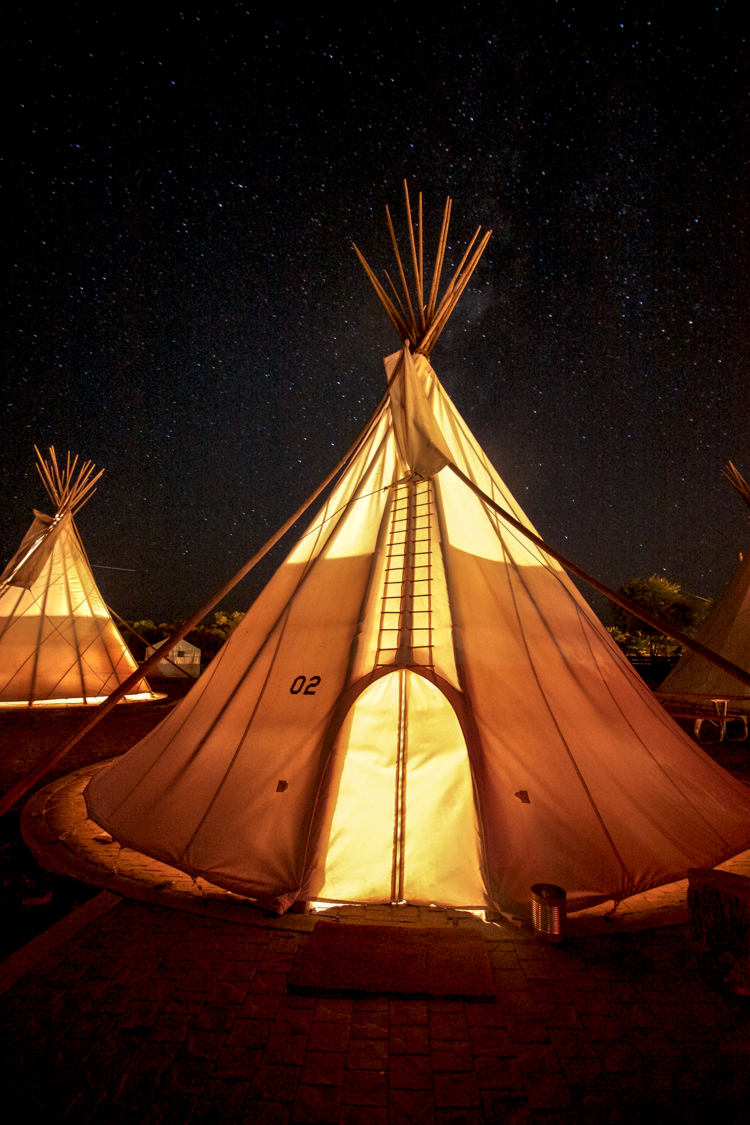 The starts at night really are big and bright deep in the heart of Texas. I had never seen so many in my life than we saw out here. It was incredible.
We ate dinner at Jet's grill, which had a great outdoor patio. I had a terrific burger with herbed parmesan fries and Dave's chile relleno was delicious.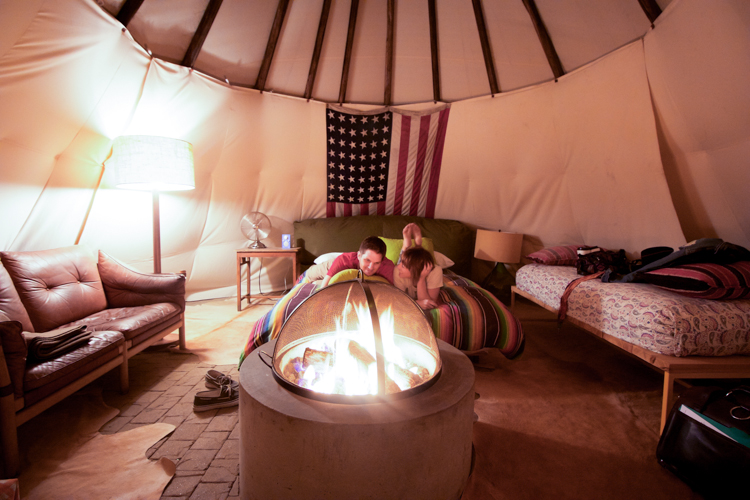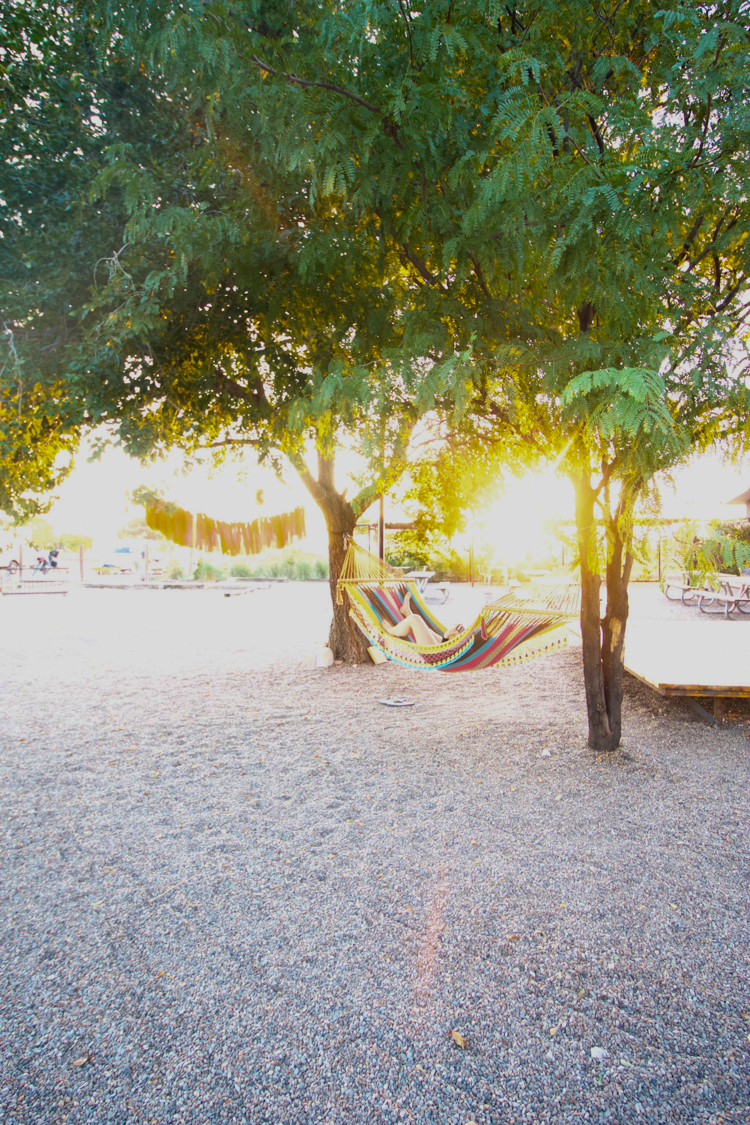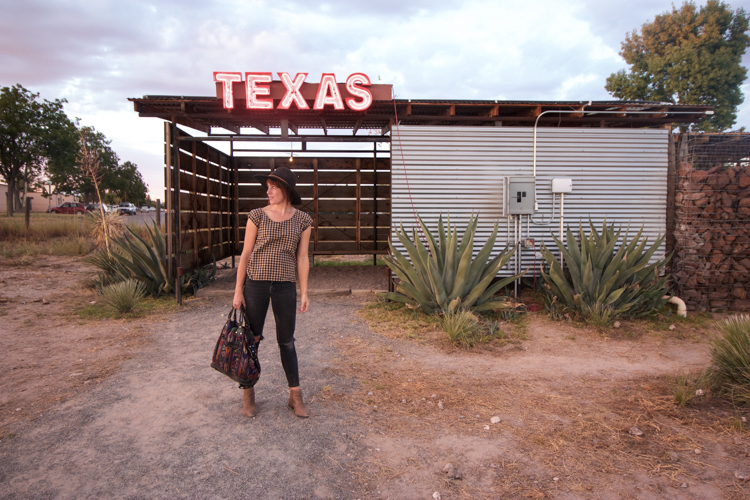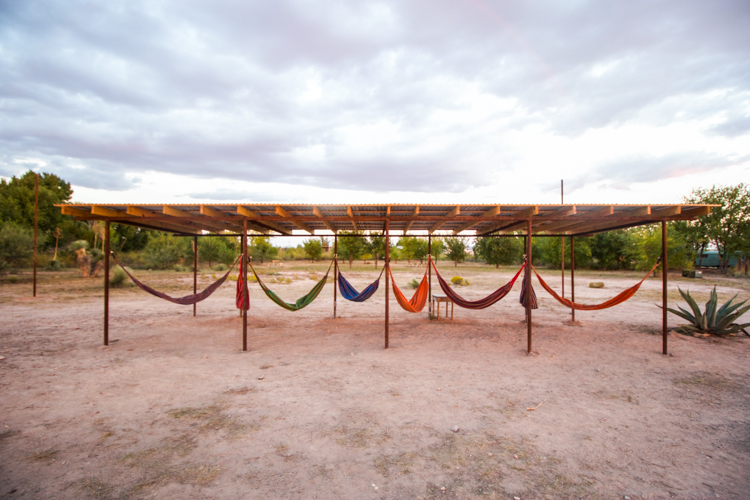 The morning light was pink and lovely as we packed up and got ready for our day. We spent a few minutes hanging our on the hammocks and decided we need to build a similar hammock structure in our yard. It's so good.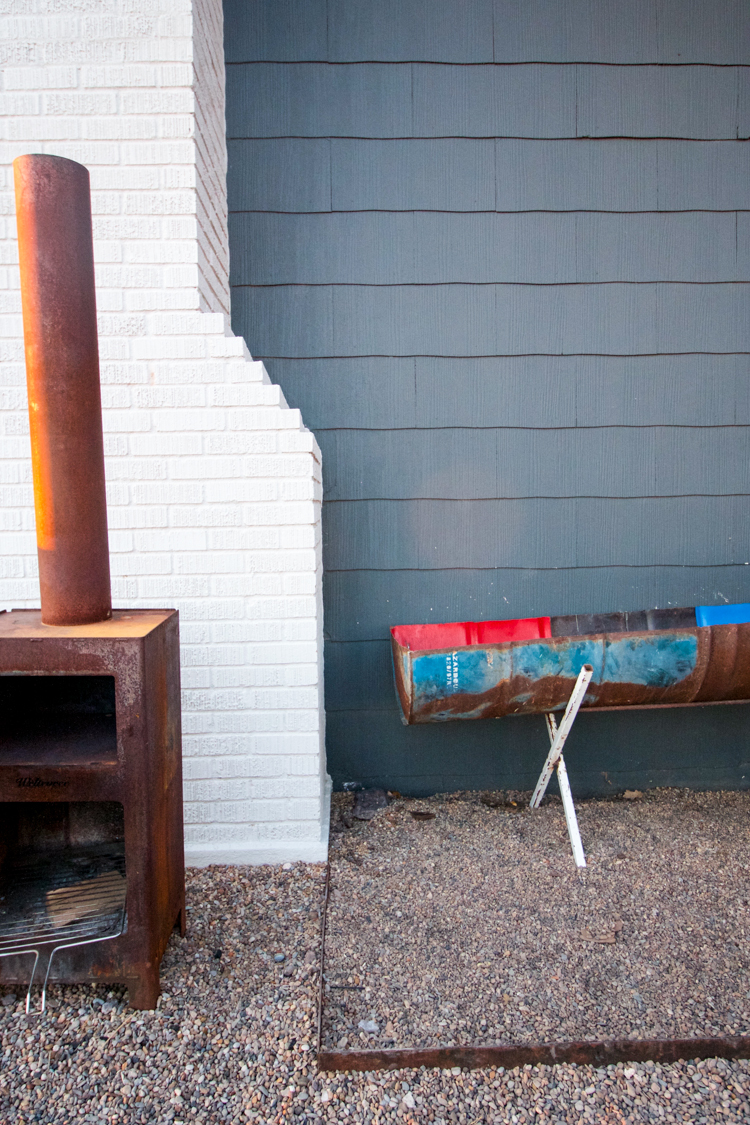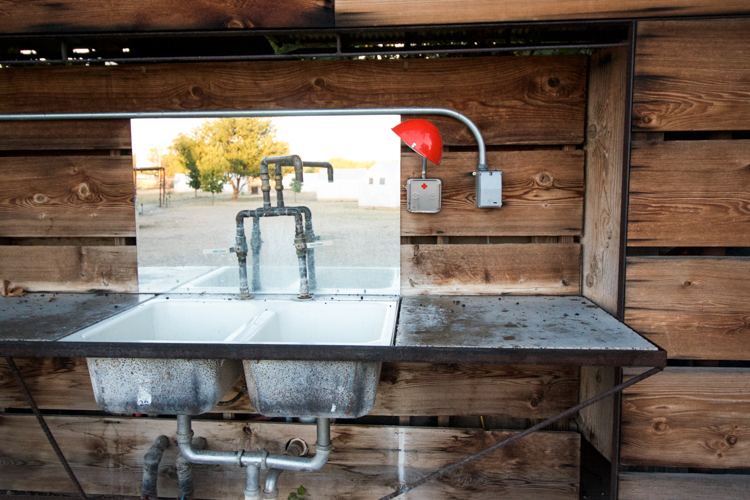 I had really wanted to rent a wood-fired hot tub for our stay at El Cosmico, but they had all been rented. Next time I'll book that at the same time as my reservation, because they look amazing.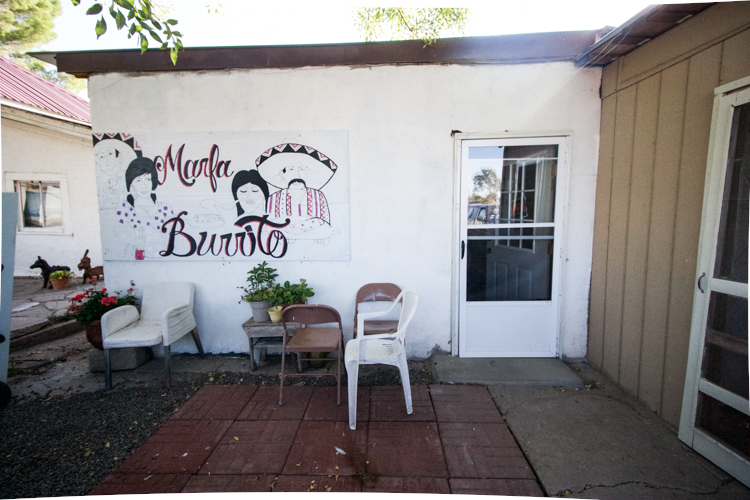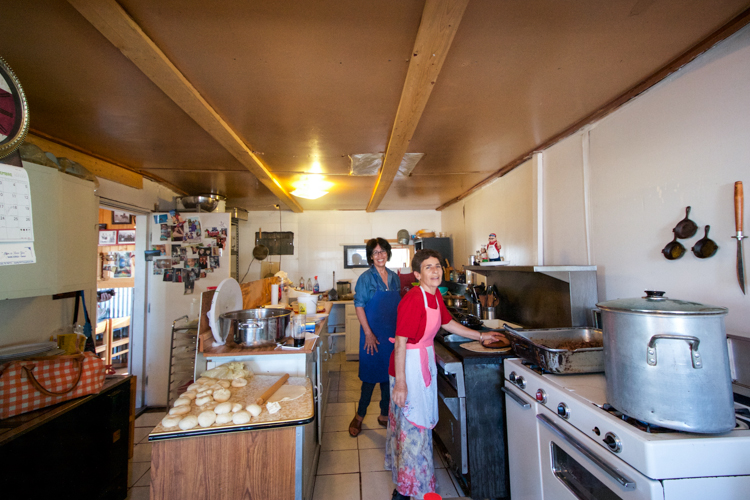 In the morning, we headed into town and stopped to eat at Marfa Burrito, which has been around for years but still doesn't show up properly on Google Maps. It's a little white house on a corner on the outside of town, with a handful of tables and chairs inside. Ramona cooks up batches of fresh tortillas, spiced chorizo, potatoes, eggs, and all the other perfect breakfast burrito fillings. It feels a little like stepping across the border, and Spanish is helpful, but not necessary.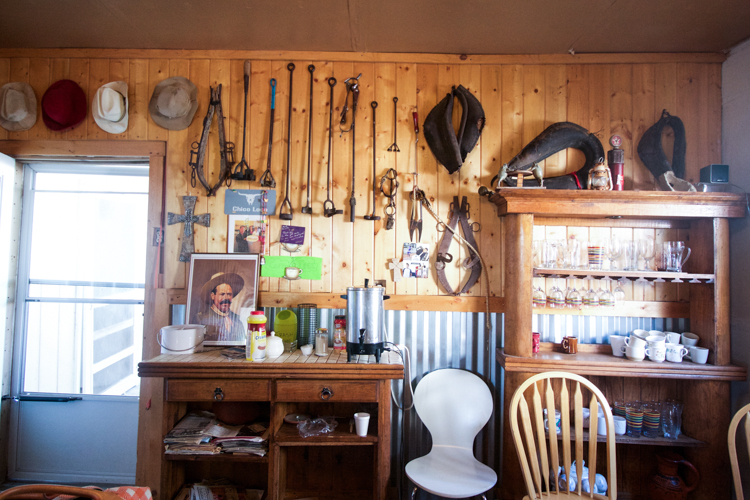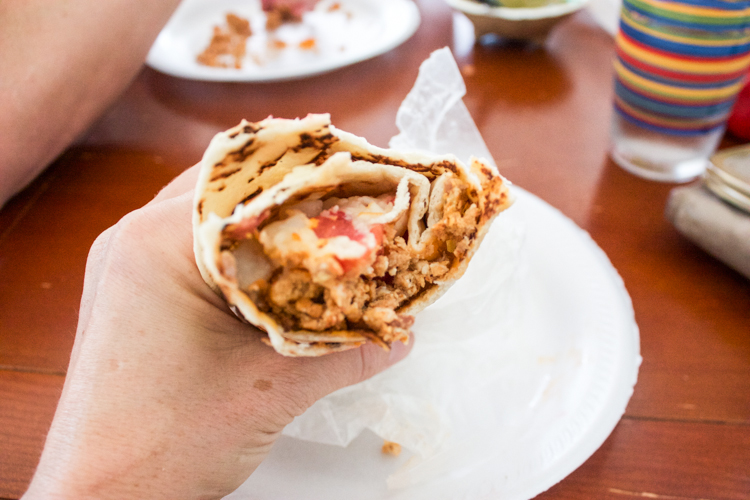 After Breakfast we ventured over to the Chinati Foundation, where we had scheduled a full collections tour. No one else signed up for our time slot, so we ended up with a private full collections tour, and our tour guide Alan was great.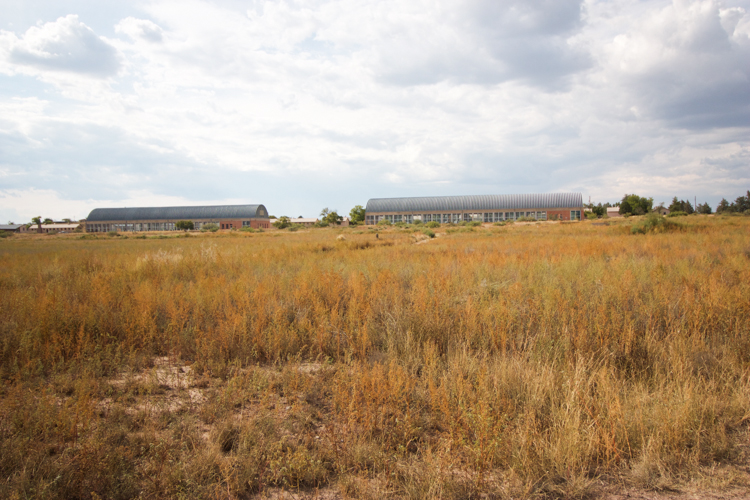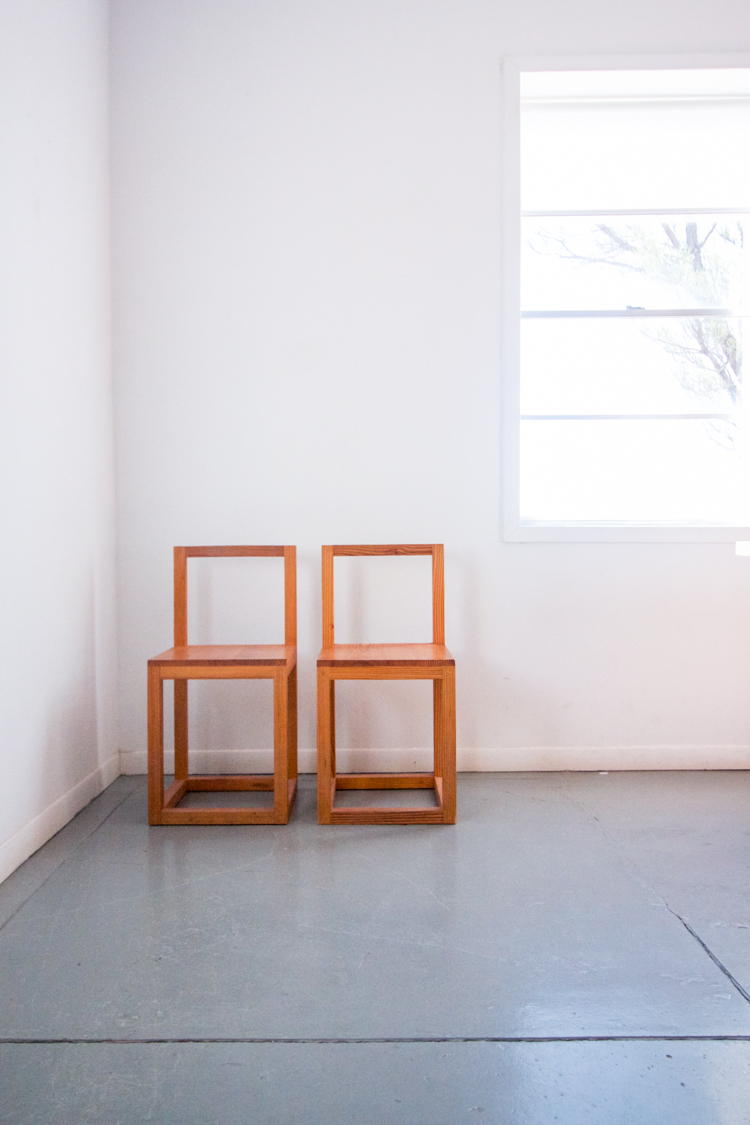 Chinati and it's founder Donald Judd are most of the reason that Marfa is now a destination. This 340 acre decommissioned army base houses permanent contemporary art pieces created by Judd as well as several other notable artists. Judd first came to Marfa when he was in the army, then later remembered it's vast landscape when he was looking for a place to create some permanent large contemporary art installations. The collection is really breathtaking, and we were lucky to get to see it all up close and personal. Not only were the pieces themselves inspiring, also the simple designs of the furniture, architecture, and stark contemporary pieces against the natural, overgrown desert landscapes was such a welcome visual. Everything was interesting to look at. We both came away super inspired.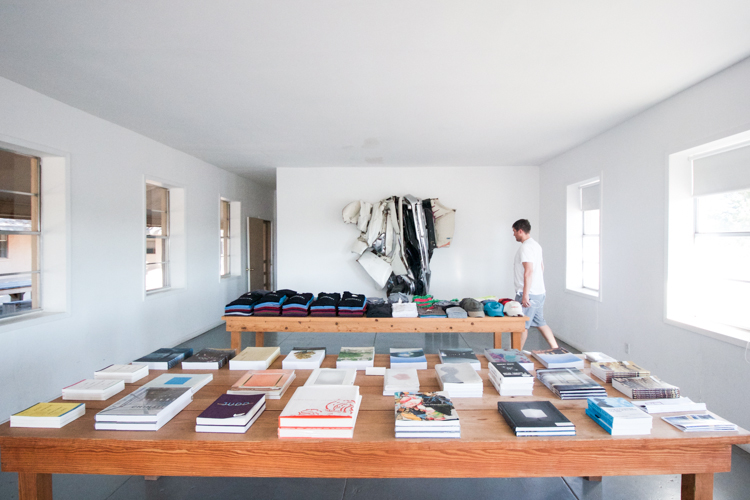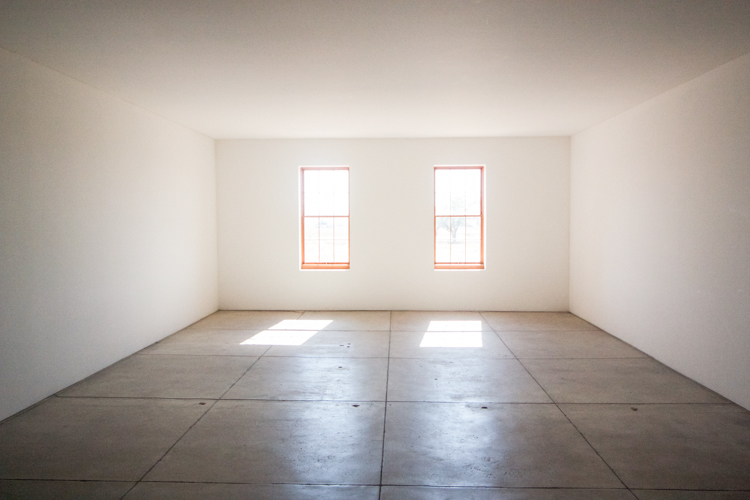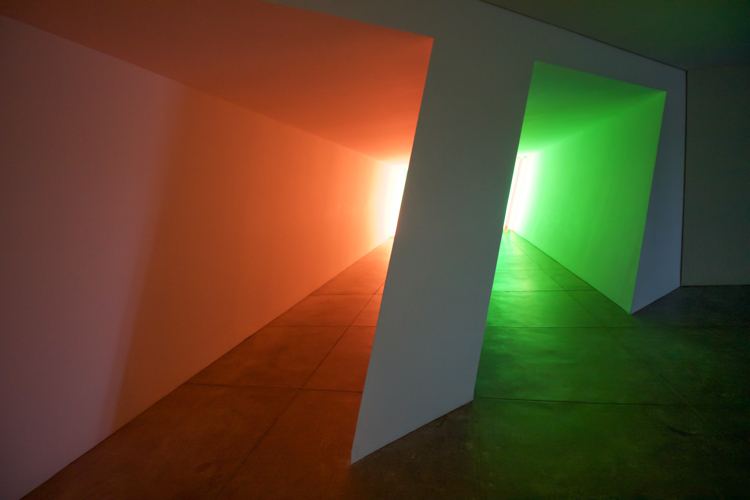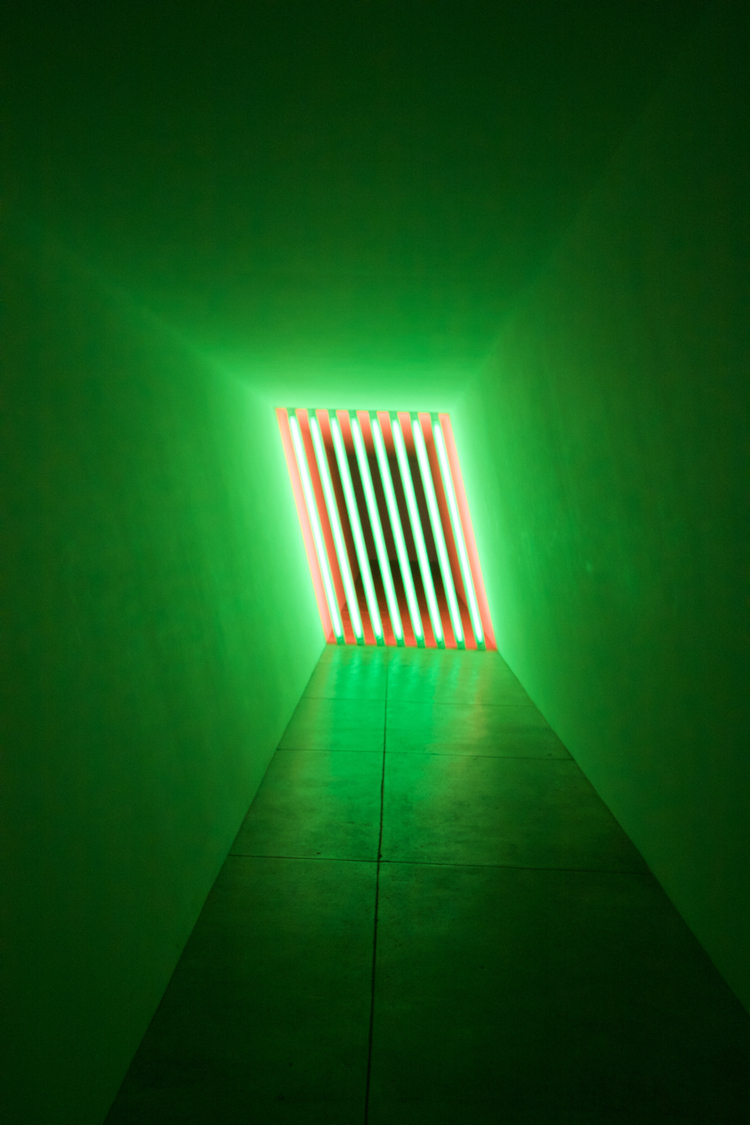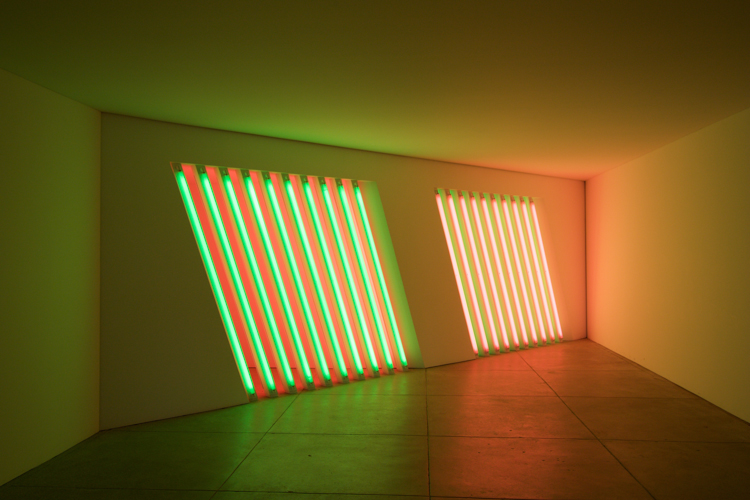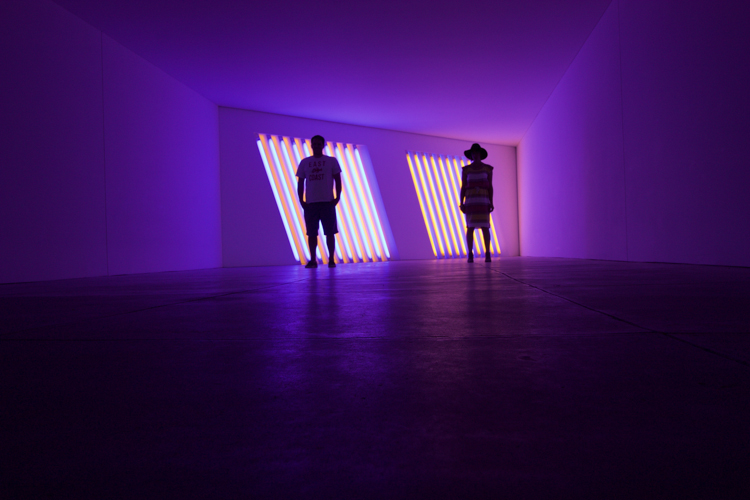 This installation by Daniel Flavin is housed in six separate buildings, each with long, white hallways leading to different configurations of neon lights. So odd, and so awesome.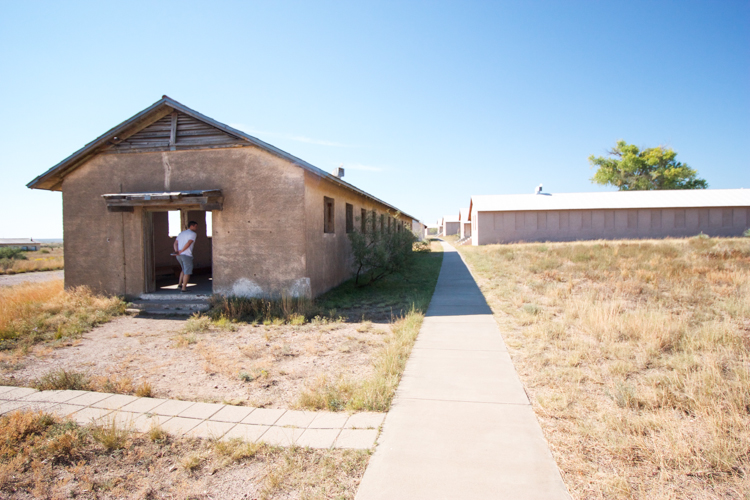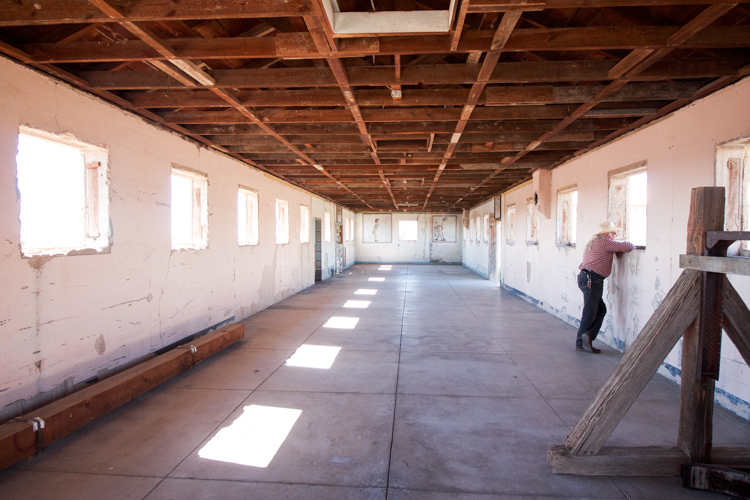 This old army mess hall doesn't house contemporary art, but rather the preserved murals painted by men in the army. The cartoon illustrations were cheeky and really cool.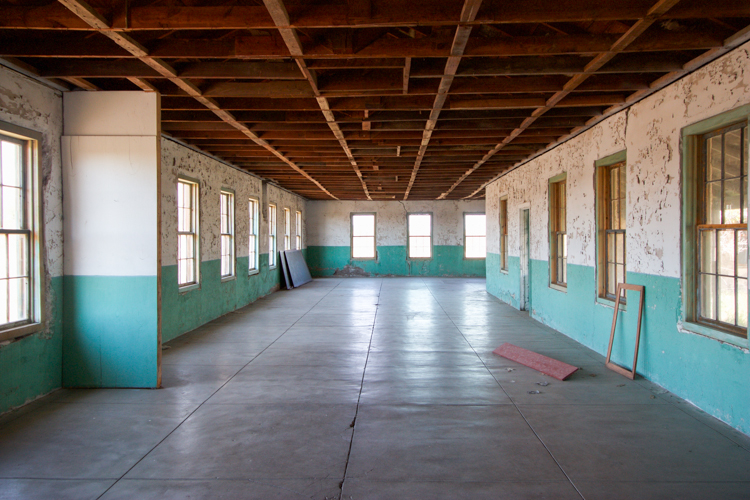 For this installation, one of the buildings on the base was converted to look like an abandoned Russian schoolhouse. It was a little like stepping across the world and through time. The plaster and paint and furniture were all installed in a way that made them look a hundred years old.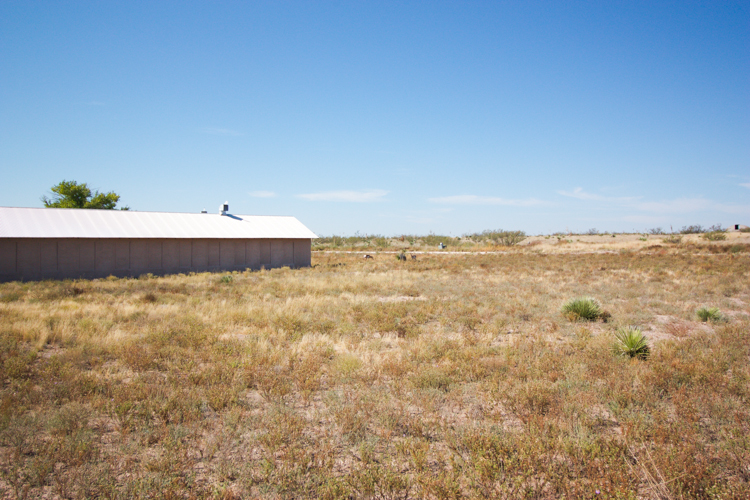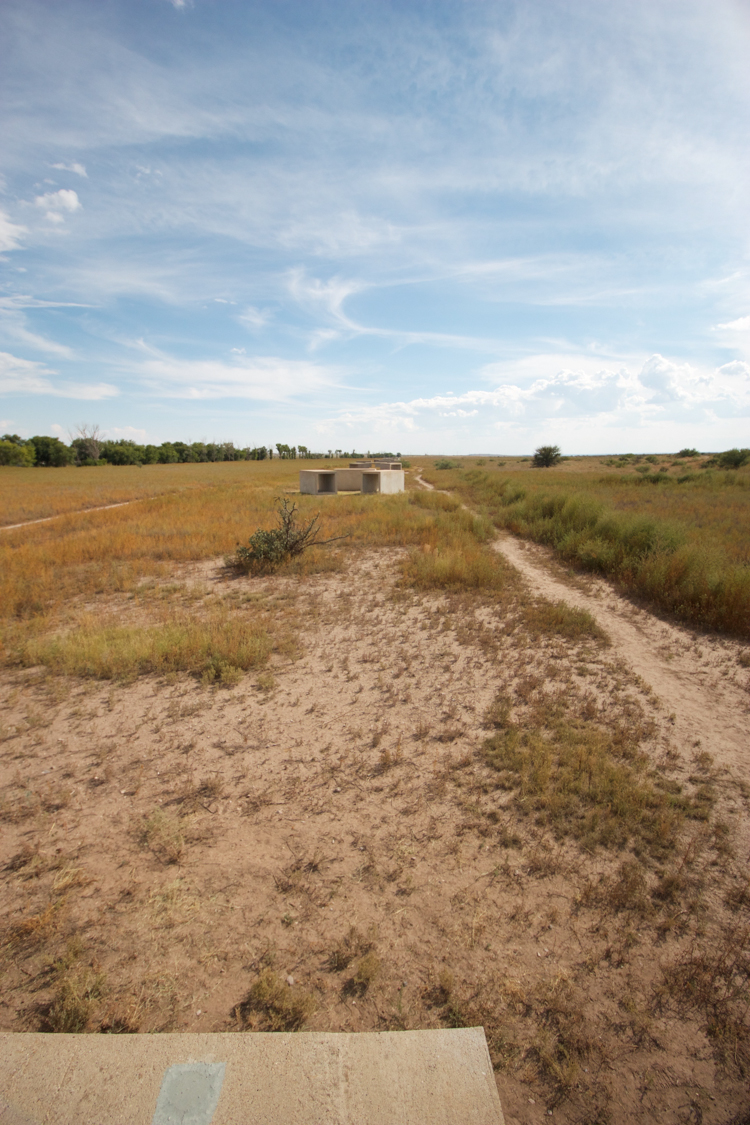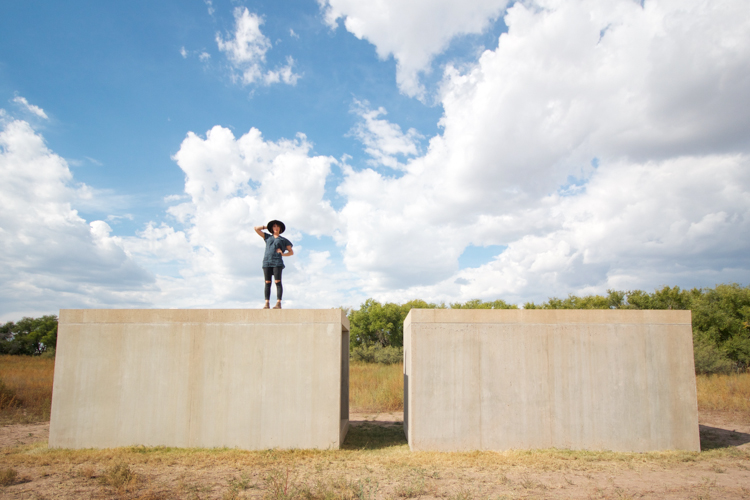 The works in concrete were Judd's first installation at Chinati and were my favorite, partly because of their immensity and the scope of the project. The pieces cover over 3 acres. Concrete boxes built out in the middle of a field. You know.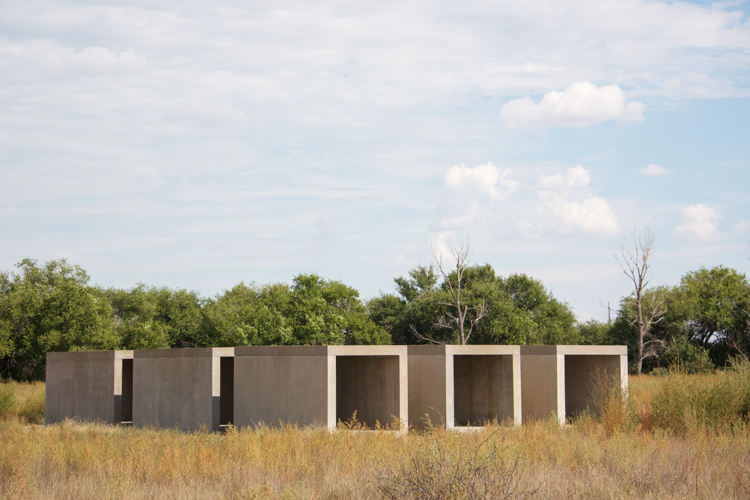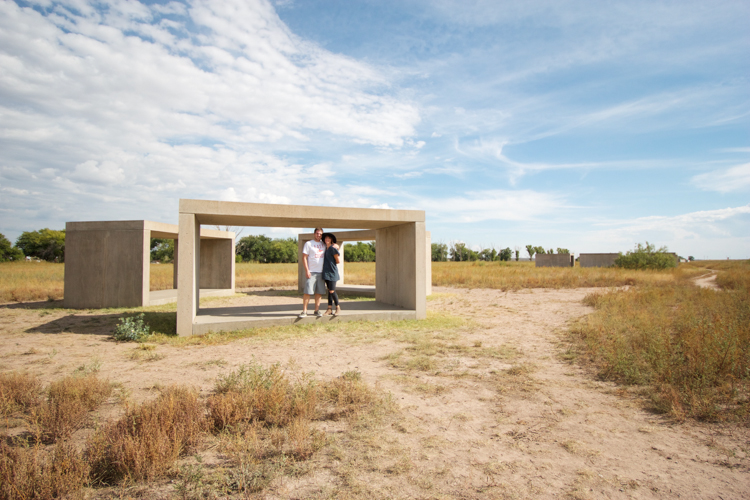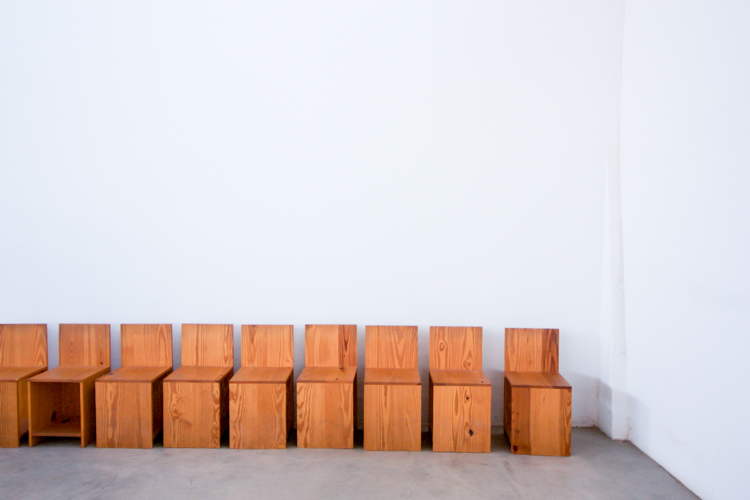 Gah, the chairs. They're amazing.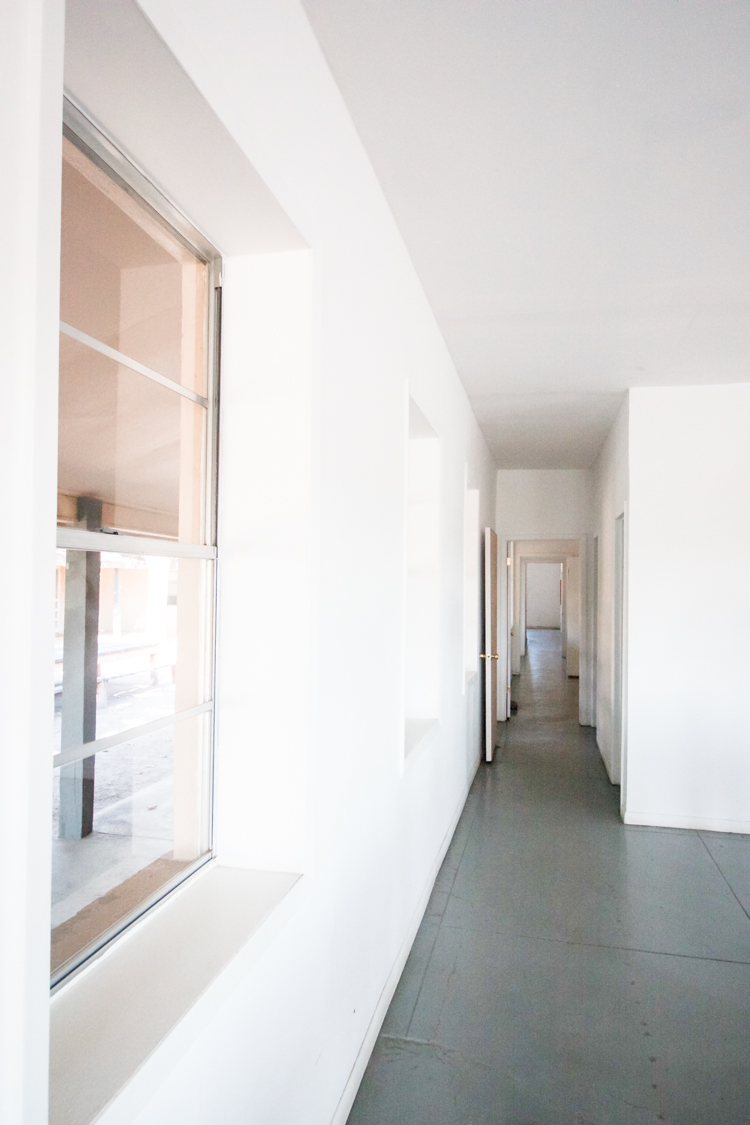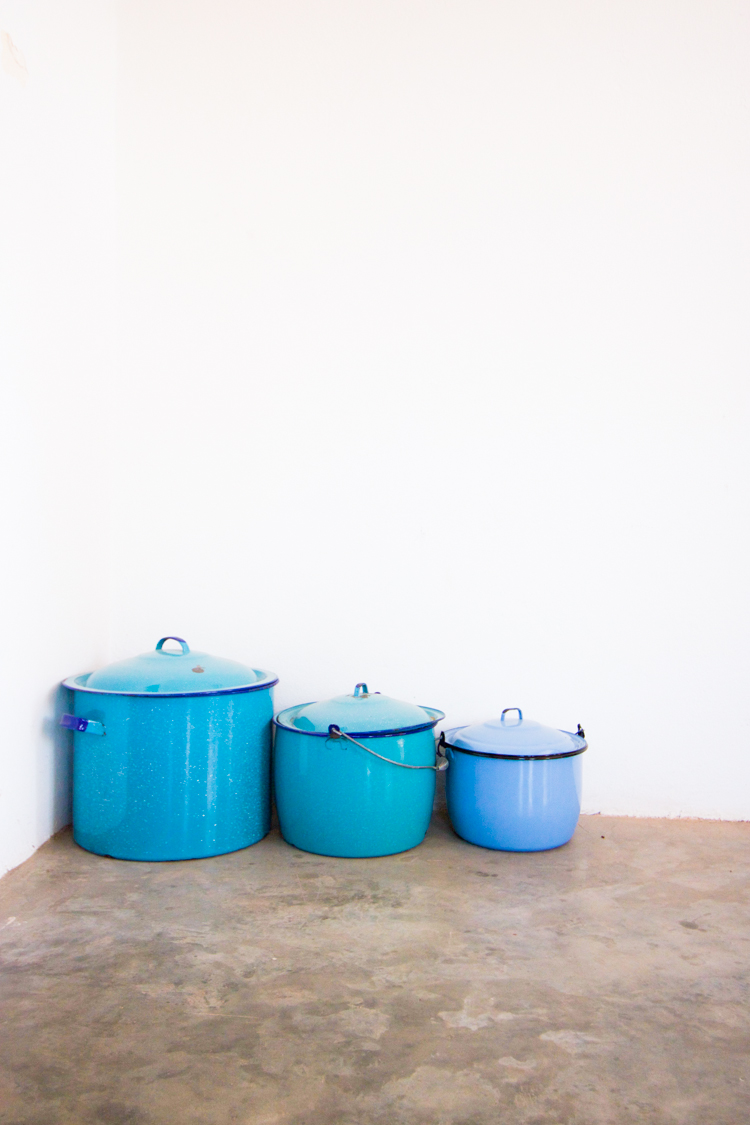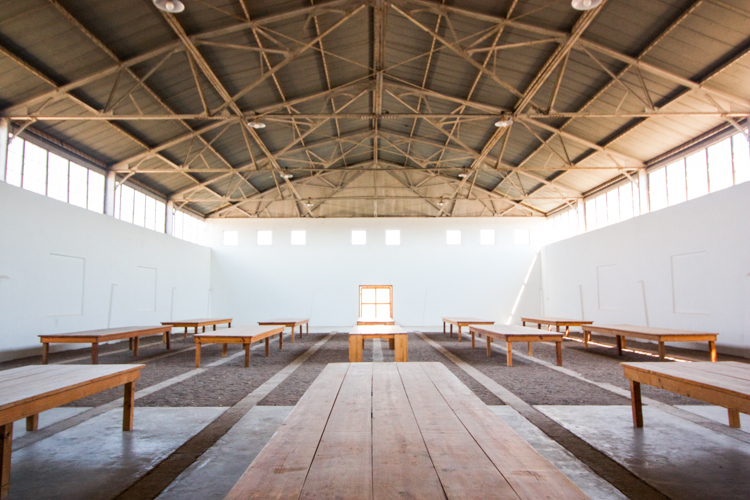 This hall is used for big gatherings and dinners. I loved the space so much. Everything was utilitarian and industrial and still beautiful.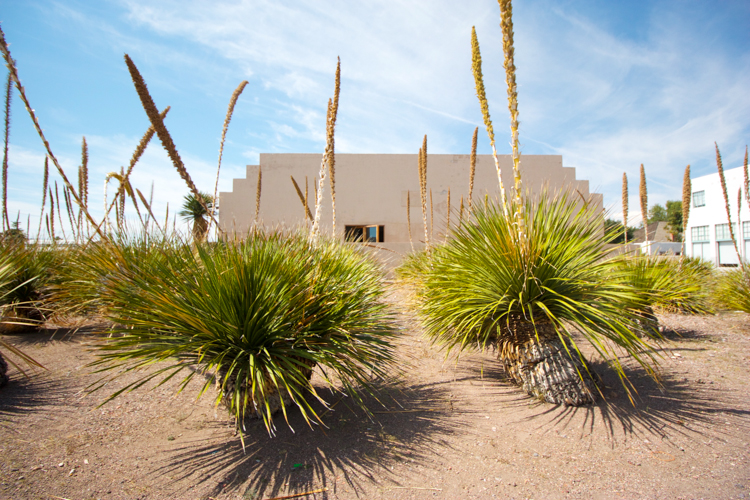 The tour ended off the main Chinati campus at this secondary site that houses John Chamberlains 22 works in steel, which looked a lot like crushed cars tipped on end. They were fun to see. I also fell in love with the towering yucca out front.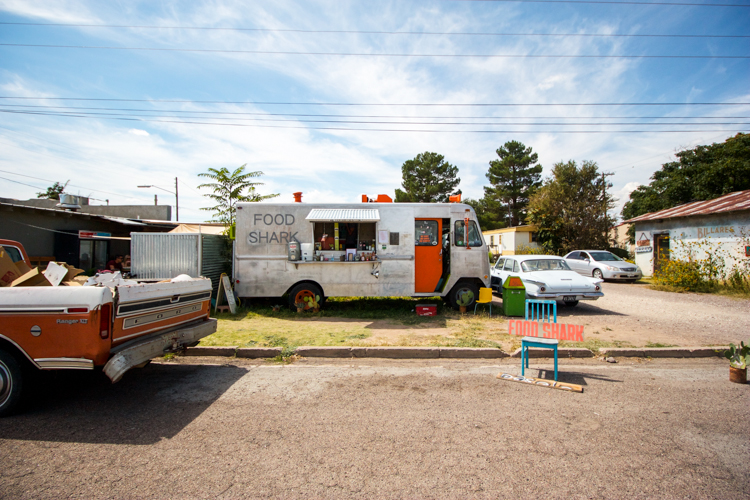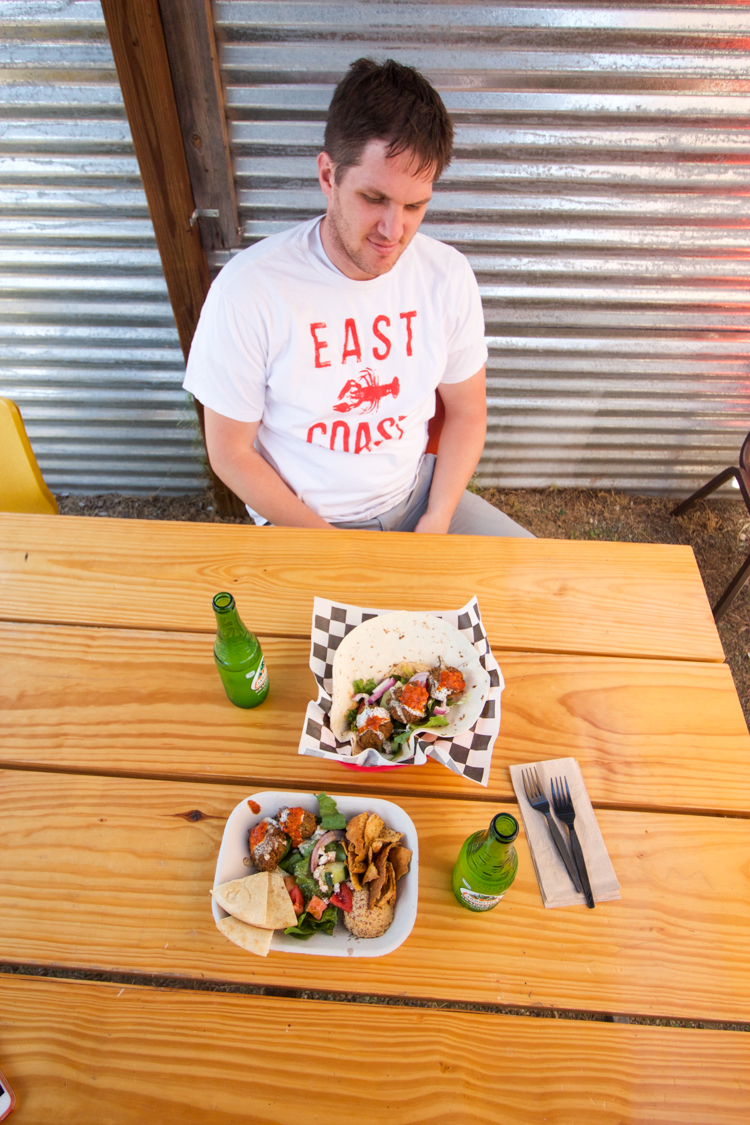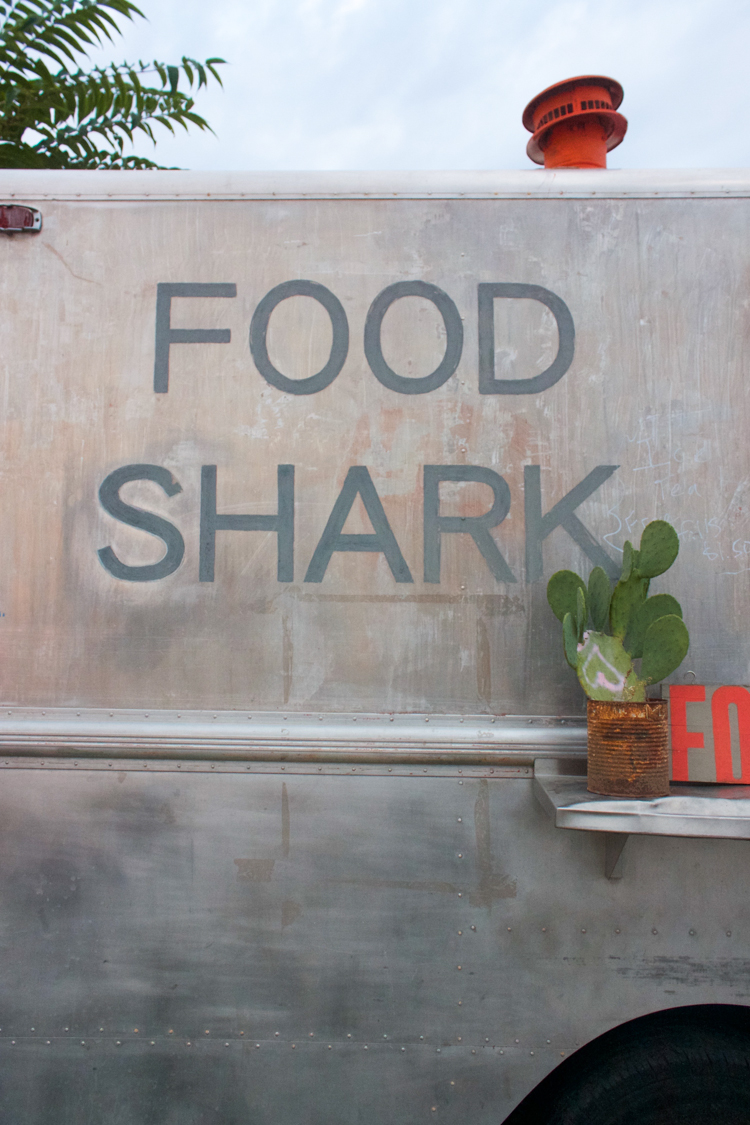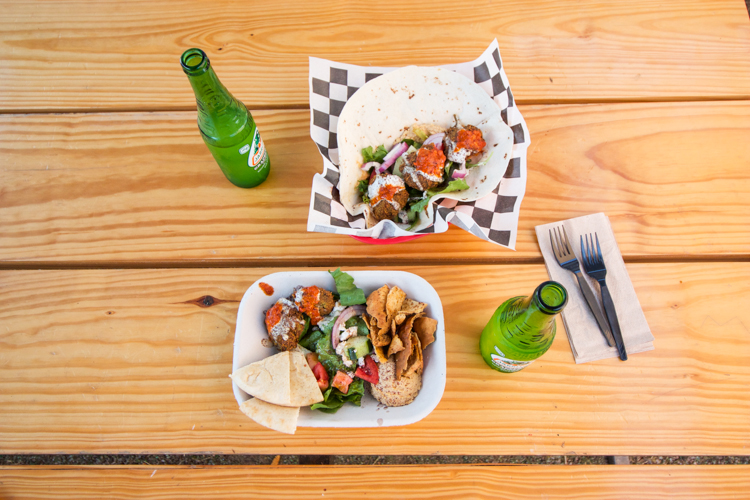 For lunch we visited the much raved about Food Shark truck and found out what the fuss was for. The food is spot on delicious. Unexpected mediterranean food from a truck in the desert and it blew us away! We both ate falafel, Dave on a tortilla and mine in the meal, and we both agreed that in the meal was the best way to go. Mmmmm.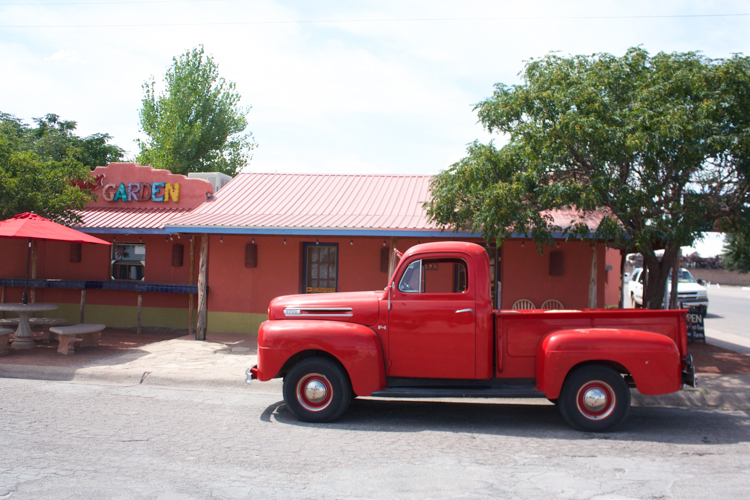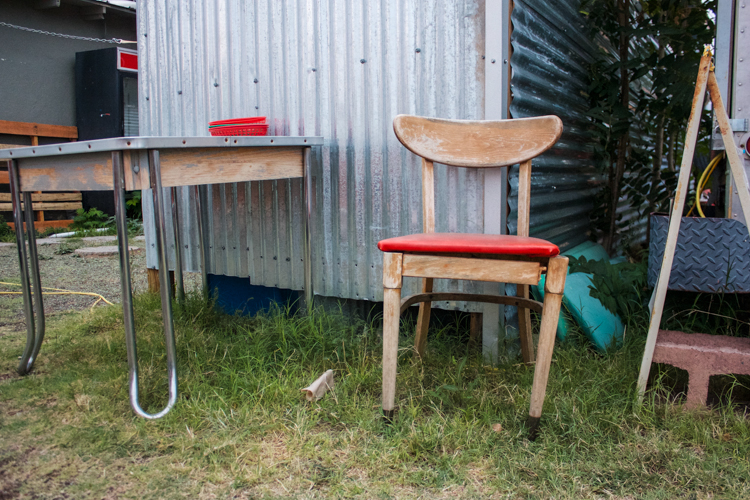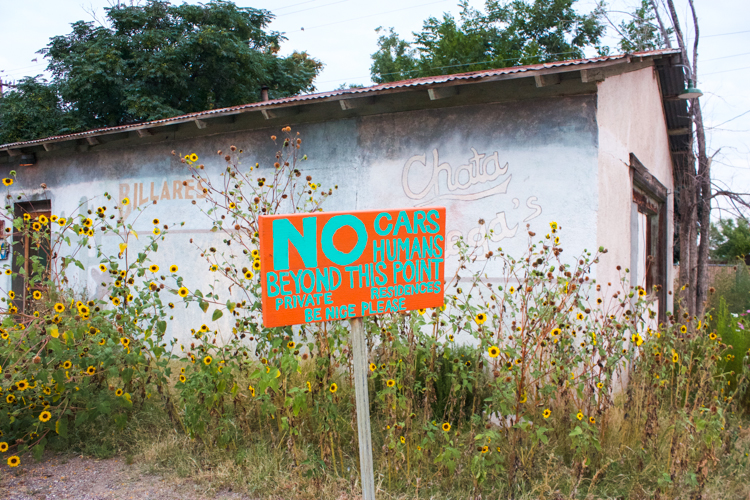 On every corner there was something to take a photo of. The whole place is weird. Super good weird.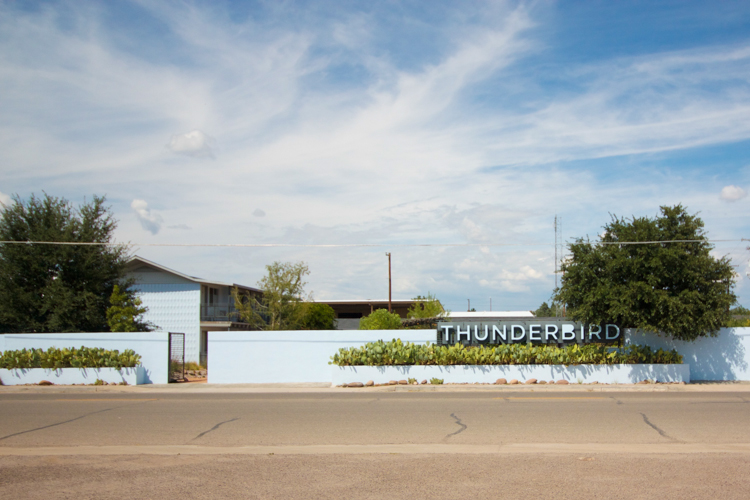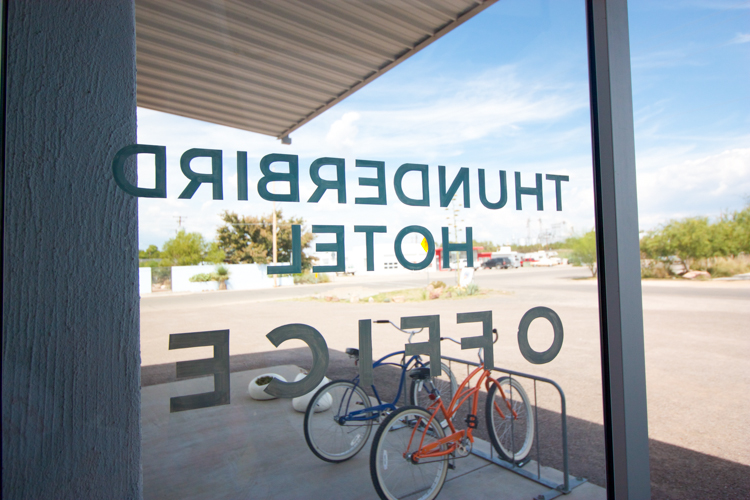 For night two, we were staying at Thunderbird Hotel, which is the other talked-about place to stay. The office is across the street from the hotel itself, which was confusing at first. As we wandered through the courtyard to our room I took notes on the landscaping. It's so well done.Desert chic in a great xeriscape that would work in my own yard. I loved it.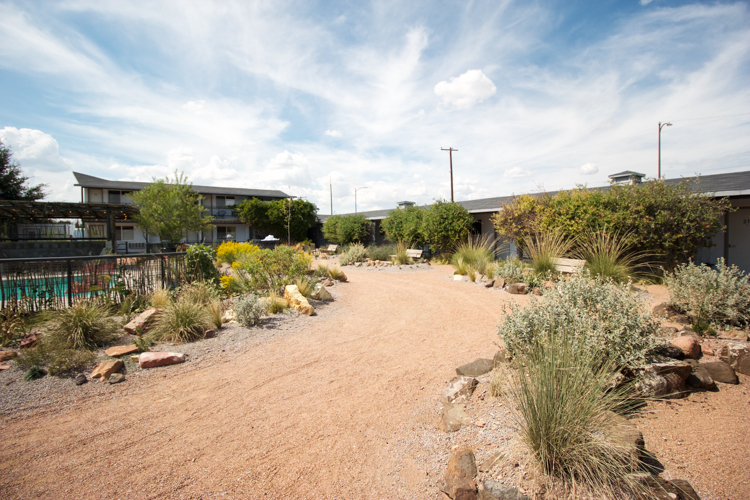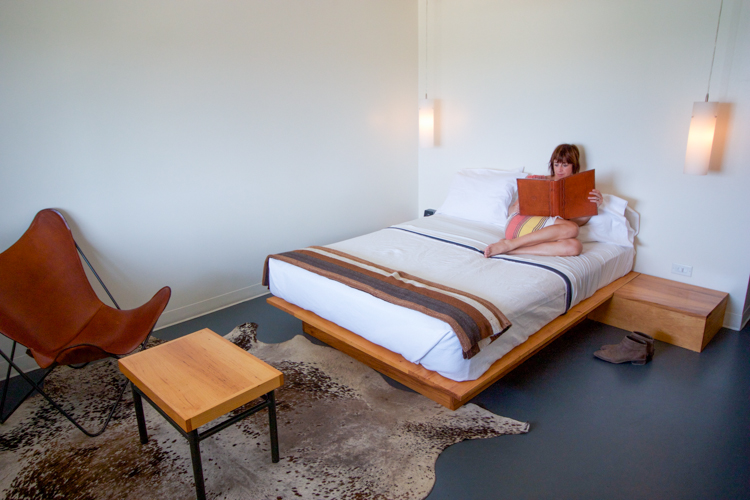 The room was Marfa Minimal, with a clean-lined bed and tables, classic leather butterfly chair, and another beautiful hide rug. The bathroom had a huge chunk of geode on the counter next to the sink, and again I took notes for my own home. I loved the simple design.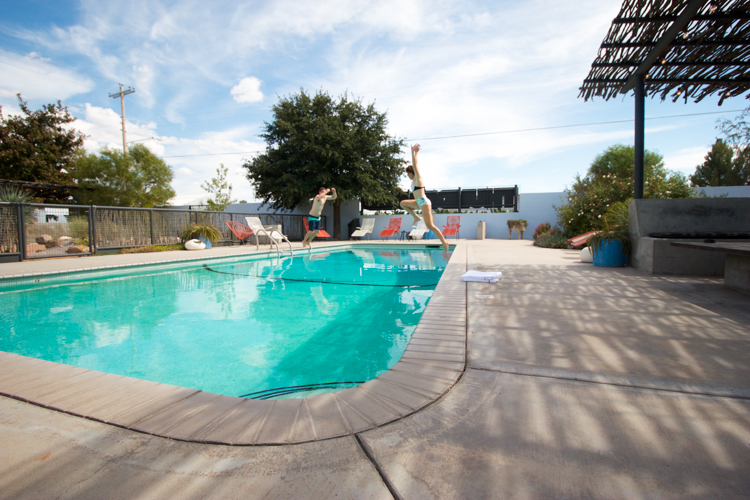 Since we were on vacation and it was 90 degrees outside in October, we took advantage of the pool. A few quick minutes splashing about reset our batteries and we were ready to continue exploring the town.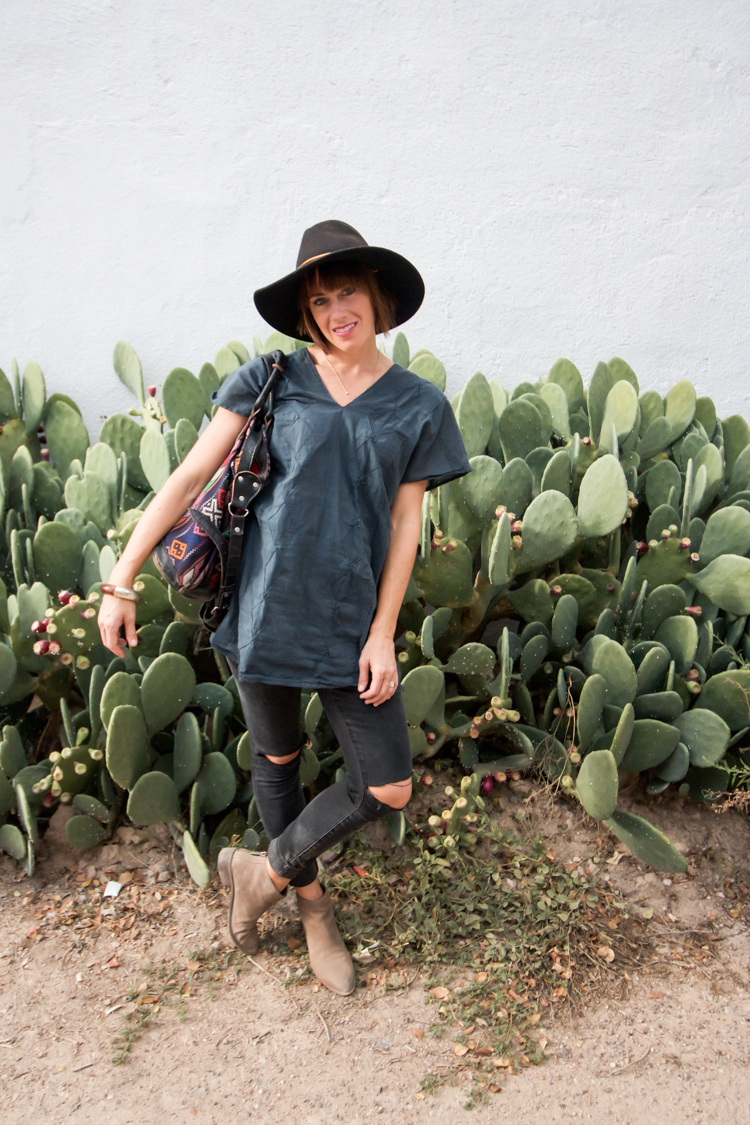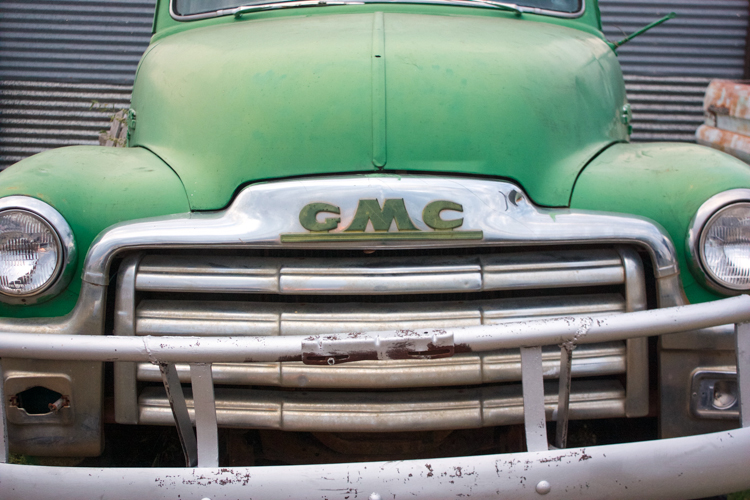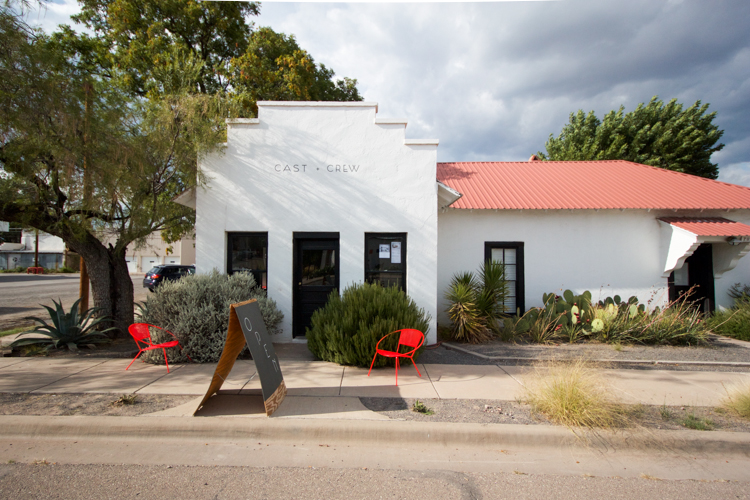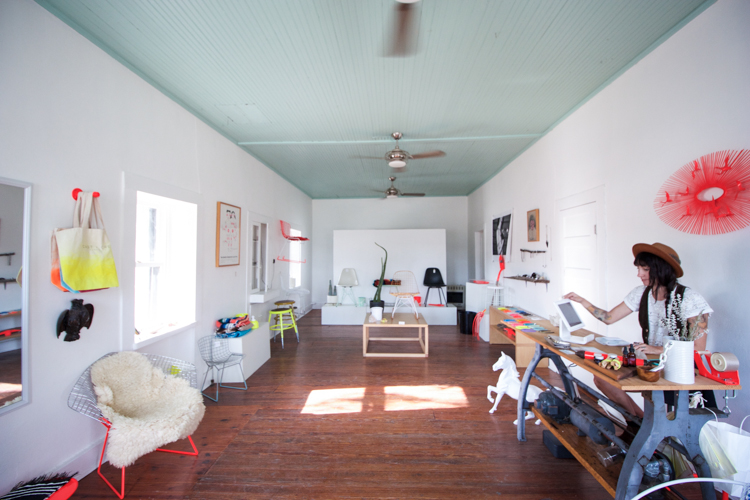 I loved peeking into Cast + Crew, which is a brand I've followed for a while, intrigued by their bright refurbishing of vintage furniture and goods with a powder-coated pop of color. The shop was great, and we brought home a turquoise horse shoe to hang above the door for good luck.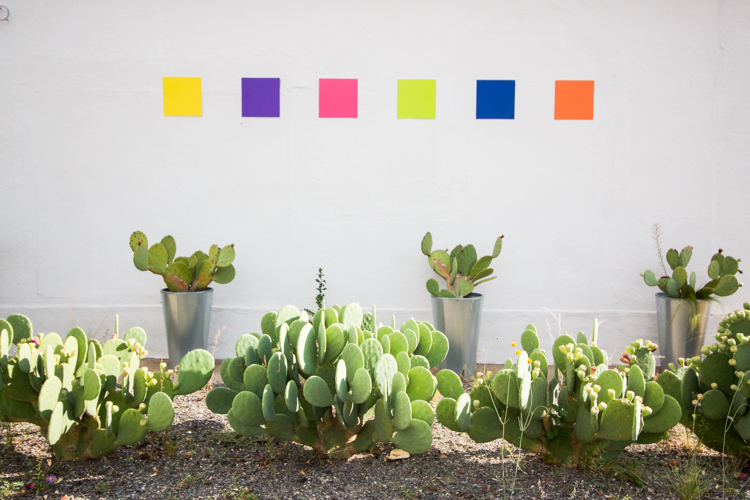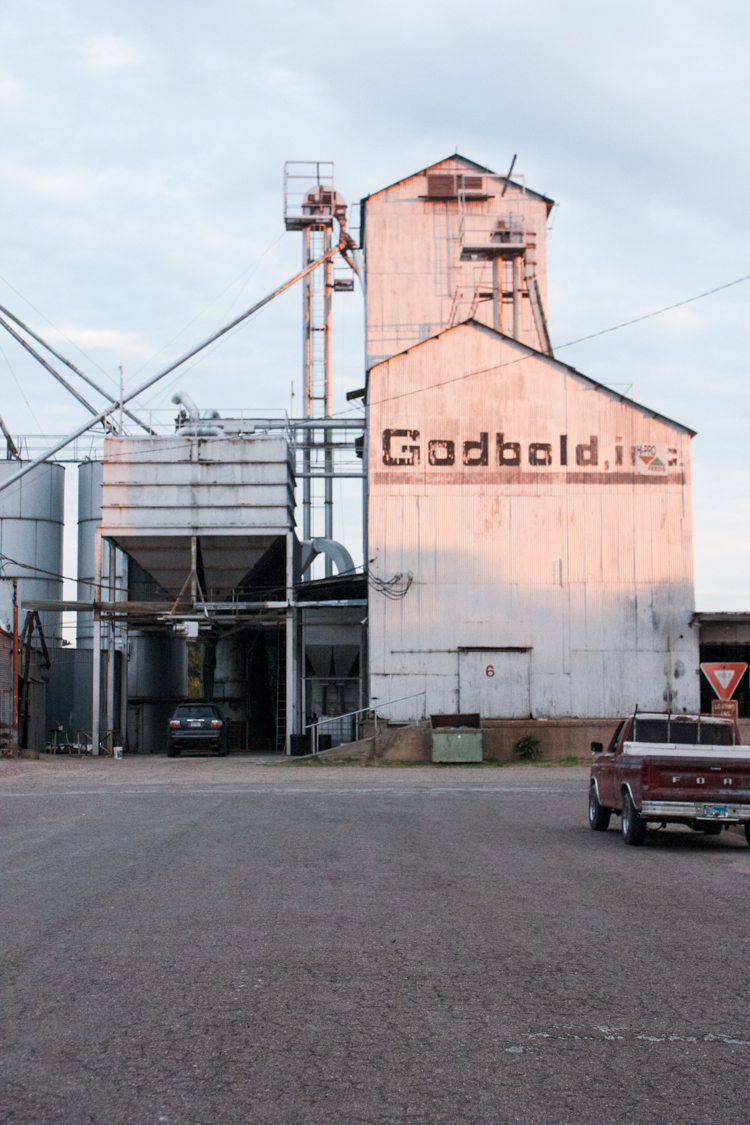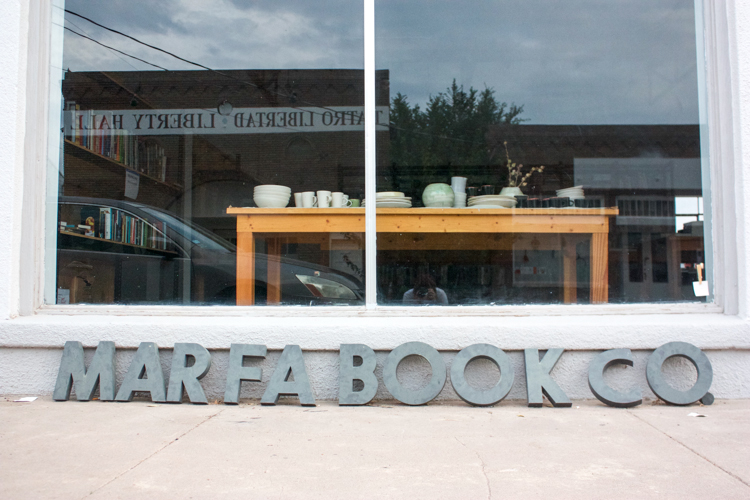 In our wandering through town, we ventured into Marfa Book Co, which was filled with shelves of gorgeous art books. We flipped though a few and I realized how little I know. We also grabbed homemade Ice Cream at Frama Tumbleweed Laundry, which is half coffee and ice cream shop, the other half laundry mat.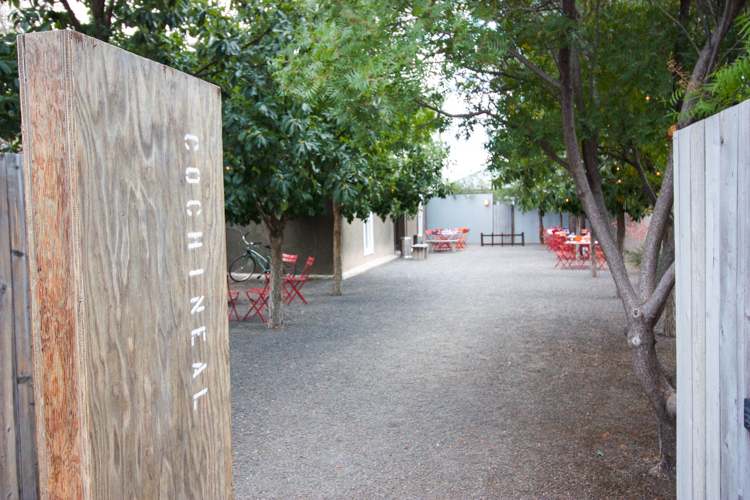 For dinner we stopped in at Cochineal. I initially had planned for us to go somewhere else, but so many people in town recommended this place we thought we should check it out. The patio looked great and the weather was amazing, but we were sat inside and the interior was stuffy. They gave us a 6pm reservation saying they were booked, but we were the only people in the place for our entire meal! The food was interesting on the menu, but when it came I was really disappointed. Everything was a little disconnected and felt very unfinished (cold cornbread, unsalted chicken, runny slaw.) I don't love to share a bad review, but I don't think I'd chance wasting another $100+ on a meal here again. I'd rather eat at Food Shark!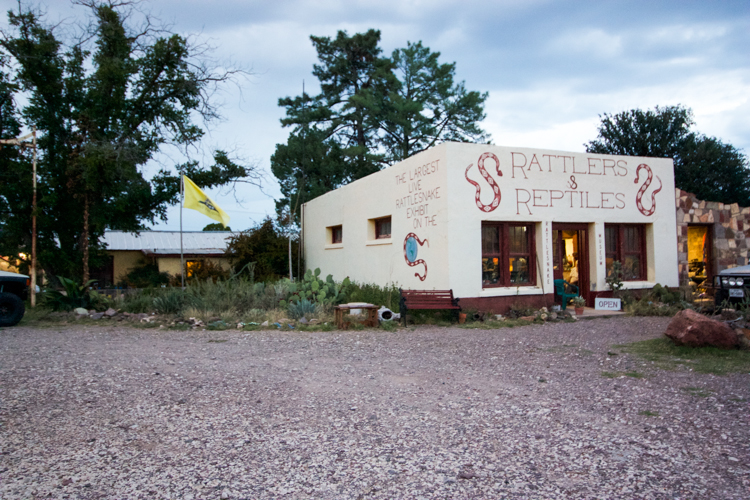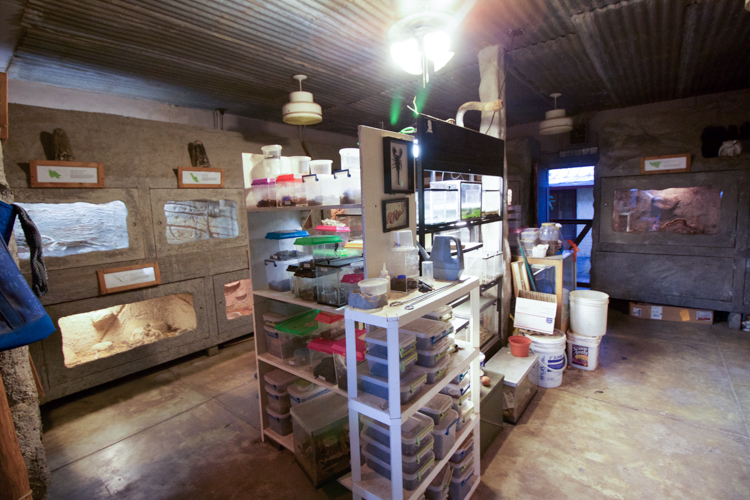 After dinner we headed up towards the McDonald Observatory to do a star party. On the way, we spotted "The Largest Live Rattlesnake Exhibit on the Planet" and knew we had to stop! Tucked into the back of a car-repair shop live about 30 different types of rattle snakes. It honestly may be the larges exhibit on the planet! It was really dirty and sort of gross back there, but the snakes were incredible. And all of those boxes and cages on shelves were filled with tarantulas, both dead and alive. Totally worth the $4 admission. Weirdest place ever.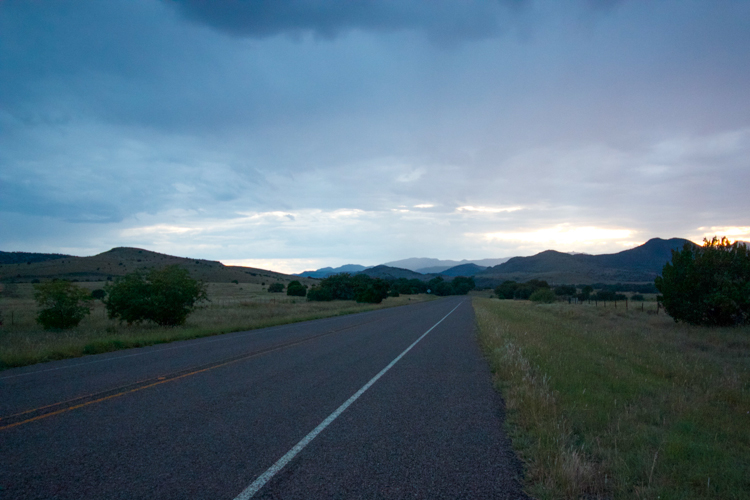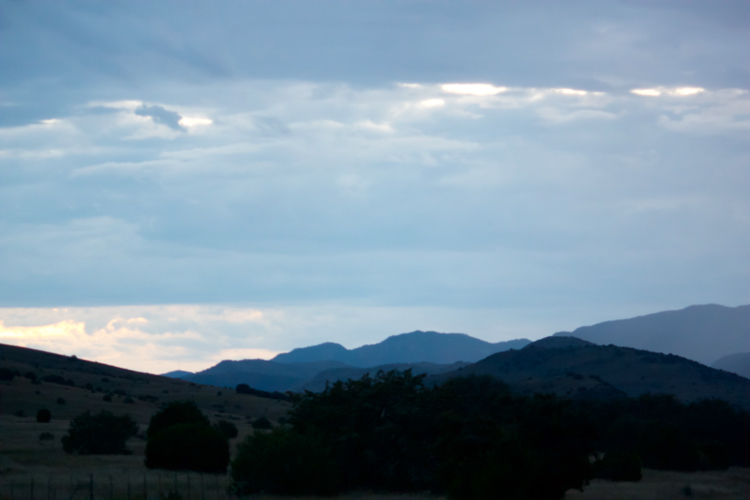 The Observatory is up on a mountain top, where it's multiple high powered telescopes get great views of the universe. The drive was beautiful. Unfortunately, the sky was cloudy for us, so we watched an indoor presentation about stars rather than viewing them outside with telescopes. We'll try again when we come back next time.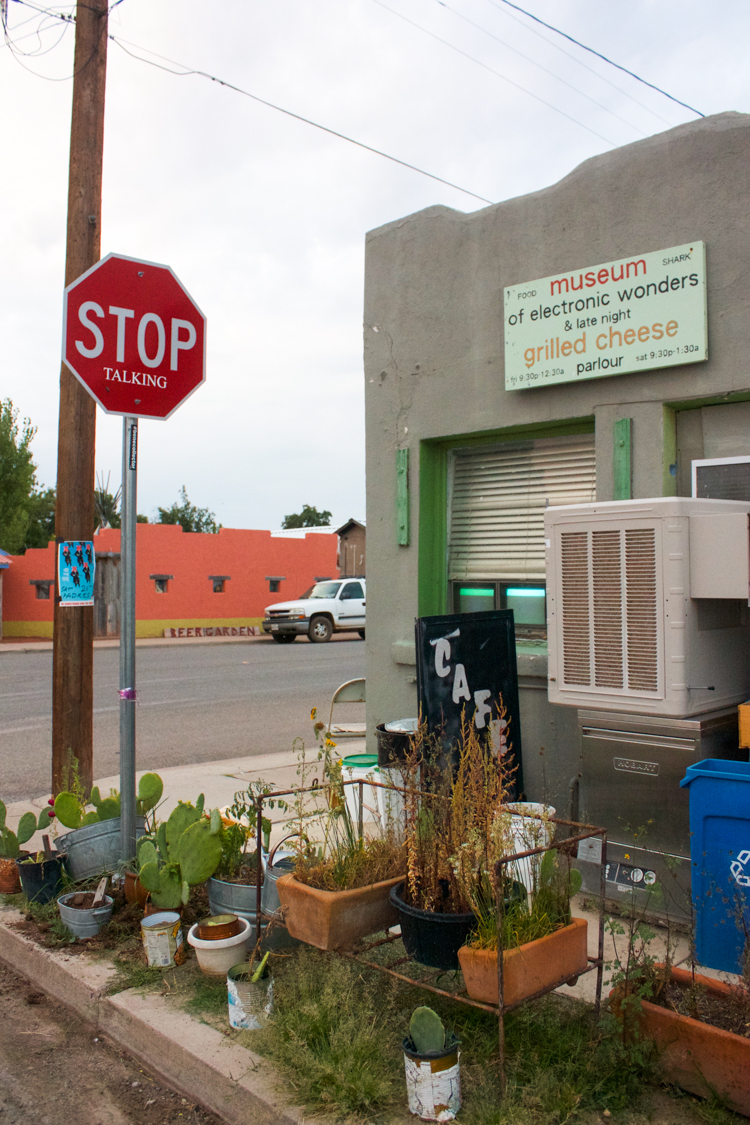 After the star party, we stopped in at the Museum of Electronic Wonders and Late Night Grilled Cheese Parlor, which opens at 9:30 pm on Friday and Saturday only. It really lives up to it's name, with vintage tv, radio, and computer equipment adorning the space, and a cash-only grilled cheese menu. The food came laid out on a clear acrylic tray lined with astroturf grass. And it was good. So good. My brisket and cheese sandwich was gooey, melty, and delicious. No wonder, because it's owned by the same cool young guy as Food Shark, which is next door. If you're ever in Marfa on the weekend, make sure you give this spot a try.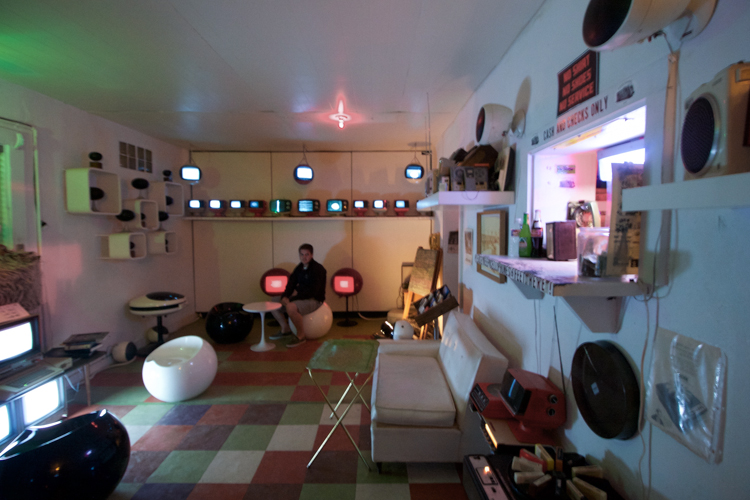 We went to bed feeling super satisfied with our adventure to Marfa, and already excited for the next time we can come and do and see and eat a little more.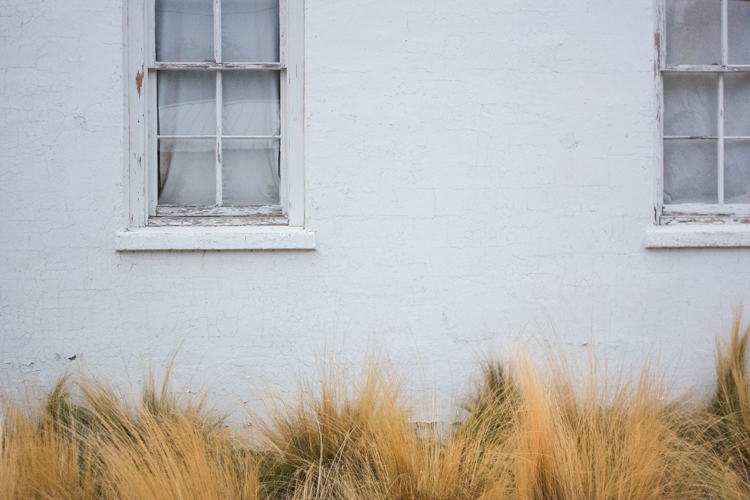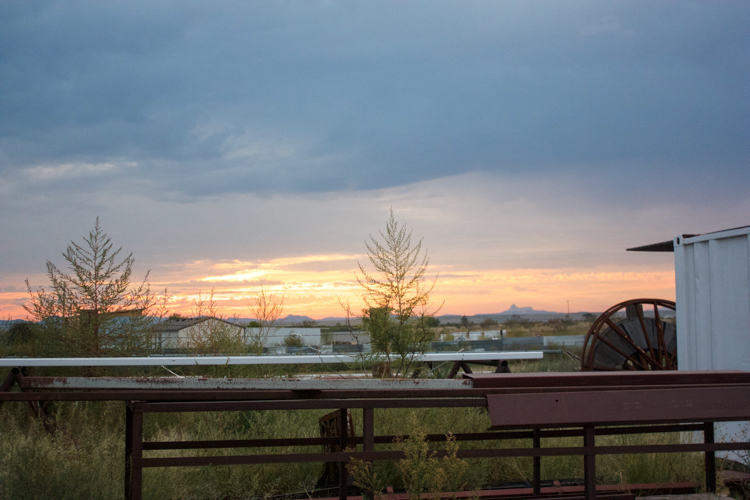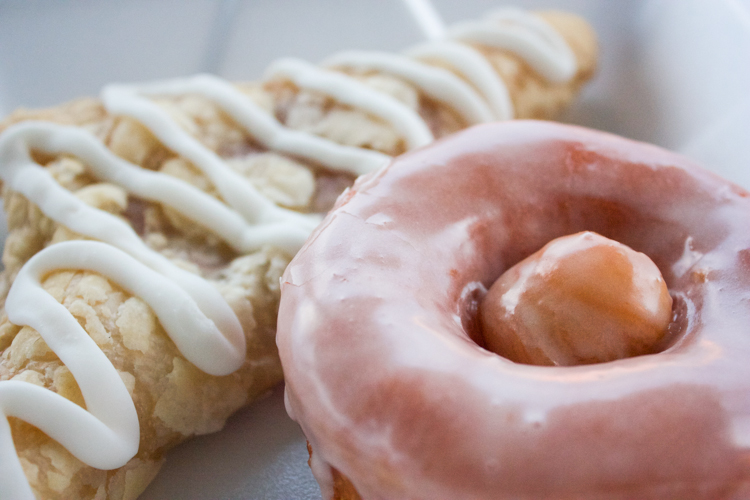 Our final meal as we headed out of town back home was Buns'n Roses, and appropriately named baker and flower shop. The fresh donuts and pastries were warm and fresh and amazing.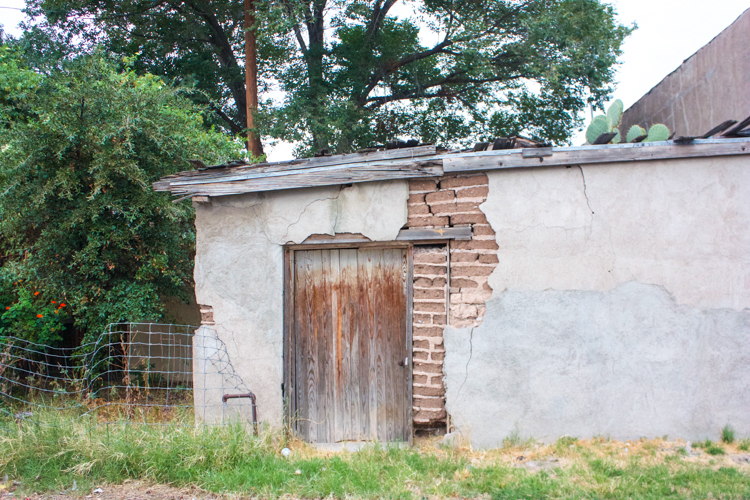 We left feeling even more intrigued than when we arrived. For being such a small place, there are still a bunch of places we want to eat, and shops we'd like to visit, and revisit. Also, being out in the desert feels renewing to me, and I can see how Judd became so captivated by Marfa. We can't wait to return sometime soon.